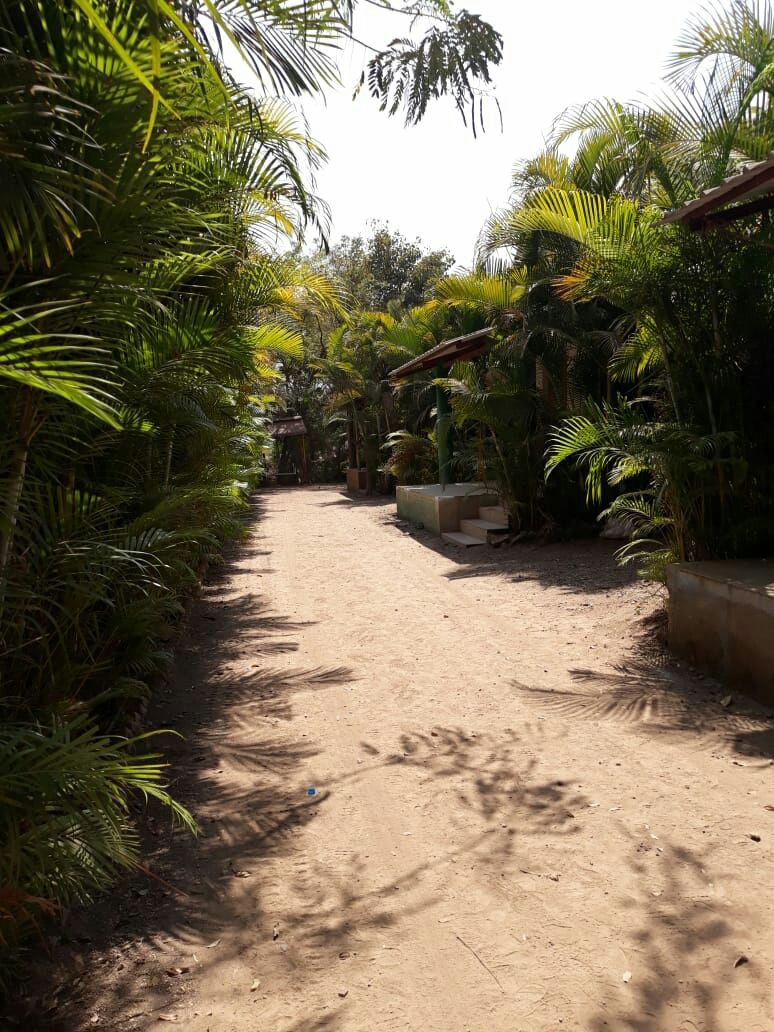 Last weekend was one of those when I just wanted to chill and relax with my buddies. After surfing the internet for a few hours, we unanimously decided of spending the day at 'Morachi Chincholi'.
Morachi Chincholi is a 65 kilometers drive from Pune. We set off early morning. Morachi Chincholi is divided or parted into four different places. We visited the one named 'Jai Malhar'.
One thing I can assure you of, is that the staff is highly welcoming. They will strive hard to provide you with the best of what is possible. The entry fees in this part is Rs 600 for adults and Rs 400 for kids below the age of 10. However, since we were 10 people, he reduced each entry fee by Rs 50 as concession. Before entering, you are provided with coupons for everything ranging from welcome drinks to every activity.
The welcome drink was refreshing. After this you are free to take up any activity. We first took darts and archery. Though this wasn't very exciting, we had a great time loading the guns on our own and fixing it. Next, we headed to have breakfast. We had some scrumptious 'Misal Pav'. It had simple, basic flavours but was a great delight. As I told you earlier, the staff will try to serve you in the best way possible. They also served a yummy 'sheera'(typical Maharashtrian dessert). Post breakfast, we headed to 'the iconic bridge' that every adventurous place compulsorily has. Beside it is situated something that I call 'Rope Adventures'. It included a cycle passing over a thin rope and a carrier hung to a rope. I just couldn't smile when was on the cycle. But it was fun.
Then we got to the play area. It had some seriously tall swings, a tyre swing and a strong rope tied to a tree to which you can hang. There was also a double bar and a single bar for hanging(in case you want to grow taller). These might sound minimalistic, but when with friends, you enjoy there to the fullest. By the end of this adventure, we were all filled in mud. Dirt gaming it is. Post this, we had lunch. It was finger licking good. Again, the staff doesn't and quality doesn't disappoint you. Lunch included pithla-bhakari, puranpoli, kadi, maas wadi, daliya(sweet), batata, and refreshing buttermilk.
After this, we took a nap(not me, the others). There is a huge empty space where you ca take rest and chill. We also played cards. Next we made our way to the swimming pool. We enjoyed rain dance as well. The swimming pool is 3ft deep. It was fun. Finally, we headed to what 'Morachi Chincholi' is famous among Puneites – peacocks. During early mornings and evenings, peacocks come to a particular place where we can see them. There needs to be pin drop silence throughout. The sight is breathtaking. Imagine a lush green wide spread field and a few peacocks walking through it. Amazing. I did not capture the sight, because I strongly believe the readers must pay a visit and experience it.
Later we were called for snacks. They included the seasonal and most hyped 'hurda'. It also had perfectly cooked corn, gur(jaggery) and curd. This was the best meal of the day. Later, we set off for our return journey as it turned darker. The return journey included some scary horror story narration by me and others.
I observed that a lot of jaggery was used in their sweet dishes, which was a good substitute for sugar. Overall, the trip was fun. Morachi Chincholi offeres a great rural aura, which is something urban people crave for. While there are other resorts where you can see peacocks, 'Morachi Chincholi' is loved widely because of the ambience.