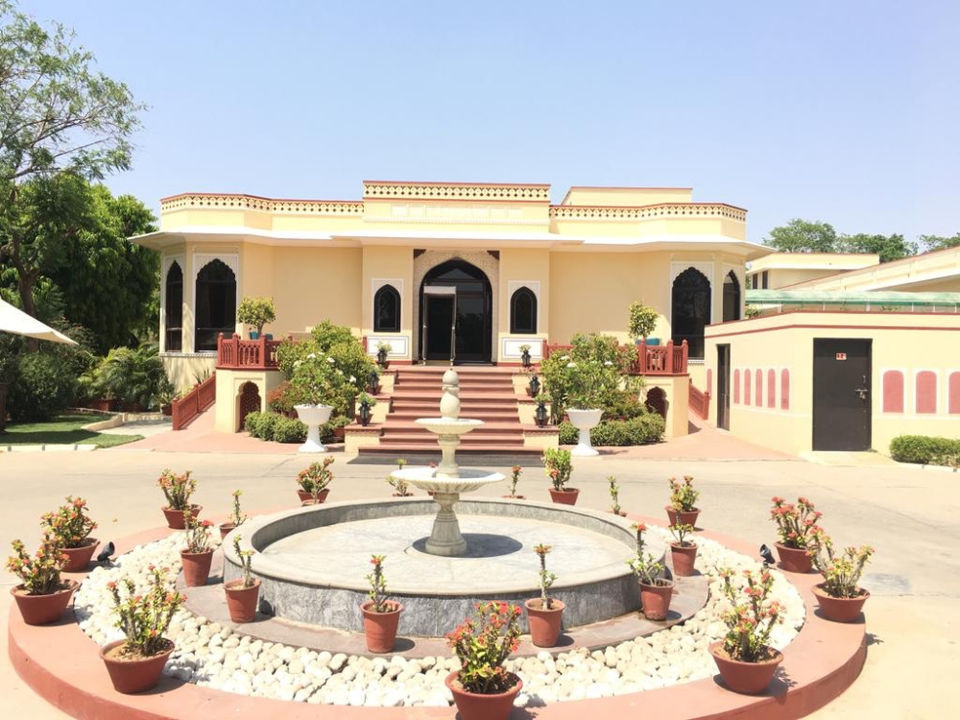 "How would you like to spend a weekend on the estate of the royal family of Jaipur, just across the fence from the erstwhile residence of the late Maharani Gayatri Devi?"
I wasn't sure. It is May and temperatures are soaring in Jaipur. Who goes to Rajasthan in the summer?
But Jaipur is also just a short 4 hour drive/train journey away from Delhi, much closer than going to the hills and very easily doable on a usual two day weekend.
With these thoughts in mind, I accepted an invitation (one that I had proactively asked for!), from Taj SMS Hotel Jaipur. It turned out to be one of the best weekends I have spent in a long time!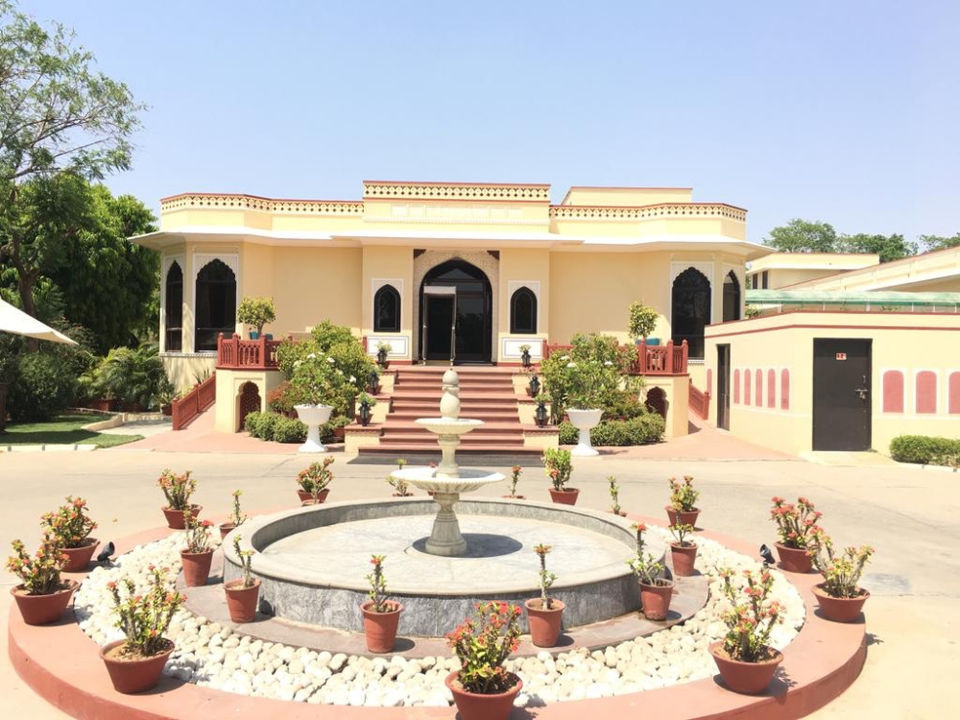 When most of us think of Taj Hotels, we think of luxury, opulence, heritage and an almost unaffordable tariff! While the last bit is true for most Taj Palace properties, the hotel chain also has many smaller and affordable options like the Vivanta and Gateway properties. These are great if you're looking to spend a special day with your family/partner/friends, a comfortable if not entirely luxurious office team retreat, a venue to celebrate an occasion like a wedding/engagement or just a relaxed weekend you may have saved up for.
The Taj SMS Hotel Jaipur is located in the annexe to the Rambagh Palace, the erstwhile residence of the royal family of Jaipur and now the uber luxurious Taj Rambagh Palace Hotel. Also known as the Taj SMS Convention Center and Rooms, the hotel used to be the guest house for the Rambagh Palace, housing the visitors of the royal family. Now it is a small boutique property with 21 rooms, a swimming pool amidst lush green lawns, a cosy restaurant and a large Convention Center to host events. The banquet halls are named after various forts - Jaigarh, Nahargarh, Ranthambore, Kesar Bagh. The hotel is centrally located close to the railway station, City Palace, Hawa Mahal, Patrika Gate and all major tourist attractions and markets - well within a 10 km radius.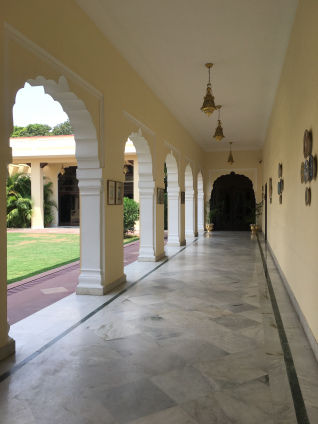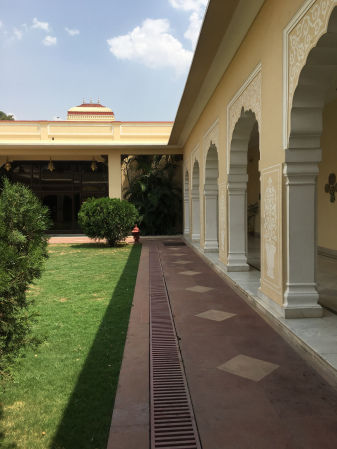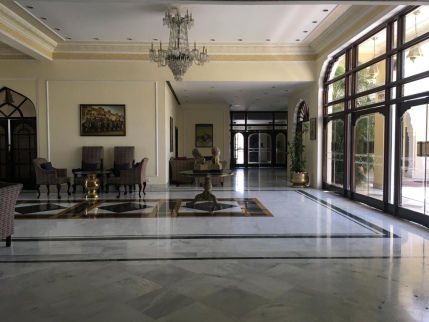 The staff make sure to treat you like royalty and effortlessly live up to the "Atithi Devo Bhava" practice from the moment you set foot in their premises. I was greeted by Mr. Jitendra at the front desk who arranged for lovely genda phool garlands, a small teeka and a chilled drink of khus khus to ensure a warm welcome. Keeping with the weather in May, they periodically bring you cold face towels and sherbets.
I was taken to my room which was large, spacious, beautifully decorated with a small private balcony overlooking the garden and the swimming pool. The interiors of the room were aesthetically chosen keeping in mind the visual cues of Rajasthan - bright colors, antique furniture and paintings of traditional dancers, musicians and warriors - all three quintessential Rajasthani vocations.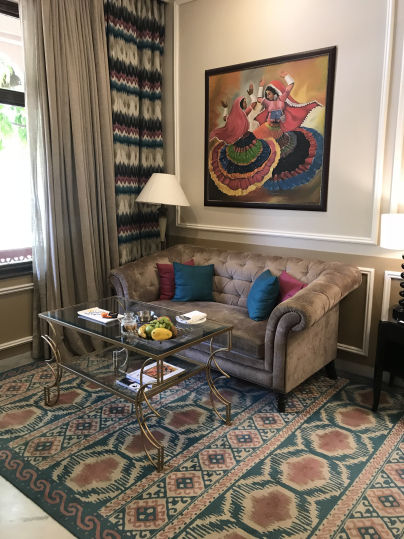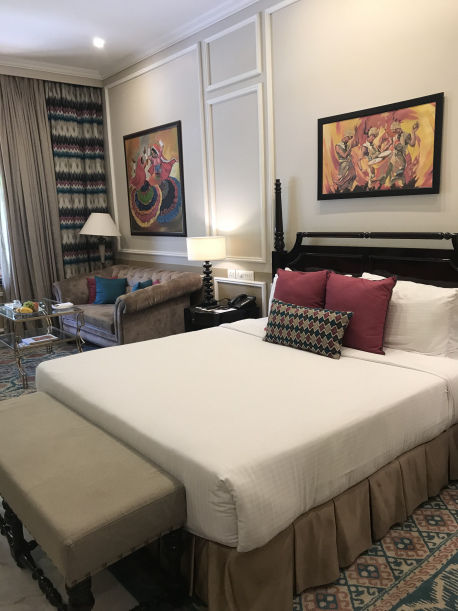 Standard Superior Pool/Garden View Room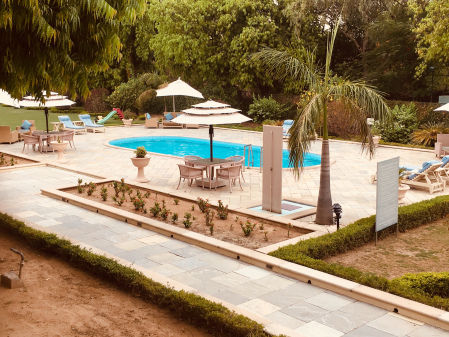 Standard Superior Pool/Garden View Room
Mr. Jalpreet from the marketing team of the hotel escorted me on a tour of the SMS Convention Center and narrated to me a brief history of the Palace and the guesthouse. The hotel is partly under renovation and will have a brand new events venue soon.
The staff of SMS Hotel organised a lot of wonderful activities for me - feeding peacocks, a traditional magic show, a rangoli making session, an evening by the poolside, a cooking session with the head Chef and a wonderful tour of the Rambagh Palace. All of these activities are included in their package and are not additionally charged for.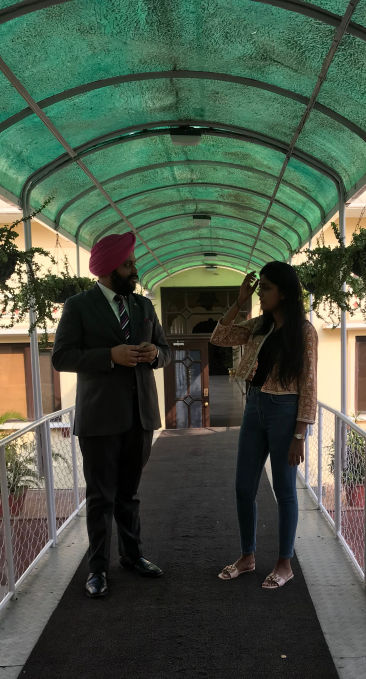 Ms. Cheshtha from Rambagh Palace took me on a memorable tour of the palace lawns, rooms, restaurants, history of the Maharajas, the courtyards, the ballrooms, the swimming pools which are now part of the Jiva Grande Spa and the royal culture of Jaipur. The Palace complex including the SMS Hotels are home to over 200 peacocks and it is a truly grand experience to watch them unfurl their feathers every five steps of your walk. The environs have been especially maintained to conserve and foster the peacock population - again a symbol of traditional Rajasthani culture. Rides can also be enjoyed on vintage cars and horse buggies belonging to the royal family. In the evening, one can participate in the traditional decorations of the Palace - lighting lamps, diyas, floral decor and rangolis.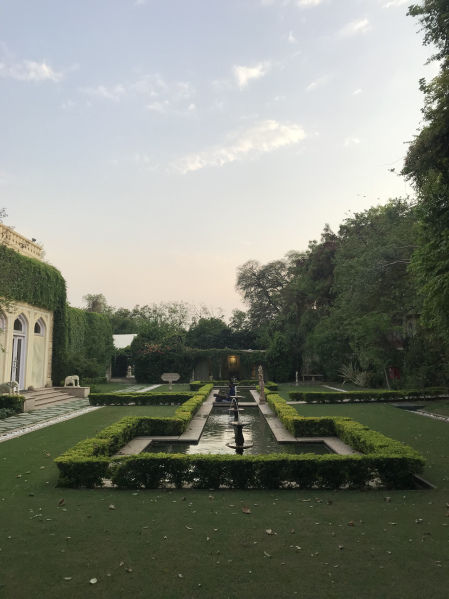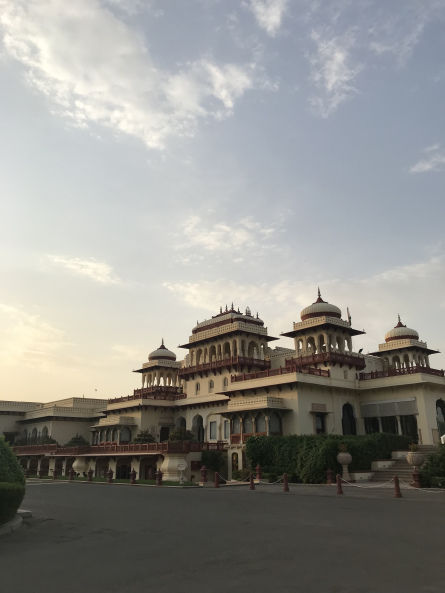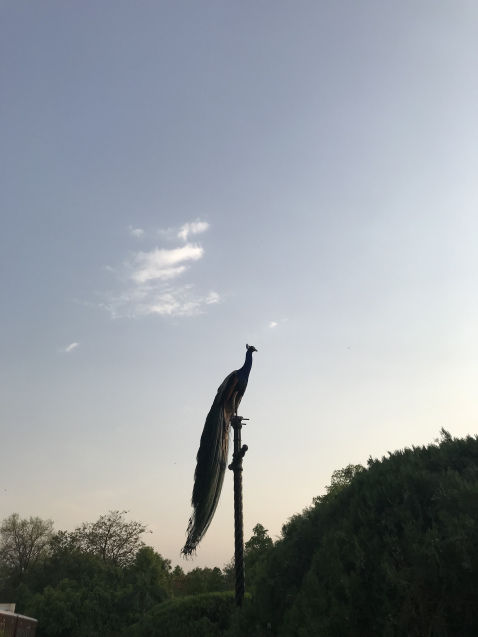 During the palace tour, I also got a great insight into the life and work of Maharani Gayatri Devi, an icon and a diva, revered and loved by many. It is truly a surreal experience to spend a weekend in the premises of a palace which was till very recently until her demise, her home. Having been a great fan of the Rajmata, this was the highlight of my stay.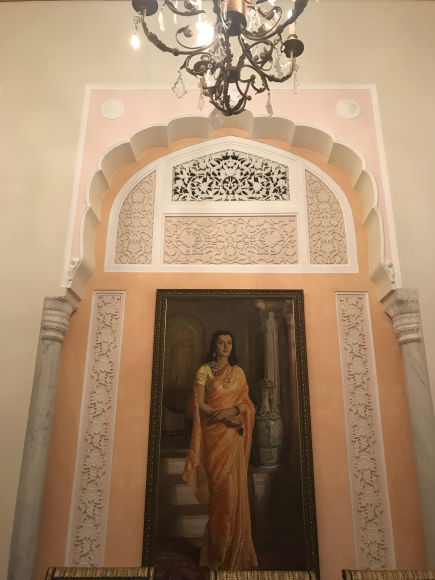 I especially enjoyed my dinner at Steam, Rambagh Palace. It is a restaurant created inside a restored Victorian era train. The engine and compartments house tables and couches which make for a great dining experience. They serve Lebanese and Continental food and the keema kulcha was especially delicious. Fun fact they also have Zomato Gold (1+1).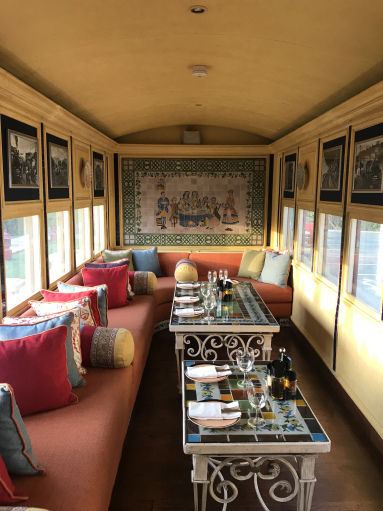 Back at the SMS Hotel I found some beautiful tokens in my room - a complimentary foot soak with sea salt and rose petals, a box of earrings and cufflinks, a wooden peacock figurine and jars of traditional Rajasthani kachoris and jaggery sweets. Everything was accompanied by thoughtful notes and trivia about Rajasthan and the history of the palace.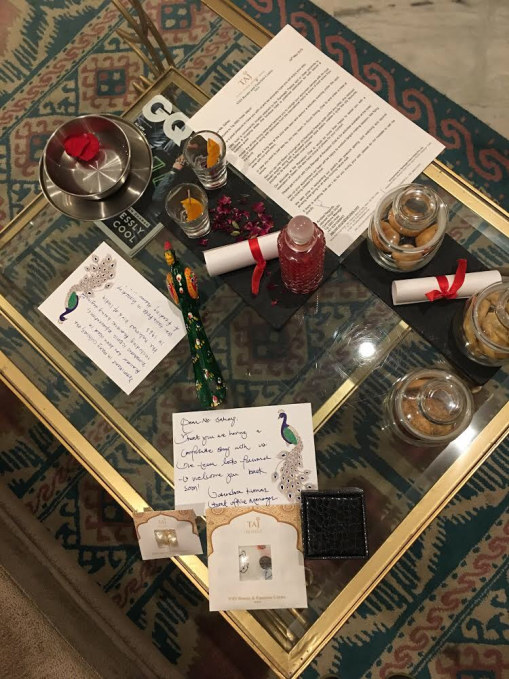 4 Reasons you need to plan a staycation at Taj SMS Hotel Jaipur:
1. It is closer to Delhi than any other destination at any time of the year
2. Be prepared to be treated just like royalty at under 10k for two for 1N/2D Enjoy activities, experiences and authentic Rajasthani tradition, culture and cuisine (all included in your package!)
3. You don't need to step out of the hotel for anything, you will be thoroughly pampered throughout the stay by the most humble and wonderful staff
4. Enjoy the privileges of Rambagh Palace at a fraction of it's rate - a holiday full of luxury, culture, history and delicious food!
Unlike many other hotels, the SMS Hotel serves your complimentary breakfast buffet in your room and this was a blessing for me because the activities of the previous day had left me exhausted. I must leave a special mention for the crispy bacon in their breakfast, one of the best I have eaten. The staff had organised a special cooking session with Mr. Shailendra, the chef. This was my last activity for the weekend and undoubtedly the best one!
Mr. Shailendra belongs to a family of traditional cooks who have served the royal family of Jaipur for generations. He has personally cooked for Maharani Gayatri Devi and shared with me some of her favourite dishes. At a nicely set up cooking kiosk, he showed me how to make traditional Rajputana Laal Maas - one of the best mutton preparations of India. He whipped up a delicious preparation from scratch which was then served to me with piping hot chapatis. He also gave me a hand written recipe to take back home with me. (This was a complimentary session on behalf of the hotel!)
Session with Chef Shailendra at Taj SMS Hotel, Jaipur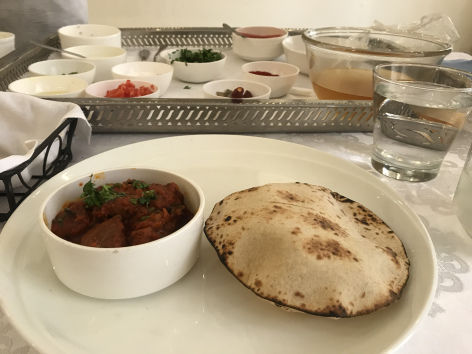 The staff at SMS Hotel was like a family hosting you at their home. Mr Magan, the duty manager has been associated with the hotel for over 30 years. The peacocks on the property all recognise him as a friend and assemble every evening at the lobby to be fed by him. While I was checking out, he packed me a small box of the jaggery sweets which were made at their kitchen and which I had especially loved. All the staff members including Mr. Rahul, Mr. Shailendra, Mr. Nitin and Mr. Nagendra were extremely hospitable. While serving meals, they stood with me while I ate and spoke about various topics like the history of Rajasthan to the upcoming Lok Sabha elections, all the while making sure I was well fed and taken care of.
Everyone came to see me off just like when you visit your friends or relatives.
Thank you Taj SMS Hotel for inviting me, it was a wonderful collaboration. We mostly hear about the unparalleled human values and hospitality of the Tata Group and the Taj Hotels, I got to experience it first hand. I look forward to many more such partnerships, creating many more beautiful memories and most importantly forging some lifelong friendships!