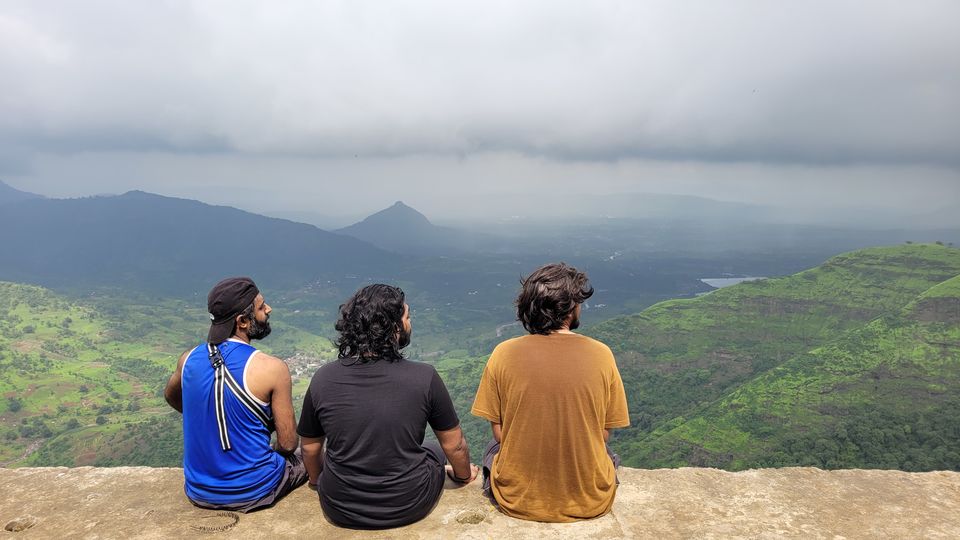 The month-long discussion finally a day come when we executed a planned becomes unplanned trek.
We planned Sandhan valley and Harishchandra trek but it ends up with Ratangadh trek and Vikatgadh (aka Peb fort trek).
30 July 2022 Saturday: We reached Dadar, Maharashtra early morning around 4 am all the way from Rajkot, Gujarat. Caught local train toward Kasara. We had to go to Igatpuri so we switch train from Kalyan station cause there are only two trains available for igatpuri one is in the morning and another is in the evening.
Big Thanks to M-indicator who help us a lot to get the train's current schedules.
The auto driver dropped us at a small village named Ghodi where we had to get another Taxi (Which is known as Kali-pili in the local region). And yes auto-driver charged around 200rs (for 3 people & for 10-12 km approximatly) which is totally reasonable.
The kali-pili (Taxi) from Ghodi dropped us at Bhandardara (also known as Sanki) which cost us 60rs per head. Yet we had to go till Ratanwadi which is the base village for the Ratangadh fort trek. So took another taxi to Ratanwadi which cost around 30-40rs per head.
Here you only get local taxi vehicles in which they will LOAD (Yes load) around 30-35 passengers. So forget about comfort and all.
It took us around 7 to 8 hours to reach the base village from Dadar station. I suggest coming in a private vehicle which will save a lot of time.
Also, you can get come to Bhandardara via Bus or Taxi from Kasara which cost around 150-200rs per head.
Also, a group of three friends joins us from Sanki, they met in the taxi. They are with us throughout the trek. Their name was Gorakh, Ganesh, & Manoj.
We started the trek at 2 pm and it took around 3 to 4 hours to reach the summit. The trek route passes through the dark forest, green plain grounds, a few rocky routes, iron staircases (near to summit), and small-big of water crosses.
There is a small cave below the summit where you can find the cave shop which owns by Nathubhai. Here you can enjoy Chai and Maggie served by him. Also if you wanted to stay there Nathubhai can arrange stuff for you. I will drop his number & photo at the end. And yes there will no network except BSNL.
While we enjoyed the trek and view time passed a lot. We started descending around 6 pm. Easy descending gets tough at night (due to low light & low visibility) and more tough with heavy rain. But somehow we reached back to the base village at 9 pm.
We had a night's stay and food at Gorakh's relative's premises. Also, he arranges a vehicle in the morning for Bhandardara. From there we took another taxi to the Kasara railway station.
31 July 2022 Sunday: Our next day's trek was Vikatgadh also known as Peb fort, which is located near Matheran & Raigadh district. We got on the local train towards Matheran station. We reached Matheran around 3.30 pm. You can start the trek from the station also via the Toy train route which is very easy and long either you can take a cab till halfway through the trek.
Due to being very near to the major cities, you will meet so many trekkers and tourists on the routes. One of the easiest and most beautiful treks I have ever done till now. The train route, Waterfalls, and mesmerizing views make treks more wonderful each phase of trek. After crossing the 4 to 5km train route will end and the Forest trail route will start towards Peb fort. When starting towards Peb fort you are actually going from one mountain to another mountain. So it starts with descending and then end with ascending. It will not take more than 3 to 4 hours to reach the summit.
We had night-stay at the summit. I must say take food and water and required stuff for night stay cause there are no facility or anything available there. But there is an ashram where you might get those stuff IF ONLY Sant allows. So at the summit, you can explore Peb fort, Mahavir Swami Mandir, Shiv Mandir (Where you can get water also from Shiv Kund) & Small Ashram.
We managed night dinner from our remaining snacks and had a night stayed in our tent. In the morning we had to visit Mahavir mandir & shiv mandir. I must say mornings in mountains are like waking up in a different universe. Amazing.
We had started descending around 9 am and within the next 2 or 3 hours we reached Matheran station. Where our treks end and the return journey will start after we reached Mumbai.
Wish You Happy Treks!