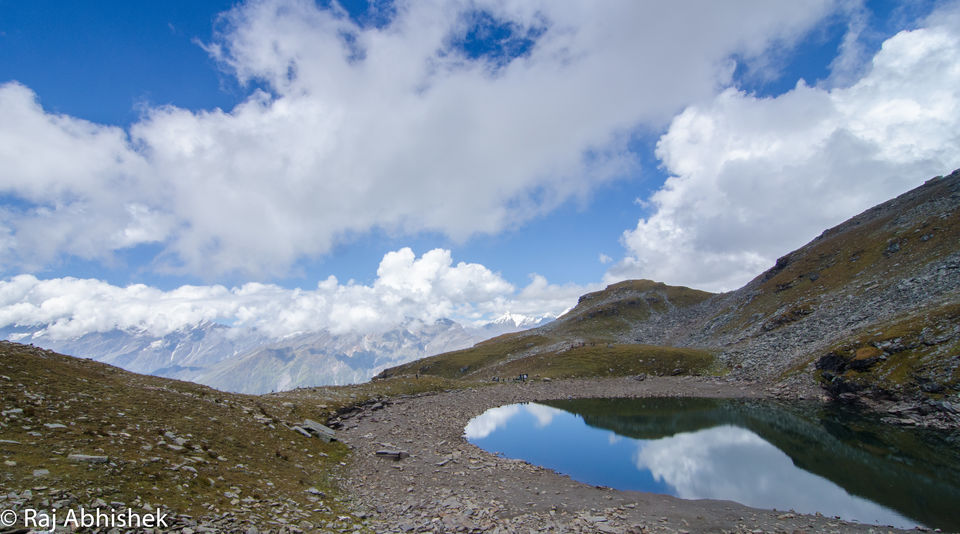 The wind howls outside and keeps shaking up my tent, even as I try to fall asleep at 12,500 ft. I am huddled together with 2 of my comrades (!); one snores by while the other seems to be getting better with his sleep too. 'What the heck ?', I say to myself and try to tuck further inside my sleeping bag.
I wake up from a slight jolt in a while, and see my friend holding a torch, peering at something on the flapping tent. I join him and notice water droplets trickling down outside. His ominous voice then declares, "They should not have pitched our tent so close to the stream. The moisture, if it finds it's way in, will get us colder in no time!". We mumble prayers under our breath and inspect our clothing to make sure nothing has been left exposed to the whims of nature. Finally, we just let it go and doze off. Next day was to be our summit day after all !
Flashback to 2 days earlier, when we were in more comfortable environs in Manali, and from where we were picked up by the IndiaHikes team ( http://www.indiahikes.com/ ), just as afternoon was giving way to an early evening.
Manali to Gulaba Campsite
This day of least activity, it started pretty late so far as the trek was concerned. We were picked up from near the Manali mall market and driven off in jeeps on the Rohtang Pass Road. Very soon, civilization gave way to the pristine vegetation view on one side of the road, and the river Beas on the other. Curves became sharper and it was after one of them did the jeeps stop, and we alighted. It would have been a half hr or a little more of a drive at the max, wherein we crossed some paragliding spots as well. We were advised, however, to desist from trying paragliding in Manali because of quite a few of the players being unlicensed, and consequently, unsafe. Bir Billing, 5 hours away, is of course the place-to-be if you want to fly that high !
For now, we got off our rides, and with our backpacks strapped tightly on our backs, crossed the road from where a steep climb awaited us. Finally, our comforts were behind us now, and the next few days were to be spent walking in the wilderness, with whatever our backpacks had at our disposal. A short trek like this, frankly, is not too much of an ordeal.
The ascent started as soon as we left the road; It was a steep one, taking us through the forest and on to the grasslands finally, where our campsite for the night awaited us. It would have taken not more than a half hr of climb to reach the Gulaba campsite. Though it was a short trek, it nevertheless gave us a taste of what awaited us in the days to come. I think this is what makes the first day trek so special; it gives our muscles the much needed jolt in preparation for what lies ahead. So, shorter the better !
I noticed that the weather had changed drastically just after this short a climb, perhaps because we did manage to gain quite some height. It was pretty sunny till the time we were on the road, and even when we were climbing. The clouds gathered almost as soon as we had settled in our camp, and it started raining on and off. As the evening drew closer, it grew colder and more windy too. All our protective gear was ordered out, while people running around looking for that perfect selfie, were ordered to get in !!
As soon as we had settled in and were getting used to the environs around us, we were asked to get our plates and cups ( yes, we had to carry our own cutlery ), and huddle inside the dining tent which was the biggest of them all. Introductions were made and instructions given for what lay ahead, even as it was raining heavily outside, albeit just for a while.
A hot and tasty meal later ( yeah, this is one of the best parts of trekking with Indiahikes ), we were already chatting away in our tents, when darkness fell upon us in no time. Our vital stats were taken note of, and we were then free to do whatever and sleep off before the day would begin early next day. Our tired legs welcomed the move, and off we went to our slumbers !
Gulaba Campsite to Rola Khuli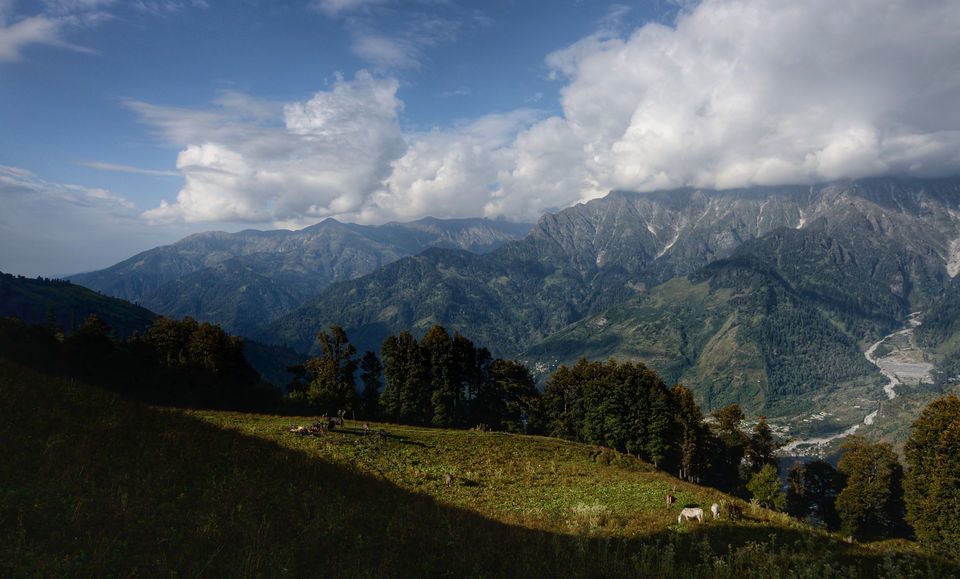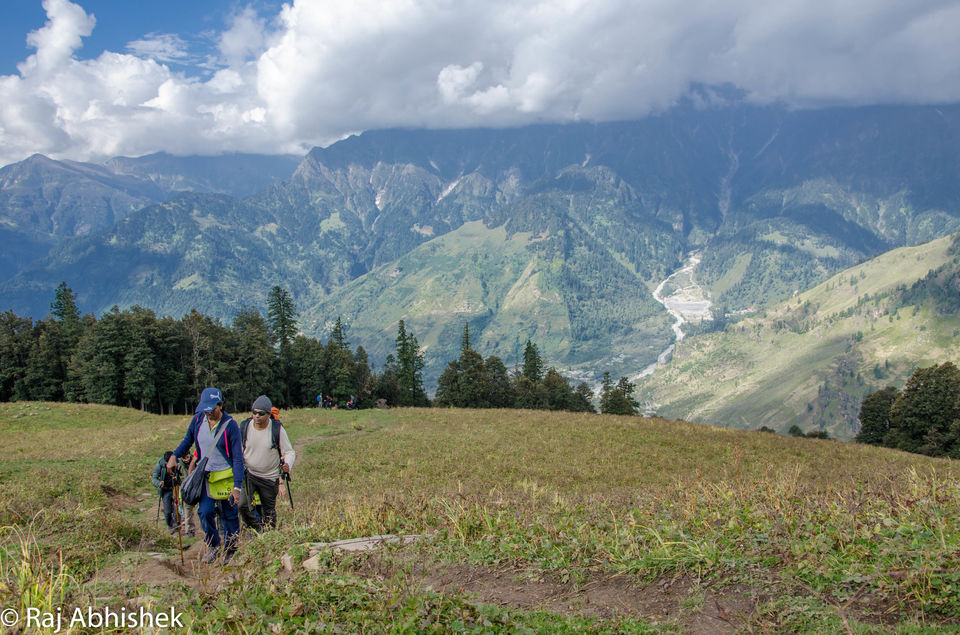 A pretty sunny day with occasional clouds this. We started off from Gulaba after the customary warm-up exercises, and after receiving some advice-interlaced-instructions from our trek leader. I did manage to click an image of the towering Dhauladhar range from our vantage point just before we left, a few horses grazing in the distance.
The trail started off steeply, and after crossing the initial tree cover, led us to the open grasslands.
One of the high points of this trek were these wild horses that kept us company all throughout our journey. It was a treat to watch and click them from such close quarters; a welcome intrusion in the wilderness !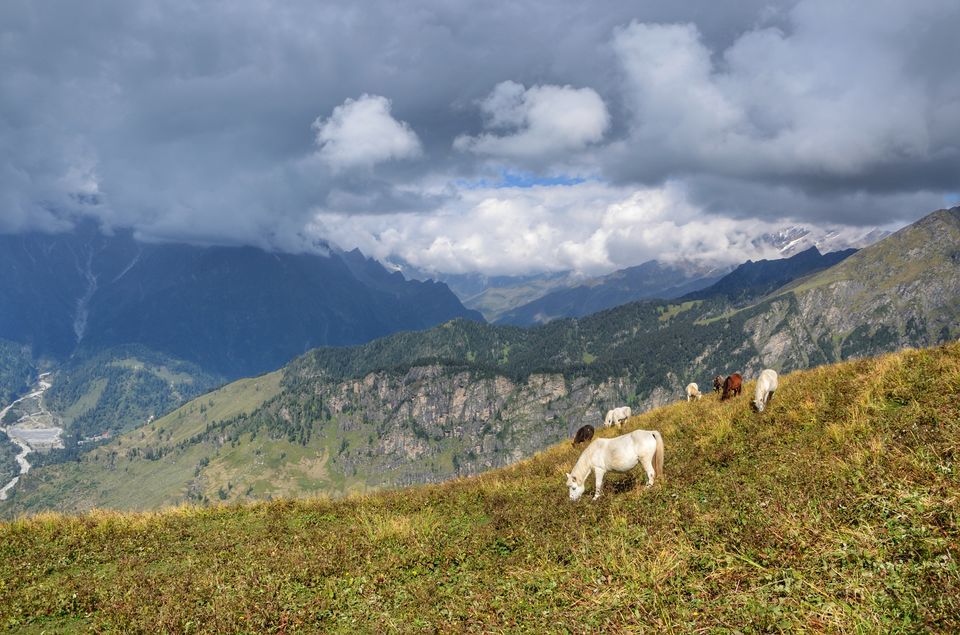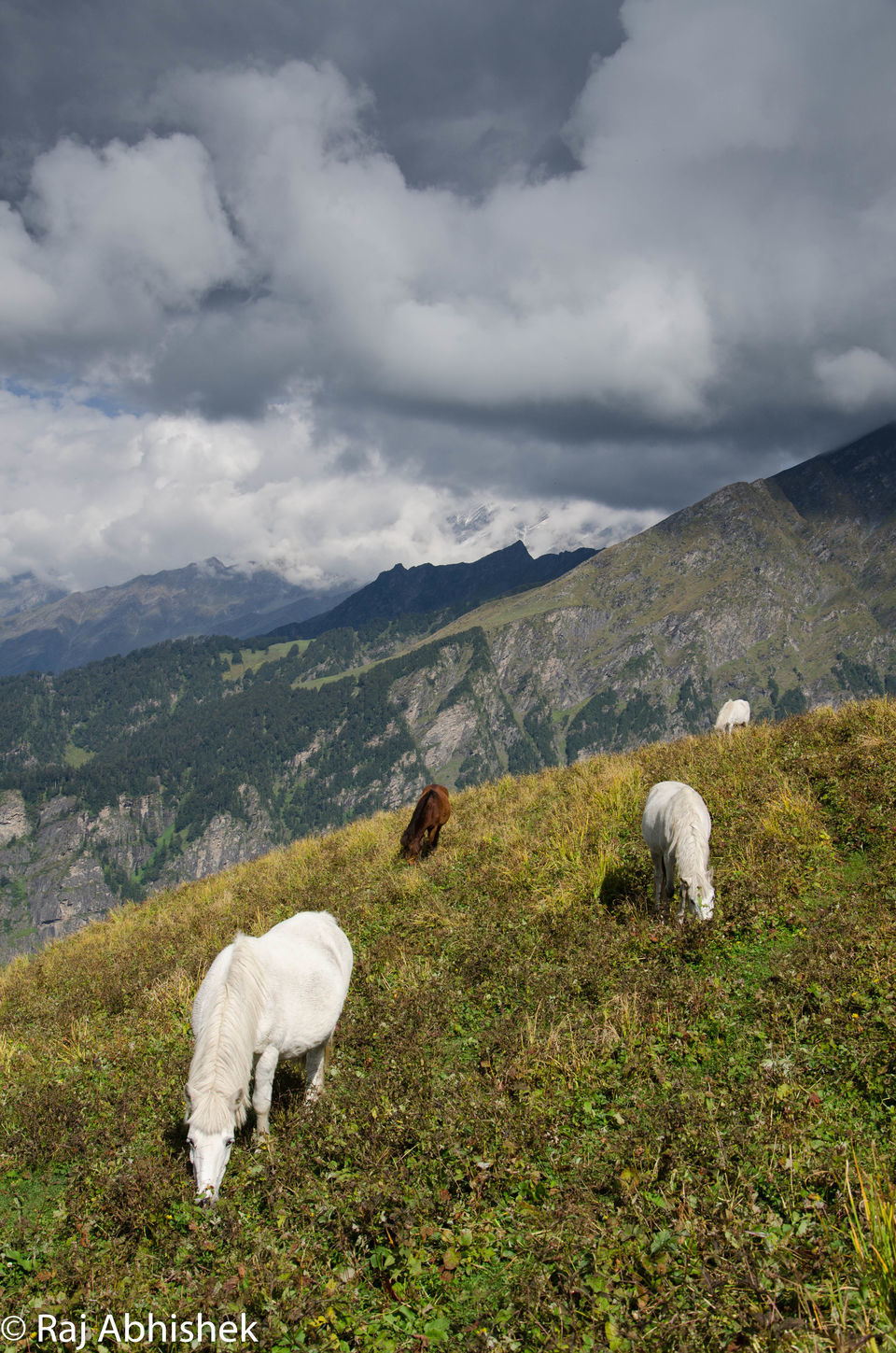 We kept on climbing as before, resting occasionally and taking sips from our water bottles when needed. There wasn't any water source until close to our campsite for the night, so yes we had to be frugal. Such rests also gave opportunities for the occasional banter and the camaraderie that was finding it's way slowly inside our motley group. In short, it became more lively, with people coming over their initial inhibitions and talking and laughing together now; even helping each other out when needed.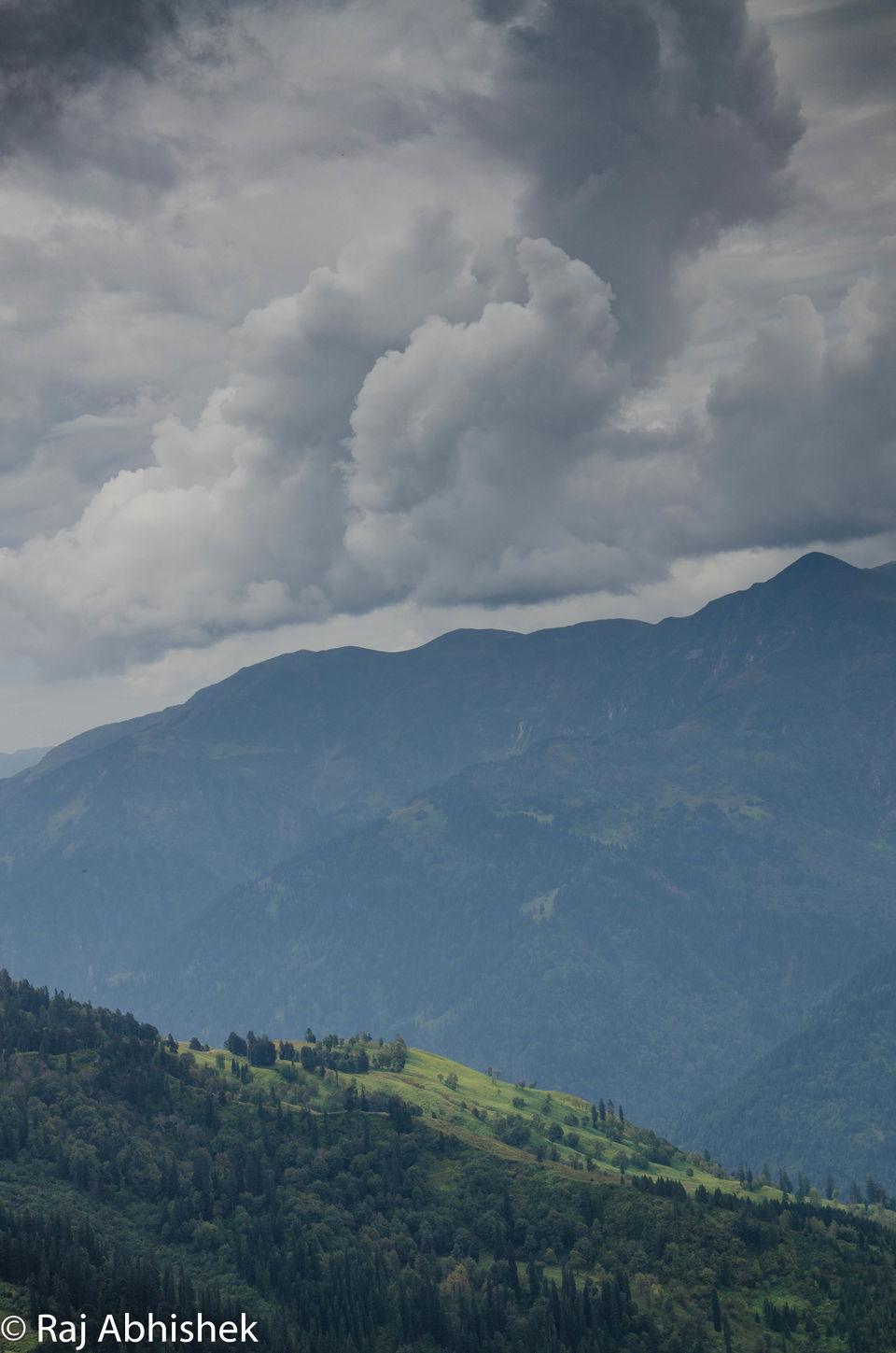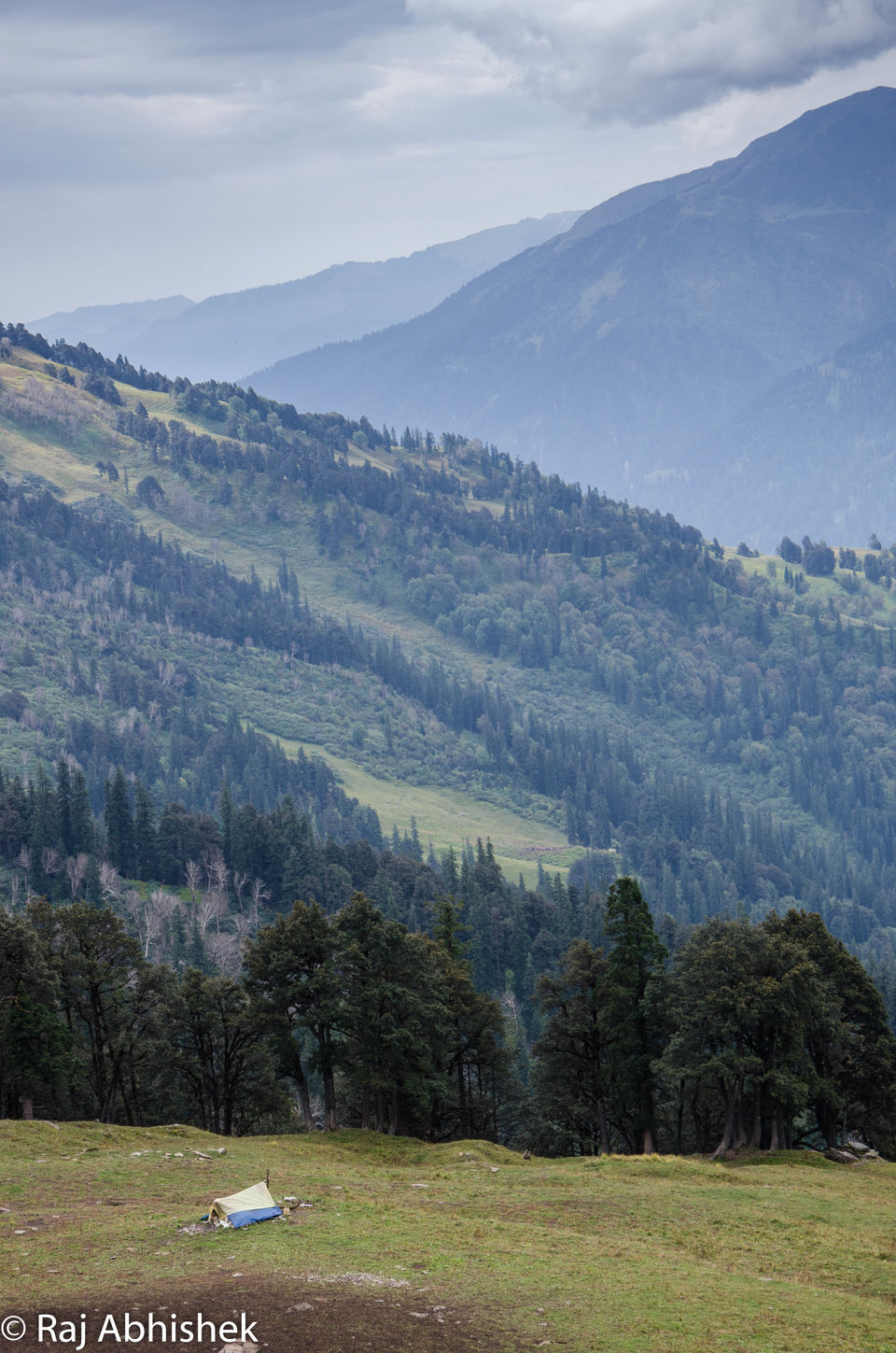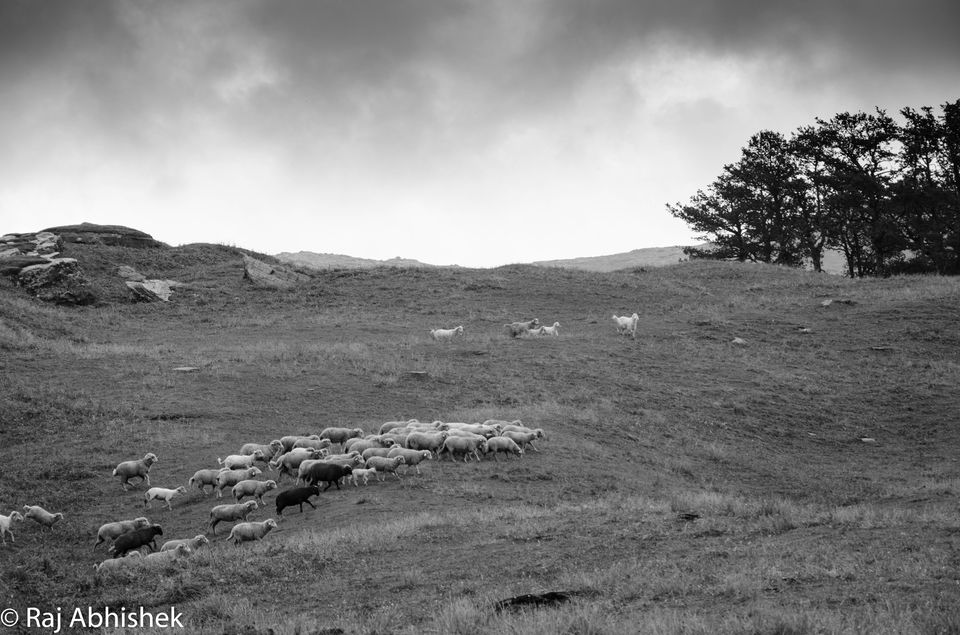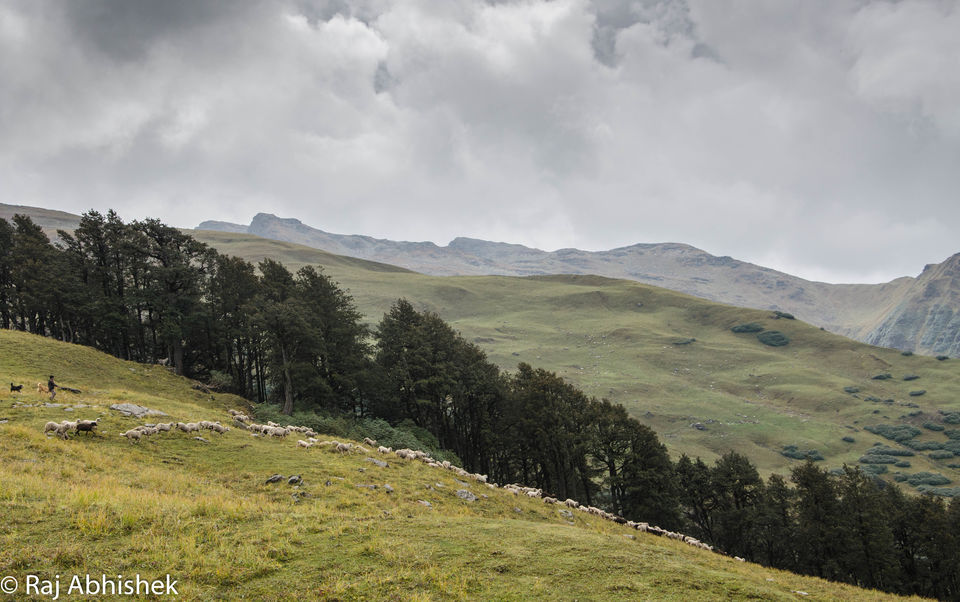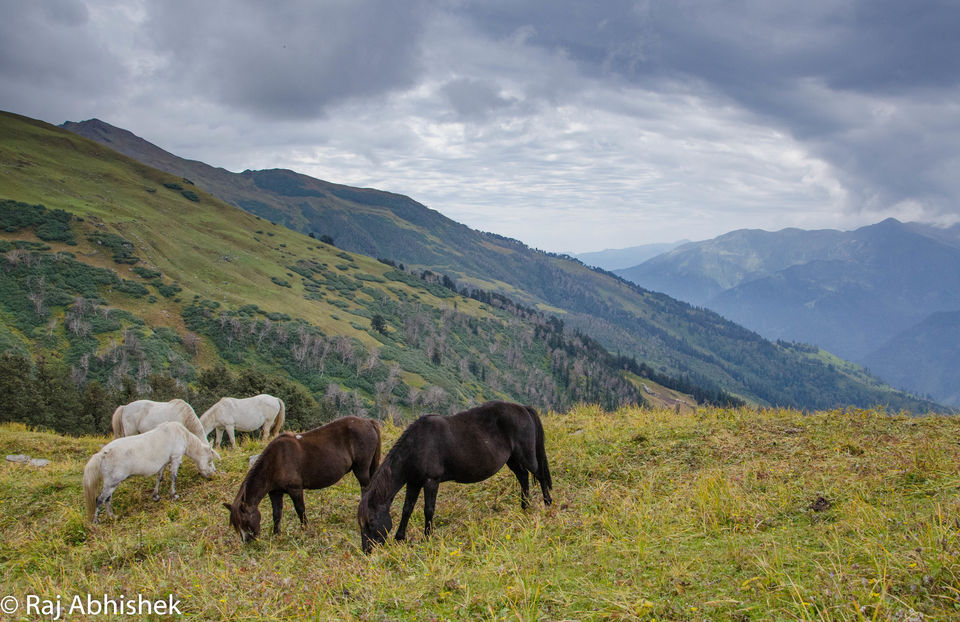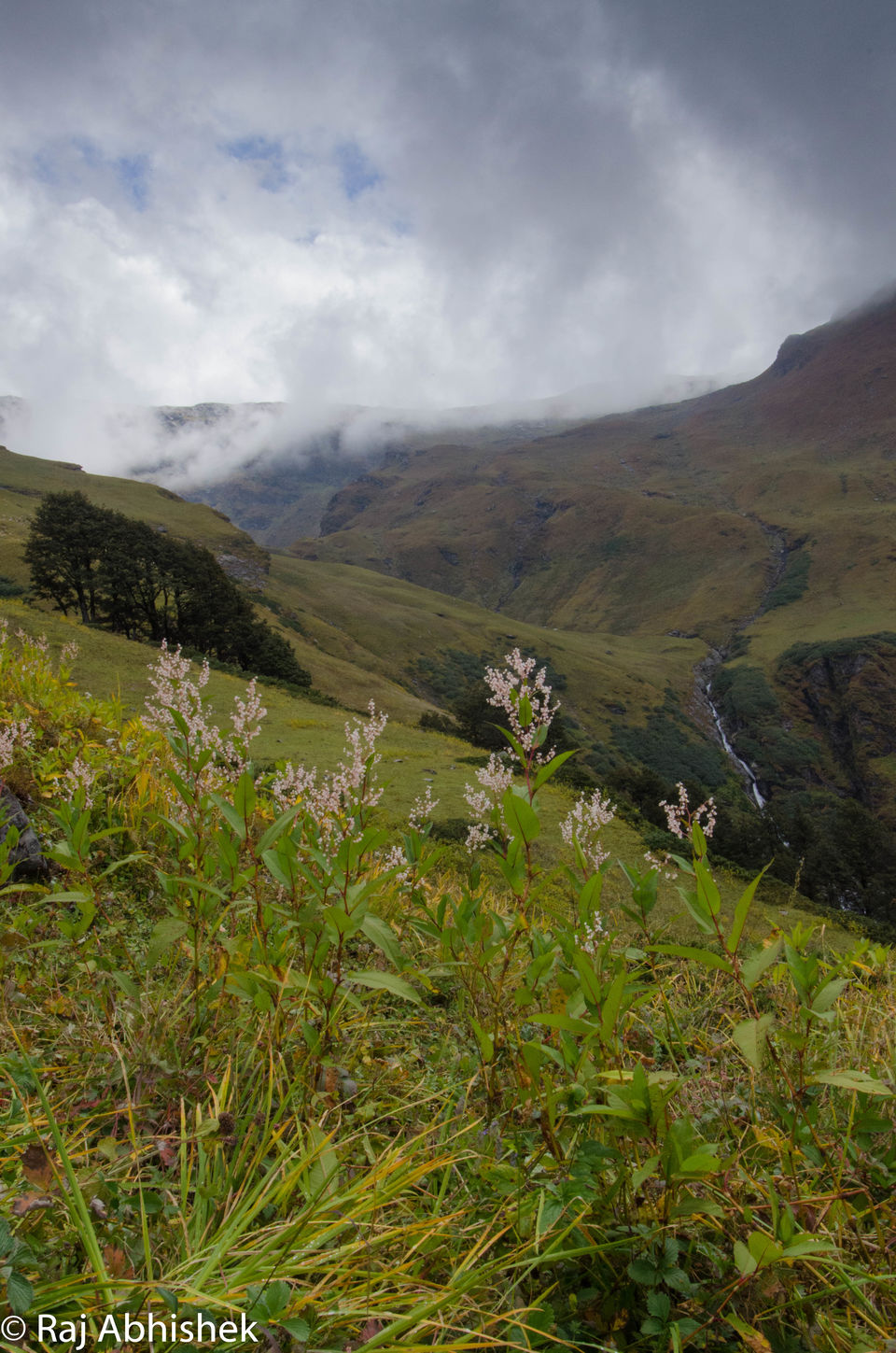 The ground now seemed to flatten up for the most part. We were walking around mountain slopes now, instead of trying to cross them. This was the last half or so of the entire 4-5 hrs of trekking that we did that day. Finally, we crossed a few mountain streams and lo behold, our base camp came into a view ! A flat valley of sorts with a stream flowing through in the middle. This was where we were to hold up for the next 2 nights.
Our tents were pitched up even as we were enjoying some snacks at the 'local' snack bar; a small makeshift tent serving tea/biscuits/maggie and some other necessities which were indeed beginning to feel like luxury here. We savored every bit of the snack even as we were waiting for our lunch to get ready, for we couldn't hold on to our hunger pangs after all that our calories had gone through !
The lunch did take some time to arrive considering the fact that the kitchen tent had to be setup as well. My hunger pangs satiated for the time being from the local 'bar', I decided to bide my time by strolling around and taking in the views. So did the others !
I was sitting by the stream when the lunch call was made. All of us huddled together once again, our plates and cups in our hands. The kitchen staff must be commended for cooking up such awesome stuff at such heights ! I did not leave even a single morsel from all that I had on my plate. Of course, to leave waste is discouraged on any trek for that matter. Resources must be used judiciously.
Lunch done, I was now determined to relax as much as I could. Our trek leader, on the other hand, had some other plans for all of us. Since we had nothing much to do except relax and sleep off after sunset anyway, the dining tent was now utilized to huddle us all again, this time for an interesting session of this game called 'Mafia'. A first time for many, the game hooked us all pretty soon, and while some learnt the ropes faster and some slowly, we ended up playing well until after sunset when the dinner arrived !
We had our intervals of leisure though, after a game session would end. During one such interval, and while waiting for the next session to begin, I tried to click in a few sunset shots.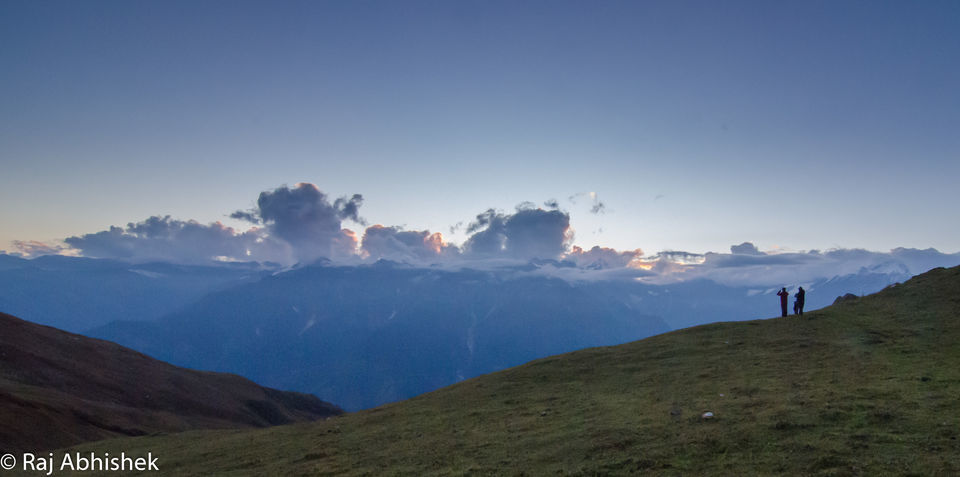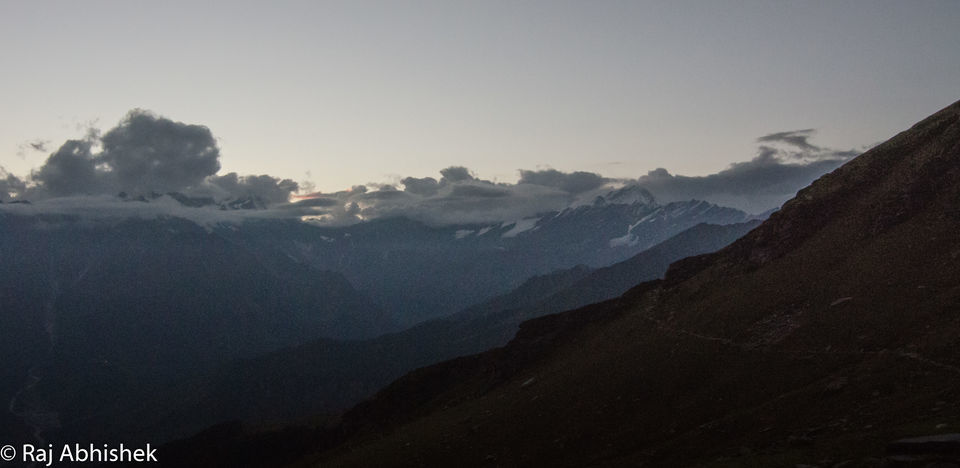 The rest of the night had nothing much in store, except partaking of the dinner, and sleeping off in our tents. One look at the sky above, however, and it was sheer delight ! One can never imagine such clear views of the night sky from the city, with all it's artificial lights. It was like a carpet of stars above us, each burning bright as well as it could. And to top it all, you could have a beautiful view of our own galaxy, the milky way; a more dense collection of stars than it's surroundings. That brighter streak in the night sky left me mesmerized !
Plans were made to click the same, but that was before dinner. After the food went in, we slid off in our tents in no time as the chill was already quite much and we had to start off early next day. I left the milky way capture to my impending Ladakh trip after the trek. It was also in parts due to a want of the technicalities required to click such an image. However, I regret my decision to this day about not making an effort to capture that beauty. Will not happen on my next such sojourn for sure !
Rola Khuli to Bhrigu Lake and back
The night had passed off peacefully for the most part. A warm and sunny morning greeted us, and we were ready once again to trudge the final distance to our final destination, the Bhrigu Lake.
But not before my customary photography session in the morning. I had company !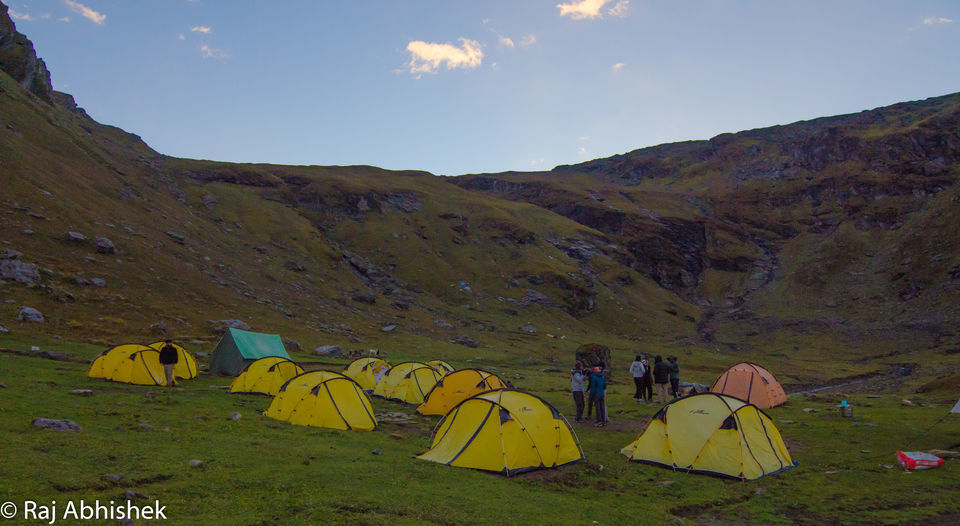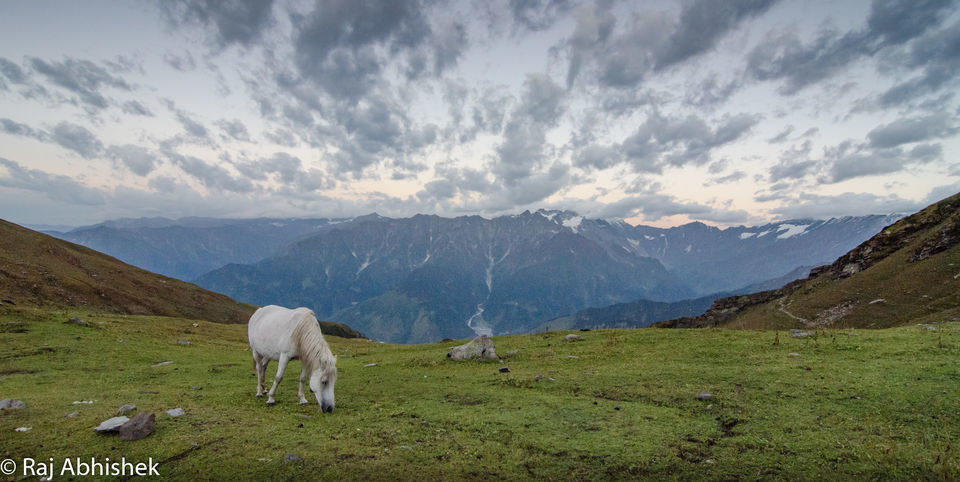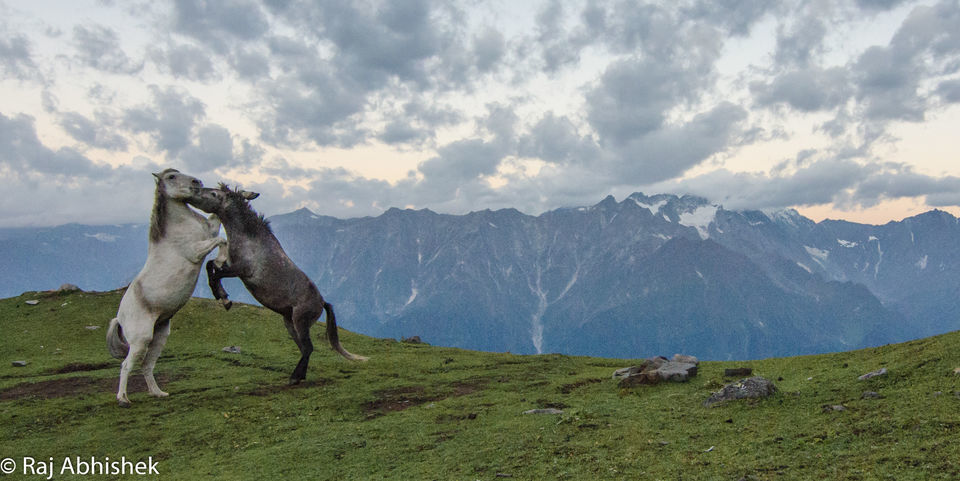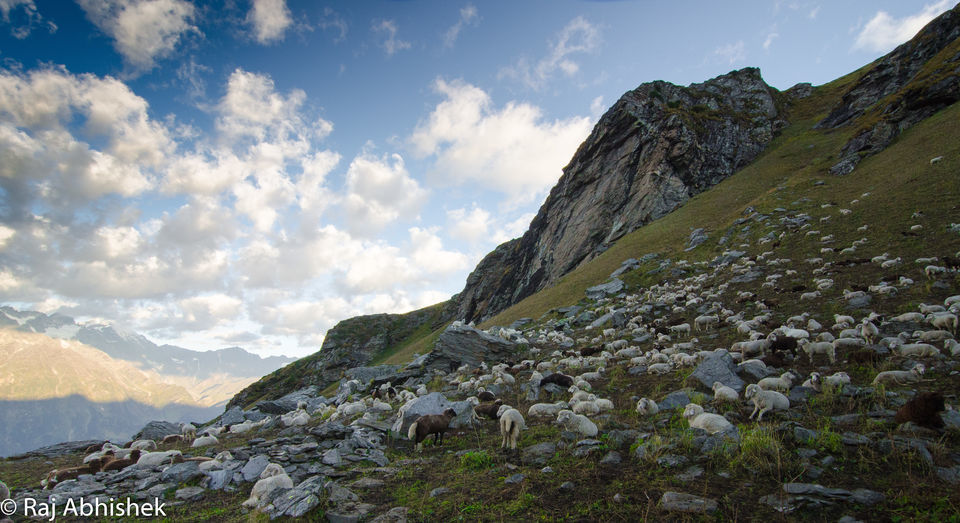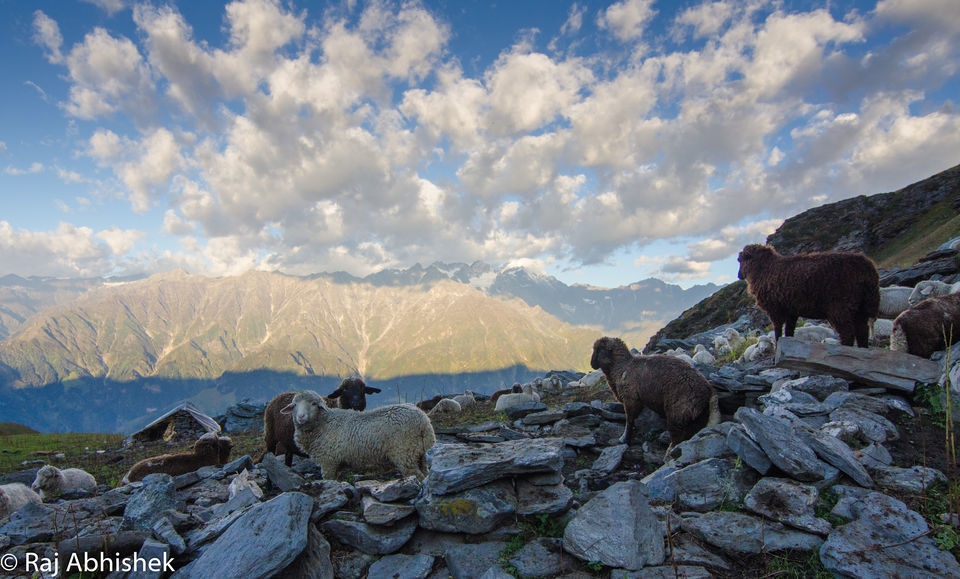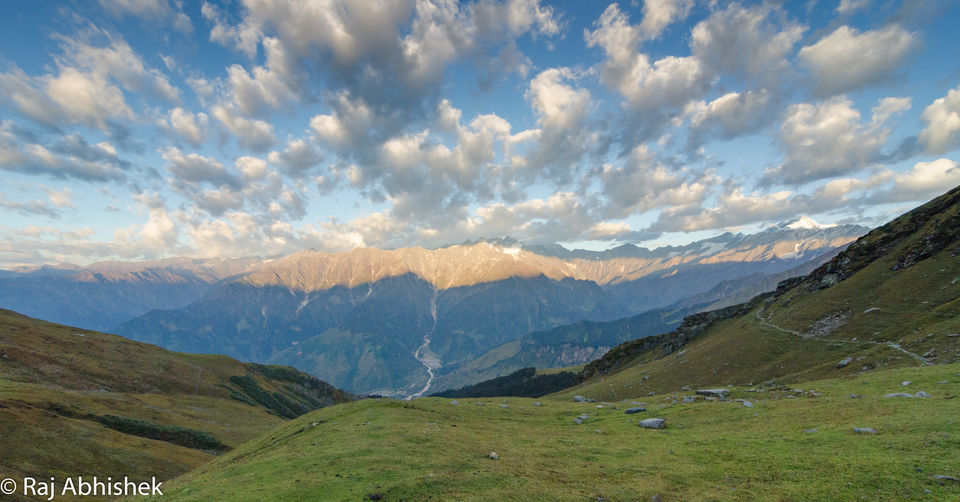 The sun was already up and about, casting it's initial golden glow on the Dhauladhar yonder. I managed to click a few more before the call for breakfast rang in.
Once again, tummies filled up and with our day packs on our backs, we crossed the stream on our final journey to the lake. The ascent started as soon as the stream was crossed, and steep it was. We trudged along in a single file, chit-chatting and removing off our woolen layers; our walk as well as a brighter sun started to get our sweat glands to work.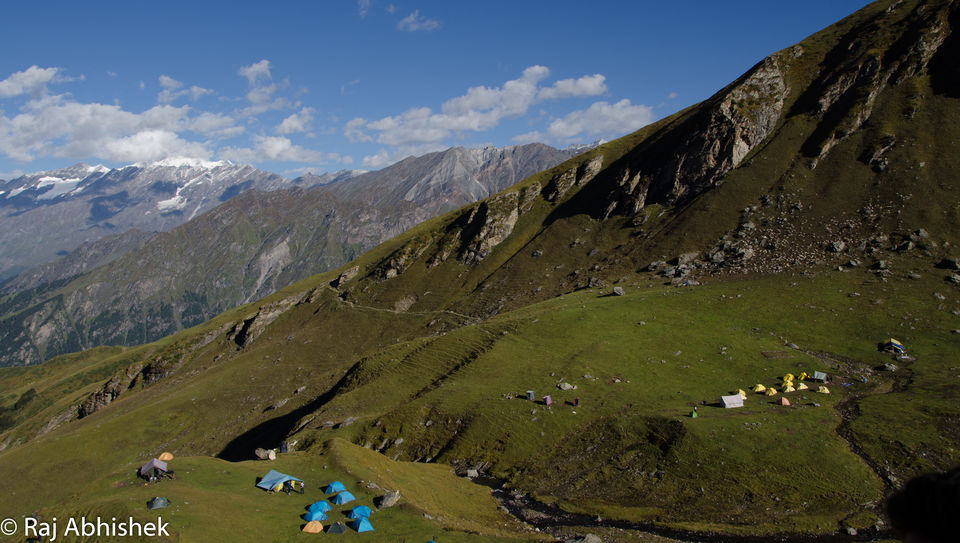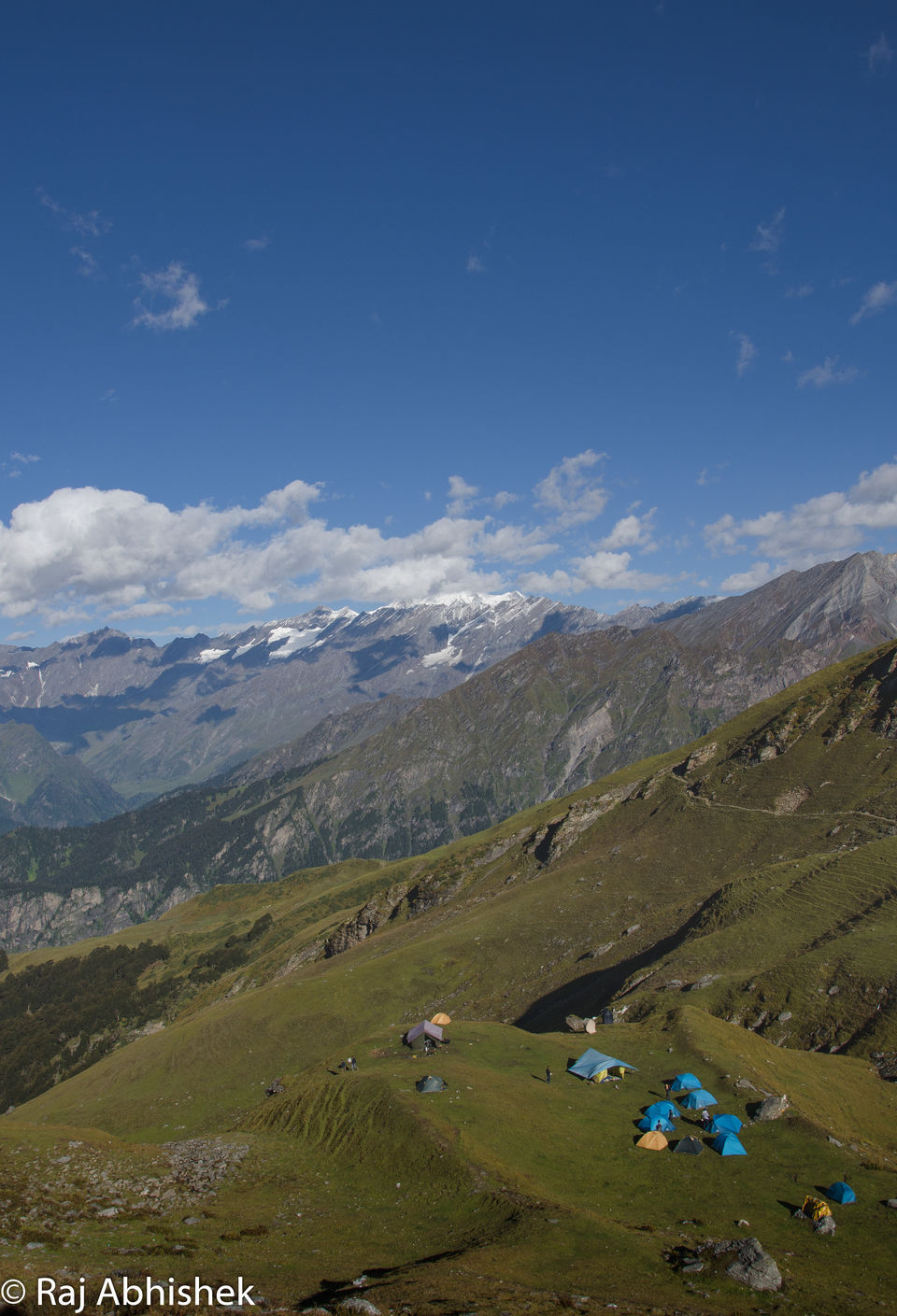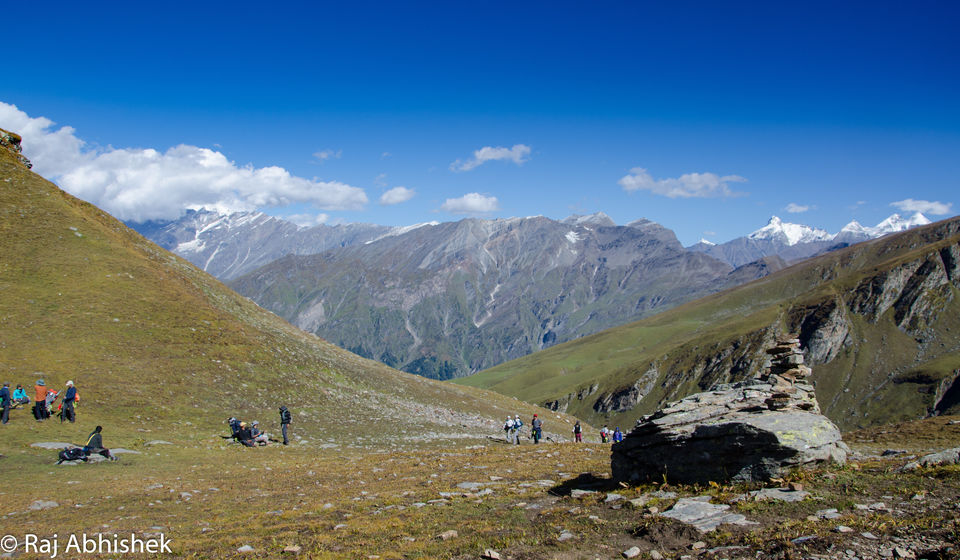 The terrain grew a bit flatter for now, but this day was not one of easy walk. We started climbing again, and this time mostly on rocks of all sizes stacked up against each other. They were stable for the most part, but nevertheless, we had to be sure while setting foot on each of them. All in all, we had to walk slow and cautious.
The views, for the most part, made up for the strenuous climb. And of course, the thrill of relaxing by the lake kept us going up and further ahead.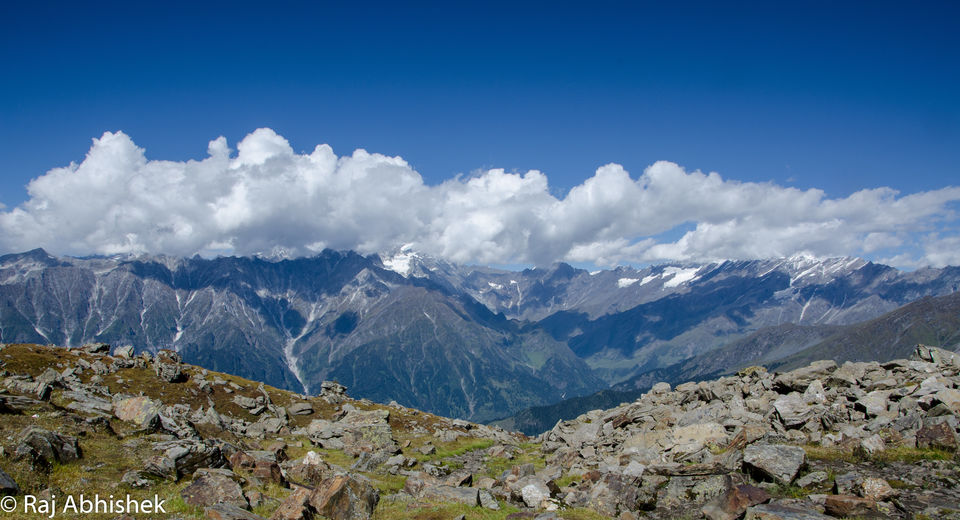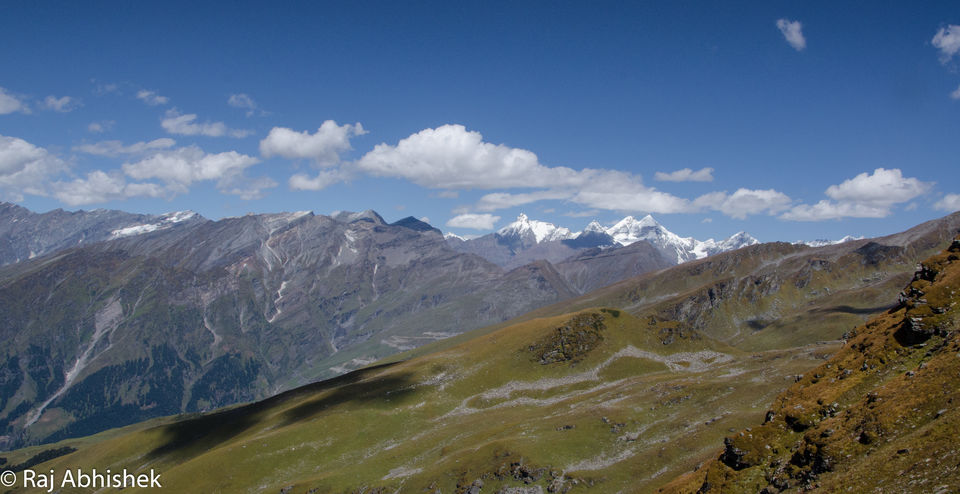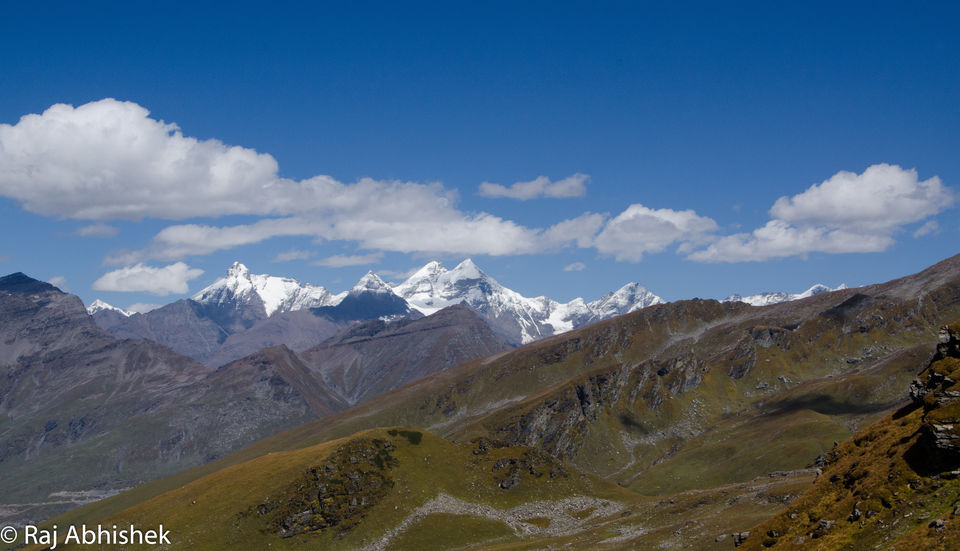 A few stops and similar ascents later, we were resting again when it was announced that the lake lay within a very short distance thereupon. Boy we were thrilled and relieved to some extent as well ! Off we started again, determined to cover those last few steps. Finally, we were greeted with this view of the lake where the great sage Bhrigu is said to have meditated millenniums earlier. It was mid-day by now and we had trekked up at least for 3 to 4 hours.
Frankly, I was a bit dissapointed with the water level of the lake, but nevertheless, some within the team gave their victory cries upon making it to the same in the first place. It was merry making time now, and people dropped off their bags and ran forward for a closer rendezvous. Selfie sessions followed soon thereafter. Some people did try to test getting a dip in the water, but the lake was freezing so far as that was concerned.
A lone temple made of stones and some flags stood at one end of the lake, and after making my customary obeisance at the same, I walked on to the diagonally opposite end, and tried getting a different perspective.
Even as I wanted to cover more path and take a full circle around the lake, I was called upon by my trek leader as it was now time for the customary group pictures, and well, time for us to leave. We had to try and descend soon coz after mid-day, you never know how the weather would fare at these heights. One moment it could be sunny, and cloudy at the very next. Descending down those stacked up rocks after a downpour could be a tedious and risky affair.
Our stay at the lake had lasted for a little more than an hour. After casting our last loving glances at the same, we started our descent back even as another trek group had just arrived to claim their moment of glory ! It was quite unlike June however, when the trek is quite crowded I was told.
Descent was a quite and relaxed affair, even though you have to be very careful with your steps ( apart from the obvious, for the love of your knee as well ! ). We had packed lunch on the way, and after just a few relaxing stops, our camp lay well within view. We descended down contently, and were greeted with hot tea and snacks from our kitchen staff. Much deserved and much needed !
A few 'Mafia' sessions and an awesome 'celebratory' dinner later, we were back in our tents for our last night up in these hallowed lands.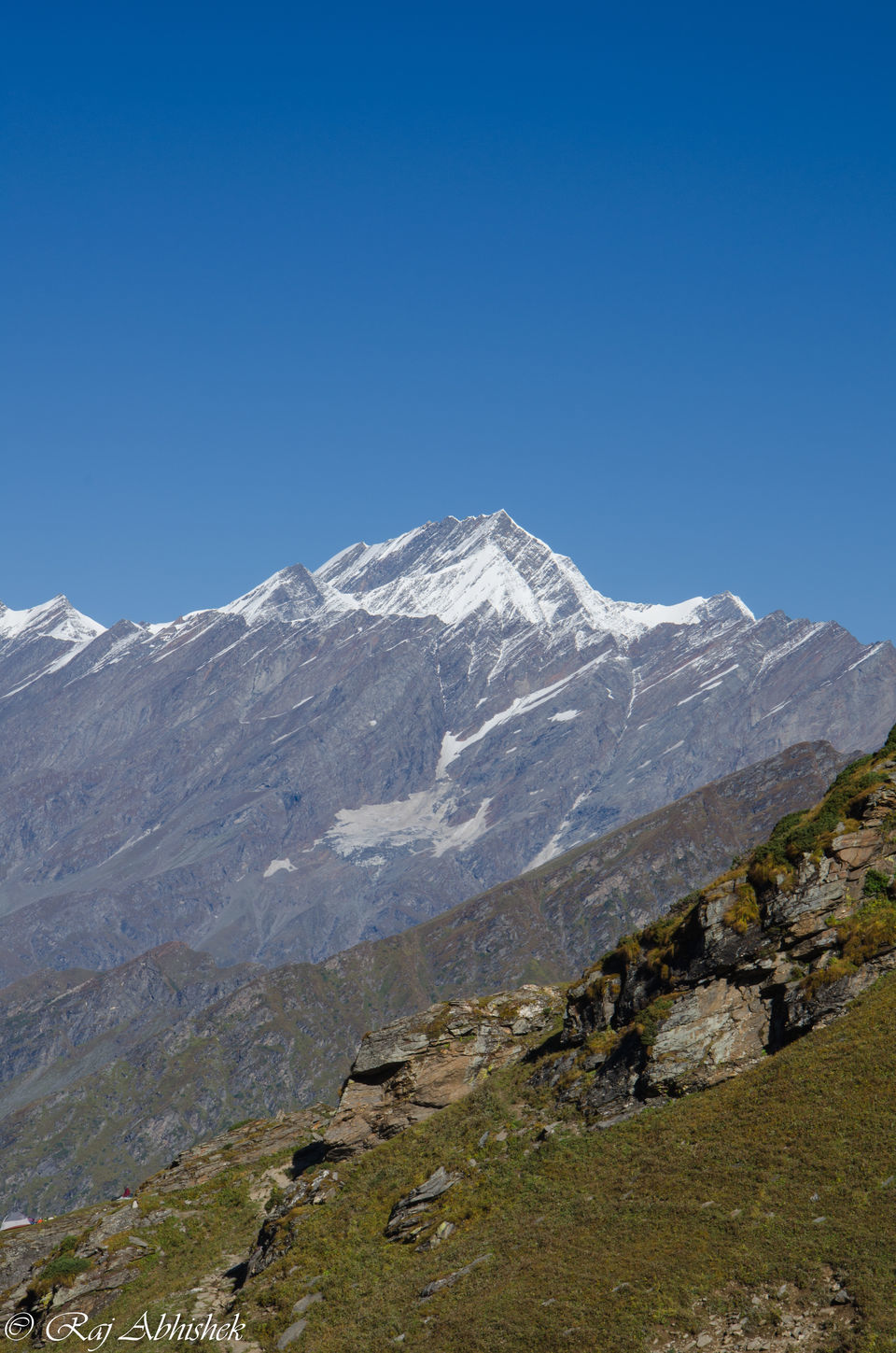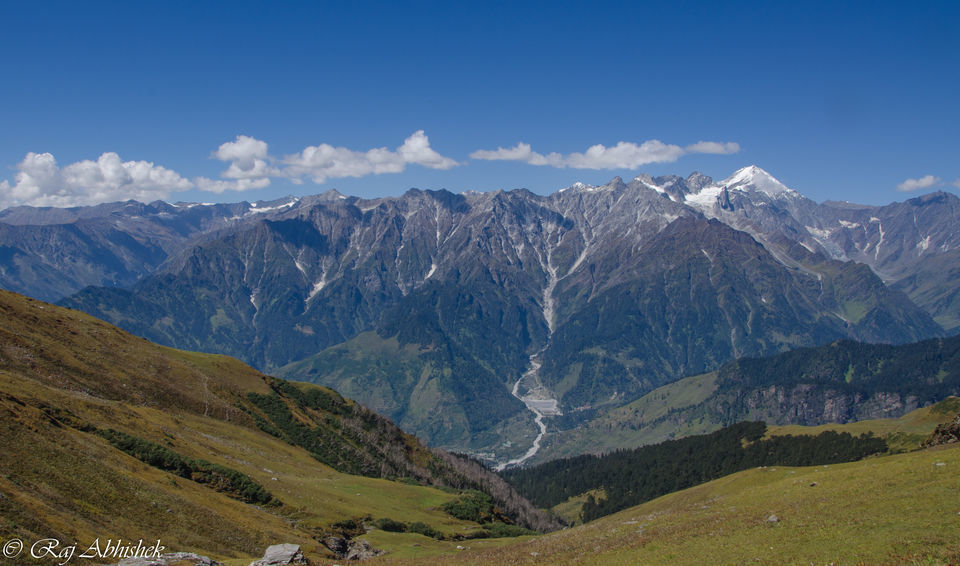 This day was one of closure, wherein our tents were folded back, and we picked up any other trash that we had generated and didn't want to leave behind of course ( A responsible and much lauded initiative from Indiahikes; not every body does this and you can come across a lot of trash on popular trekking routes, which these guys pick up as well ).
All customary stuff done with, including distribution of certificates etc, we descended down from the mountains, chatting up even as we did. I managed to click a few more pics of those peaks that were so cloud-less today !
It was mid-day by the time we were back at the same turn on the Rohtang pass road where our jeeps had dropped us. An hour more, and we were at the Mall road in Manali, saying our good-byes to people who we had shared our last few days with, days worth remembering for sure.
From hereon, it was "each on his own". Some had to catch their buses back soon, while some stayed back and decided to catch up later in the evening. Old Manali is a wonderful location to do so.
Me and my friends, we had a reserve day to ourselves before starting off on our Ladakh sojourn ( yes ! ). We made use of it by relaxing during the day and moving out in the evening. We walked towards old Manali again for some shopping, and checked out for woolens/warmers in and around the Manali Club House.
The club house is a tourist attraction in itself, one for the entire family. You can indulge in go-karting and in playing some other games of the digital variety, as well as try crossing the Manaslu river nearby on ropes etc. Shopping and a bit of eating out can be indulged in too, as is the norm at most such places. An authentic shop for woolens is the one called 'Bhuttico', which is a chain with most of it's shops in Himachal, and few in Uttarakhand and in Delhi as well.
After getting out of the club house, rest of our evening was spent strolling in the old Manali market and indulging in some more shopping, and in trying to find a nice place for our dinner. After inquiring around and peeking inside some, we settled inside the Lazy Dog Lounge finally. Food was good and the ambiance, awesome. Sitting beside the river chilled us up for a bit, but it was a great experience nevertheless, what with our drinks to keep us warm !
We called it a night thereafter. Some more of my friends had joined us in the meantime for our journey to the land of the lamas.
On to Leh
Next day was sunny again, and we were on the road once more, but not before visiting one more of Manali's famed attractions, the Hidimba Devi Temple. A small structure this with peaceful environs, it was hidden snugly inside a canopy of cedar trees in the Himalayan foothills. A good one hour was spent paying obeisance to the deity, and then sauntering around looking for anything that could be clicked up.
A hearty breakfast later, the Rohtang Pass road beckoned us once more, all set to embrace and guide us on our journey ahead. We passed by the same turn yet again. Not a single soul there now, but one view of those steep steps, and fond remembrances of our trek flashed on my mind. It was only few days before that we had trudged up those very steps and embarked on our journey to that sacred lake up ahead.
I took a final glance at that path before our vehicle whizzed ahead. So long until I come again ! This was September, so perhaps in June next when the path would open yet again to reveal magical glimpses of the semi-frozen lake. Of course there would be lot more snow on the trek itself.
Added Bonus: This second trek to the same location is a free one from Indiahikes, and you can do it anytime again in your lifetime; no restrictions ! Looking forward to the same indeed, but for now, Ladakh it was !
How to reach Manali
Manali can be approached from Delhi as well as Chandigarh. Three of us had taken a bus from Delhi, and we had a decent ride ( Some of the mountain roads were getting repaired yes, but no major jams/bad roads ). My friends who joined me from Chandigarh did not crib about their journey as well, so I guess the roads from that side are not bad either. I had heard something to that effect before I started off, so I'd advise you to check before you decide.
If you're gonna go the car-rental way, these should help you out:
Delhi to Manali Cabs, Chandigarh to Manali Cabs, Savaari Car Rentals
Stay at Manali
Hotel Vikrant Inn; a mid-range hotel walk-able from the mall road. Nice View and comfortable accommodation, and with a restaurant too. Very courteous and friendly staff. We got a great deal from MakeMyTrip. Thumbs up all the way !
I would recommend staying in old Manali as well; would be an experience to cherish.
Food in Manali
Shanti Dhaba, on the way from Mall Road to Old Manali. Simple homely food for the most part, and pretty economical too. Seating is very basic, and it's truly a dhaba. Don't expect any ambiance or comforts other than nature. Sher-e-punjab on the mall road is your place if you're looking for something more restaurant like for your family. Not sure if you can eat all your courses here though; a 'pukka' Punjabi restaurant this.
In Old Manali, as mentioned above, 'People Cafe' and 'Lazy Dog Lounge' are highly recommended.
Shopping/Strolling in Manali
Mall Road and Old Manali will take care of all your shopping/strolling needs. 'Bhuttico' inside the club house can be recommended for woollens.
Frequent Searches Leading To This Page:-
manali tour packages for couple from delhi, manali tour package for couple from mumbai, manali tour package for couple from chandigarh, manali tour package for couple from bangalore, manali tour package for couple from hyderabad, manali tour package for couple from kerala