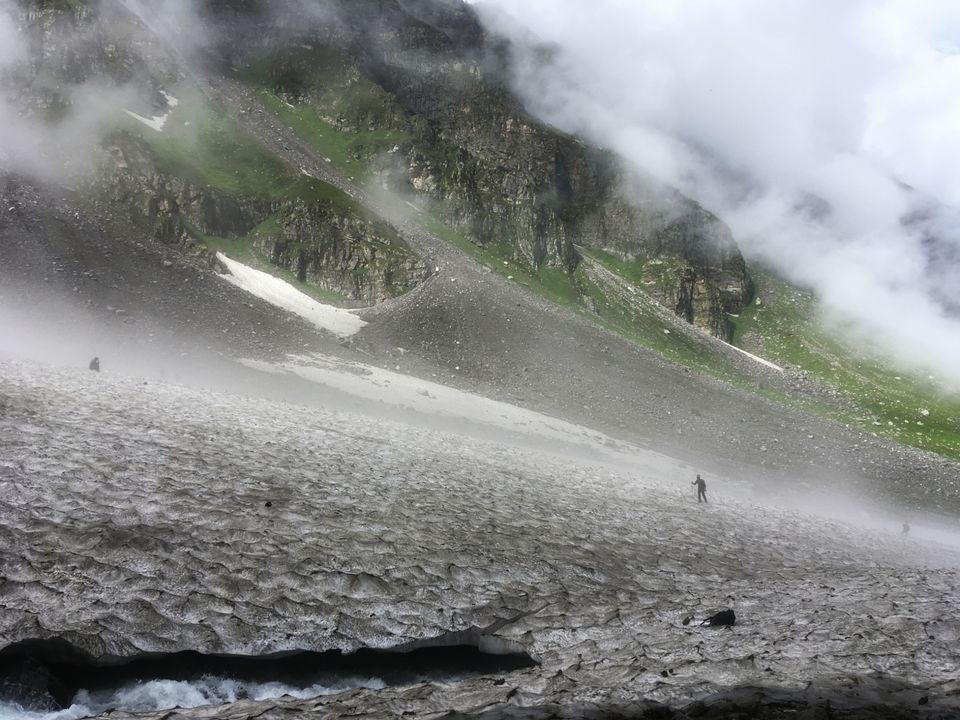 Trekking in the Himalayas came into my mind back in 2017 when I first saw my friend's picture from his Stok kangri trek. Until then I had very less idea about the trekking in the Himalayas. I definitely knew that I wasn't fit enough do the trek in the Himalayas. I waited for a while to settle down the things in my life and in the back I was working on my fitness. After doing a couple of one-day treks, finally, in 2019, I contacted my friend and told him that I will be joining him for his next trek. It had been almost 9 years we hadn't met. So we finally decided to meet during his sprinting session. Once the sprinting session was over he was satisfied with my fitness for the trek. After that there was no stopping, I went ahead and did all my bookings for the trek.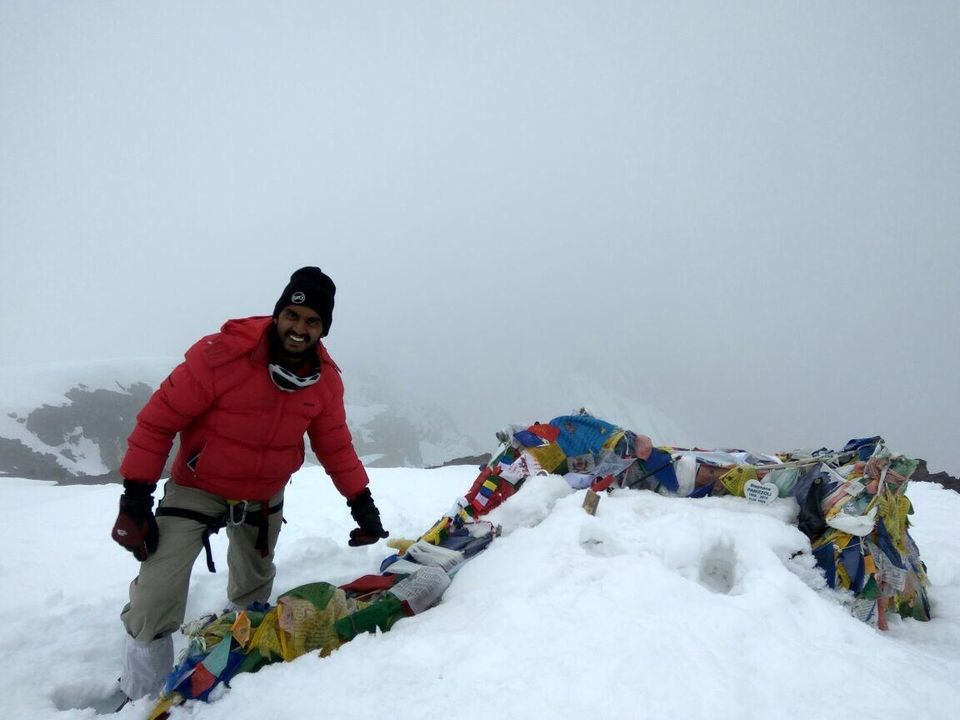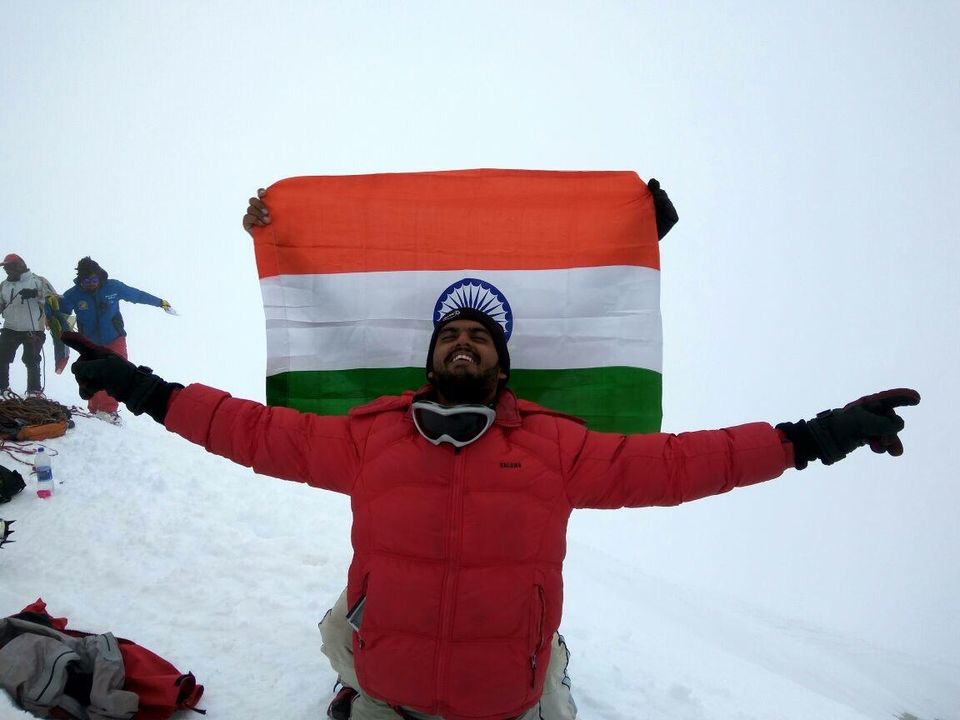 After a long wait, the day I was waiting for had finally arrived. We took a flight from Bangalore to Delhi and later a bus to Manali. This was going to be my bus journey of my life. So every time I woke up on the bus I used to check out the distance travelled and the estimated time remaining. At around 3.30 our bus stopped and I woke up to check the distance it showed around 87kms and I went back to sleep. I woke up in the morning and was very happy to see the sunrise. Once again I checked the distance it was again showing 87kms. I saw all the people are awake and discussing only then I realised that we had got stuck in a landslide and our bus hadn't moved an inch.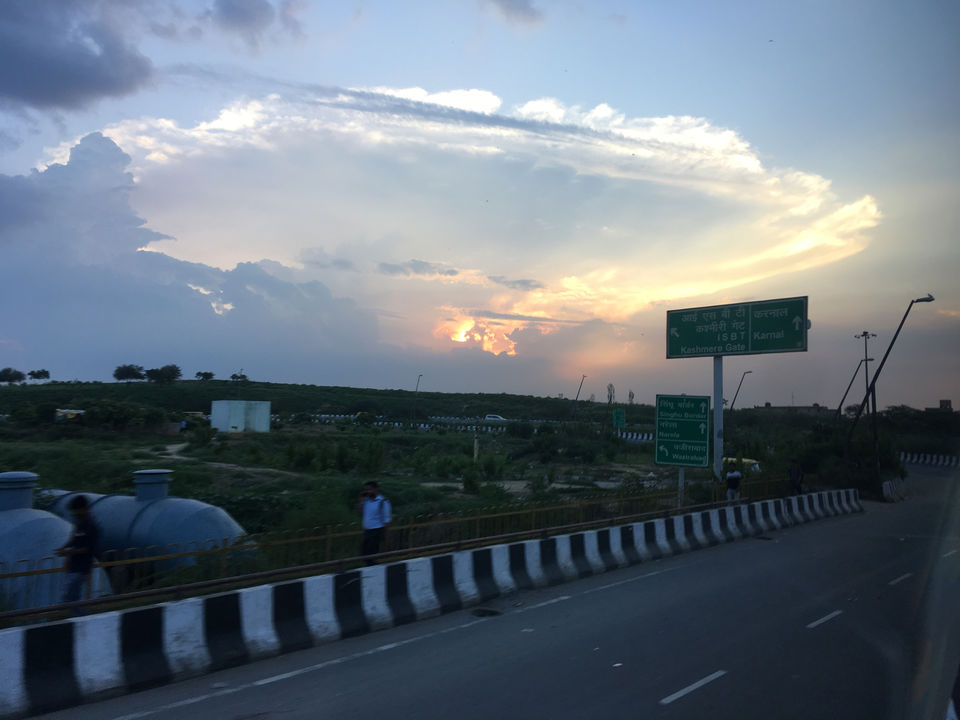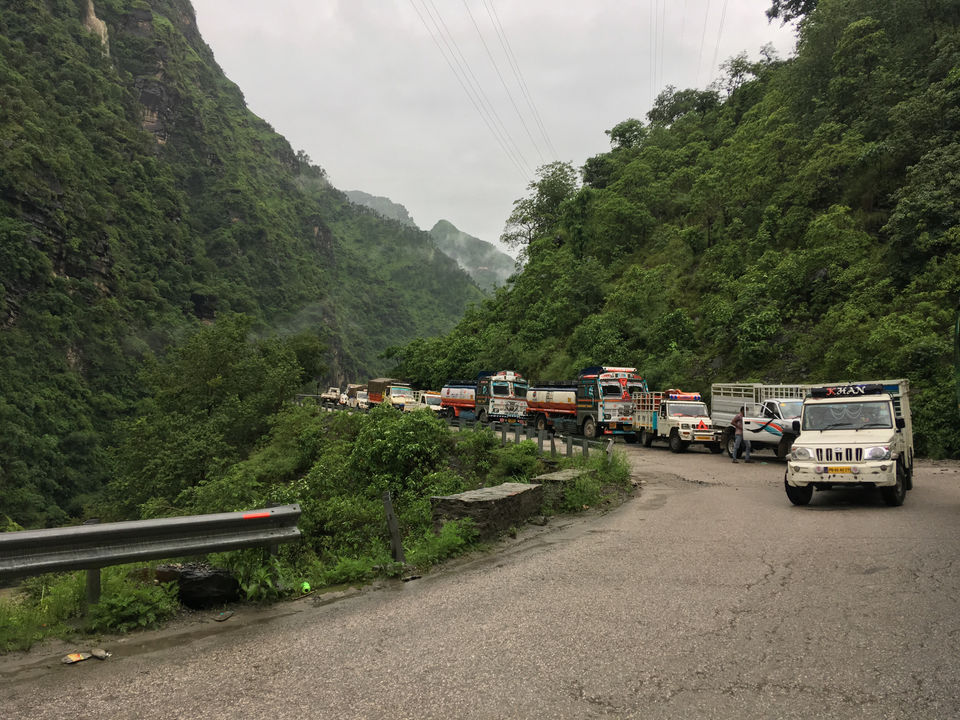 After a while, the landslide was cleared and we finally reached Manali. We had two days to acclimatize.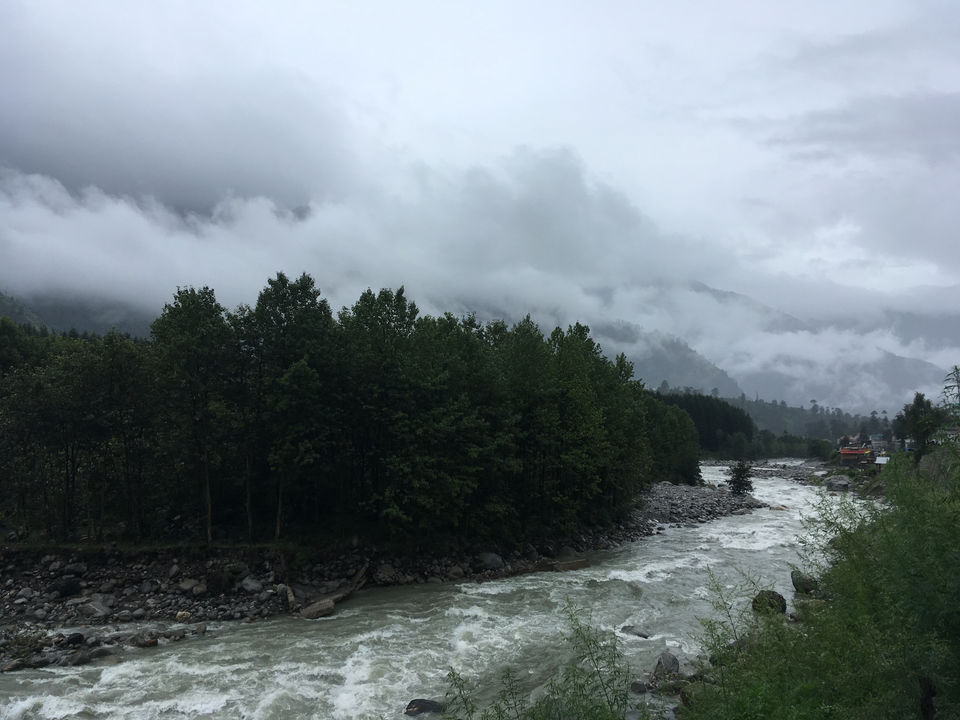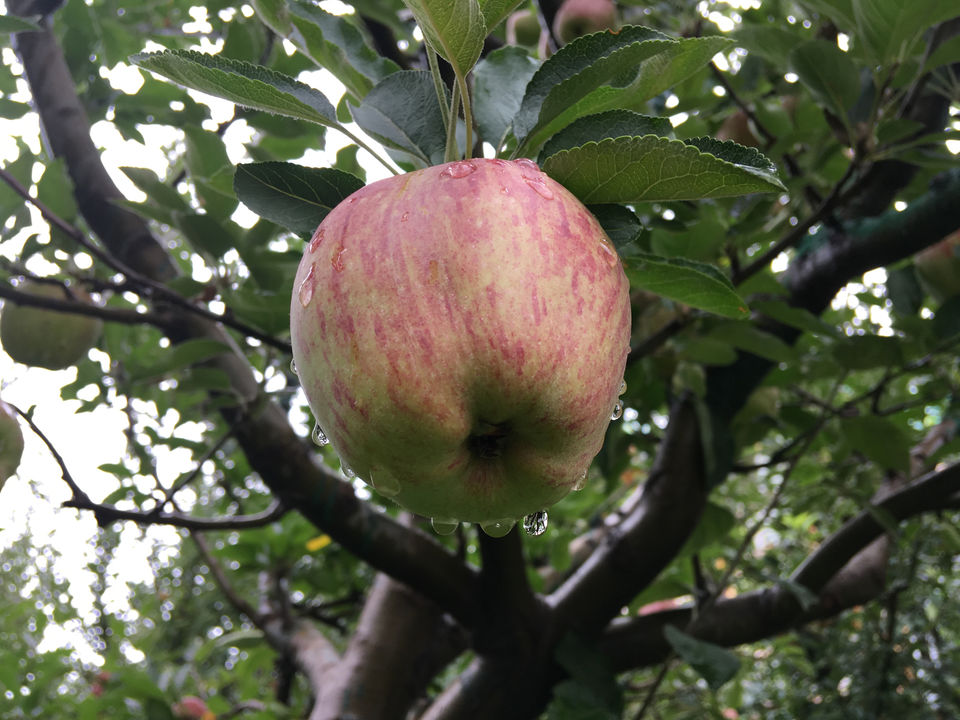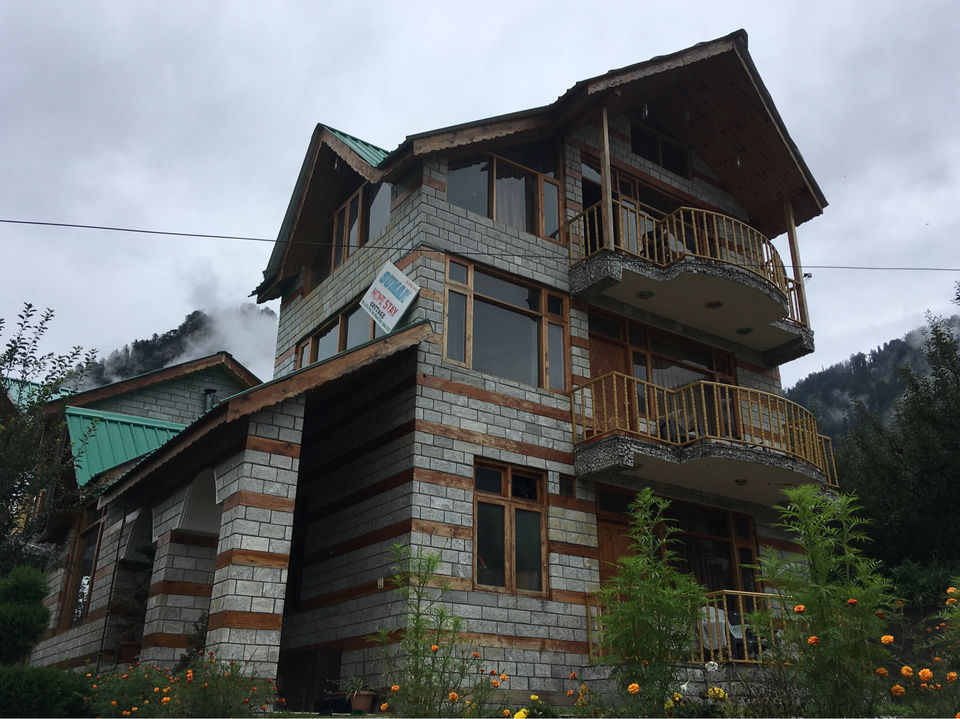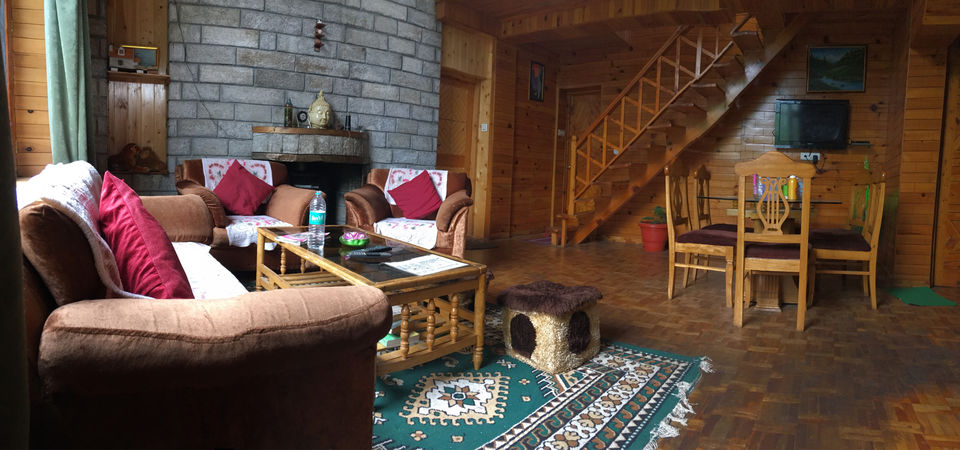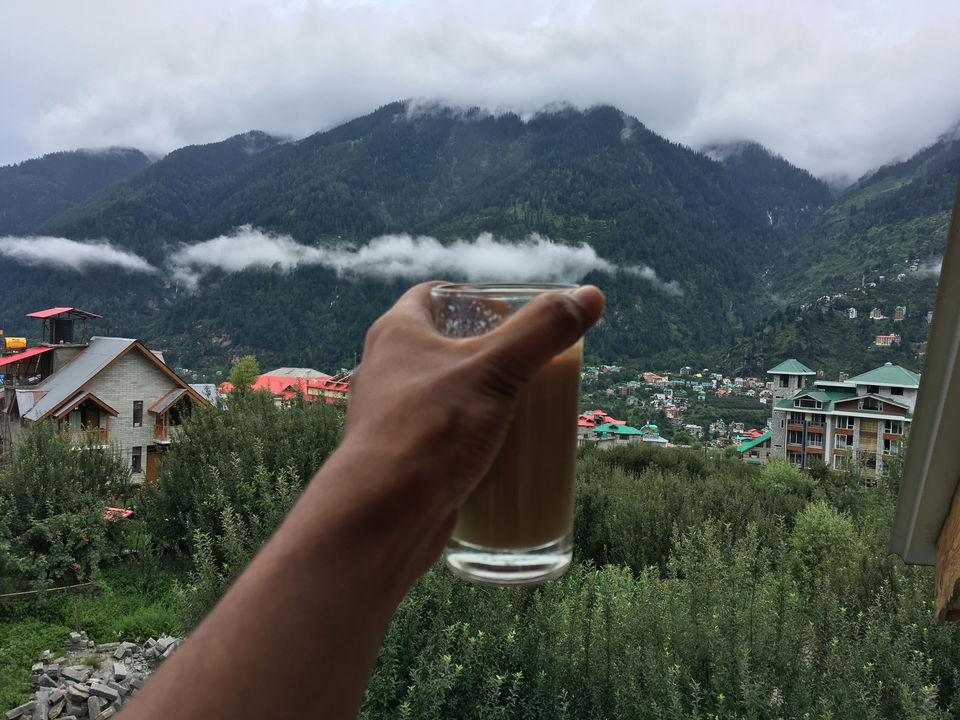 We explored few places around Manali, did an unforgettable bone-chilling bike ride to Rohtang Pass and visited few cafes/pubs and ended our day.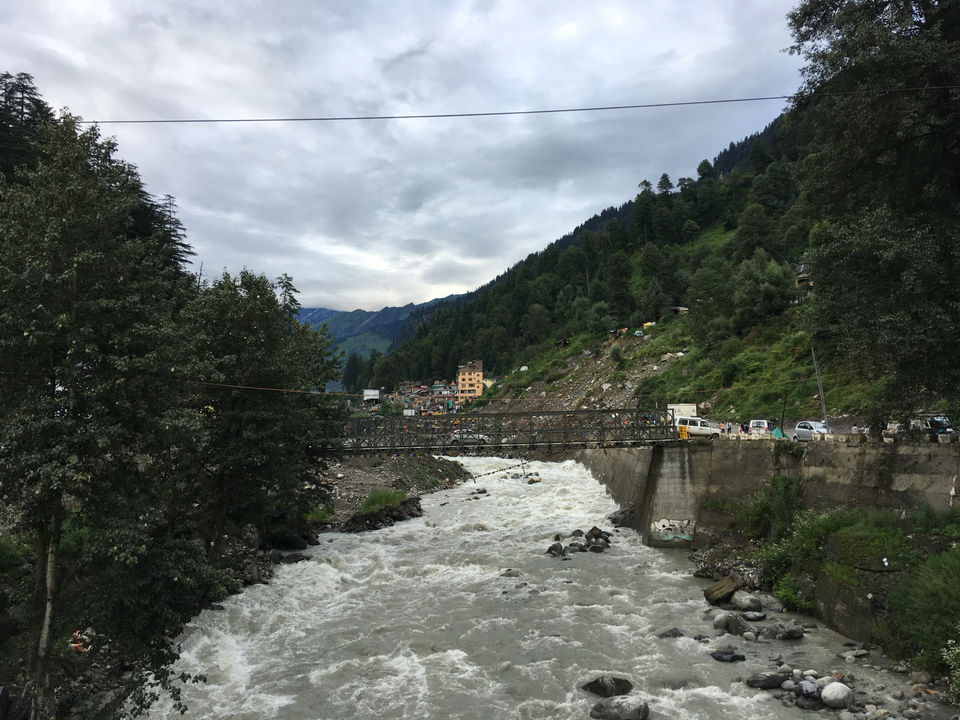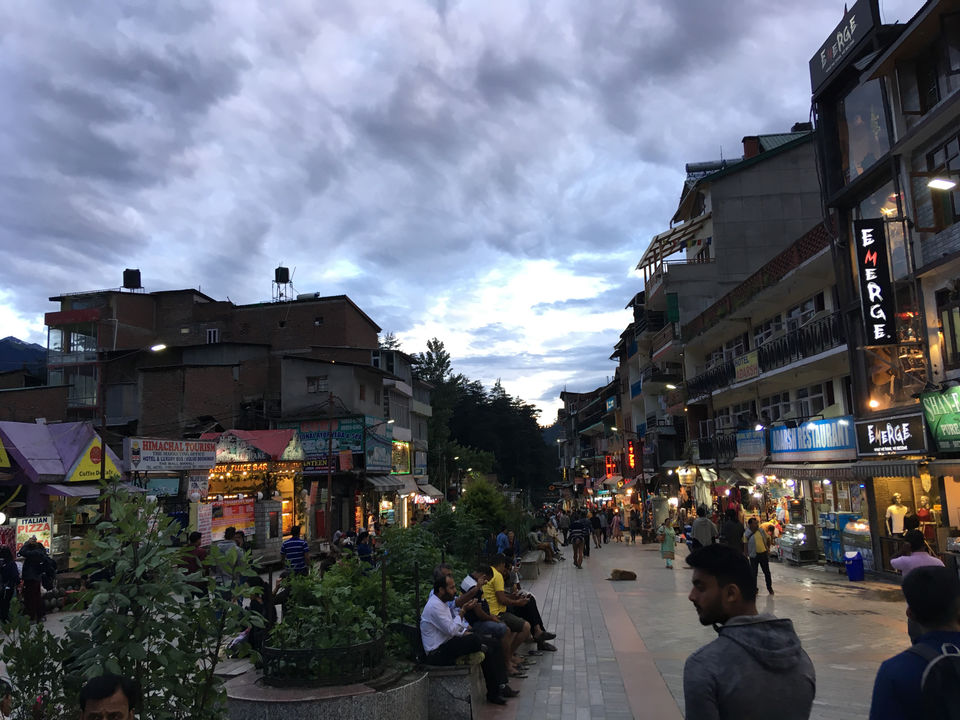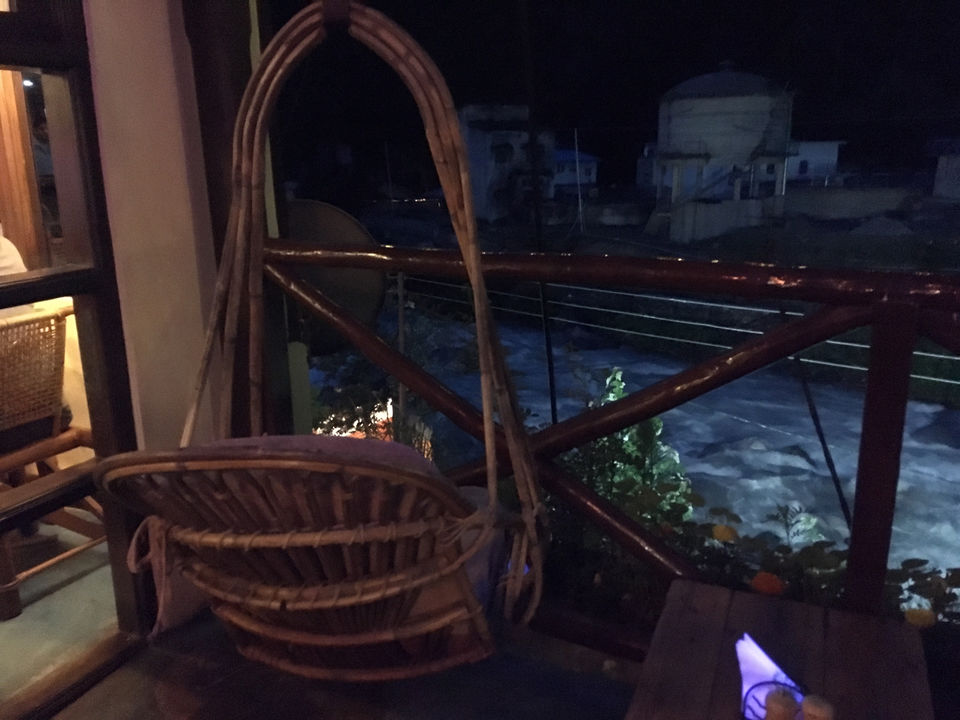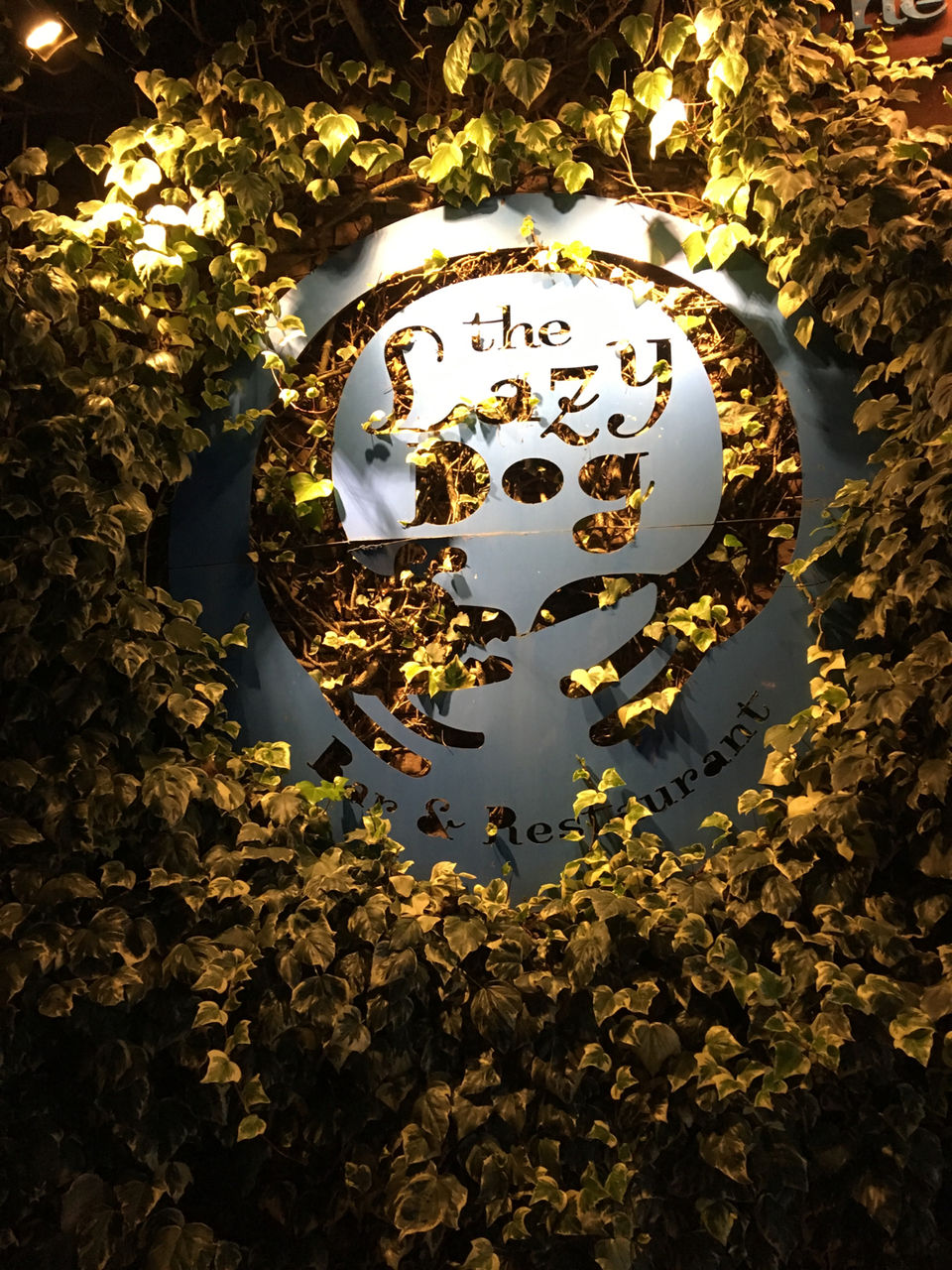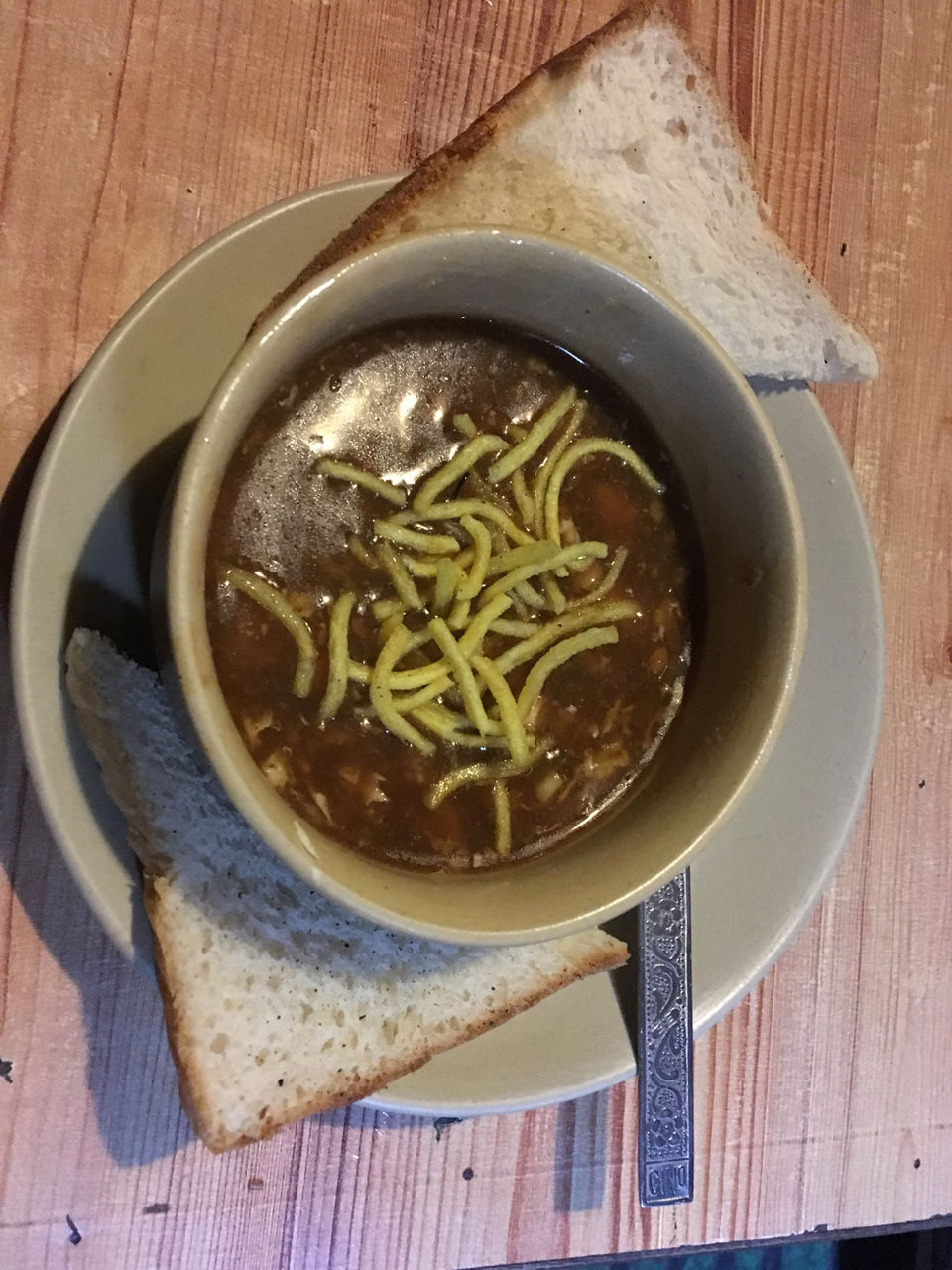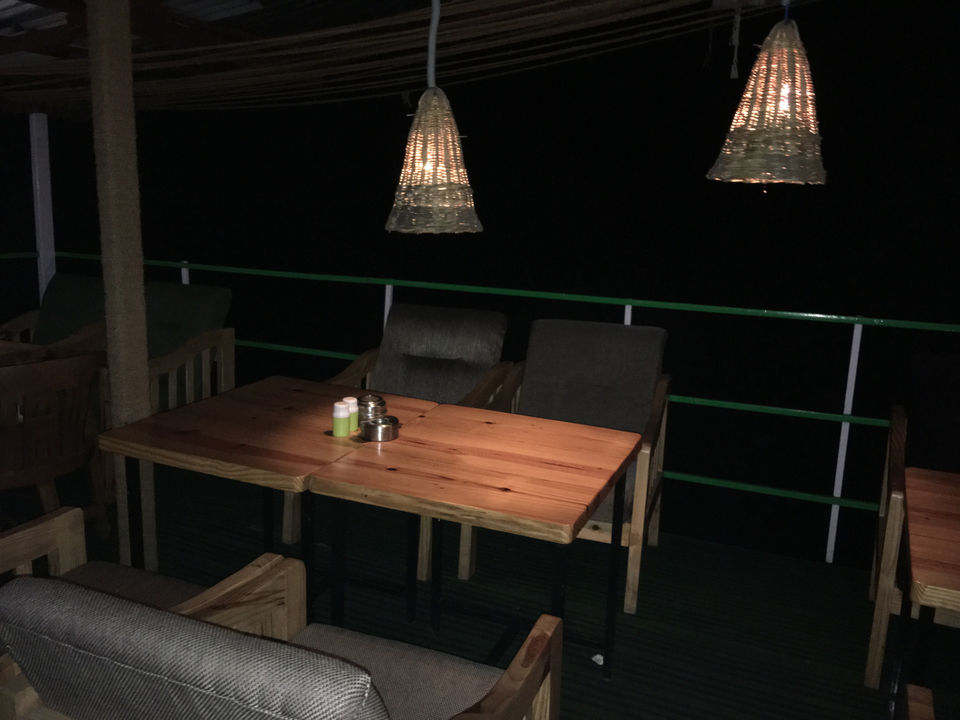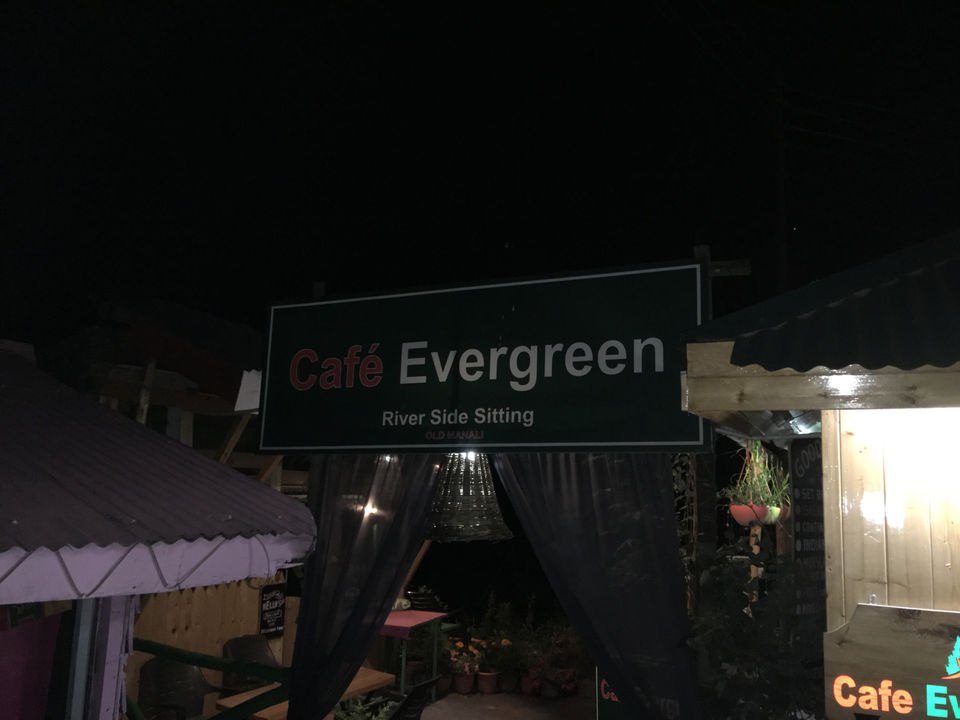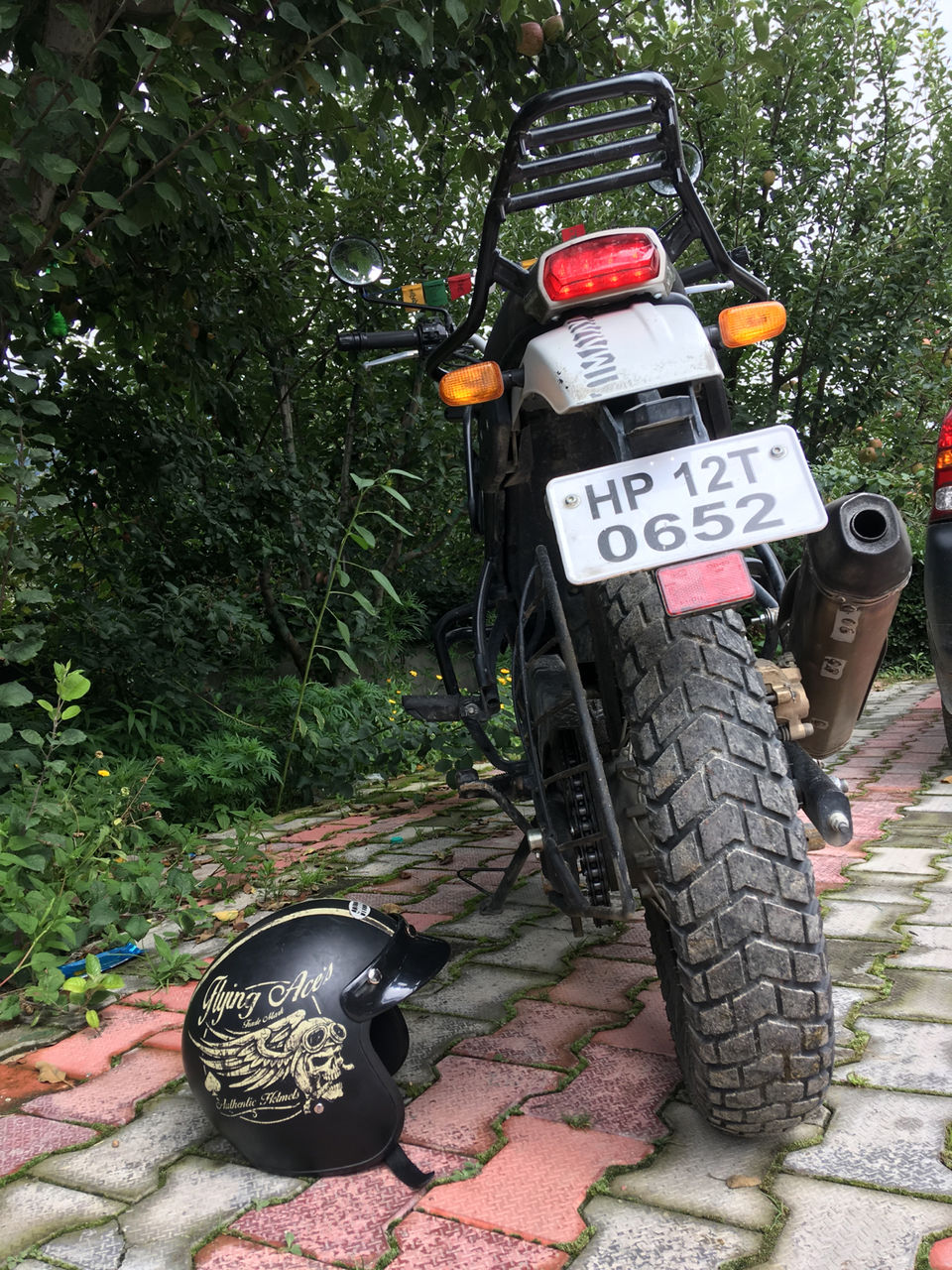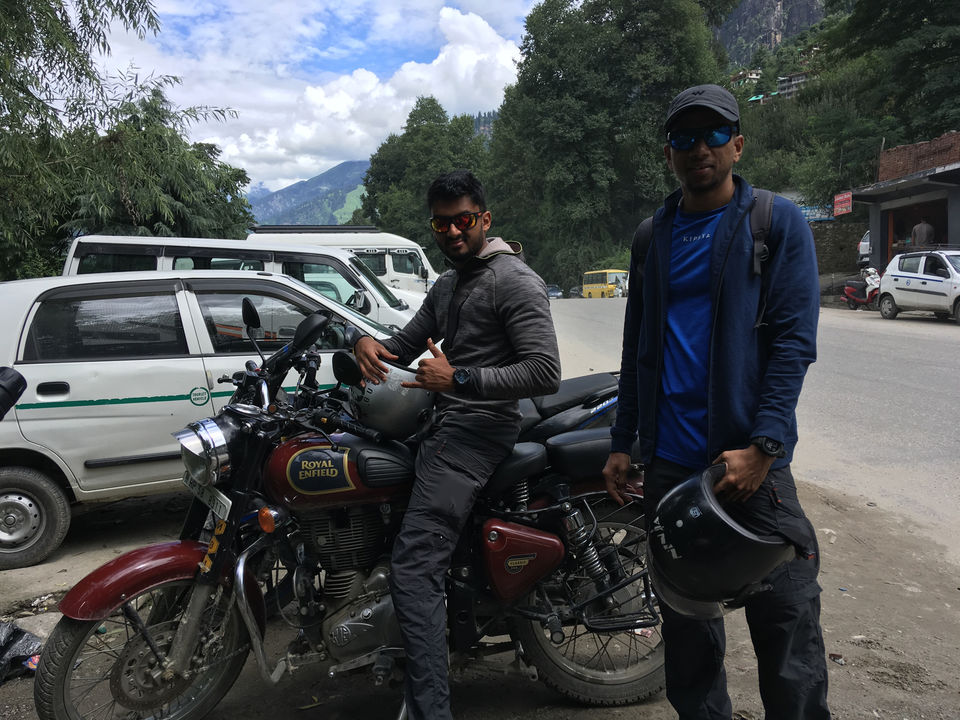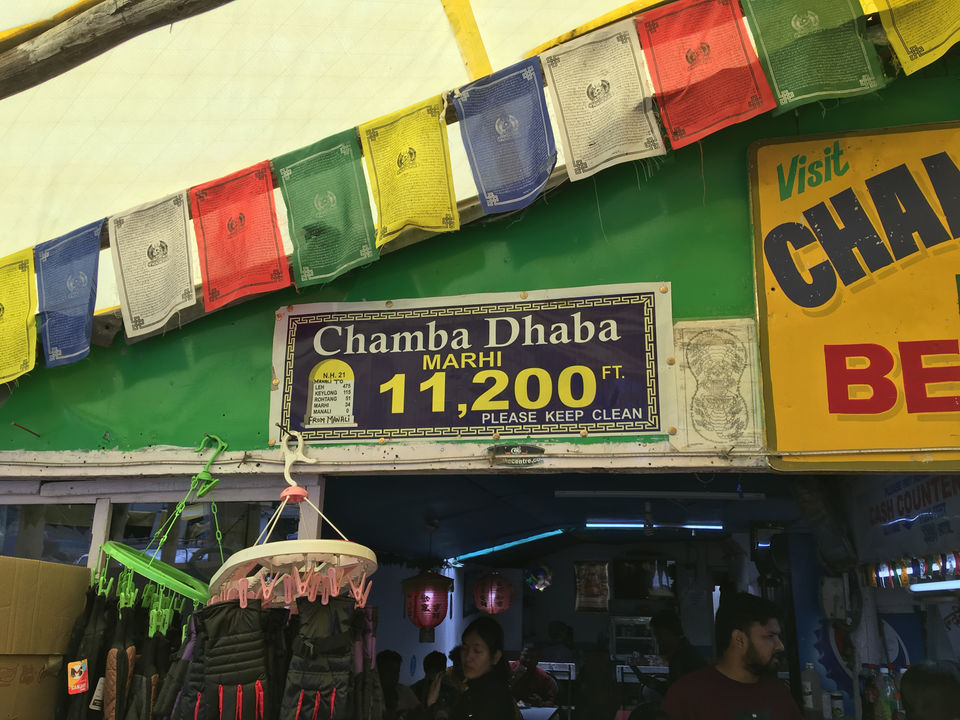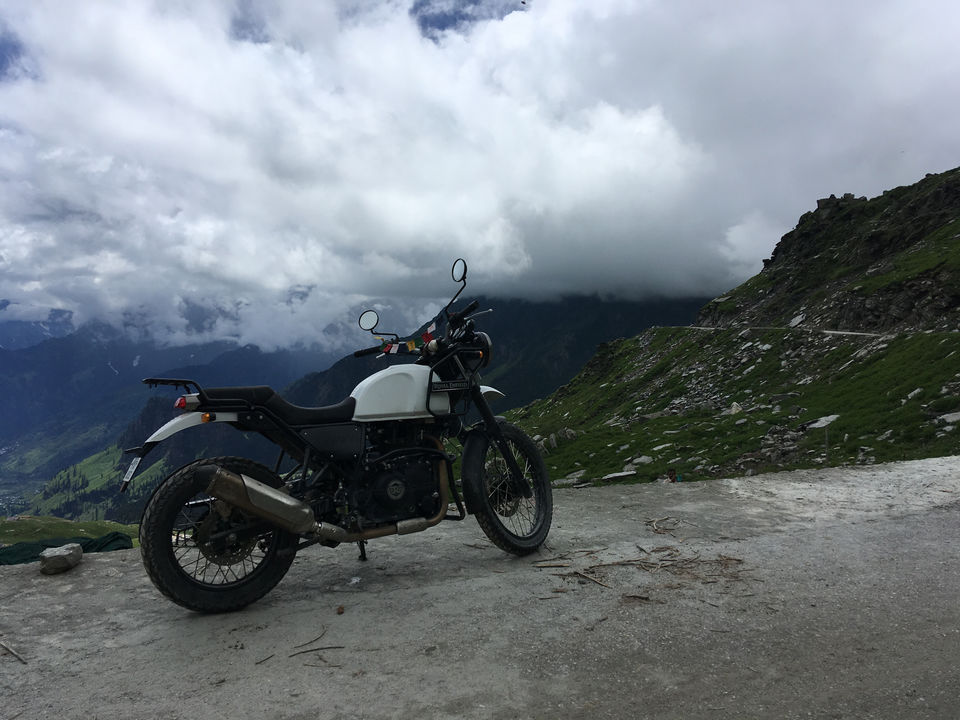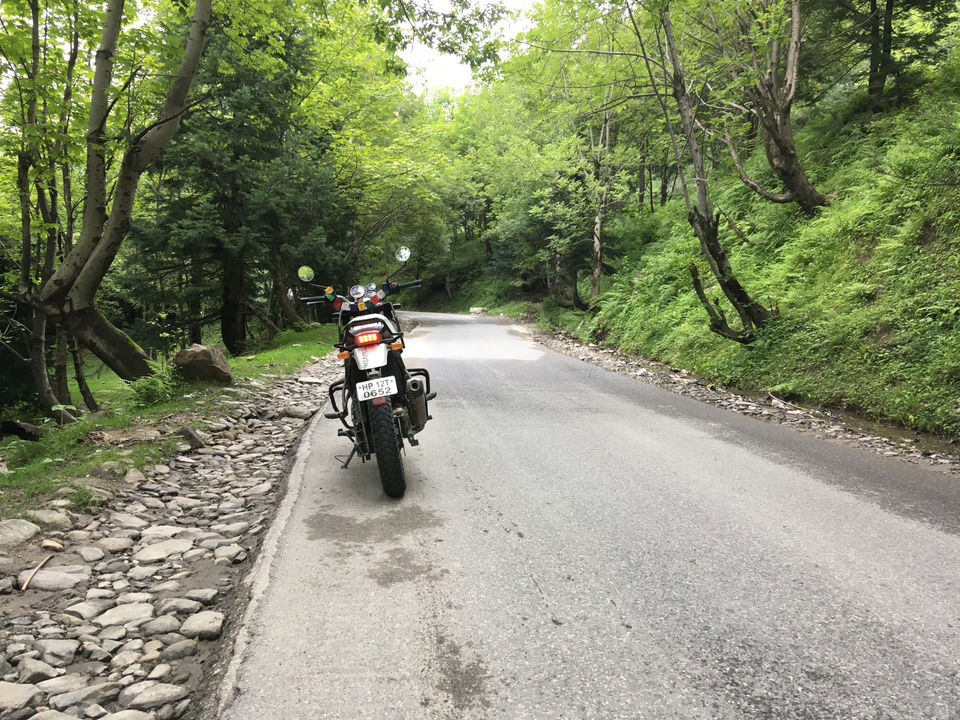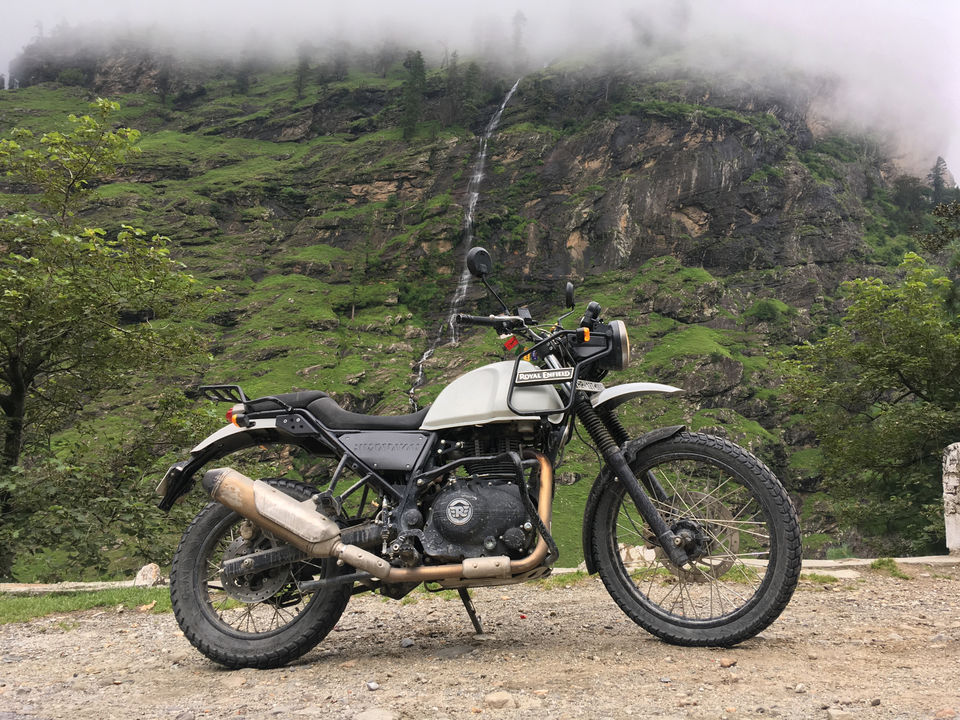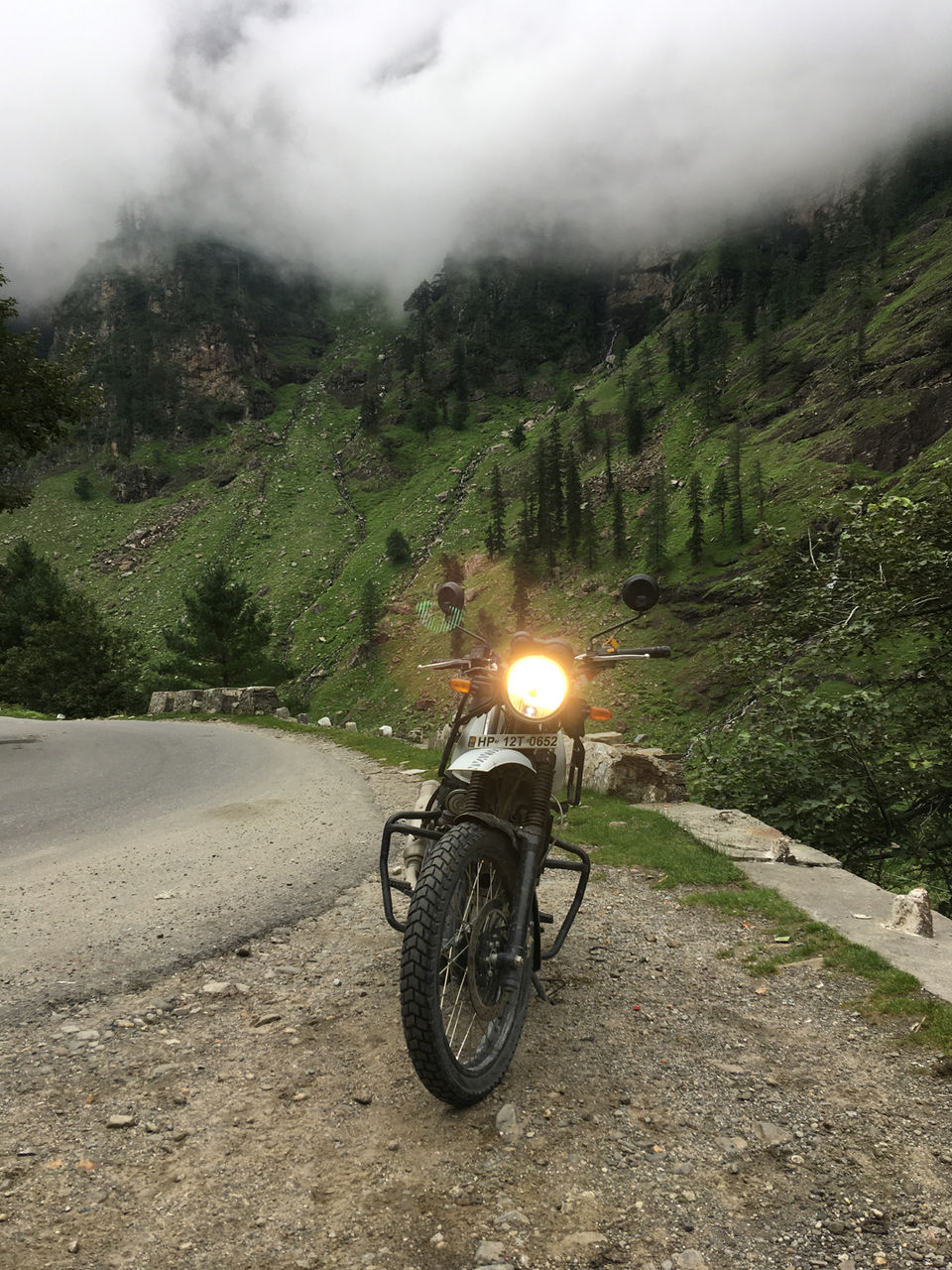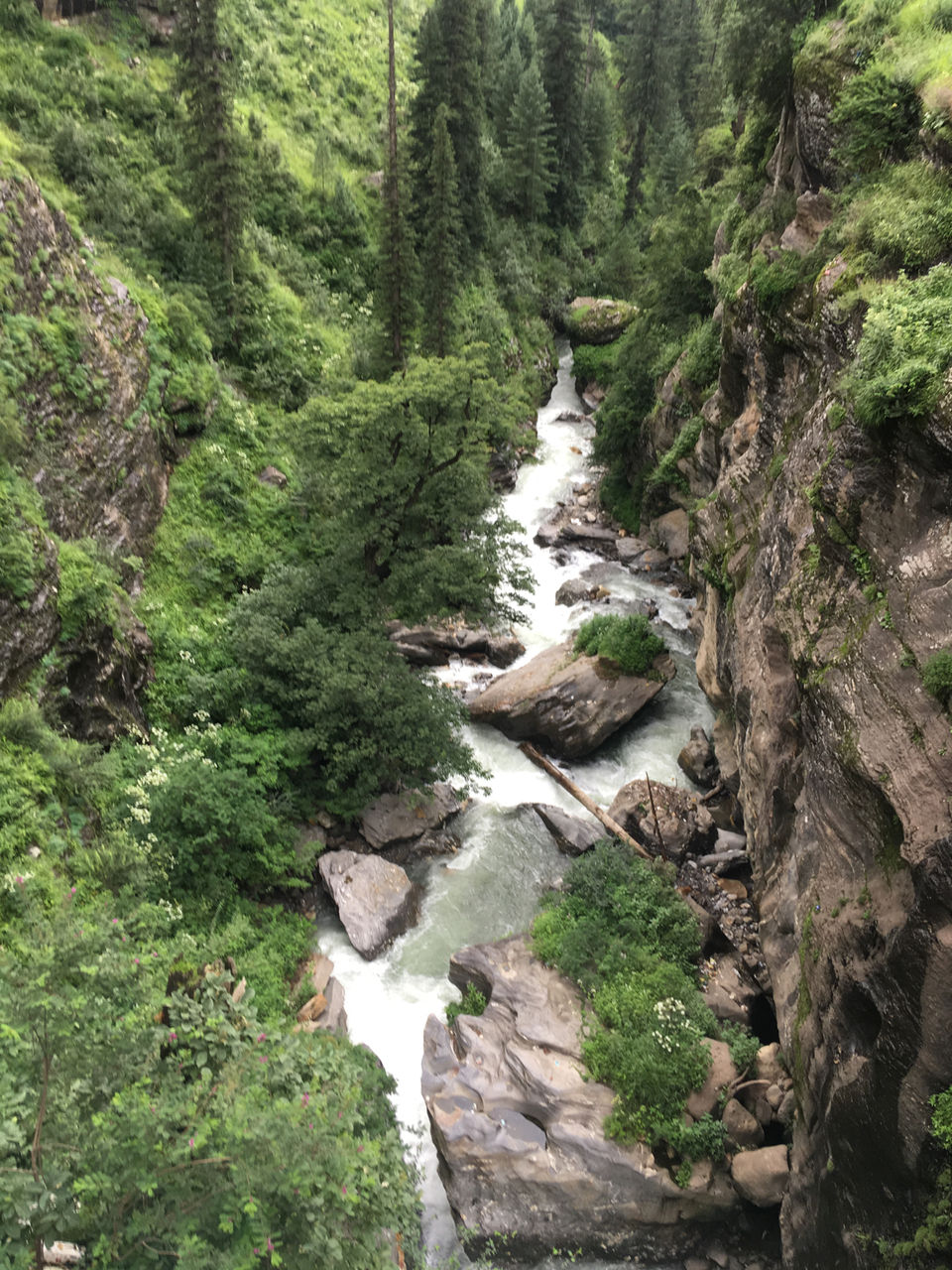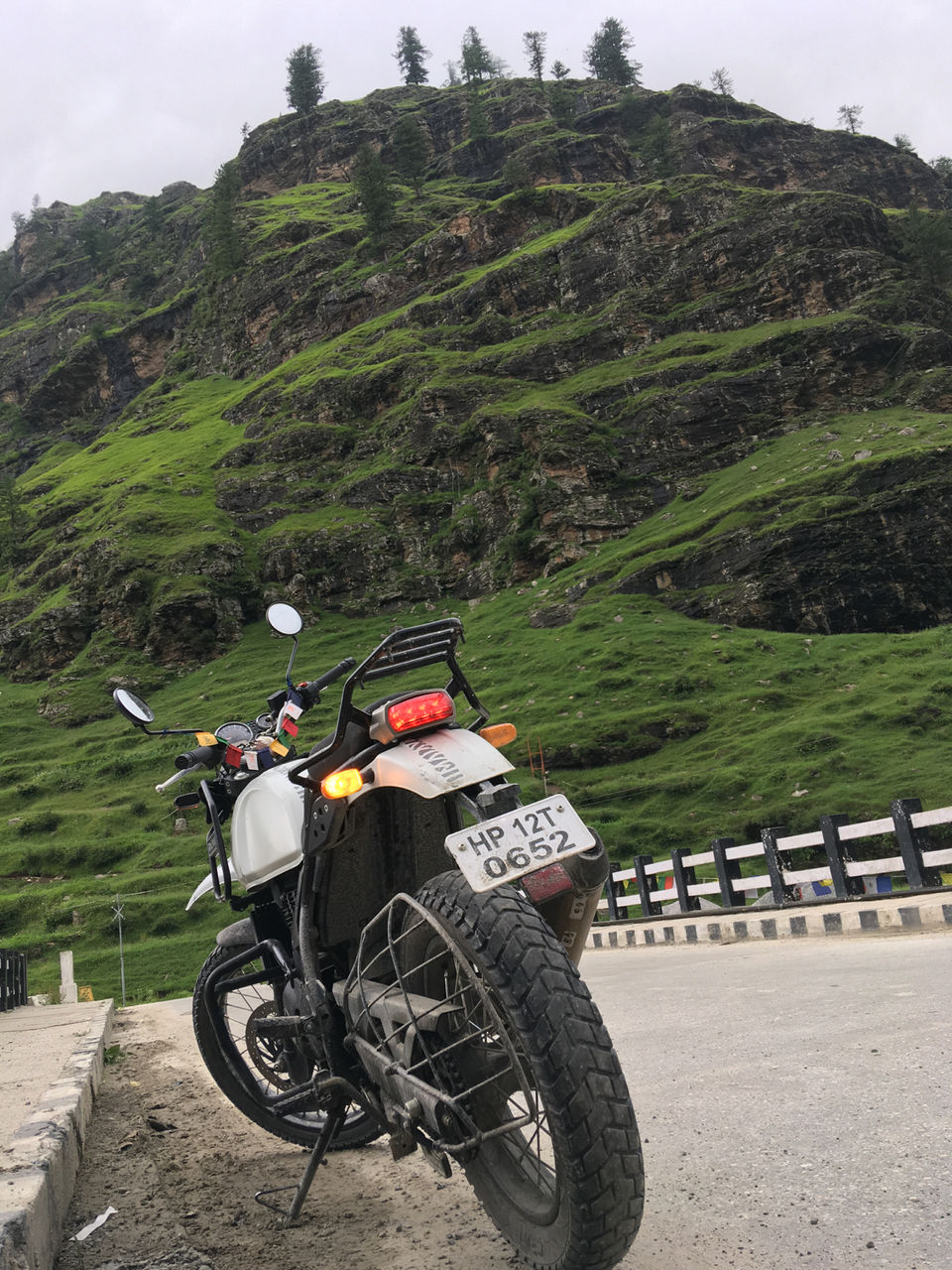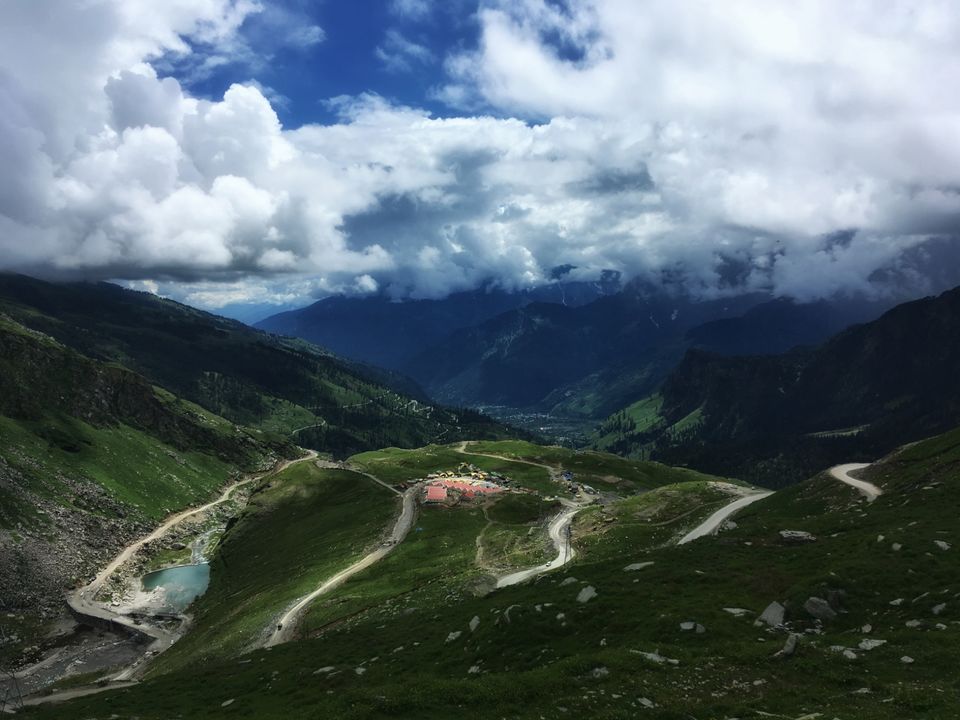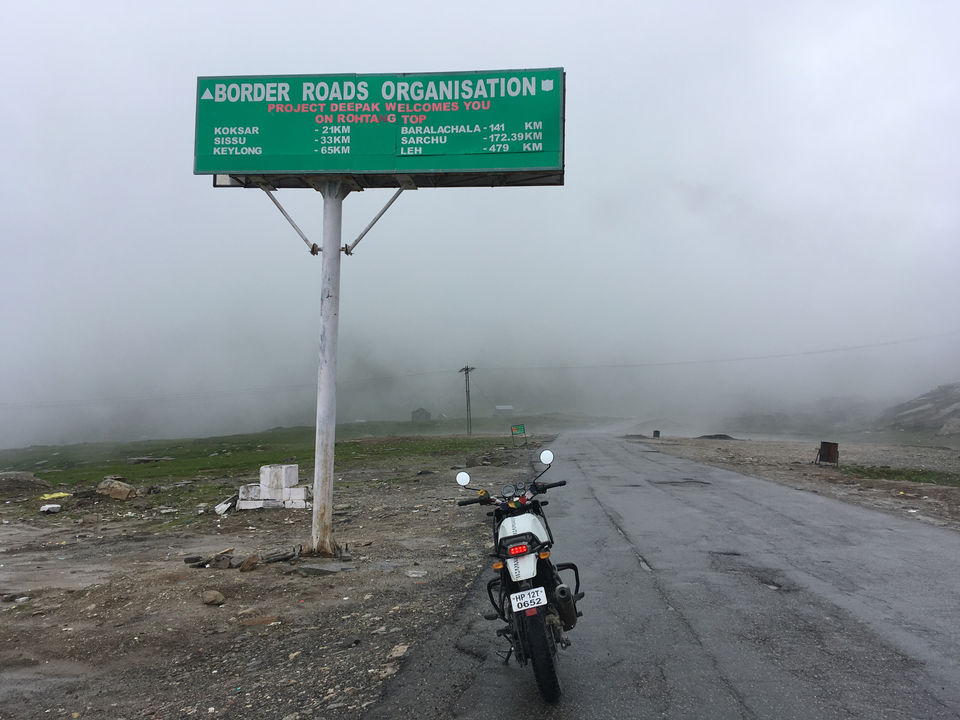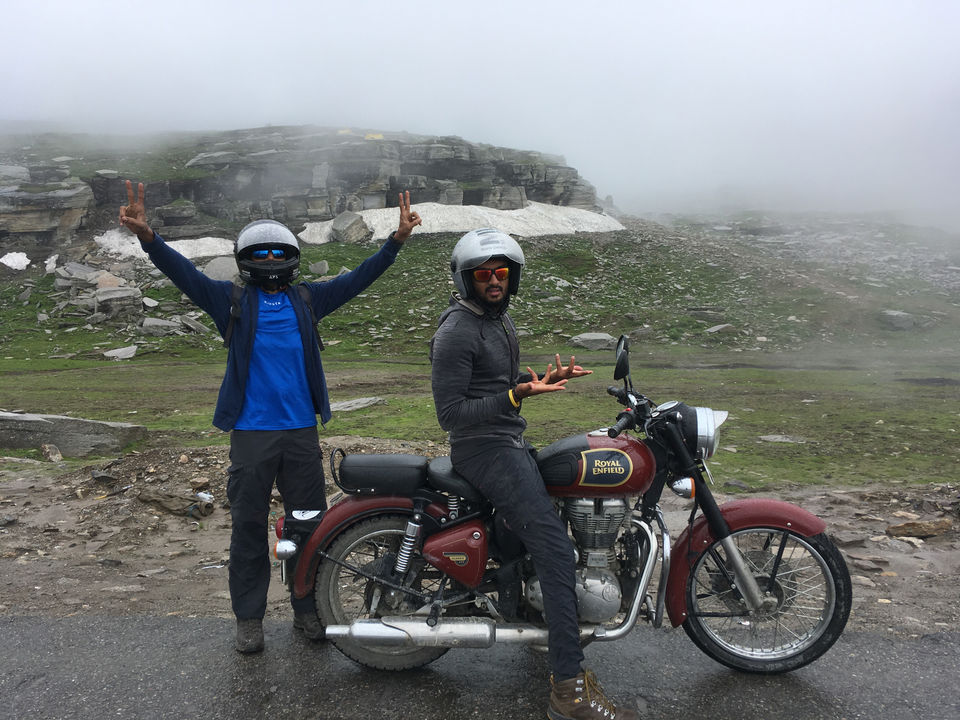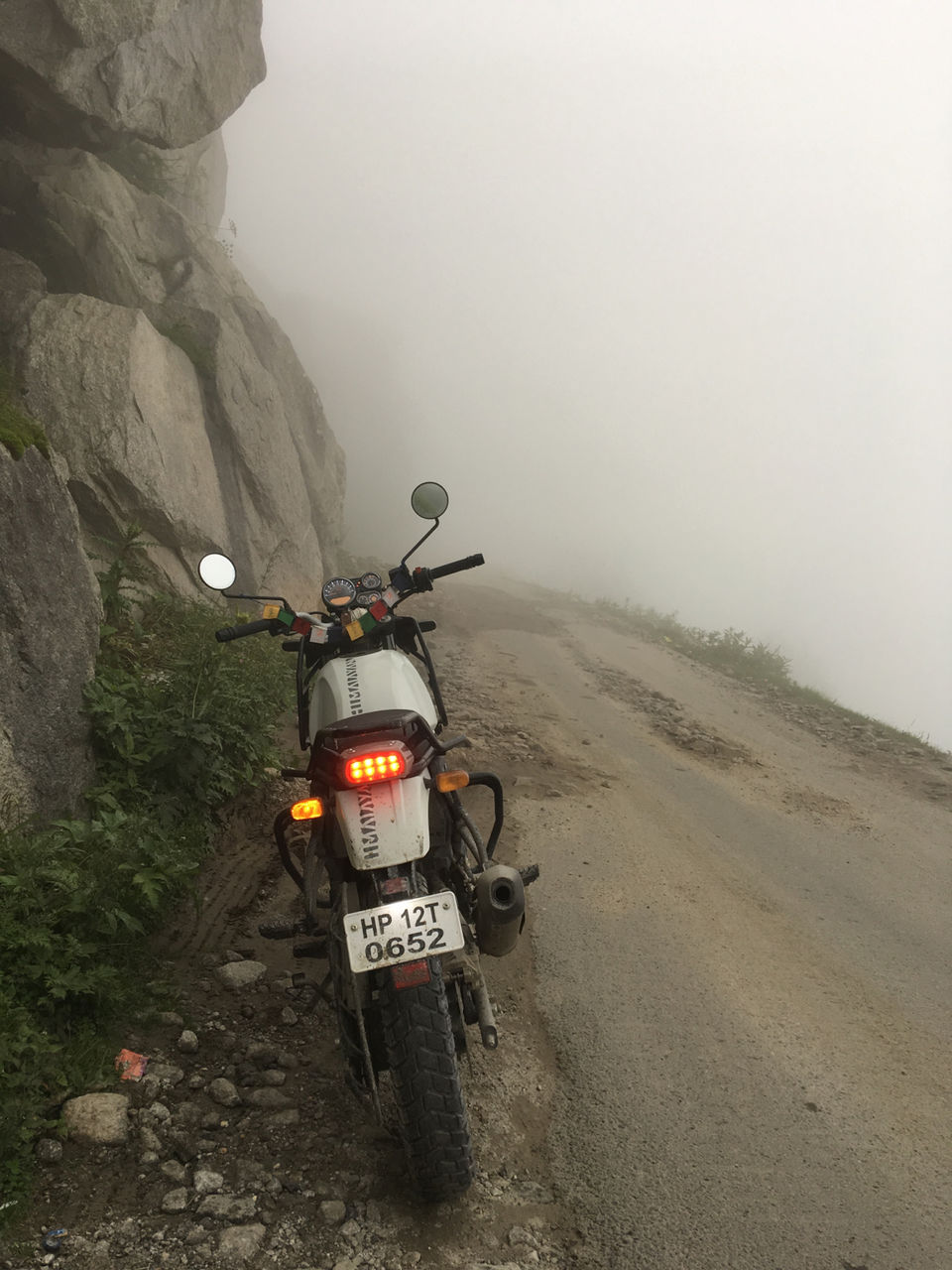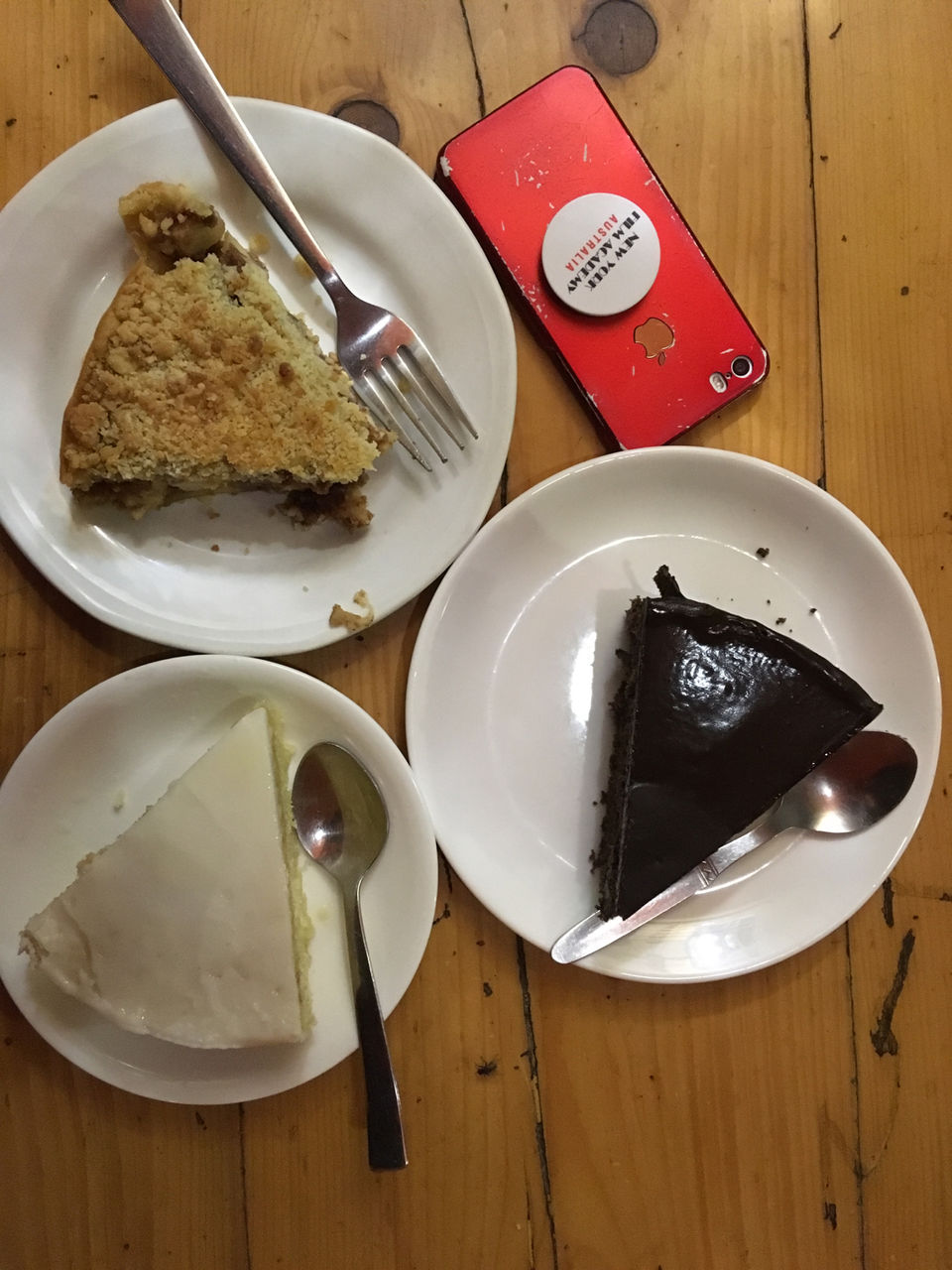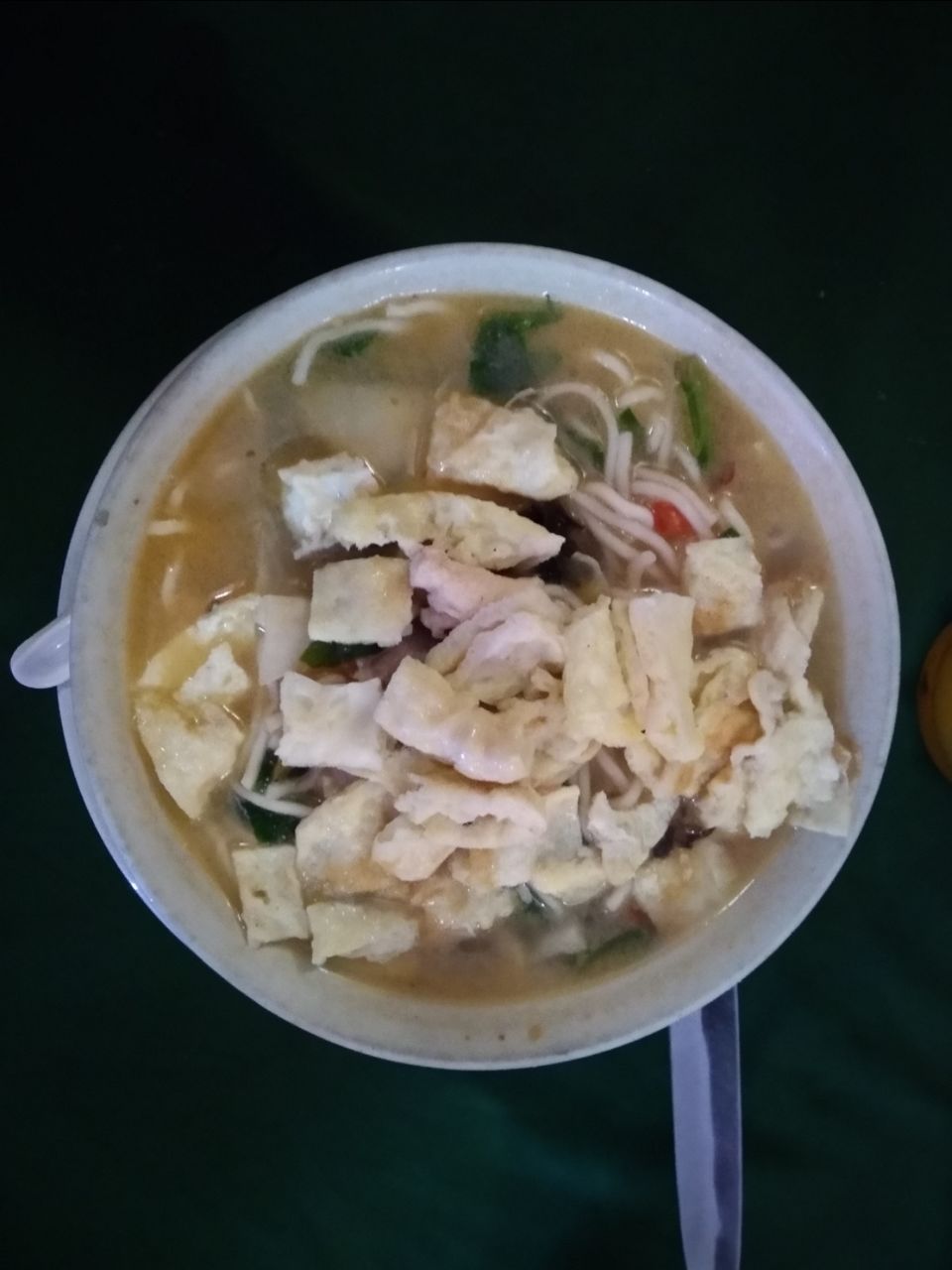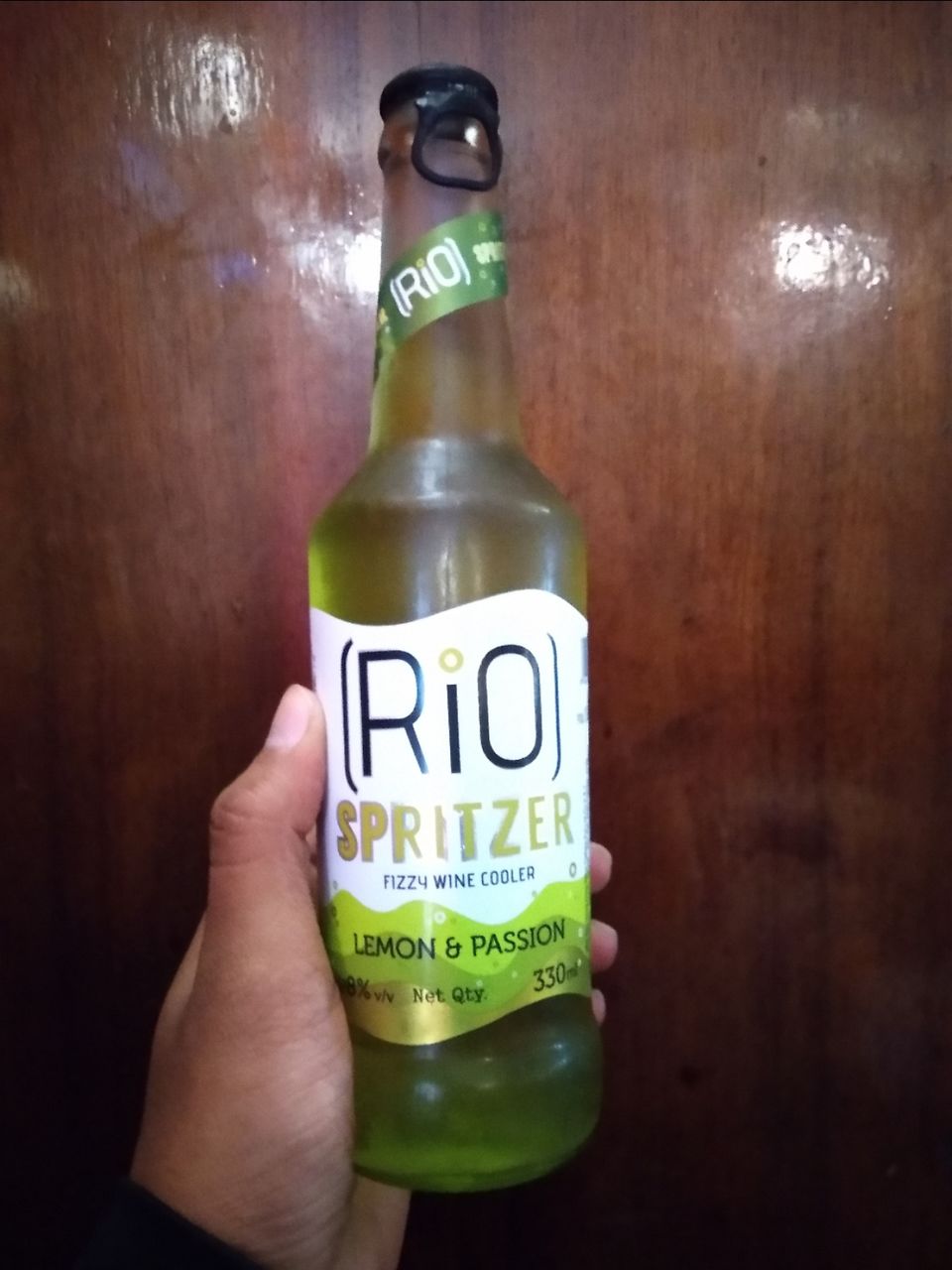 We had our breakfast at the hotel packed our rucksack and started towards our meeting point i.e Manali adventure camp. We met our trek lead Mahesh Kashyap, finished all our formalities and we were ready for the trek. Later on, we had a Briefing session about the trek regarding clothing, food and behaviour. Later we were asked to introduce ourselves to the group. I keenly listened to everyone and got to know that we had Doctor, Lawyer, Retired defence person, Scientist, S&C coach, Software engineers, Data scientist, Chartered Accounts, Research students in our group. People from too many different backgrounds I would say. Once the briefing session was over we had our lunch at the same place and waited for our cabs to arrive. Before we started our trek we took a group photograph and then we boarded our cabs. On our way, I saw Manali town getting smaller and smaller that's because the ascend was very steep. We boarded our cab from Manali which is around 6700 feet and the cab dropped us at Jobra valley which is at an altitude around 9800 feet. We had a small briefing session about using the trekking pole and we were good to go.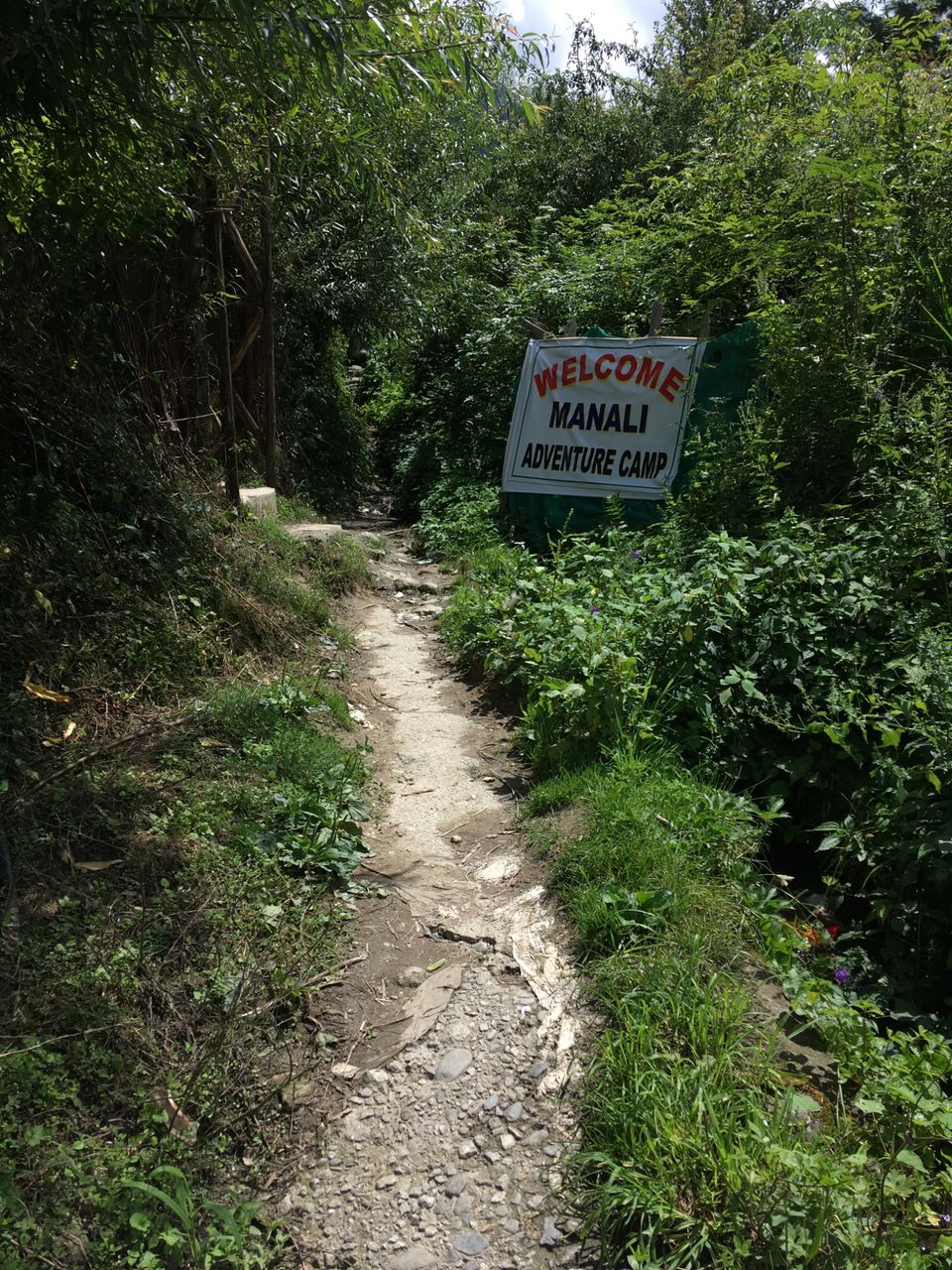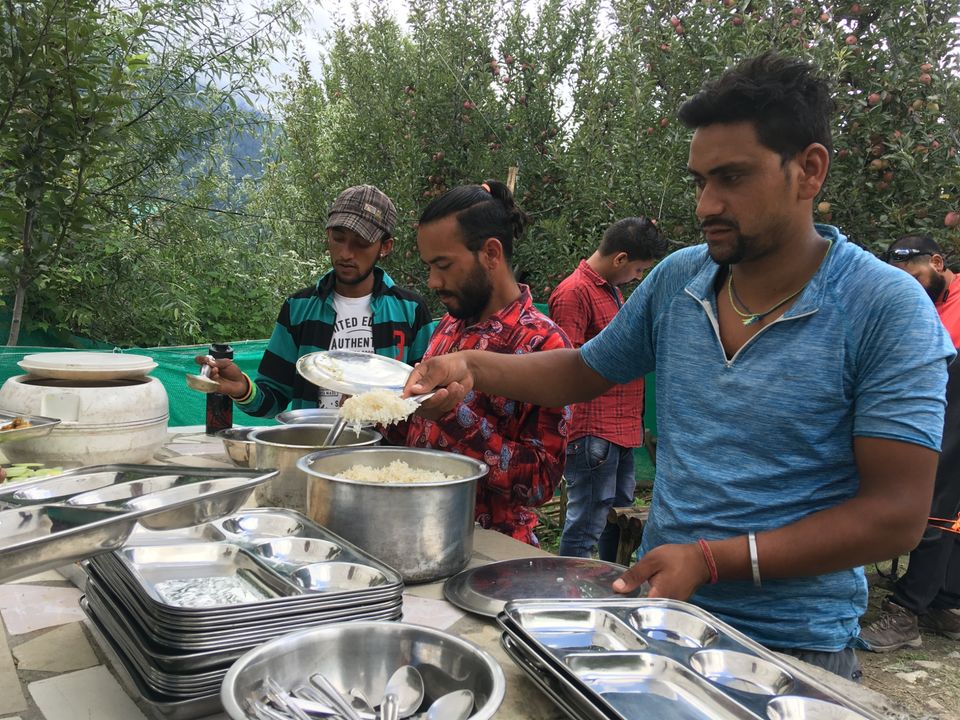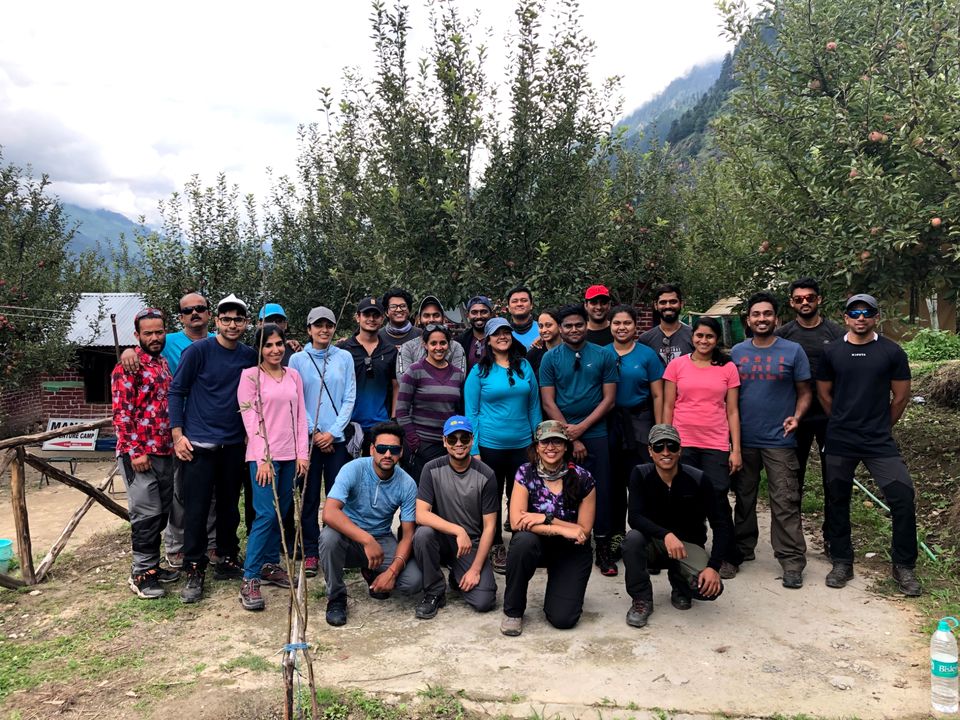 We started our trek and entered into the pine forest. After walking for a while we came across this beautiful stream and all of them decided to click some photos/videos. We continued our trek after walking for an hour we came across this valley this was our first rest point. We waited for a while so that remaining group members would arrive. After a short break, we continued walking towards our first campsite and then came one of the most picturesque parts of the trek. We had to cross this bridge to continue our trek. Only two people were allowed to cross at a time. While I was waiting for my turn I took a couple of pictures on my phone and then I crossed the bridge and continued the trek.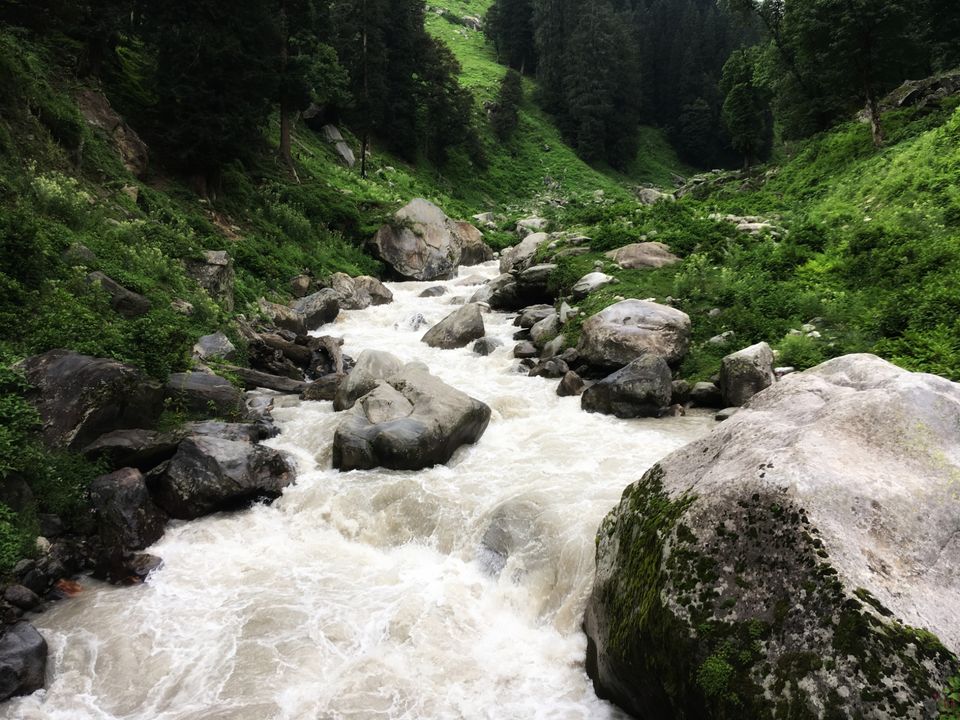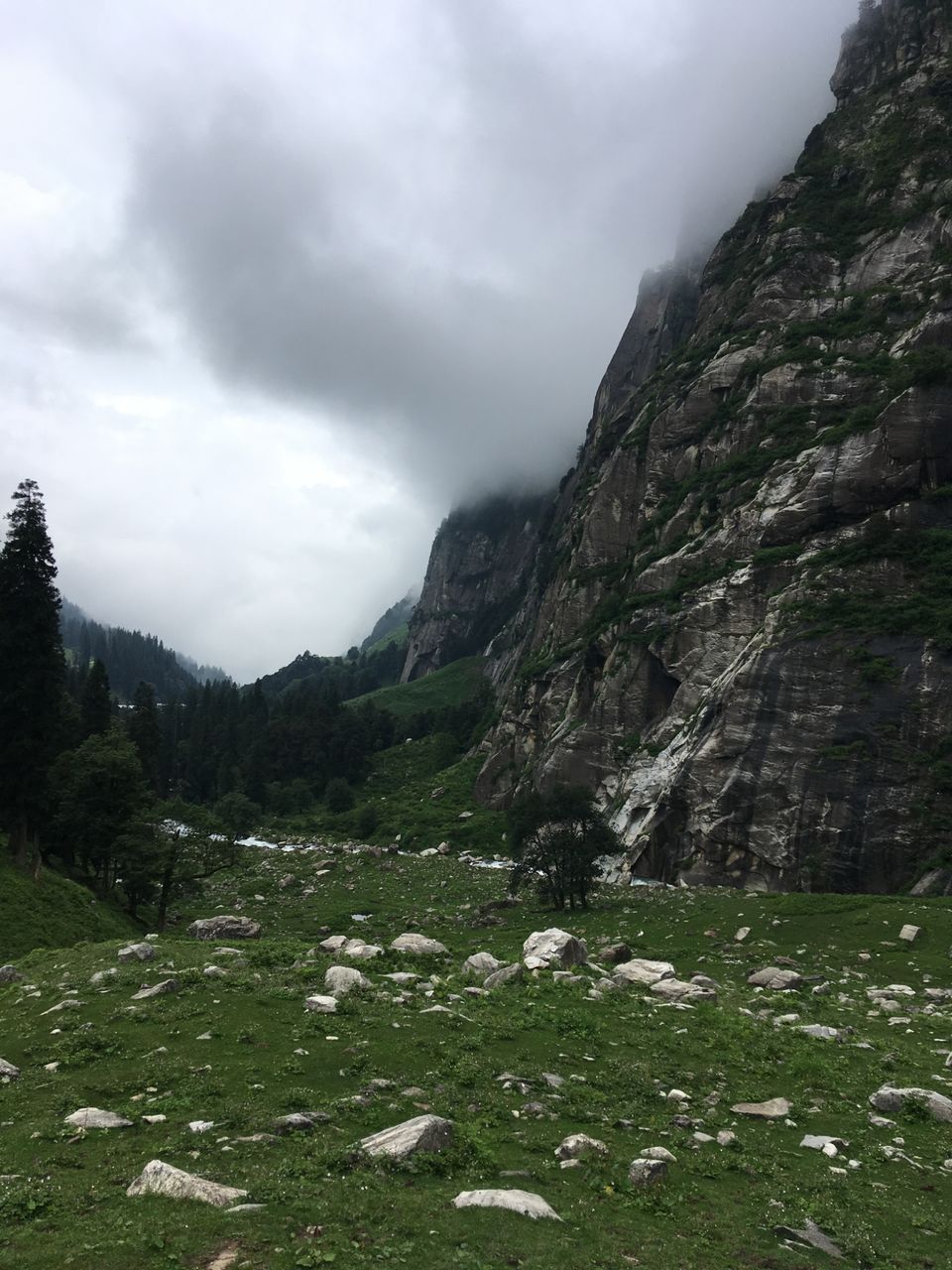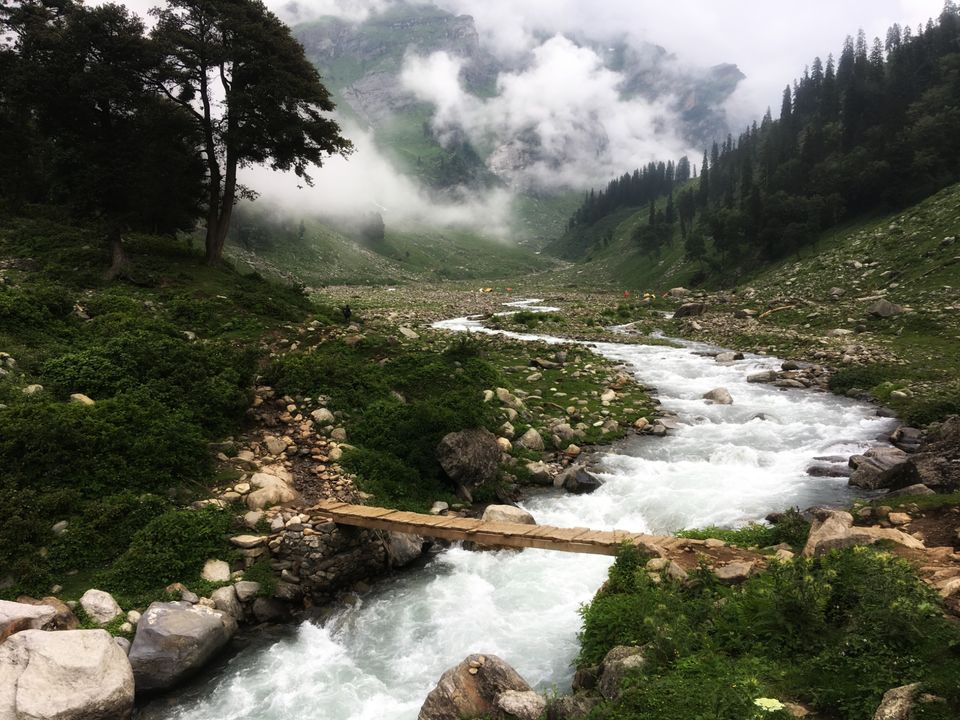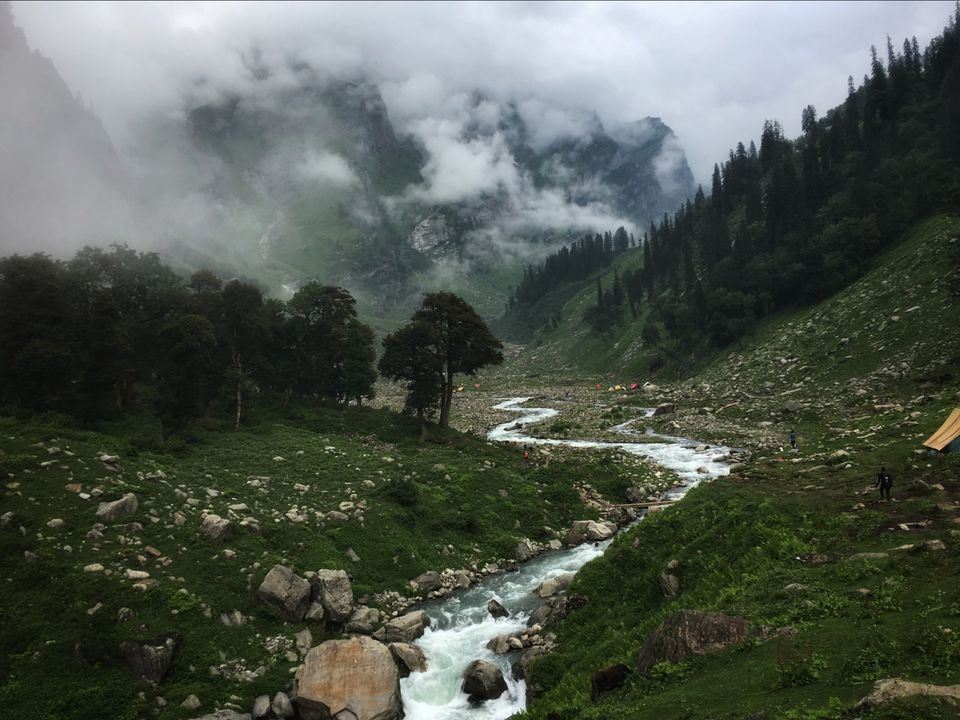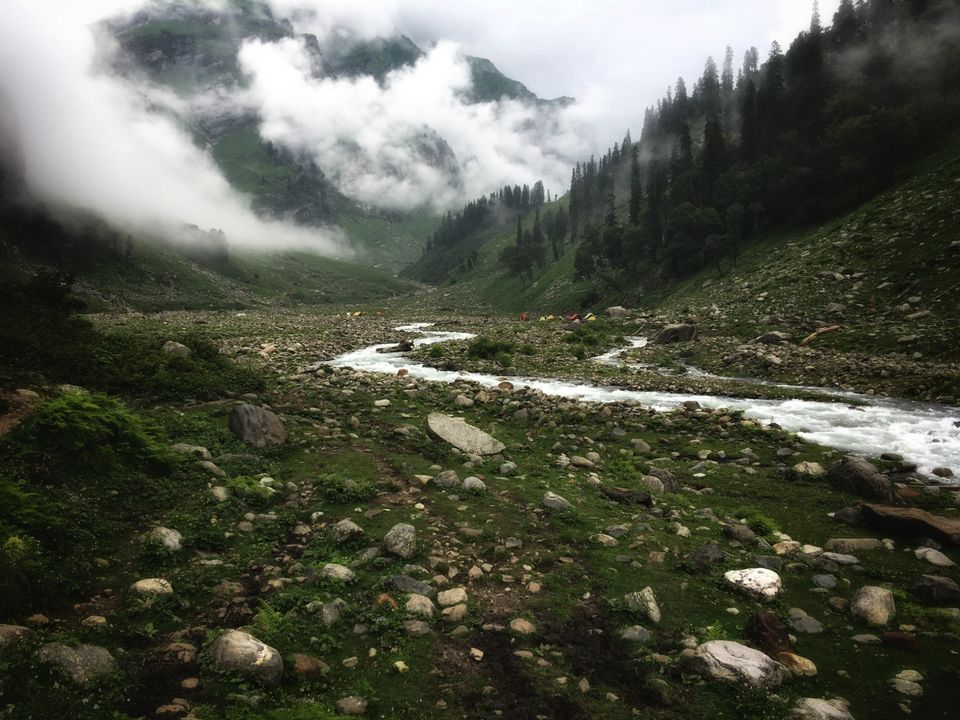 After walking for a while we were able to clearly see our campsite. All of us reached our campsite and Day 1 of the trek was over. We selected our tents dropped our rucksack came out to explore the valley. After some time we were served tea and biscuits. At around 7.30 we all gathered for our dinner. I didn't expect matar panner for dinner. I was very happy to see this. We had our dinner, oxygen levels of our body were checked. Everybody had good oxygen levels so our trek leader decided us to brief us about Day 2 of the trek regarding clothing, timings, weather, trail type and distance to be covered. We all headed towards our tents to take some rest, I was surprised to see that Ramaswamy sir(the retd. Defense person) had already arranged my rucksack and sleeping bag. He knew that this was my first trek and I didn't know how to use a sleeping bag. We said goodnight each other and called it off for the Day.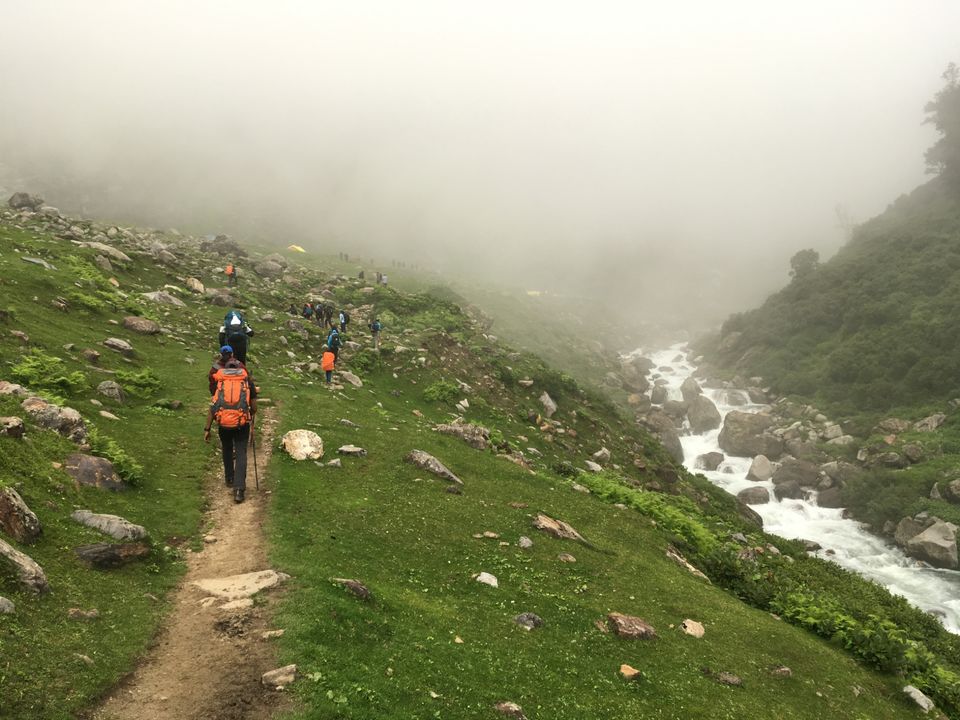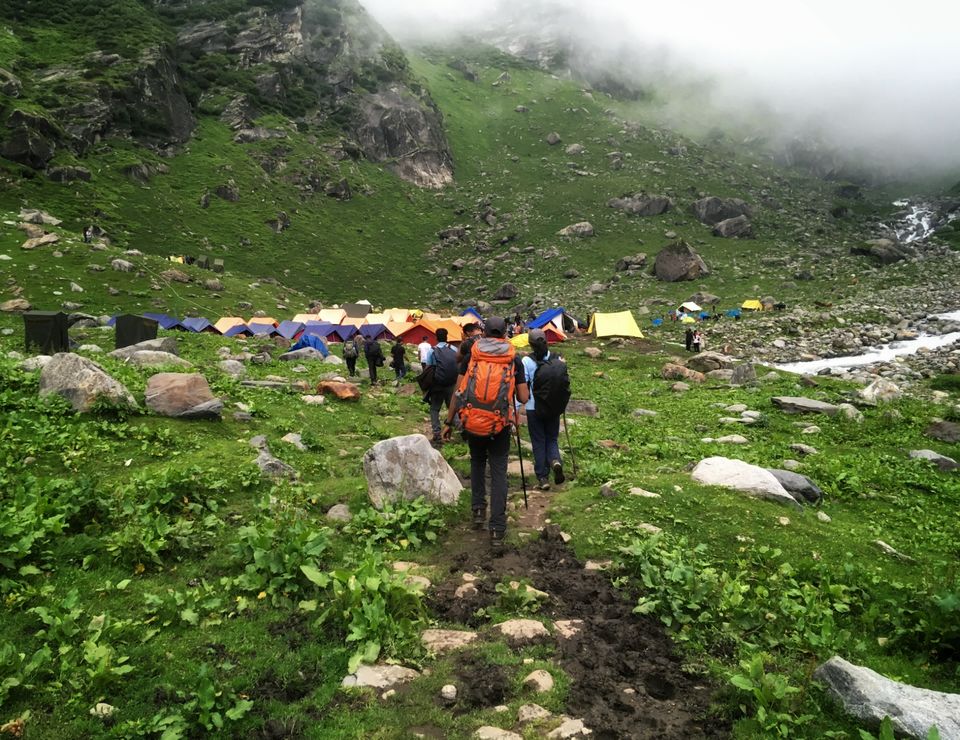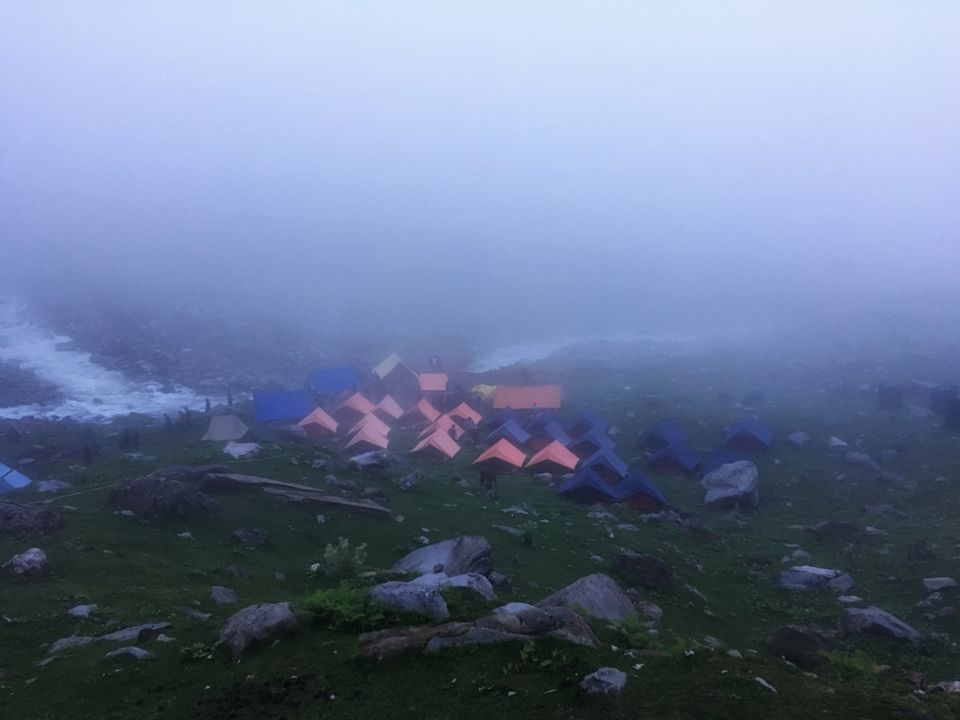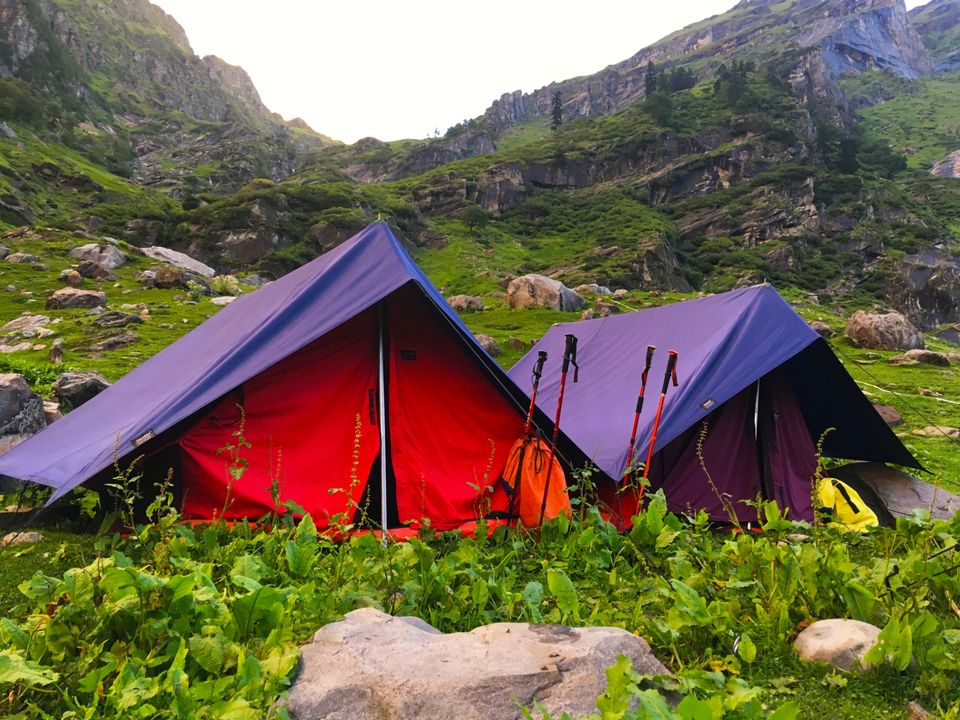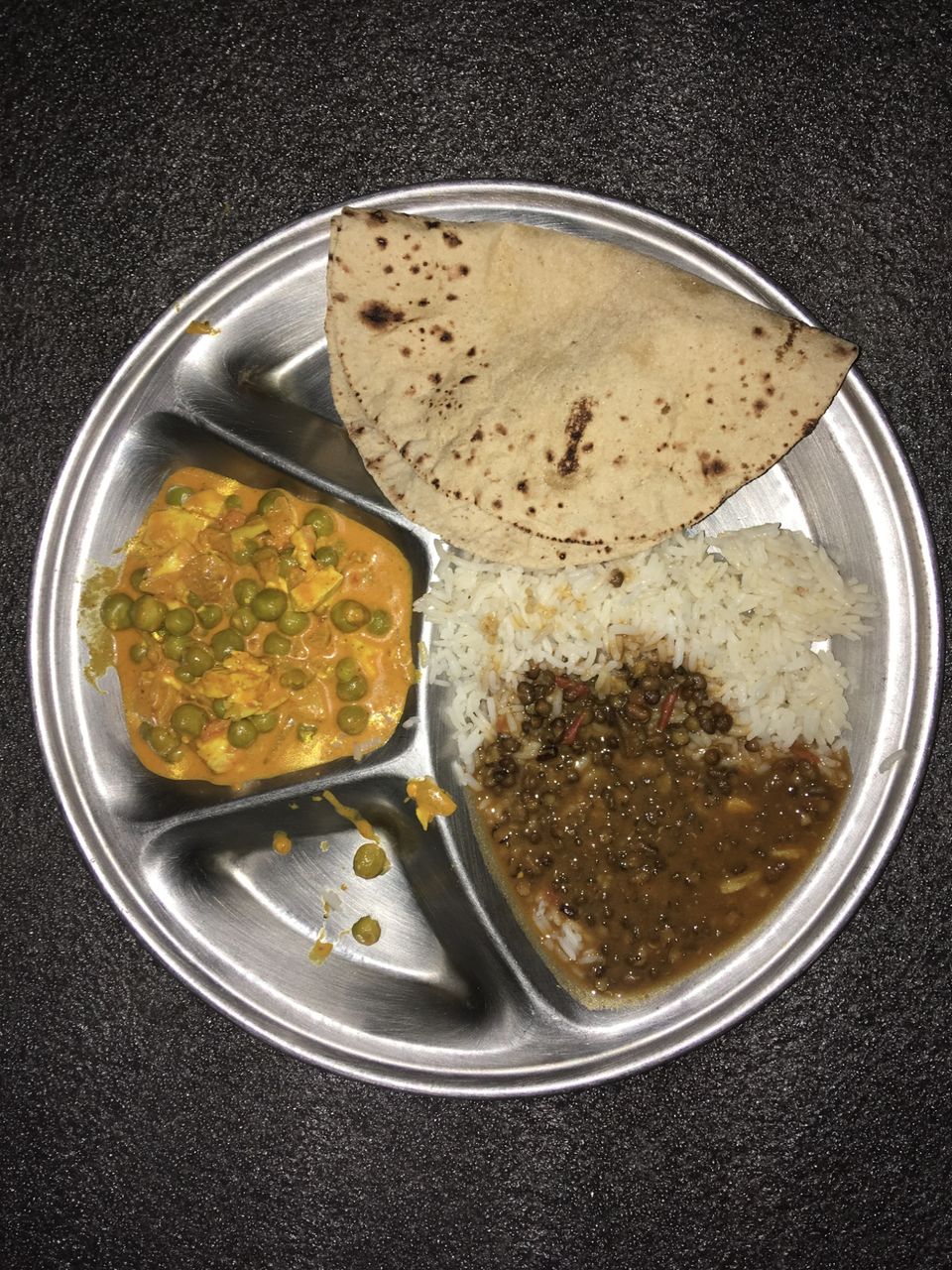 We woke up at around 6 AM in the morning, as soon as I came out of the tent since this was my first trek I was quite surprised to see all the people running around to answer the nature call. All I saw was people holding tissue papers, water bottles, wet wipes and what not. After a while we all got refreshed had our morning tea, I saw Anand and supratim with their cameras mounted on the tripod capturing different kinds of photographs. I asked them about their tripod Anand confidently told me that it is a very lightweight tripod. I asked them because during the trek every gram counts. After breakfast at around 8 am, we started our trek. We had to cross another stream which was right next to our camp.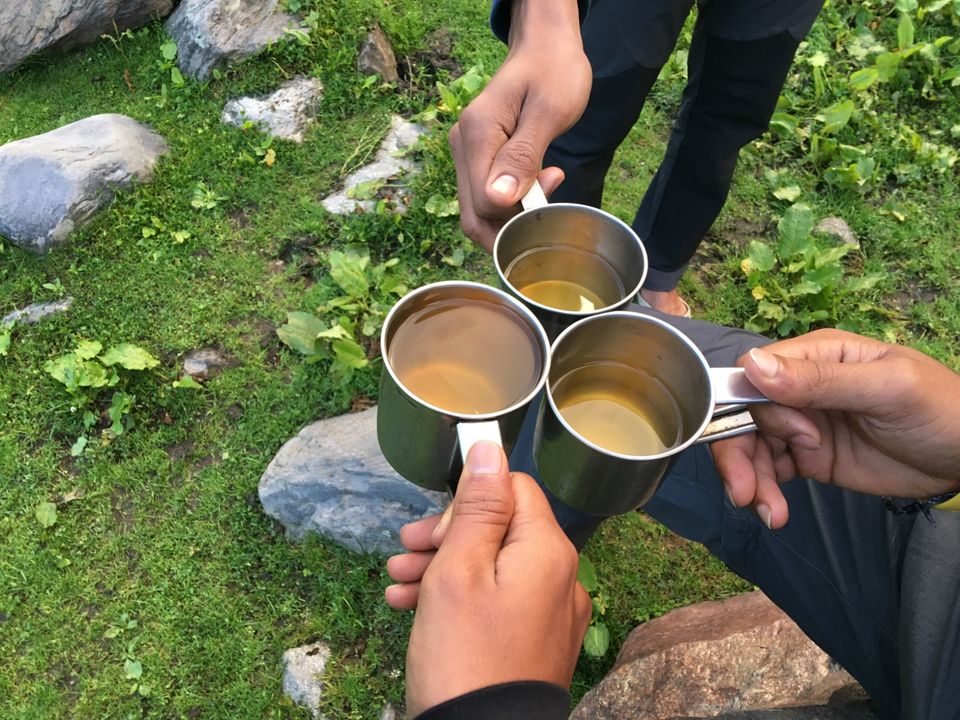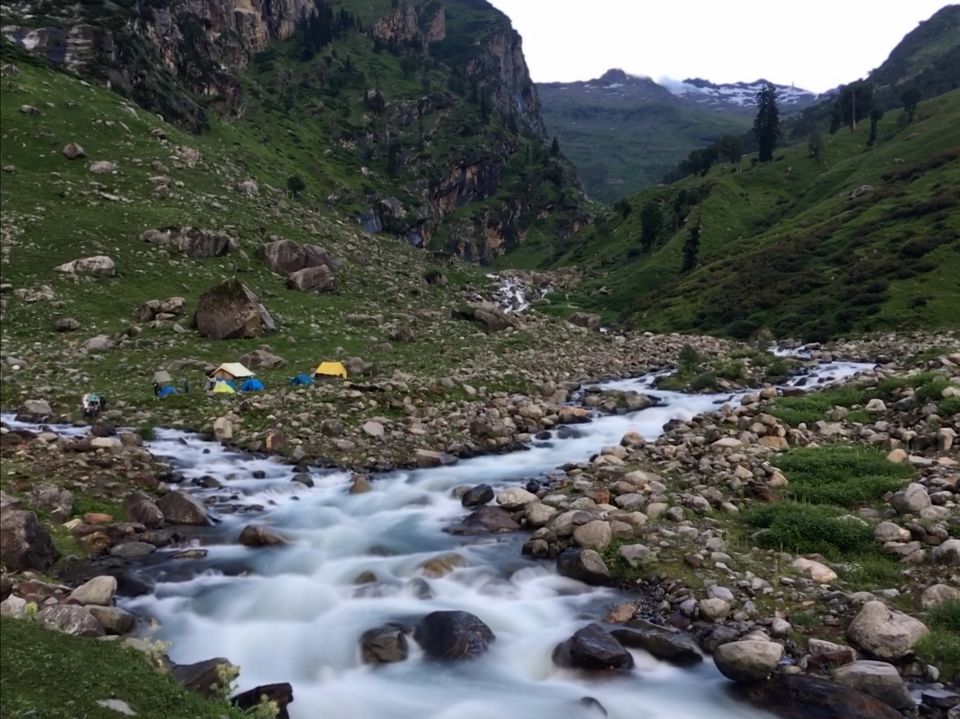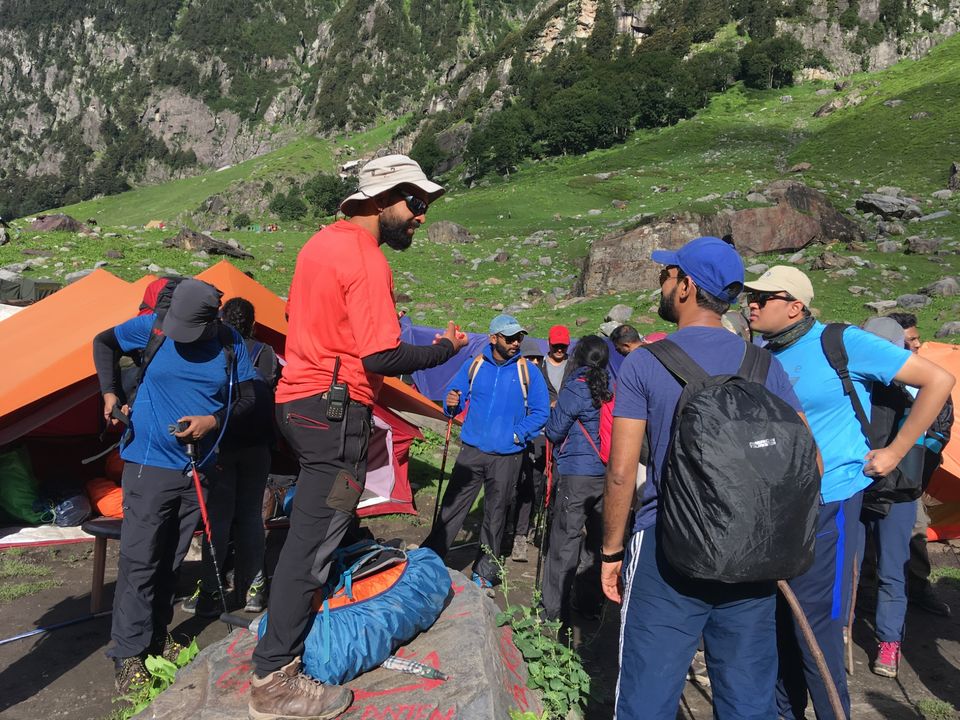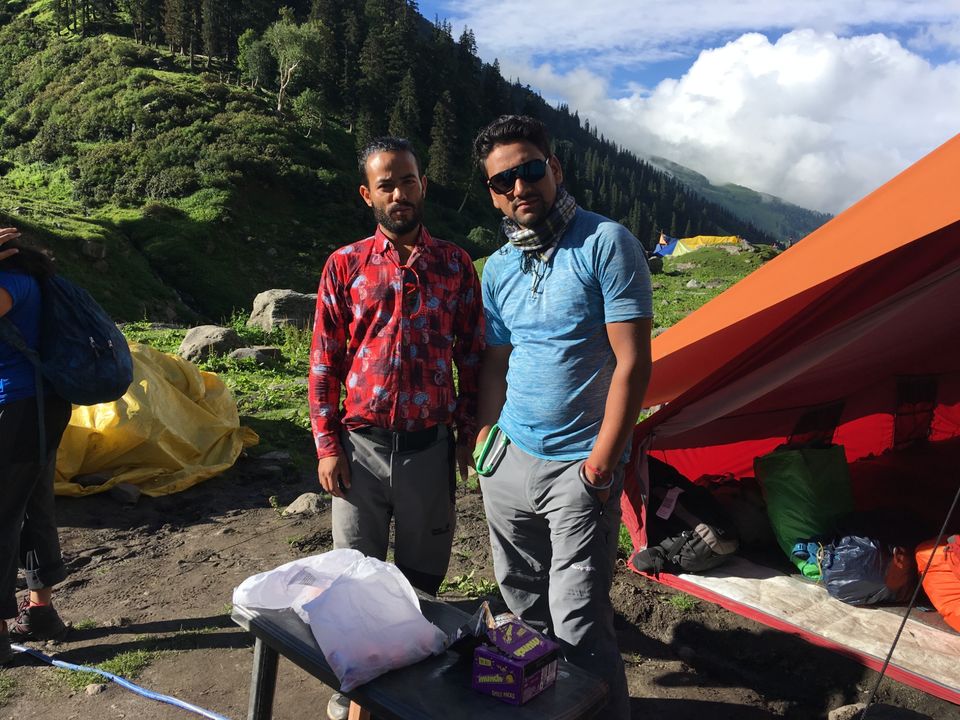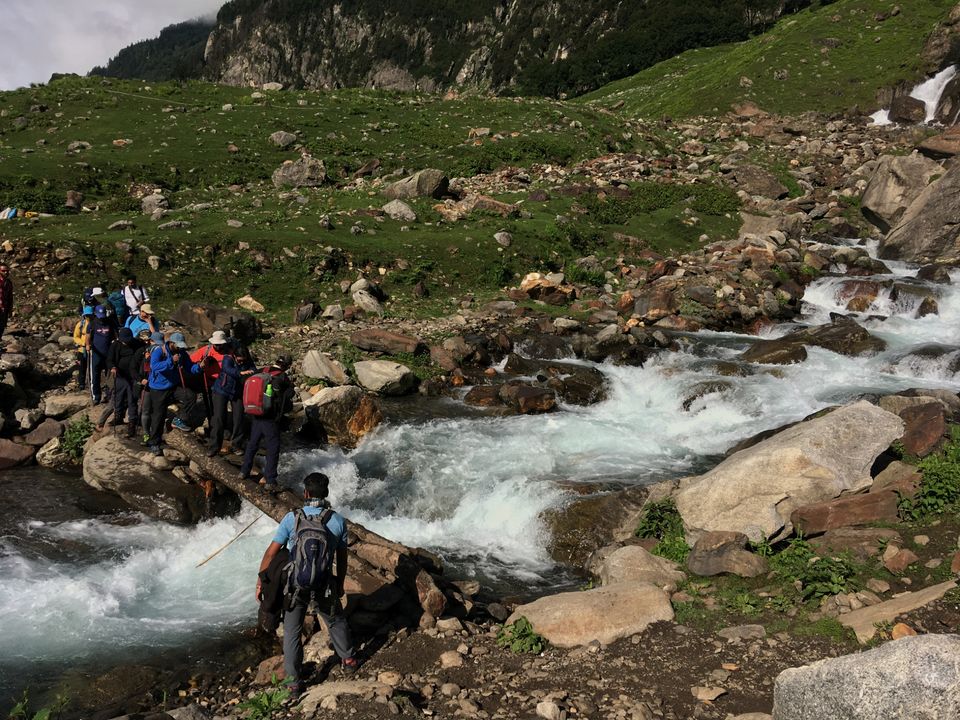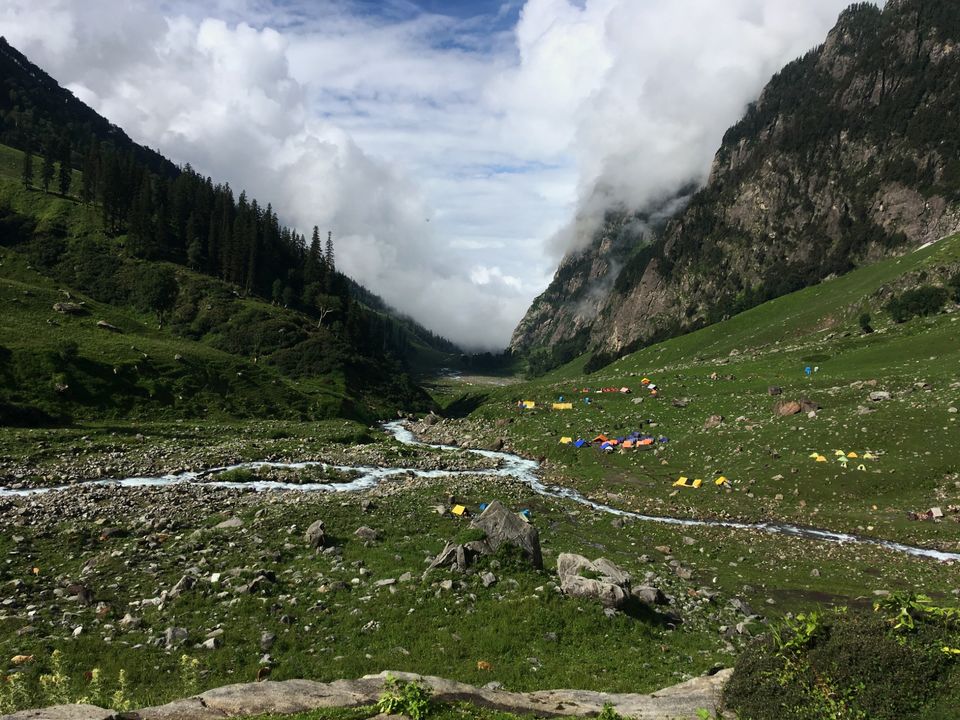 We continued our trek along the valley. After walking for a while we stopped at our first rest point. All of us dropped our rucksack and took some rest. There is a small cafe where you get Maggi, tea and some other stuff. Whoever was hungry had from this cafe. While we all waited I saw my friend meditating near the valley. Dedication level of this person is next level. We had ample time to take rest since some of our trek mates had not arrived.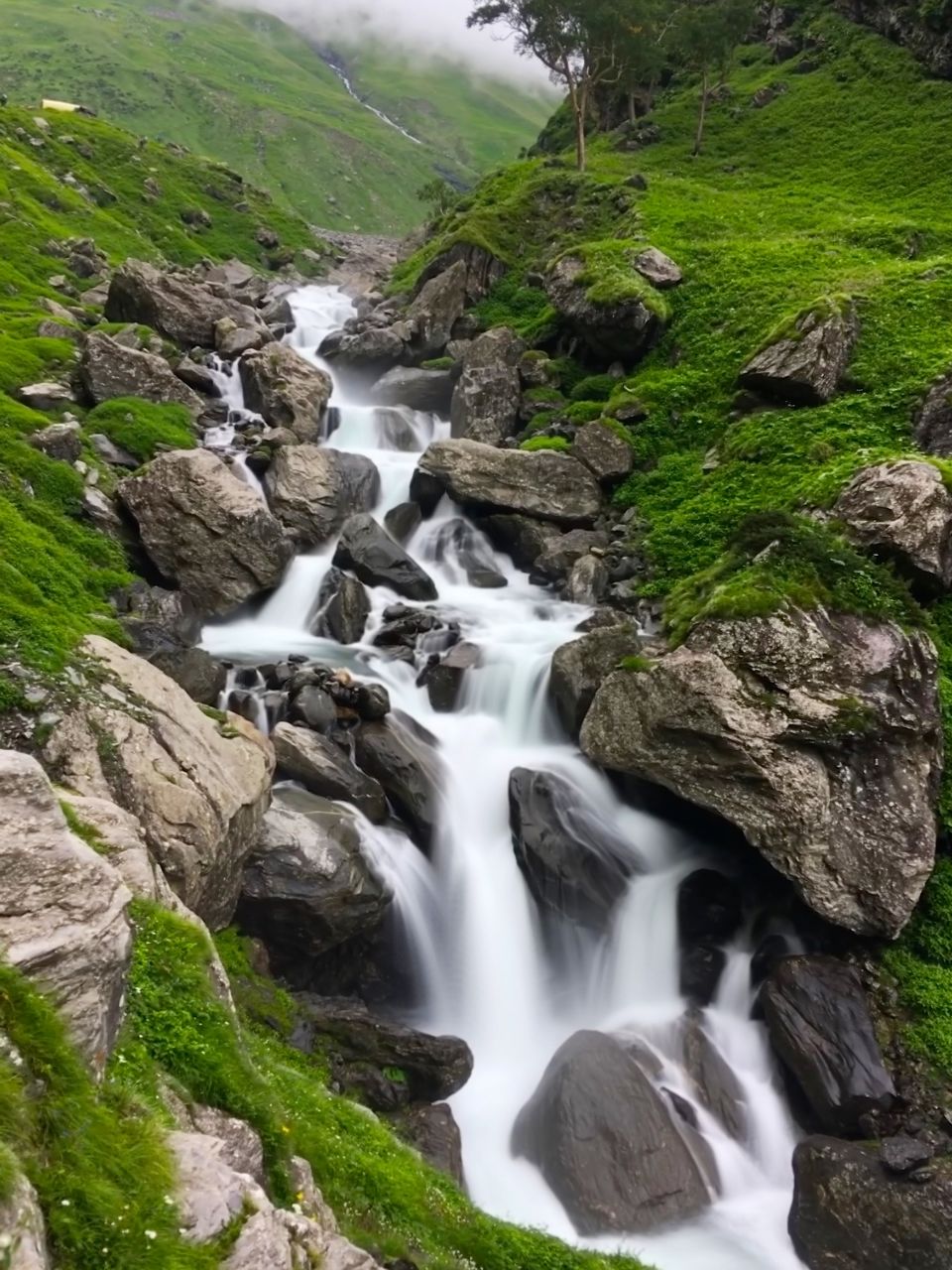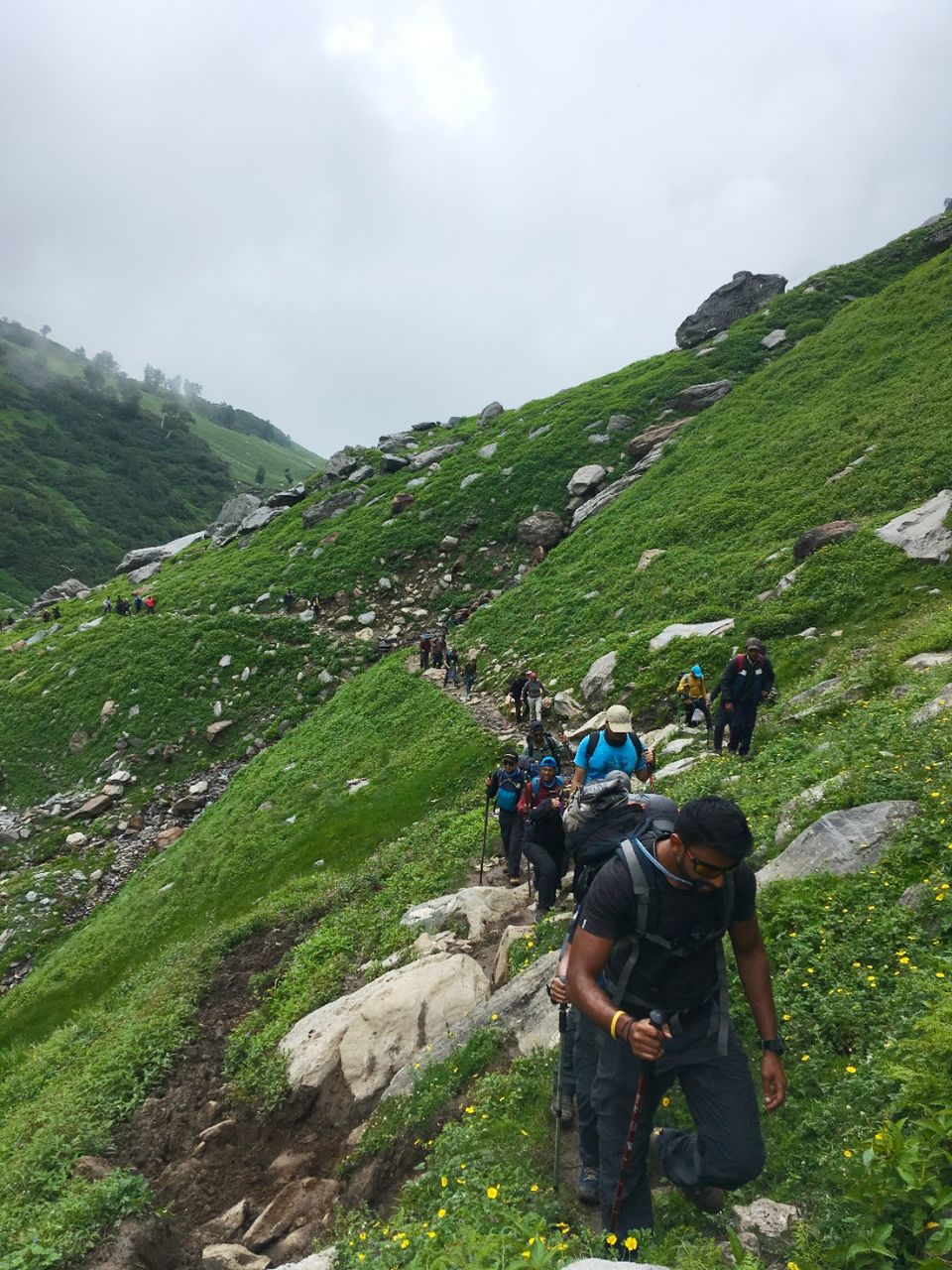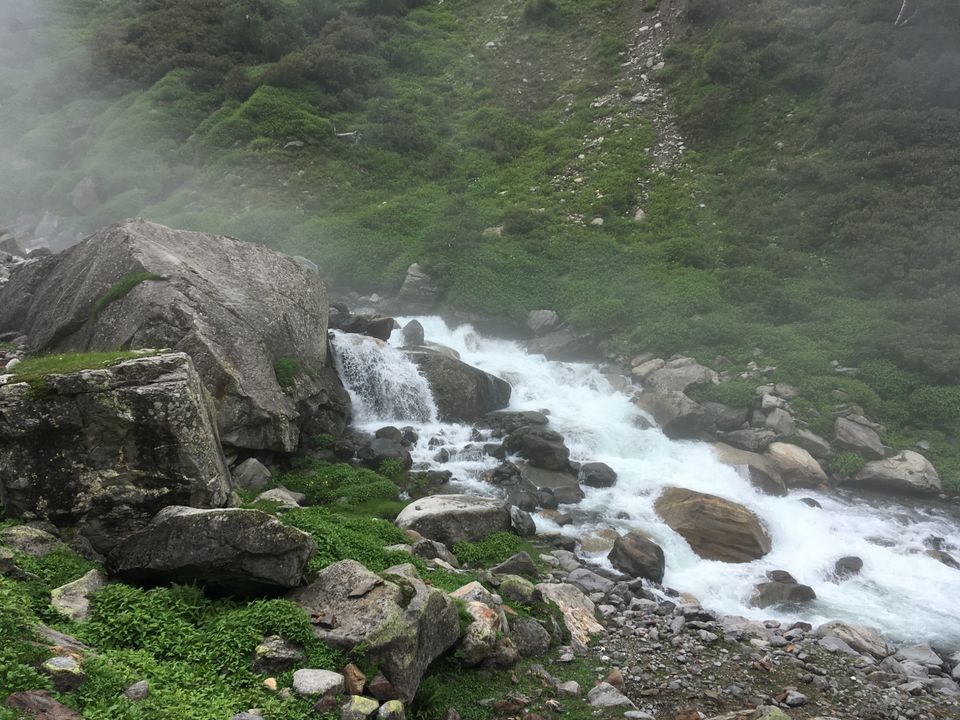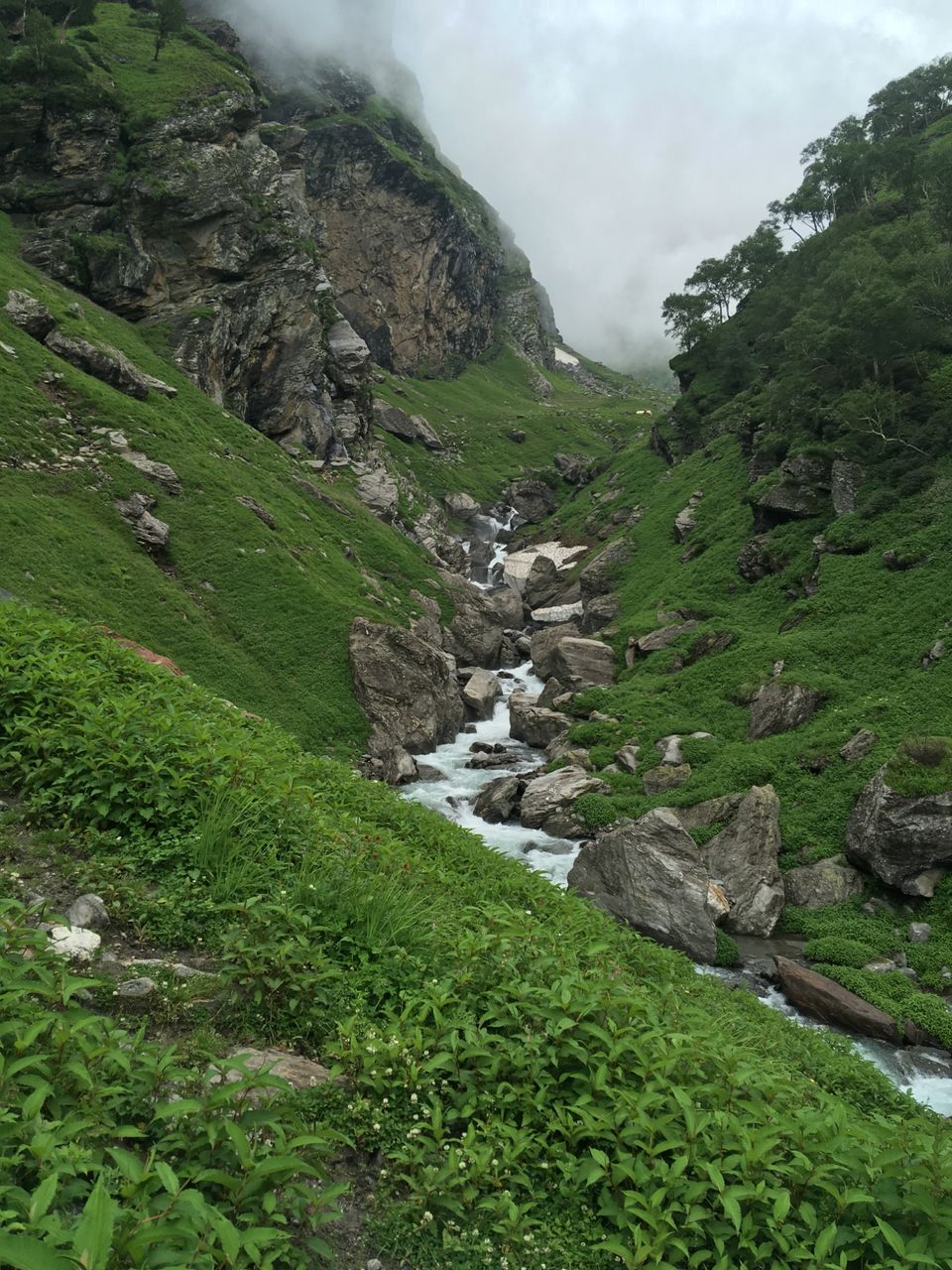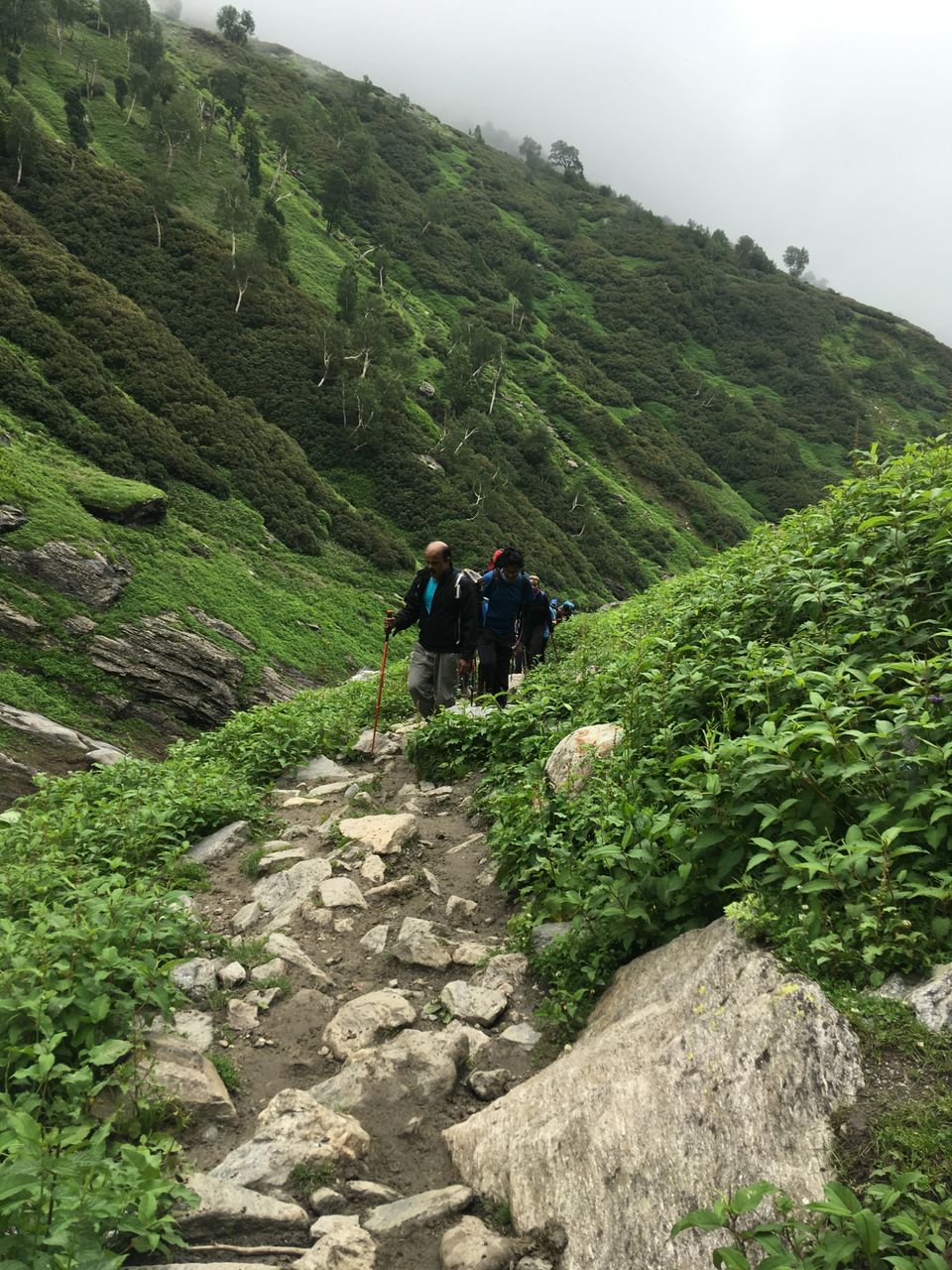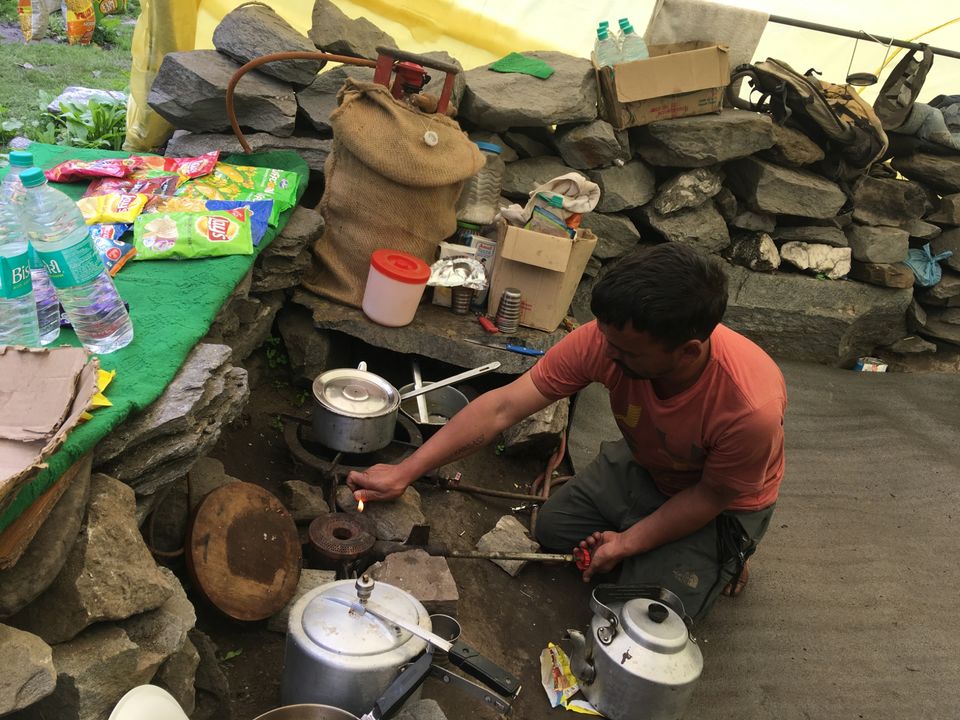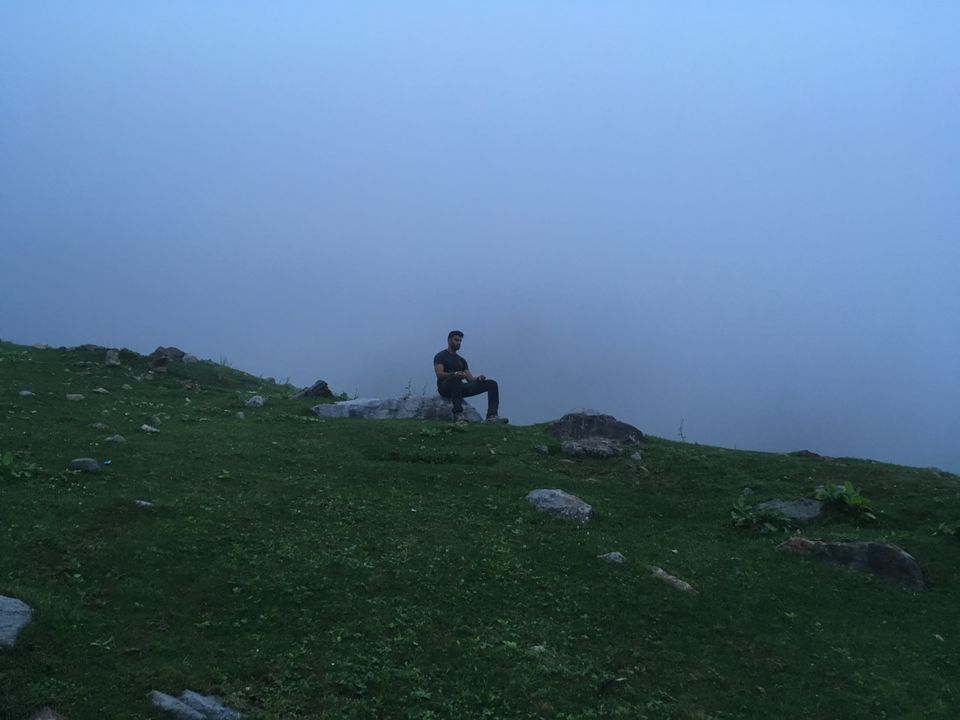 Once they arrived they had their Refreshments and we continued moving forward. Today was the day we had to glacial water. We were asked to remove our shoes and tie it to our bag's or carry it on the shoulder. We formed a human chain and crossed the stream. The water is freezing cold, our legs got numb by the time we crossed the stream. All started making leg movements so that blood starts Circulating.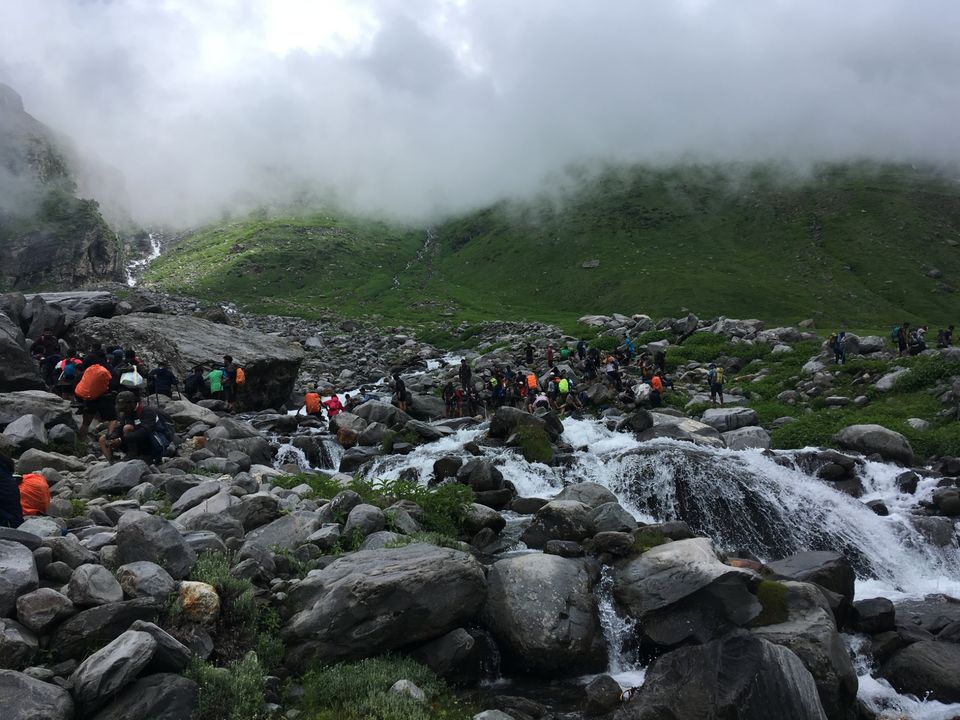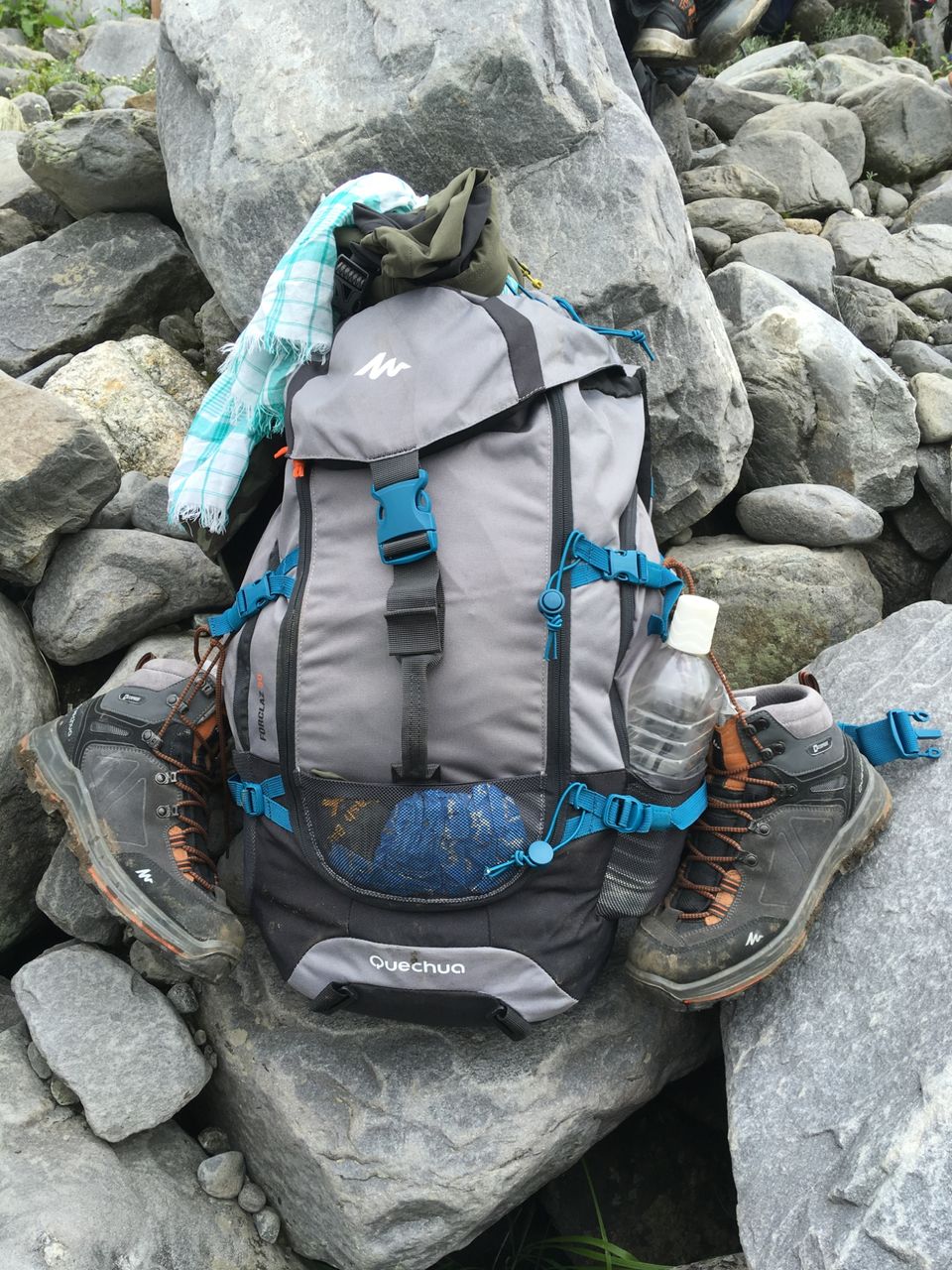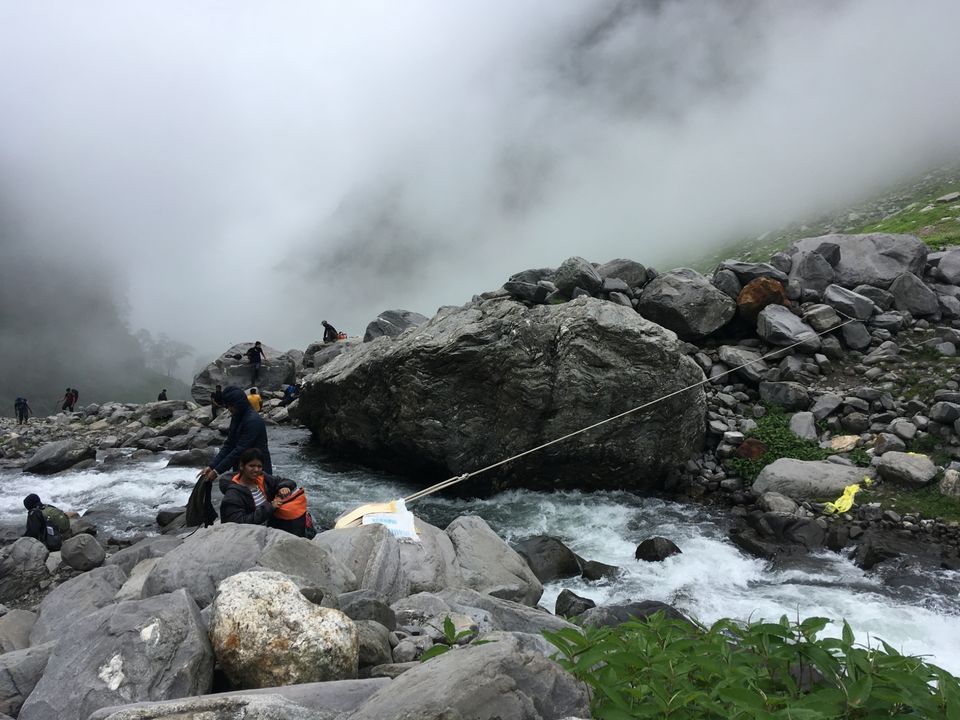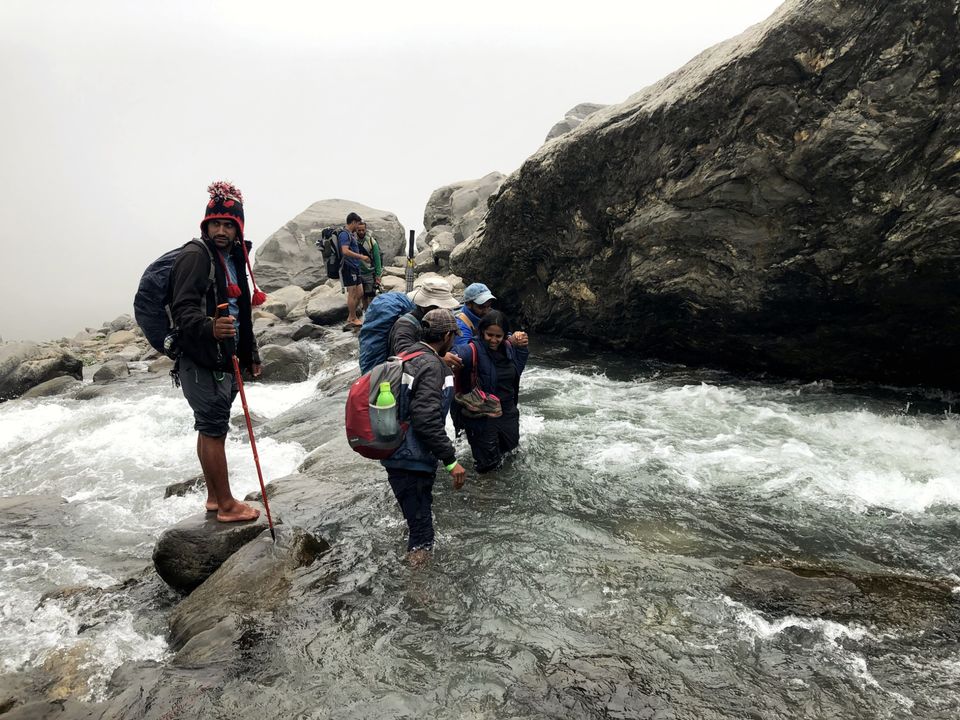 After a while, everyone crossed the stream and we continued our trek towards the lunch point. This valley had huge mountains in the background and flowers in the foreground perfect combination I would say. We took some pictures and had our lunch. We had a Veg burger and boiled egg for our lunch. There was another cafe at this point. The last one during the trek. Once all were done with the lunch we resumed our trek.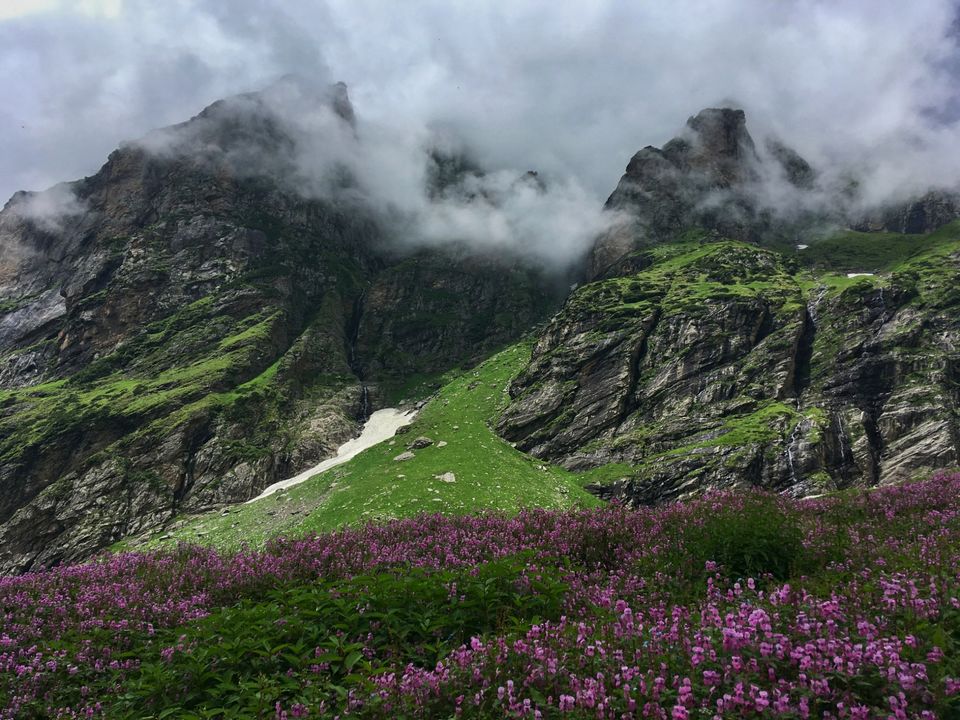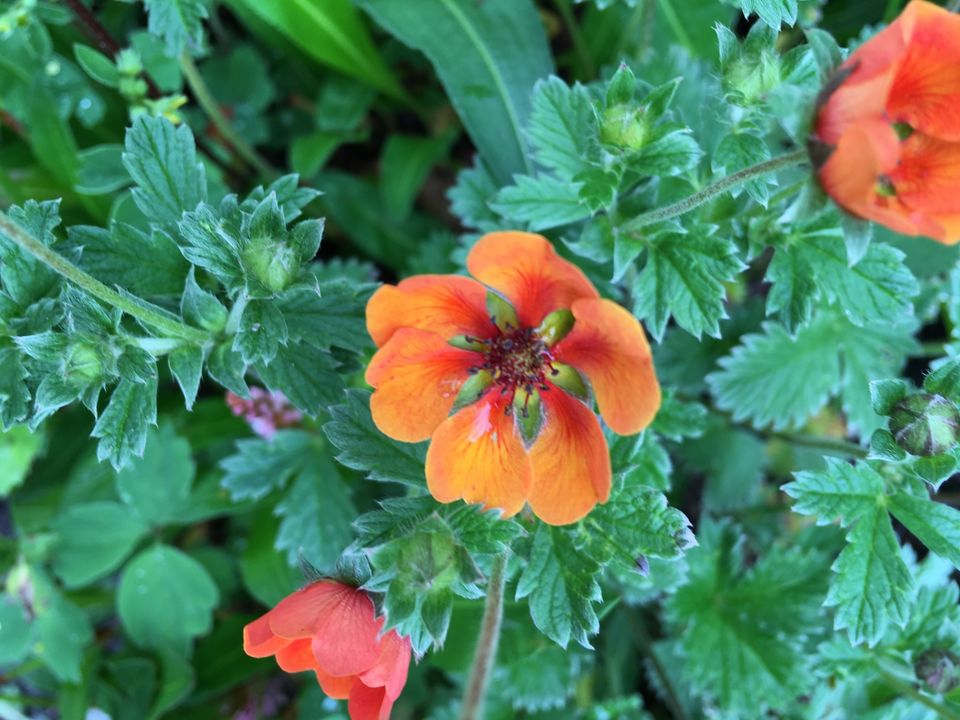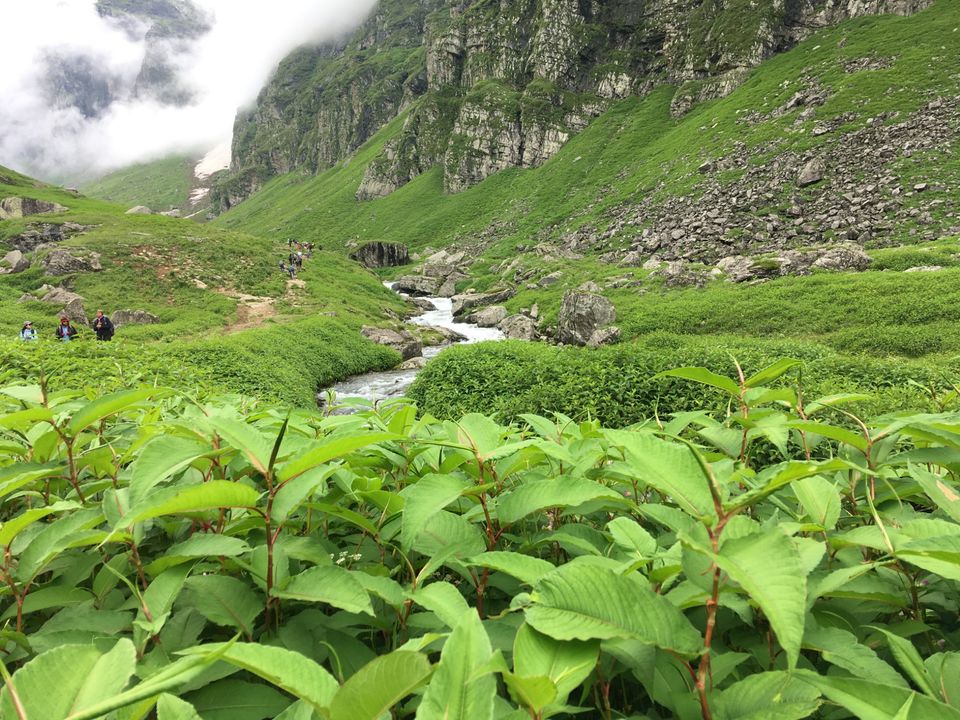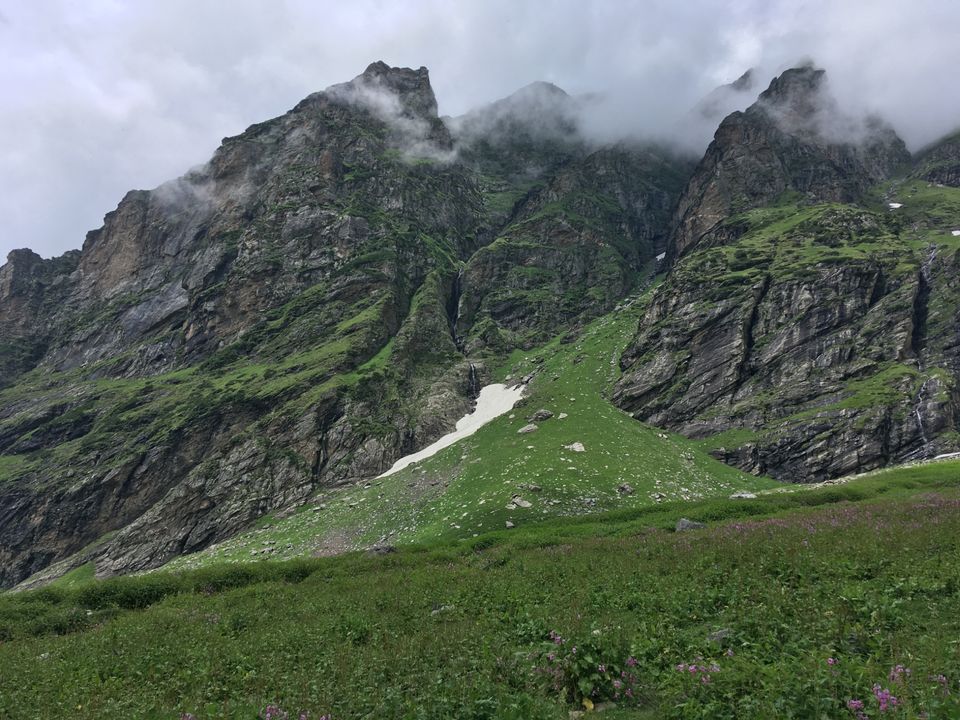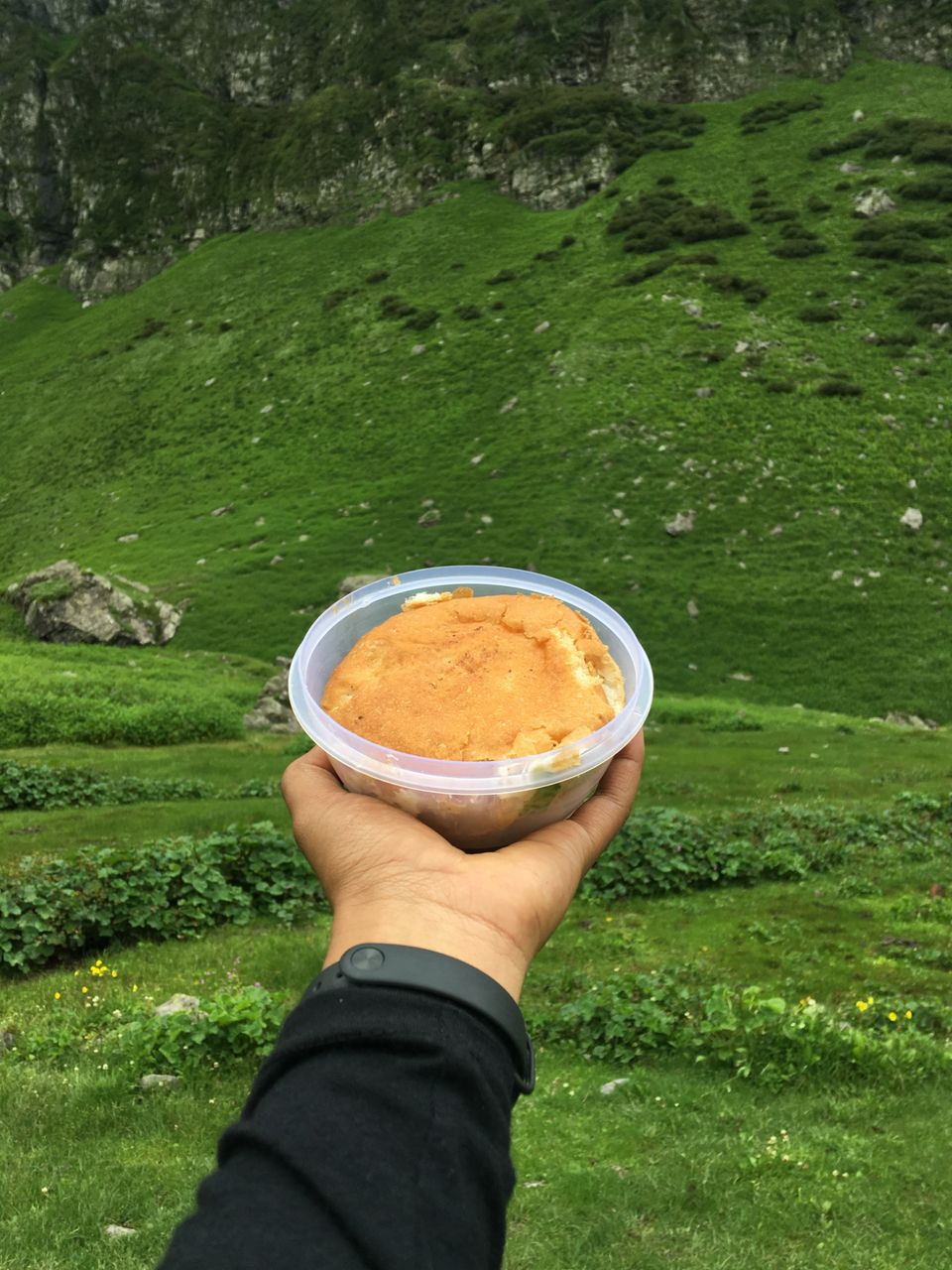 After walking for a while along the river in the valley we had to take frequent breaks since the group was getting divided into multiple small groups during this time we used to take the pictures and chit chat. Since it was getting late our trek leader communicated that we need to continue our trek and stop at the next campsite. We started walking towards our campsite along with Tare bhai(local guide). After some time we saw our campsite at distant, clicked some selfies and Marched towards the campsite.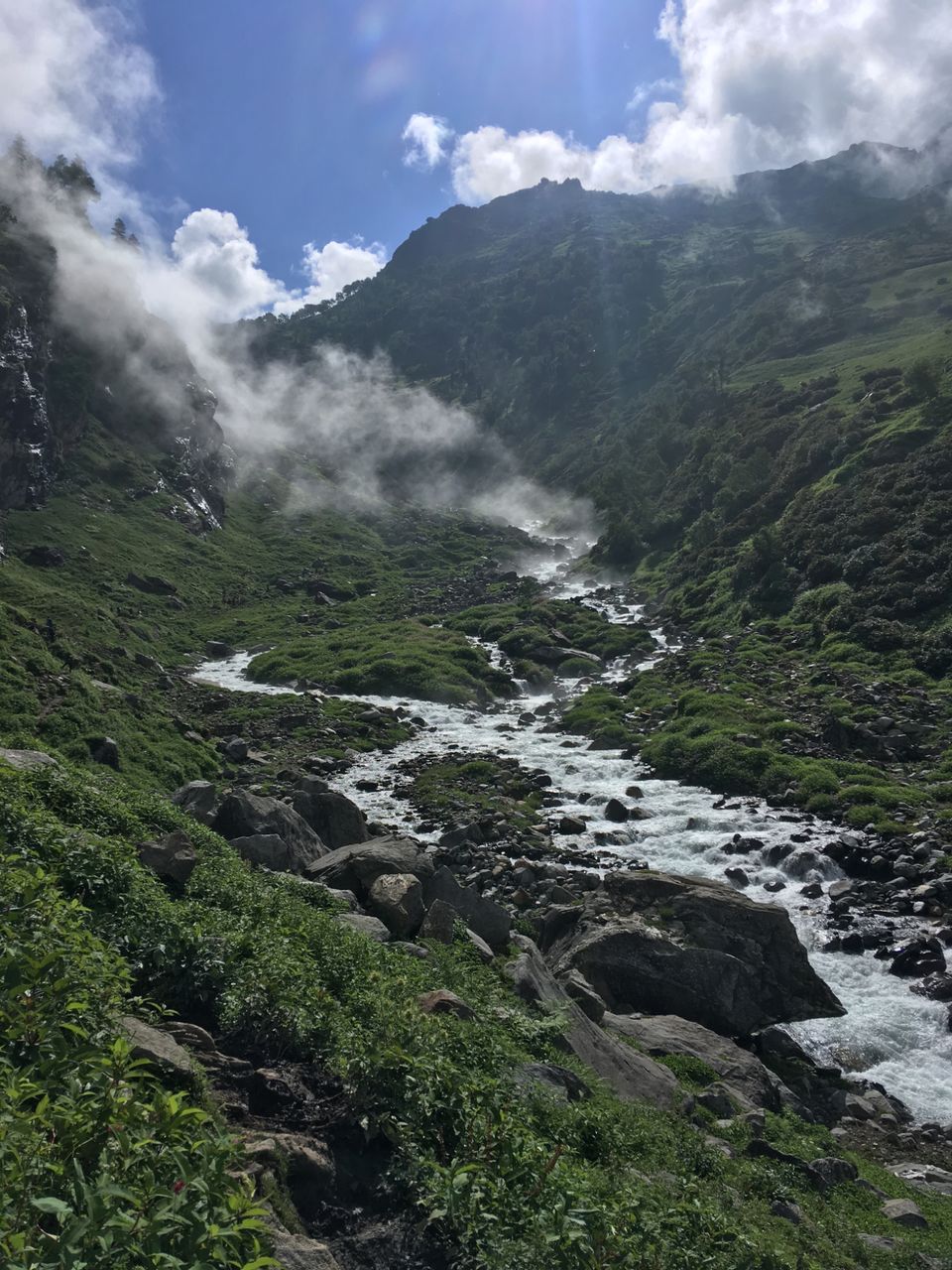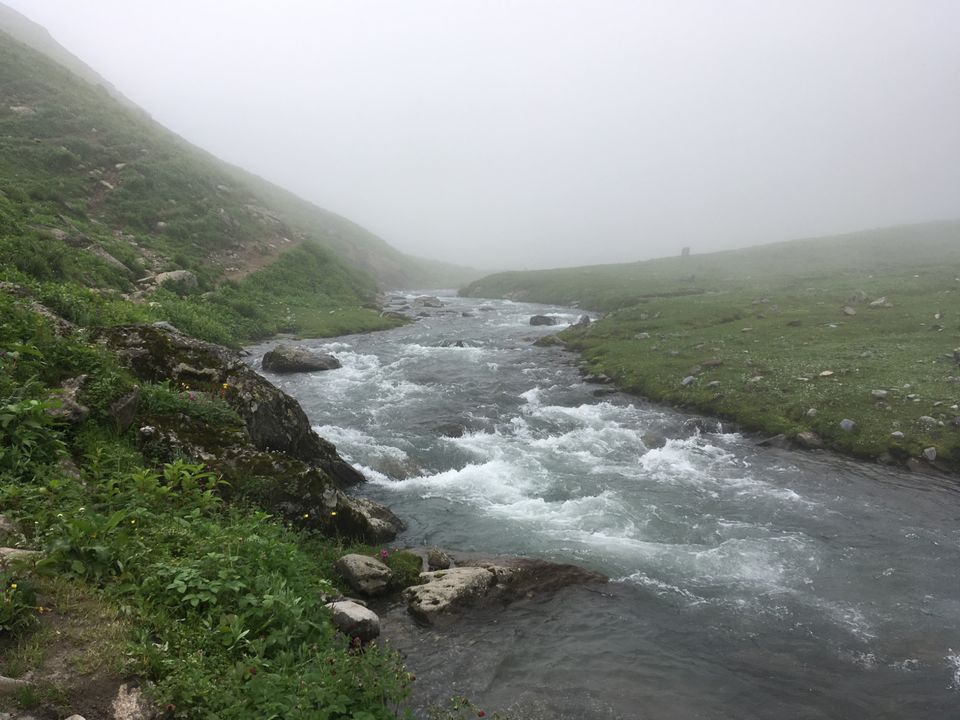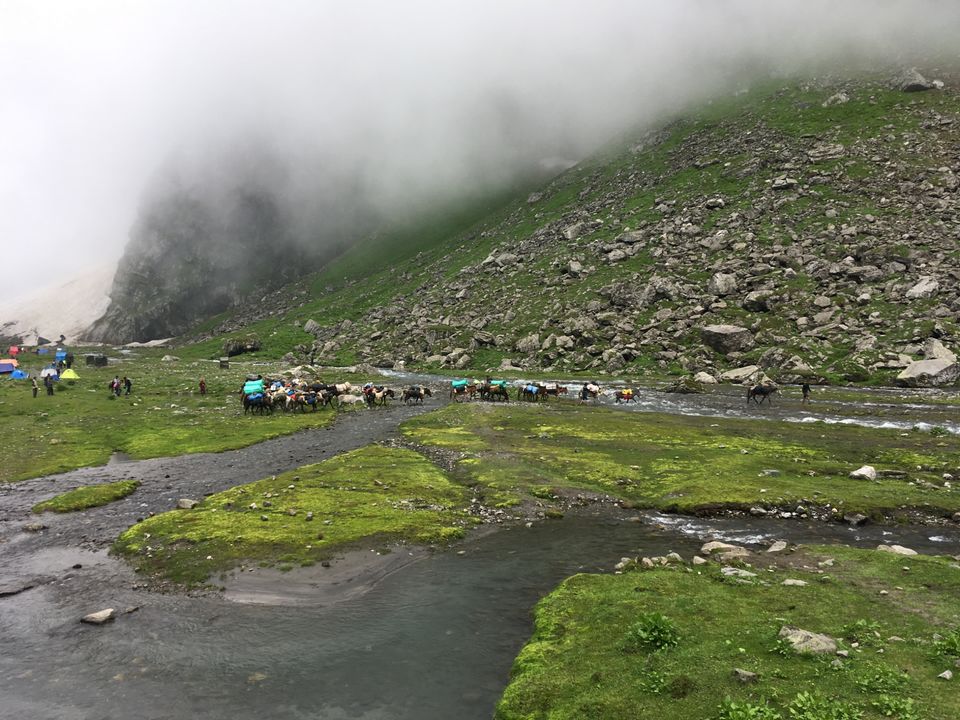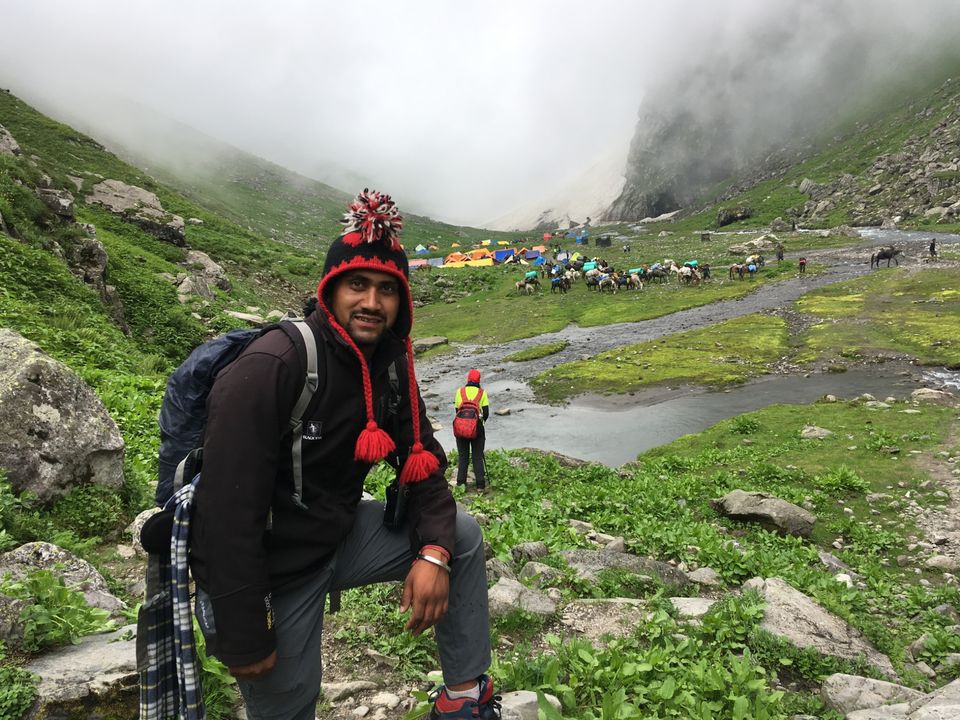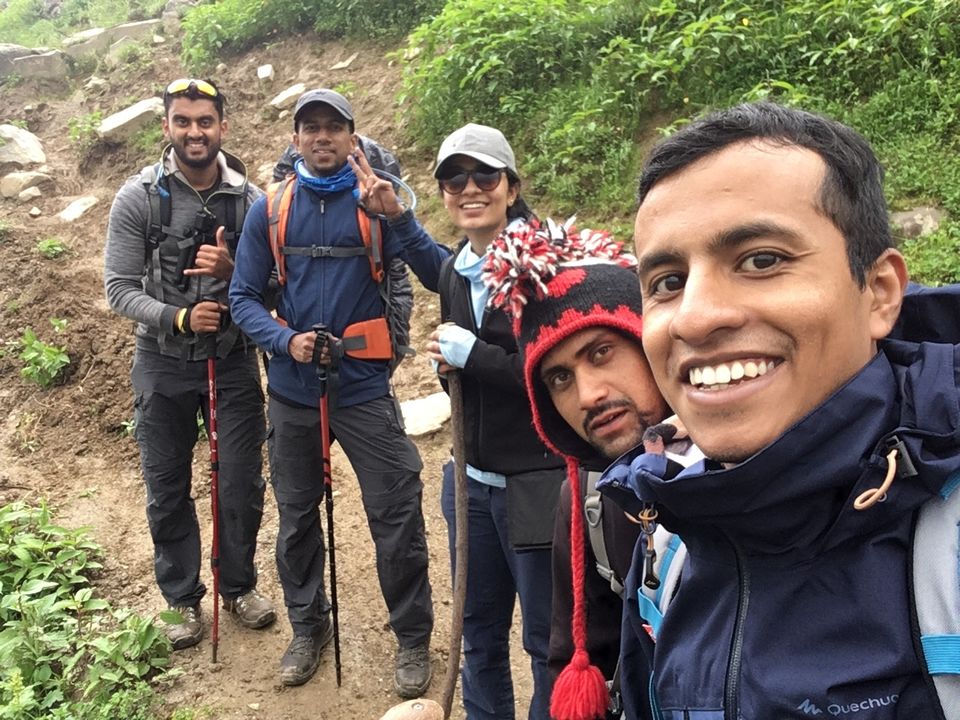 We reached our campsite and selected our tents. Shubhag called us for a stretching session. Seeing me, Bobby and shubhag performing the stretch people from other trek groups we surprised seeing us the way we did our stretch. After some time all the trek mates arrived. We had pakoda and tea as snacks. After that our trek leader requested shubhag for a stretch session for the entire group. Shubhag is a Strength & Conditioning coach by profession. All enjoyed their stretch session and we were asked to gather at 6 pm in the evening for the acclimatization walk. We all started walking towards the nearby mountain and after 20mins we reached a point where we could see entire base camp. We waited for the trek mates to join us. After a while, we descended towards the base camp. I was lazing around the campsite as we had to gather once again for by 7.30 pm. In dinner, we had gulam jamoon as a desert. Which made all of us happy. Later the same routine was followed that is checking out the oxygen level, clothing and timing of tomorrow's trek. Since Day 3 was the most important day of the trek we were divided into two groups, the first group was supposed to leave around 6 am in the morning and the second group was supposed to leave around 7 am in the morning. This decision was made since multiple subgroups were forming during the trek which became challenging for the trek lead and the local guides to coordinate. After this discussion, we all went to sleep.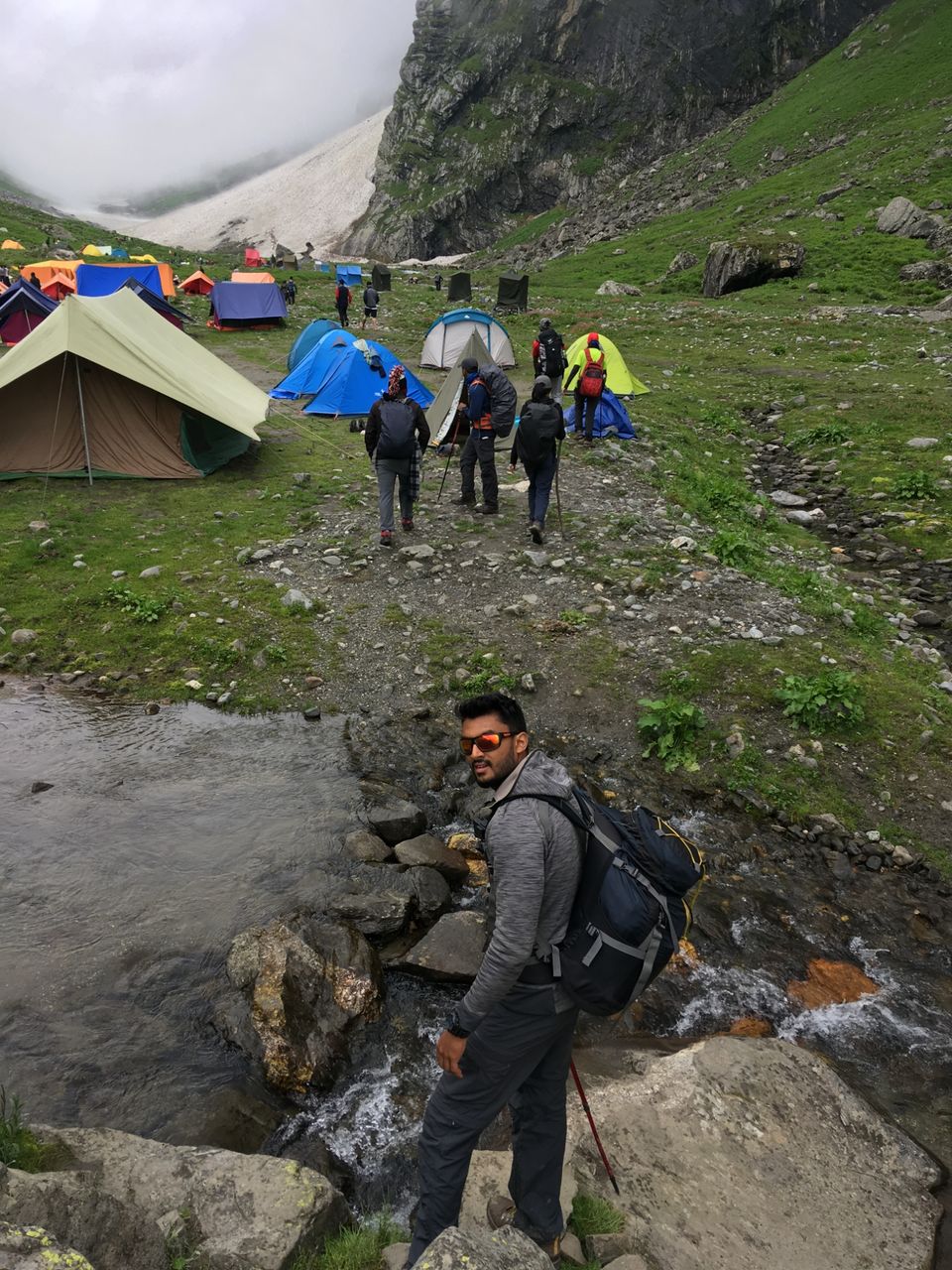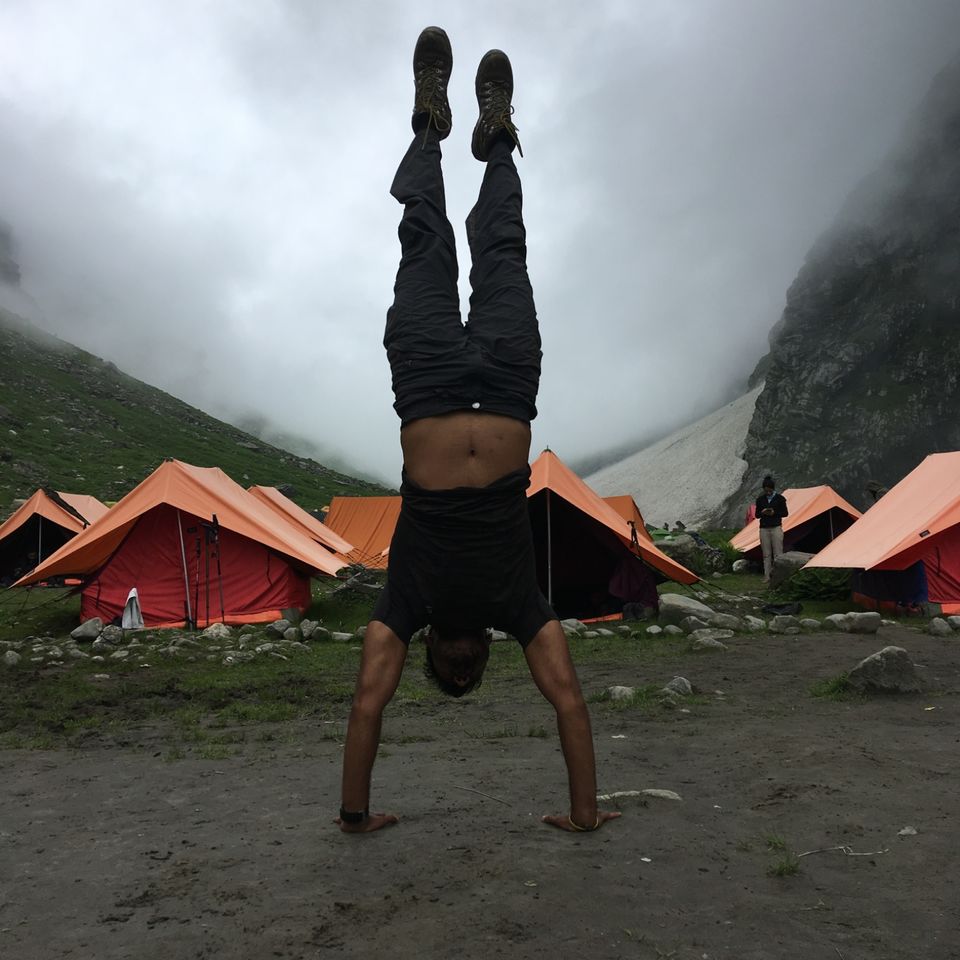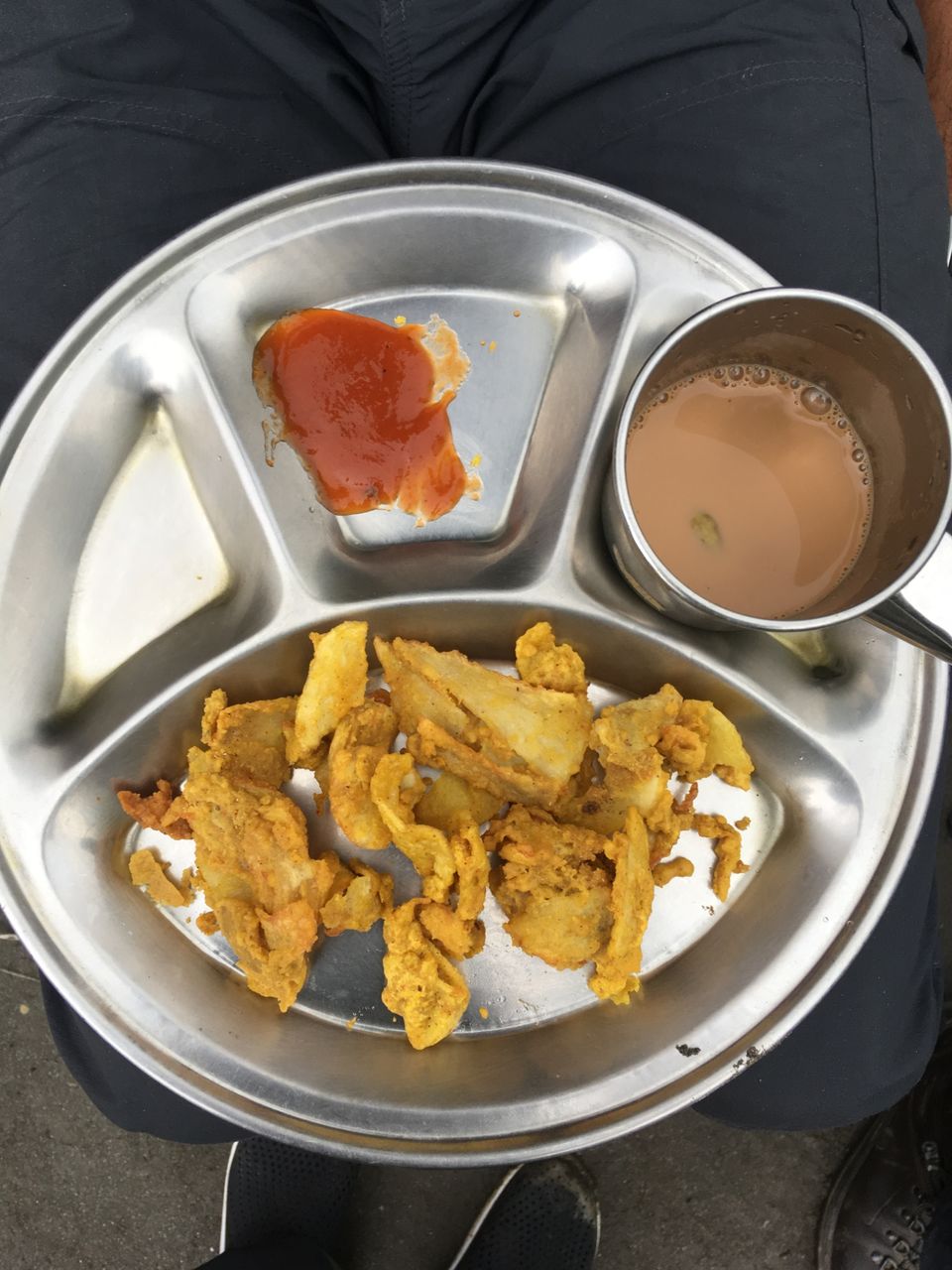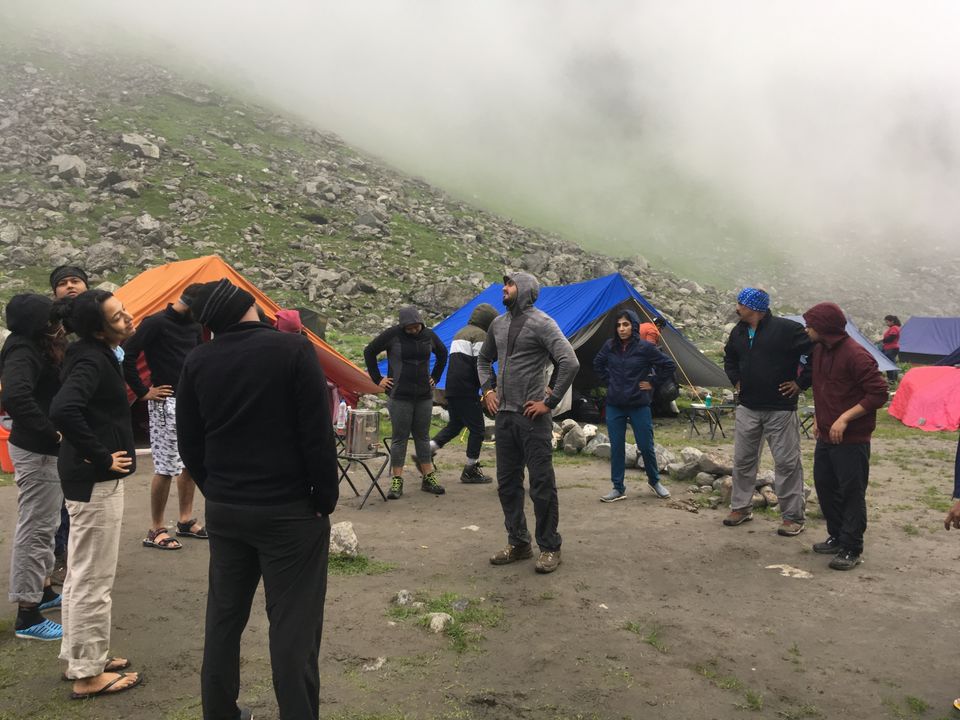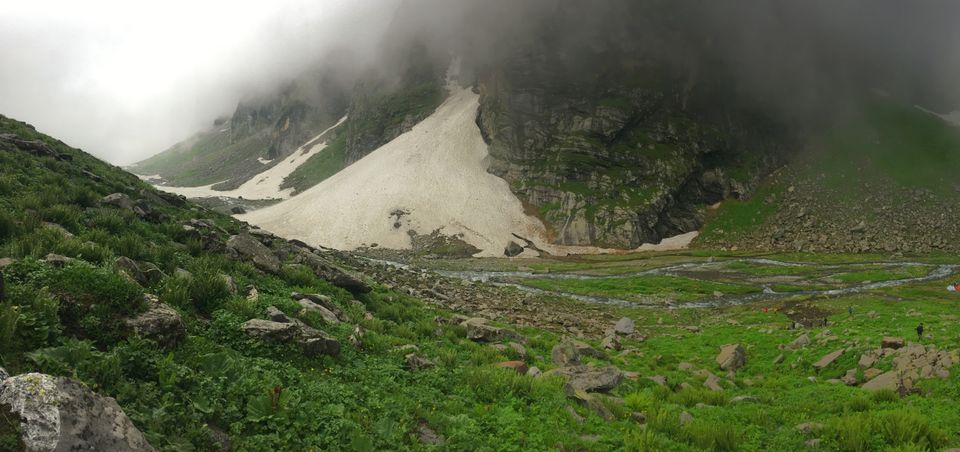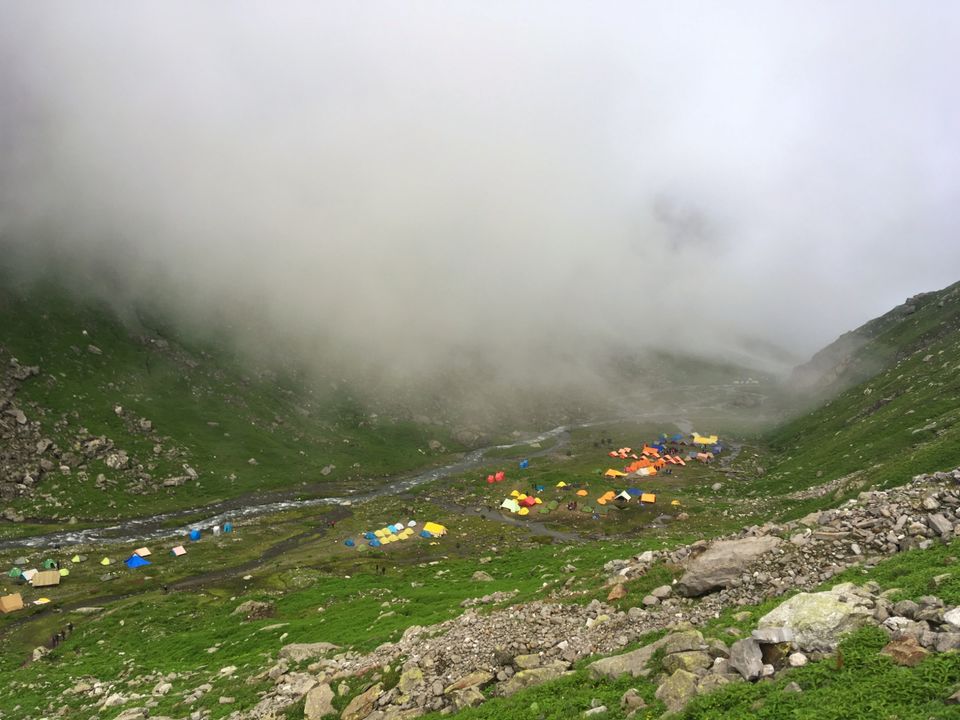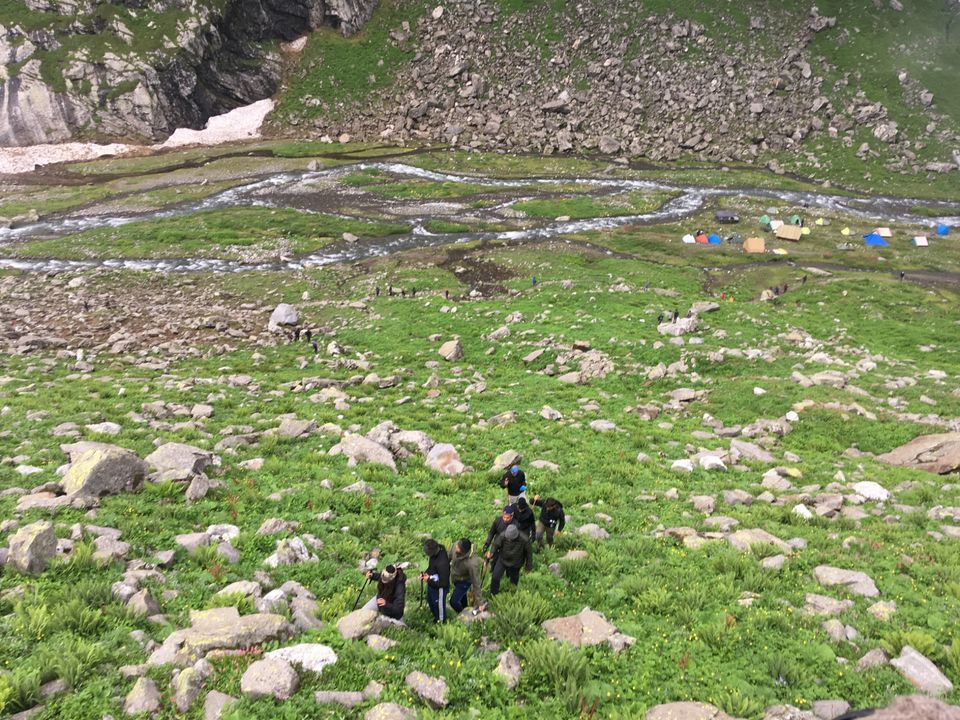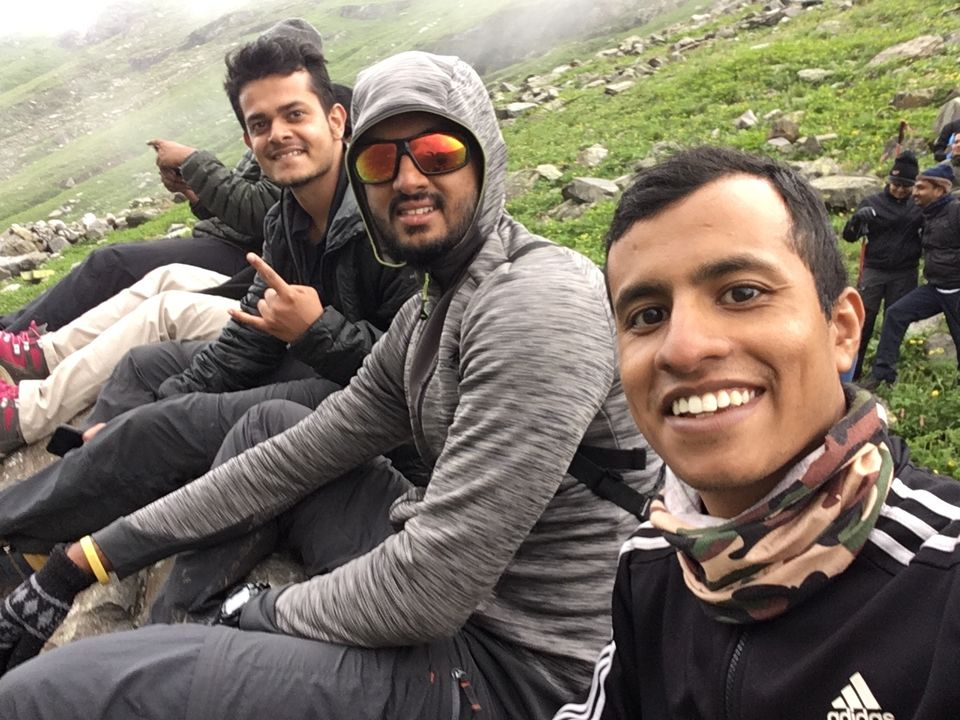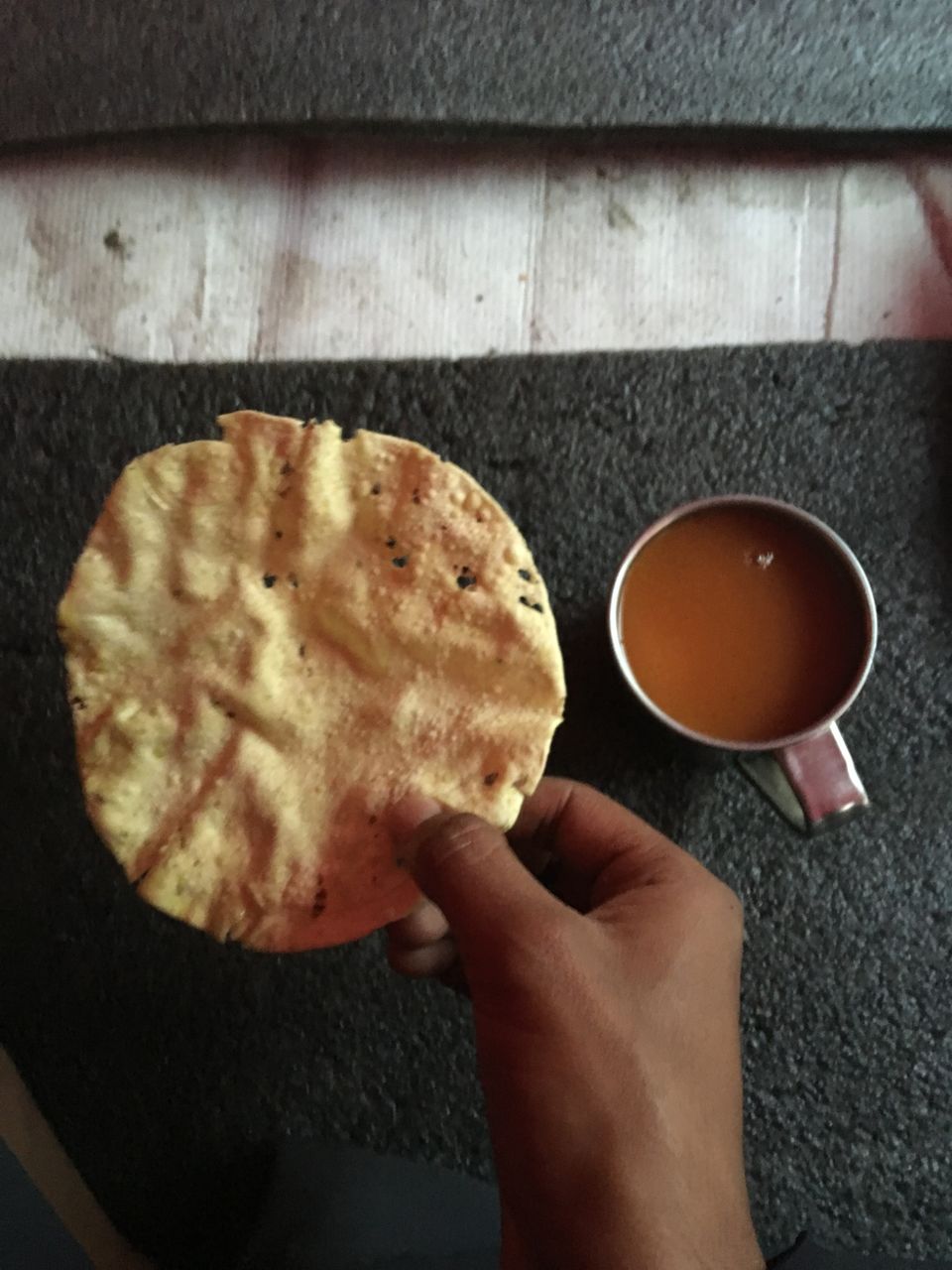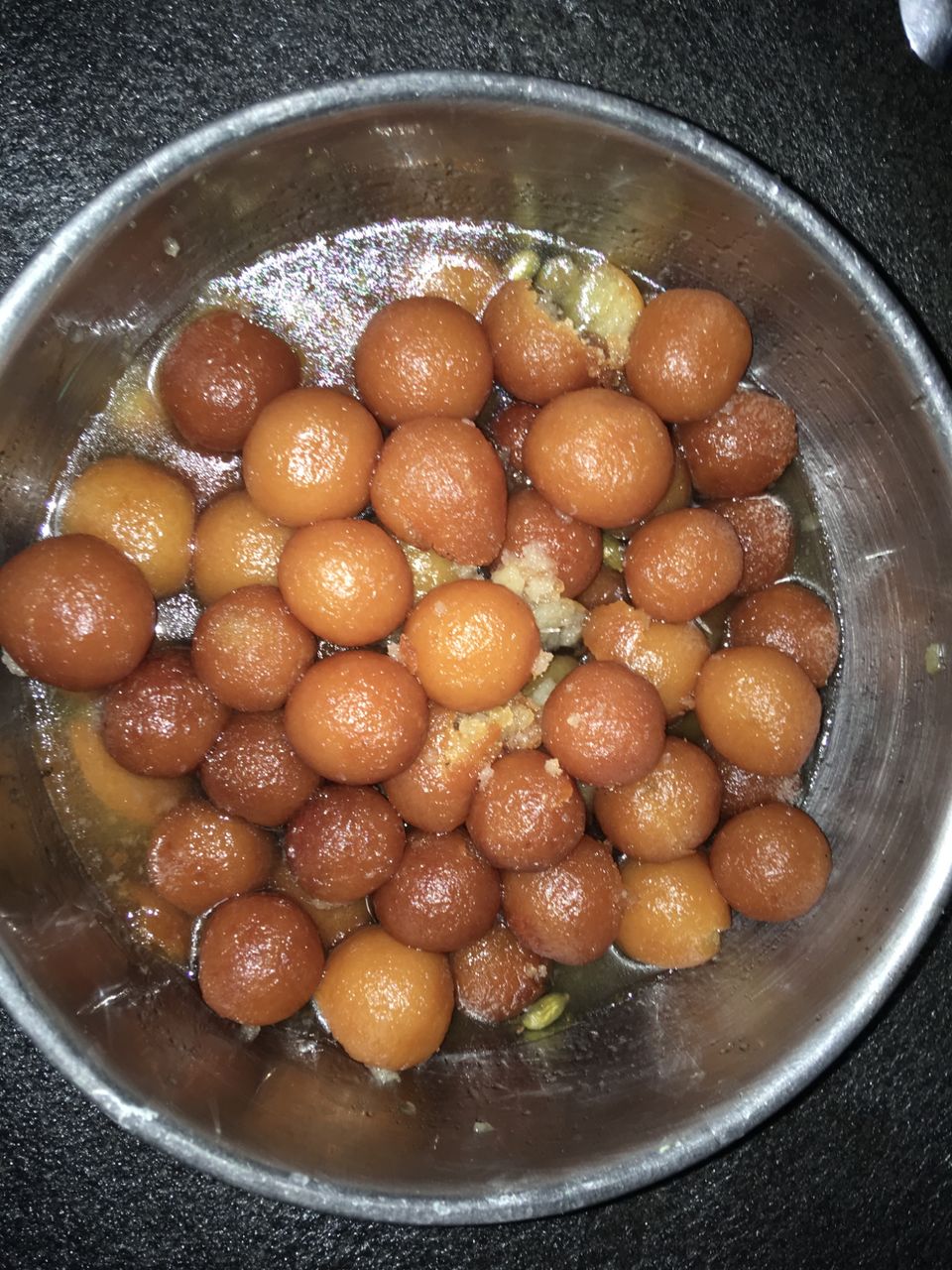 We woke up at around 5 am so that we can get a refresh, pack our rucksack and be ready for the trek. The first group was supposed to leave around 6 am which didn't happen so we all started at around 7 am in the morning. It was drizzling since morning so all had put on their rain covers and ponchos. We started our trek towards the hampta pass. We had to walk over black snow on many occasions which were equally fun and risky.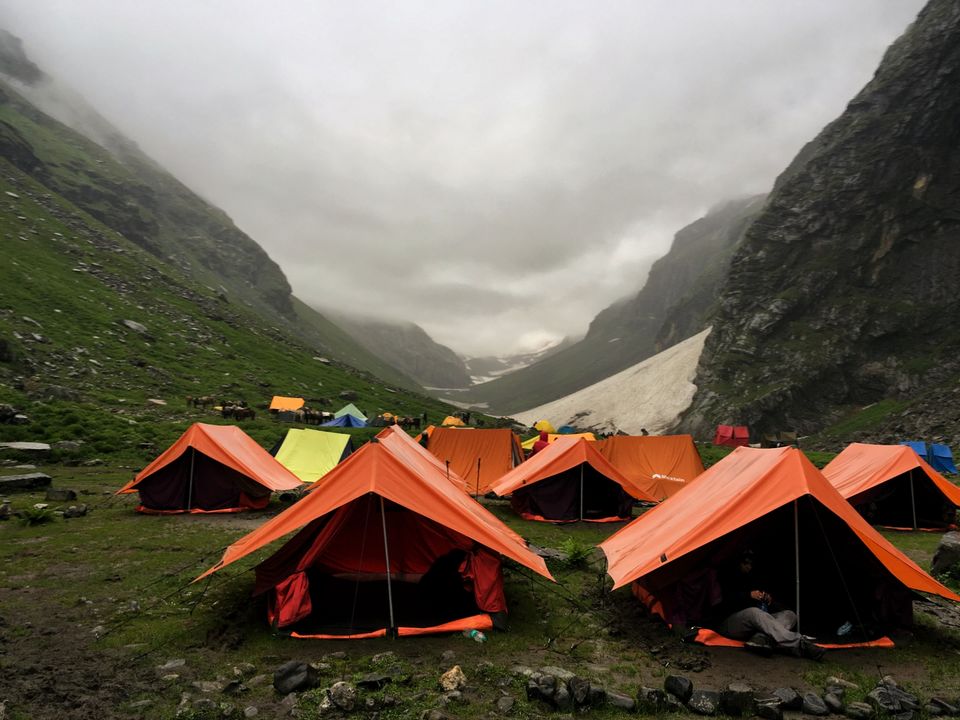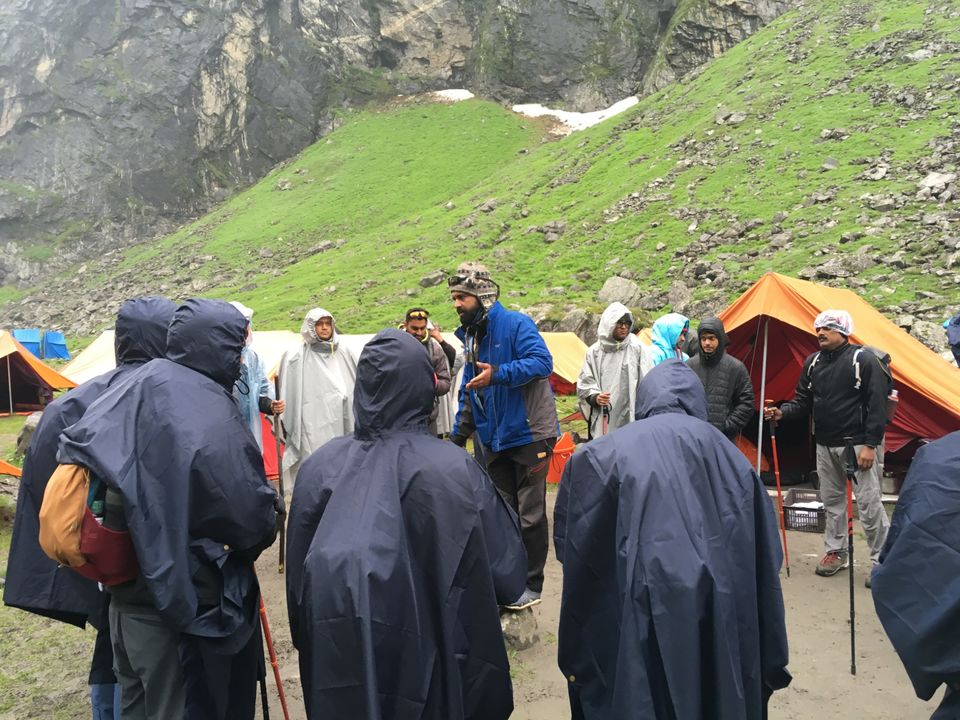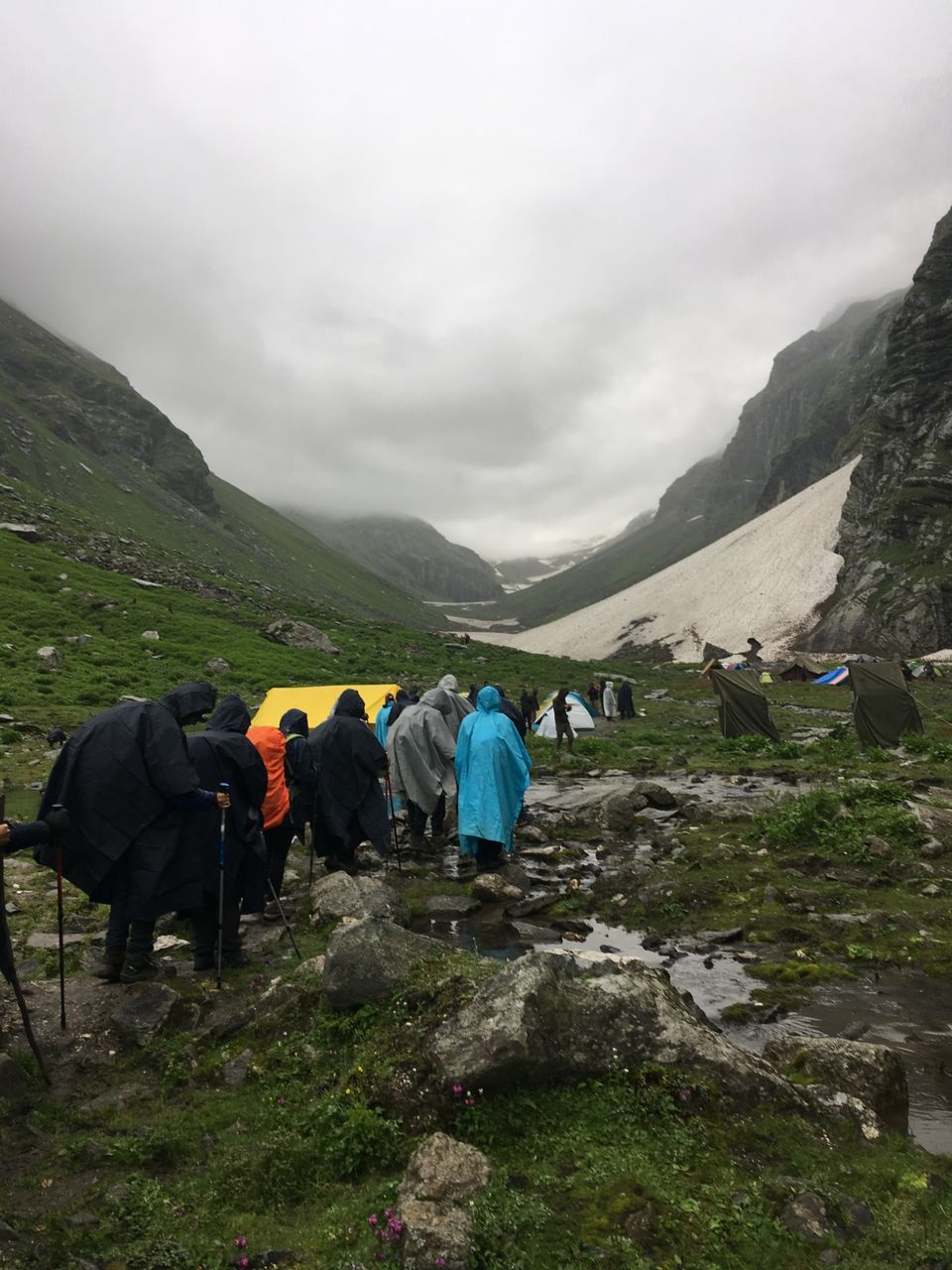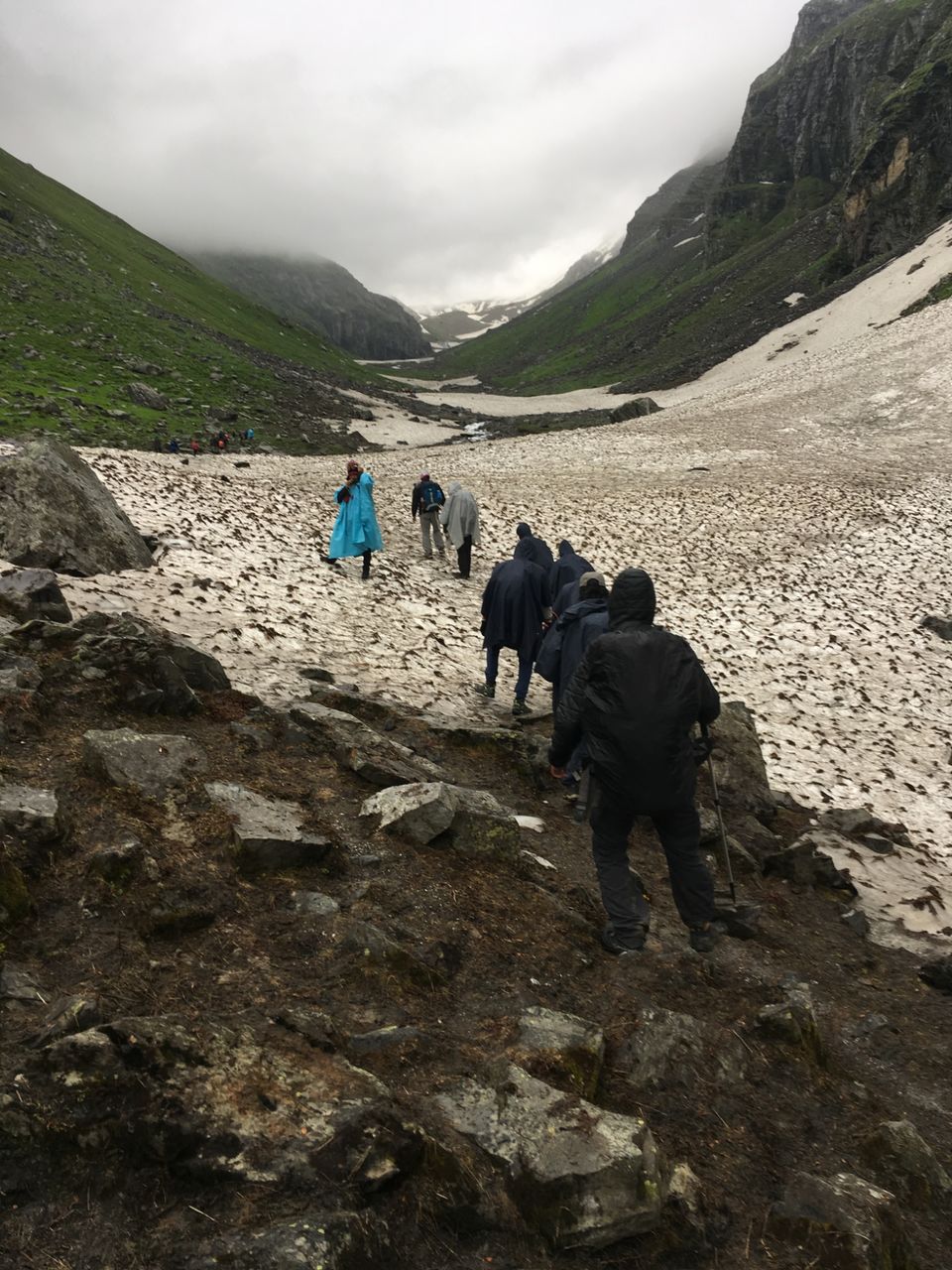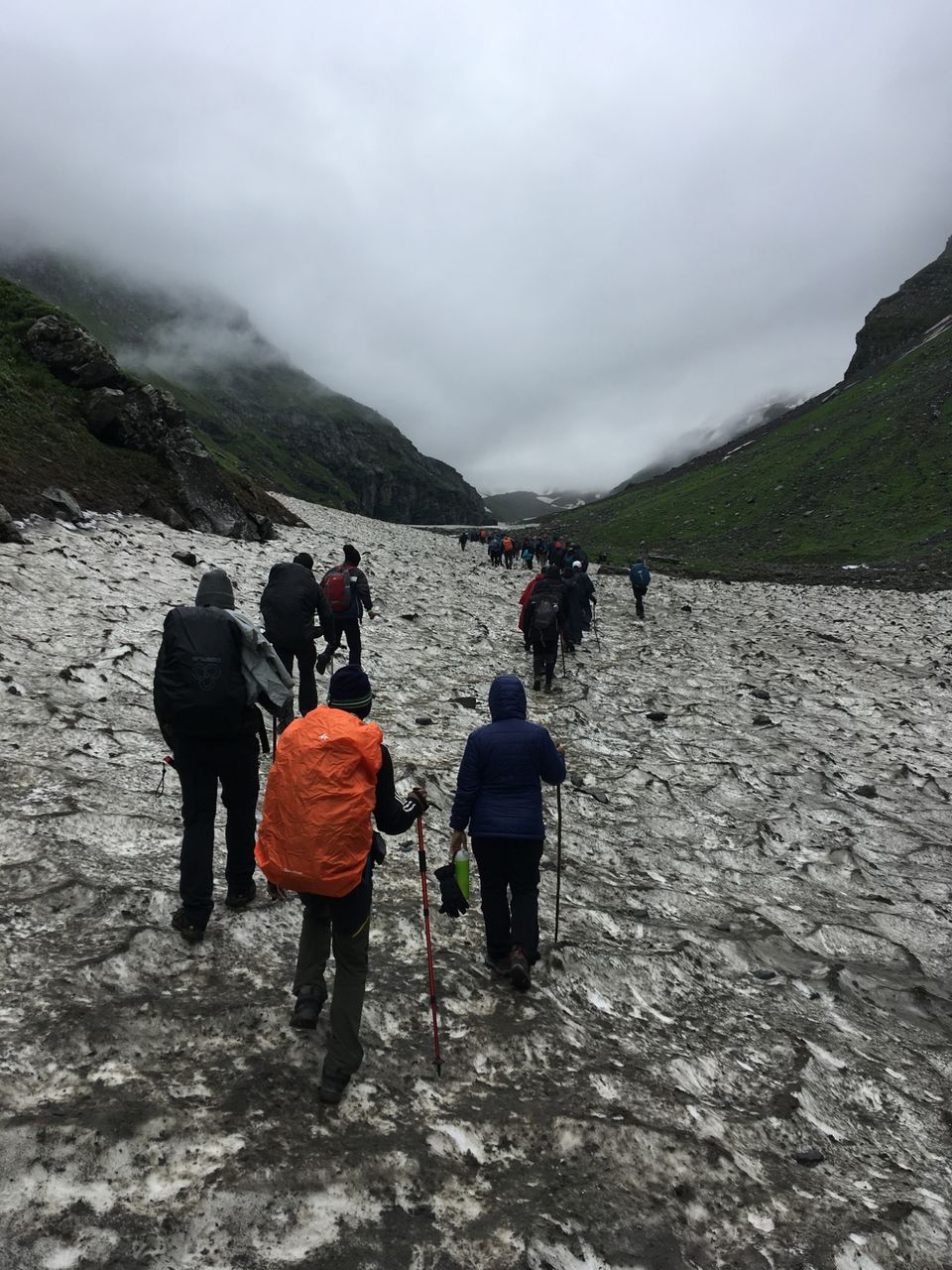 Though we started the trek, at last, we were in front again within no time. After walking for a couple of KMs we took our first break right next to the river. The sky had cleared up and finally, We got to see the Indra Hassan peak. We filled up our water bottles, took a group picture and we were ready for the toughest climb of the trek.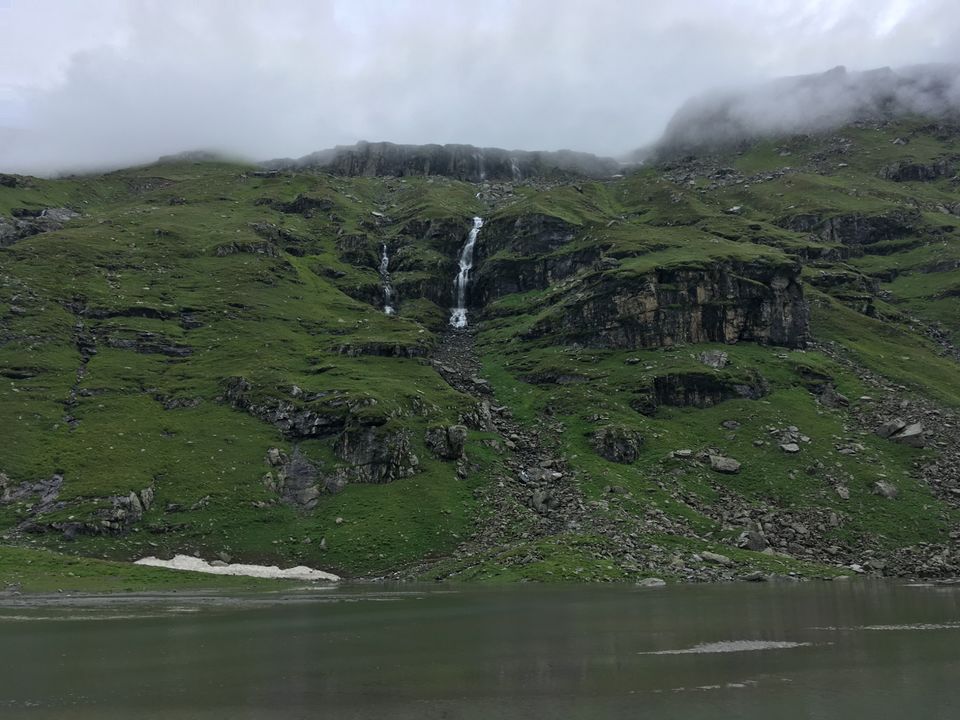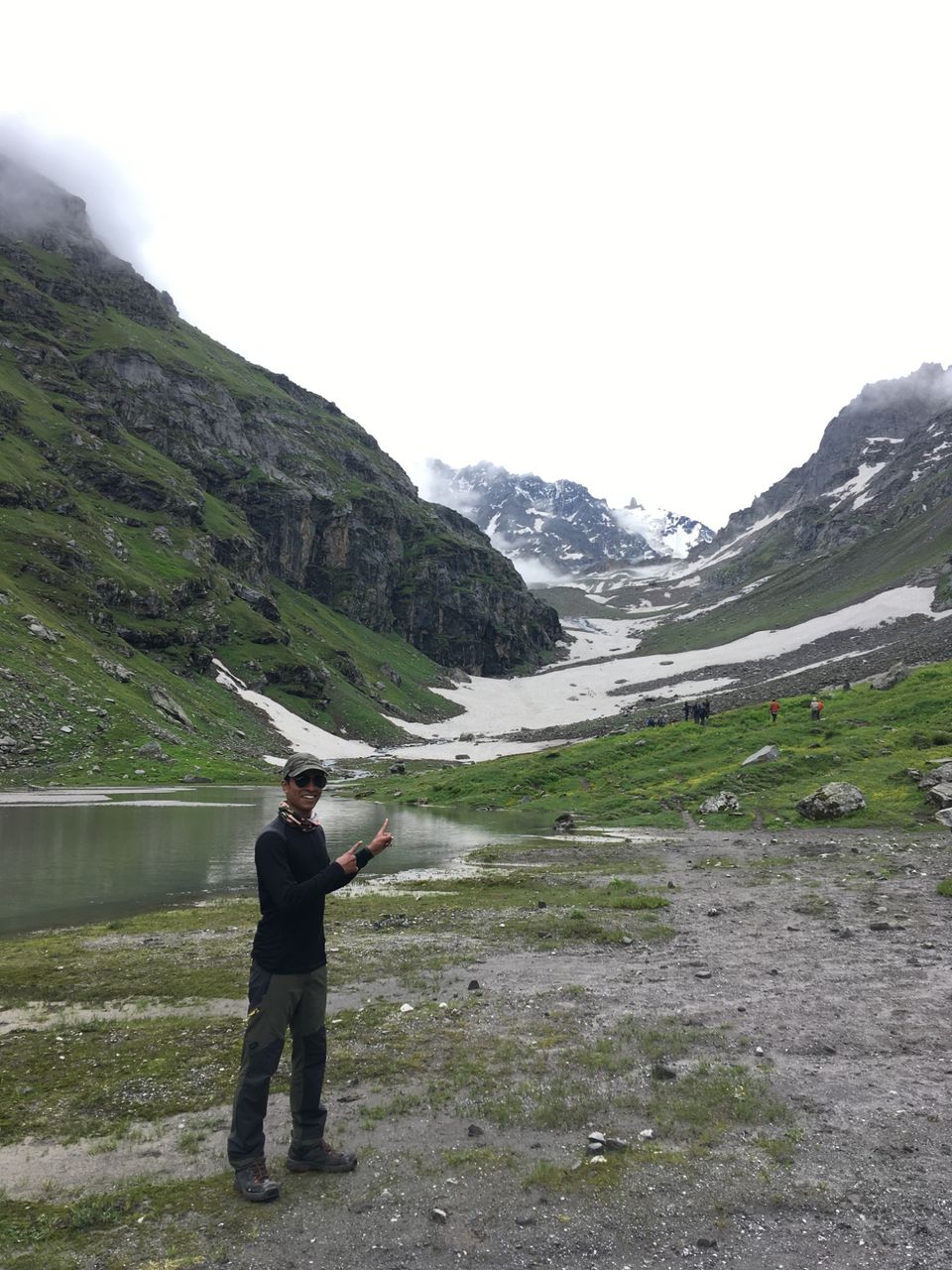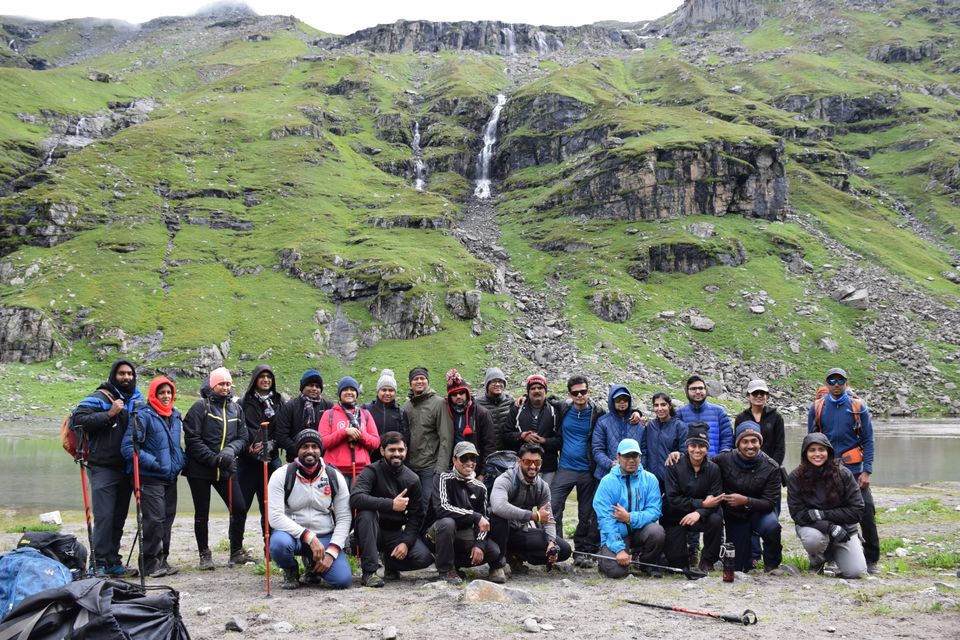 We started our trek within a km once again subgroups were getting formed since all were walking at different speeds. We six of us myself, shubhag, Bobby, supratim, Jyoti and pradnya were always with Tara Bhai since we all were walking at a good speed. So we used to reach the rest points first and we used to get ample time to relax and click pictures. This happened every time we resumed our trek.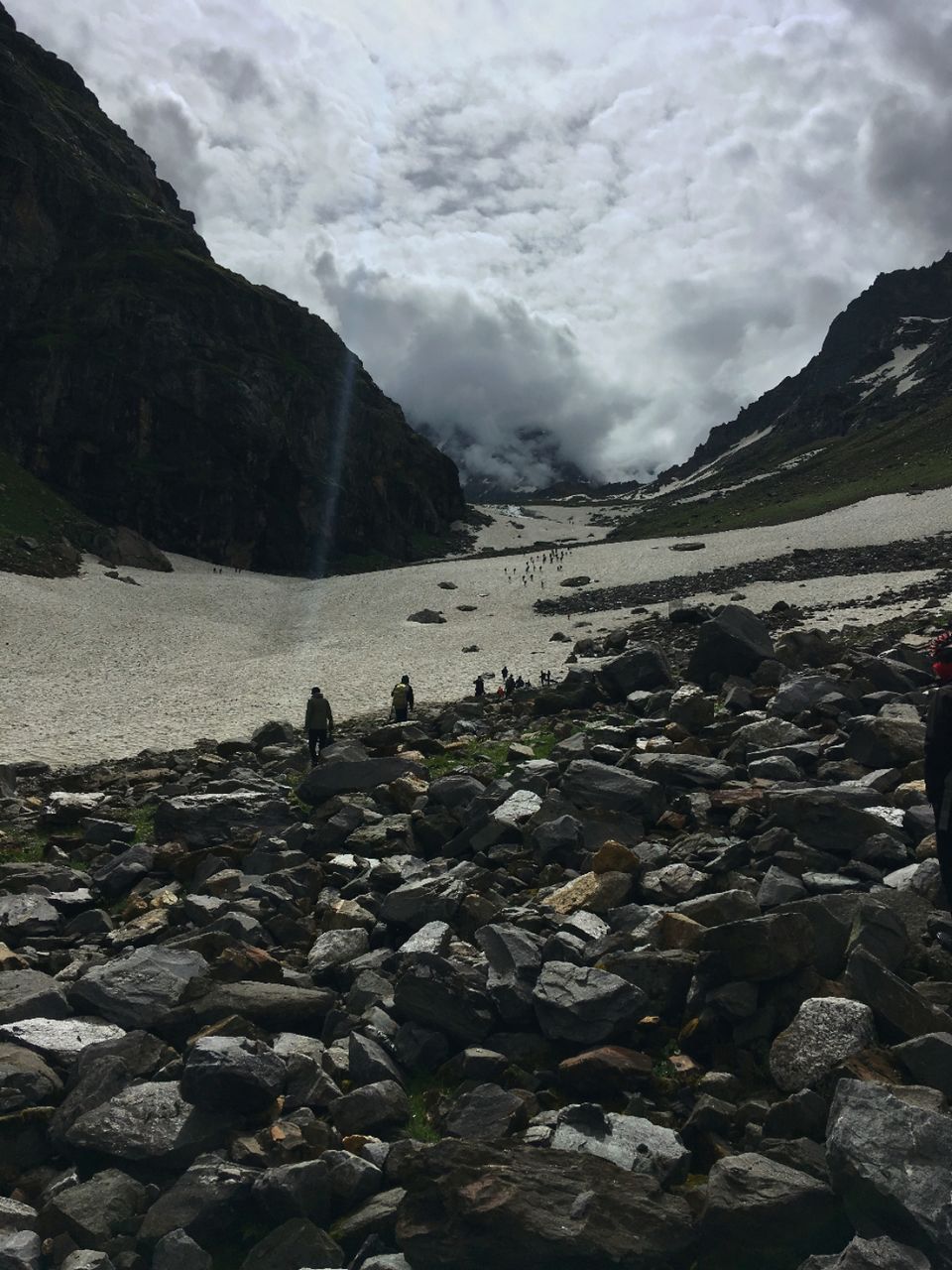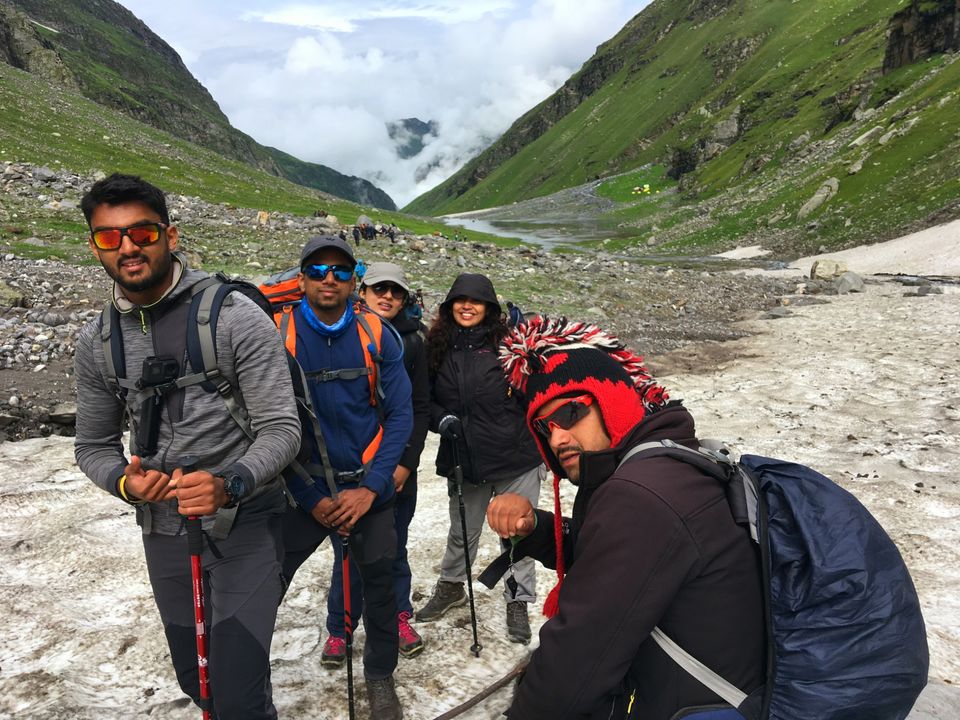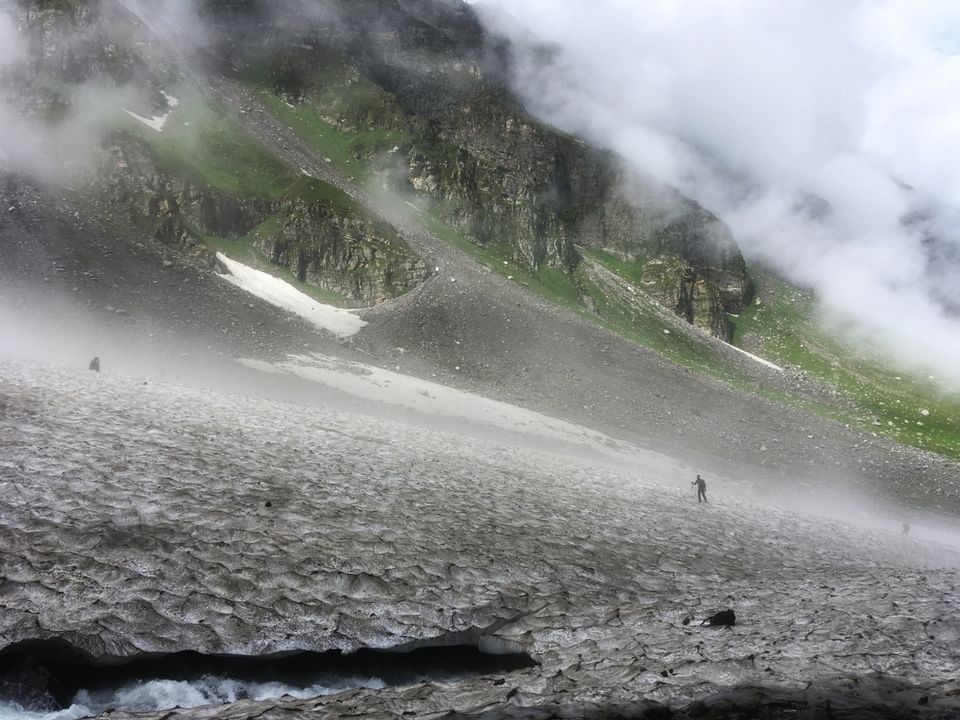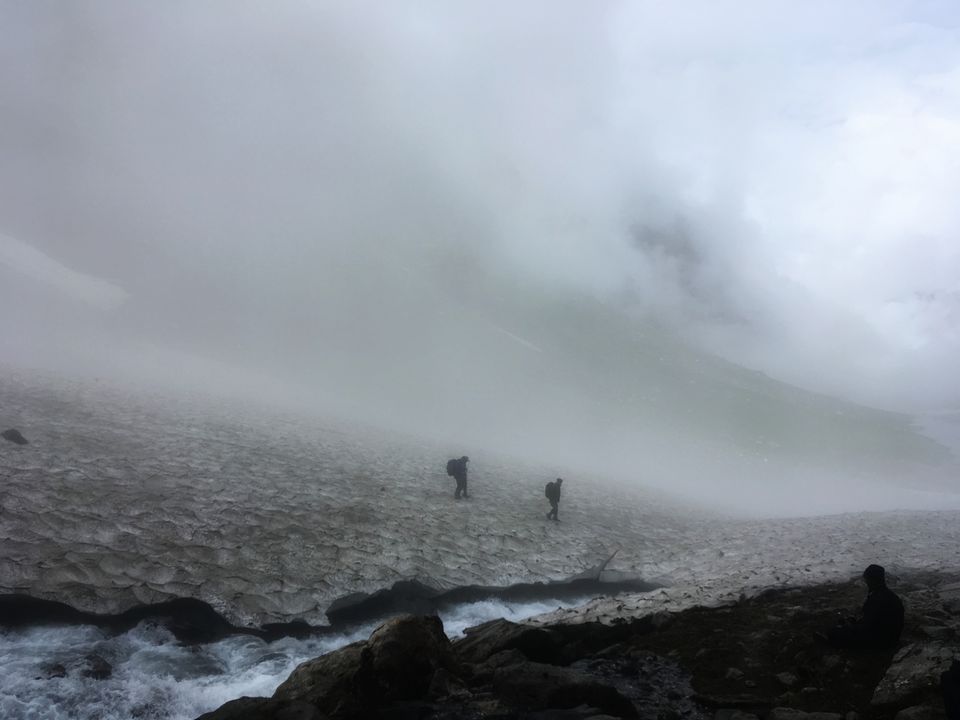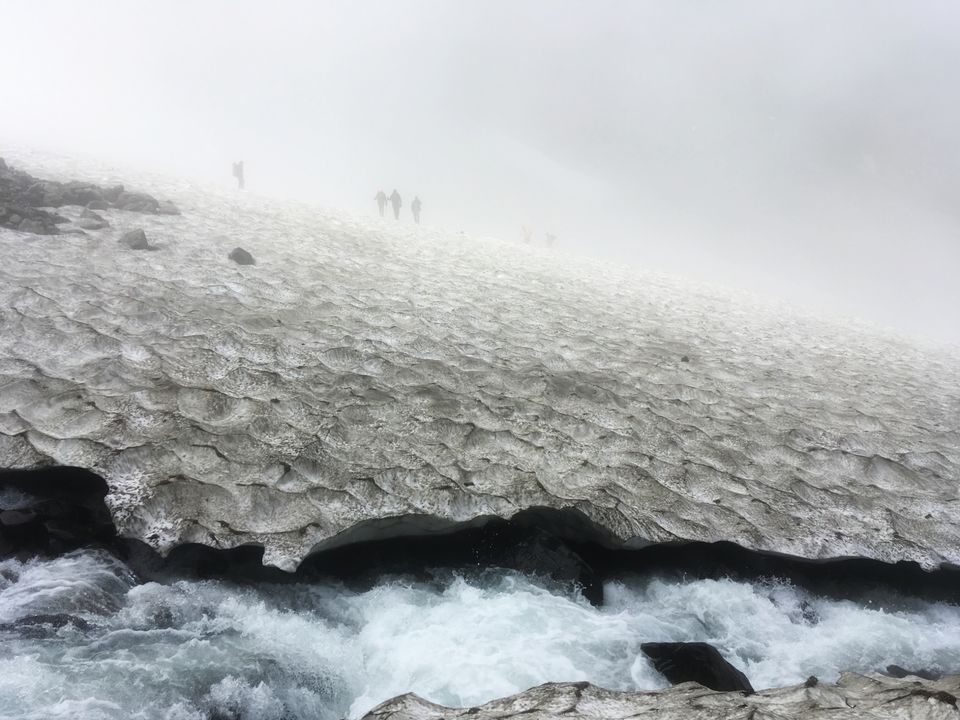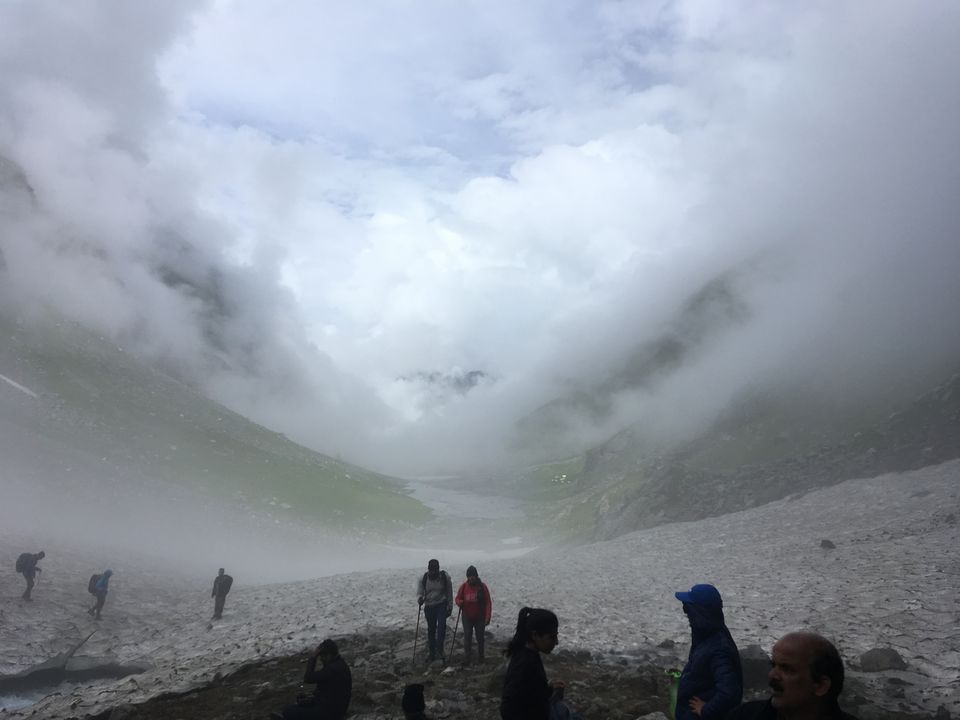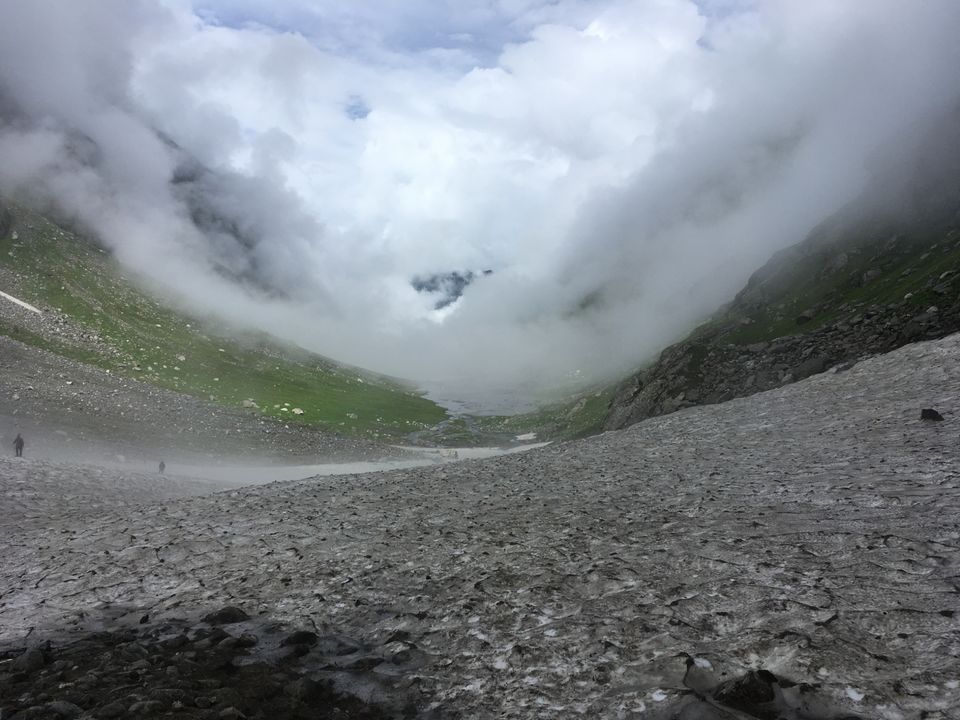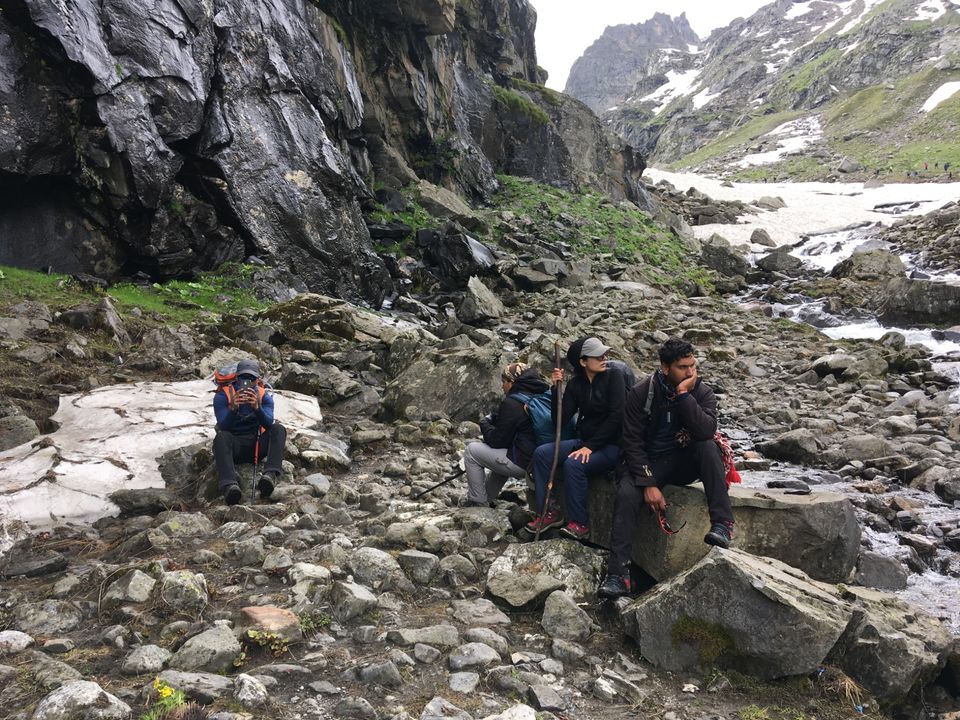 After walking for a couple of KMs we took another break to give some rest to our legs. Since we all had our breakfast early in the morning I started to feel hungry, the only thing that was left was Frooti which we were told to have only after crossing the hampta pass. Jyoti had carried some dry fruits for the trek which she shared with all 6 of us. I was a little surprised by this kind of good gesture.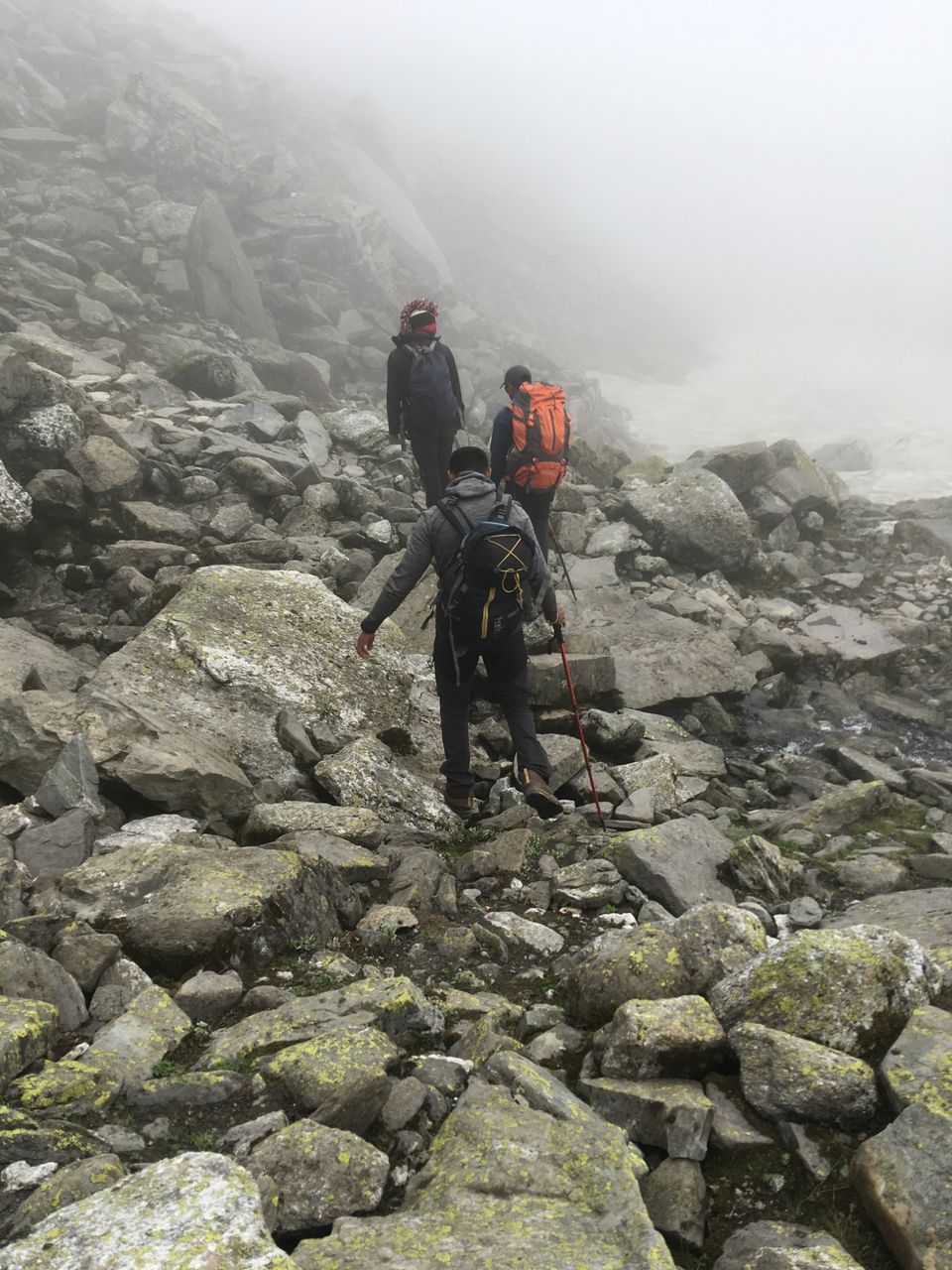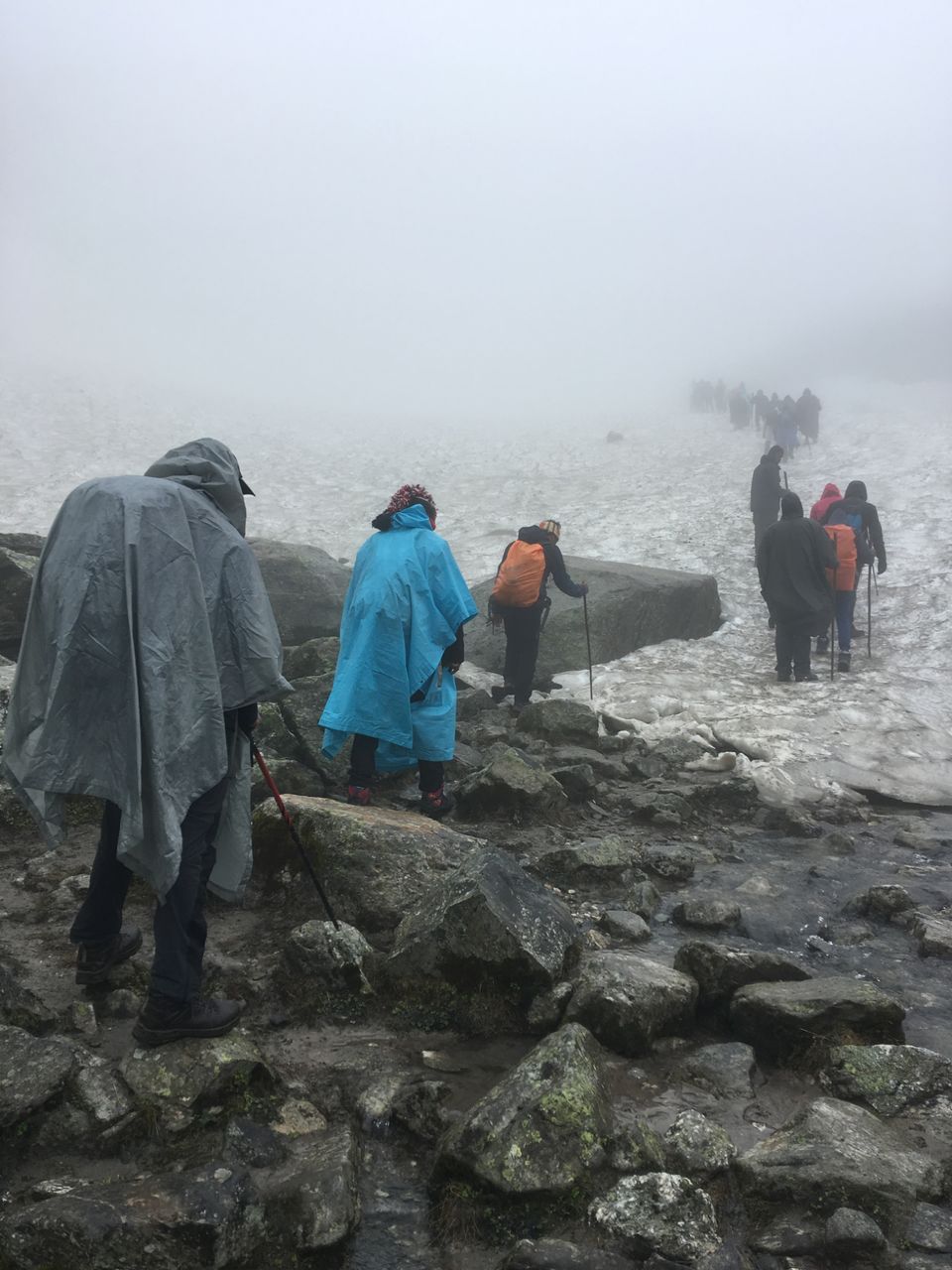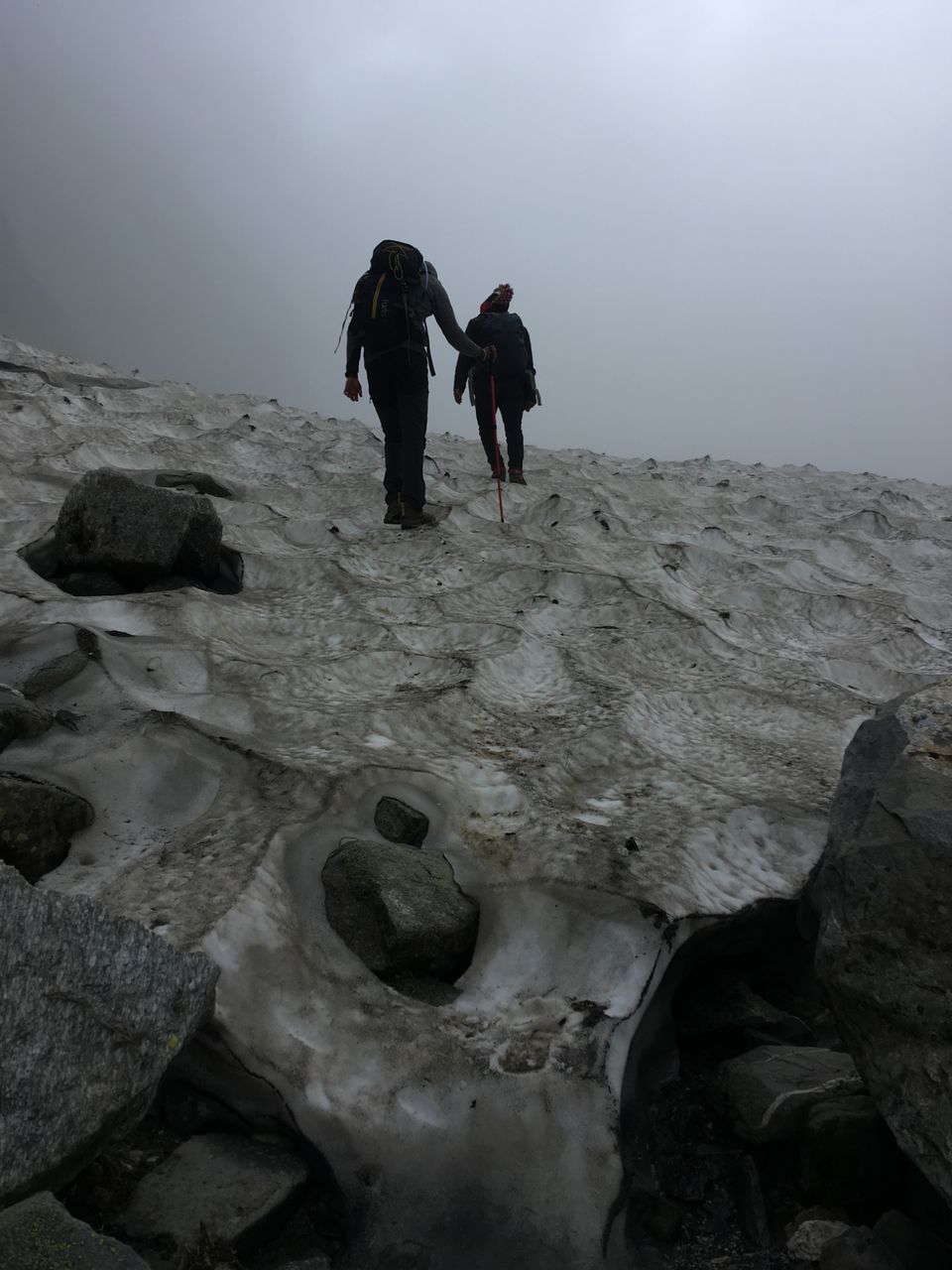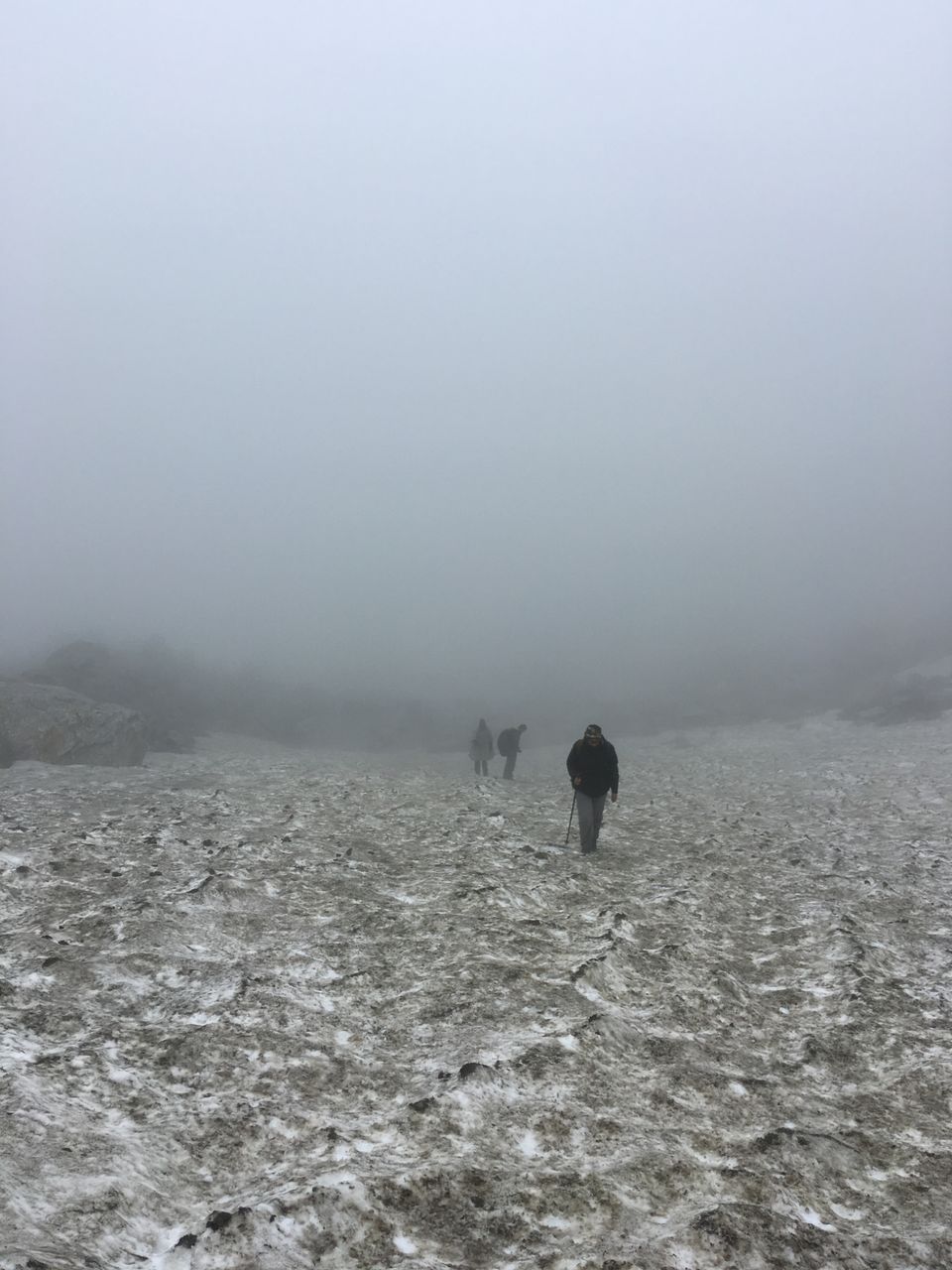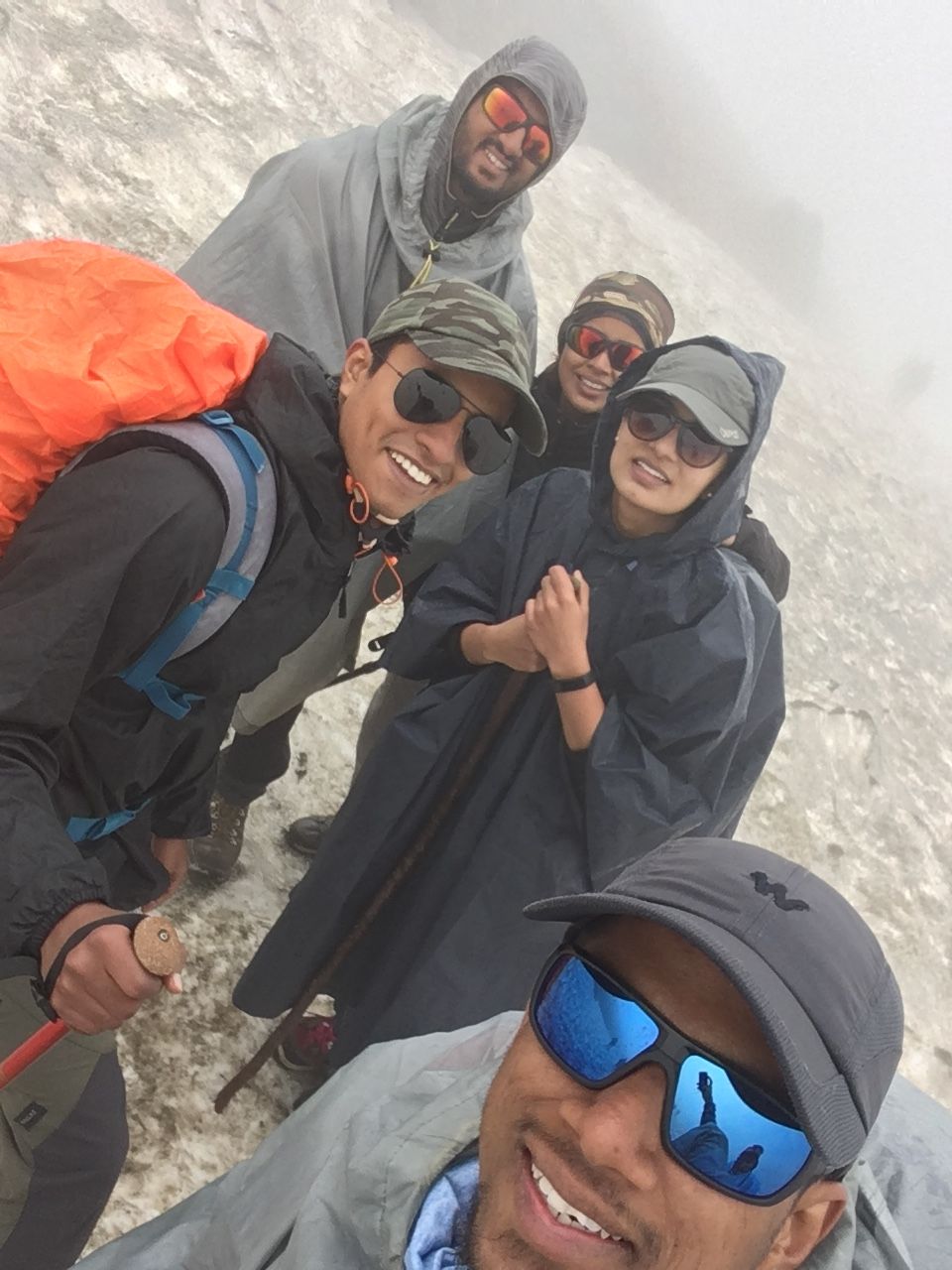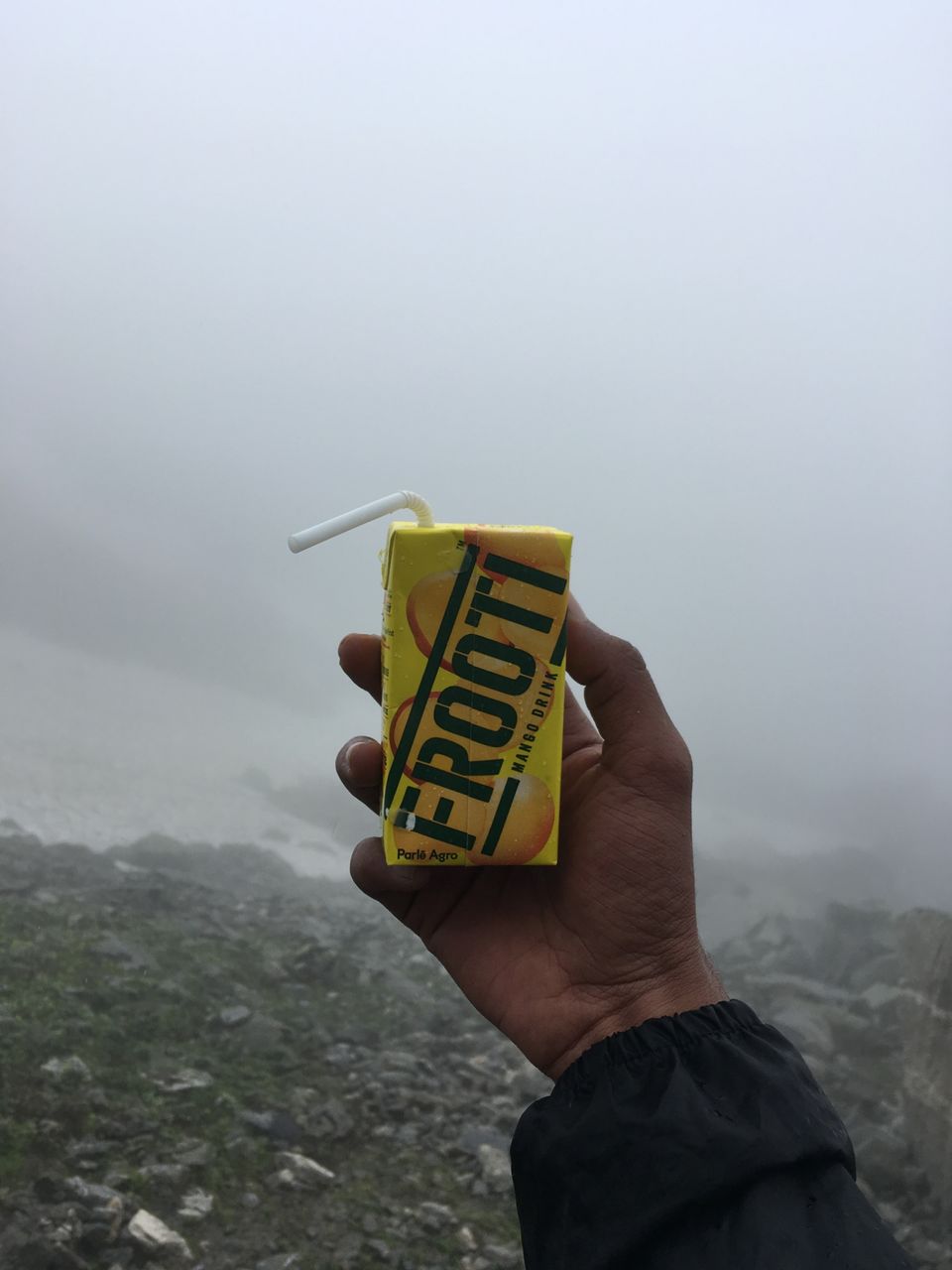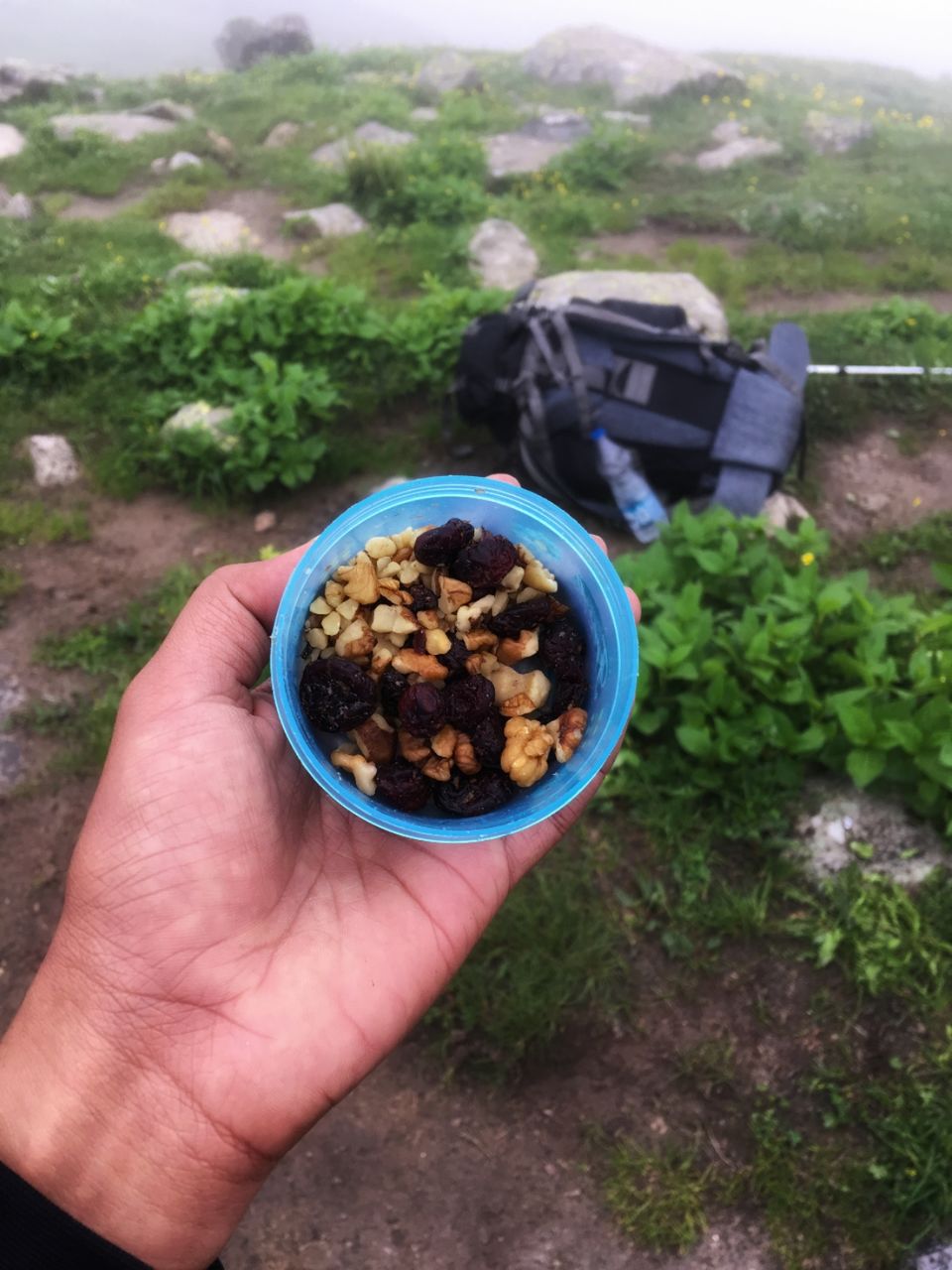 After a while, most of the trek mates joined us and we continued our trek towards the pass. Now the climb was very steep. So we had to be very careful as we were only walking on the snow. After walking for a few KMs our trek lead communicated and asked to wait for the other teammates to join. Here Tara bhai took out his poncho laid it on the ground so that we could rest for a while. He had to go back so that he could help other trek mates. While we were waiting for the trek mates the weather kept on changing, the temperature was easily below 10°c and I started shivering since I had not put on my Down jacket. It started Drizzling the temperature fell down even further by then the cold became unbearable. I somehow managed to sit in the opposite direction of the wind. After a few mins, Tara bhai was back and I told him to make us walk since the weather became from bad to worse. Finally, we started walking towards the pass. After a while, we were forcefully stopped since we had to give way for the Mules. We were asked to finish our snacks whatever was remaining. I drank my Frooti felt energized. Along with us, there were people from other trek agency's as well. It became a little chaotic since there were too many people. We overtook them and finally reached the Hampta pass around 1.30pm in the afternoon. From our group, We 6 of us made it first to the hampta pass. Clicked some pictures with my trek mates and after a while, we started descending towards the Spiti.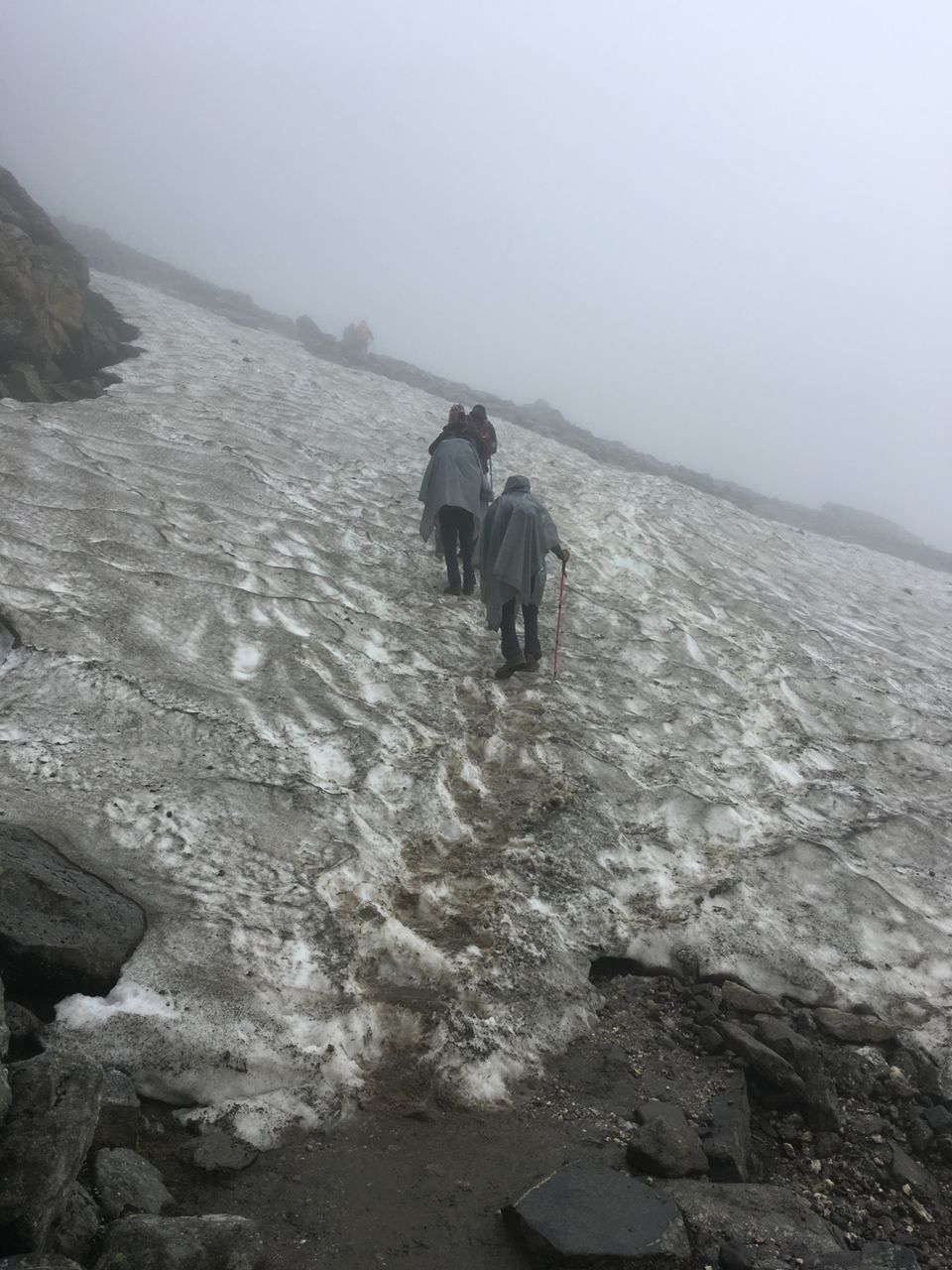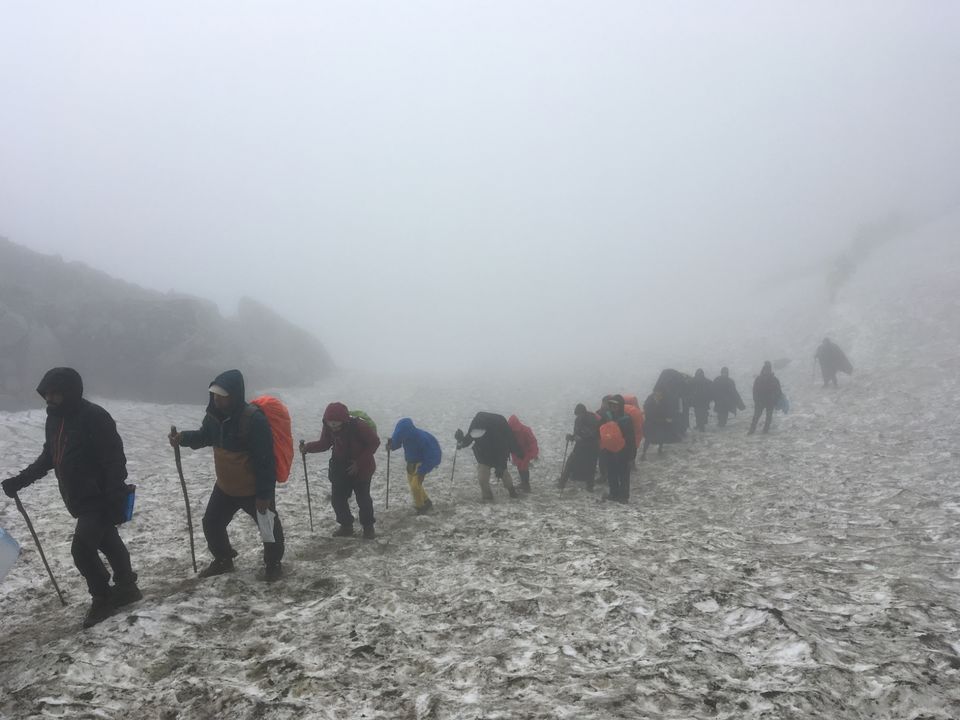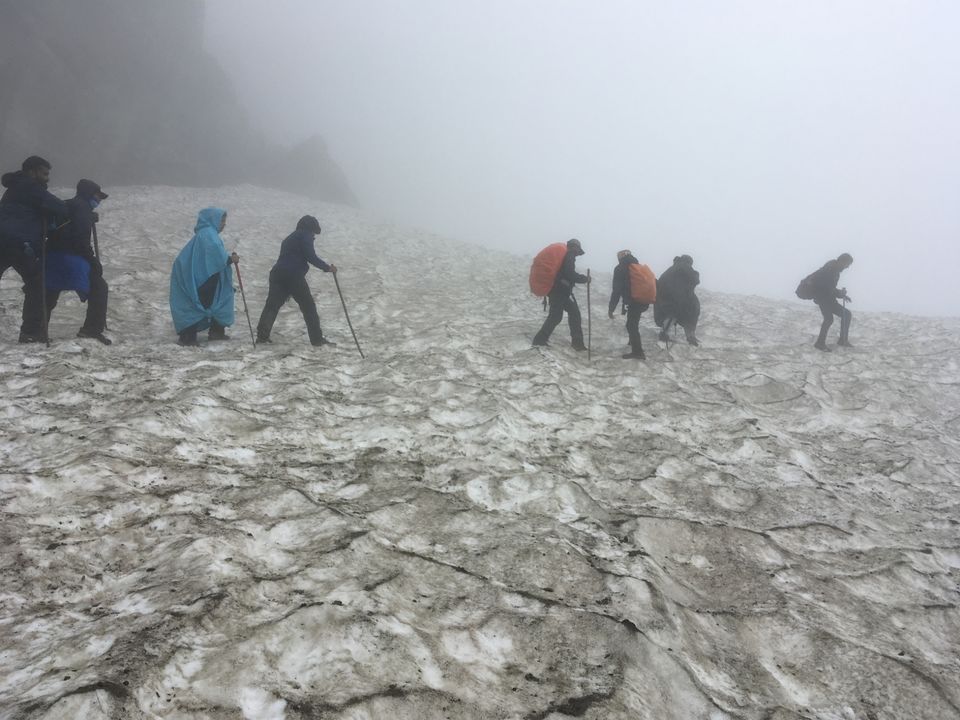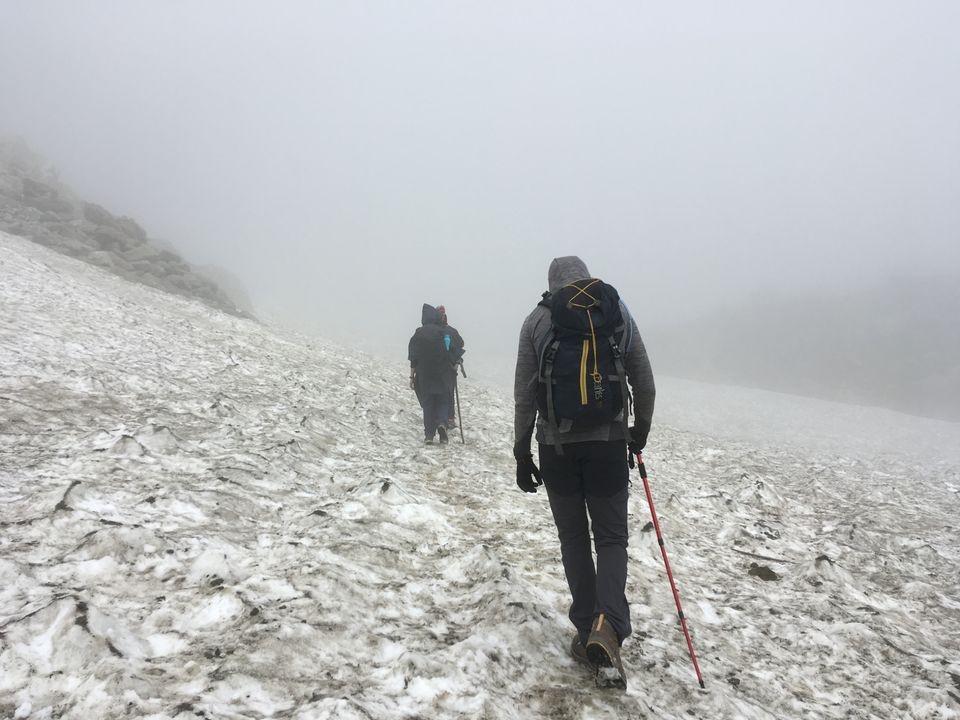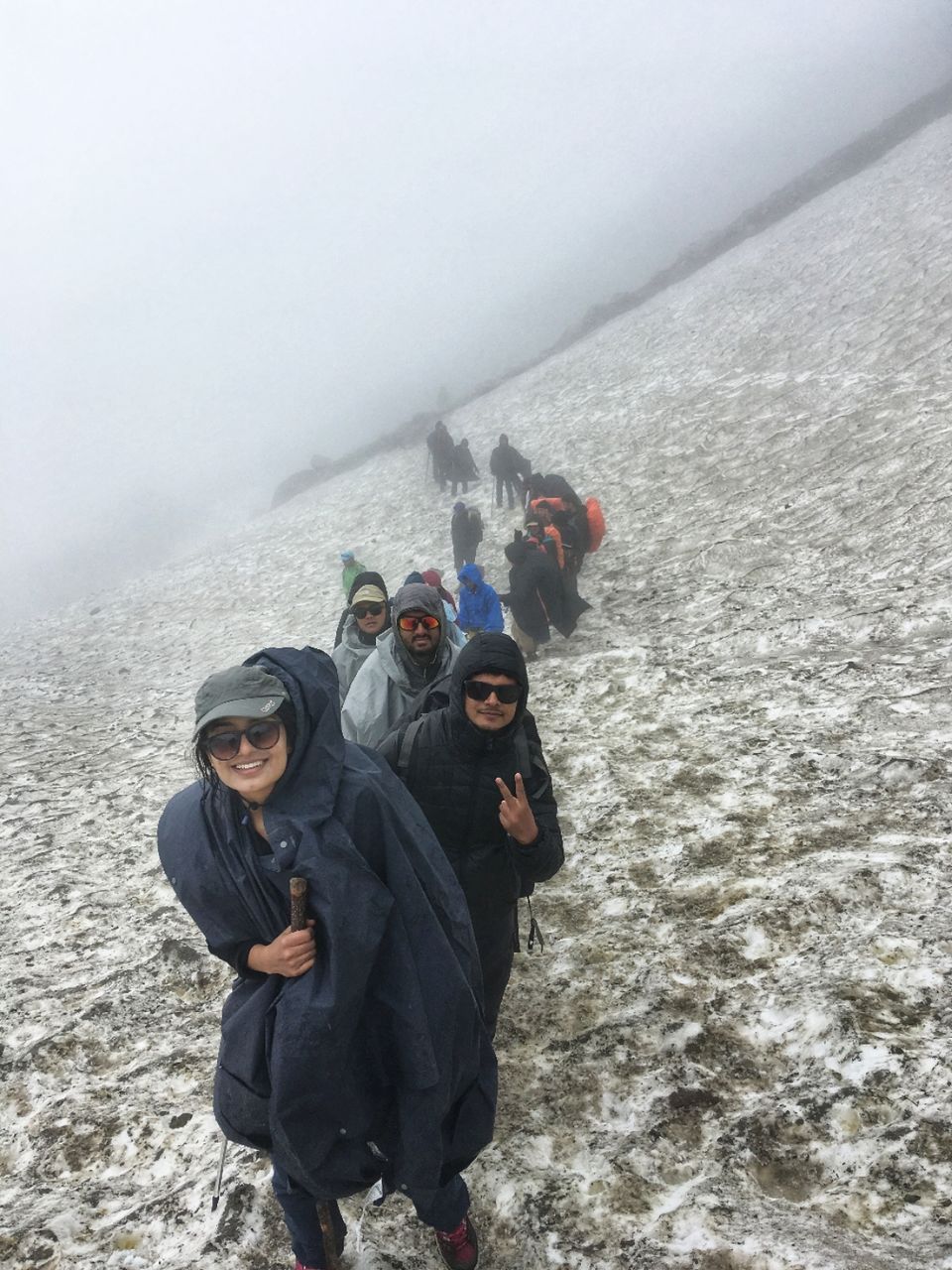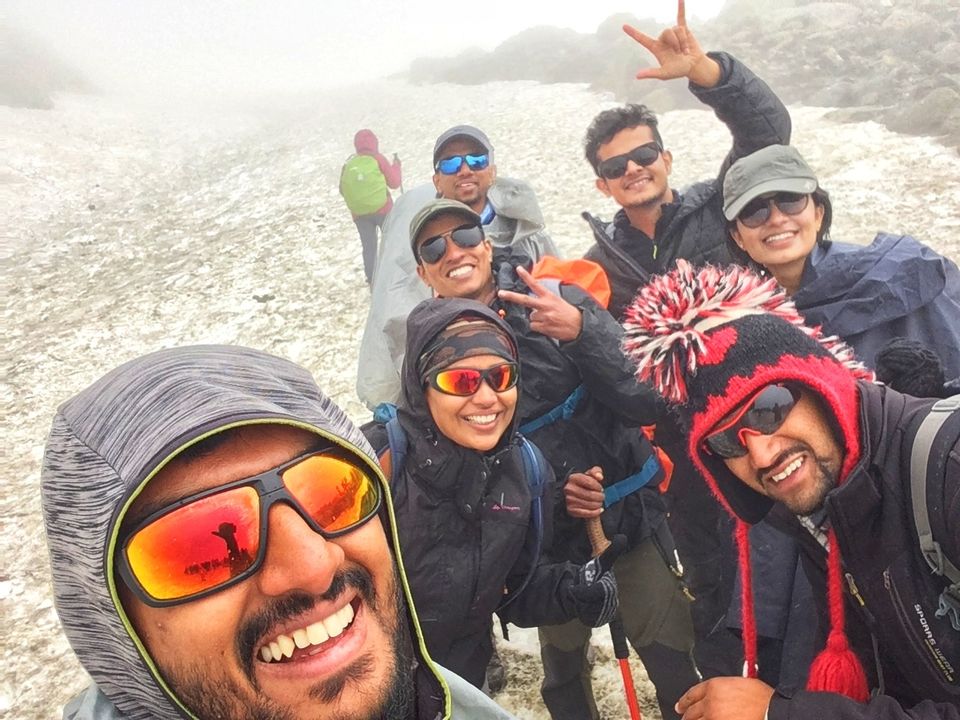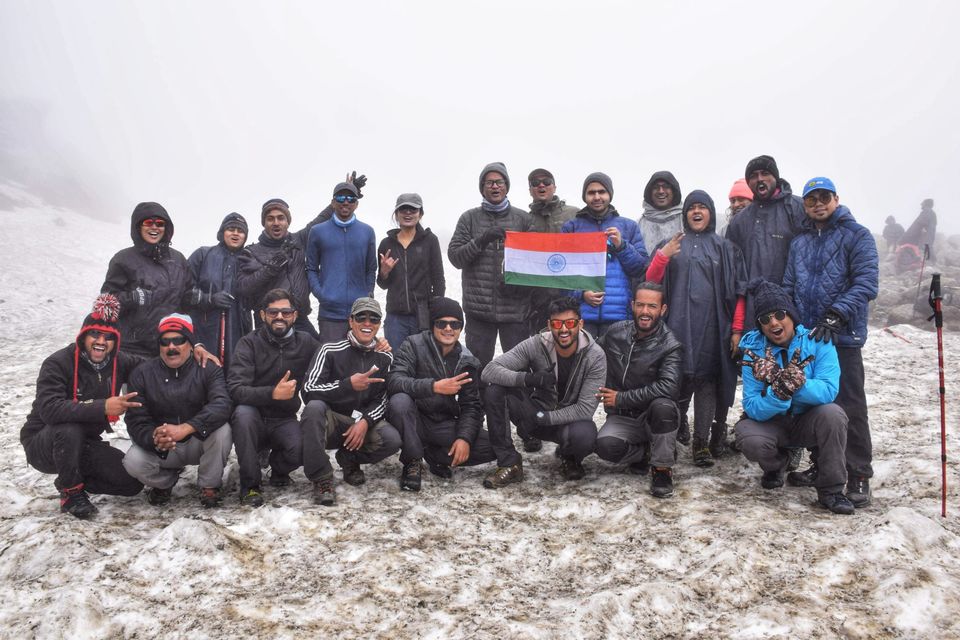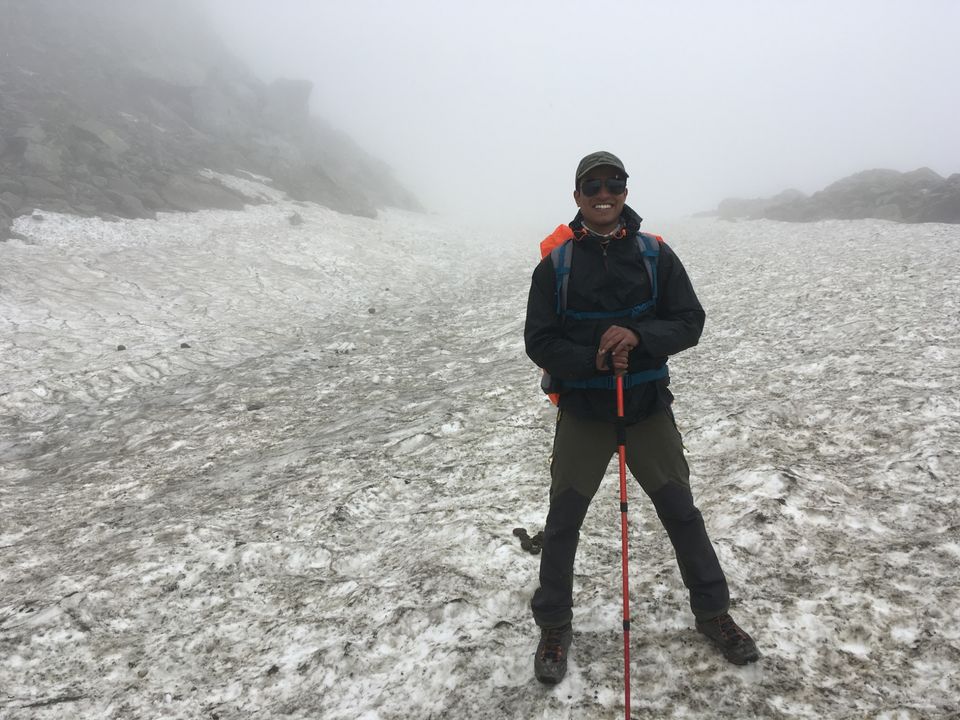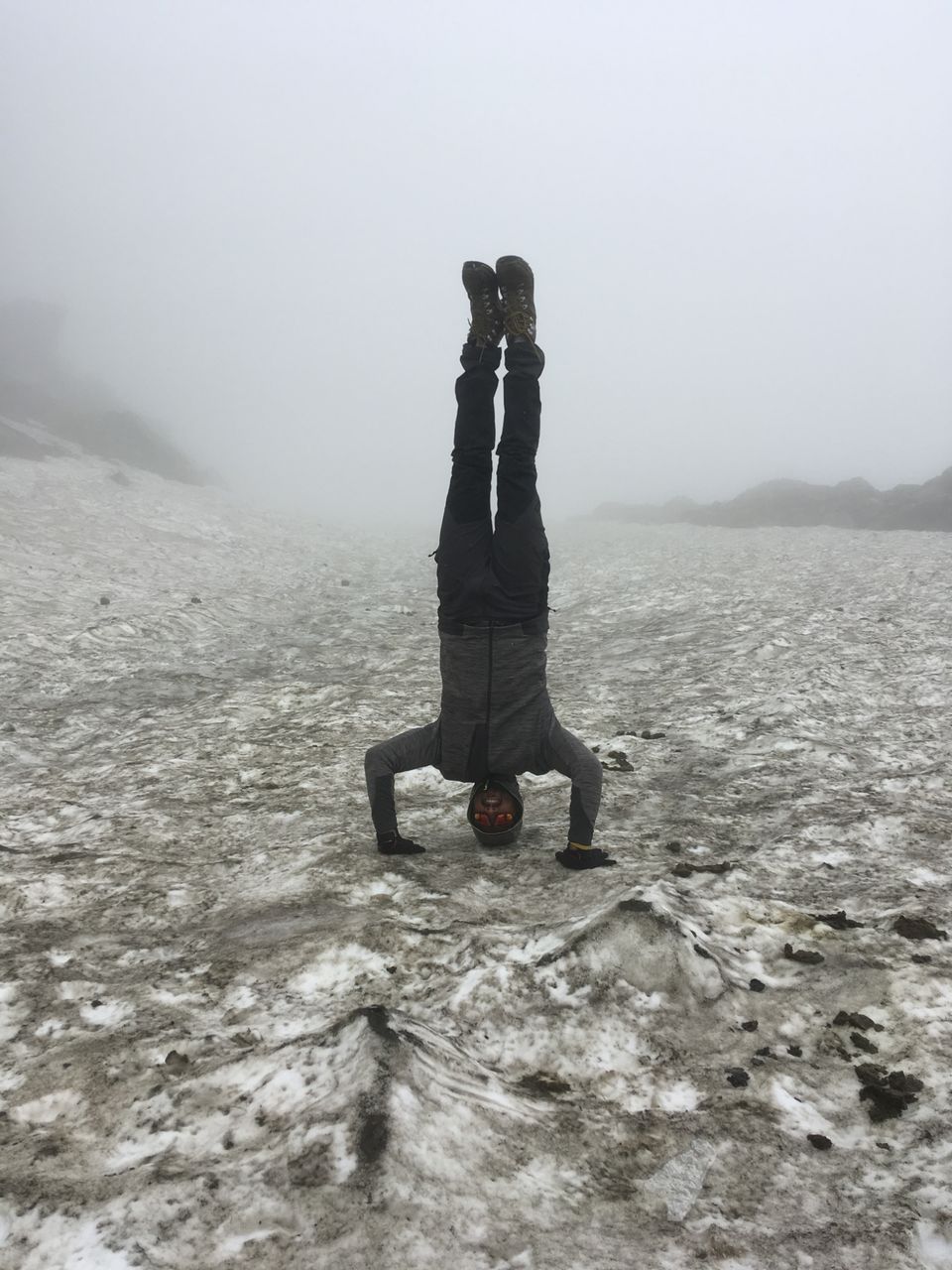 As we approached the Spiti valley the scenery completely changed. It was less green and Dry. We continued to descend until the next rest point. Here we had our packed lunch and it was Paratha and aaloo sabzi. After lunch, we got ample time to give rest to our feet. After an hour we started descending carefully towards Spiti valley. We got to see our campsite which was at the end of the valley. As we descended there was a point we got stuck as there were two options to descend, one by sliding on the ice and second talking another route. The other team in front attempted to slide but were unsuccessful. The local guide from the other team finally decided to take the latter option. We didn't know what to do. Our local guide finally decided that we 6 of us are going to slide on the ice and the rest will be taking the other route. We started sliding one by one. Jyoti went first and she did it gracefully. Followed by shubhag and Bobby who had done this before during their previous trek so they managed to it without any problem. I went next, I didn't know how to slide since this was my first time, I applied my own logic which didn't work out and the ice entered into my back, my clothes got wet slightly. Supratim was the most excited person, he didn't even for me to stand on my foot by then he started sliding in full filmy/Bollywood style. It was very funny to see him slide like that. Later pradnya managed to slide without any trouble. Now we had to wait for the other trek mates. This time we had to wait for more than an hour. In this one hour, we were laughing most of the time. We recollected all the funny moments of the trek. We were laughing so hard that our stomach started paining.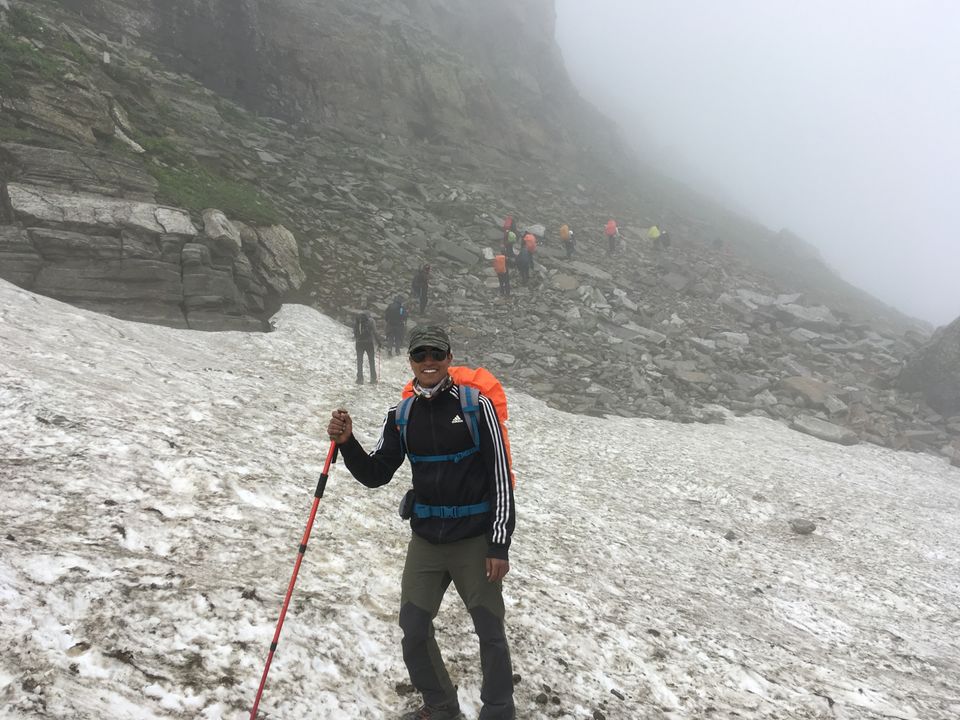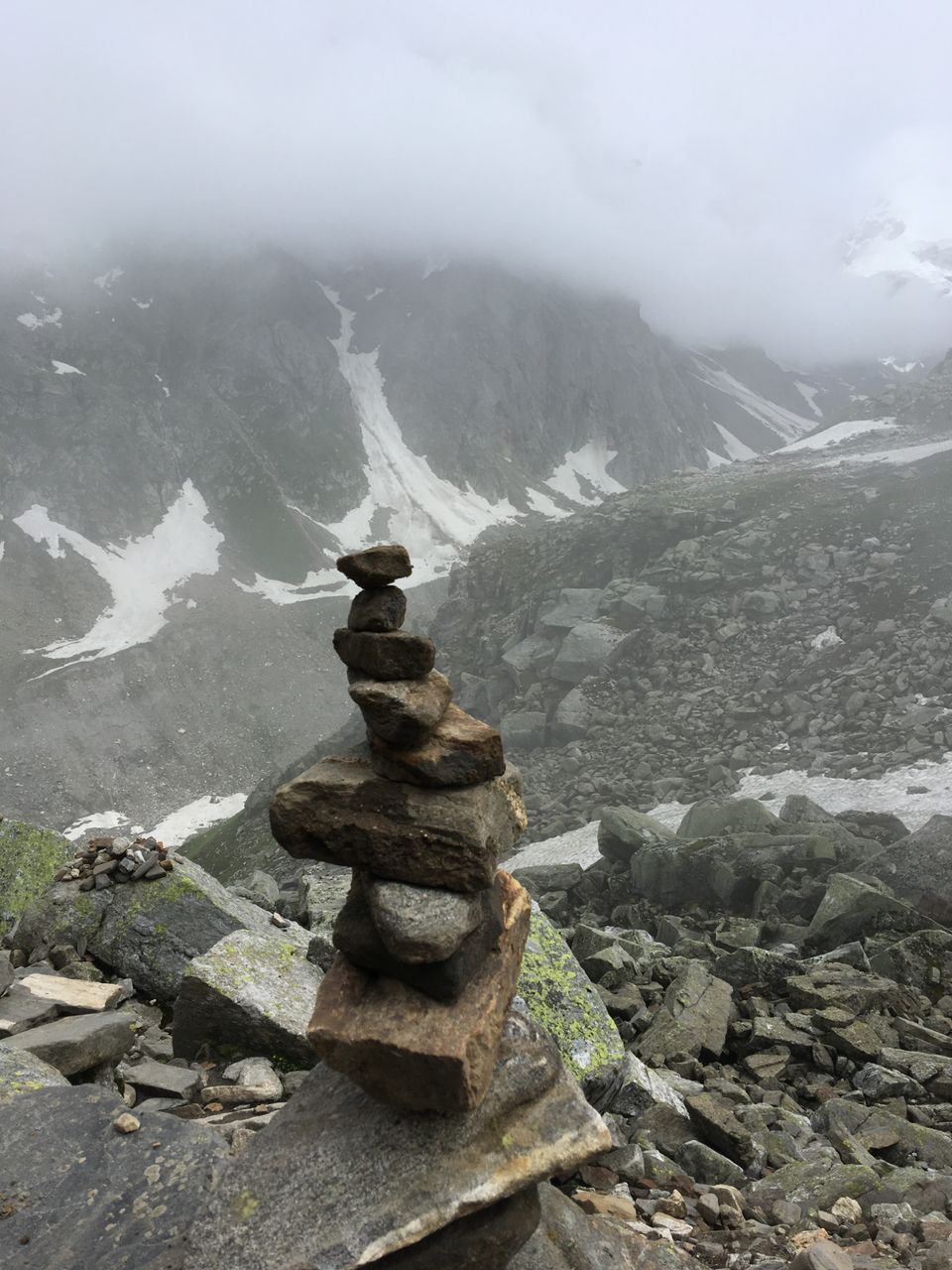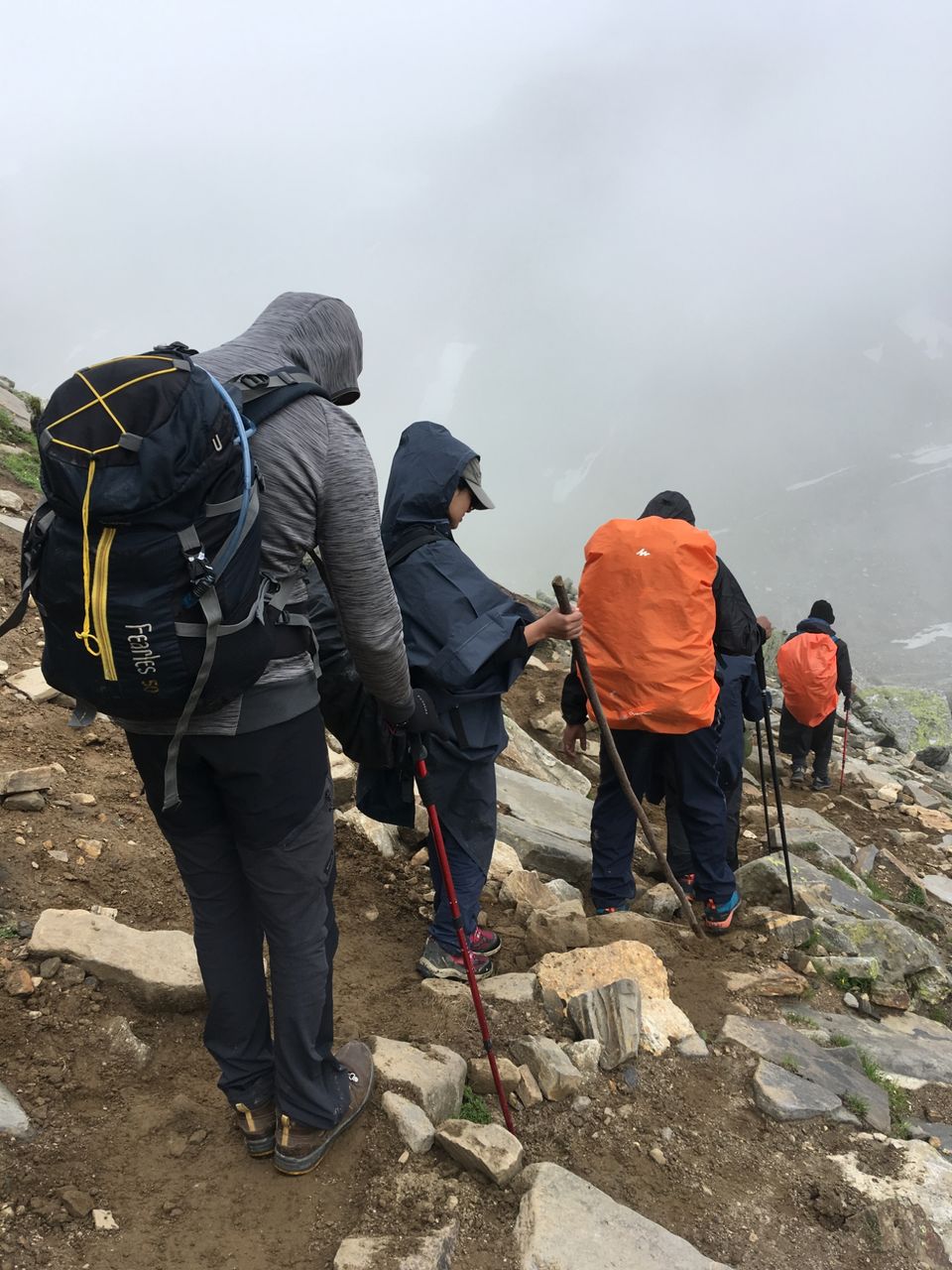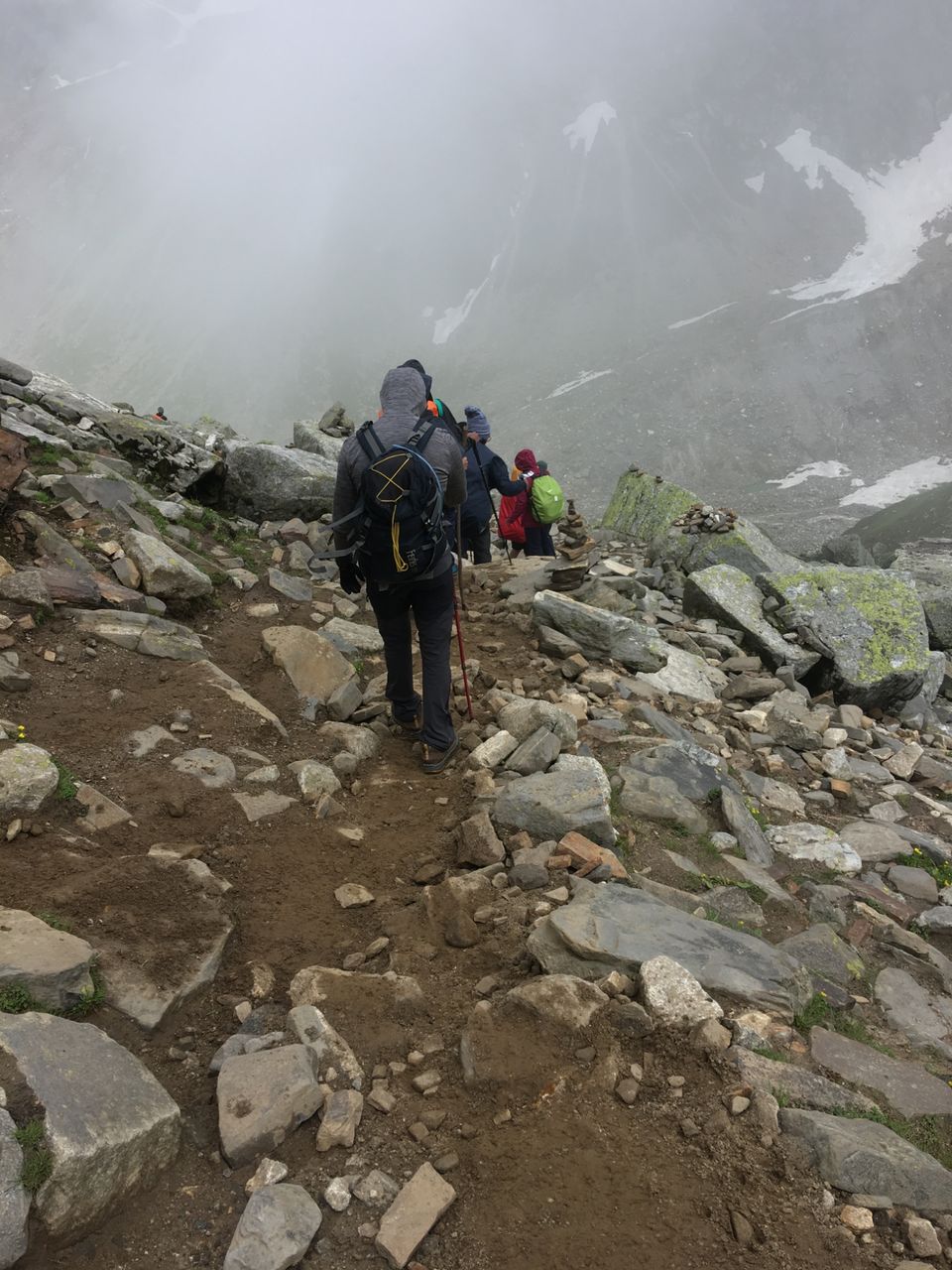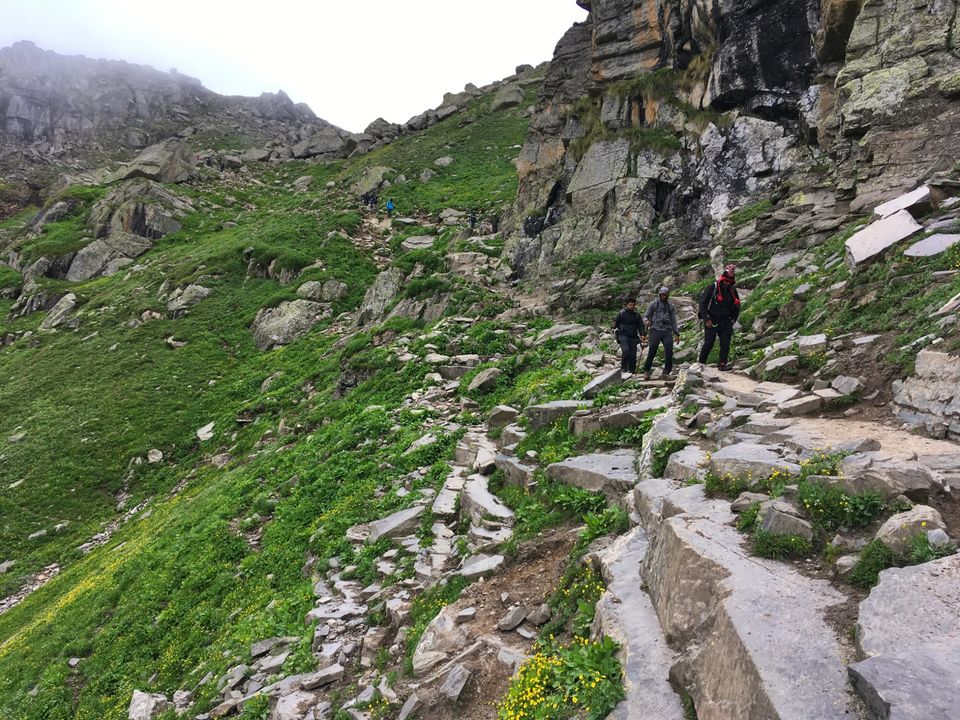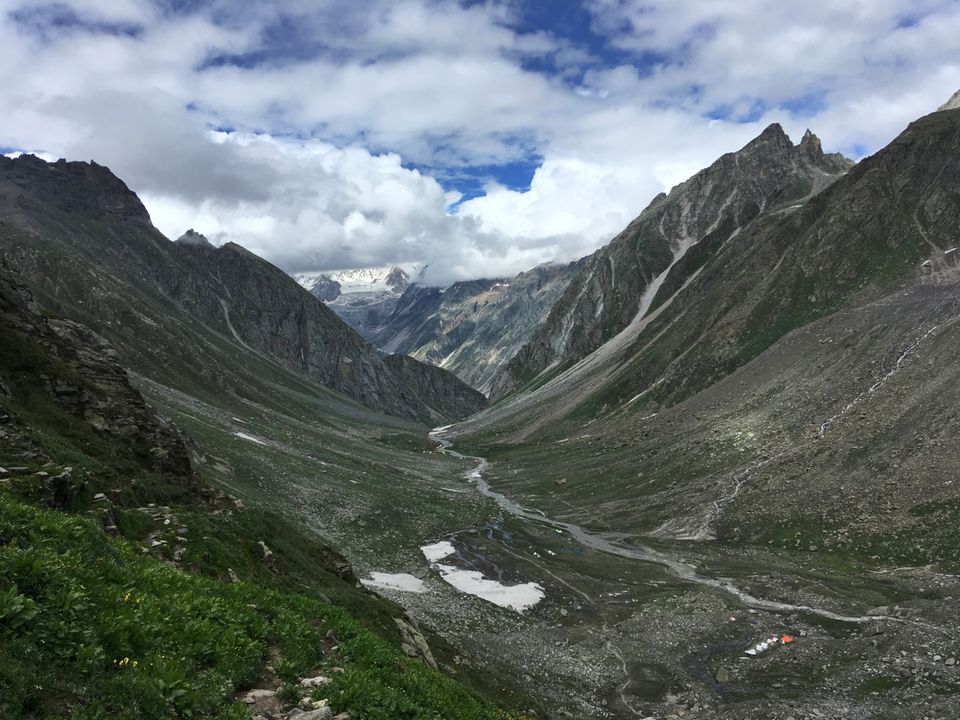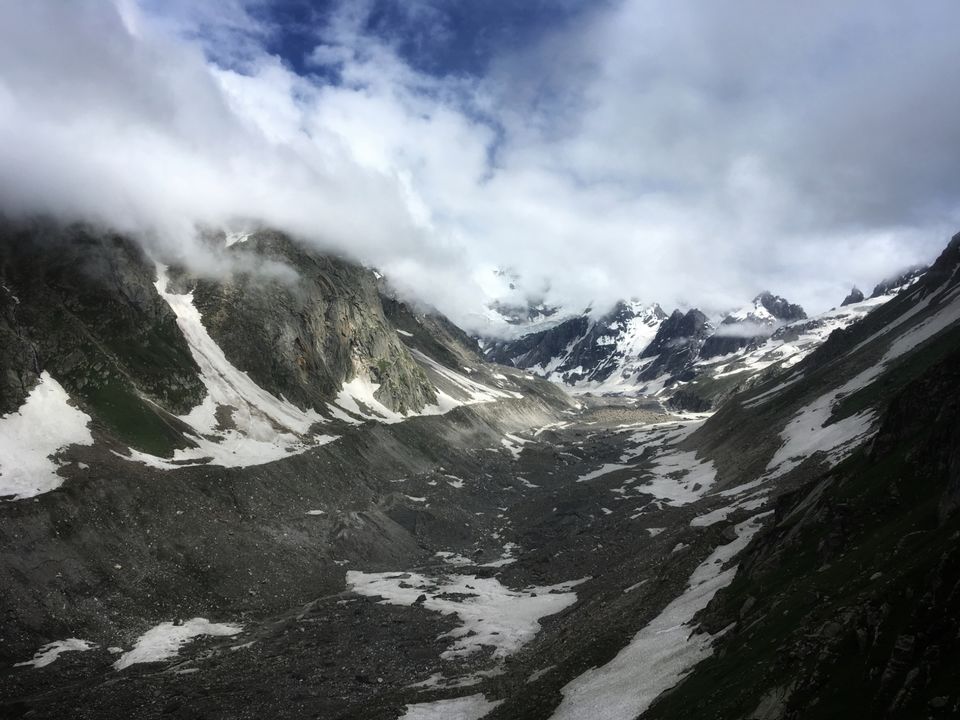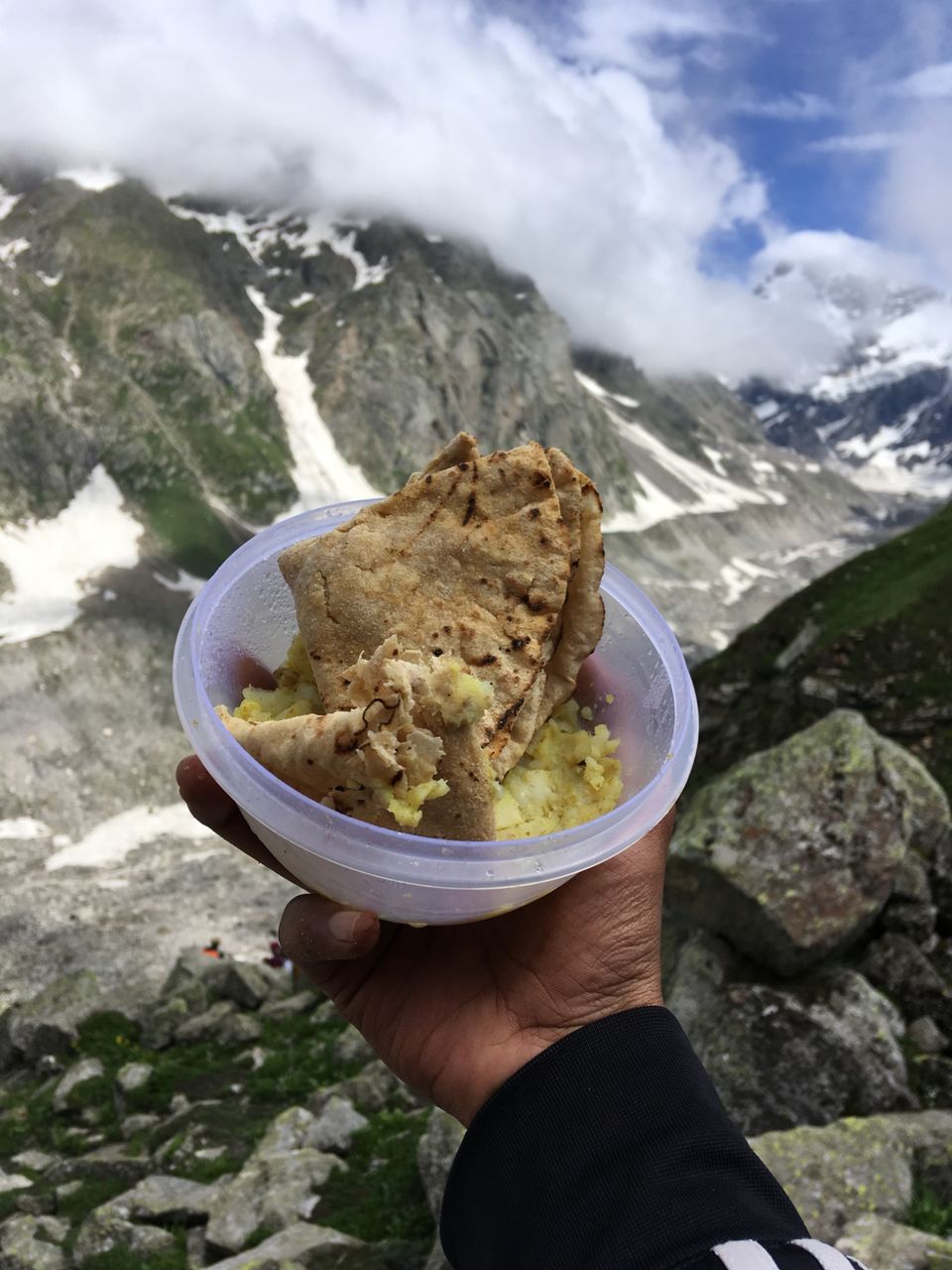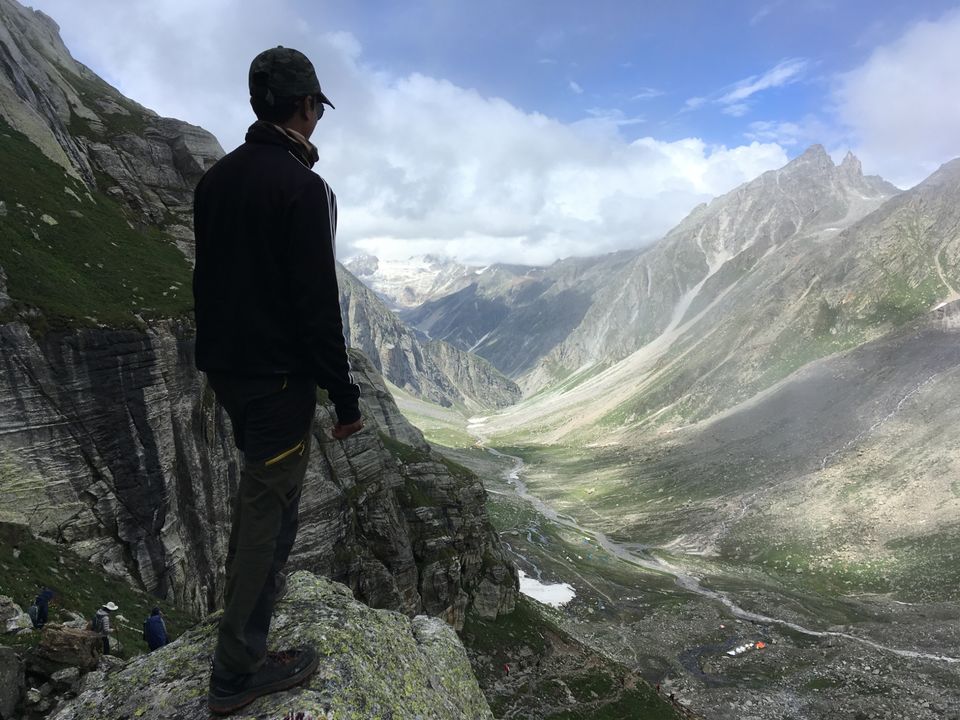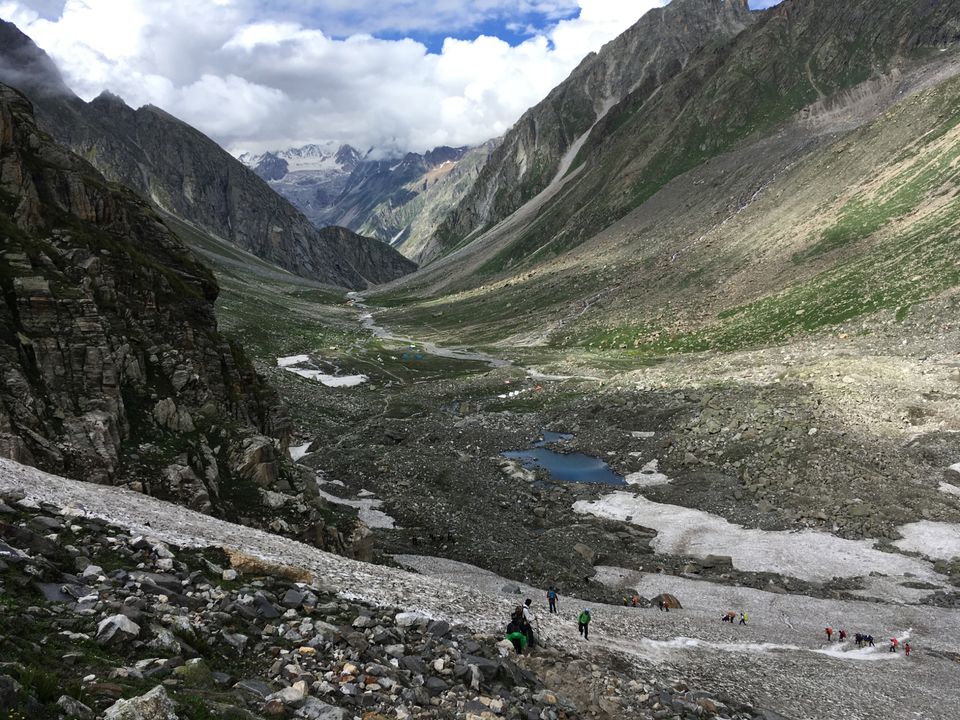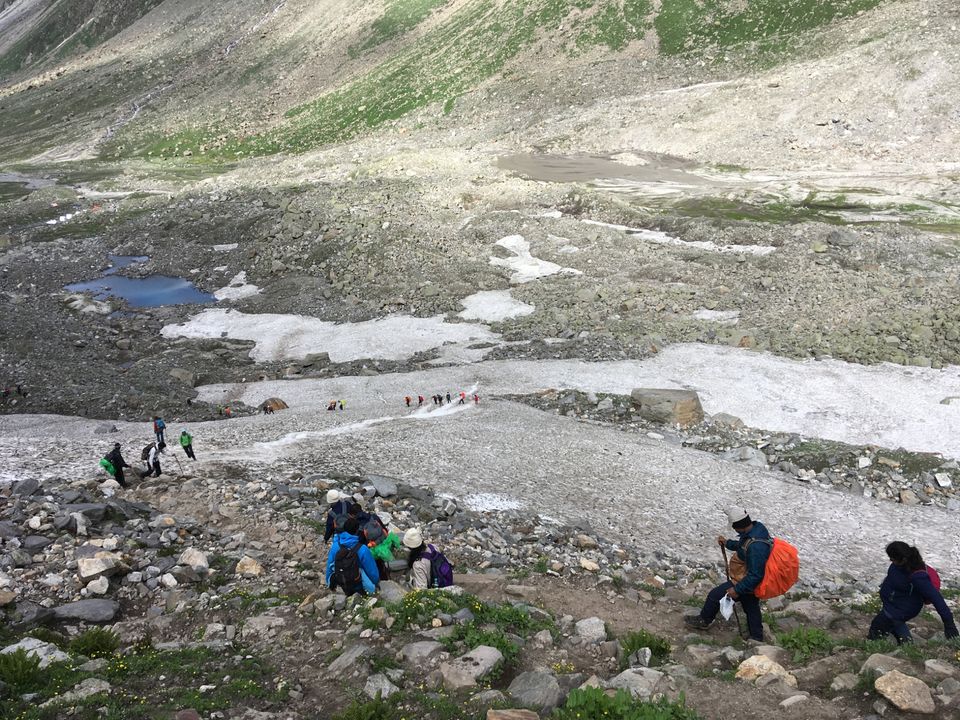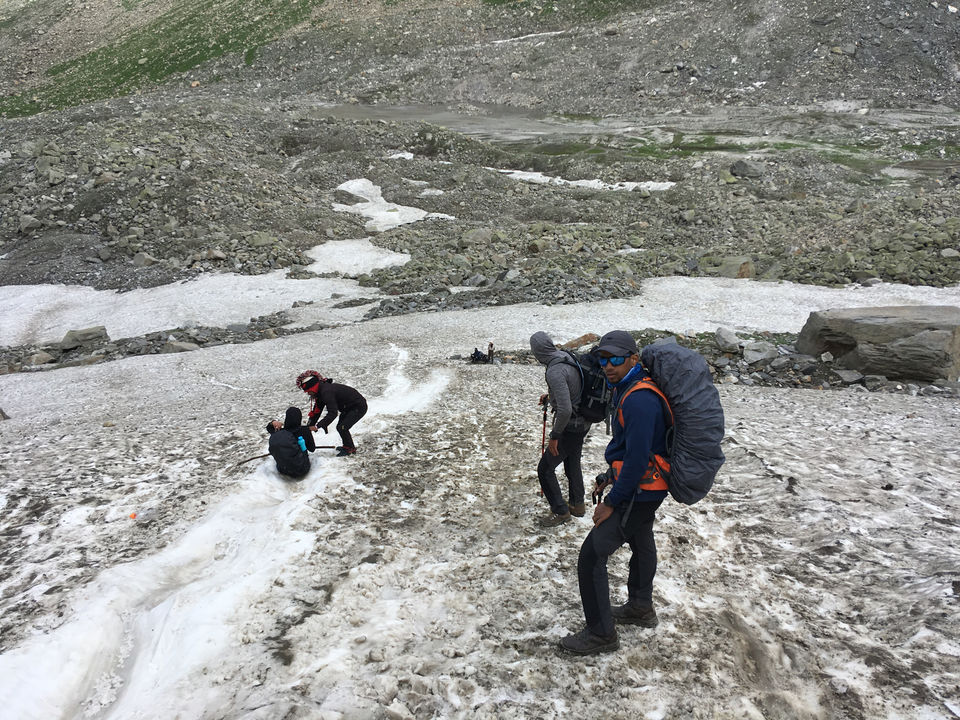 By then slowly all the trek Mates started arriving and we finally decided to descend towards the base camp. This base camp was the prettiest among all the campsite. View from my tent was so beautiful. The toilet was the funniest part, going to the toilet itself required a short hike.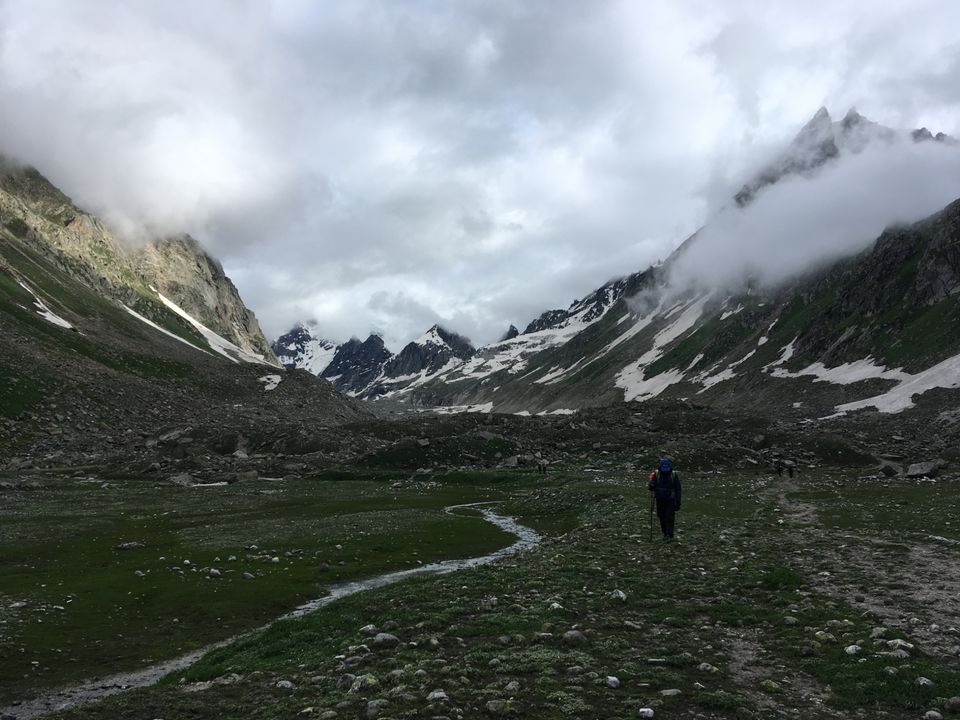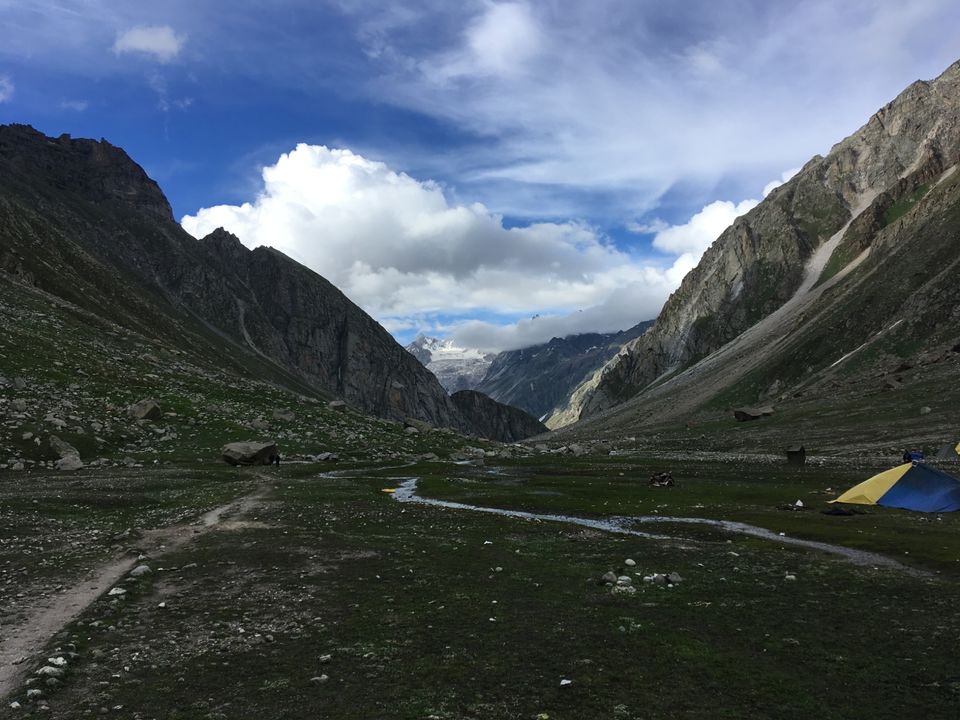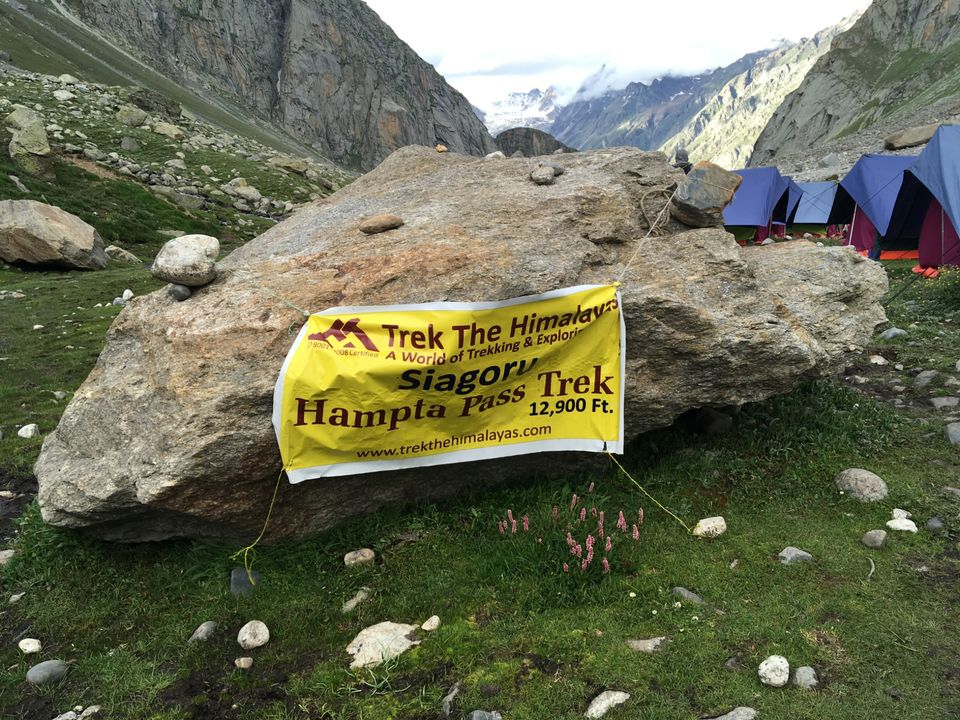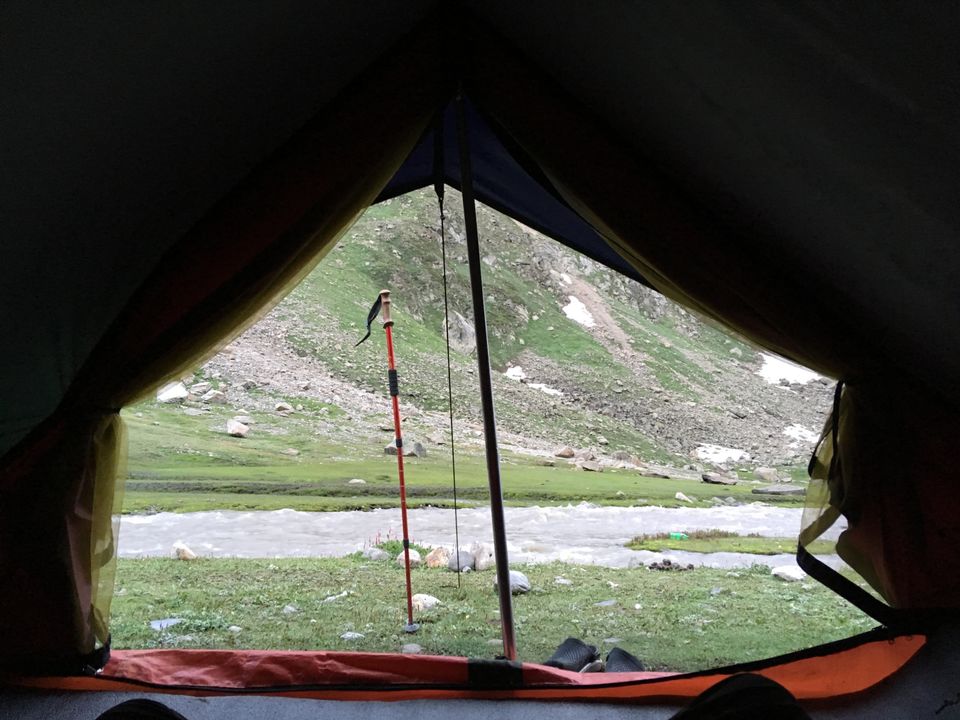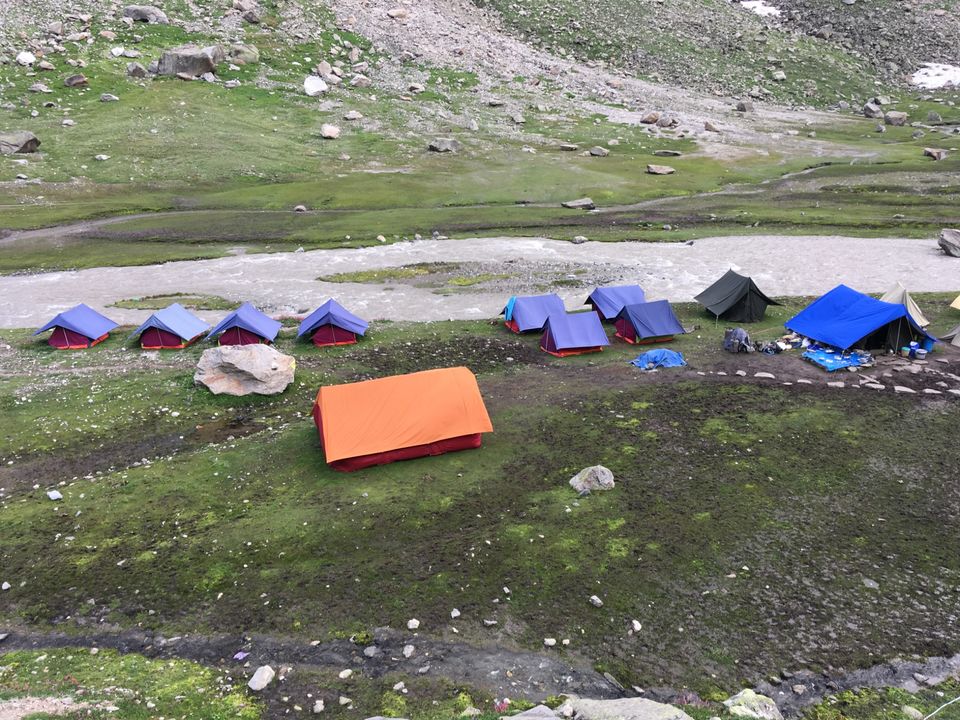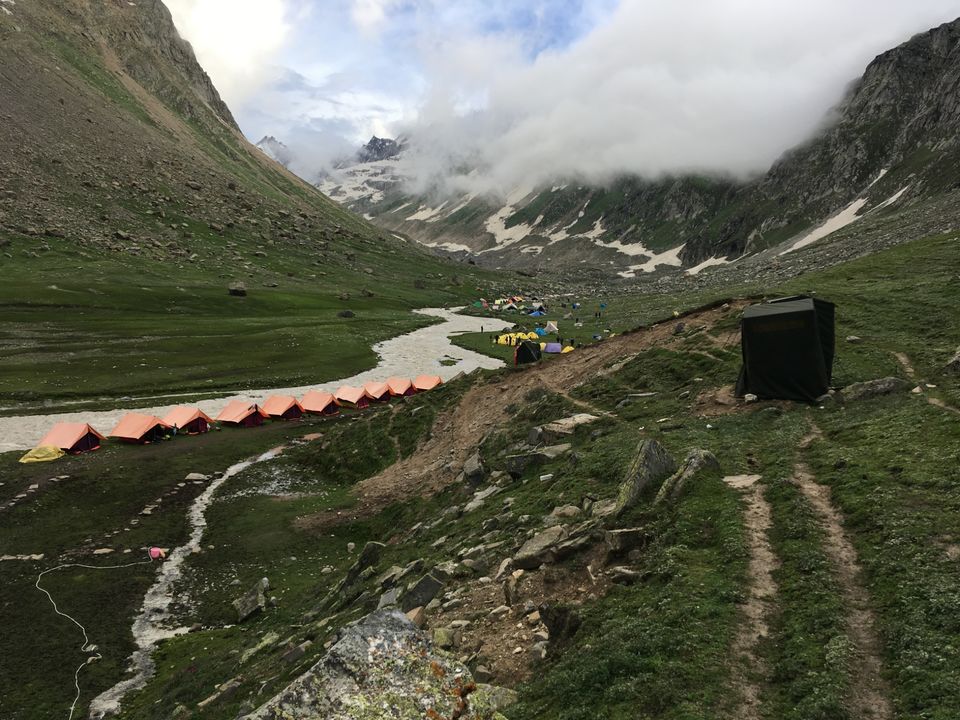 At around 7.30 our trek leader arrived with the remaining trek mates. This was the first time he arrived so late in the evening. We all gathered for snacks and tomato soup. We finished our snacks and later our dinner. We were briefed about tomorrow's terrain and clothing. Since all were tired most of them slept early that night.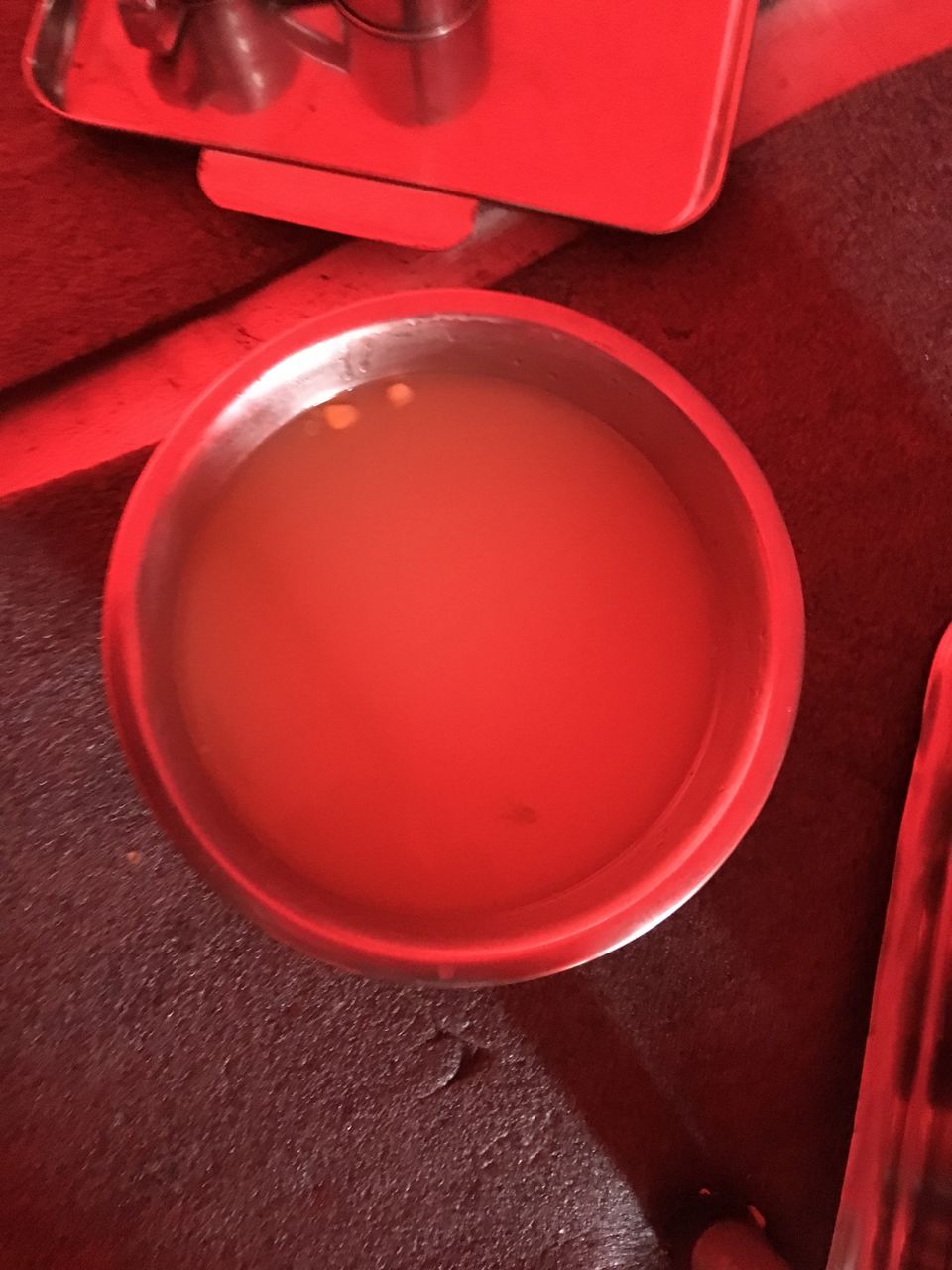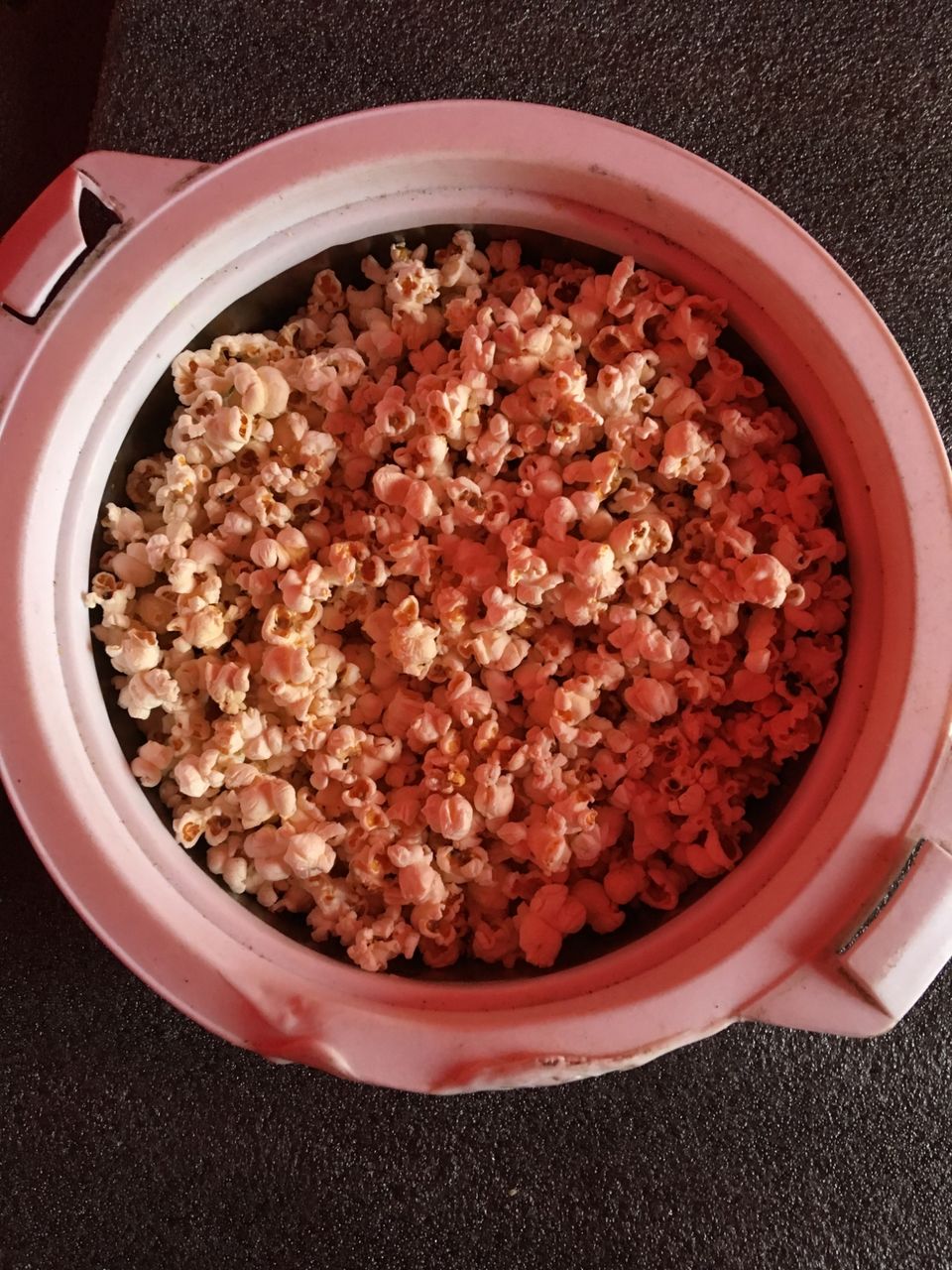 We got fresh, all had their breakfast and were ready to descend by 8 am. We had to descend quickly since after reaching the next base camp we had to leave for Chandra Tal lake. We started descending towards our next campsite. After walking for a few KMs we saw the first sign of civilization that is the road to Kaza. We stopped here clicked few pictures later Kashyap told us two different stories related to that place. It was a nice story to listen to.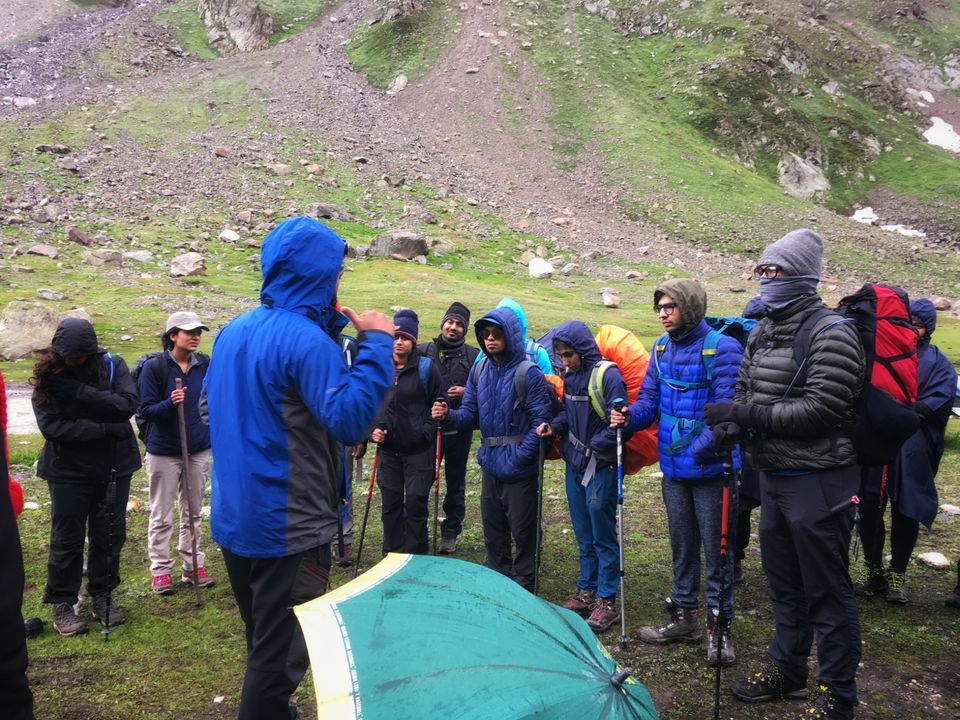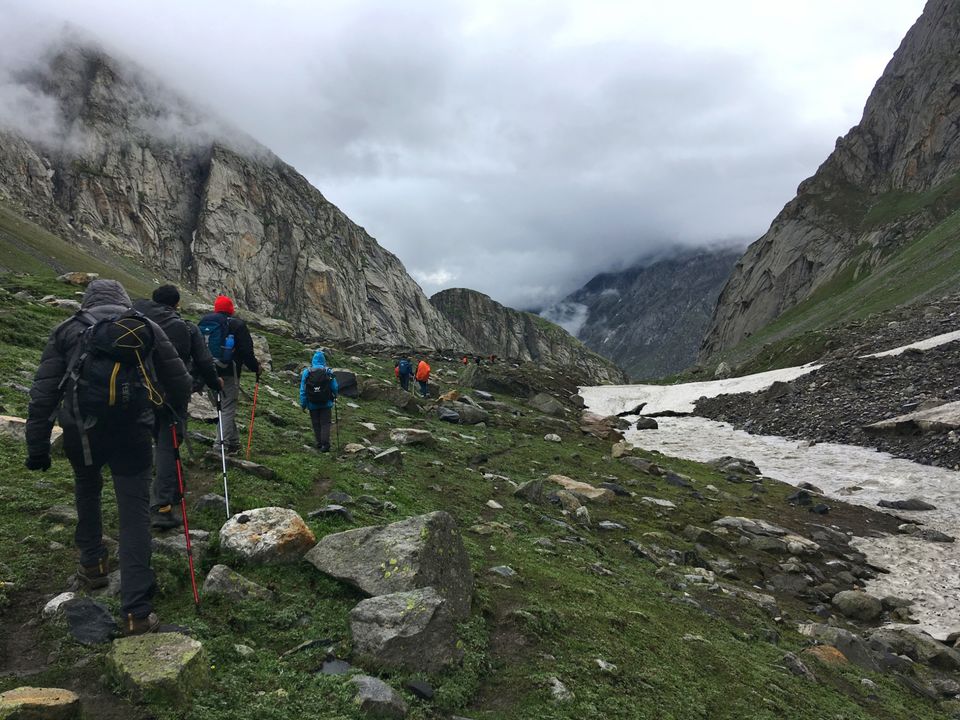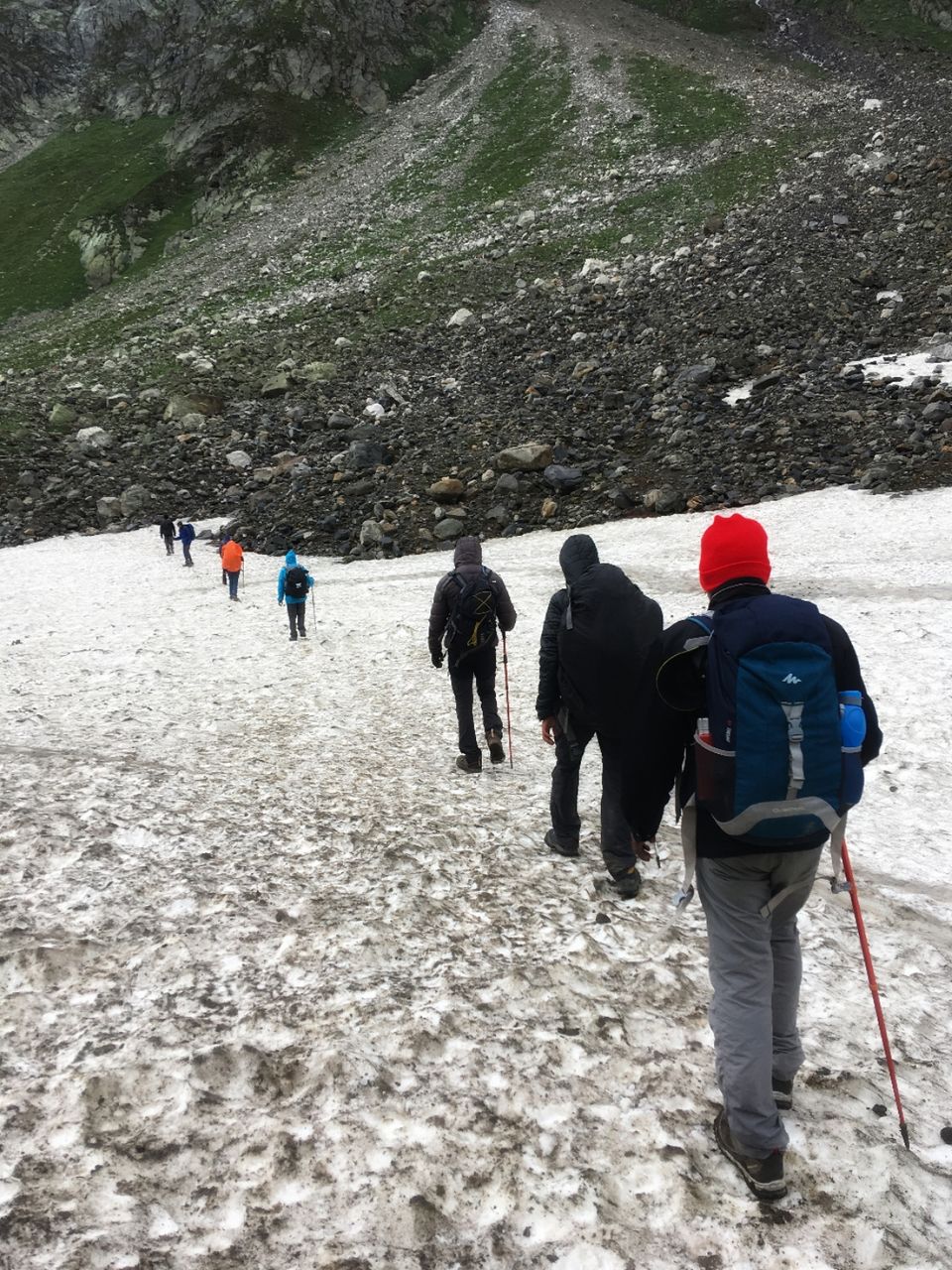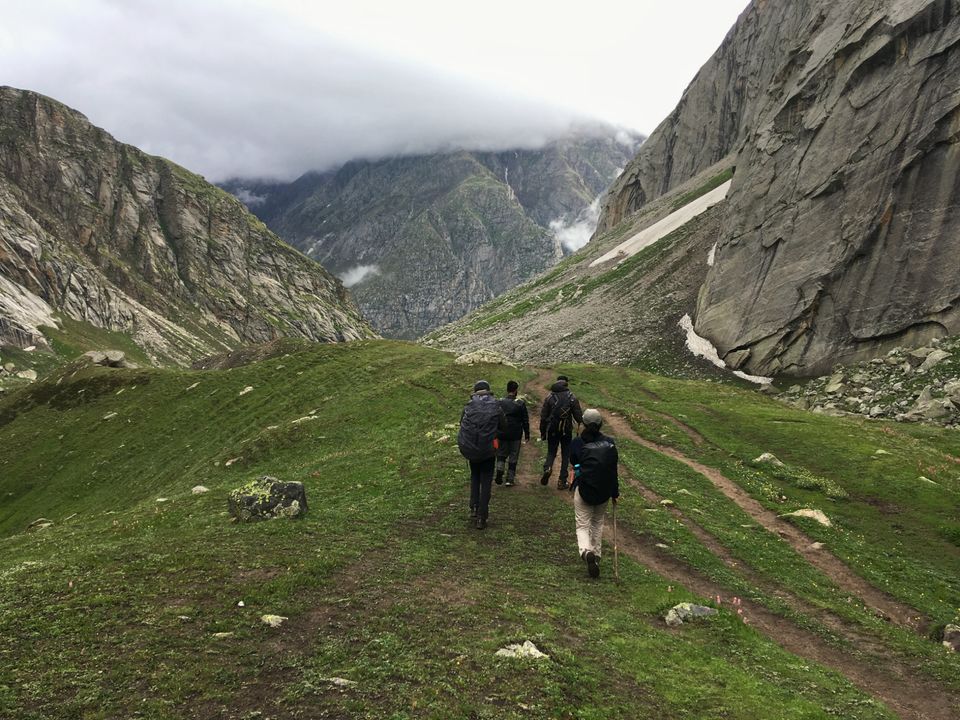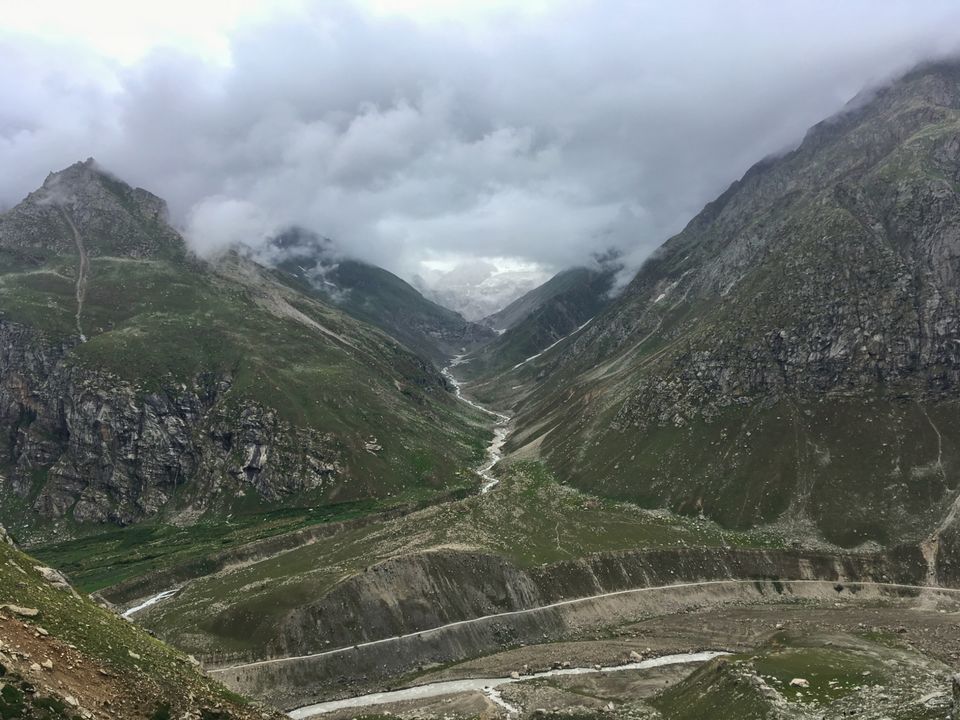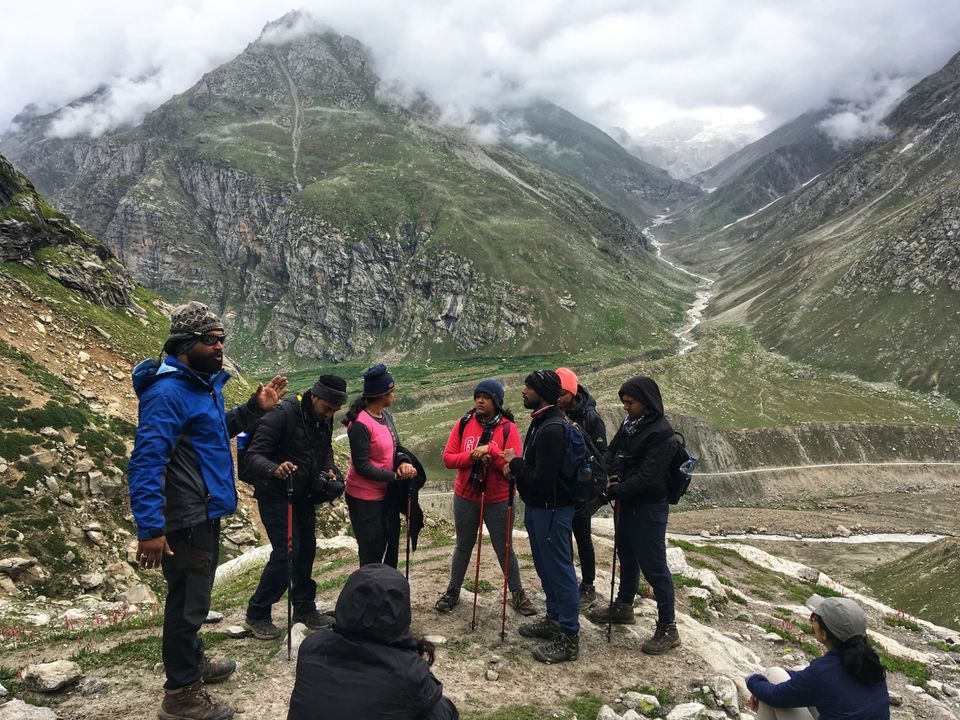 After descending for some more Time we reached our chatru campsite.
Here I saw cabs already waiting for us to leave for Chandra Tal. Kashyap taught us how to pitch a tent. We latter picked our tent dropped all our luggage. We took some cash and necessary items in our day pack. We had fried rice and Maggie for lunch. After finishing the lunch we boarded the cabs to Chandra Taal Lake.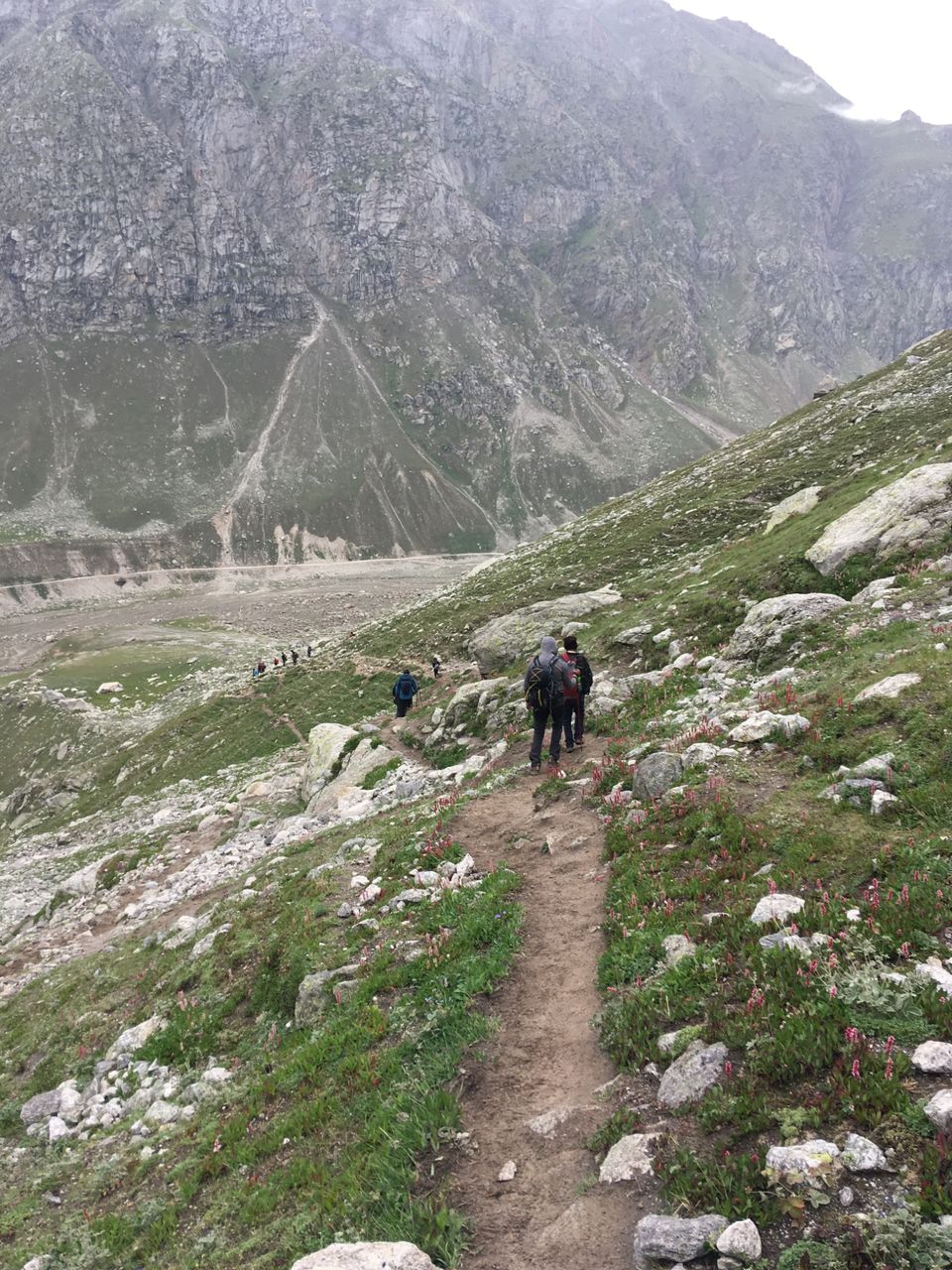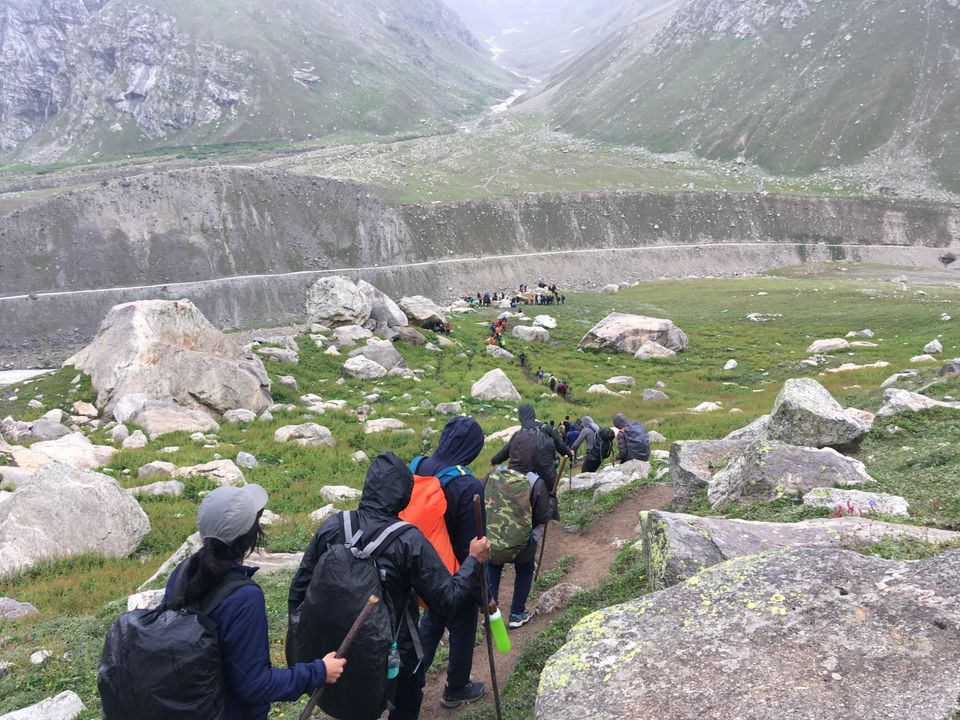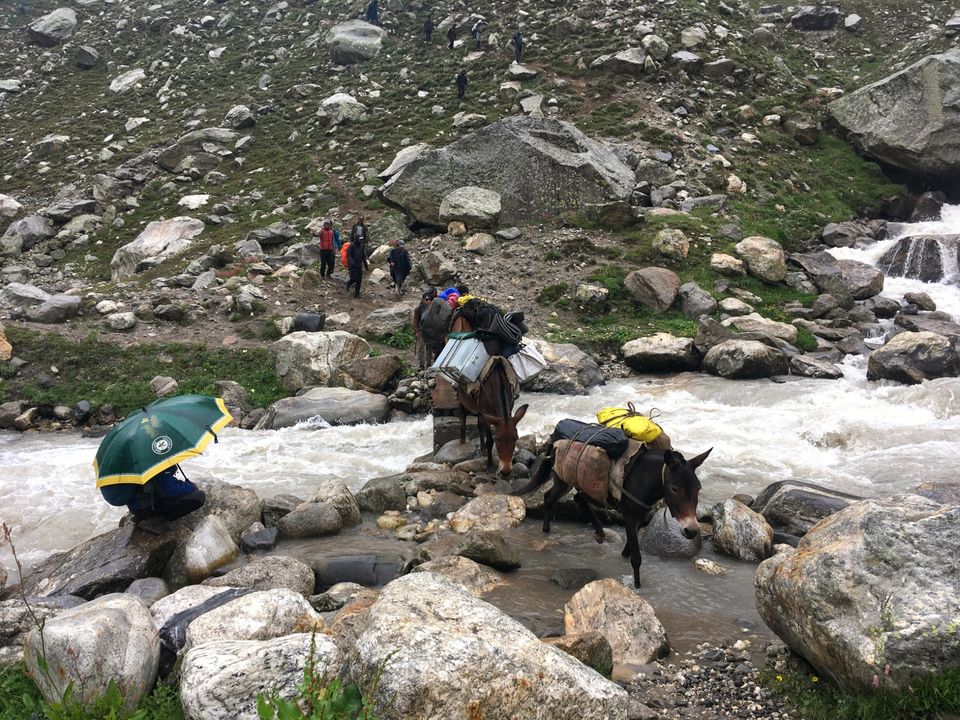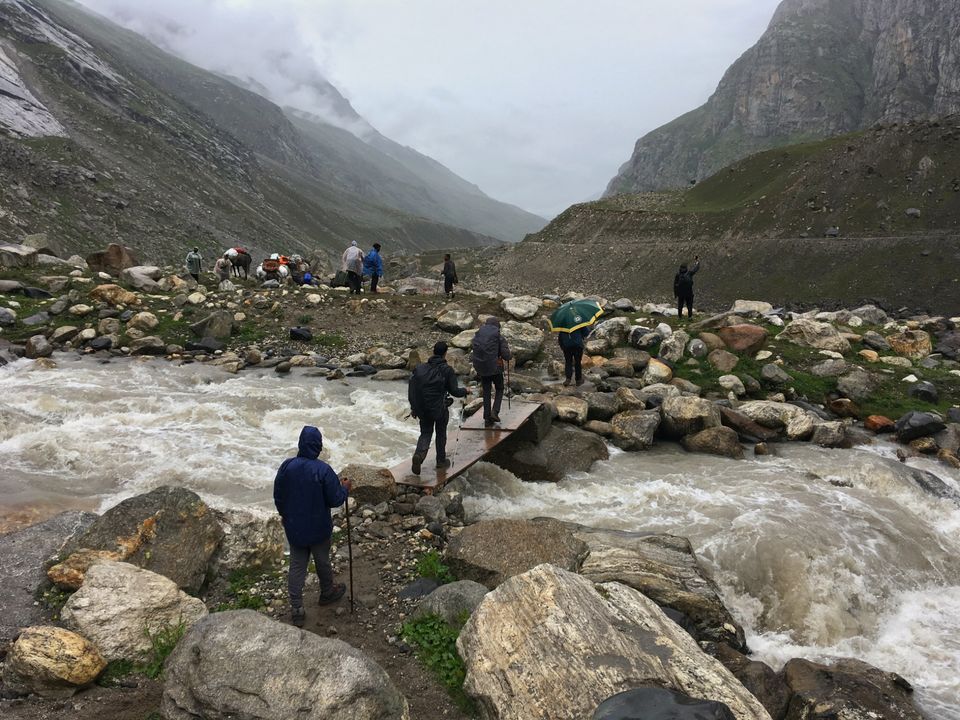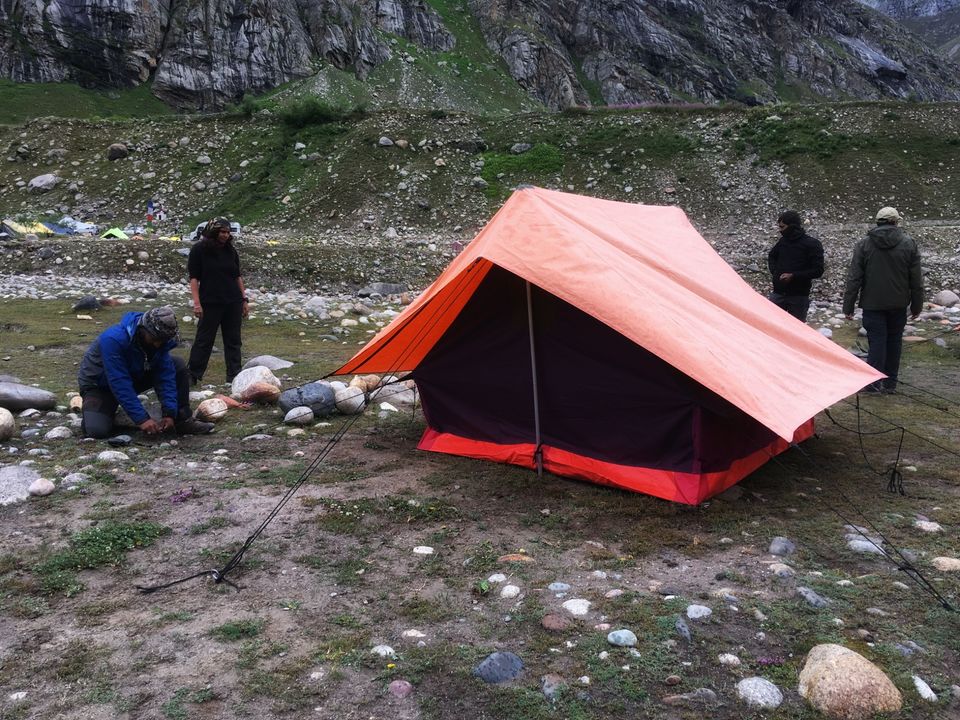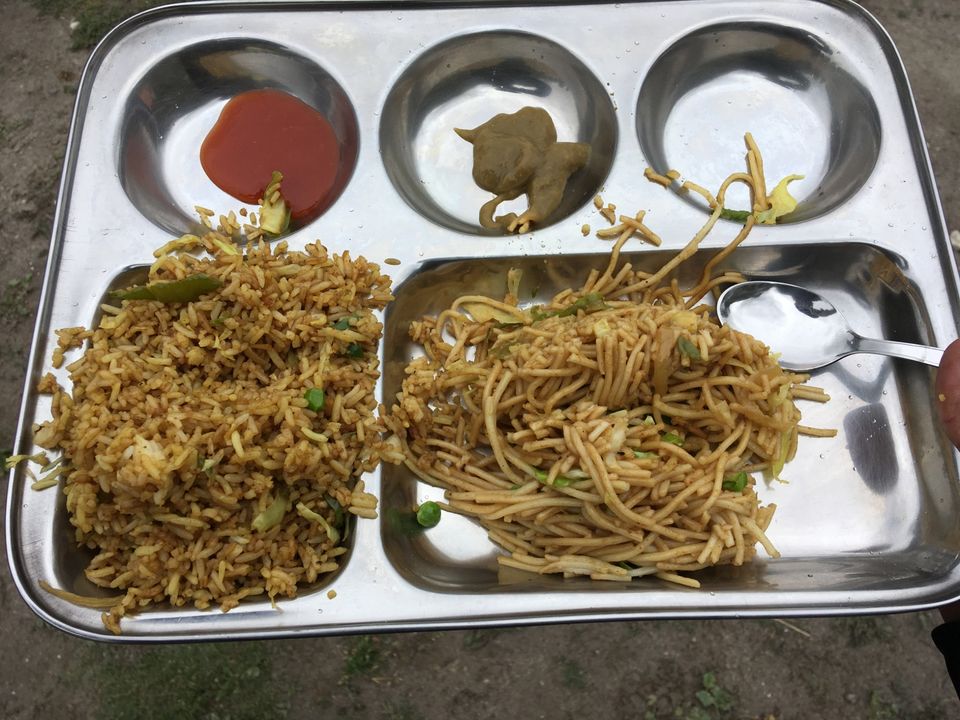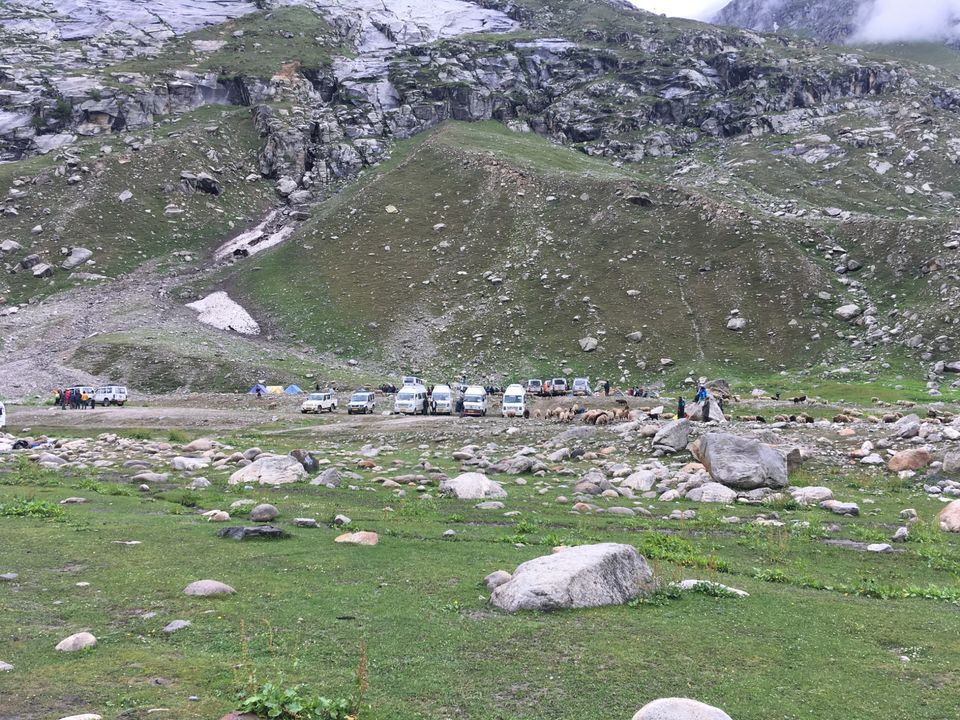 Within a few KMs, I started missing my bike. There were no signs of Tarmac. The entire valley looked perfect for exploring on a bike. After some time we had to cross a few water streams on the way in which crossing one of them wasn't easy. We were asked to get down from the cabs, we saw other vehicles getting stuck while trying to cross this water stream. Our first cab after several failed efforts it finally managed to cross the water stream. But the second cab got stuck very badly. There was no way it could get out. Our trek lead applied his mind, he went ahead looking for help. He came back with a JCB. It was a sheer joy to watch this JCB operator playing with the joysticks. Literally, all were reminded about the JCB ki khudai video. With the help of JCB we managed to move forward but then one of the rear tyre burst. Now with the help of the local people, they managed to change the tyres without using the jack. During this period Rama sir kept us entertained with his Navy stories. One of them was his experience during the Driving License test. We all were laughing out loud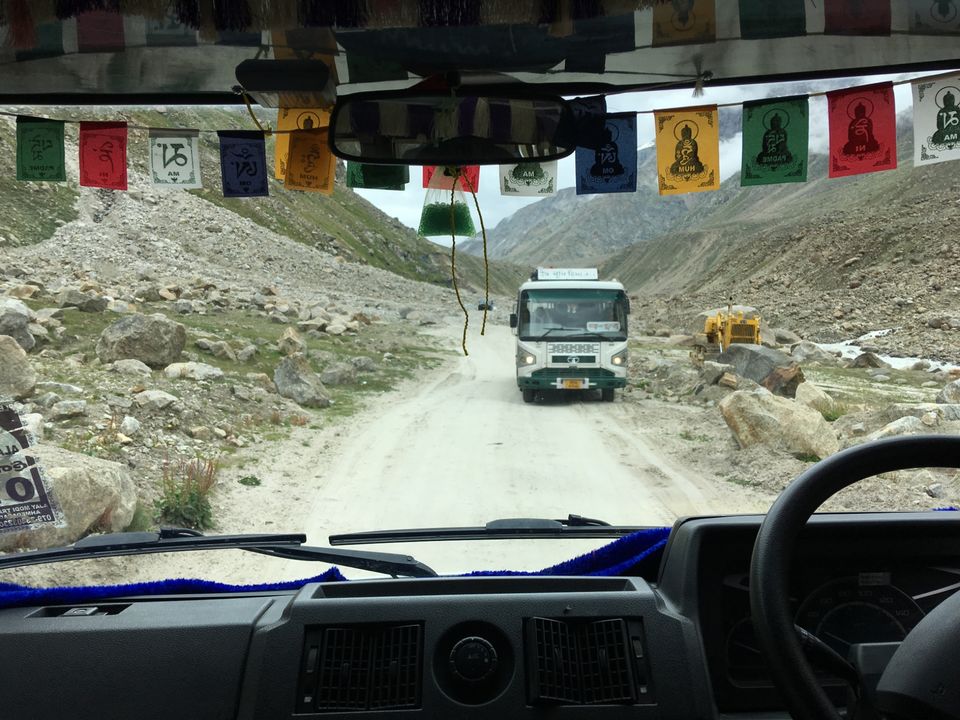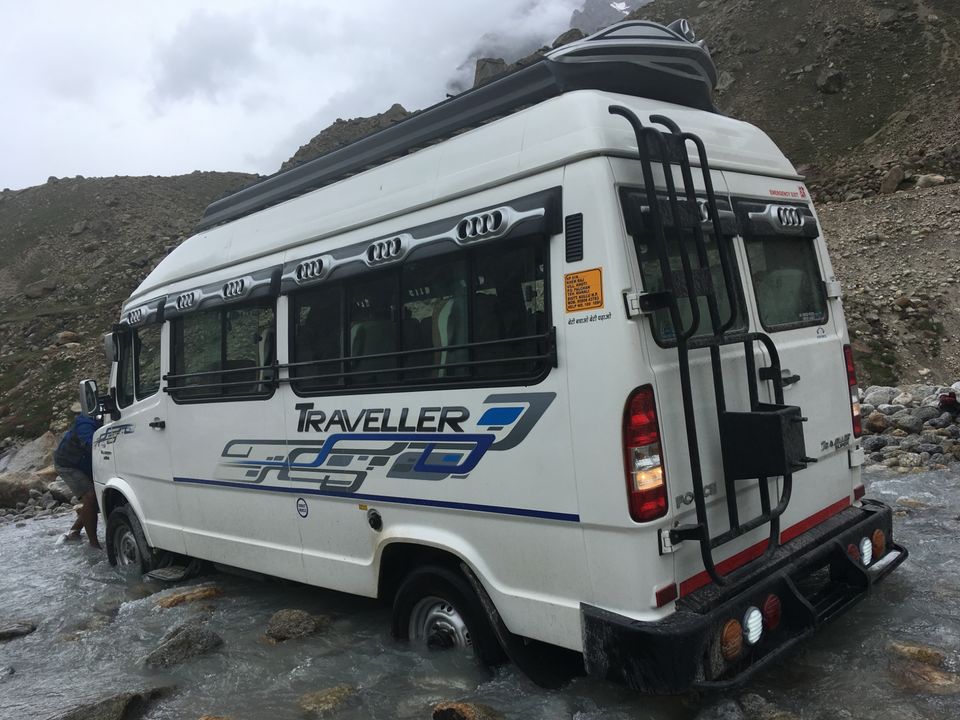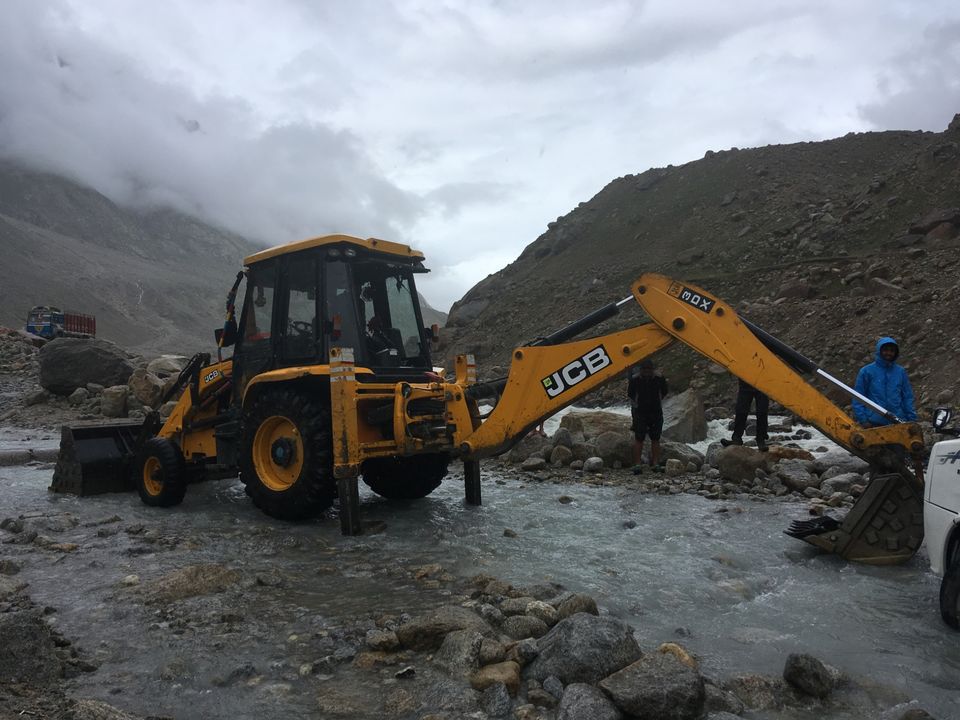 Finally, after all the struggle, we managed to continue the journey, all the other cabs had already returned back. We were lucky at this point because of the efforts of our Trek leader we managed to continue our journey. After a couple of hours, we finally reached Chandra Taal Lake. On a cold evening visiting Chandra Taal is a different experience altogether. Since the sky was clear we were able to see the CB range. Those mountains looked huge and magnificent.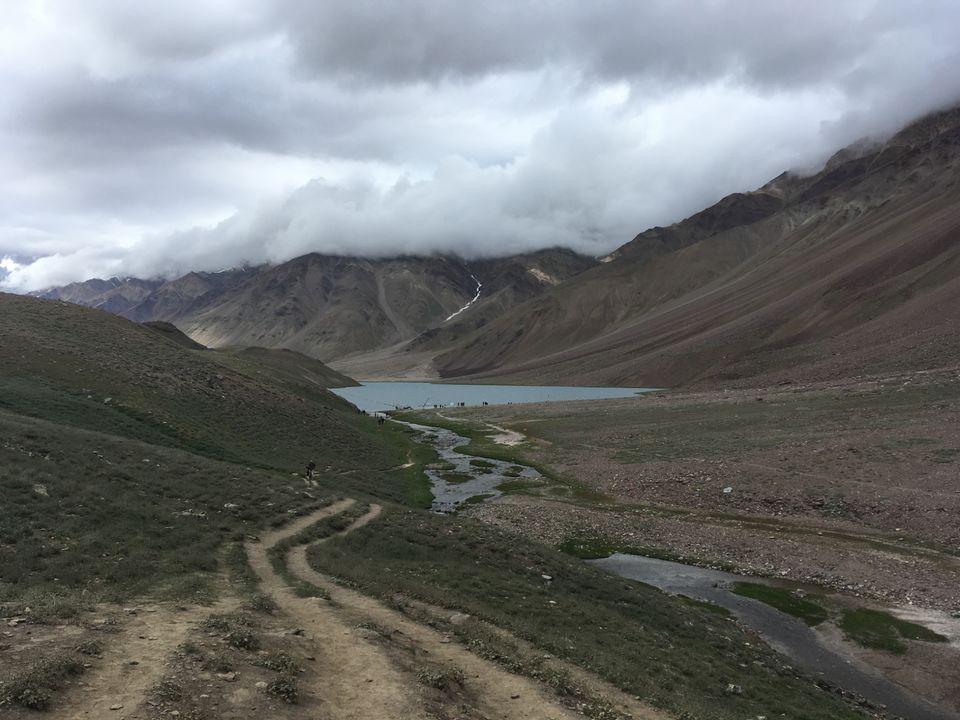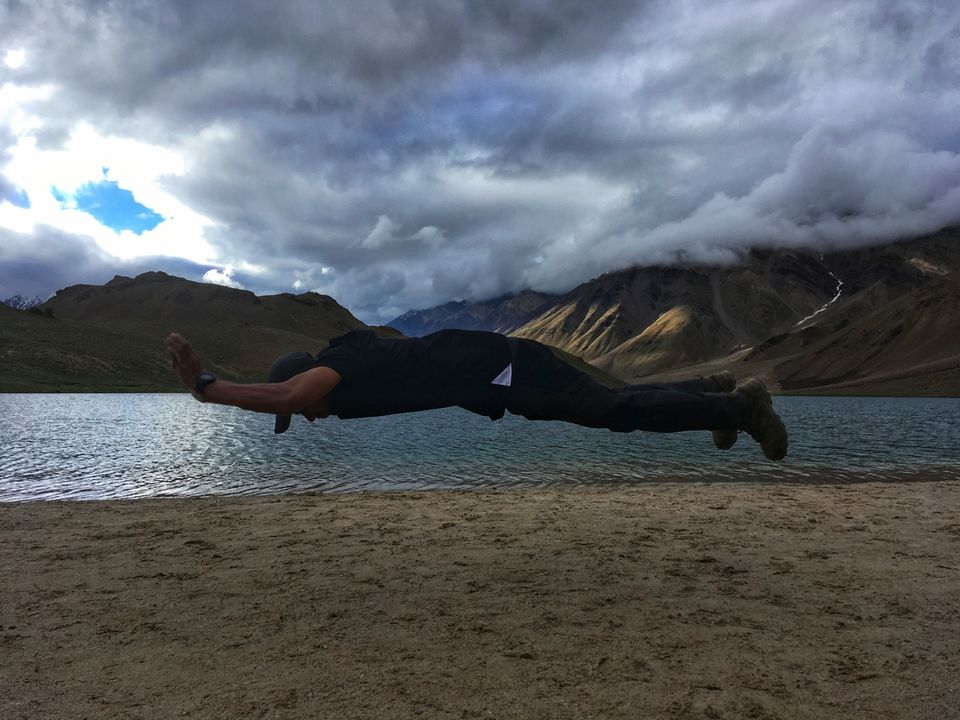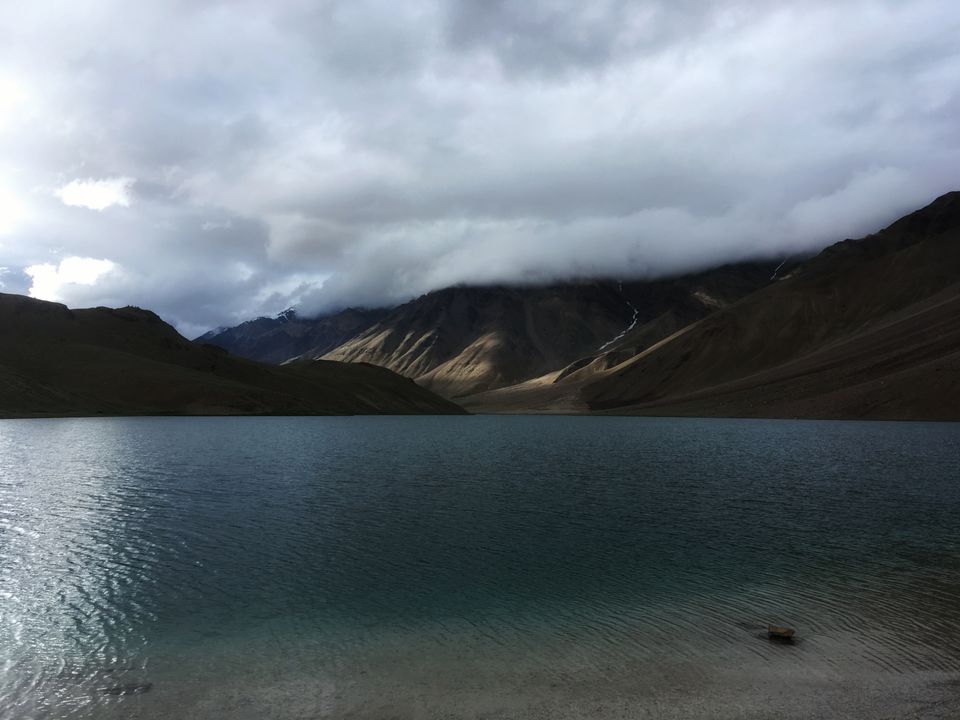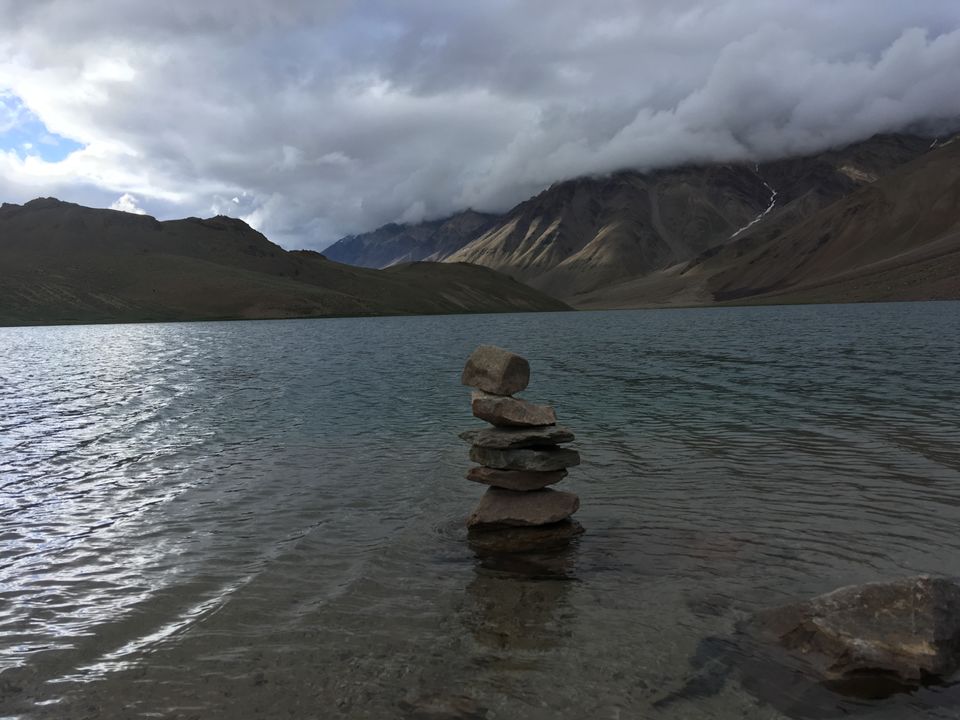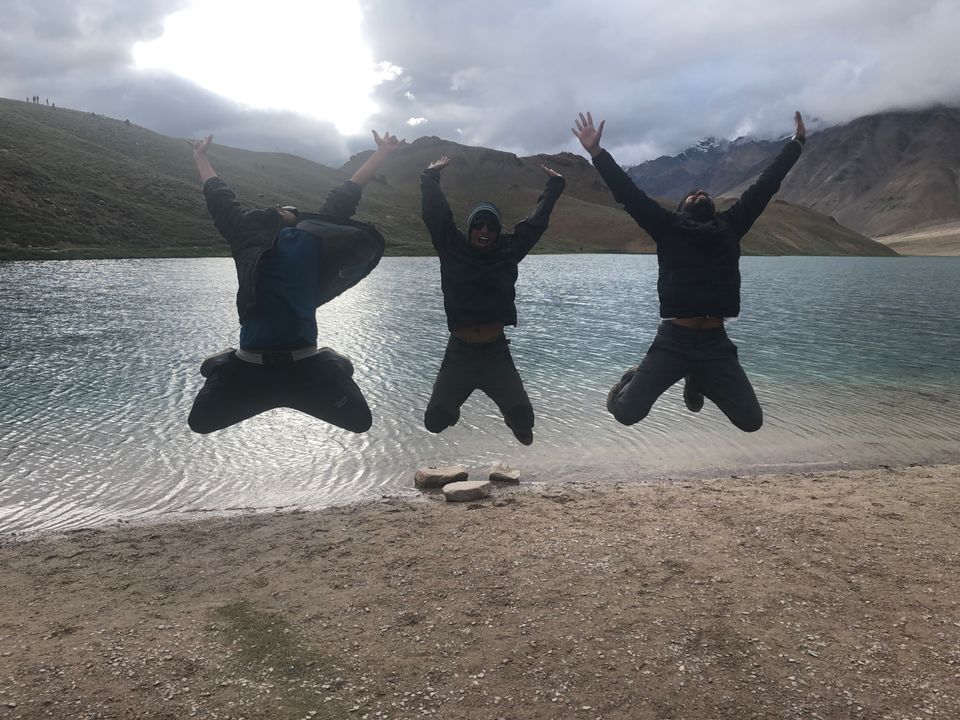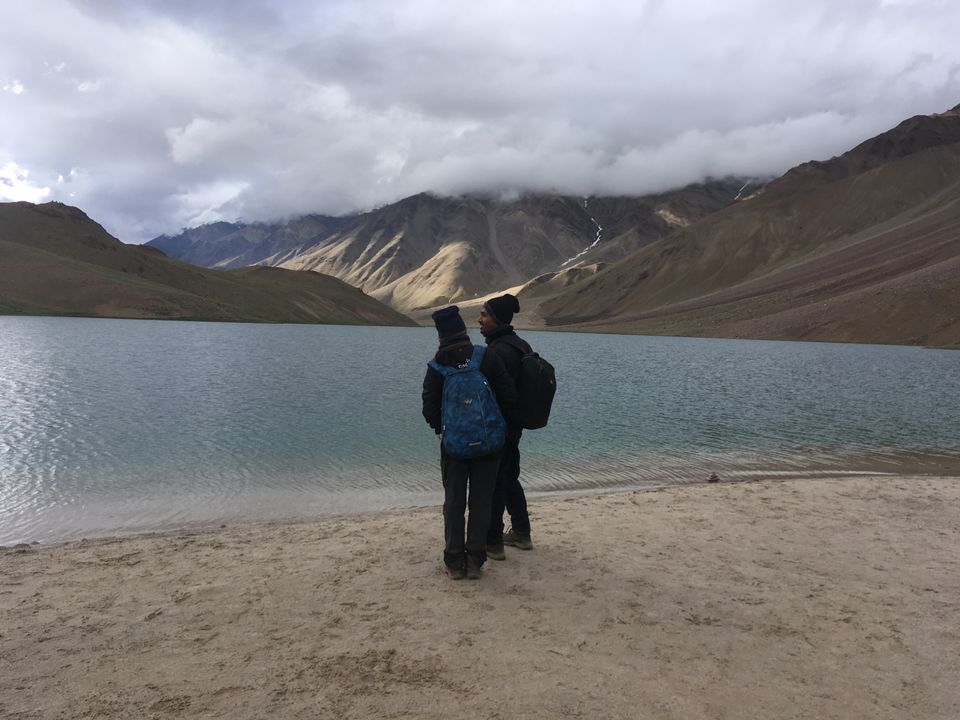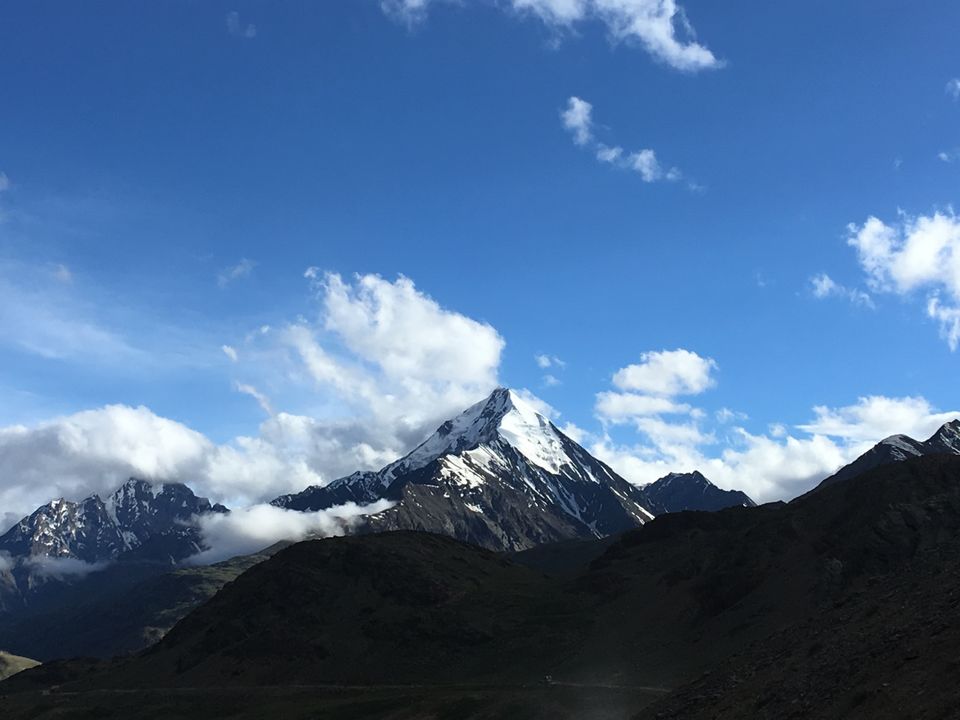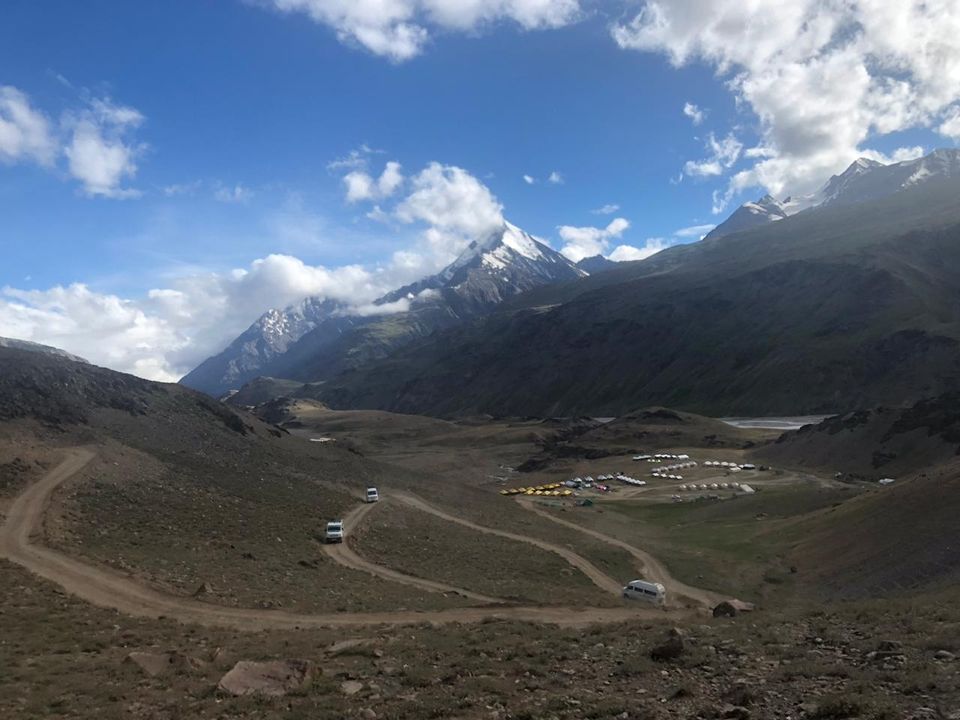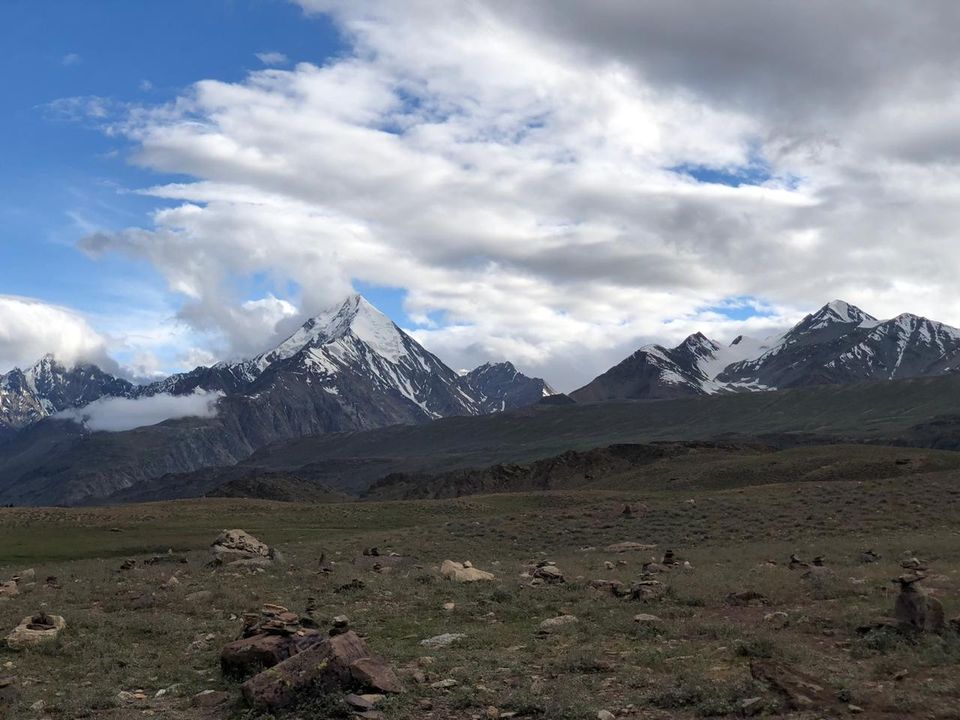 After spending some time we were back into our cabs. On our way, we stopped at this very famous Chacha Chachi Dhaba. We had Maggie, tea and bread omelette. By then the sun had set, it was pitch dark. Driving in those conditions is not easy. After a while, the sky cleared and the valley was lit up because of the moonlight. The entire valley was looking very beautiful. We finally ready our campsite around 9.50 PM. We finished our dinner under the open sky. We all were sad that the trek is officially over. Our group of 10 peoples stayed back for a while. We were chit chatting by then our Trek leader joined us for the conversation all were recollecting the highlights of the trek. After a while, we decided to take some rest.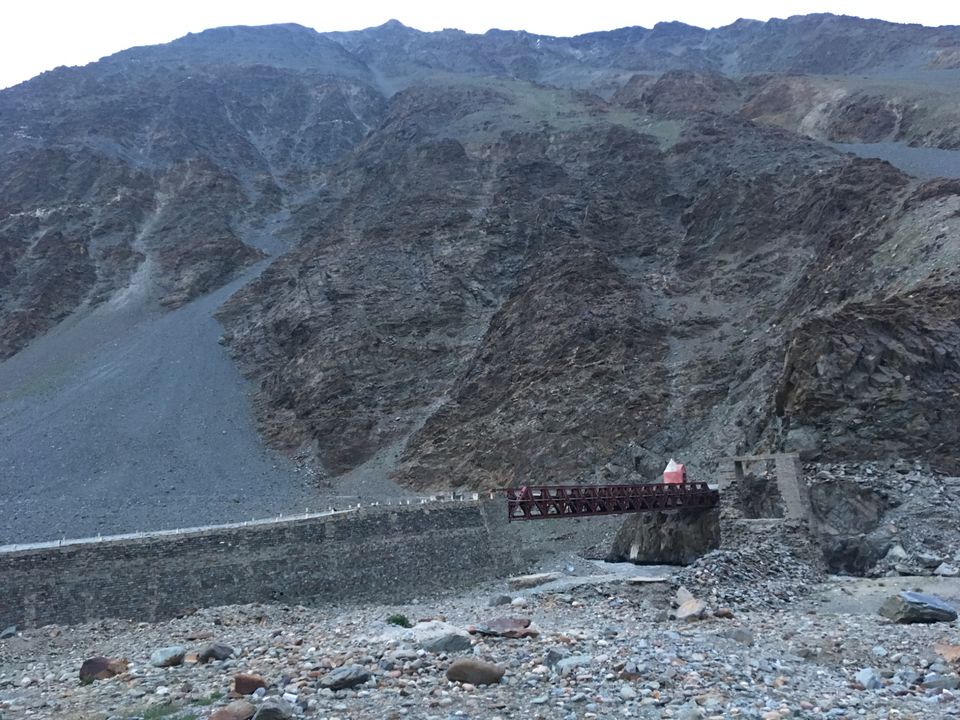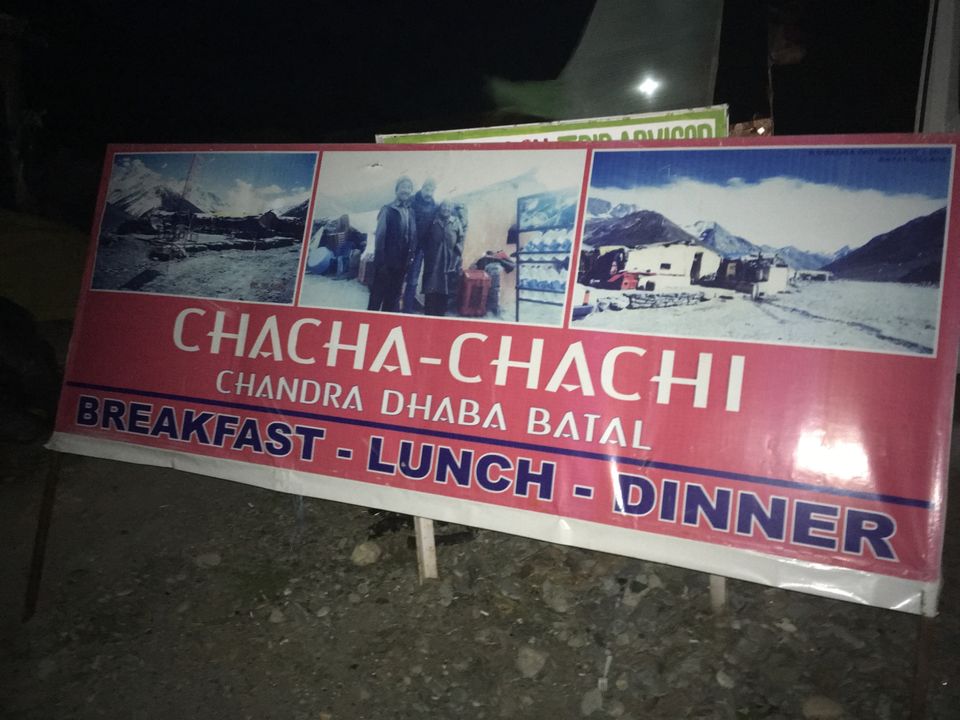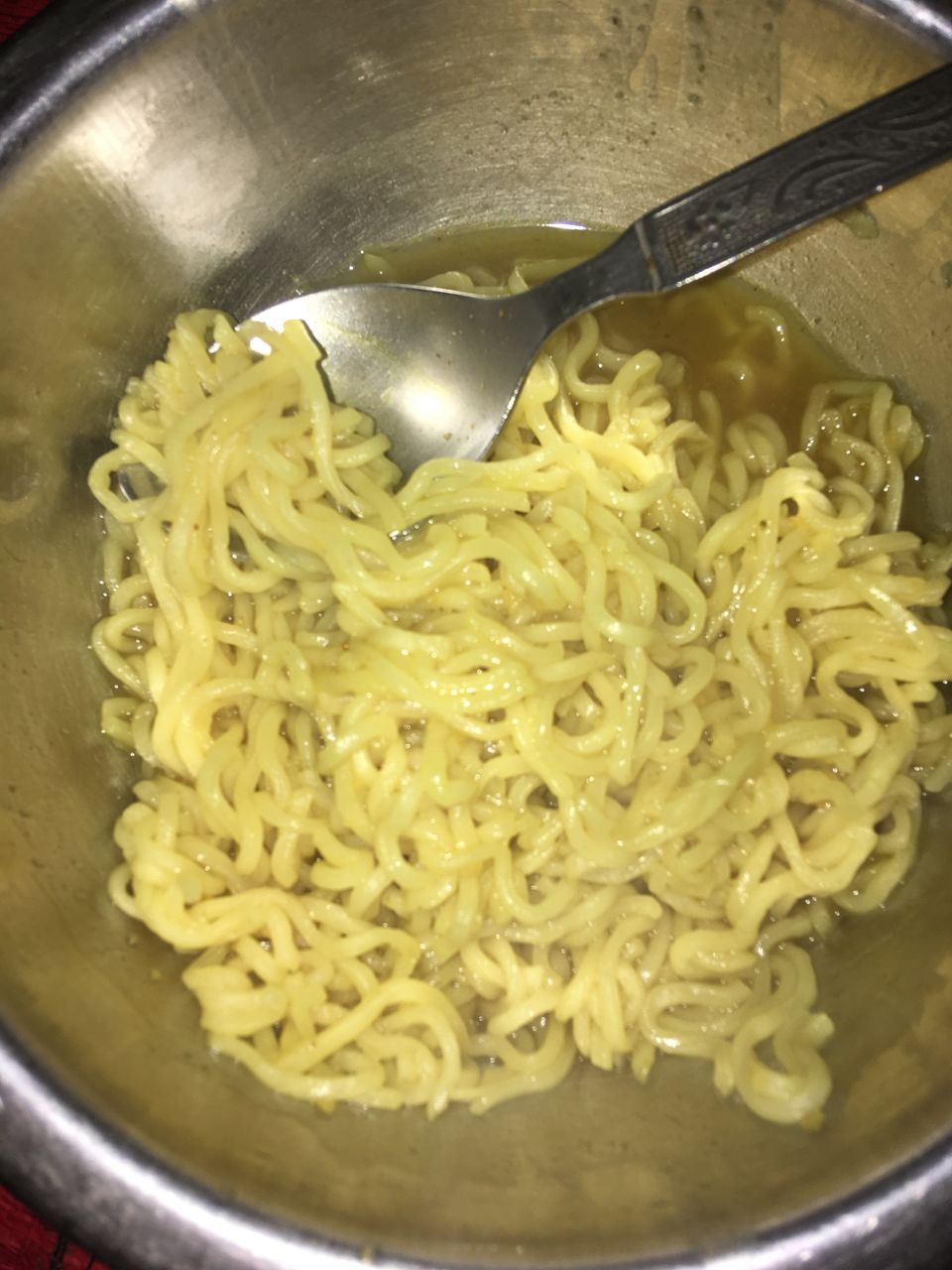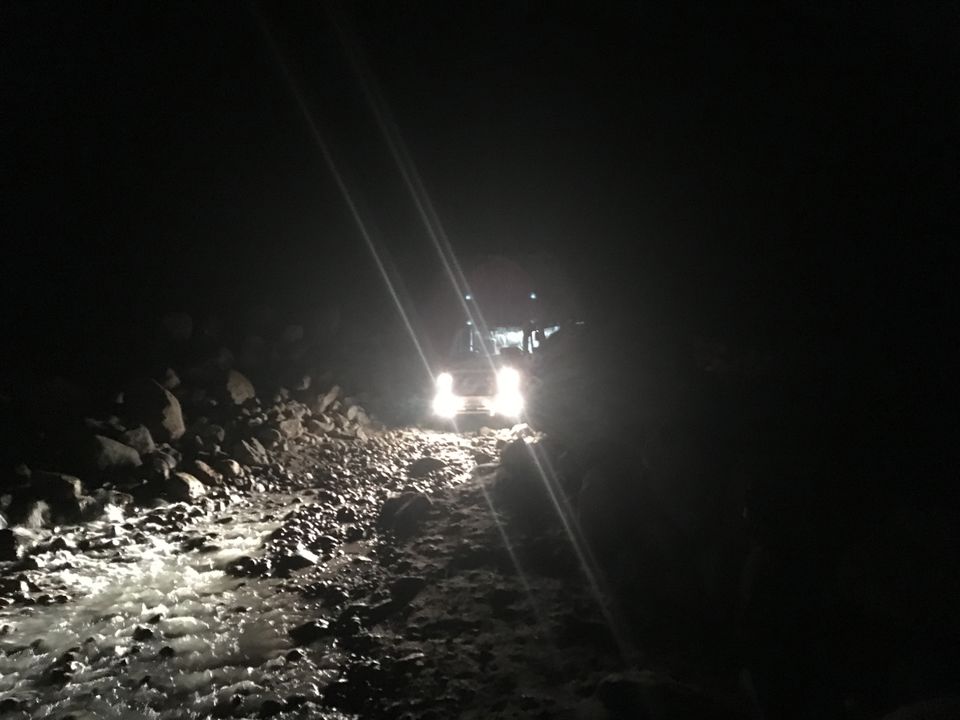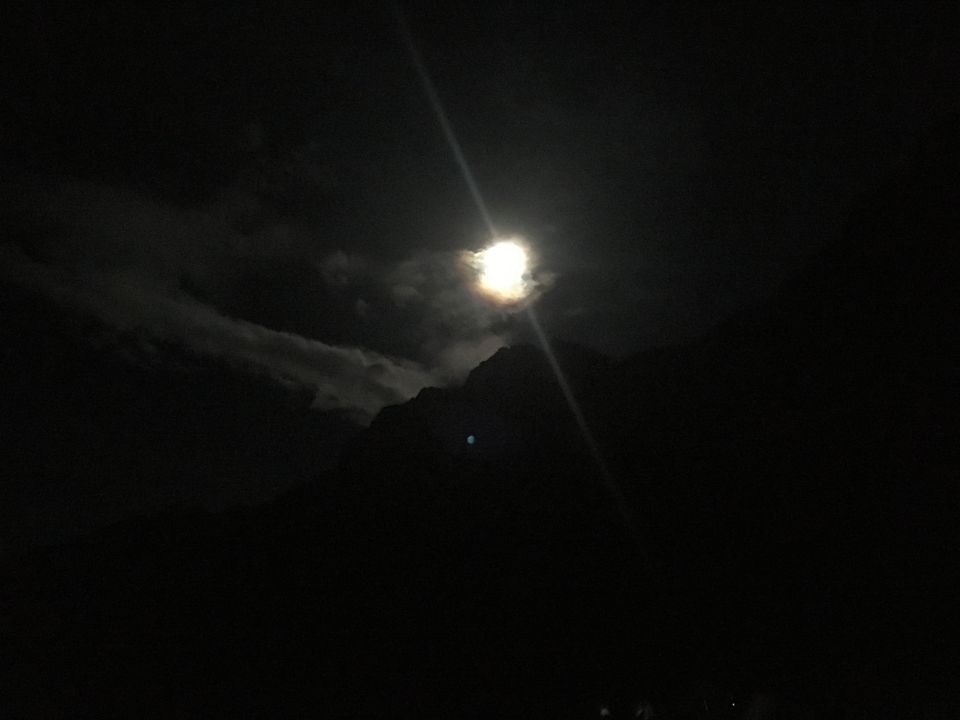 We woke up, finished our daily routine and gathered near the tent one last time. Certificates were being distributed to all the trek mates. The funny part was even after completing the trek Pradnya and Supratim didn't know the full names of their tent partners.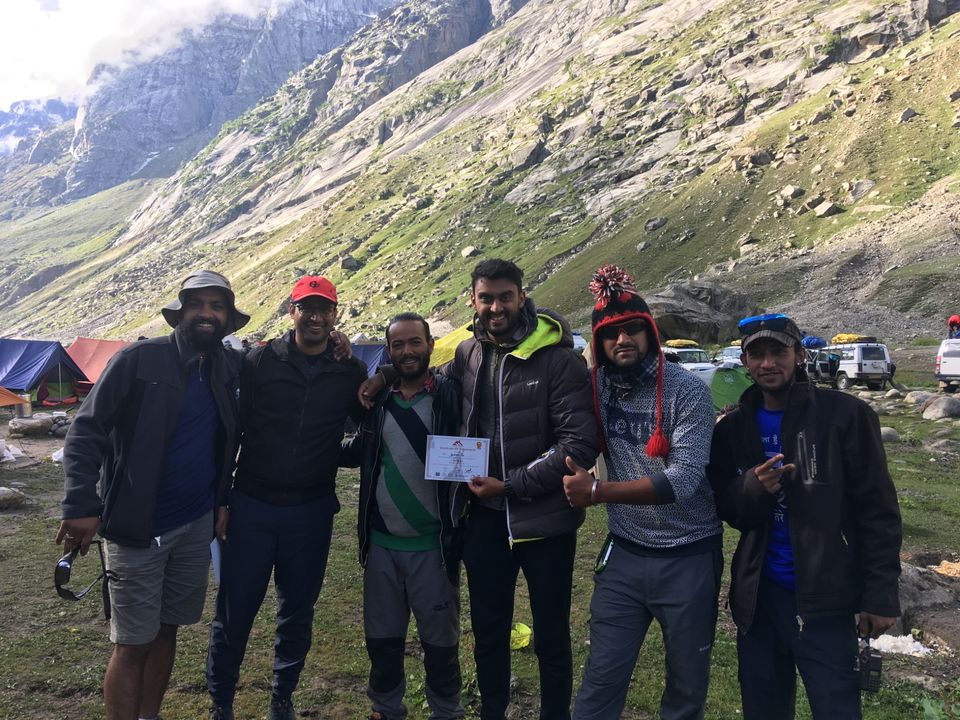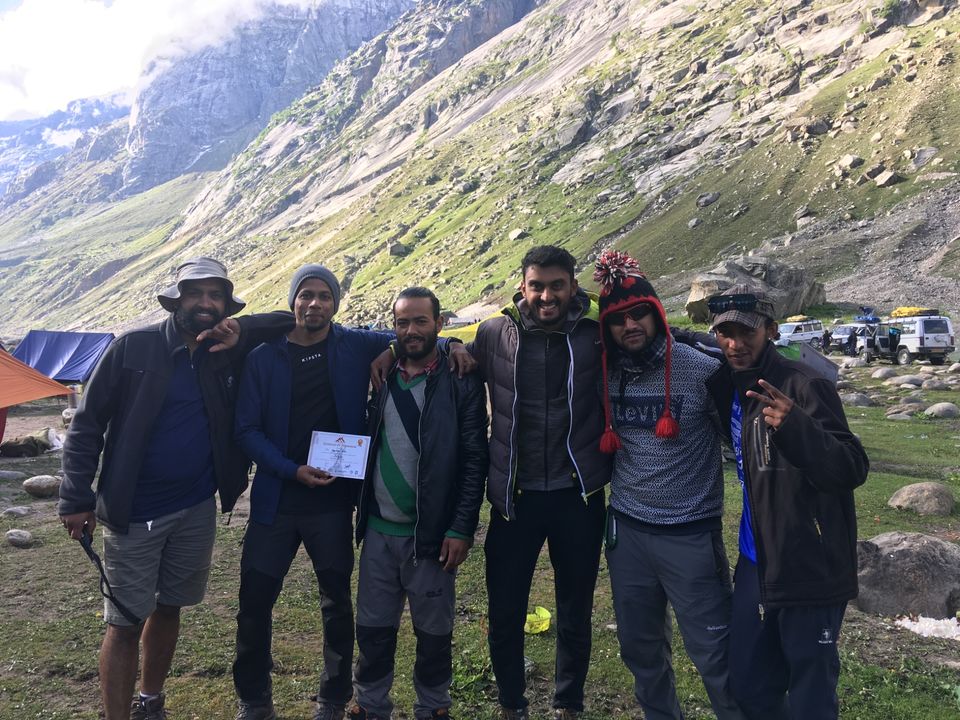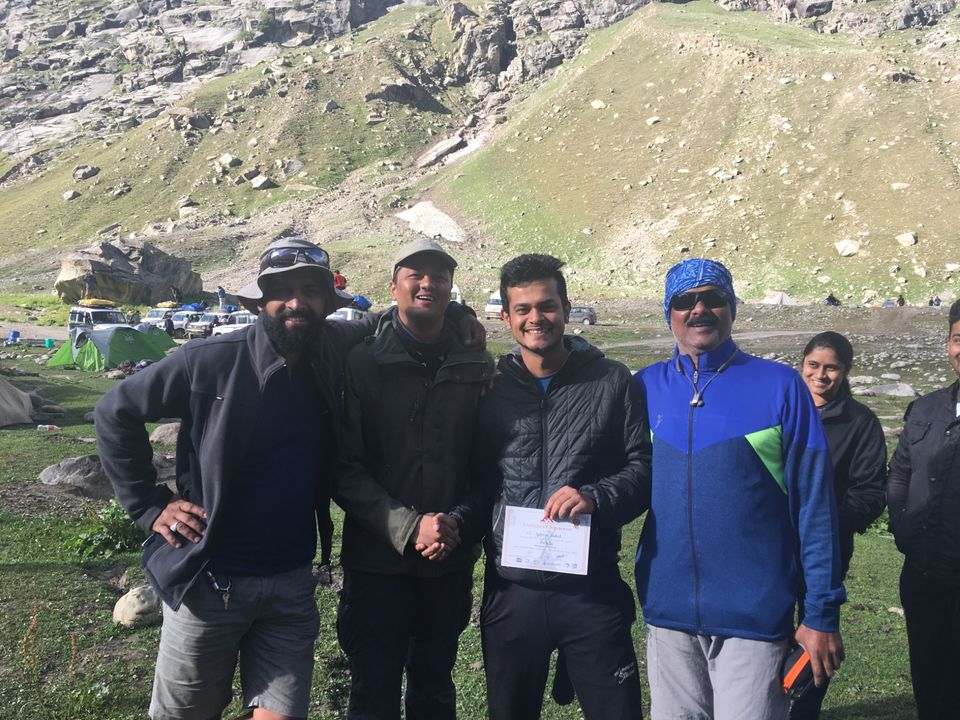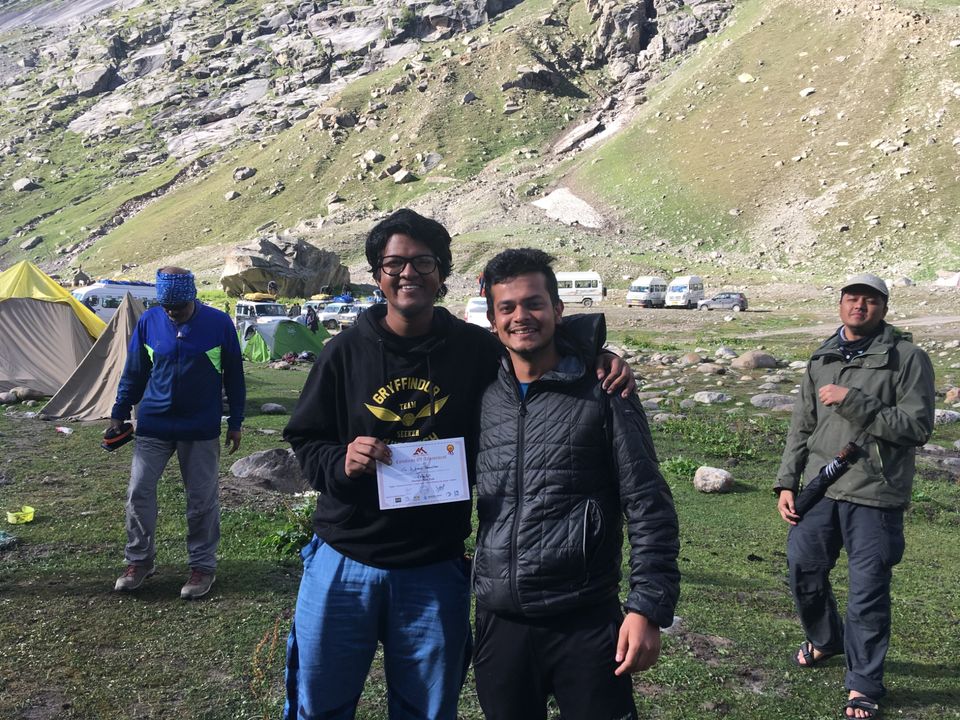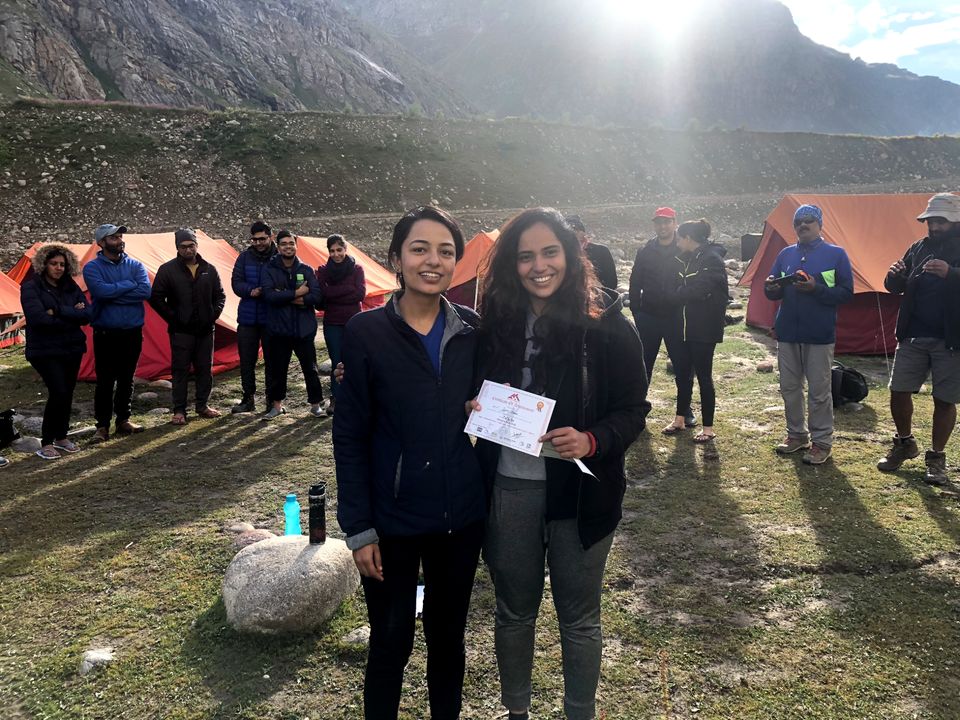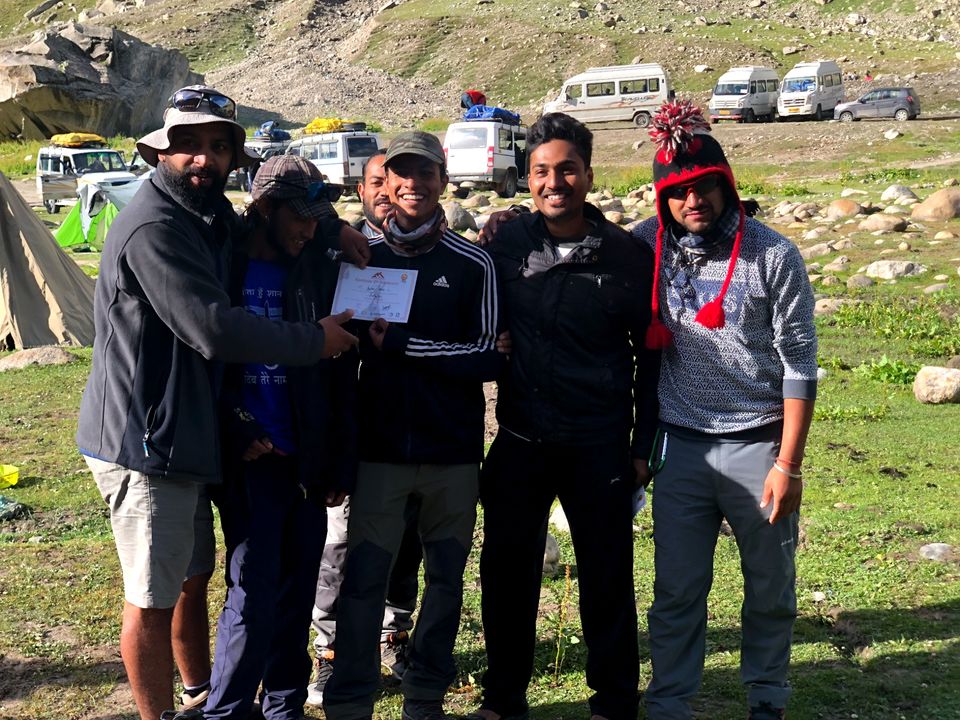 The date was August 15, 2019. On the occasion of Independence Day and Raksha Bandhan we wished each other and sang the national anthem. After clicking a few pictures we boarded our cabs to Manali. On the way, we stopped at Rohtang pass. Shubhag and Bobby kept on cursing me for the bike ride to Rohtang pass. We all got down clicked a few pictures and we went near this viewpoint. Rama Sir was telling us stories of his days in the Navy. We were laughing so hard that our stomach started paining. This part cannot be explained. You need to meet him in person to relate what I'm talking about.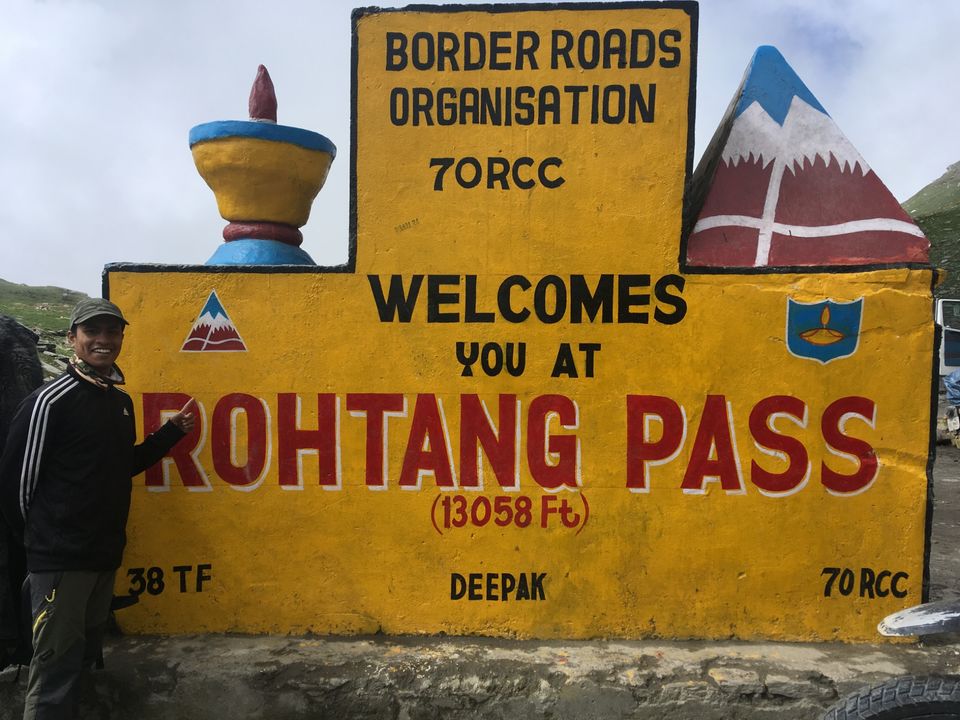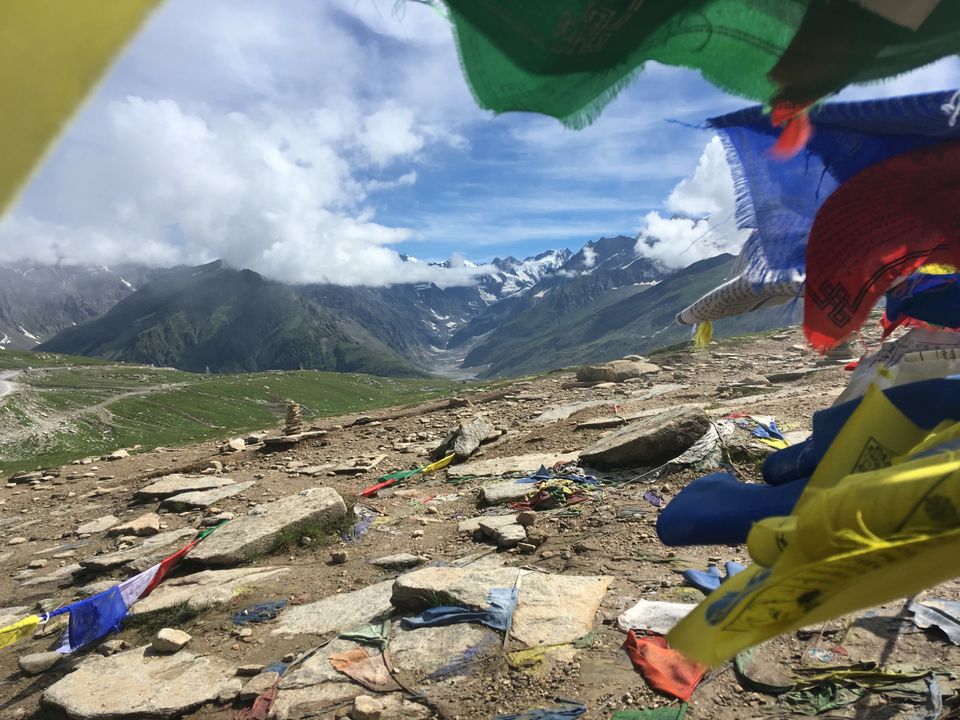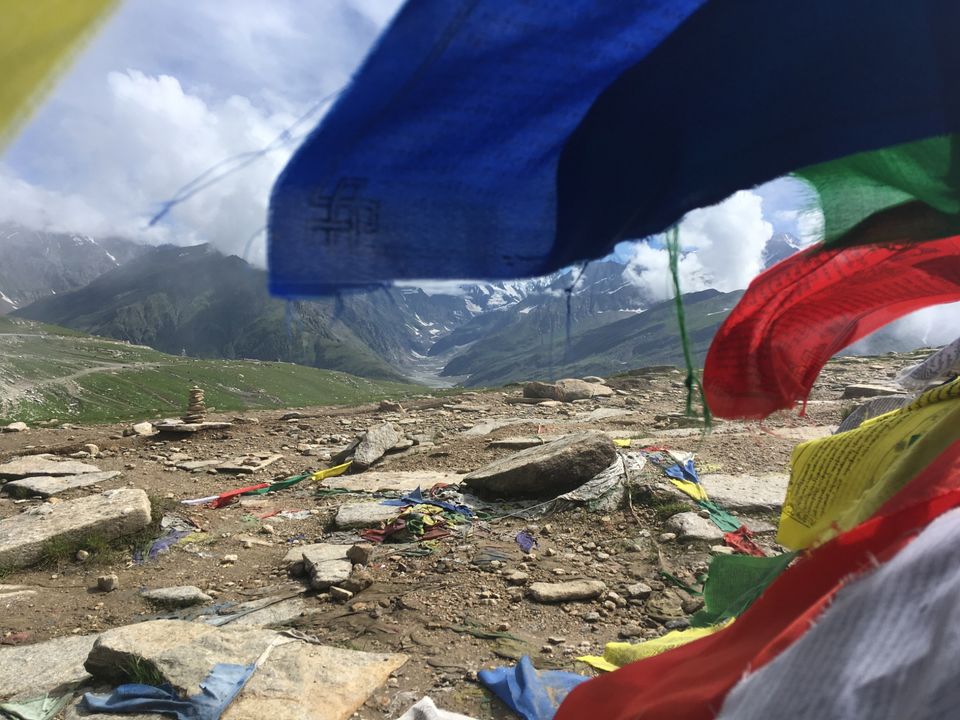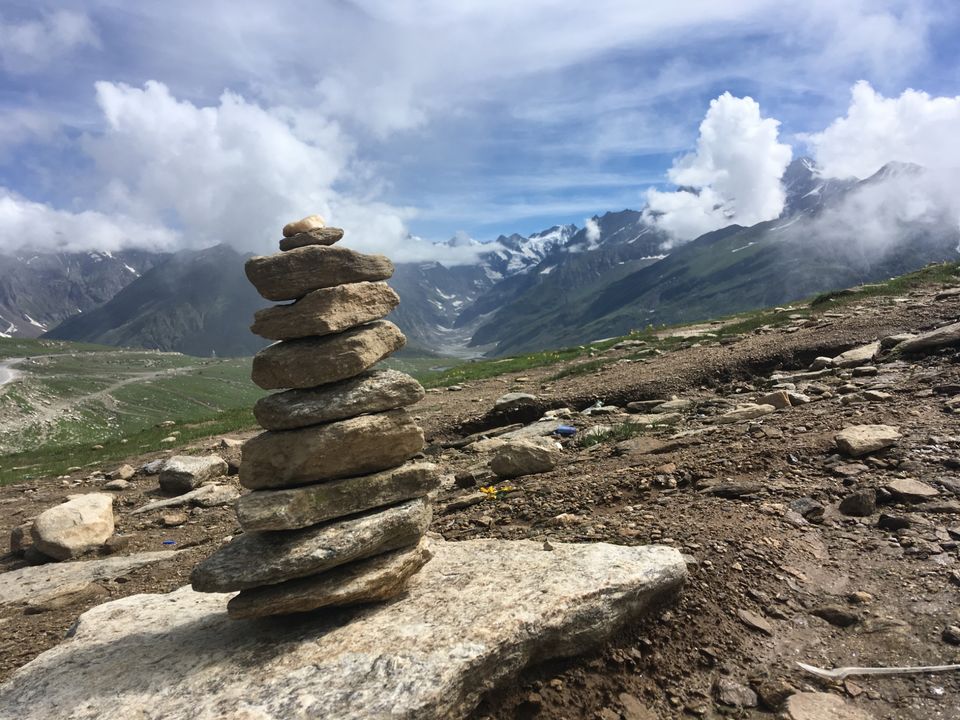 After all this laughing session. We boarded our bus. After a while Mobile network was back all got busy with their phones. We finally reached Manali at around 12.30 pm. We collected our luggage and returned back all the rented items. We said goodbye to each other one last time. Since most of them had not booked their hotel so all of them decided to have lunch and book their hotels. After lunch, all went to their respective hotels. We all met once again in the evening at Johnson's pub. What an evening it was. Can never forget those times.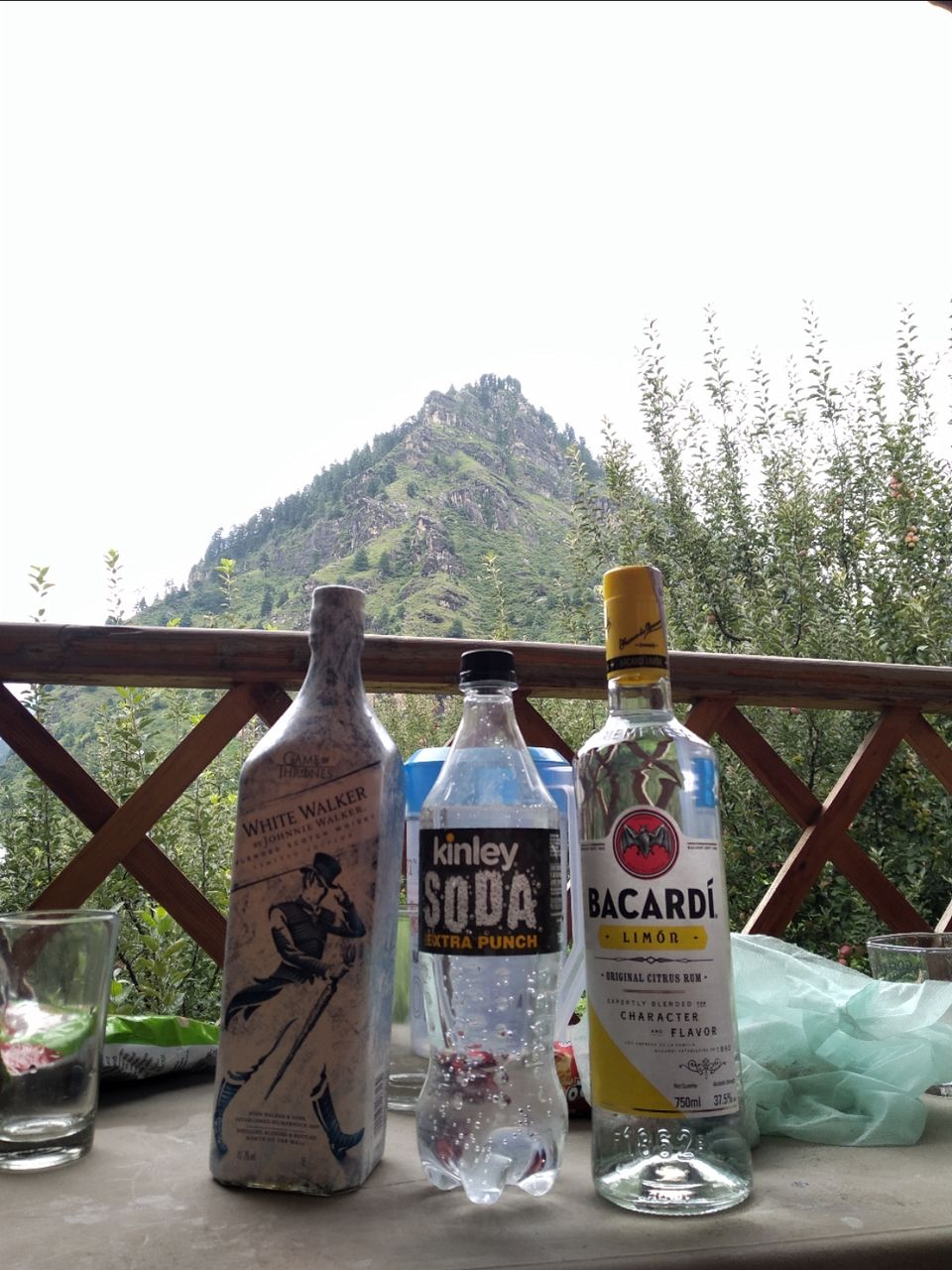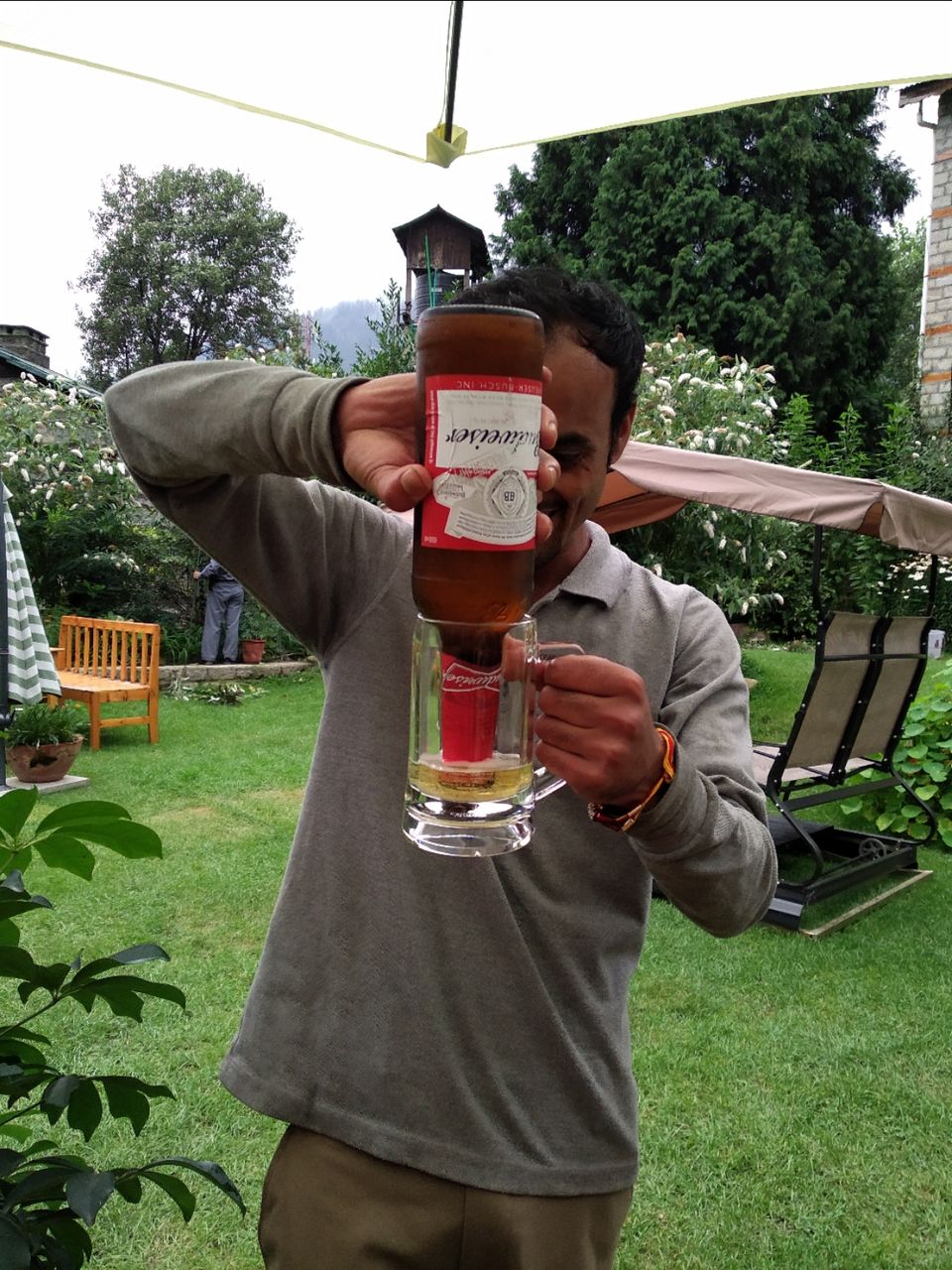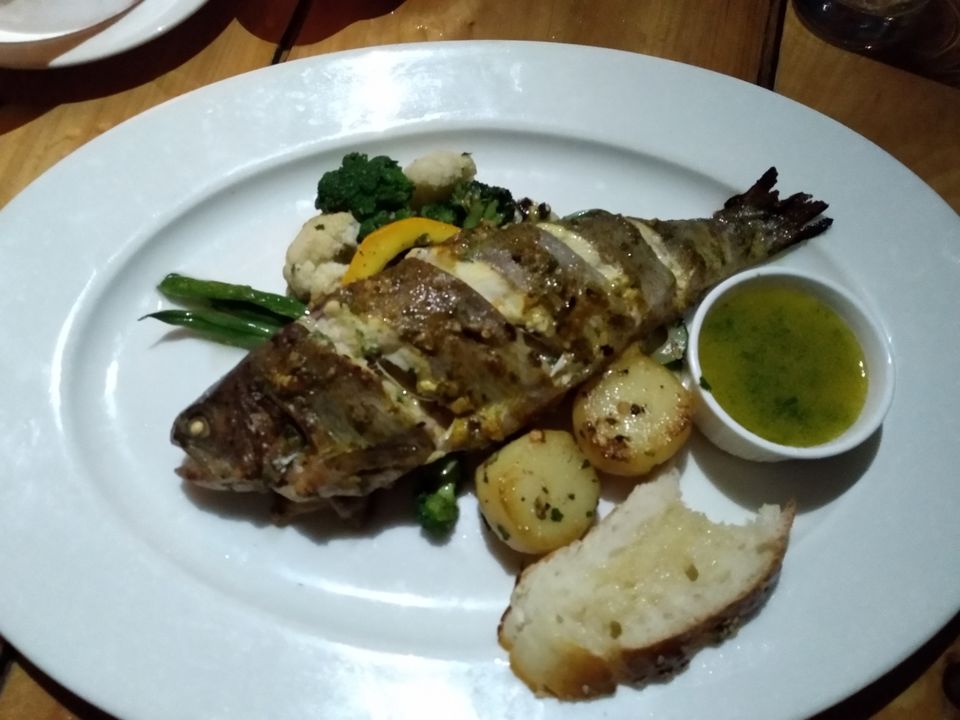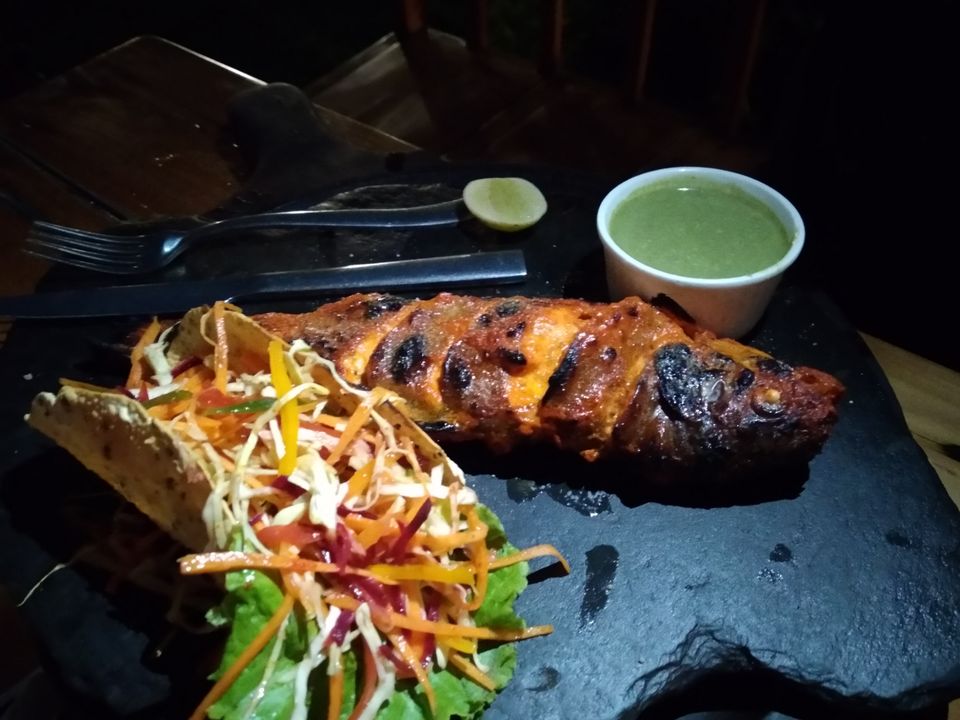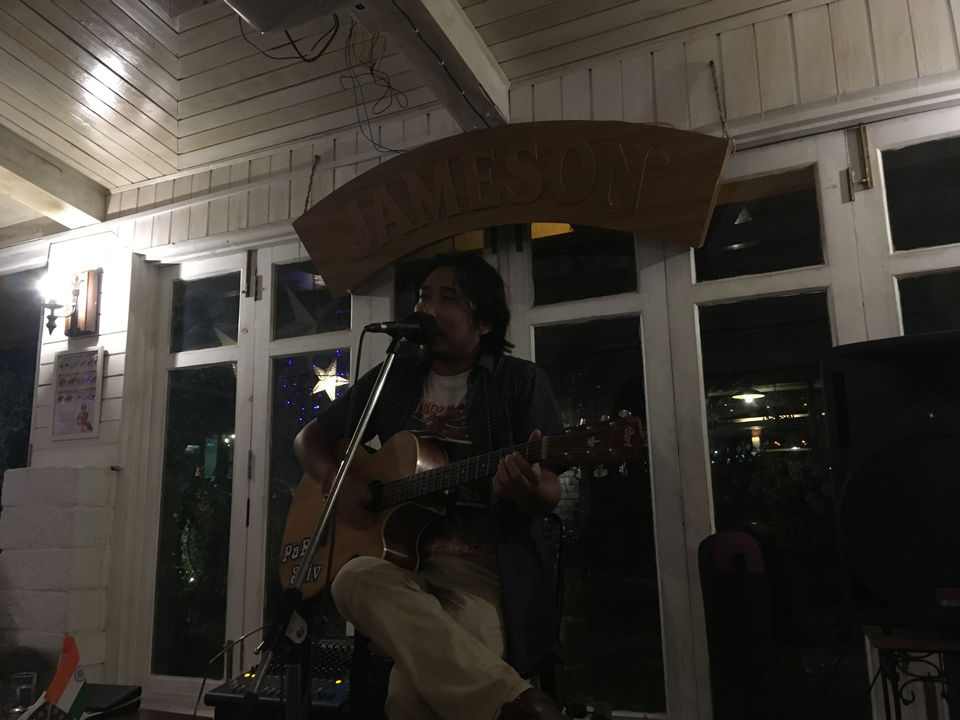 The next day we boarded our bus to Delhi and our trip was finally over.
.
This trek was just a beautiful trek.But the people I met on this trek made this trek an amazing one.
Thank you everyone for making my first Himalayan trek a memorable one.
I had done this trek with "Trek The Himalayas"
This is kiran signing off, goodbye!!
Instagram handle: Kirannath1311