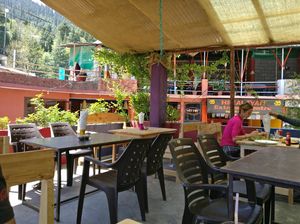 Places to stay near
People Cafe Old Manali
Explore Hamta - A village homestay!
Pause@Manali Cottage Room
Cosy Swiss Tents Next to River Side
Reviews of
People Cafe Old Manali
•
1
After getting treated to some much-required Coffee and a bit of exploring the nearby river, we quickly checked-in and in no time were we all ready to start our 'trip'. First stop: People CafeNot that we were completely clueless about which places and cafes to go to, we still followed our instinct and hit People Cafe for a nice pahadi breakfast which would prepare us for the long trekky day. Now apart from the food, the thing which will stay with us was what we did after the food. The child in us became super excited as we got hold of some sheets and crayons. The mountains completely mounted our creativity as we turned into self-proclaimed Picassos for the next one hour. We gave our creations to the people at People Cafe as our mark of being there.
Attractions near
People Cafe Old Manali