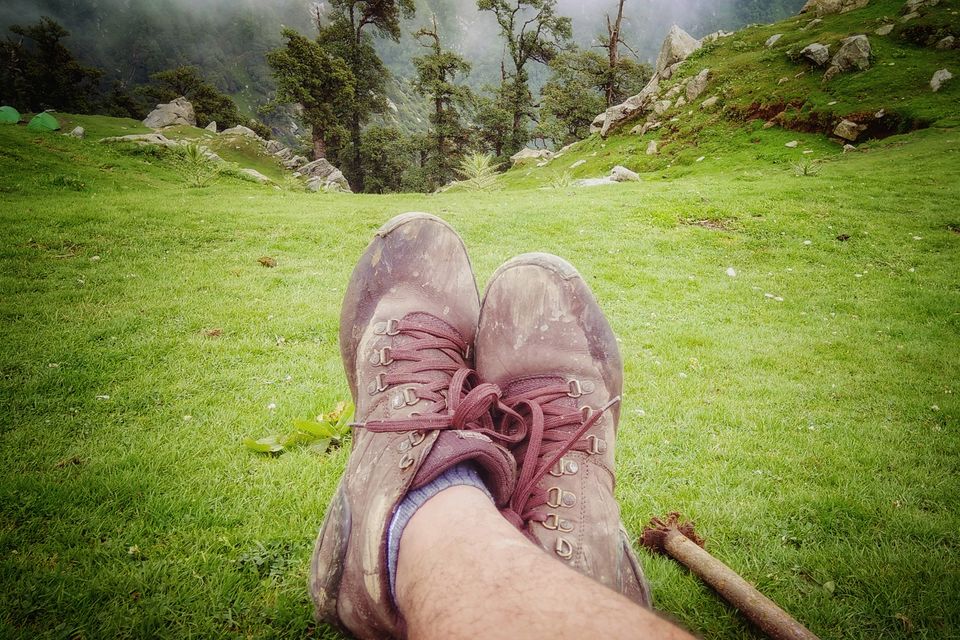 Can you walk for 6KMs straight.? Cool! add 6KM more to it now! That's what it will be like trekking the Triund! So, if you can do that…plan for this amazing experience…or else, Mcleodganj have a lot to offer anyway.
Having said that, let's start! Triund, categorized for Beginners to Moderate level of Trekkers is the Most Amazing activity to do when you're in Mcleodganj . It is all about conquering the summit and discovering more about yourself. The efforts that one puts together to achieve the mesmerizing view from the top is worth all of it.
It's a 6KM long trek from the foothill and will take on average 3-4 hours from the bottom to the top for average speed of trekking. You can walk or take a ride of 5 KM road to reach base of the hill from the 'Mcleo Chawk'. Though last 3.5 KM can be driven in cars but attempt for it only if you have highly experienced drivers with you. This road is pretty rough, so it'll be a bit of risking the vehicle as well. You can get cab in between to the base for Rs. 350-400 one side. They'll drop you at the start of the trek, from where, you are on your own for next 6 KM. It is sensible to start as early as possible to use the time efficiently.
Once you reach to the start of the trek, these are the thing that you need to take care:
You will be required to register yourself to the local police admiration there. They'll ask for your govt ids, and they write down how many plastic items you are taking with, so that you come along with same or more numbers plastic waste than that. This is done to avoid people spreading garbage in the mountains. So, make sure, you keep all the empty plastic water bottles/snack packets with you and don't throw them off there.
You are not allowed to take liquor and portable speakers with you in trek, so as to avoid any accident with drunken and to avoid unnecessary noise in the mountains.
From this moment onward, you'll find 3-4 cafes to the top having prices increased with attitude. Keeping your fuels with you beforehand is advisable.
Also, you'll not find any toilets ahead…no not even at the top. They have government stays on the top (which requires registration for stay and that can be done at Mcloe Chawk), but even they don't help with your nature's call. So, if it comes to that, feel free to use the woods.
If you can, it's fine, but renting Trekking stick will be a wise decision. They'll rent it for Rs. 50 per stick with Rs. 50 as security money, which they'll revert once toy return the sticks to them.
Now that you are all set to start, let's go ahead and hit the trek. The sites throughout the way is full of beautiful sites, bundled with cool breeze and peacefulness (though, this doesn't help you with your sweat) The trek is extremely rocky and mandatorily requires trekking shoes for comfort. Also, lose dress will help keeping yourself free and comfortable. You'll find number of people coming down from the trek and it's funny how everyone, no matter going up or own, keeps on asking with each other….'How Much More'.?
Well as said the trek will take at least 3-4 hours for you to climb up. You can find various shops midway from where you can buy snacks, coldrinks, energy drinks, tea, maggie etc. You need to carry cash as they don't deal online, also, be ready to pay price as much as double of MRP on high altitudes. 3 cafes, that I can remember, were the 'Best View Café' (approx. 1-1.5km after the start of the trek), the oldest tea shop as it says, The Magic View Cafes (just half a km below the top) and the snowline Café (we 'll talk about it later). There are couple of nameless shops in between as well. The path is magical, compensated by refreshing walks amongst rhododendron, deodar and oak trees. Once you reach the Magical View Café, you can rest there for a while, a board there says 20 minutes of trek more, which actually motivates you to complete what you've started. Although, beyond this, the last one km may require a bit of toil. It is popularly known as the "22 curves" as it has 22 tiring curves before you finally reach Triund.
And after all your efforts, you reach to the top to witness the beauty. Triund top gives a panoramic view of Dhauladhar. You can see the mighty Himalayas surrounded by clouds and the top with lush green grass, gazing mountain goats, and lots of trekker in camps. This place is so mesmerising that spending a couple of hours goes by in seconds. Just leave you camera aside for a while and experience the moment, I can bet this is something which will stay in your heart for long.
There are various activities you can do once you reach to the top, likewise:
You can buy tents there and have camping for the night to wake up in the mountains!
If you have enough energy/courage left in you, you can trek to 3KM more to the Snowline café (probably, the best idea).
You can walk back and climb down to the base.
For camping, you can get tents for Rs. 500 each (a little bargain will work). Again, keep in the mind that there are no toilets in the way or on the top, you want to do it…you're free to use the woods. You can also get arrangements for bonfire and spend the night probably with some vodka (shhhhh) and guitar! It is claimed that people who've spent nights in camps have actually experienced the real thrill of this trek. The next option is further trek to Snowline Café!
Well, Snowline café is the ultimate destination of Triund and is 3KM further steep trekking from the places you're standing right now. Yeah, it need hell lot of courage, energy and time. But everyone we asked were so excited after visiting the place that they suggested, if you haven't visited the Snowline, you have trekked the Triund… (we are the one who didn't go to the snowline by the way ☹).
Whatever option you'll choose is up to you, but one thing that I can assure you, you'll have hell lot of thrill! Starting early, as said before, is advisable, so that after spending 4 hours in trekking (2 hours additional if you are aiming to reach SnowLine), you can have ample amount of time to spend on hill and to restore energy by climbing down. It'll not take more than 2-3 hours on your way back, but mind it, trekking down requires a lot of efforts and attention too. We literally felt pain in hour knees and calves while descending. Also, due to the clouds, the rocks are pretty slippery, so make sure you put every step sensibly. On mountains, one mistake can cost you a lot.