Must – Do Things in Meghalaya
Not even joking, I would go to Meghalaya every vacation, every season just to do these below dictated things. These things gave me an experience of a lifetime, and made my first solo absolutely worthwhile and to remember forever. The first two in fact, are absolute gems, and are a matter of national pride, in my opinion. I tell you them in the order, of their deep impact on my memory.
1. Visit Mawlynnong
The gross happiness of me sky rocketed the two days I was in this little village called Mawlynnong. This place declared as the cleanest village in Asia by Discover India magazine, is also called "god's own garden". Who would have thought, the country which has 2 of its cities in list – Top 10 Dirtiest Cities In The World, will have one of its villages awarded the cleanest village in the continent?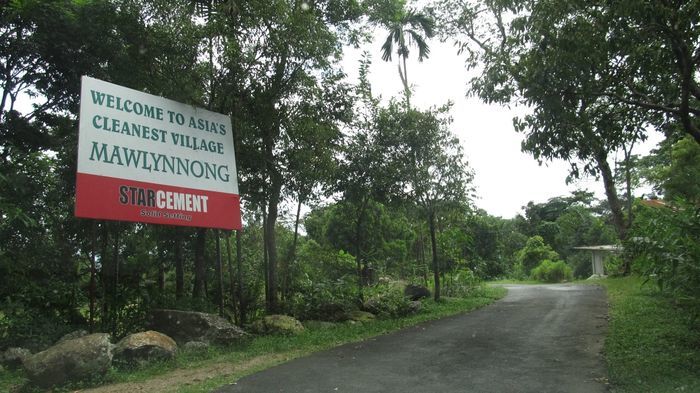 Mawlynnong prepares you for its famous sense of cleanliness, with signboards, while the village was still 12 km away.
How To Get There
The most convenient airport and railway station that I found were both in Guwahati. From there we took a cab to Shillong, where my father lived. The 140 km Guwahati to Shillong journey was smooth, and took about 3 hours.
Later on, I was set out to explore the state alone, after my family went back home to Delhi. I wanted to visit Cherrapunjee, and Mawlynnong both, but didn't have any concrete plan in head. The day I was set out, I found a car going to Cherrapunjee, and since I was hitchhiking, I went to Cherrapunjee first. After spending 2 weeks with the locals there, I headed towards Mawlynnong.
Guwahati / Shillong – 140 km ( 3 – 4 hours )
Shillong / Cherrapunjee – 55 km ( 1.5-2 hours )
Shillong / Mawlynnong – 98 km ( 3 hours )
Cherrapunjee / Mawlynnong – 90 km (3 hours )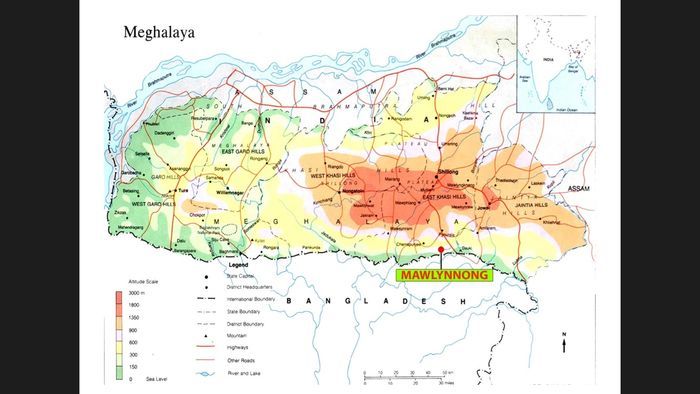 Who Lives Here?
Mawlynnong is a compact, garden like village with only 90 households. The main source of survival here is agriculture, but also has a 100% literacy rate. The village is a East Khasi community based eco-tourism initiative. It is evident that the community has made an effort to plan and maintain the ambiance of the village, and sometimes it starts to feel like nature too is consciously trying to cooperate with them.
What Do They Do?
Almost all houses are also turned into little cafes. The houses have thatched roofs, which speaks of its authenticity. The cafes are usually empty, as there are very less tourists coming to this place. They cook for themselves, and if a tourists lands up at the cafe, he gets to eat the same thing, which would mostly be rice with chicken or fish. They cooked dal for me separately.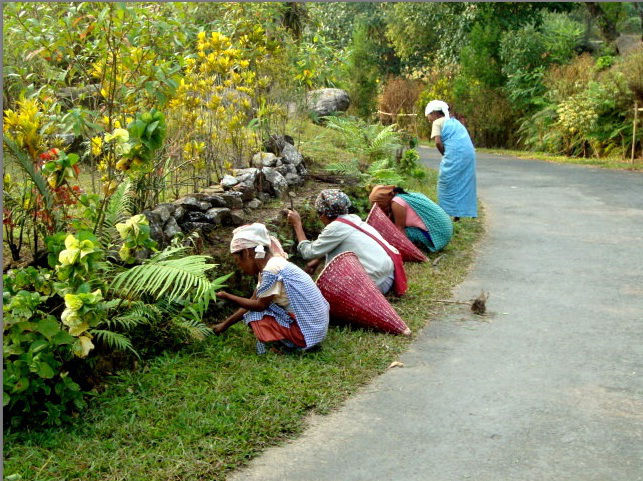 I should bring it to notice if it isn't yet – these people don't get paid to clean.
There is a cute small room, which is a school. All elders one by one teach children different subjects on different days. The children are given homework, are given tests and are evaluated, and are promoted to next class. The teachers are only villagers, not qualified teachers, but they teach all children with keen interest themselves, and children too love to learn with them.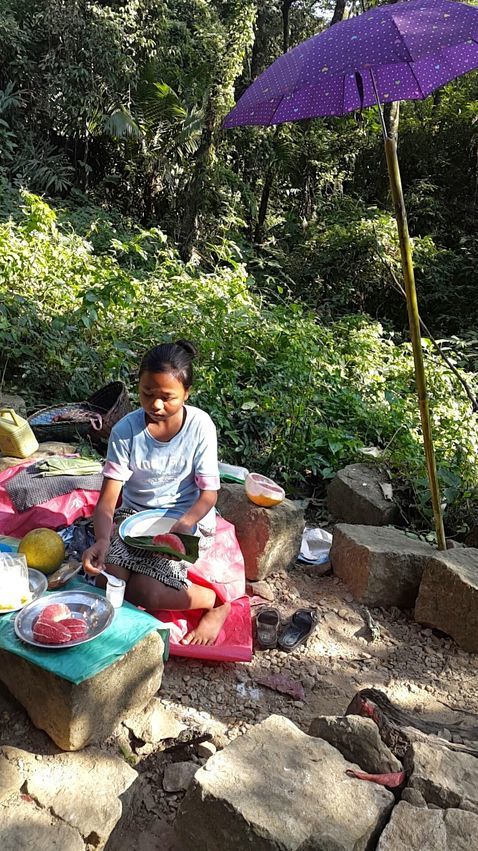 The super healthy and sour fruit – Soshang.
The main source of income is agriculture. The main produce here is rice, betel nuts, black pepper, pineapples, oranges, local fruit – soshang and wild berries. There is no scarcity of food here. People spend a huge portion of their time in maintaining the cleanliness and tidiness of the village, they love to live up to their image everyday.
What Does This Place Offer?
Wonderful View from tall 20 – 30 feet high tree houses, overlooking beautiful contours of mountains separating Bangladesh from India. And not too far from Mawlynnong one can also take a shower under the gushing waters of Niriang falls. The village itself is a beautiful garden filled with flowers exotica such as orchids, roses, lilies, the carnivorous pitcher plants and some more local flowers. Just standing here gives a rich and fulfilling feeling.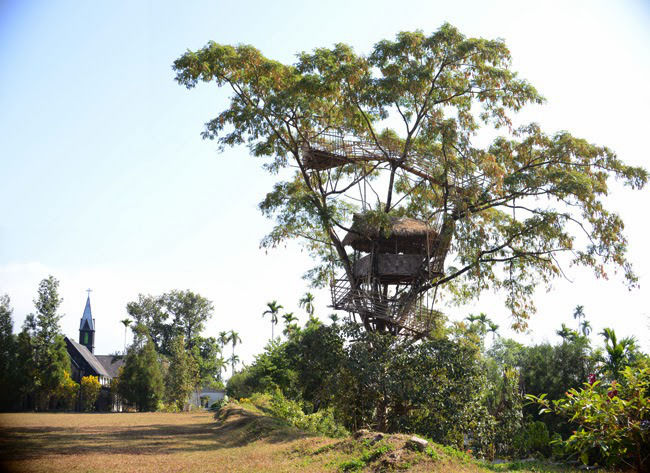 This tree house is named Sky View. Back to childhood.
This place also has a Church and a football field next to each other, so all can practice their kind of interest. I loved playing football with kids here, they were pretty skilled too, and their passing game was worth seeing.
Dawki is the last village of India in this part of the country, bordering Bangladesh. You'll probably marvel at the way, the young and old maintain their balance on the boat while fishing or simply having a fun ride. They could be sitting, standing and doing all sorts of things, but they don't fall! Tempted to sail with them on the clear turquoise waters? All you have to do is ask.
There are two famous living root bridges in Meghalaya. One of them is 5 – 7 km away from Mawlynnong. After getting off the road, you have to walk down only for about 30 minutes. This would be one of the root bridges, which requires least amount of trekking, thus relatively easy to reach. For me, these root bridges are one of the wonders of the world.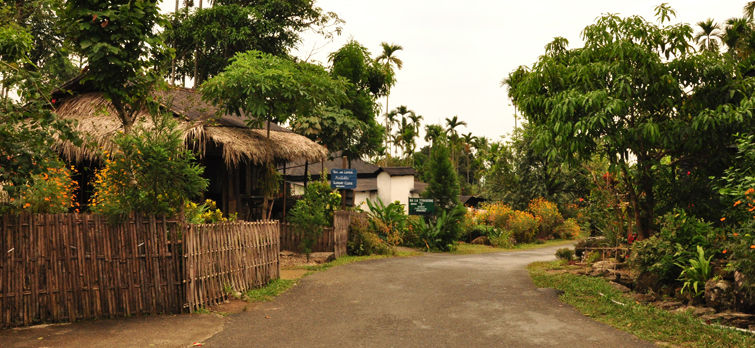 Beautiful Mawlynnong.
Also, all houses offer a home stay at a very low price. I stayed with a family for a week, cooked with them, used to clean the streets with them, give them a hand in farming, but enjoyed the most in teaching children English, Hindi and playing football with them. At the end of the week, it was time I had to leave. The family refused to take money from me, in their humbleness. I then bought a lot of pineapples from them, as I didn't want a completely free stay, but for it too, they took only a little money. Also, telling all this I do not intend to imply that if you volunteer in helping them with certain things, they're liable to offer you a free stay. With a heavy heart, bye bye sweet people of Mawlynnong :)
2. Trek To The Double Decker Living Root Bridge
There are quite a few root bridges in Meghalaya, but the most famous one is near Cherrapunjee.
How To Get There?
Shillong / Cherrapunjee – 55 km
Cherrapunjee / Tyrna – 20 km
Tyrna / Nongriat – 7 km
Bus services to little towns are dependable only sometimes. Following my favourite way of travelling, I walked and hitchhiked to Tyrna, the base village to the beginning of my trek. Made many friends sitting on top of a mini bus, which was the only vacant seat I found in the longest time. After a memorable 45 minutes of journey, I reached Tyrna.
After walking for 1.5 km and about 30 minutes, I reached the end of village Tyrna, and that's when my trek to the bottom of the valley – village Nongriat began. The trek was carved with stones as steps, which were 3000 in number. Another small village comes in the way while trekking, which you could count as a milestone. Also come on the way, two man made, pretty weary hanging rope bridges, which also manage to look quite authentic. It could have been very tiring, if not for all happy and smiling faces of local people and little children there greeting us.
The unstable and exciting rope bridge.
What is a Living Root Bridge?
When roots of two trees on either side of a river or valley grow so much that they together connect the two ends strongly enough to enable people cross side from over it comfortably, it's named a Living Root Bridge. This particular bridge near Cherrapunjee has a 'double decker' to its name because there are two bridges parallel one over the other, giving it the look of a double decker bus. The bridge lies at the bottom of the valley in village Nongriat, where stream Umshiang flows from under it, because of which it is also called Umshiang Double Decker Living Root Bridge by some. The naturally growing bridge grows stronger with time, unlike man made bridges, and are helped by the villagers from generation to generation, who patiently guide the roots of the rubber trees across the river with the necessary supports. The trees are a species of Indian rubber tree, which grow only by river or stream side, and thrive in this climate. This tree can comfortably perch itself on huge boulders alongside the riverbanks , or in the middle of rivers and send its roots down to the riverbed. These trees shoot out many secondary roots from their trunks, which with time grow so strong – enough to hold 50 – 70 people at a time.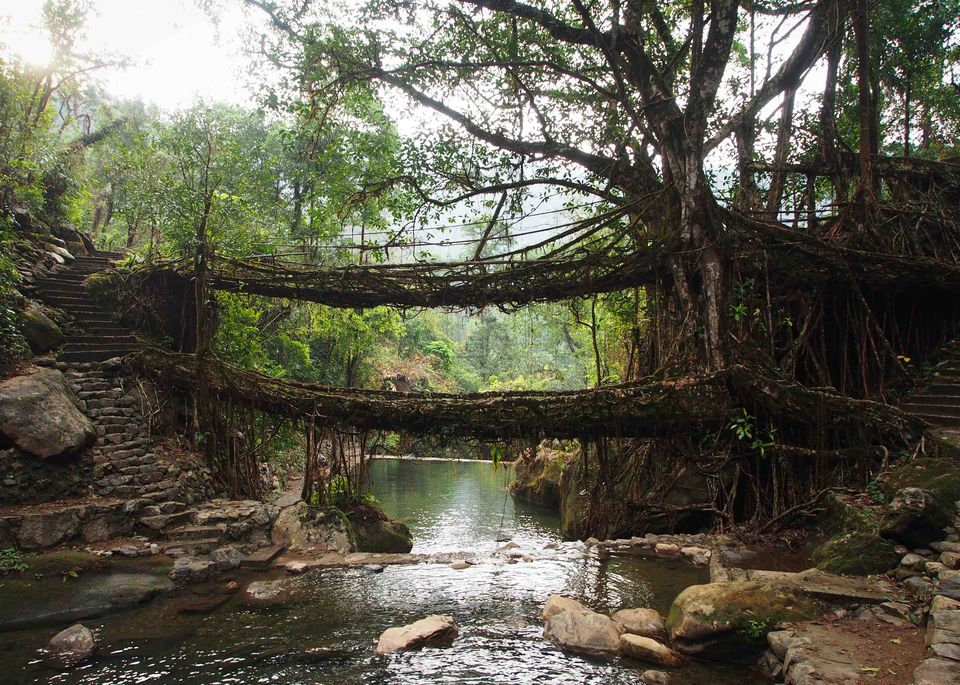 It looks even more magical in real.
What Does It Offer?
As the last steps were closing in, I could see myself getting closer to the bridge. Sweat on my face, forehead started giving me a chill, and I realised an obvious smile on my face. The long walk, I knew was now totally worth it. I touched and felt every root to check I weren't in a dream. I was lost in a dreamland, such world of wonders we live in. These living root bridges are only found in Meghalaya, in this entire world. We are so lucky to have miracles such as these, and many more in our country. I then, took my shirt off, and lay floating in the stream for the next half hour. It made me feel pure to the cure. The most natural, and magical pool ever!
By now I knew I didn't have much time in hand, as it starts to get dark by 4 – 4.30 pm in this part of the world, and trekking up in the dark will be really difficult. I still chose to spend a little more time there before I made a move. Some more time, and all of a sudden the sun disappeared, like it were a conspiracy, and it became scarily dark. A race against time, which I always happen to lose, I was now trekking up in the light of my flashlight from phone. On reaching the first village, a local suggested it was only wise to spend the night with them. Such proposals always made me happy, apart from other things.
3. Caving
Before this one I went only inside the little caves in Vaishno Devi, and Amarnath, for a few seconds. That doesn't count, right? I'm a person who likes night more than day, dark more than light, cave more than no cave. I always wanted to be in one, and explore the insides of it, to the deepest. And then be | rolling in the deep |. And here in Meghalaya, you find caves as caves could be.
How To Get There?
In Cherrapunji, keep the Cherrapunji Holiday Resort as the landmark. There are many many caves from around that area, in the distance of 10 – 22 km. Some of the recognised and well known ones are Krem Umthloo, Krem Chympe, Krem Sim Thabbalong, Krem Rubong, Krem Mawmluh, Krem Umshyrpi, Krem Umjasev, Krem Umsong, Krem Shella, Krem Wahlong, Krem Synrang Labbit and Krem Laiseng.
What Do They Offer?
This is definitely one of the most thrilling things I did in my life, and by now I've done quite a few of them. Inside the caves I found myself in a whole new world, trying to explore the unexplored. Some caves I found, might still not have been found by the others, or still is un-researched. Krem Mawmluh is 7km long, as yet. Over time, rocks keep falling, and the way inside the cave gets blocked. It is being hinted by archaeologists and experienced cavers in this region that this one could be as long as some 300 km, if explored carefully.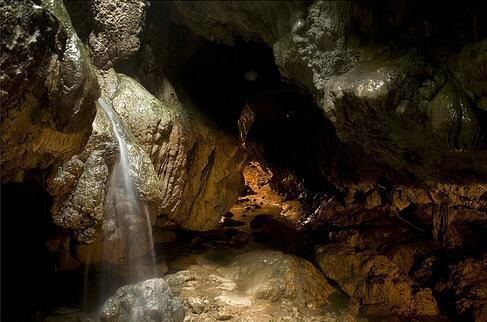 Tricky insides of the cave.
It really tested all my skills. As you keep going further inside, you keep falling short of breath, and you start feeling the heat, getting drenched in sweat and humidity. I couldn't recall how many times I slipped and banged my head on the walls, and how many times I had to walk on all fours. There were times when I was walking with water up till my waist. No matter how much I tried to keep my phone safe, keeping it in waterproof bags, somehow it always got drenched and stopped being with me. I had two more locals with me, who I found at the beginning of the cave. We never quit being with, and for each other. They were obviously much more experienced than me, and kept showing me different kinds of fossils on the walls of the cave, and guiding me through.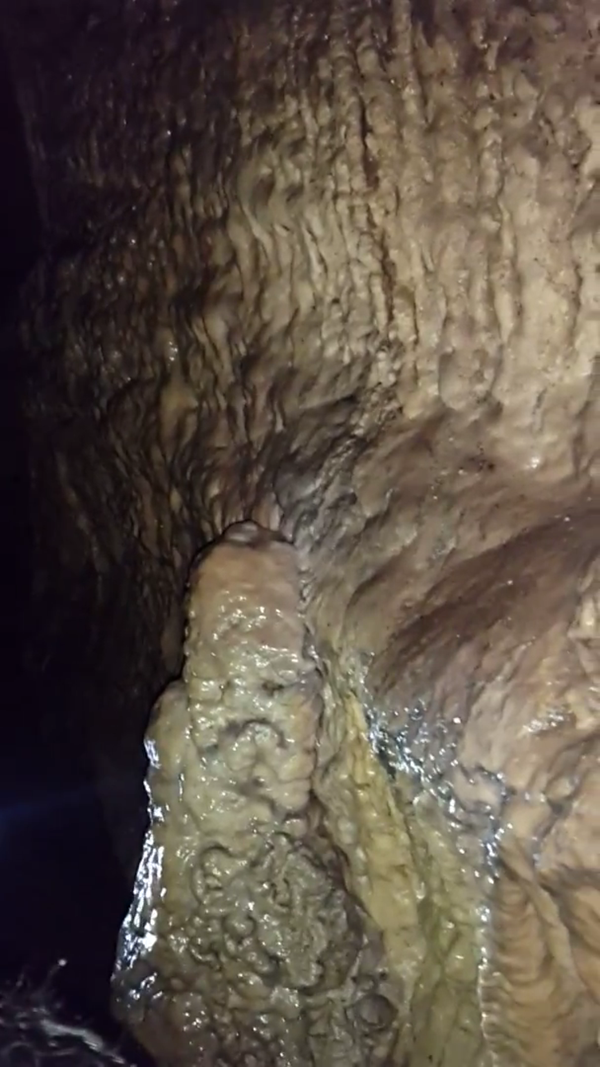 Fo-ssil(y) walls of the cave.
I did not do Krem Umshyrpi in Mawlong, as it required expert level of caving, apart from the heart of a lion. I wasn't an expert yet, but plans are to do these soon. However, it required a 40 feet vertical descent to begin with, and then later on too, to climb down with the help of rope ladders inside the cave. Krem Umjasew in Mustoh village starts off as a small hole in a stream bed, then becomes a large passage and takes you to another whole wide world, as it goes into a sharp incline. And interestingly, this one's stated to be the 3rd deepest cave system discovered as yet, in India.
This was surely an adventure of the ultimate sort, and required a lot of bravery, skill, strength, endurance and curiosity. This could also turn out to be the the adventure sport of the future. It tired me out mentally too, but gave me high satisfaction, and for the rest of the month, even as I used to sleep, I would dig caves in my dreams and reach lands unknown.
4. Elephant Waterfall Rappelling
You sure have done rappelling, right? Here too, you get to rappel down a mountain, except there's also water flowing along, making it a waterfall.
How To Get There?
Elephant Falls is the most famous waterfall, and one of the most popular tourist sites here in Meghalaya. Located at the beginning of Shillong, it is very easily accessible. All shared taxis will go there, and you could easily find buses too. A walking enthusiast like me could also manage to walk down to it, to avoid the city traffic. It should be around 1.5 – 2 hours of walking from the city center, while about 30 minutes by any transport.
Police Bazar in Shillong / Elephant Falls – 11 km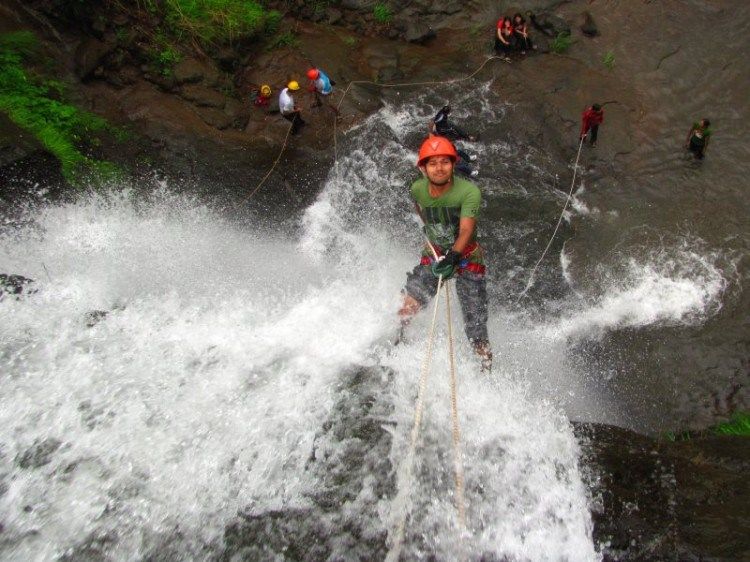 Used to watch waterfalls only from far away until now. Source
What Does It Offer?
A fall which was known to me for its astounding scenic view and serene nature, left me astonished when I came to know that Elephant Falls can arrange for an adrenaline orgasm too. The thrill here is all the more because in the mist, you couldn't even see where your foot is going, which could be difficult for somebody who isn't used to rock climbing or rappelling. But it was fairly okay, as the elevation was 40 feet only, and rocks on both the sides were working as support to strengthen hold. The level is not that tough but enough to satiate an adventure hungry soul. Now each time I see a waterfall, I imagine how it would feel to rappel it. I'm ruined. I can't simply appreciate the aesthetics of beautiful, falling water. If I lived in Shillong, this would surely become my favourite time pass.
*
As more and more I travel, the more I keep learning. Especially, solo has become for me, the way to go. This way I get to live with people, change my plans at convenience, stay at one place if I have to, or move on if I should. Make fun of people (for instance, my girlfriend) and run away. I have never felt this rich ever. I'm getting to understand my own country in a broader way now. I fall in love with every place I go, it's people, culture, and all the stories. And with these, I keep stacking up tales to tell. I'm still stunned by the sheer beauty, and the vast range of marvels that this place has to offer, as I leave for my next destination.