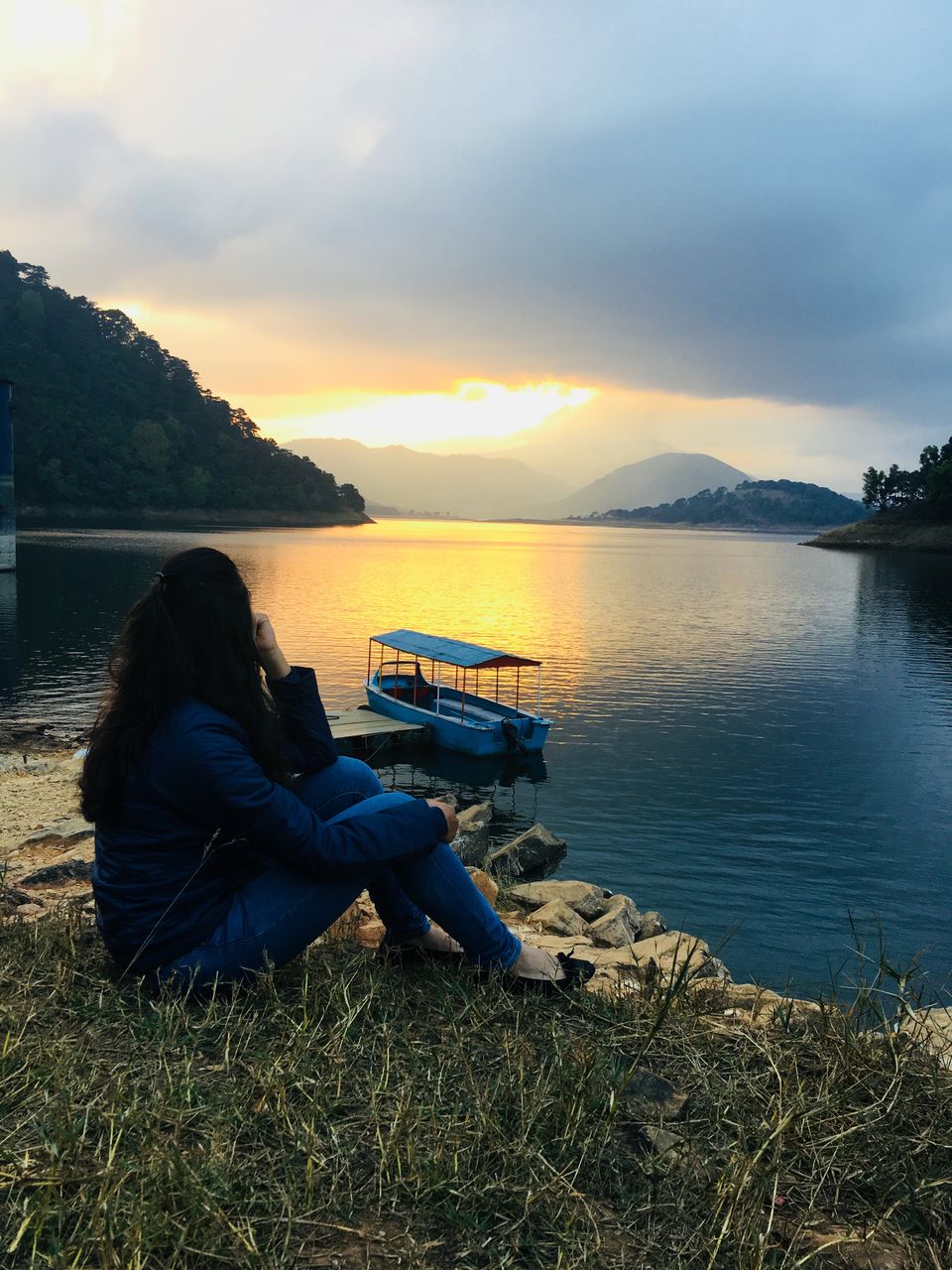 "The mountains are calling me" is an emotion in itself. A lot of us, who love mountains more than beaches can relate to it. However, mountains and hill stations do not really scream parties and nightlife, like the beaches do. But that is where Shillong is so different and unique. You can find peace and tranquility in the mornings and can go absolutely crazy and party like there is no tomorrow at night (or day).
If you are planning a trip to Meghalaya, do reserve two-three days just for Shillong and try to reach there on a Thursday or Friday to experience the nightlife, which is much more active on the weekend.
You can either follow this itinerary or you can include these places in your plans, whichever suits you more. However, I would definitely recommend not missing out on these places, to really experience the vibe of Shillong.
Transportation from Shillong city won't be a hassle for these places, however, you can also book a taxi for your whole stay as a package, which comes out to be cheaper and is much more comfortable as you wouldn't have to haggle with taxi drivers every now and then.
Day 1
08 A.M. - WATER FOR THE SOUL
Leave from Guwahati for Shillong by 8 a.m., so that you have the whole day to explore and roam around different places. The first place that you should be visiting is a beautiful lake which is situated in-between Guwahati and Shillong, known as The Umiam Lake.
The Umiam lake, popularly known as the Barapani Lake is situated 15 km from Shillong and is one of the biggest artificial lakes in the country. It covers a total area of 220 sq km and was created when the Umiam river was dammed to store water for hydroelectric power generation.
According to a belief, this lake is related to the heaven. Legend suggests that the lake is formed out of the tears of the deity.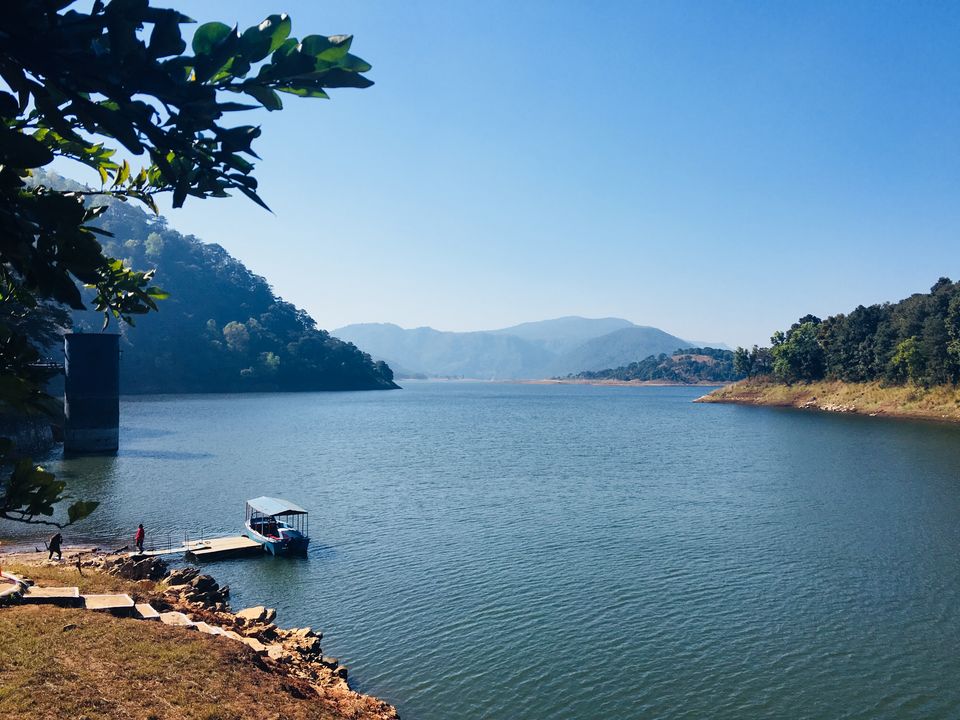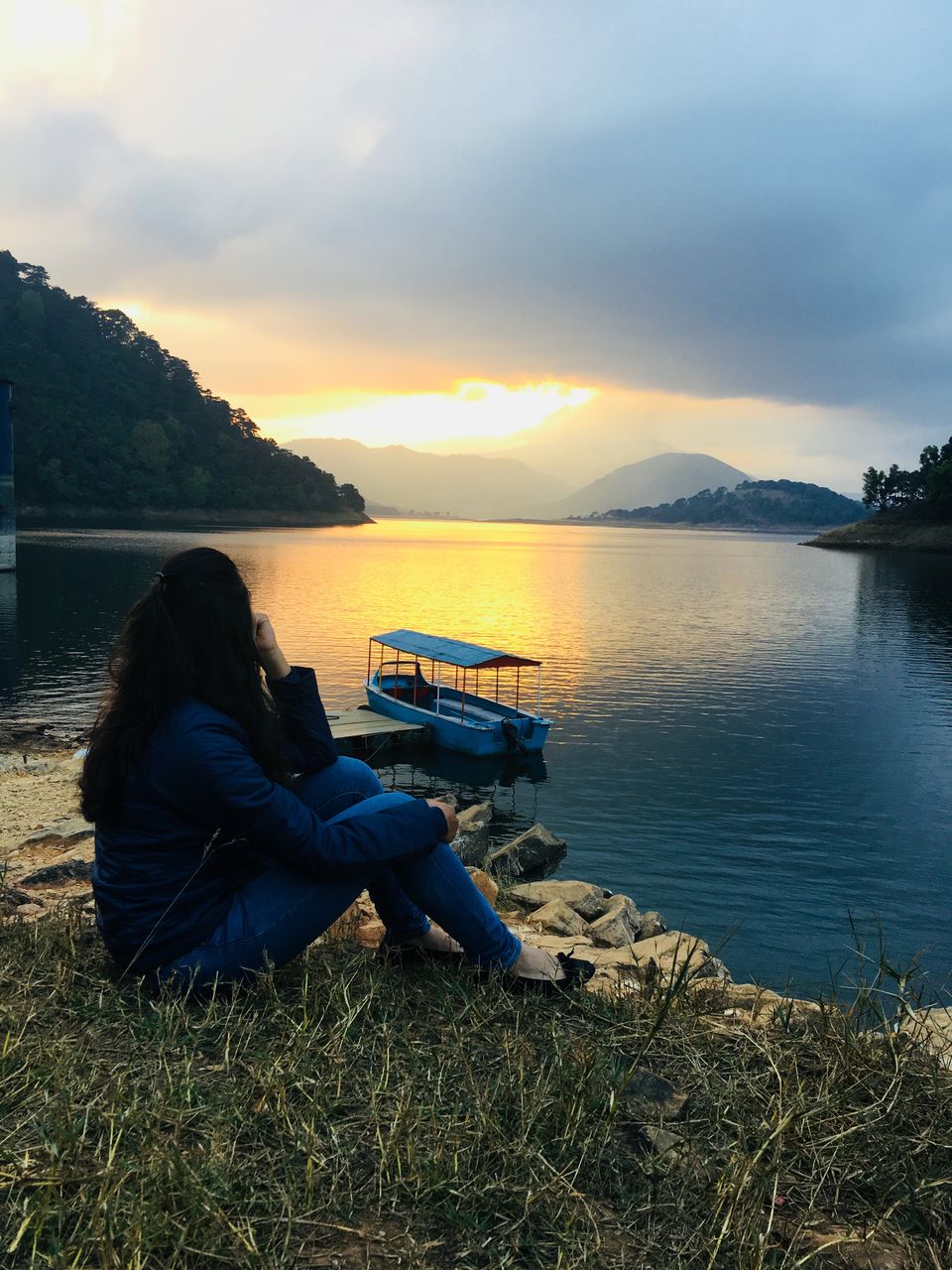 The lake provides a wide choice of water sport activities to the tourists like Kayaking, water cycling, scooting and boating. There is a water sports complex, which consists of Nehru park and Orchid Tourist Home, which you can visit if you are interested in these activities. It is also a great picnic spot with beautiful views all around. Spend around 2-3 hrs to soak in the beauty of this place and to have some fun in the water.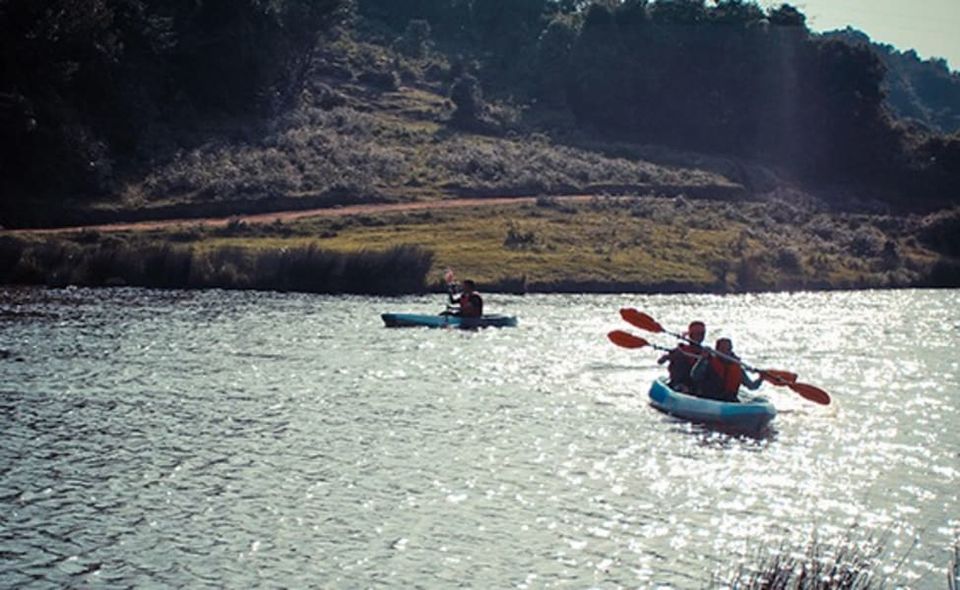 01 P.M. - GET SOME RESORT FEELS
You can head out to resorts like Ri-Kynjai Resort or Orchid Lake Resort for lunch and a majestic view of the Umiam. Personally I am in love with Ri-Kynjai, a Khasi inspired boutique property with one of the best ambience and location that any hotel provides in Shillong. Ri Kynjai's Northeastern restaurant, Sao Aiom offers a massive menu which is ranging from smoked pork with bamboo-shoot to rice fried in turmeric and the famous cherrapunji chicken cooked with freshly ground pepper.
This place also provides a beautiful and comfortable stay and the location is completely majestic which can be the perfect start to your Shillong Sojourn. However, I would advice that you come a day prior or keep an extra day if you wish to spend a night at overlooking the Barapani.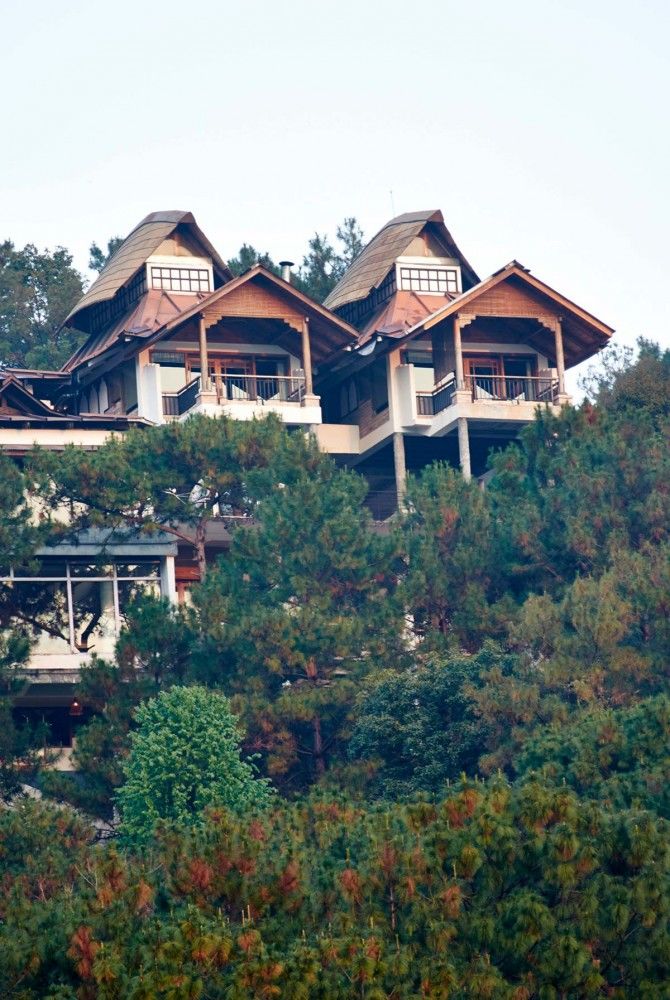 The rooms at both, Ri-Kynjai and Orchid resort is a little pricey but then, the location of the resort is its biggest asset and they provide all the modern amenities without compromising on the feel of royalty and tranquility.
The Barapani lake also offers the experience of spending a night in a beautifully done boathouse, anchored to a secluded island, viewing the mighty Umiam lake. You can enjoy the warm hospitality of the Naga-Khasi family, living in the island with no other human habitation.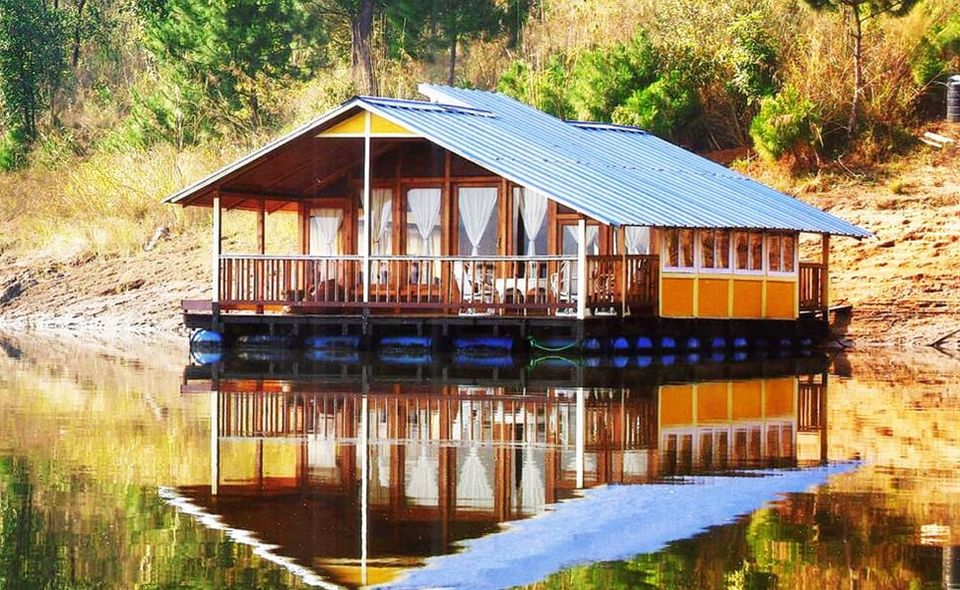 Once you are done with your lunch, head for Shillong City, settle in your hotel or homestay, whichever you have booked. I would not recommend any hotels in this article because it totally depends on your budget, but it would be better if you try and find a stay around the main markets like Police Bazaar (PB) or Laitmukrah as it is easier to find transportation from these places and also, most of the cafes and restaurants will be at a walking distance from your stay.
07 P.M. - TASTE THE ROYALTY
Perched on the crest of a hill is the luxurious Royal Heritage Tripura Castle (formerly the summer villa of the maharajas of Tripura, now a grand hotel) is home to Café Shillong Heritage.
You also have the The Heritage Wing Mezzanine Bar with its elegant wood panelled bar and adjoining is a pool table and a private dining room. This is the perfect place to enjoy your drinks, play a leisurely game of pool and unwind after along day of travelling. The Bar is open till 10:30 p.m., and entry isn't allowed to people below the age of 21 years (so you better carry your ID *wink-wink*).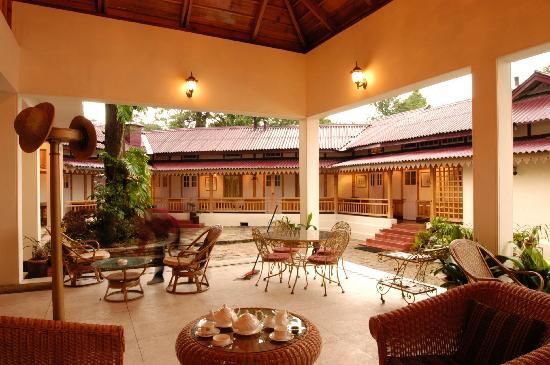 The restaurant serves Chinese, Indian, Asian, International cuisine. It is majorly famous for it's momos, pork roast and spare ribs, but also serves good vegetarian food. This place is an experience in itself, and totally deserves to be reserved for your dinner date-night!
Day 2
09 A.M. - ROMANCE THE CANYON - SMIT VALLEY (LAITLUM CANYON)
Laitlum translates to 'end of hills' and this beautiful hilltop is true to it's name. One of the most amazing and picturesque tourist destinations, and is a spot from where the vast, verdant and fascinating panorama of Meghalaya could be viewed and admired.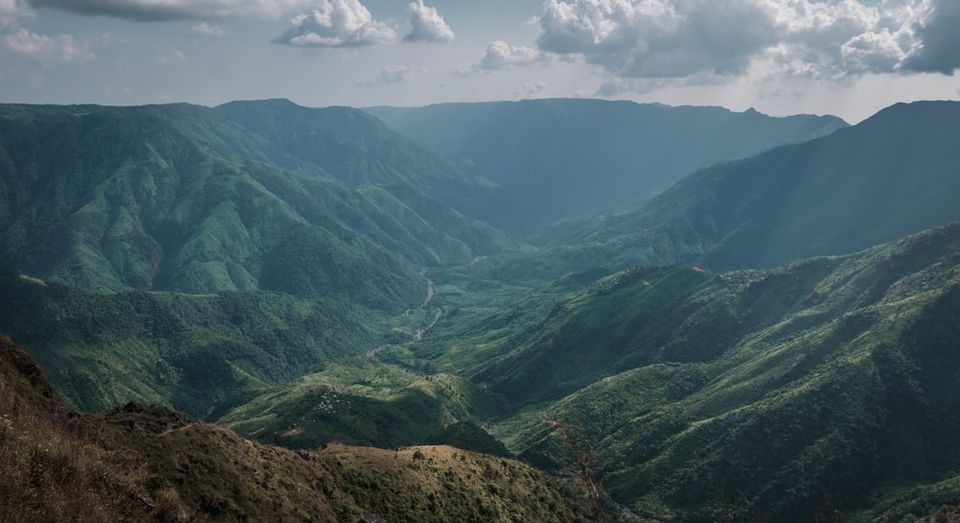 It is about 23 km from the city and the drive takes about 45 mins if you do not encounter very heavy traffic on the way. The view point is open from 6am till 5pm, however, it is advisable to visit the canyons in the morning to really get enough time to admire the view, enjoy the freshness and beauty of this place and obviously, to take beautiful photographs because generally, it is completely blanketed in fog by the afternoon. There is no entry fee but you do have a very nominal parking fees. Like many other tourist attractions, Laitlum also offers small tea and maggi points and there is nothing better than taking your Cup noodles and enjoying them while you sit at the edge of the hills and enjoy this majestic view.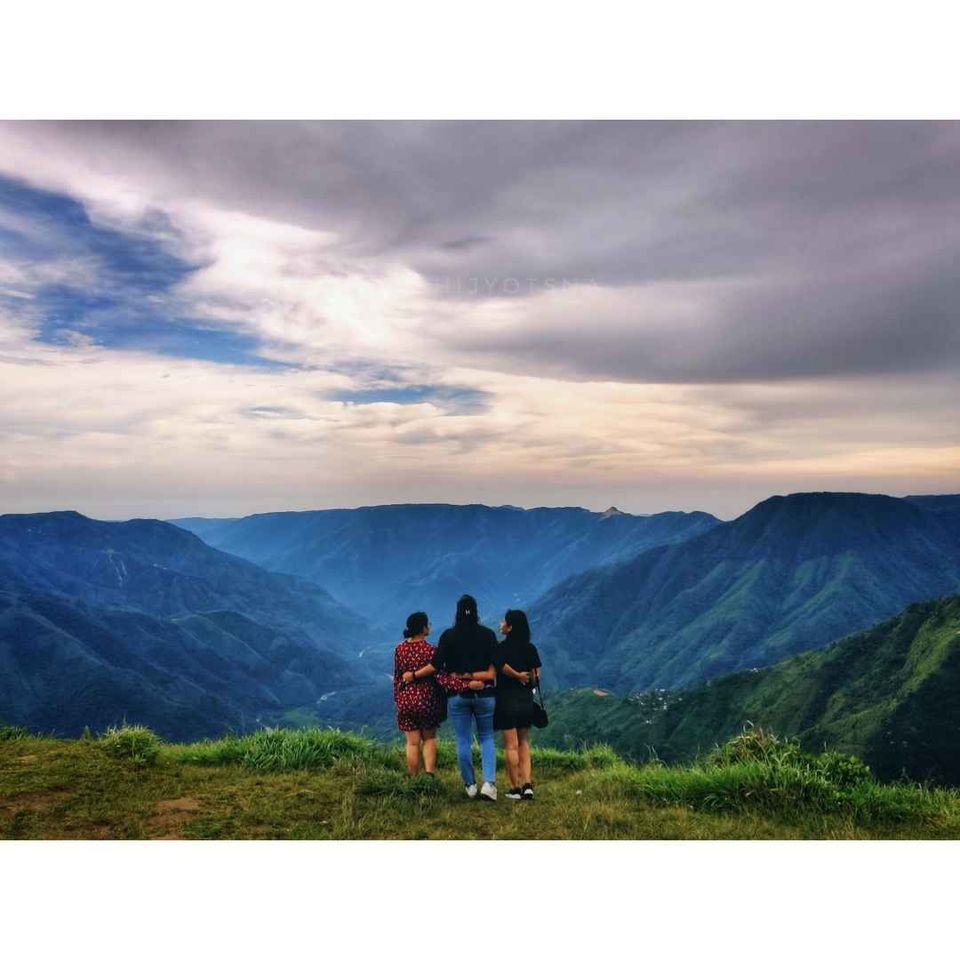 From the top of Laitlum Canyon, you can see Rasong, a small village nestled deep in the lush green ridges of the Laitlum gorge. The Khasi tribe settled here, literally live on the edge of the cliff. The beautiful long rocky trail of around 3000 steps to Rasong is a trekker's paradise. The terrain is a bit difficult to navigate but it has some of the best views in the world and the freshest air one can breathe.
The song, Beautiful Life by Now United, for the most part of it has been shot in this location. You can check it out on Youtube.
01 P.M. - TASTE THE LOCAL FLAVOURS
Once you are done with the adventures of the morning, head out to the city to experience the local cuisine. All the restaurants mentioned below are in the vicinity of Laitmukrah market, so you can even look around and see what you like.
Cafe Shillong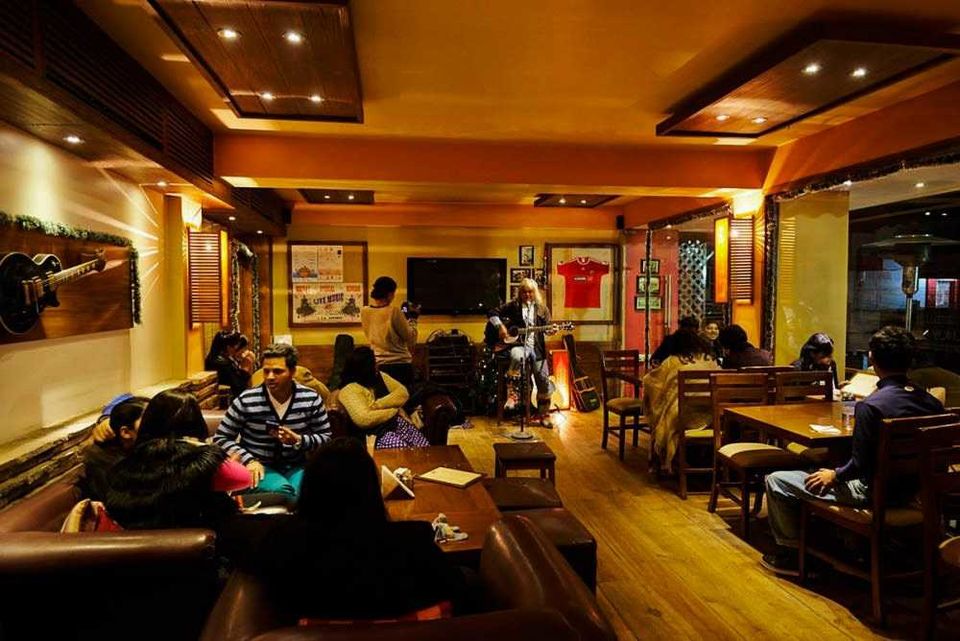 This is one of the best places for some some laid-back indulgence and some divine food. If you're lucky enough, you might also catch a live music session in the cafe. It is one of the best places for Indo-Chinese and Indo-Continental Pork specialities in Shillong. One of it's specialities, khauswey comes on a huge wooden tray, with its accompaniments in tiny glass bowls - chopped boiled eggs, dried prawns, soya and chilli, spring onions and lemon.
Jadoh
One of the best and cheapest places to eat in Shillong is Jadoh where you can enjoy the authentic Khasi cuisine which includes rice, pork, beef, chutney, daal, etc. Jadoh's smoky meat curries are also very popular and so are its combo meals serving rice, salad, meat curry, chutney and vegetable. It is super cheap and would cost you a max of Rs 200 per person, even if you hog like crazy.
Phunga Manipuri Restaurant
Another amazing place, where you can get authentic North East Indian dishes is Phunga Manipuri Restaurant. The entire place is decorated with accessories like drums, bow and arrow, paintings, etc. and it actually takes you to Manipur with it's ambience. You can choose from Manipuri, Arunachal, Assamese, Khaasi, etc. cuisines and can have a delicious authentic meal.
04 P.M. - SHOP LIKE A LOCAL
The two of the major landmarks of the city are the Police bazaar, popularly known as PB and the Lewduh market, also know as Bara Bazaar.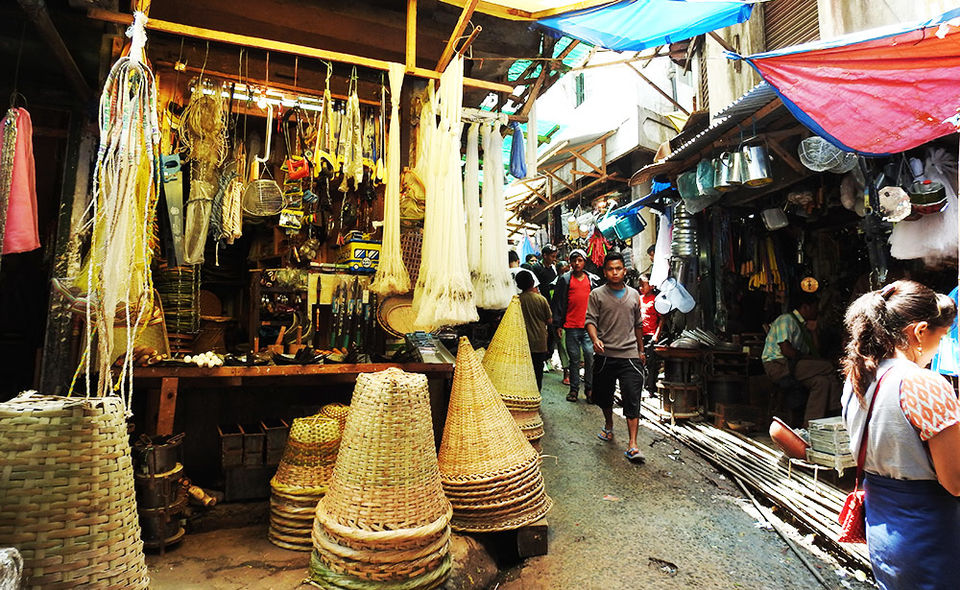 The Bara Bazaar enjoys the reputation of being the oldest and largest traditional market of Meghalaya. It is mostly a wholesale market with narrow alleys, small shops selling spices, traditional handicraft, different kinds of meat and what not. It is one of the rare markets where you will find most of the shops being run and managed by women, thanks to the matriarchal society of Meghalaya. This market is a little claustrophobic and quite difficult to navigate, so keep your friends close, or you may end up wasting time in finding each other for the most part of it.
Police Bazaar is just walking distance from Bara Bazaar and is more of a mix of the modern and traditional. The most popular shopping outlets are Meghalaya Handlooms & Handicraft, Assam Emporium, Khadi Gram Udyog, Glory's Plaza, OB Shopping Mall and Grand Bazaar. Artifacts made of bamboo and cane are found in abundance here along with cotton and silk products.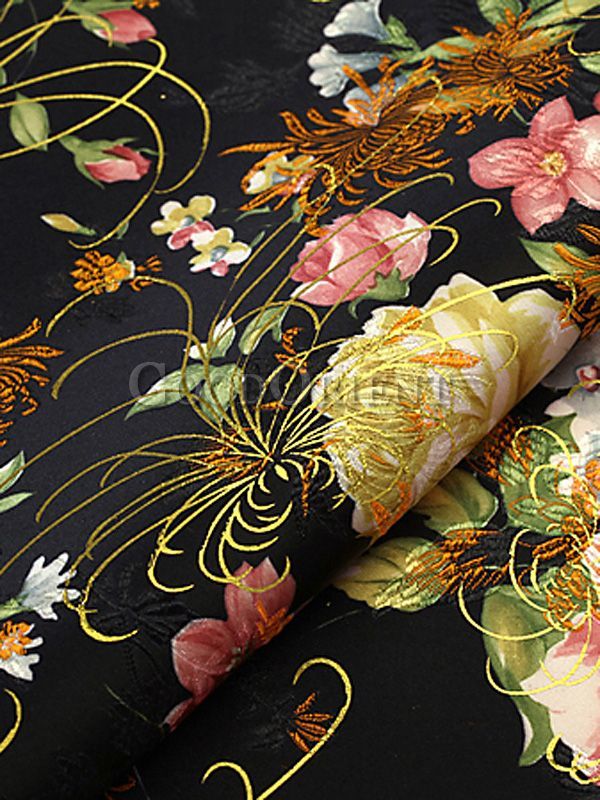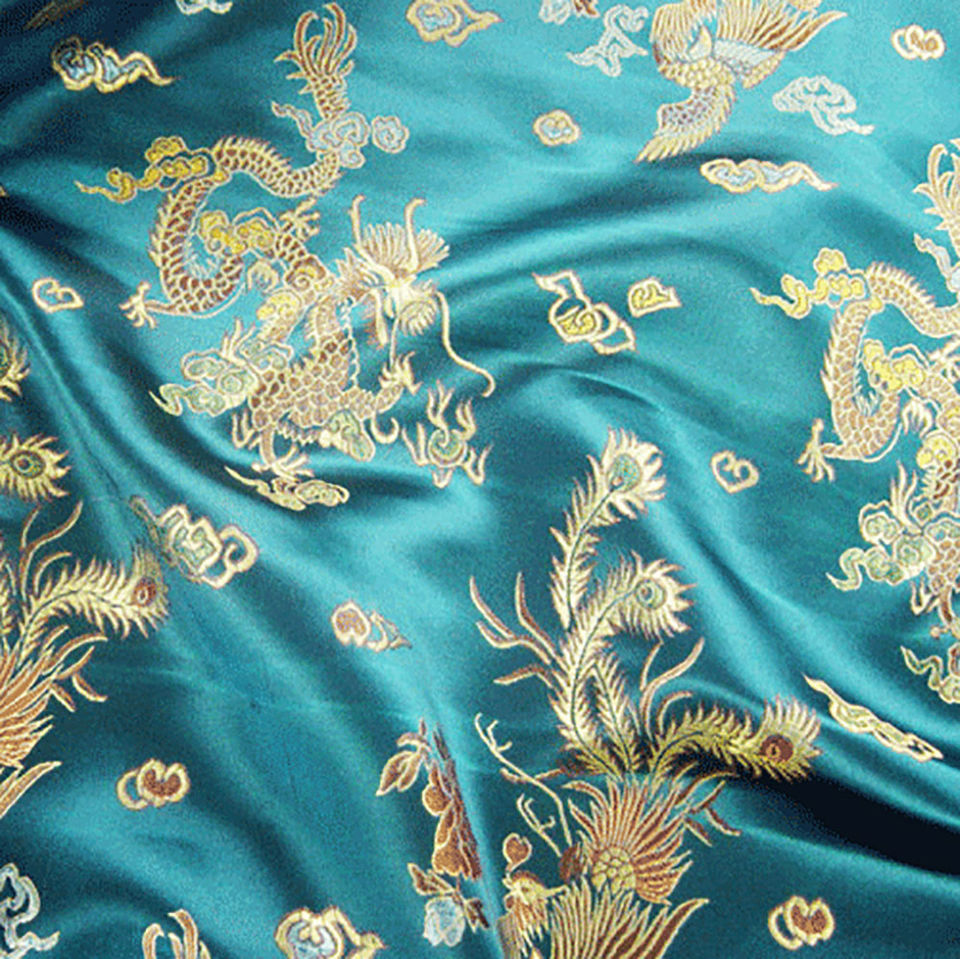 One of my biggest recommendation when it comes to shopping would buying the Chinese Brocade fabric from an outlet in PB, Hanuman Baksh. You wouldn't find such high quality brocade anywhere else and at such reasonable rates. Buy the fabric, and be creative after that. It can be sewn into beautiful dresses, cushion covers and so much more.
08 P.M. - MUSIC LOVERS PARADISE
"There is only one thing better than music - Live music!" And there is no better place than Shillong to experience this. I'll recommend the three best places which have live music sessions on most weekends and you can decide which one to visit based on the event that is taking place at that point of time.
The Evening Club
This club was first established in 1958 and then reopened in 2018. It is inspired a little by the Hard Rock Cafe theme and is more of performance venue for live music. Honestly, it's my personal favourite as the drinks and food are great, the ambience has this classy vibe feel and the whole place just screams it's love for music.
Poinisuk Hotel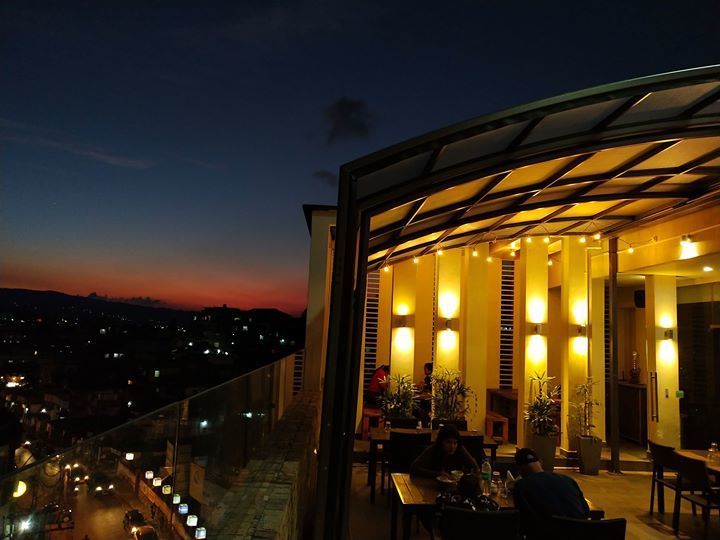 A rooftop restaurant and bar overlooking the market of Laitmukrah, and some really good live music - what else do you need on a weekend. This place is always bustling with great hip crowd on the weekend and there is always some or the other music event going on. On some days you have karaoke and some days you will be tapping your foot to some great country music. Do check in advance by calling the hotel if they have any event for the night and, if you do visit this place, do not forget to try the 'Death by Chocolate' dessert. That maybe is one of the best way to end your Friday night!
Deja Vu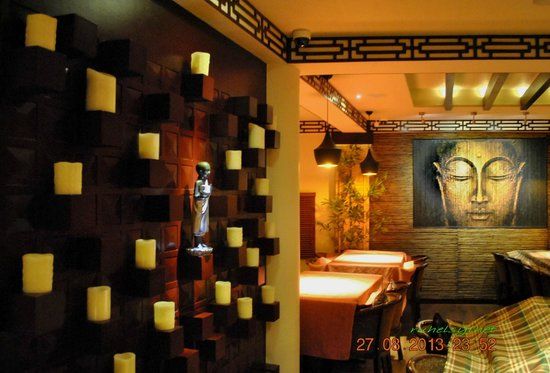 If you love Cantonese food, then this is the place for you. The restaurant has a bar and the alcohol list is extensive with local, national and international wines, coolers, aperitifs, liquors and beers. Local musicians come to Déjà Vu to perform from time to time, specially on the weekends. So, when you visit this place, sit back in a beautifully decorated restaurant reading your chinese horoscope (present on the table mats) and put in a request for your favourite song, while you wait for some mouth watering food!
Day 3
08 A.M. - TAKE IN THE VIEW (SHILLONG VIEW POINT)
Placed at an altitude of 6,450 ft, Shillong Peak is the highest peak in Meghalaya. According to historians, Shillong is named after this hill. As per the locals, the patron deity 'Leishyllong' resided at the hill and protected the city against all evils. The peak offers an enchanting view of the entire Shillong city.
The view point is open from 09 a.m. till 3;30 p.m. and you also need to carry an ID which validates that you are a resident of India, since you will be passing through the military area to get to the peak. For the same reason, foreigners are not allowed to the view point.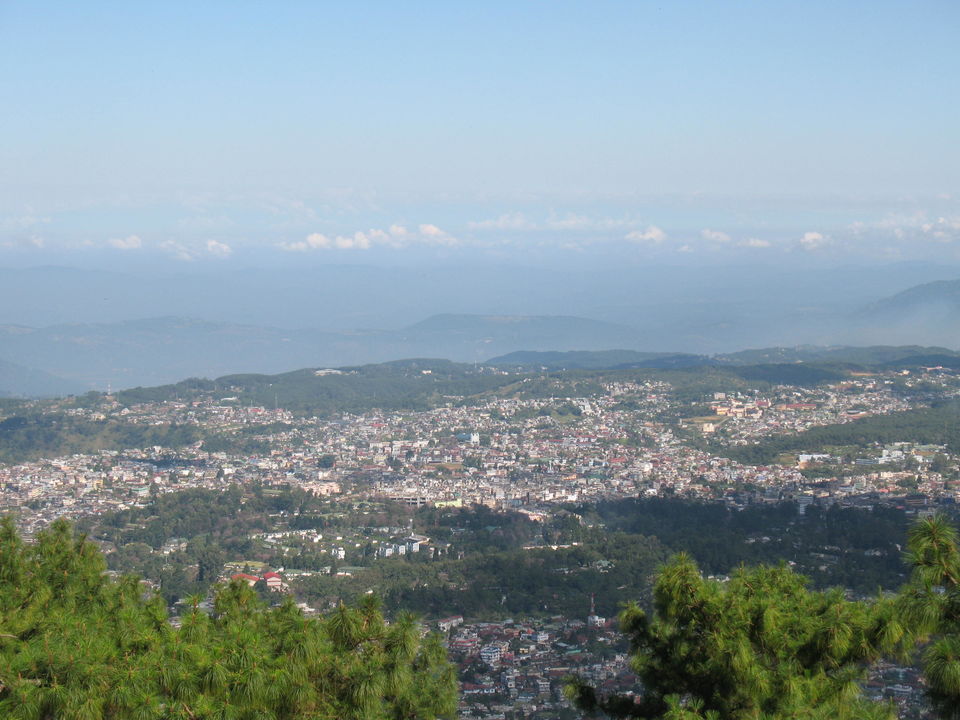 The view point is around 30 mins from the city and since you have to gain entry into the military area, reserve some extra time for that.
There are a couple of shops at the view point and you can also consider donning a traditional dress worn by the Khasi, Garo and Jaintia tribes at a nominal fee and get some priceless memories!!
10 A.M. - LET IT FLOW (ELEPHANT FALLS)
Elephant Falls was the British name of what the local Khasi people once referred to as Ka Kshaid Lai Pateng Khohsiew (or "Three Steps Waterfalls") since the falls actually consist of three sections in succession. The Britishers named this fall so owing to the presence of an elephant-shaped rock on one side of the fall. However, the stone disintegrated and was washed away due to an earthquake in 1897.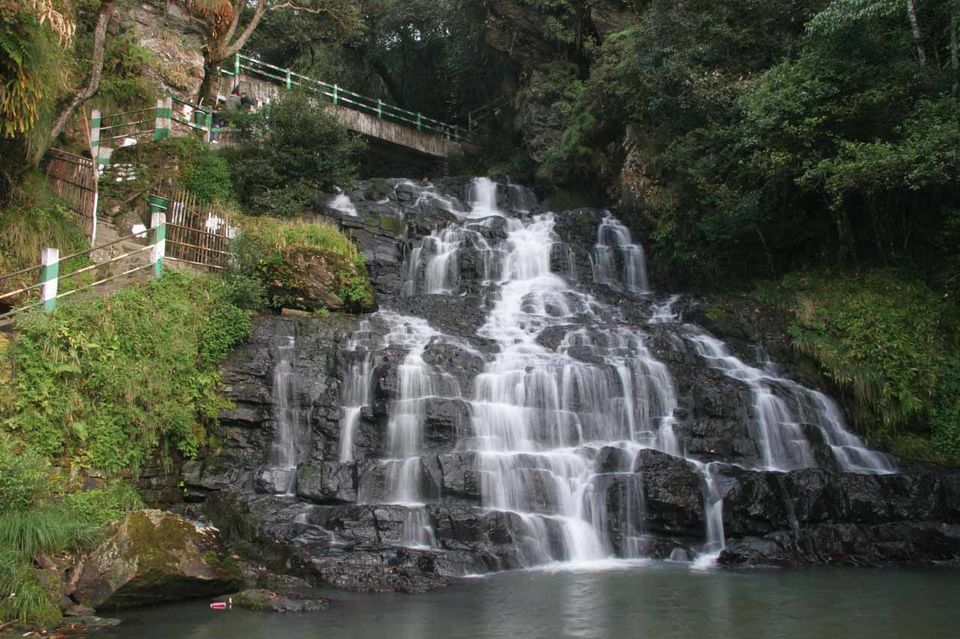 The best part about the falls is that you can get very close to water and even step into the pool at bottom most tier, plus the water is clear and it's surrounded by lush greenery, making it an idle spot for taking beautiful pictures.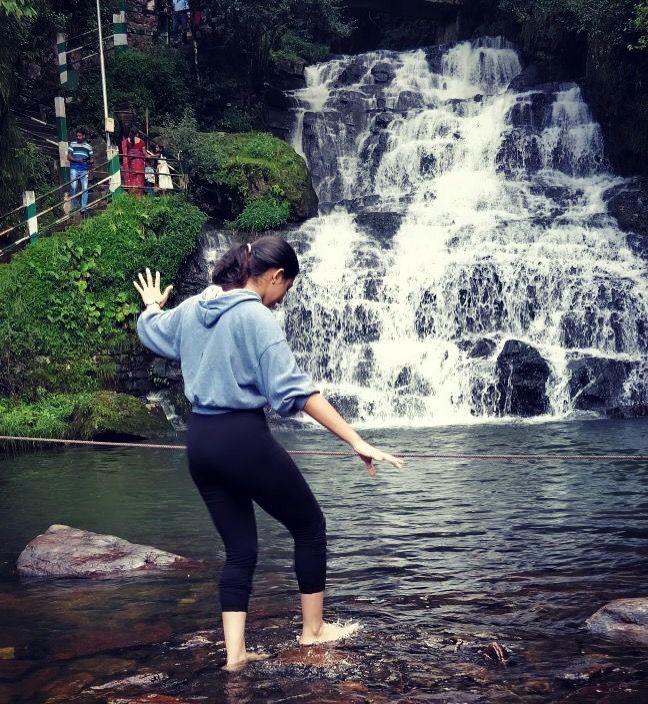 The falls are open from 10 a.m. till 6 p.m. and reaching the third tier of the falls, which by the way are the most impressive takes walking down a large flight of stairs and hence, I wouldn't recommend it for seniors who have a difficulty in walking. Also, the stairs can be a little slippery, so wear some comfortable footwear, like sneakers or sport shoes.
01 P.M. - TEA GARDENS AND LUNCHING (ML05 CAFE/ MEG ESTATE)
The ML05 cafe is around 5 km from the Elephant falls which saves up on quite a lot of time. It is a new concept cafe in Upper Shillong that celebrates cars, bikes, and food right beside a pine forest, tastefully designed to muse over a motor head's passion for the road and love for bikes. The road that leads to the cafe is gorgeous with tall coniferous trees and the cafe itself is a bungalow that offers a beautiful view. A delicious meal for two would cost approximately Rs 1000-1200.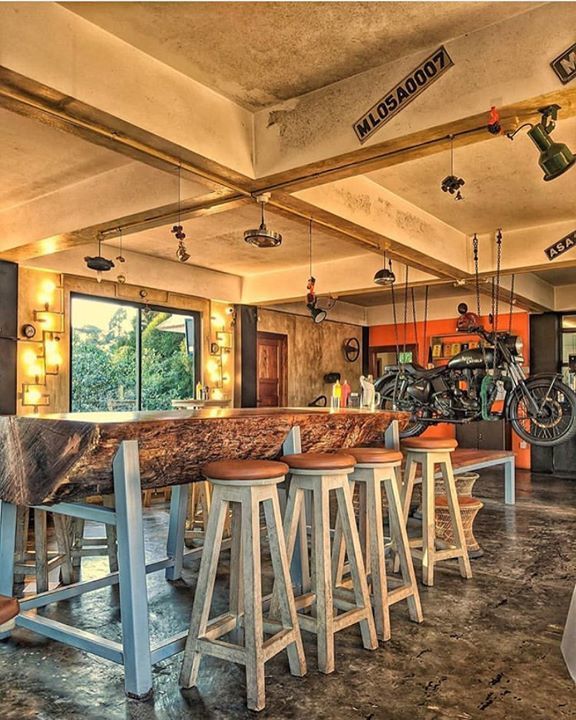 Once you are done with lunch, the Meg Tea Estate is just next to ML05 and you can visit it to buy some superior quality tea. Meghalaya agriculture department launched Meg Tea in the year 2014. Their tea is organic certified and is one of the highest suppliers of black tea, green tea, and Oolong tea from Meghalaya. You can also check with the manager if they are giving out a tour of the estate and can explore the tea gardens a bit.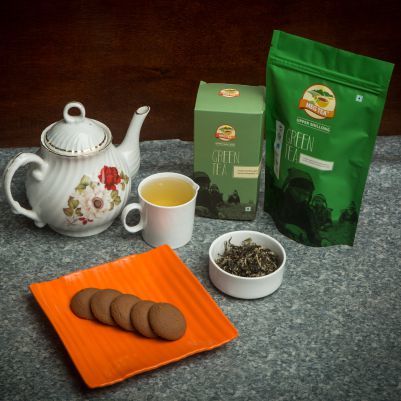 03 P.M. - INTO THE FOREST (SACRED/MAWPHLANG FOREST)
This place has total 'Amazon Forest' feels to it. It is one of the destinations that you definitely shouldn't miss if you come to Shillong, especially because you wouldn't really experience anything like this anywhere else.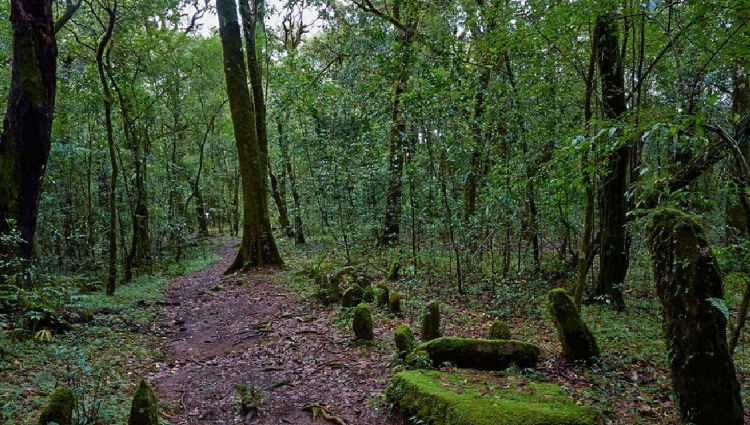 It is one of the most sacred places for the Khasi people, who used to worship Mother Nature (still do), and is guarded by one strict rule – 'NOTHING is allowed to be taken out of this Sacred Grove. Not even a leaf, stone or a dead log'.
The entry into the Sacred forest in no less like a tunnel formed by the trees and branches, and once you are inside, you will be left bewildered. There is anetwork of trees and plants – some of which are said to be over 1,000-years-old, and some of them claim to possess great medicinal properties, including the ability to cure tuberculosis and cancer. As you move inside the forest, you will see monoliths, which represent places of sacrifice. The tribe here used to sacrifice cocks, lambs, etc to pay homage to their deity.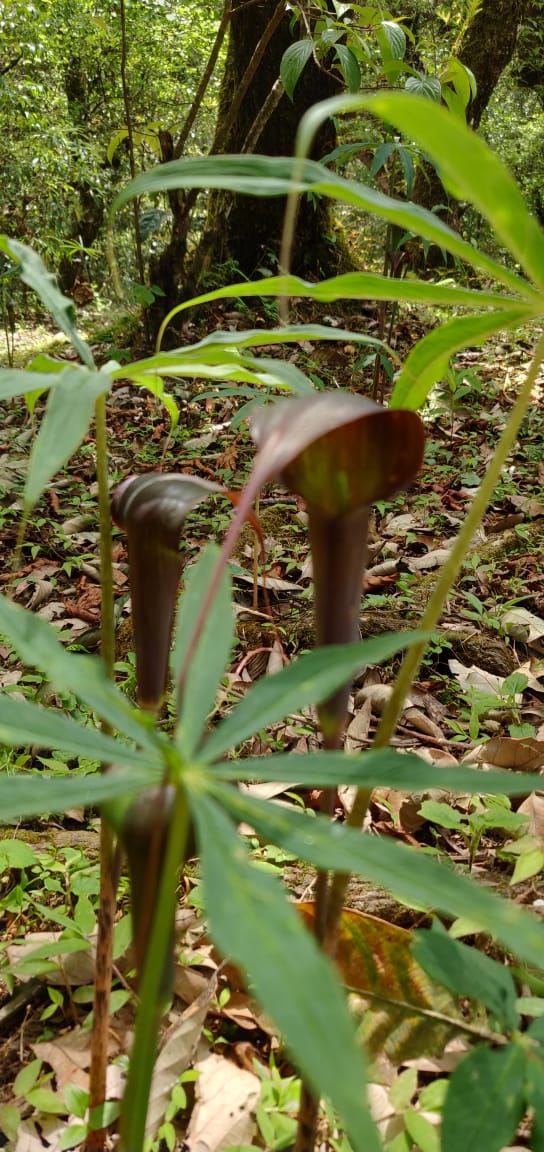 The Mawphlang Sacred Forest is open every day, from 9:00am until 4:30pm. You cannot go inside without a guide, which is mainly because the forest is really big and there are chances that you might even get lost. For a guided tour, the fee is around INR 300 for one-hour, and it includes an English-speaking Khasi guide. The guides are well trained and you can totally trust them to click some amazingly creative photos of you and you family.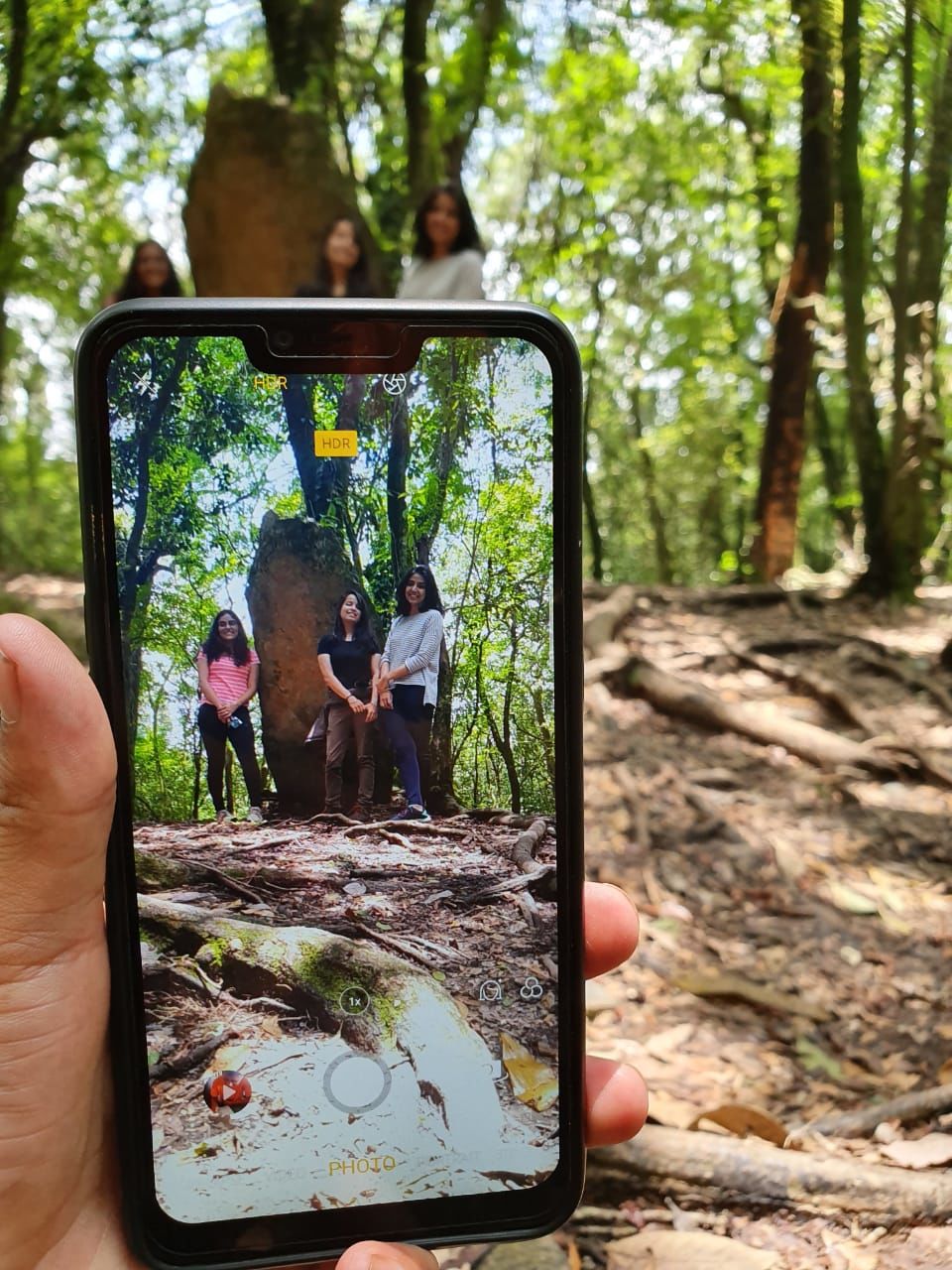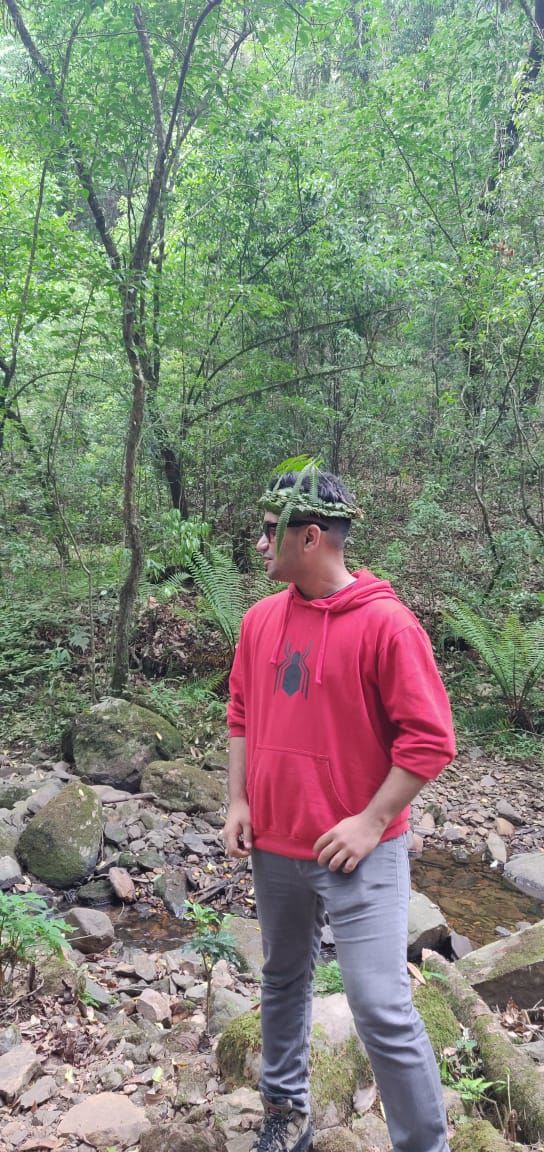 08 P.M. - DANCE LIKE NO ONE IS WATCHING
Shillong may be nestled in the hills, but its nightlife is buzzing all through the year. There are plenty of pubs in Shillong where tourists and locals can hang out and party. For fun levels, you may find that Shillong can give any city a run for its money.
Most pubs in the city play English dance and rock music, both genres are very popular with the local crowd in Shillong. You won't find a lot of Bollywood music being played except on Bollywood nights at some of the clubs. The clubs usually shut early (by midnight), so be sure to head out around 7:30 pm or 8:00 pm or your night may be too short.
Cloud 9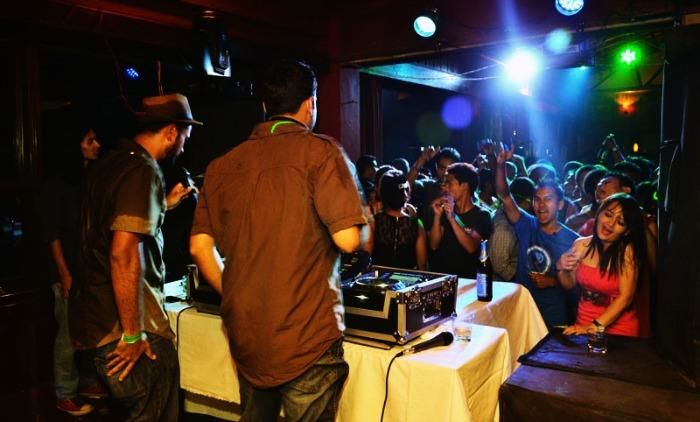 Cloud 9 is an iconic nightclub in Shillong and has been open for business for over a decade. The club is famous for its ambience and pan-Asian food. It is also well known for hosting special theme nights and performances. DJs and musicians from all over India are flown into Cloud 9 to perform regularly here.
Tango RestoBar and Lounge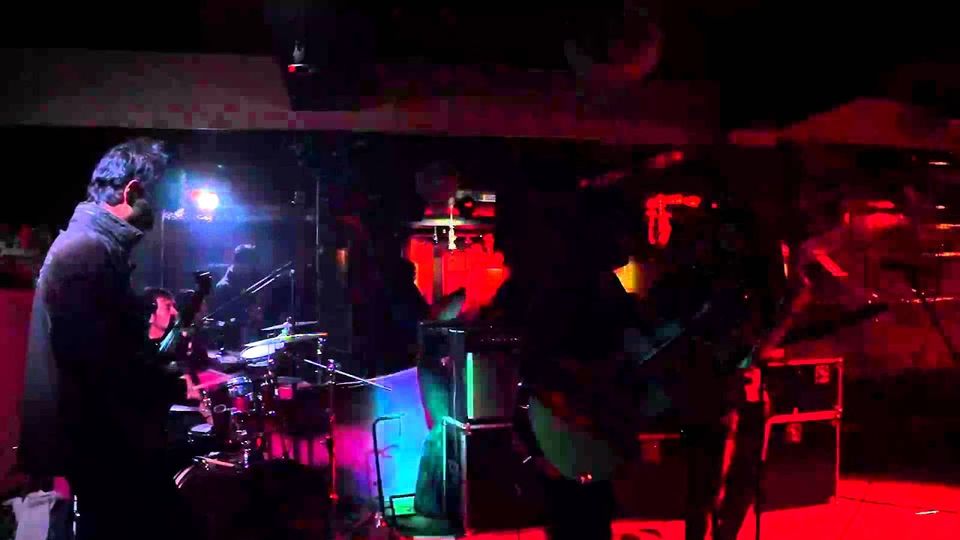 Part bar, part discotheque, Tango is the place for groups that can't decide between the two. The nightclub/pub is well-known for hosting some of the best live events and parties in Shillong.
Polo Irish Pub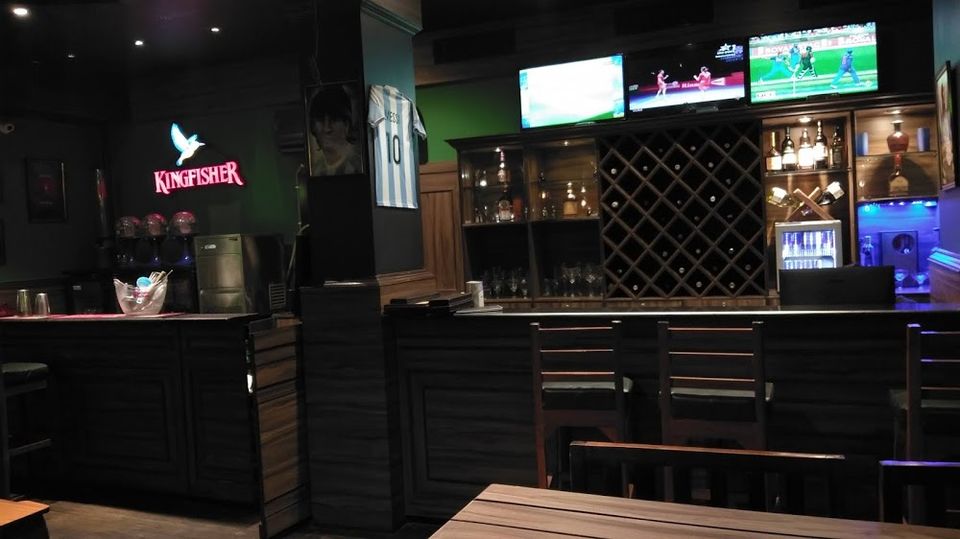 The pub is ideal for those who like to let down their hair and party the evening away. It serves some really delicious bar snacks and has a variety of both international as well as domestic spirits.
The only downside to this place is that it is a little far from the main market, close to the Polo grounds, so you will have to book a taxi for your return beforehand.
There can't be a more rocking end to a trip than spending your evening dancing away before you move and explore the rest of Meghalaya, which will amaze you even more. SO ENJOY!!