Goalpara, the current 'dark horse' of 'Assam Tourism'.
While entering the town, you will find a hoarding banner as,"Welcome to the land of Sal Trees and the Majestic Elephants" which is enough to introduce this growing town nearer to Assam-Meghalaya border.
Travellers visiting Guwahati generally shift their road to Shillong or Kaziranga National Park for vacation. But, for me, in a road-trip of only 3 hours from Guwahati, I found-out what I had been missing all those months.
A lesser-known nest, a drive of 145km away from Guwahati through the shades of Red Flamboyant trees, Goalpara is one of the naturally blessed places of Lower Assam. Those who have been to Assam, the northeastern part of India do know or might hear about this place. You might recall those ancient, lavishly scattered ruins of 'Sri Sri Surya Pahar'. But in this piece of writing, I am going to point out those four places which might make your holiday a perfect one while visiting 'Sri Sri Surya Pahar' in Goalpara.
1. A day to clean air: Rangsapara, a proposed 'Eco Village':
The Recipient of the award, 'The Cleanest Village in Assam' for 2016-17, 'Rangsapara' village has now become one of my favourite places to visit. The one-way route with road-side rubber plantations was just perfect for me to spare the afternoon. Well, at some points you could get some road-bumps yet, it worth it, the village worth it. Be it their landscape, environment, the village head, people or their reception; all were exceptional! People there- well you couldn't get over themselves. Each one of them grows plant nurseries at their own houses. Walking to their residence was like, someone just laid down a multi coloured carpet, I was the greatest celebrity of that hour to walk on it.
It is true. No-one is allowed to leave a single piece of plastic in that village. I did visit the place on a surprise note, but, then too, I could not find litter, garbage anywhere of it. The villagers did install as many as bamboo-made dustbins all the way. Such practices in a remote village like 'Rangsapara' are always welcome to teach some great lessons to our 'Modern Homes'.
2. Little hands and Rubber Plants: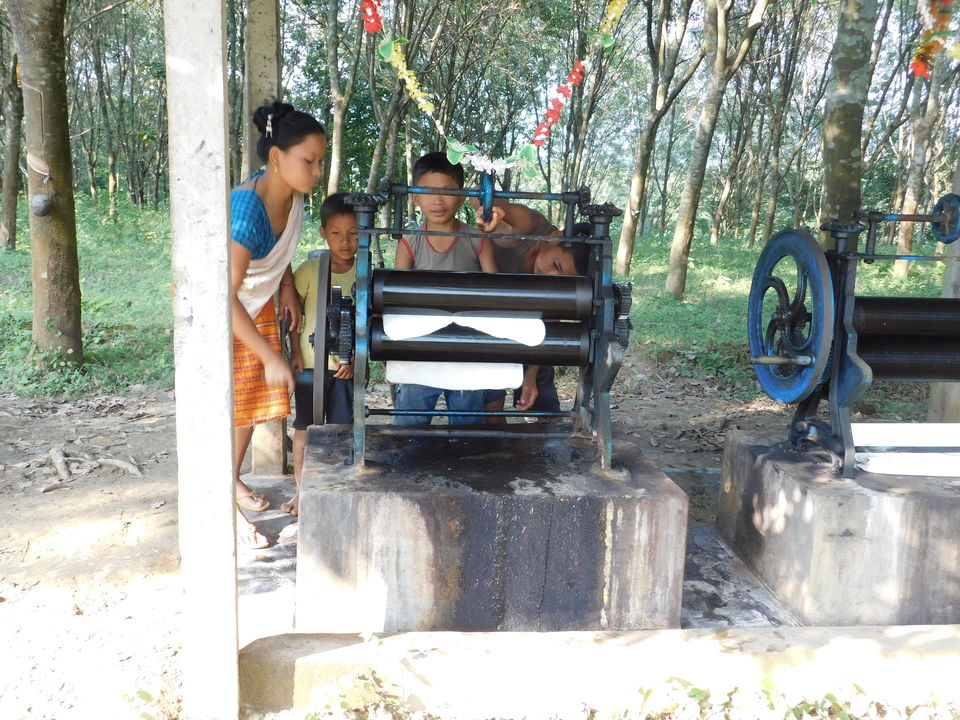 The more you go inside pristine villages of Goalpara, you would notice the lines of rubber plantation. As the sun started to play hide and seek with me, I walked through the rubber shades to inhale pure oxygen. I was excited when I saw four 'Garo' (tribal community in Assam) children were making rubbers after collecting 'latex' from the trees. The smiles on their face and constant hands with the wheels were amazing to experience. Seriously dude, the real beauty lies far away from city hustles.
3. Weave with the Assamese Mat (Paati) Craftwork: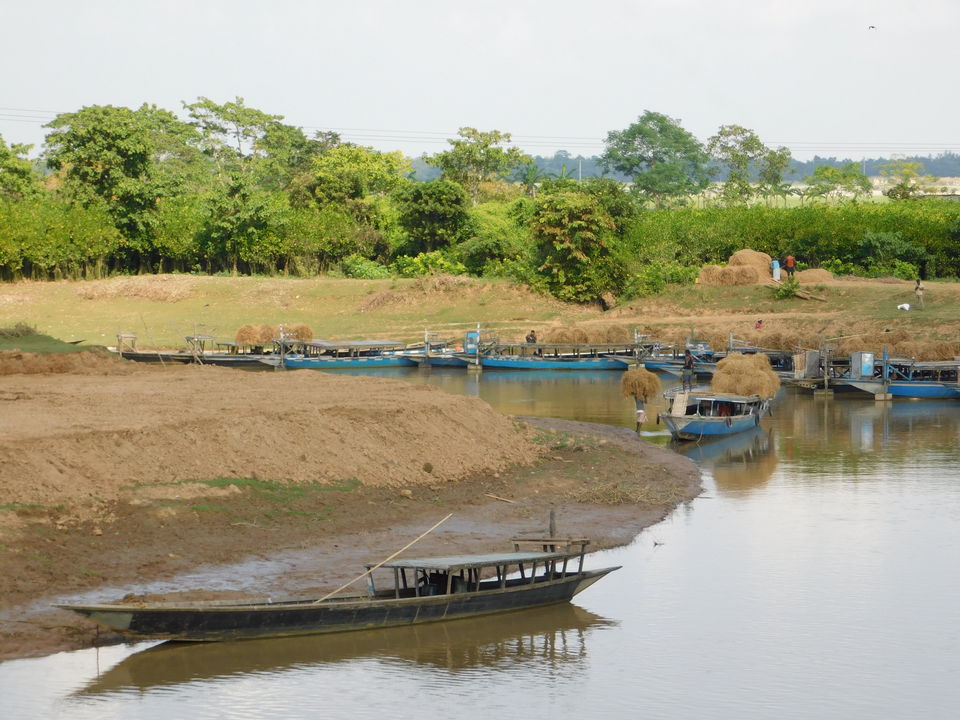 'Aladdin sat on his magic carpet and flew away…..' we generally picturise 'Aladdin' wherever we heard the term 'mat'. But, this time I want to make you all familiarize with the craftwork of traditional bed-mat in Eastern India and Bangladesh.
In Assam, it is called as 'Paati' locally. In Goalpara, most of the lands cultivated with the plant, 'Schumannianthus dichotomous' (Cool Plant), use for making these bed-mats. A large section of the people engages themselves in this traditional artisanship while earning their livelihood. On the way to 'Sri Sri Surya Pahar', you would find 'Cool Plants' loaded in countless boats and on the bank, you would find this craftwork in almost every households. I was amazed by their quick hand movements even when they were having a conversation with us! So raw and pleasing!
4. The Mighty Brahmaputra, fishing boats and life!
Crossing Naranarayan Setu (The Naranarayan Bridge) and witnessing the life in River Brahmaputra will forever hold a place in my heart. Sounds of motorboats in every 5 minutes, busiest eyes of those fishermen with their equally confusing fisher-nets or the sun preparing to go down…I can not describe these experiences in just an A4 size paper. I took four to five photographs with my 'Nikon Coolpix B500' but soon put that aside. I wanted to feel the flow of Luit (another name for the Brahmaputra), have the same confusing look of those fisher-nets or to be that distant bridge in-middle of sundown and life. If you are planning to be there, climb up to nearby 'Hulukunda Pahar' and listen to the poetry of sun-set. Refreshing!! Well, you can thank me later!
*****My Note:
I always fancy landscapes. Nature, the people, the art, everything in there does make me feel fresh. I get energy from there. Who says travelling is all about getting on a flight? Roaming in a Mercedes? Having dinner in a 5-star hotel? Or to shop in a metropolis? Try to spend one night in the house of a host, sit beside fire-beam, listen to their unheard stories, and laugh with their innocence. The real adventure lies in there.
Let's travel! Let's explore! Let's create love!