As we got down from the bus and walked towards the Bab Souk, we noticed a lot of hustle bustle at the main square. The vegetable market had been set-up and the locals were haggling for a fair bargain of groceries & fish. We dragged our tiny carry-on suitcases and meandered through vendors, people, cats and dogs at the main square and entered the Bab Souk - the main gate or entrance to the Medina. Suddenly, we could feel a sort of calmness building up, as if we were entering another world. There were a thousand shades of blue and white coloured traditional Moroccan houses with beautifully decorated doors along the narrow alleys..... Chefchaouen, was magical, to say the least.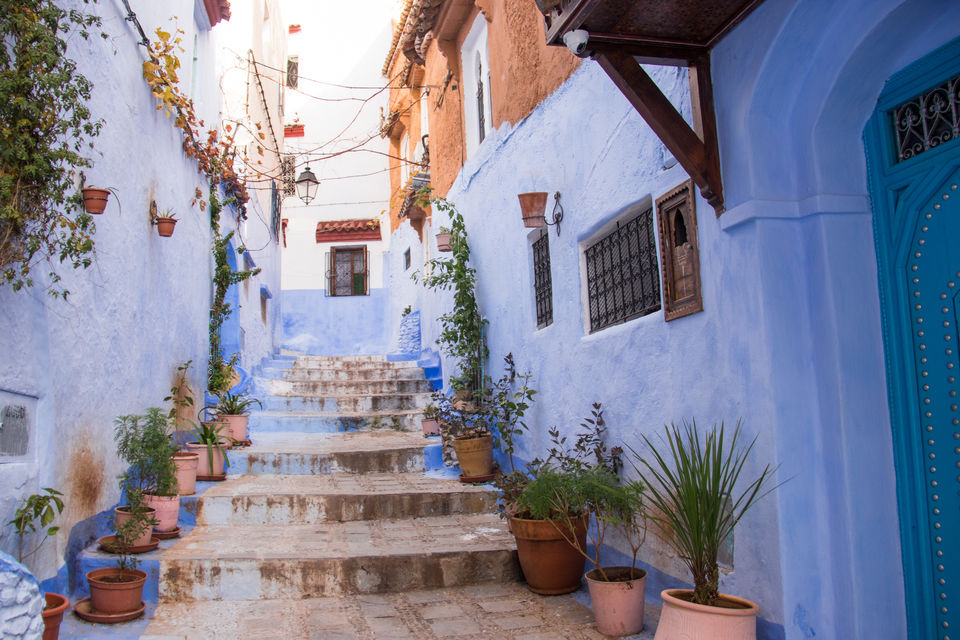 We reached Chefchaouen around noon, and directly headed to the Dar - a traditional home inside the Medina, where we had booked our stay. After the long journey, we were a bit tired but our excitement was high. The vibe of Chefchaouen had calmness written all over it and we decided to take it slow.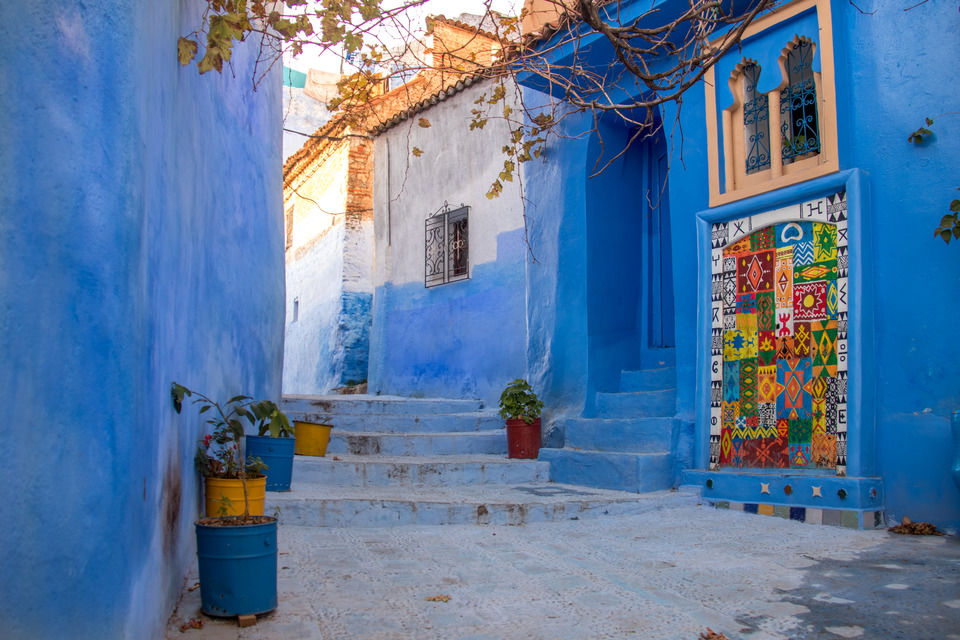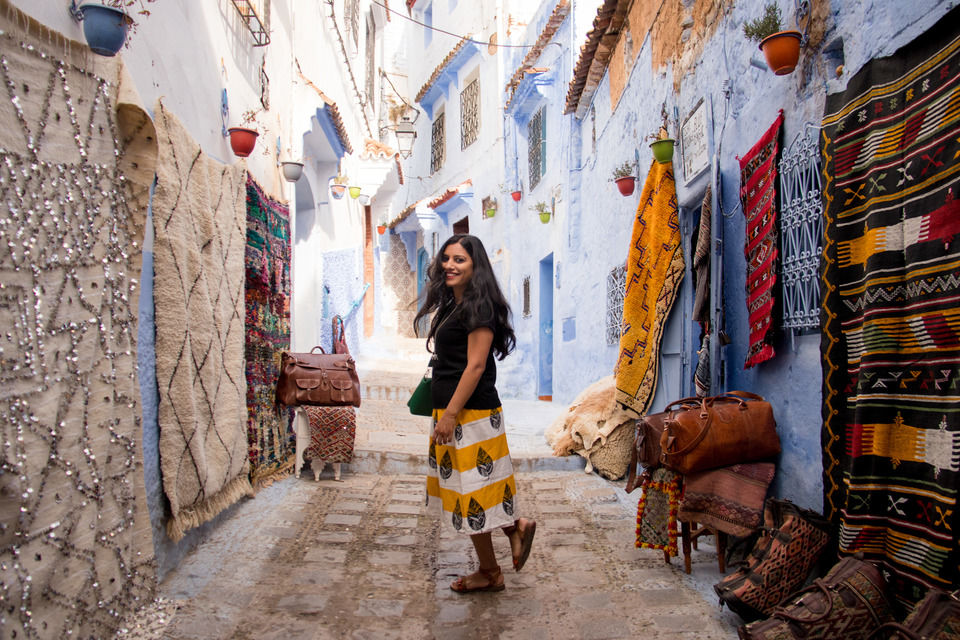 As we headed out for lunch, we noticed most of the restaurants were closed. After a bit of looking around, we ended up in a traditional Moroccan restaurant and had our lunch of Tagine and couscous. Post lunch, we got back to our room with full tummies, happy hearts and decided to rest for some time.
Also read: Complete itinerary for your trip to Marrakech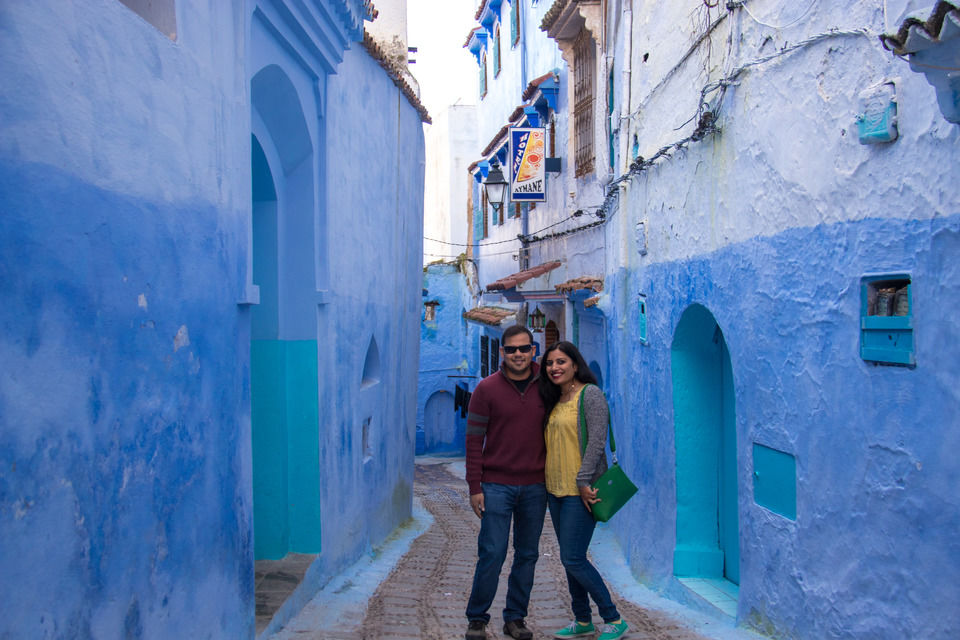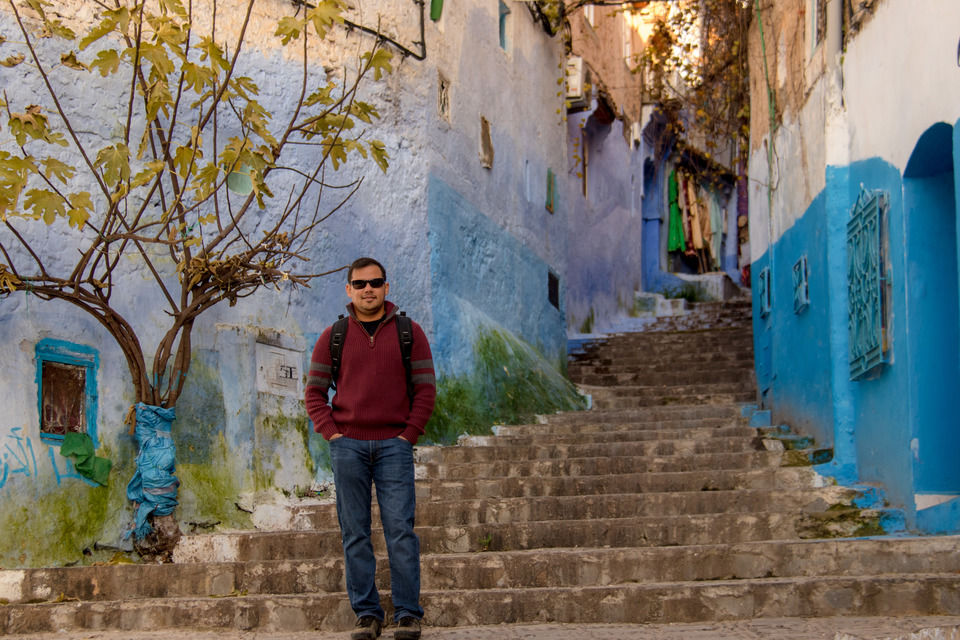 Later we decided to visit the Kasbah Museum (Ethnographic Museum), which displays pottery, embroidery, wooden caskets, arms and musical instruments from Chefchaouen region. The entry fee wasn't much and also gave access to the tower from where you can see the panoramic view of the city.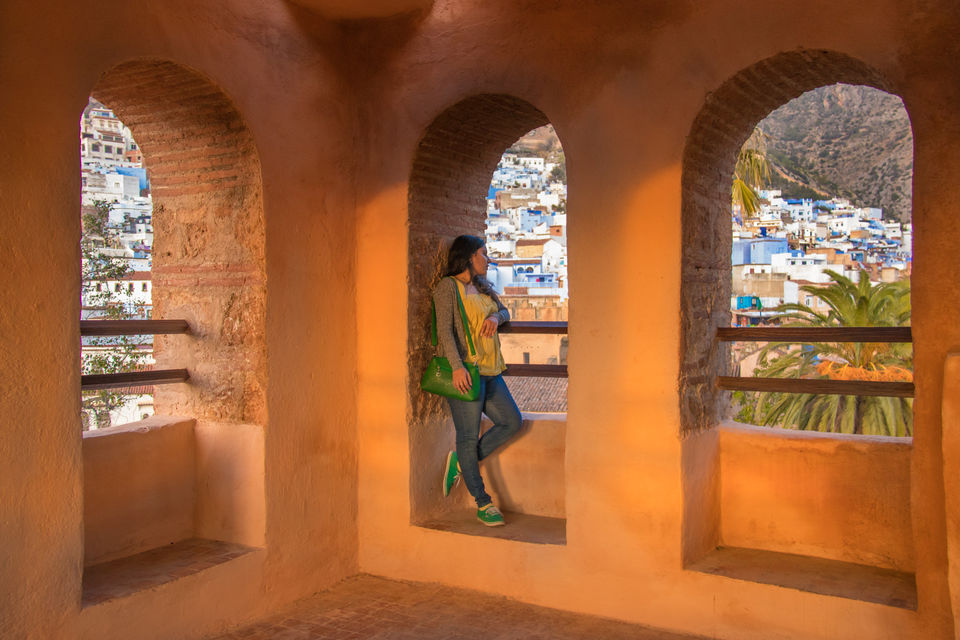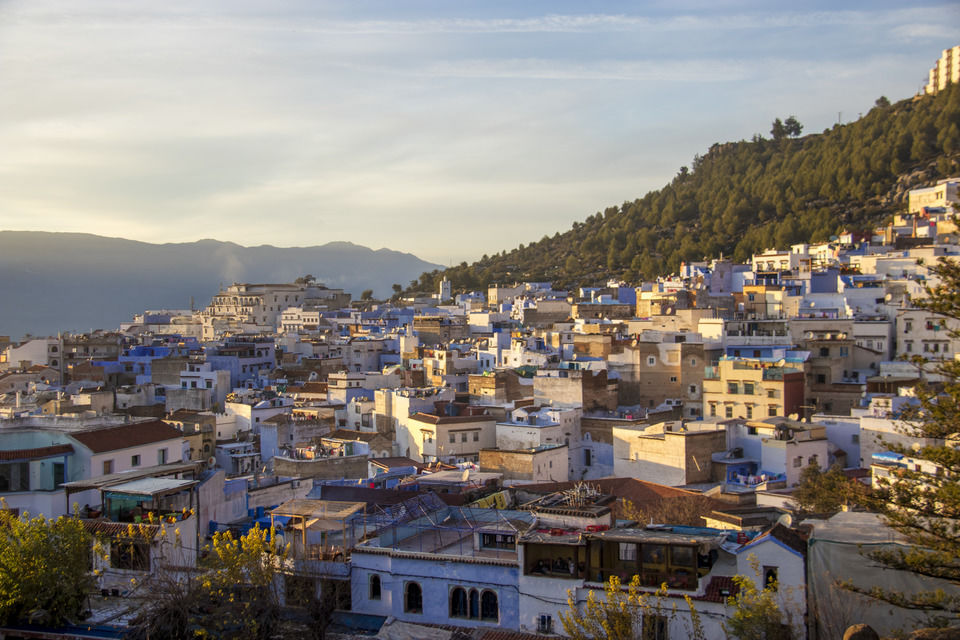 Chefchaouen is tiny, so we took our time to explore. We had planned to stay for two nights, which was good enough time to cover this beautiful place.
We started our day with a scrumptious breakfast of omelette, olives, and Moroccan delicacies to a gorgeous view of blue and white Moroccan houses along the Rif Mountains. The sun was shining bright and the warmth felt so good on our skin.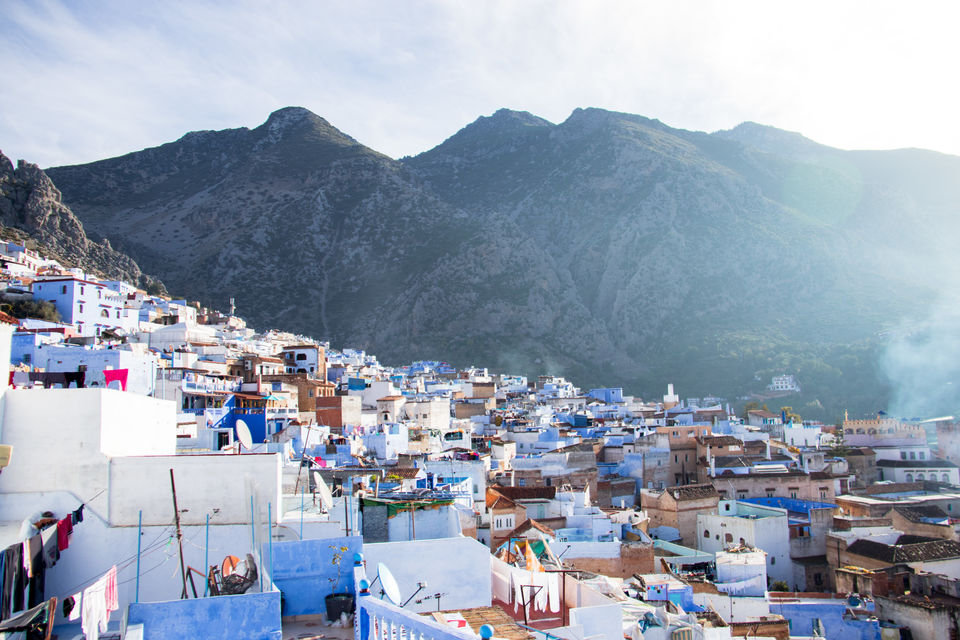 Next we decided to hike up the Rif Mountain to get some more views. The hike was totally worth it and the view was much better than what we saw from the roof top. We sat there for a good couple of minutes, soaking in everything and enjoying the company of each other.
Also read: You can combine your Morocco trip with Spain because of proximity. Check out this amazing place in Spain.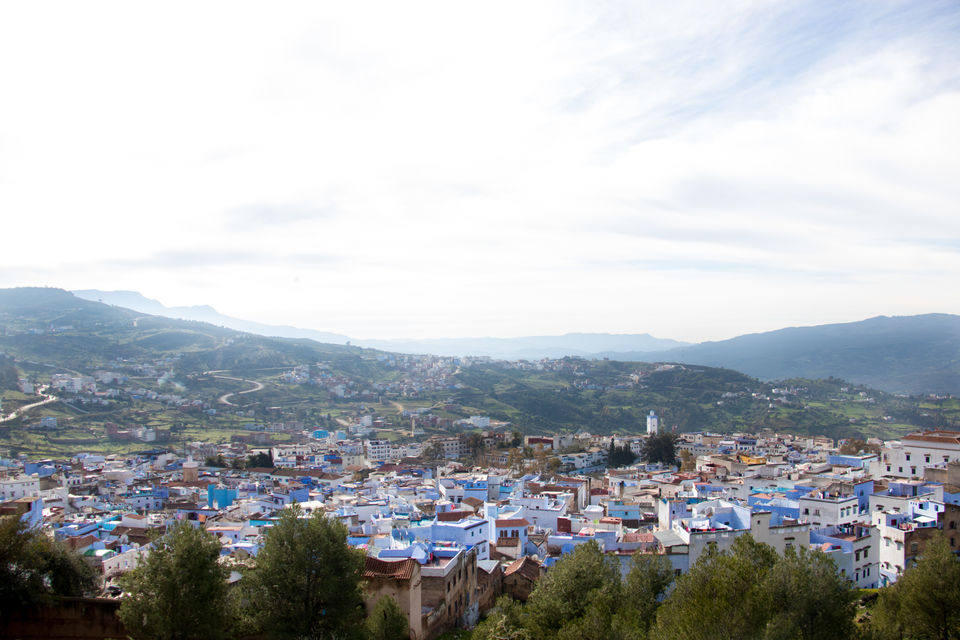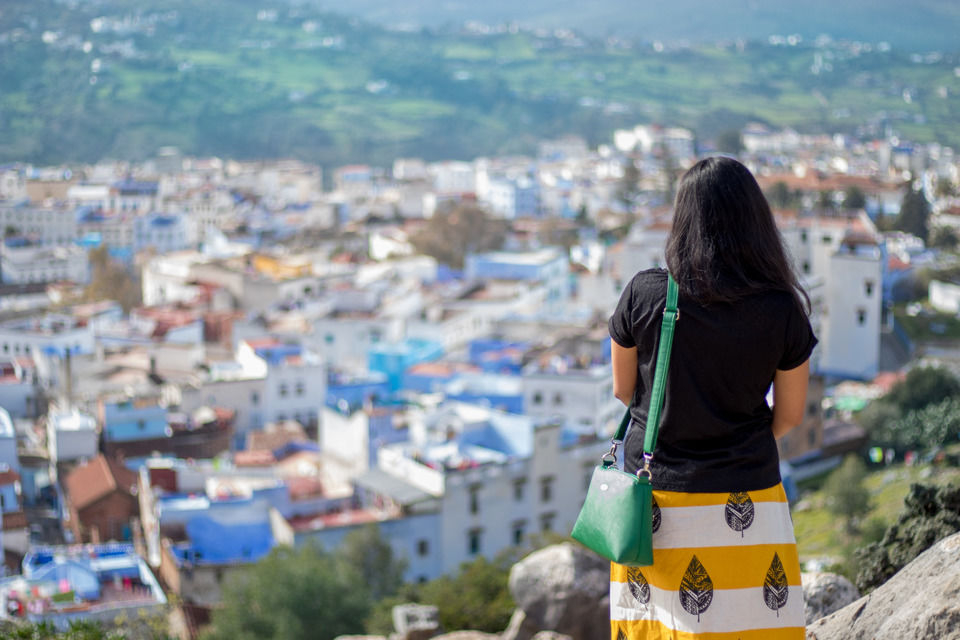 All this walking got us hungry and proceeded directly to the main square and had lunch in one of the roof top restaurants. Morocco has aced the roof top game and we absolutely loved dining in open spaces.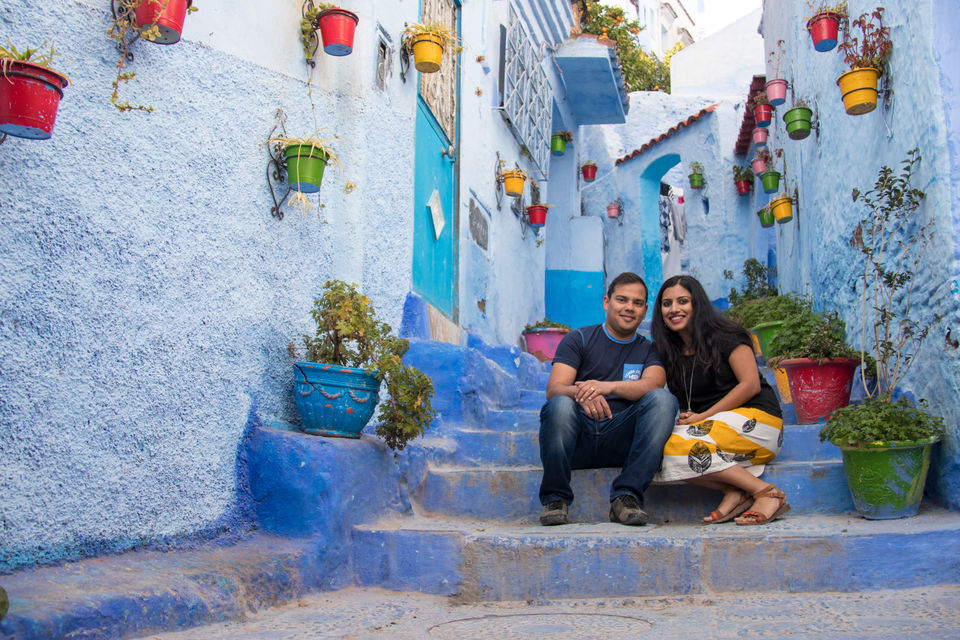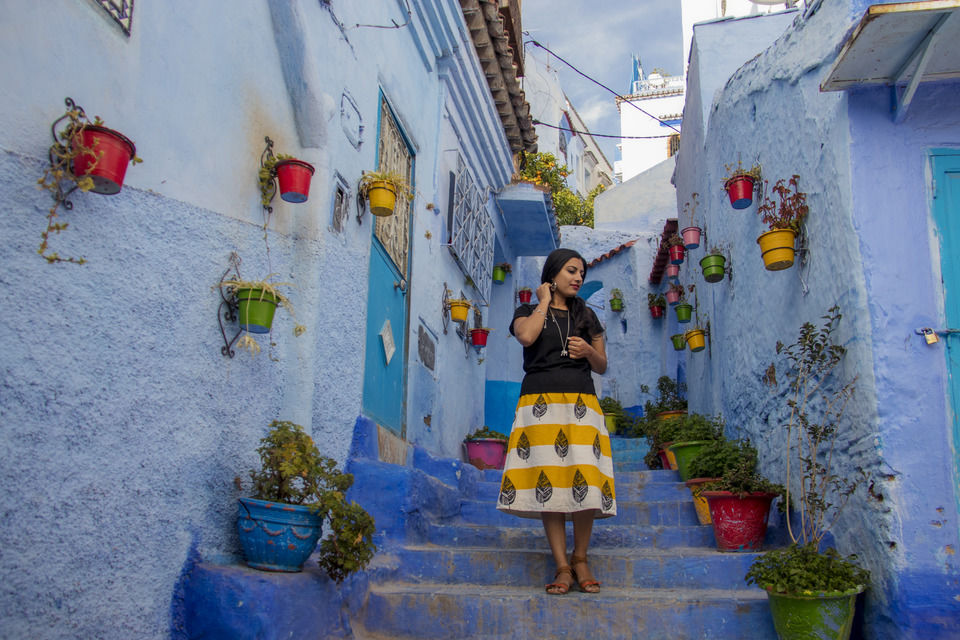 We spent rest of our day strolling around the Medina with no agenda, clicking photos, shopping and soaking in the vibe.
We ended our day having some good Moroccan beer (Casablanca) at Hotel Parador. Alcohol is not very easily available in Chefchaouen and it is sold only in a very few restaurant.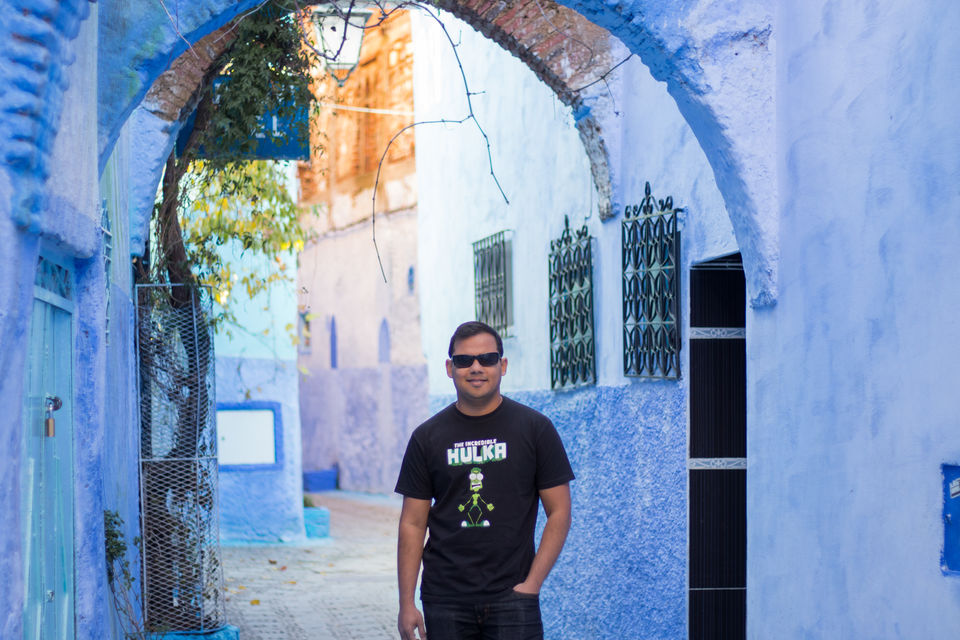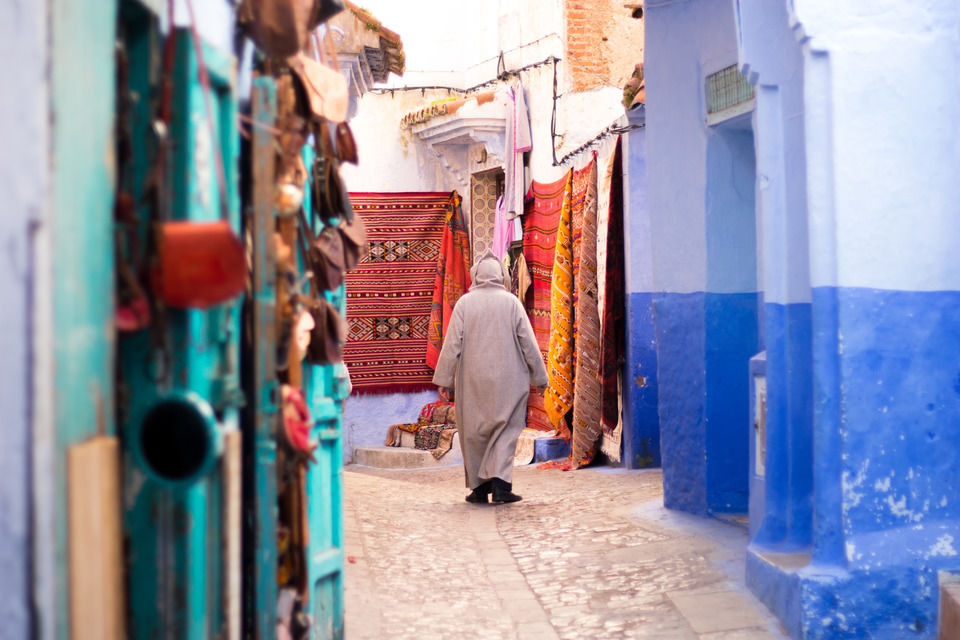 When to plan your travel
The best time to visit Morocco and hence Chefchaouen is in spring - the months of March to May. We visited the country in December during the Christmas break, as we had a lot of holidays that we could use. Also, it was a tad bit chilly which was a great welcome from the freezing cold winter months of Ireland. Even though the country receives maximum number of tourists in spring, its still quite busy during Christmas and was flowing with tourists when we visited.
Also read: How to plan your trip to Tuscany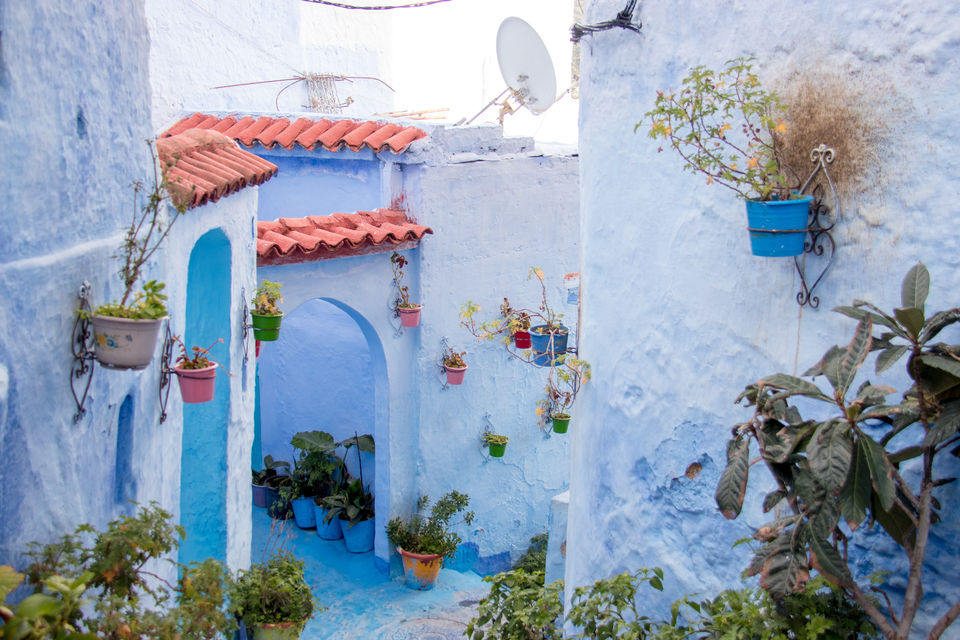 Reaching Chefchaouen
We suggest entering Morocco by flying into Marrakesh. It is one of the biggest cities in Morocco and there is a lot to do there. It should definitely be on everyone's list while traveling to Morocco.
From Marrakesh
Take a night train to Tangier. From Tangier you can get on a direct bus to Chefchaouen or change a bus at Tetouan. The frequency of direct buses to Chefchaouen is less, but there are plenty of buses that ply till Tetouan and then to Chefchaouen. You can't book buses or trains online as you need a Moroccan credit card to do so, but don't worry. Unlike Indian trains, you can find seats even a day before. Get a first class sleeper tickets as the journey is long (overnight), and this would allow for a comfortable journey. Also, make sure you travel by government buses, known as the CTM buses. They will be comfortable any day compared to the local operators. Beware of the annoying touts around the bus station trying to get you into one of the local buses (as they would be getting a commission from the operator), which are very uncomfortable. They would tell you that there are no buses for the rest of the day and all that but just ignore them and head straight to CTM counter for tickets.
From Fez
You can reach Chefchaouen via Fez as well by simply taking a CTM bus into the city. The buses are direct and the frequency is better compare to Tangier.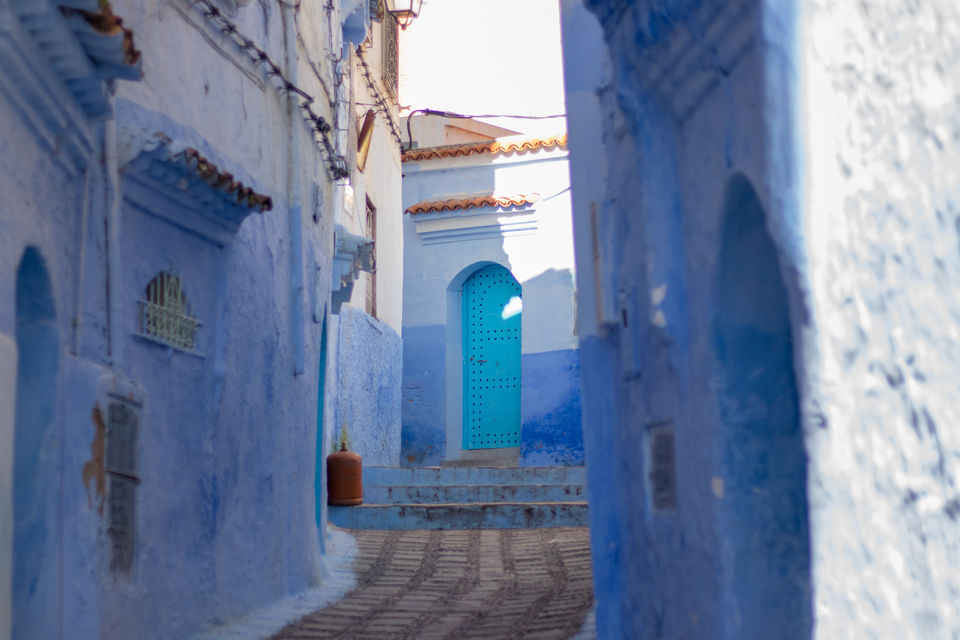 What to eat & where
Enjoy the local food while you are in a different country. Some of the must try food items are - Tagine, Couscous, and Moroccan soup. There are a lot of food options for non vegetarians, but very few for vegetarians. The central square called the Plaza Uta el-Hammam has a lot of options for street food and restaurants. You would even get pizza and fries if you get bored of Moroccan food. Some of the restaurants that you can try are - Casa Aladdin and Cafe restaurant Sofia. If you venture out a bit outside the Medina, you can try Pizzeria Mandala for some delicious Italian food. And don't forget to try the Lemon pie at Restaurant Mounir. It was one of the best pies we have tasted so far.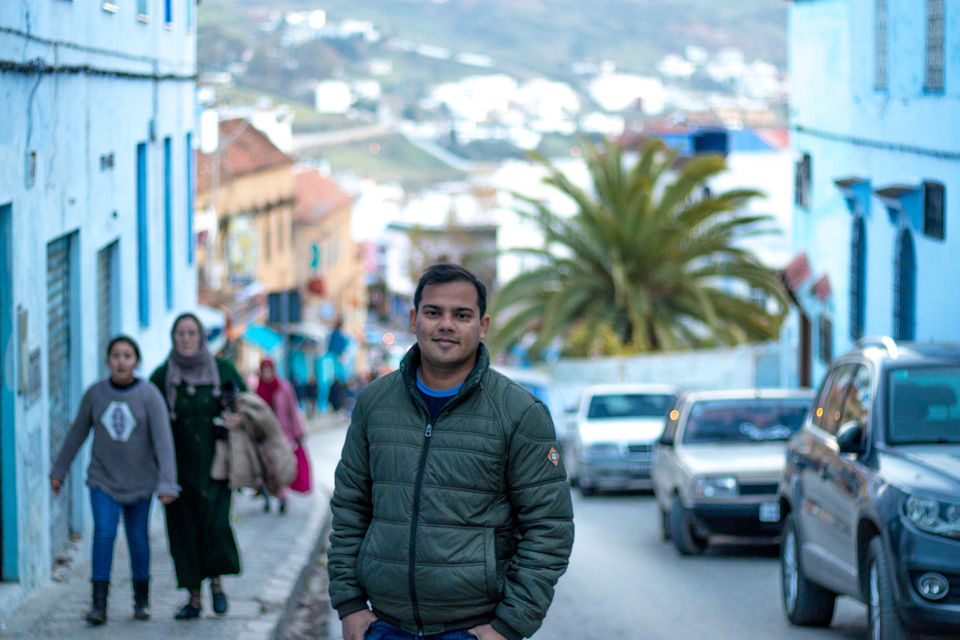 Try Moroccan sweets and biscuits from the tiny in-house bakeries. They were so delicious that we went there for the second time. Also, Morocco grows the most delicious oranges in the whole wide world. You can get them very cheap at the vegetable market outside the Medina.
Things to buy
There are a lot of souks all around Chefchaouen and an absolute delight for shopaholics. Some of the things that you can buy in Chefchaouen are -
1. Moroccan carpets and shawls - They are all around and so beautiful. Be careful to buy from what looks like a genuine shop and always bargain. A rule of thumb is to start bargaining at 1/3 of the quoted price and from there reach an amount which would suit you and the seller. Most of the Moroccans are Berbers (traders in Morocco) and they love haggling, which is a part of their culture.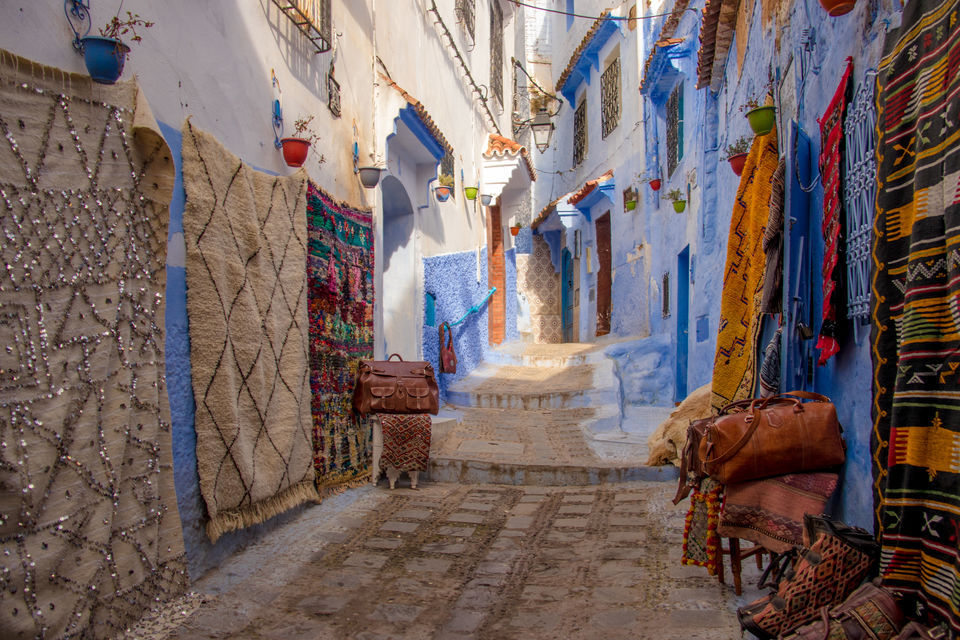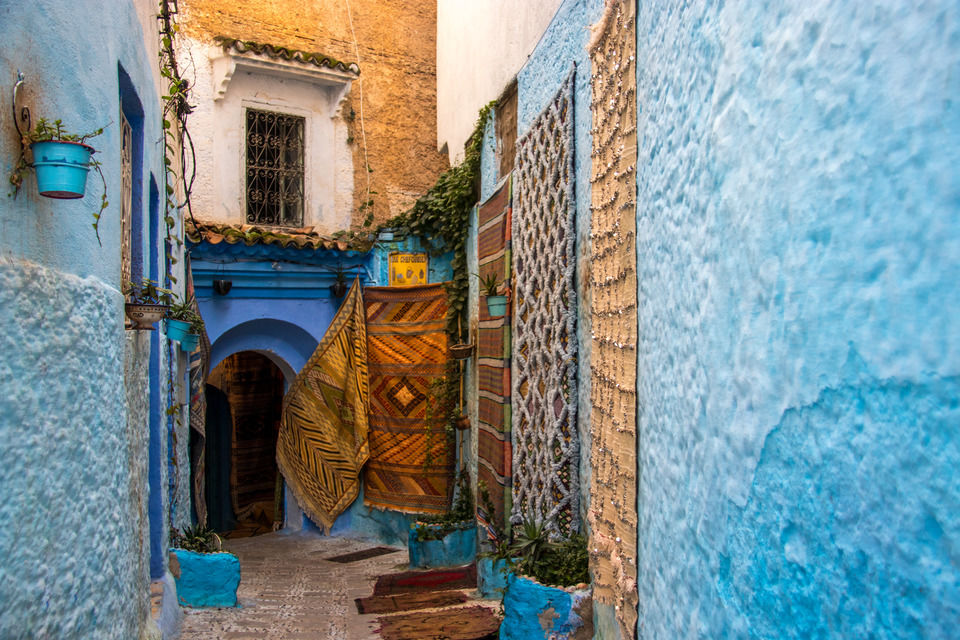 2. Leather bags and other products - There are a lot of tanneries in Morocco and you can get genuine leather products for a reasonable rate.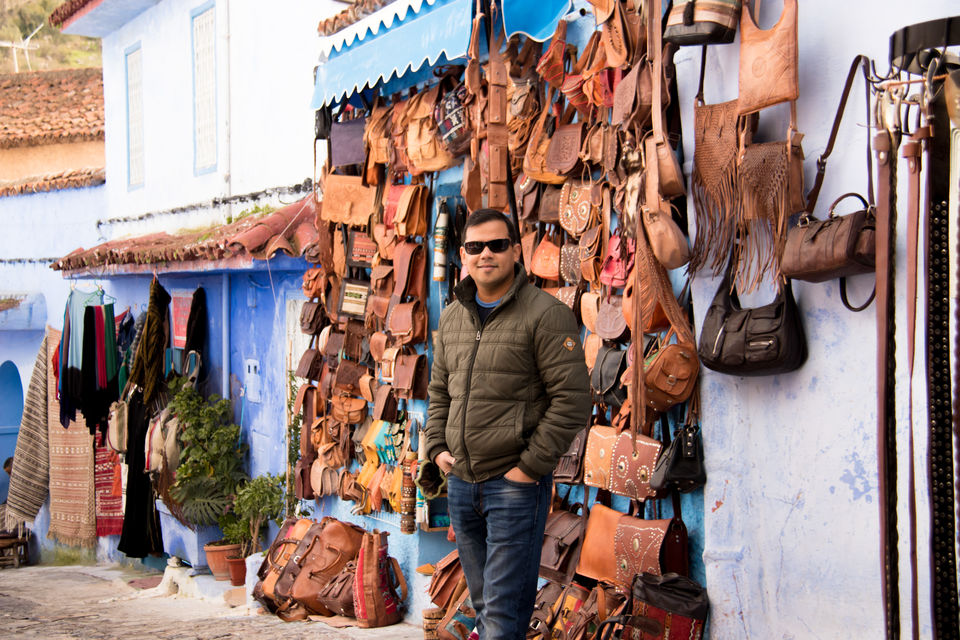 3. Moroccan Spices - It called ras el hanout and makes all dishes smell and taste delicious. You can get this at any mom and pop store.
4. Paintings - A lot of souks sell original paintings of Chefchaouen in watercolor and oil. If you are not the creative sorts and want a souvenir for your home, buying a painting can be a good idea.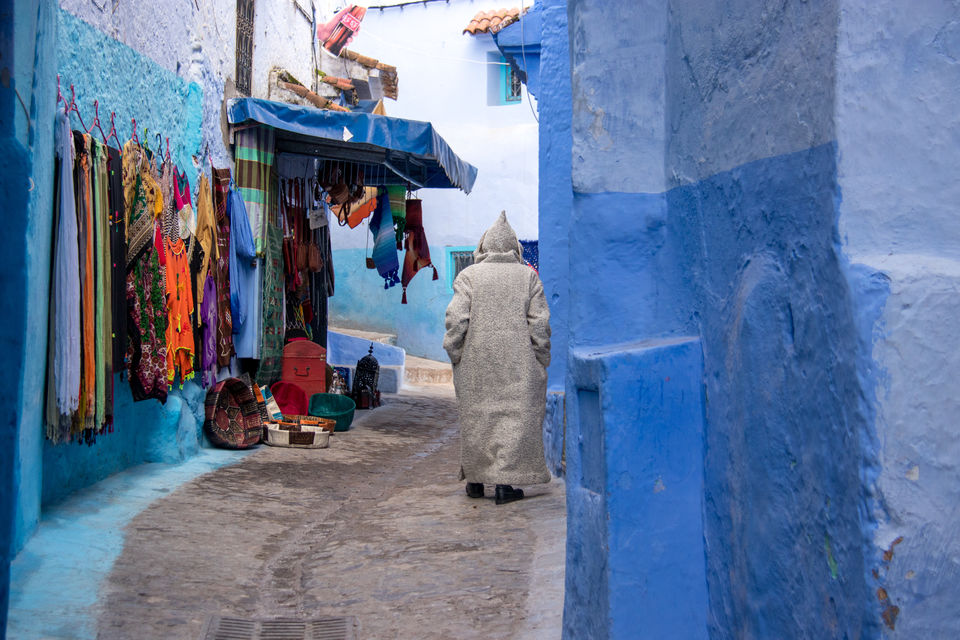 We would again reiterate and say that bargaining is a must unless you are buying oranges at the local vendor at a very reasonable rate already.
Important Tips
1. Be prepared to walk as there are no taxis allowed inside the Medina. The narrow, steep, winding streets are like a maze and you are sure to lose your way while wandering. Download offline maps which would come to your rescue while trying to find your way back to the hotel.
2. As you cannot purchase tickets online, as soon as you reach Chefchaouen main bus station (Gare Routière), inquire about the return tickets and buy them immediately as the bus tickets tend to sell out quite quickly.