A few minutes navigating the narrow alleyways of the Marrakech Medina are enough to make you realize you have entered a different world. The streets and curves of the Medina quarter are buzzing with tourists, merchants,touts,mopeds, cars, and donkeys. It is a labyrinth where one tries to dodge motorbikes and watch out for pick-pocketeers from bumping into you. It's this overwhelming experience and chaos that makes the Riad's a perfect place to escape the madness and relax.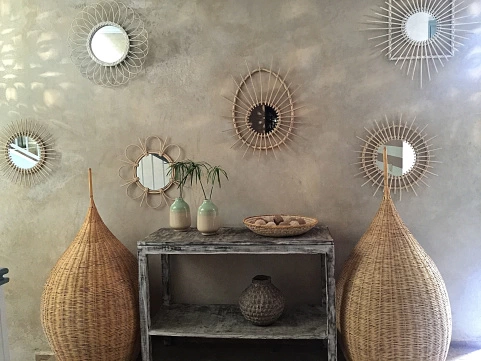 Marrakech's Medina has almost 1000 Riads ranging from budget category to some uber-luxurious ones if your budget can handle it. I discovered Riad Olema Et Spa through Booking.com and the pictures lured me into booking it for my stay in Marrakech. This Riad is located very close to the Medina and is a calm oasis among the bustling city, and the perfect place to use as a home base while exploring the souks and shops.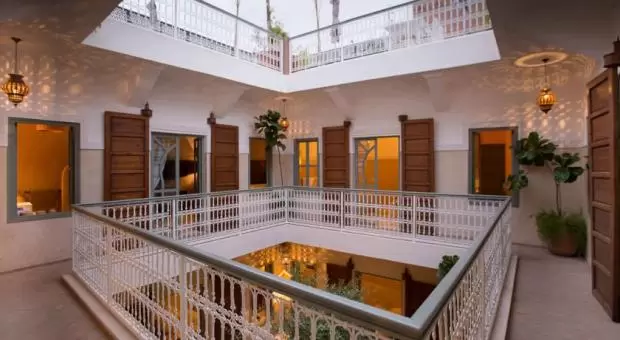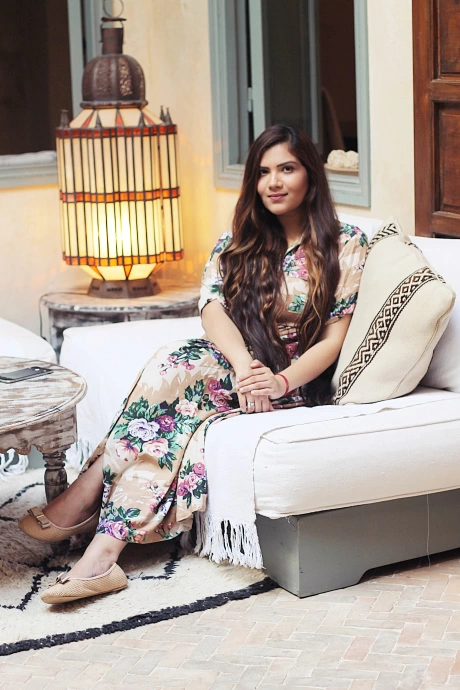 As with most riads, it's hidden away down a small alleyway, so you can't get to the door by car. Finding your way to the riad can be a bit confusing but locals are usually willing to help out in exchange for a small tip,but some can get extremely pushy. I somehow managed to locate my riad with the help of a random kid. Upon arrival,I was welcomed with the traditional Moroccan Mint tea along with some local sweets and cookies.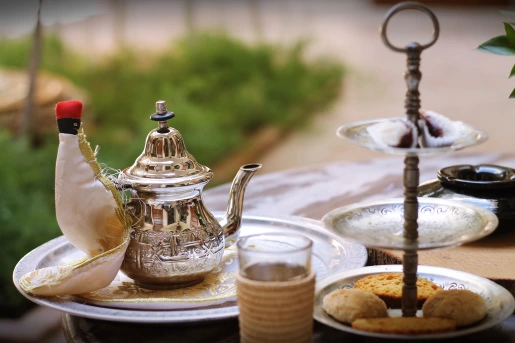 After the check-in formalities,I was led to my room.The rooms vary in size and price,and I opted for a mid-range Orientale Superior room. With a Moroccan-style bedhead, this room provided lavish views of the patio. The rooms are quite huge,and tend to be long and since they are built around a courtyard as a part of the traditional riad. Each room is decorated Moroccan details,but the best part of this Riad is it's rooftop. Large and spacious,it is separated off into different seating areas,some covered and some with sunbeds to make the most of the sun. I loved watching the 360 degree view of the city and admiring the Atlast mountains off in the distance.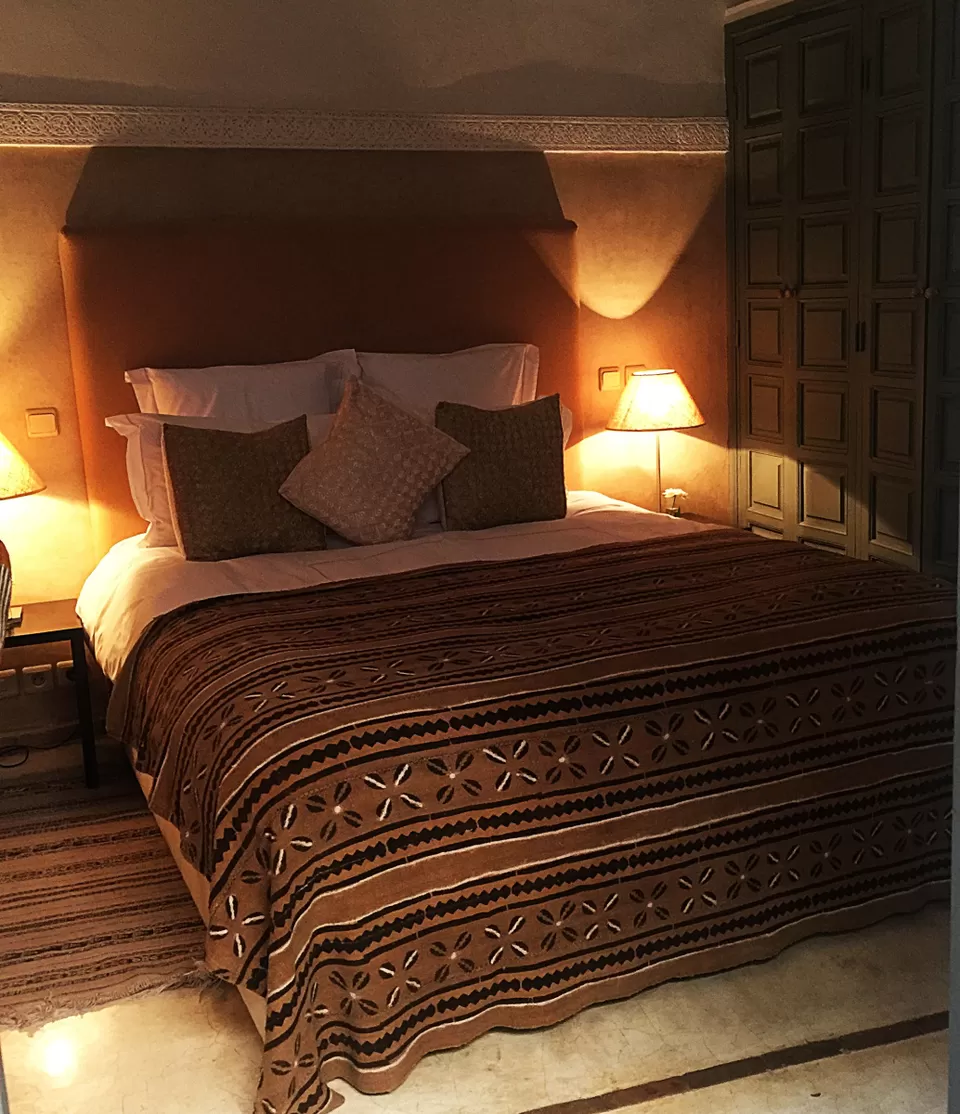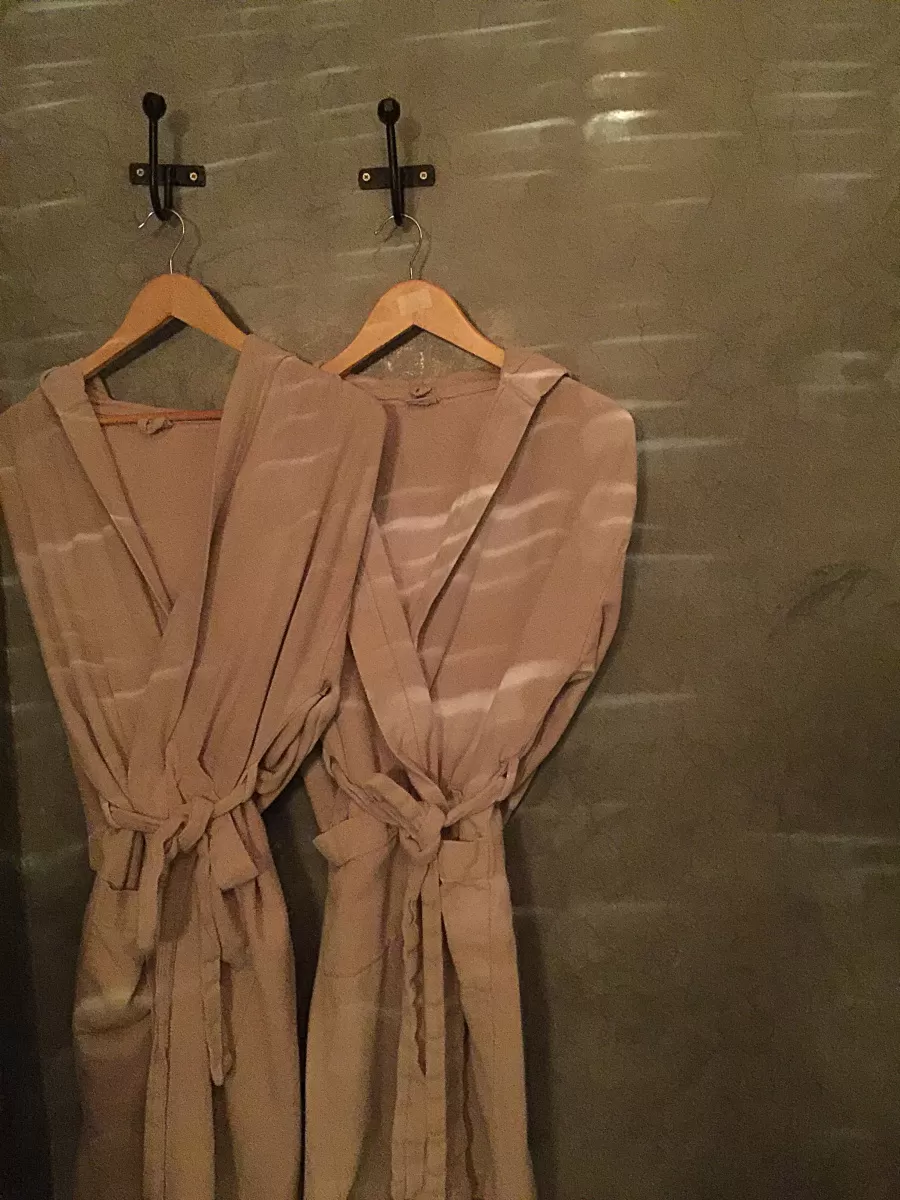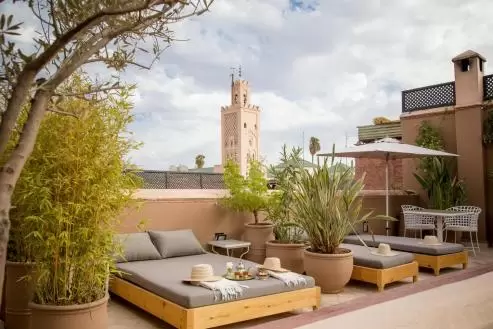 The courtyard is quite spacious and has comfortable nooks to lounge at ease,drink tea,devour extremely delicious fruits,read books or just admire the traditional decor. The place is also equipped with a small library lounge with a small fire place. One can also take a dip in the very inviting plunge pool after a crazy day in the city.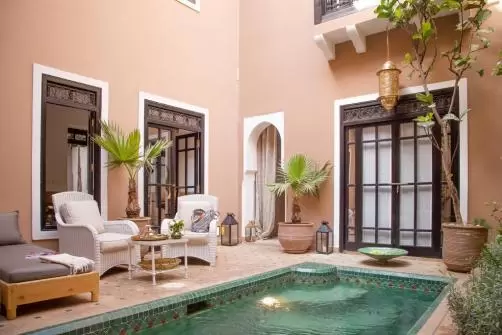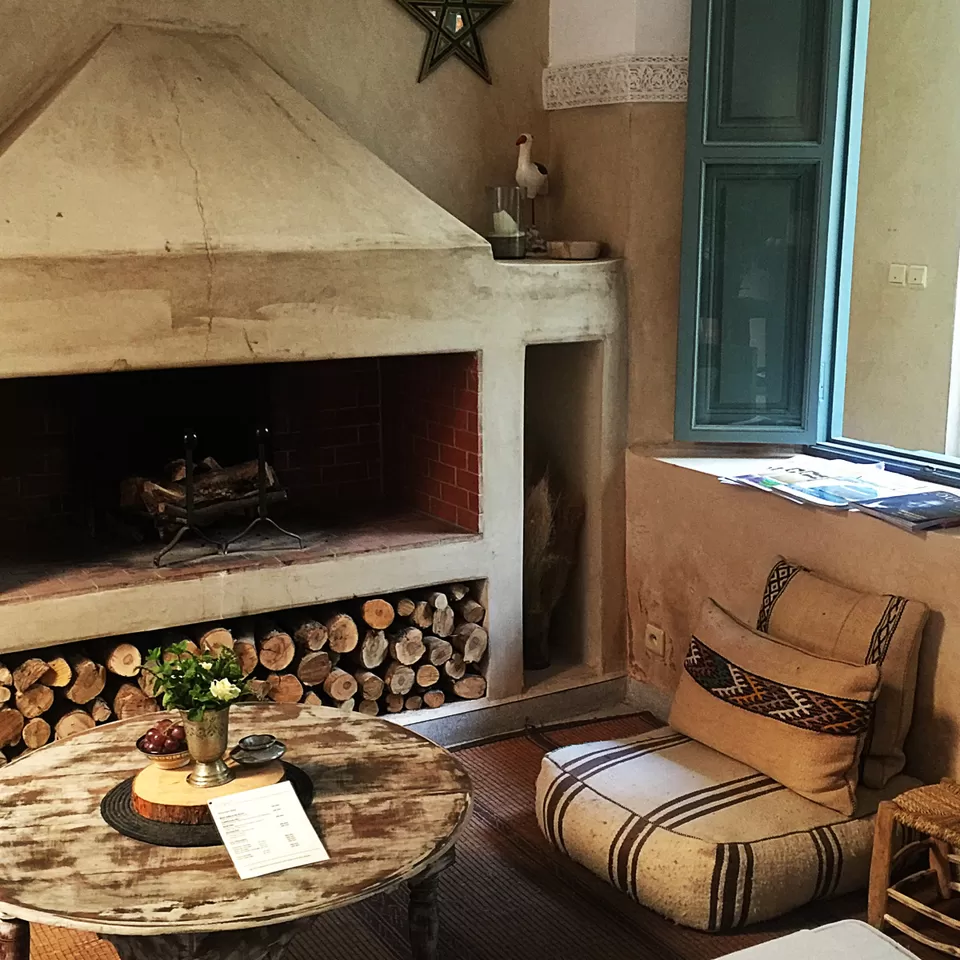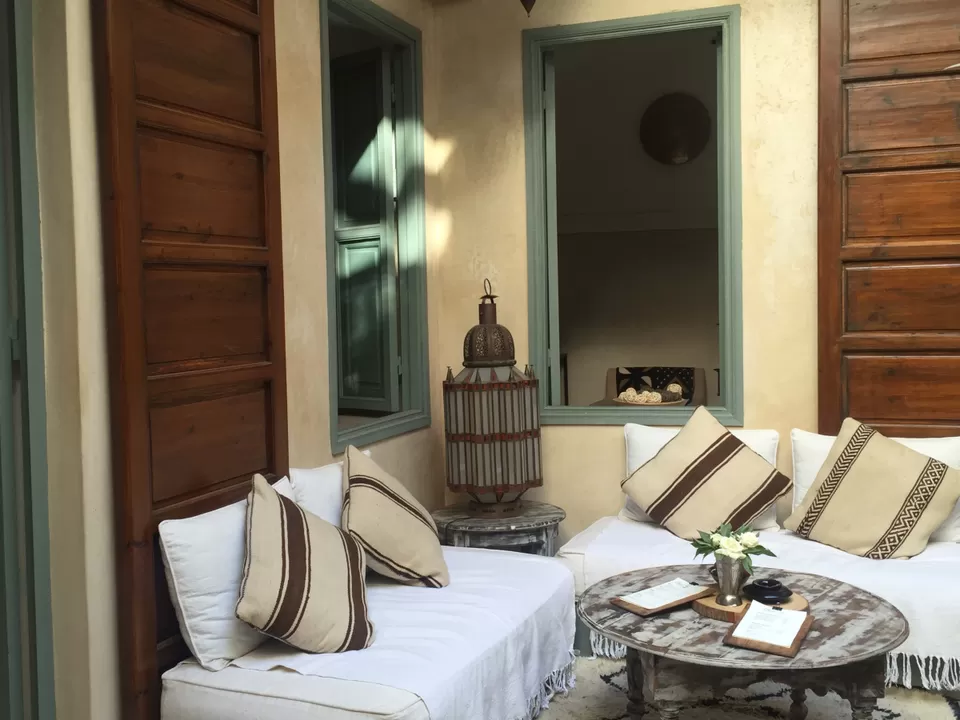 The room rate includes a very filling breakfast that includes the traditional Moroccan pancake called Msemen,honey,cheese,local jams accompanied with freshly squeezed orange juice or coffee. I couldn't try the lunch or dinner because I am a Vegetarian and just like other restaurants,the kitchen had very slim options. The staff used to serve us a generous portion of fruits around 4 PM everyday. The service is amazing and the staff is extremely kind,helpful and warm. They deal with their with a pleasant smile.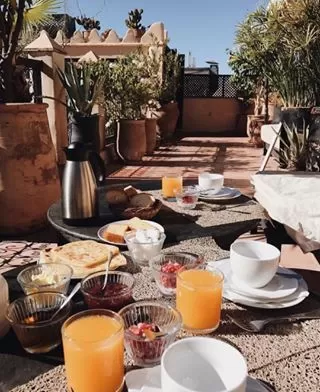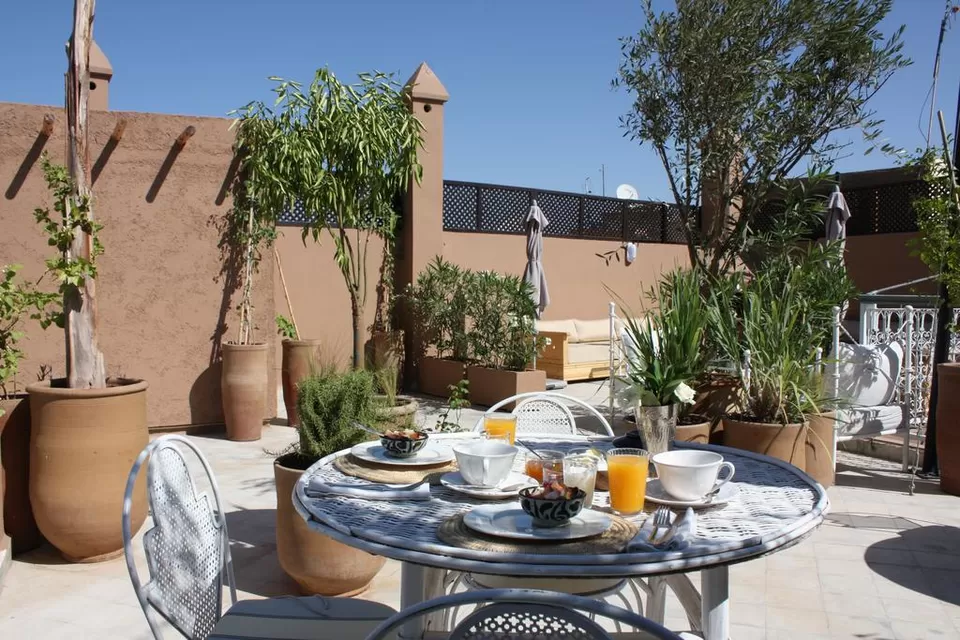 The beautiful luminosity of this riad and its quaint spirit is definitely soothing. Each and every corner of this haven recalls the magnificence and opulence of a bygone era. Staying in a riad had always been on my bucket-list and always looked like a dream to me. I am glad that I made the right choice by booking Riad Olema Et Spa for my stay in Marrakech. Also,this is not a sponsored post. I am genuinely in love with this property and wanted to write about it!