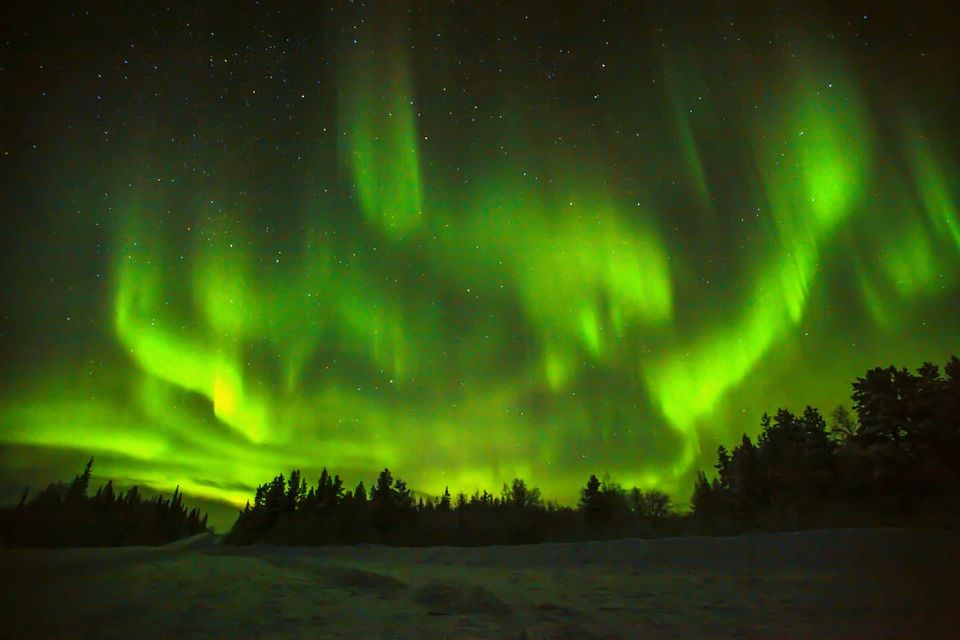 As promised to many, it is finally here! The much needed Aurora Borealis hunting experience and all the other required information! I am sure it will help you, if you are going for a Northern lights experience and planning a trip near the arctic circle! So...... here it is!
It all started when I was a kid. My parents gave me a book on the Arctic region fairytale. I used to read about that "green light" and my curious mind was always looking for answers. I continued my research, kept my data ready, started talking to hunters, local people and a few friends who are exactly "aurora maniac" like me.
Shopping:
Before I even get started with the blog, I would try to explain to you how important good winter clothes are for your arctic trip because you need to be fully covered and the clothes should help you to survive the extreme arctic cold. We travelled during polar nights, so we faced an absolutely cruel cold, the temperature even dropped at -35 deg at certain points while chasing the Aurora!
We bought everything from Bangalore, India. Decathlon helped us a lot! Also we bought a few things from Woodland, Puma etc.
The things we bought:
1. heavy winter parka jackets which can easily help you for -10 to -20 deg without any other layer (at least they claim that)
2. snow pants (no normal winter pants can help you, you need to buy those specific snow pants)
3. thermal tops and bottom (definitely buy extras)
4. good thermal socks
5. snow boots
6. Good gloves ( I had to buy it from Russia again, as the Decathlon ones didn't really help in -30 deg), whereas my husband was absolutely okay with the ones bought from Decathlon!
7. DEFINITELY buy fleece jackets ( this is a must, it will help you as a layer )
8. Good sweaters to use as a layer. (Any type of sweaters are fine, I especially got some good looking trendy sweaters)
9. Some mufflers to cover your head and neck
10. A few normal jackets ( for -5, -10 etc. ), Decathlon has everything.
Preparation:
We had to create layers!! So on the top we had to wear thermals + sweater + parka jackets! And for the bottom thermals + snow pants! Even if the temperature wasn't much but because of the chills and windy weather we felt extremely cold at times. So these layers helped a lot!
1st day of Aurora Hunting - 26.12.2021
When we arrived for the first time in Murmansk airport, I was so excited because I have never seen such a small and cute airport before , also the very feel of the Arctic started so well! Our guide Julija was already there, she pinged me before the flight only, saying that she would come to receive us, so I was relieved. I met Olga on Instagram who basically helped us to get in touch with Alex, who is a professional hunter himself and has a team of few people! So Julija basically works for Alex who was appointed to help us out during our Arctic stay! Also, Julija could speak absolutely fine English unlike many other Russians ( in Russia, people only speak in their language except a few so, Google translator was our best friend during the trip). Just when we reached and was collecting our baggage ( it came covered in snow, so cute 🥰) I received the text from Julija that she is outside. I went to meet her and started chit-chatting! She could understand from my voice that I am super excited, not at all tired! We came outside the airport and omg!!!!!!!!! I just looked outside and ran to a place which was fully covered in snow and absolutely felt like oh yes, I am in the Arctic, I am in the north!!!!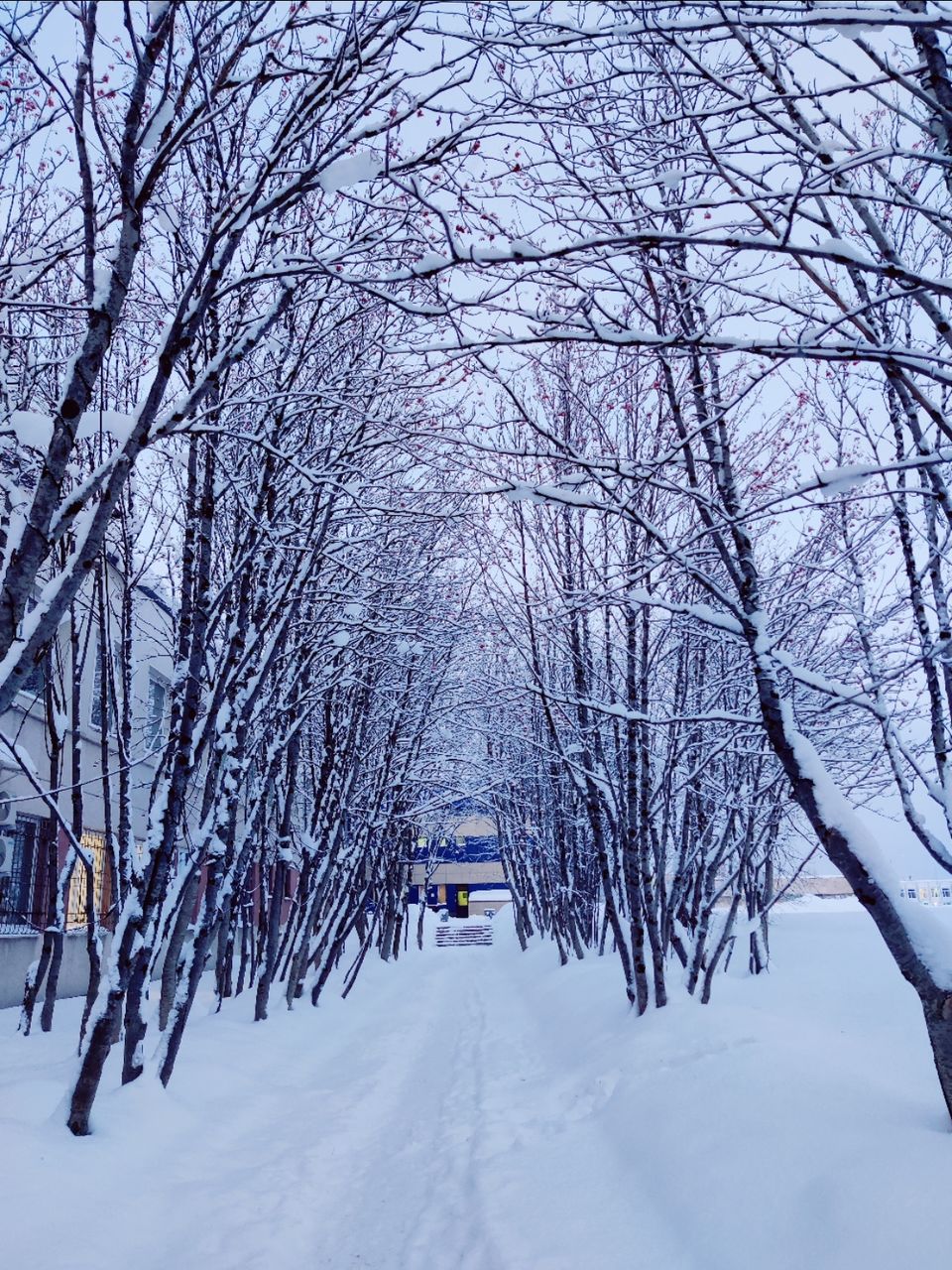 We booked Azimut, the best and premium hotel in Murmansk. Azimut is the best for many reasons, and for tourists everyone suggests Azimut only, because they have good options for breakfast, lunch and dinner etc compared to the other places there. We reached Azimut in some 45-60 minutes and outside was quite foggy at that time. Julija was there till the time we finished the process, our passports were checked thoroughly, immigration status and everything was checked quite well. They took our details and gave us the room key. Julija told us to freshen up and asked me to wait for her message! My husband loved the room, he usually doesn't react much to these things because he has a lot more experience in international travel than me so... But, here I saw him getting excited because our room was on the 12th floor and the view from that room was absolutely worth remembering! I got a text from Julija around 5 pm, she said that we would be going for aurora hunting tonight! I started panicking! Because, we came this far, this far in this extreme cold..... Only for the lady A. What if she doesn't come, what if we don't get lucky! What if and lots of what ifs...
After a good shower and unpacking, we decided to visit the northern most Mcdonalds (you won't get many options in Arctic honestly)! Because it's the northern most Mcdonalds so we were pretty tempted 🤭
We got burgers, French fries, cold drinks and some chicken from there! We walked around the hotel to see all the beautiful Christmas decorations and came back. After dinner, we started getting ready as wearing all the layers took some time.
Meanwhile, I started checking the kp index and other details (you can reach out to me personally if you need more details on that) just to understand how the situation is today, if we are going to get lucky or not!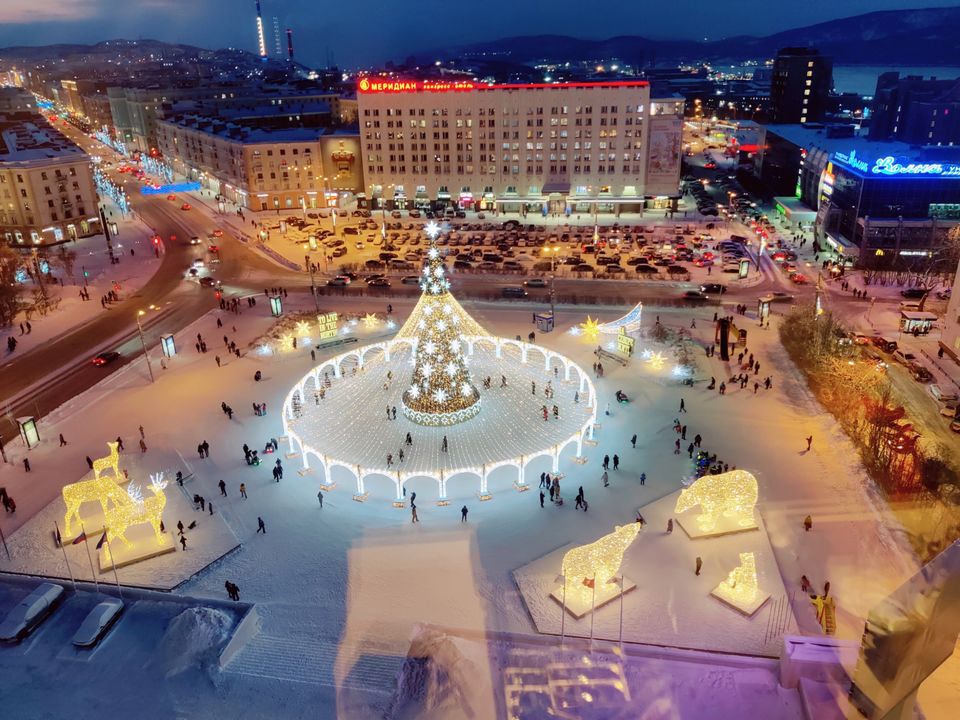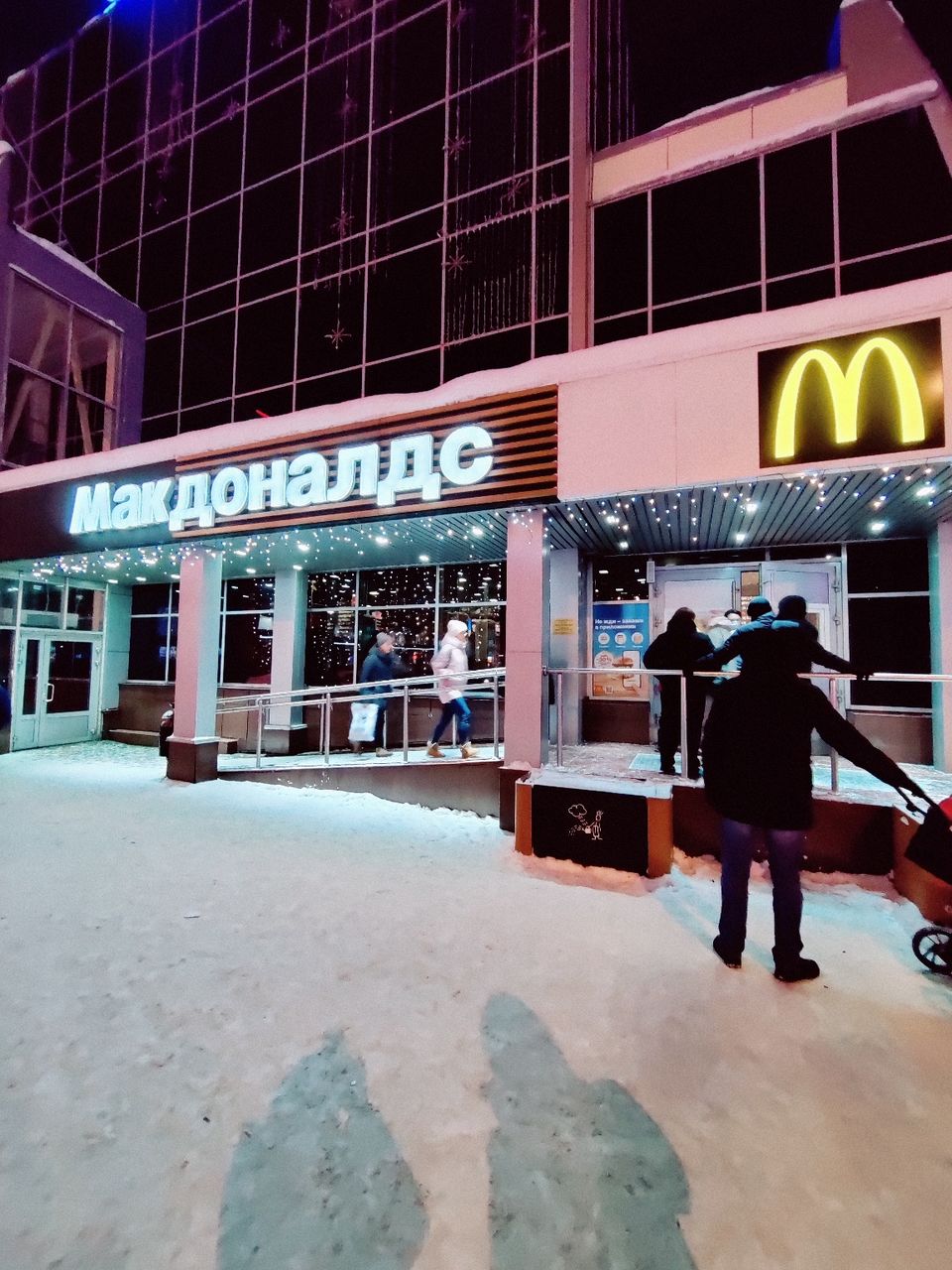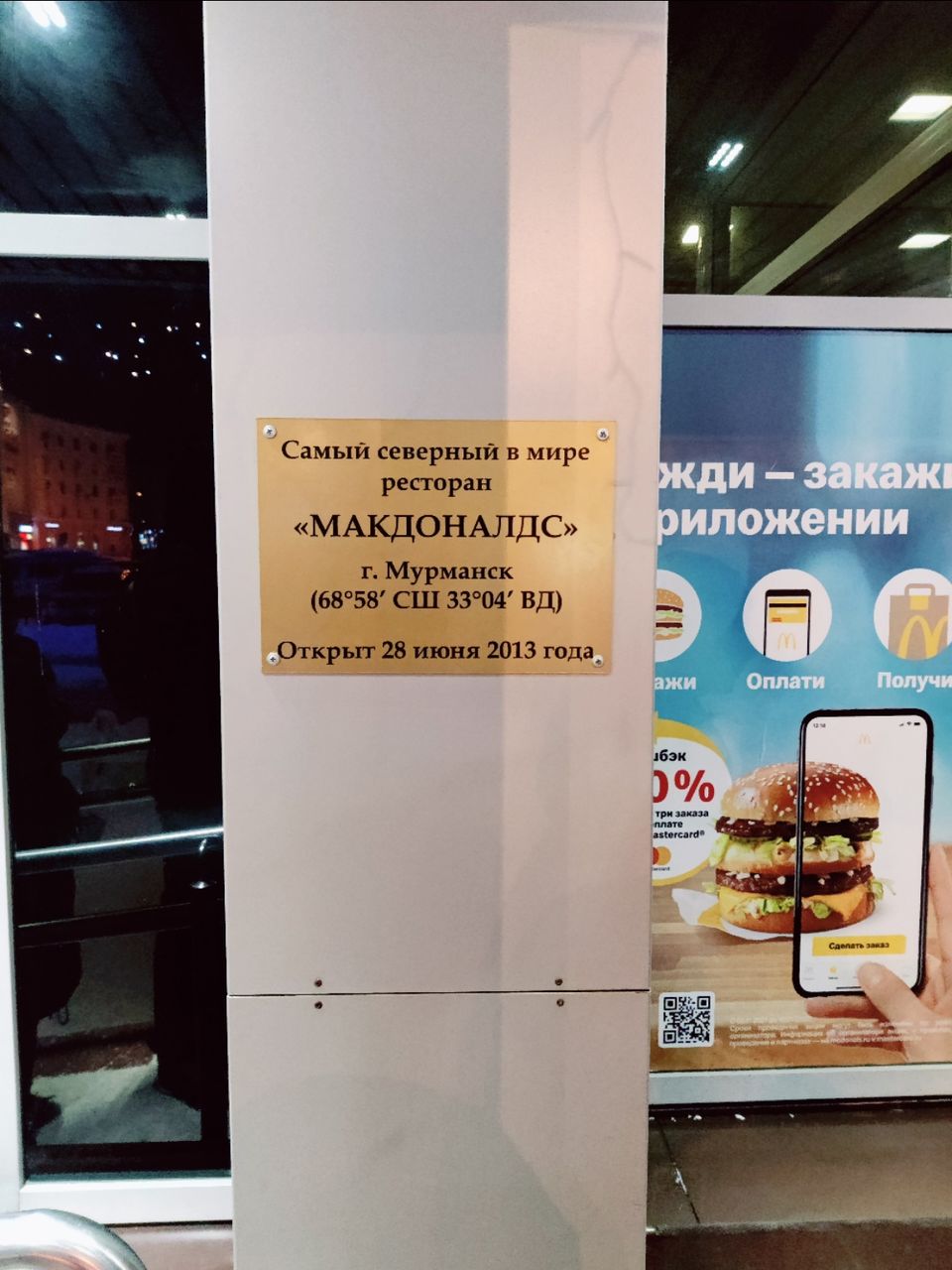 Aurora hunting experience:
Location 1:
We started at 9 pm as far as I can remember. Julija came with Anthony, Anthony was our professional aurora hunter, our guide for the aurora chasing activity! We greeted each other and started the journey! Anthony told us that he would try to check the locations first and then decide. We stopped at a place which was just near a forest but it wasn't a forest entirely, it's just another tundra area! Anthony told us that the lights would show up here and we need to wait. We came out of the car and had warm tea. Anthony arranged tea and snacks! He was setting up his camera, I was hopelessly looking at the sky! The sky wasn't foggy, it was quite clear then, we could see the stars. Suddenly we saw a very bright light, slowly coming up from the right side of the sky. Julija screamed, it's here! I was shocked for a second , I couldn't process the fact that I am actually seeing Aurora?! Like really?! It started getting brighter but not that good because it was just a strike of lights, just a single line of shining light! Our appetite for aurora was at some other level and Anthony easily understood. He told us not to worry, he would take us to every possible place and we would hunt the whole night until and unless we see lady A properly! So before we left, we clicked a few pictures!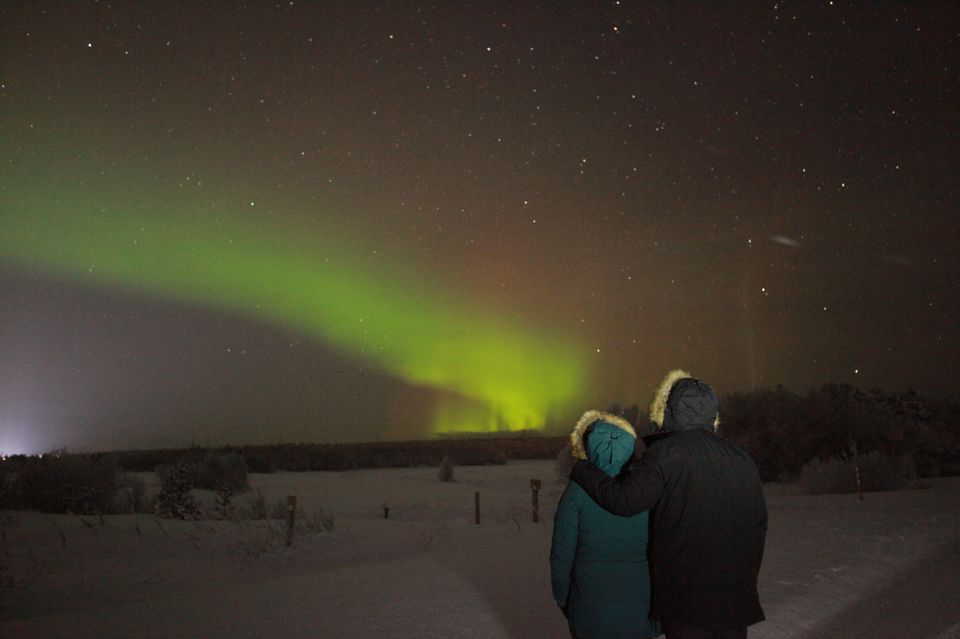 Location 2:
Anthony started driving and we left for the 2nd location! This time we arrived near a forest, it was pitch dark! The experience was very haunting, very difficult to describe but it felt like one of those horror movies when you can anticipate any monster or devil coming out of the huge Arctic trees and tear you apart 🤭
Jokes apart, we started to chitchat. There were no signs of aurora so we got some time for tea and snacks again! As we were driving even far north, we could feel the cold really well. At times I started shivering 🥶
Anthony asked us about our excitement for Aurora, I started explaining to him about my research and how we had been planning for this for the last two years. Why we thought that this year it might be great and about all those points, indexes and stuff! He was very very impressed, he told us okay, you are not a typical tourist, you would make me work haha! What he wanted to mean was, we were there to see very very high intensity northern lights, as most tourists having no knowledge of the lights, are happy with very less shine of low intensity or couldn't manage in that extreme cold but Soushikta and Rakesh were absolutely headstrong! 🥰☺️
We waited for 15-20 minutes and there was nothing! Yes, nothing! It's very much possible. People go to Norway, Iceland, Sweden, Murmansk and see nothing! It is very much possible because as I said, it's all about luck. So we decided to go to some other place, Anthony said he found another place!
Location 3:
It's been almost 2 hours and we couldn't see anything properly, I was a bit anxious where my husband was absolutely chilled out. Julija told us that Anthony is the best, so not to worry, tonight is going to be the night!! We stopped near another forest, as usual it was dark, haunting but the sky was very very clear. More clear than the other places we went before. Anthony opened his applications and set up his camera. He was quite determined about the place. It was extremely cold out there and I thought of sitting in the car for some time. There was no network, no internet but I don't know what I felt, I had my maps downloaded before so I opened the offline maps along with the applications which I also had in my phone and I saw the numbers, it wasn't getting updated because of the network issue but it was good enough to chase the light!
Finally, we saw a bright trail. Very bright compared to the others we saw previously, in the right side of the sky. Almost after another 2 hours! Then we saw another trail on the left. Slowly slowly the left trail faded and the right trail started floating but it wasn't getting brighter. The cold was extreme, so we again decided to sit in the car for some time and wait for the lights. The trails looked promising so we wanted to spend time there. We were determined!
And suddenly our guide screamed hey, the lights are here! Damn! I jumped out of the car and I could see it was green! It's getting bigger. The cameras were ready. Then suddenly another 4-5 trails showed up. Our hunter said we are damn lucky, we are going to see a crazy show tonight!
I don't know what happened at that moment, the aurora started DANCING! Omg!!!! It danced like from right to left, down to top and all the colors showed up! Red, green, yellow, little bit of purple! I started crying like a baby! My husband hugged me, Julija hugged me. I was in tears of joy! Such happiness, such luck, I never imagined in my life! Then again, it disappeared after a beautiful amazing show! Crazy AURORA SHOW! and it left us lifetime memories to cherish forever! It took us 4-5 hours to chase this pretty lady but it was worth it!❤️
People often say that they weren't happy with the light's intensity or aurora doesn't look that bright but let me tell you this, if you get very very lucky, just like us (very rarely) you would actually see the colors so well! If I have to talk about myself, I saw Green and Red very very well, purple very light but just think about the intensity , and of course we saw it dancing that means my research didn't go in vain, the hard work really paid off well!
After a crazy aurora show we decided to head back to our hotel. While coming back we saw aurora at some other places as well, not as great as the one which we just witnessed but I was so happy, I was giggling like a baby! I at times started speaking in Bengali, couldn't hold my excitement.
We said bye to each other and Julija told me that we would go to the saami village, lovozero husky park the next day, so we need to get up a bit early! Because we went during polar nights and sunlight would be there for very very less time! We came back to our room. I pinged my best friends over whatsapp and told them that I just saw lady A. My friends started asking for pictures and videos and they were equally excited and happy for us! ❤️ We went for our dinner in the hotel only. I had a nice warm fish soup where my hubby had some steaks. We had good Russian vodka and celebrated our first successful Aurora hunting! My whatsapp was filled with congratulations and so many lovely messages from our friends, I assured them to give the pictures as soon as we get them!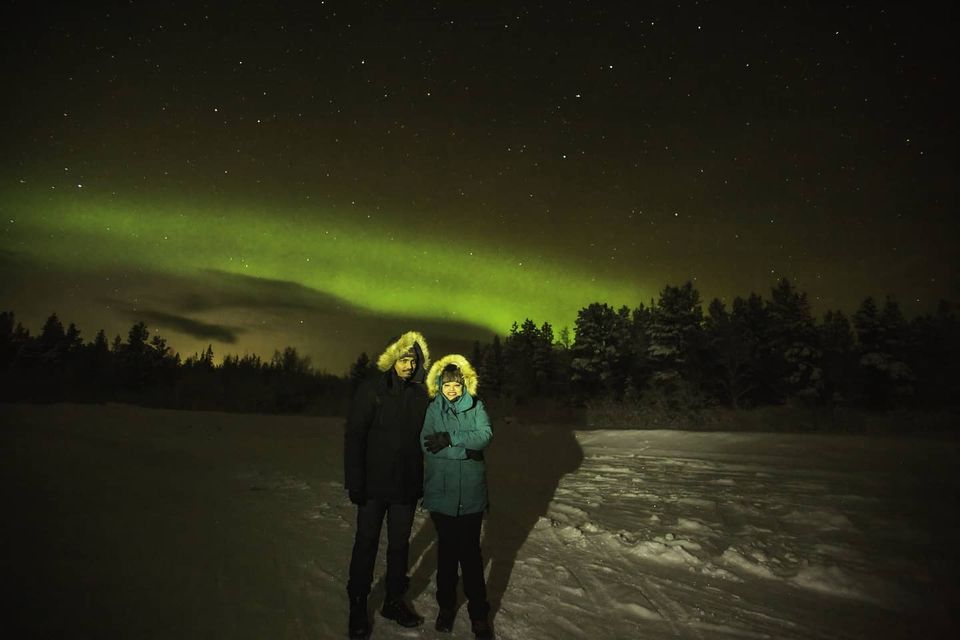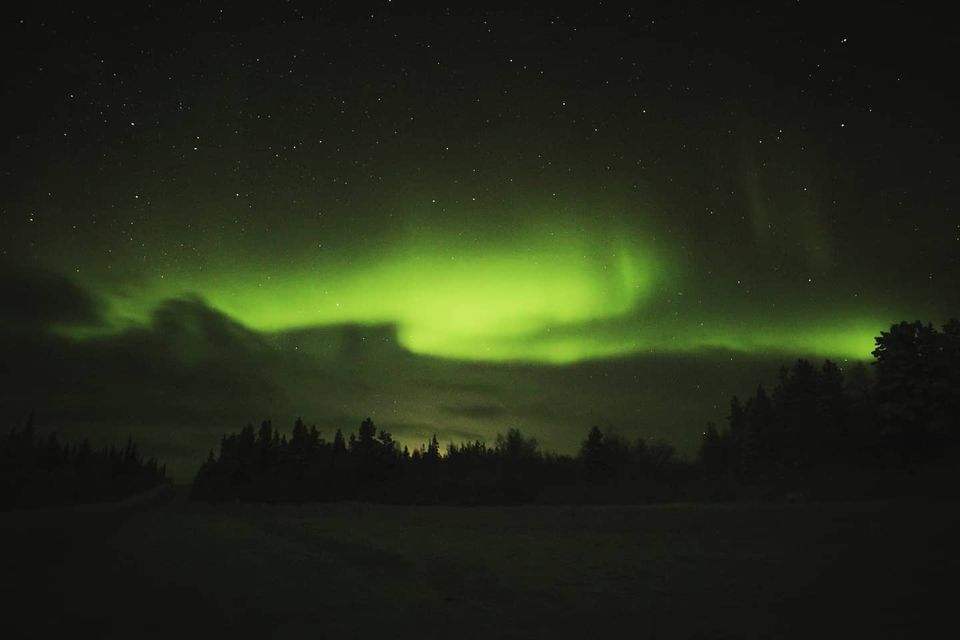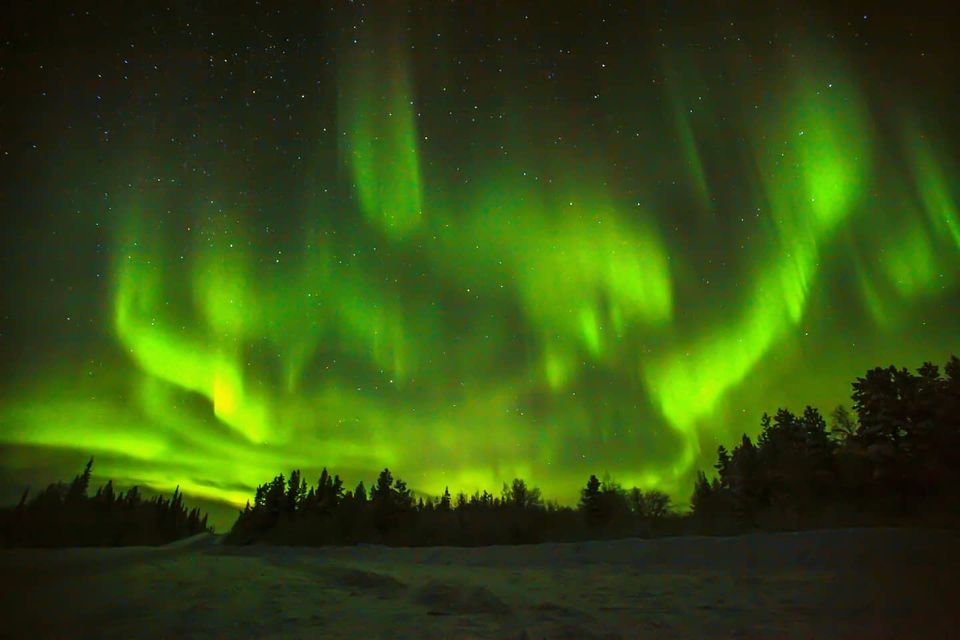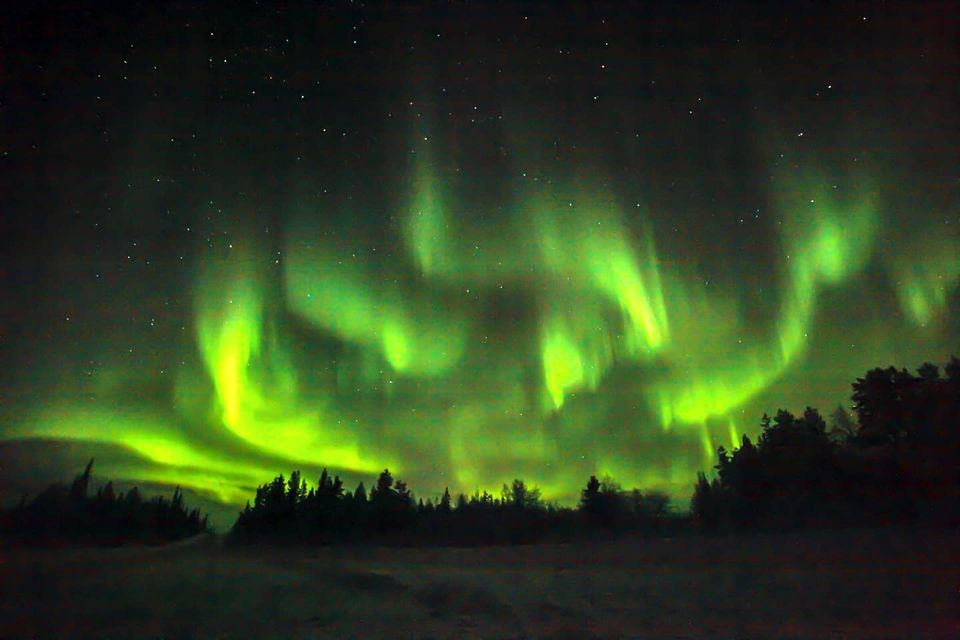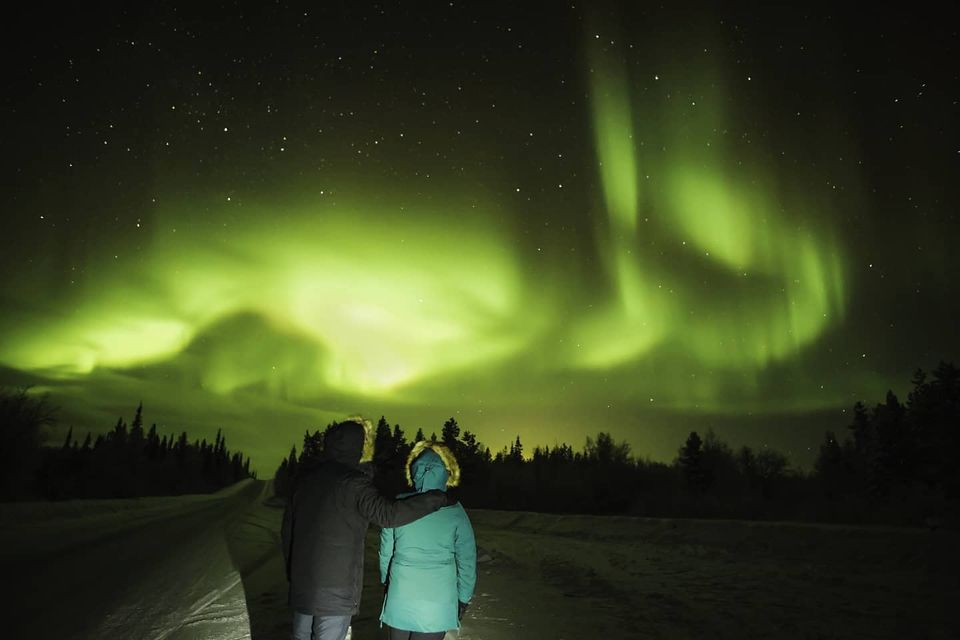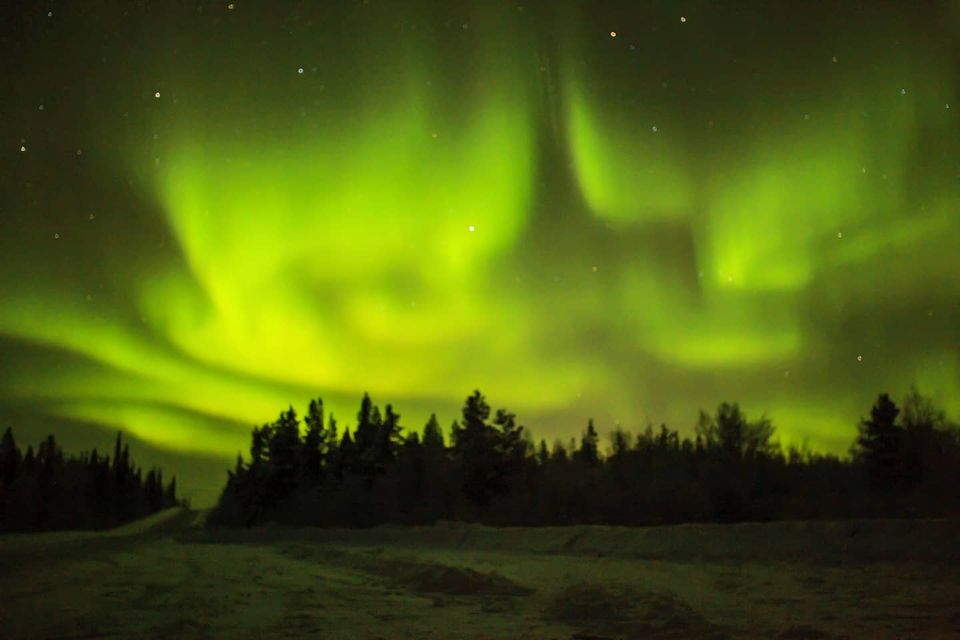 We woke up and went for our breakfast. The options were really great! Loved everything about it. We tried Crossiants, pancakes, sausages, baked potatoes, chicken etc. We started getting ready as Julija already pinged me for the next set of plans! So we all met around 10 am and started for the Lovozero park! It was some -20 deg outside. Julija asked me whether we could sleep well. I started telling her about last night, our experience and the best sleep we ever had. We all started laughing! Julija was describing us about the arctic life, especially how it feels during polar nights where there is no sun at all! How children are brought up here, about schools, offices and lifestyle, everything! I was so amazed to hear the stories because in India it's absolutely different and life in the Arctic is something else! Imagine you wake up at 11 am in the morning and see it's dark outside (polar nights 😃) Julija mentioned that she often woke up around 2 o clock in the afternoon thinking whether it's morning or night! Crazy scenes out there!
Lovozero Park / Saami Village experience:
We reached lovozero park on time and parked the car outside. We saw there were other tourists as well, they were from the US, Egypt, Europe and we, from India! We were all English speakers for them so they made a team for English speaking tourists separately! My dream of riding a sledge car, seeing the raindeer and finding all those saami people' houses was coming true! Suddenly we met Alex, Julija's boss, who helped us for the whole Arctic trip! He asked about our aurora experience, I said a big thank you to him! He also said , "now your sledge car experience is gonna come true" ☺️ I was so excited!
What is the true meaning of Lapland?! How does it look?! How can I even describe the beauty?! It was out of this world! Absolutely magnificent! The huge trees outside, the layers of snow, never-ending forests amidst the tundra... ❤️ I was so so lost, came back to reality after Julija asked me ' how are you feeling?!'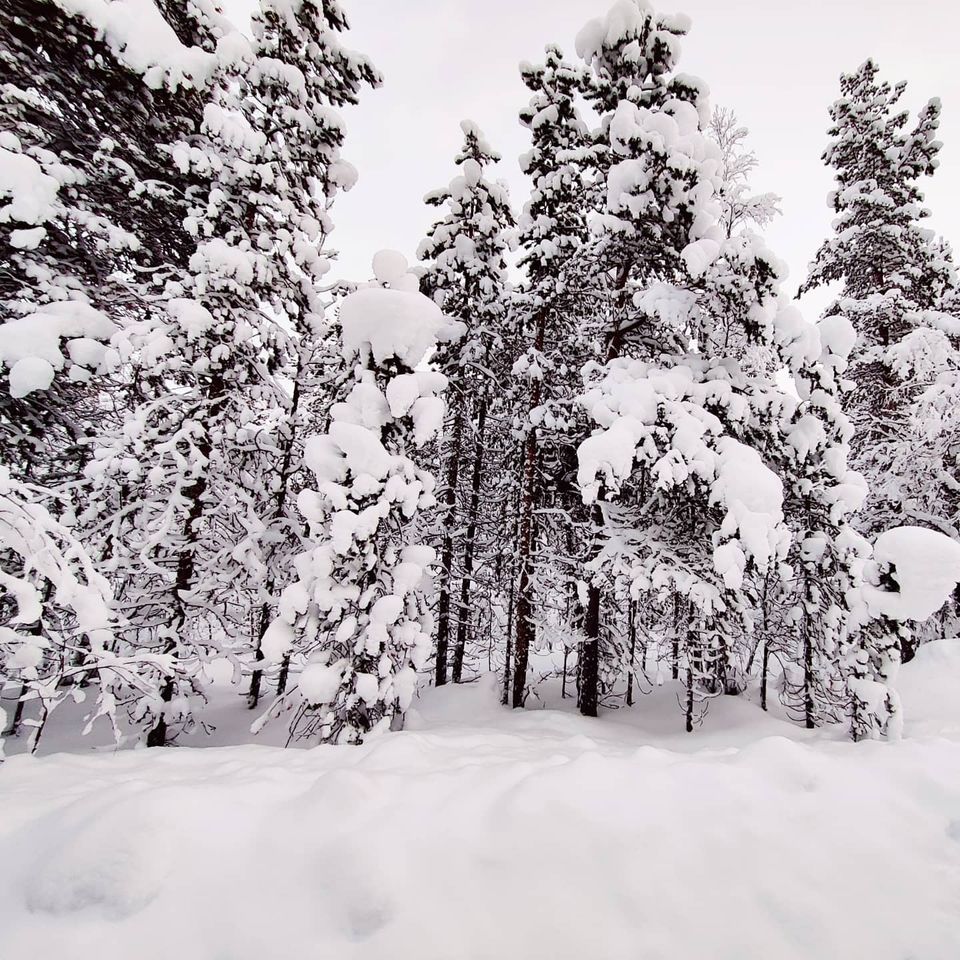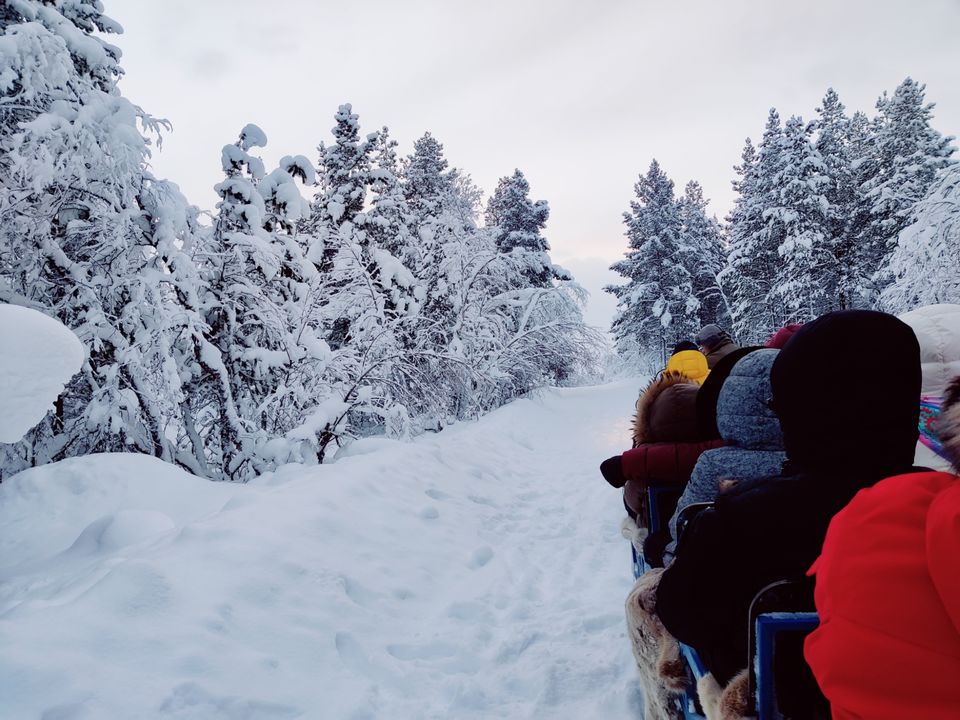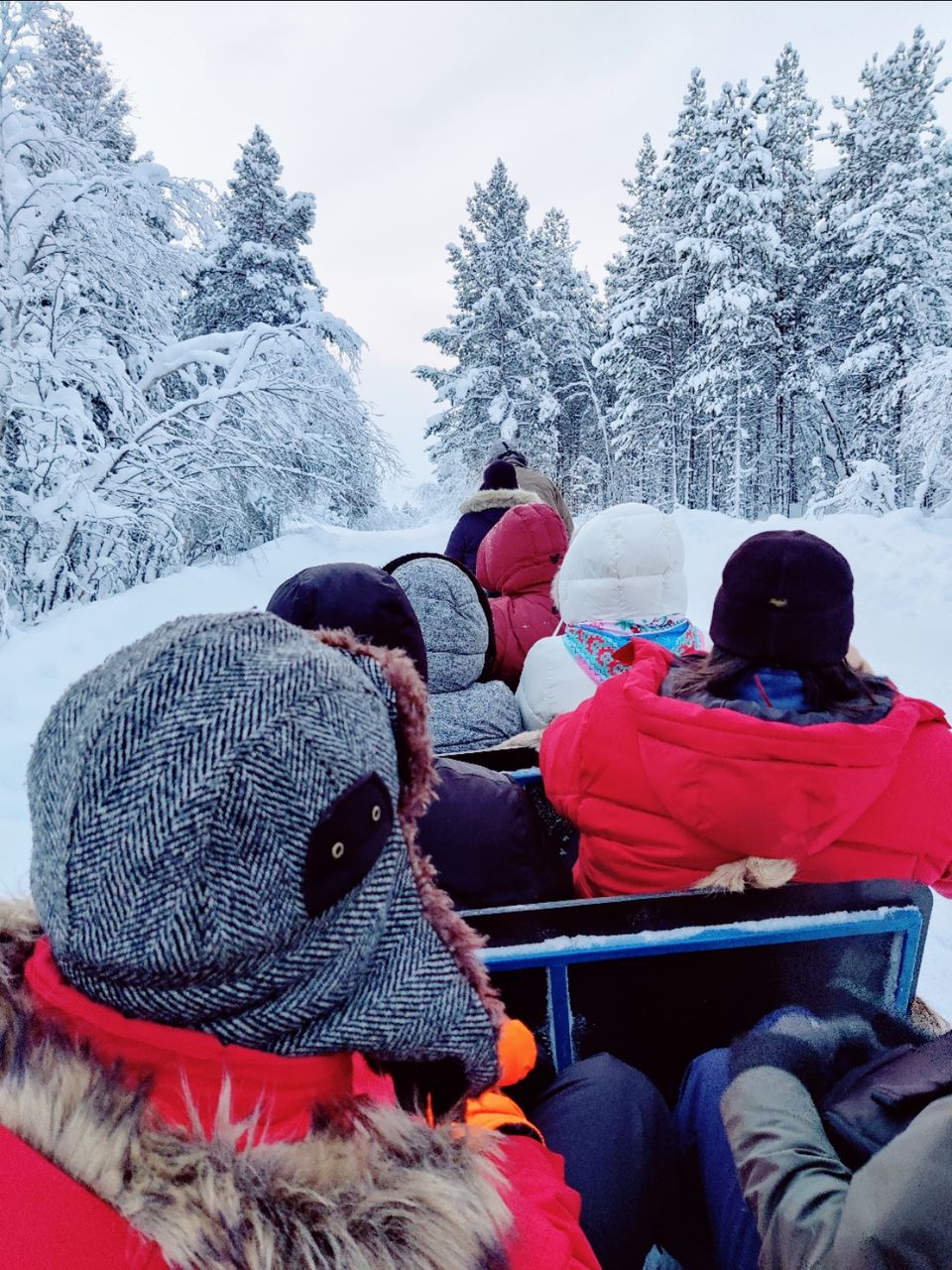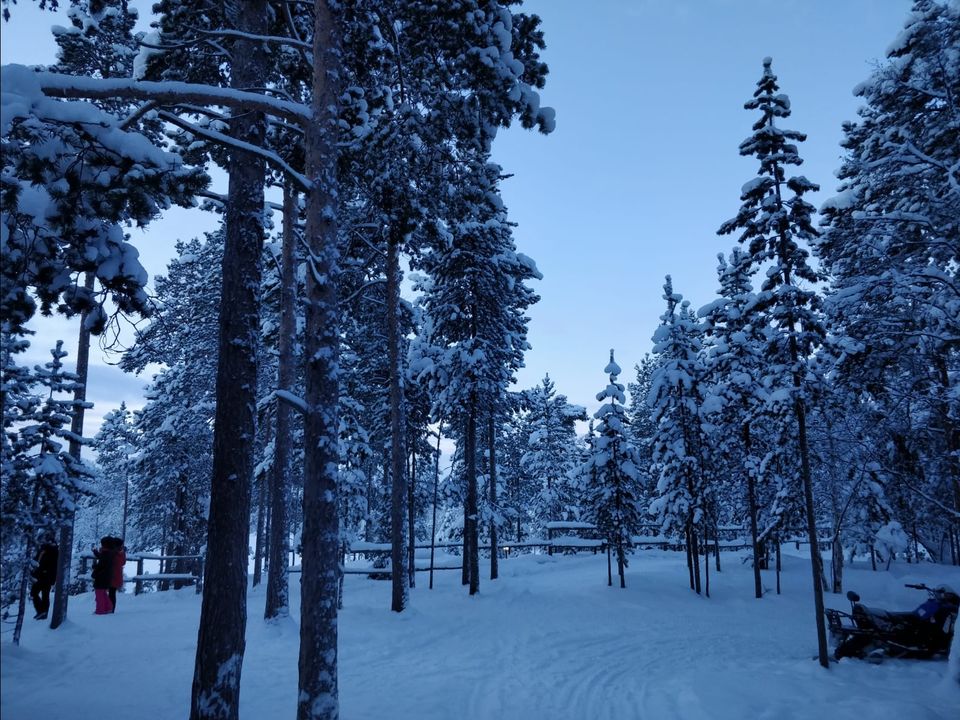 We finally reached lovozero and met the people there! Our boots were not good for the heavy snow, so they provided us with appropriate boots and some heavy clothes , it looked like a huge sack and I honestly had an Eskimo like feeling! 😃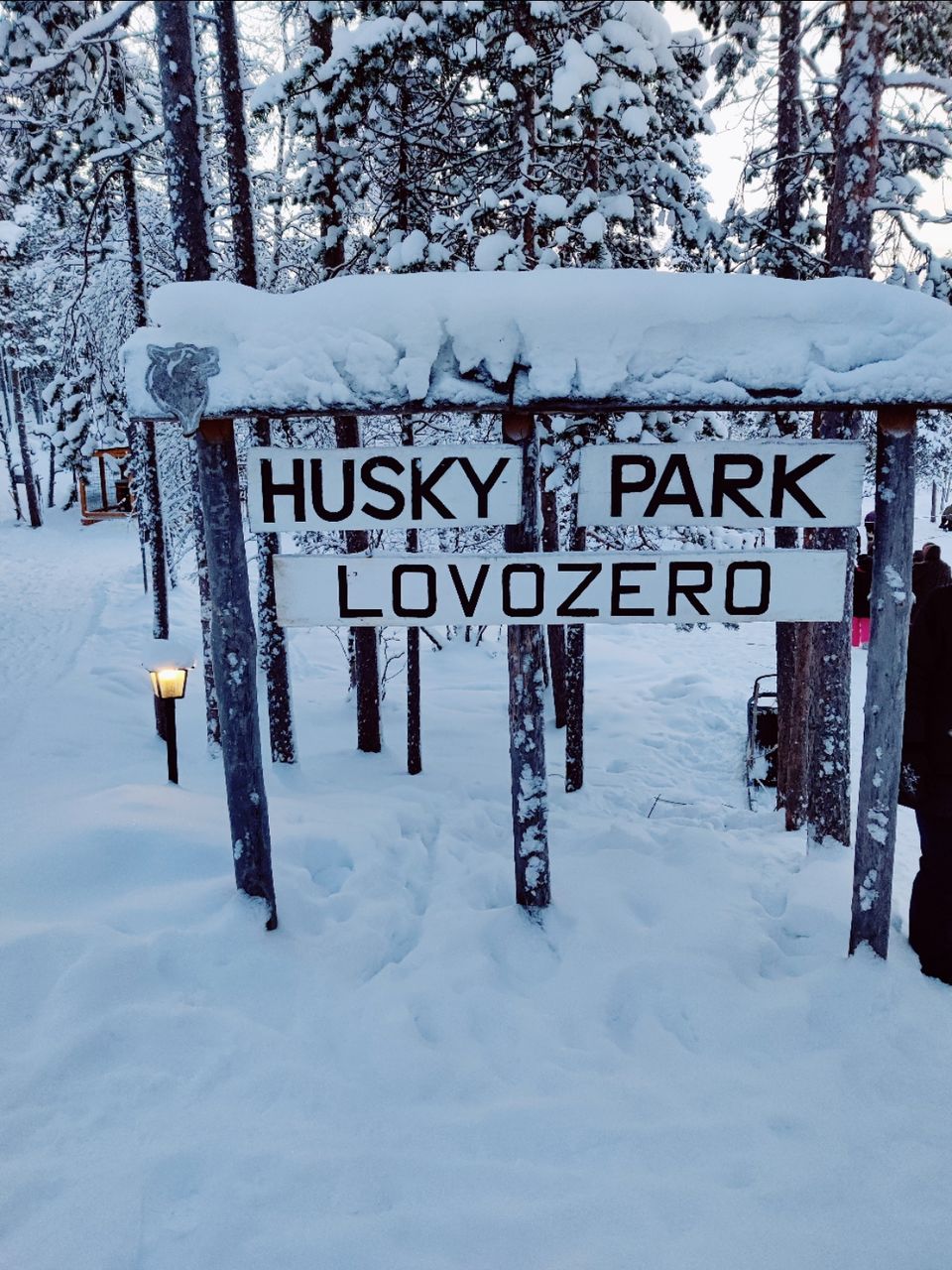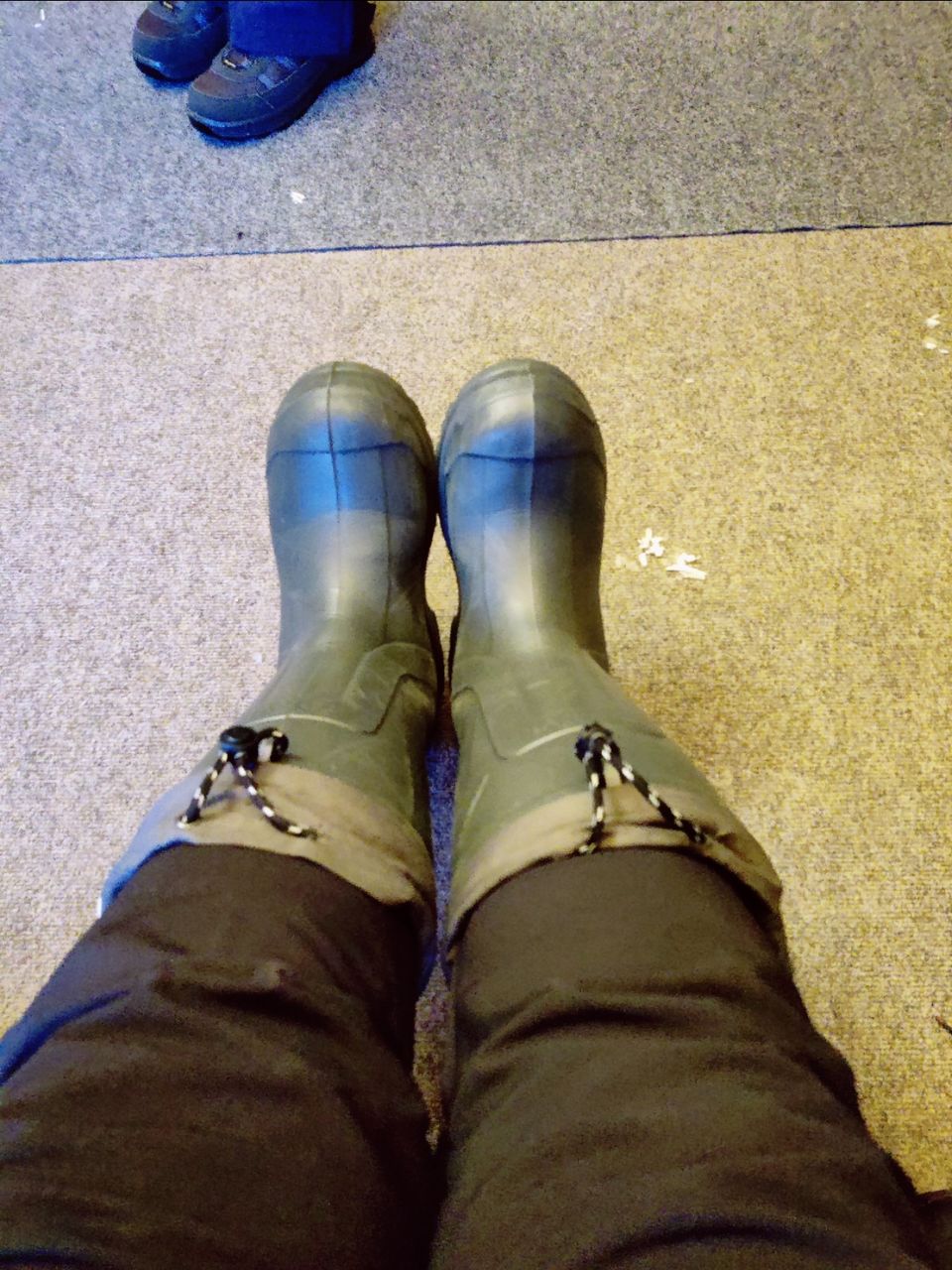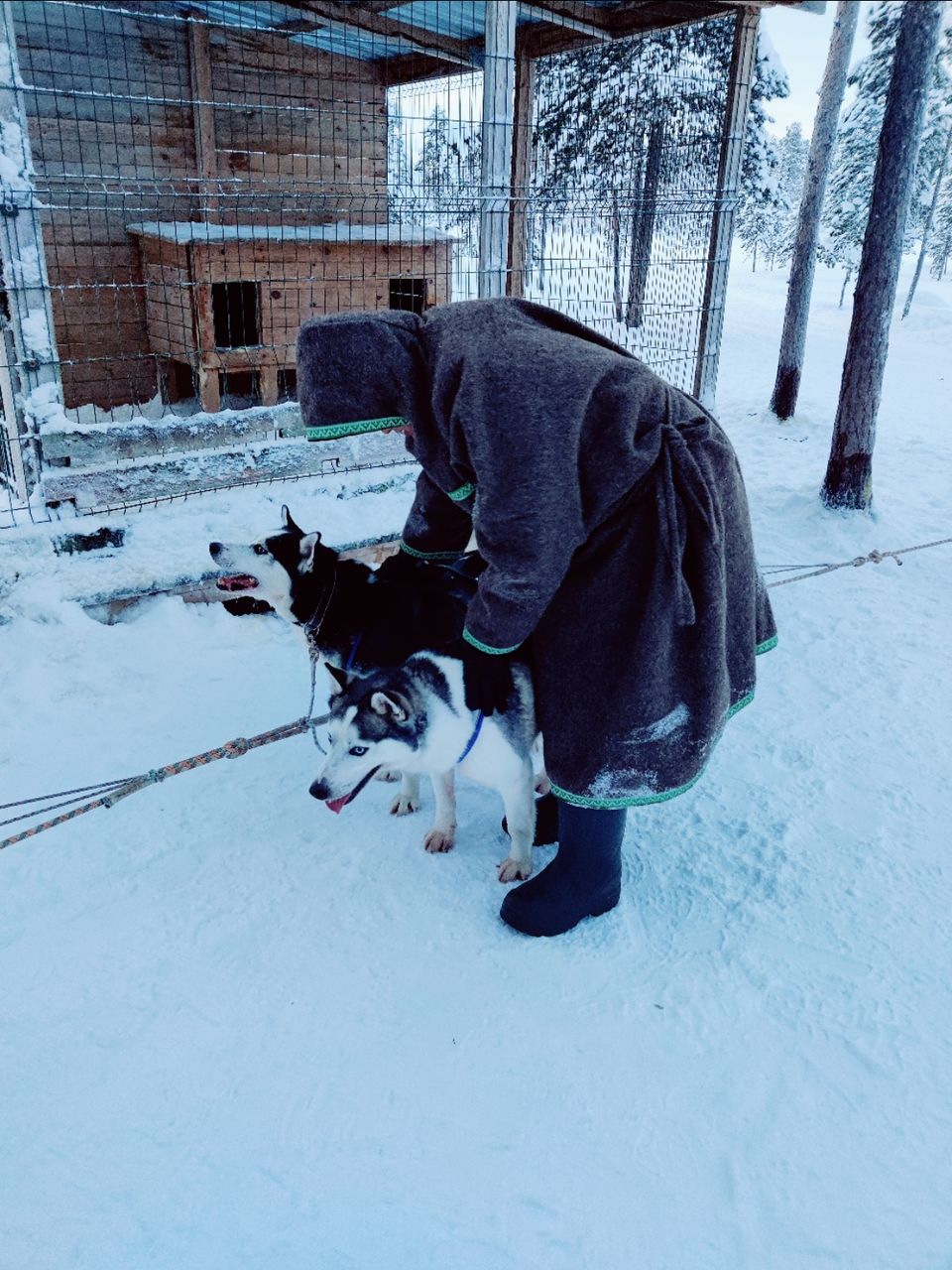 we saw the beautiful and energetic Siberian huskies! They are meant to run and play mostly as they are pretty high on energy and that very weather is ideal for the doggos! So we went on to the sledge car and the beautiful huskies were taking us through the forests! It was so so funny looking at them and at the same time it was so much fun!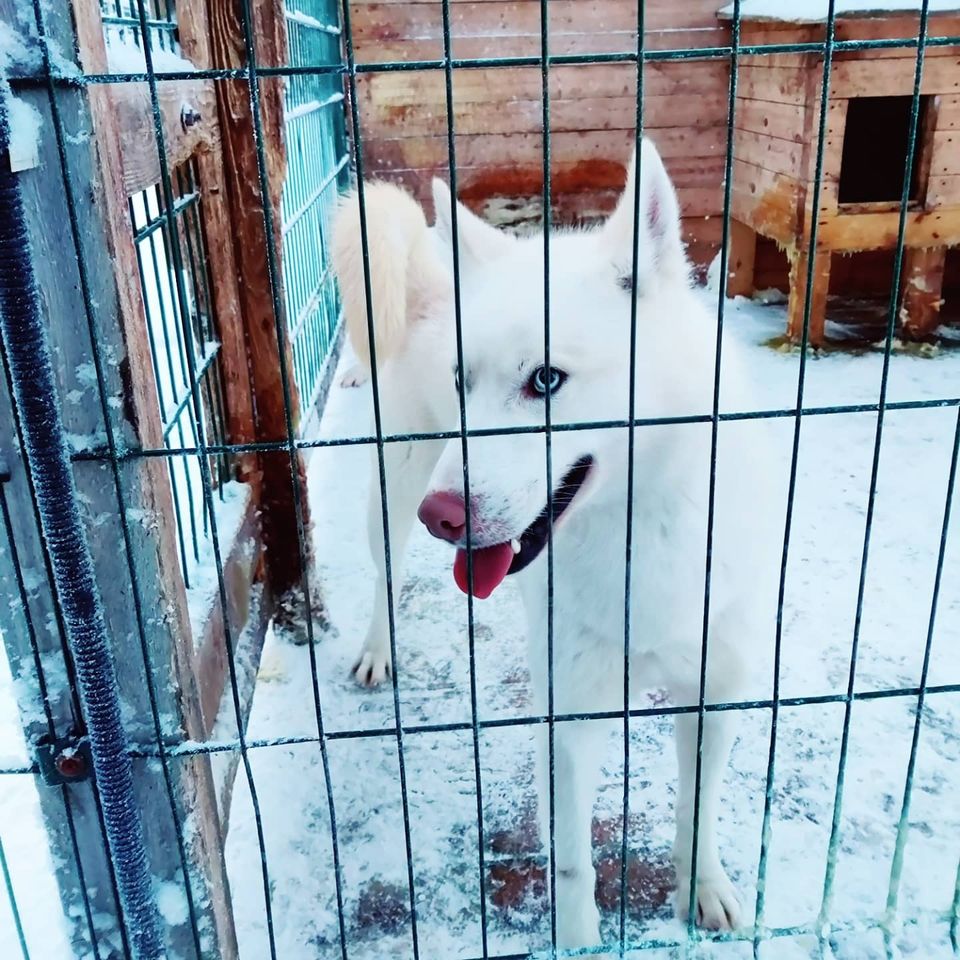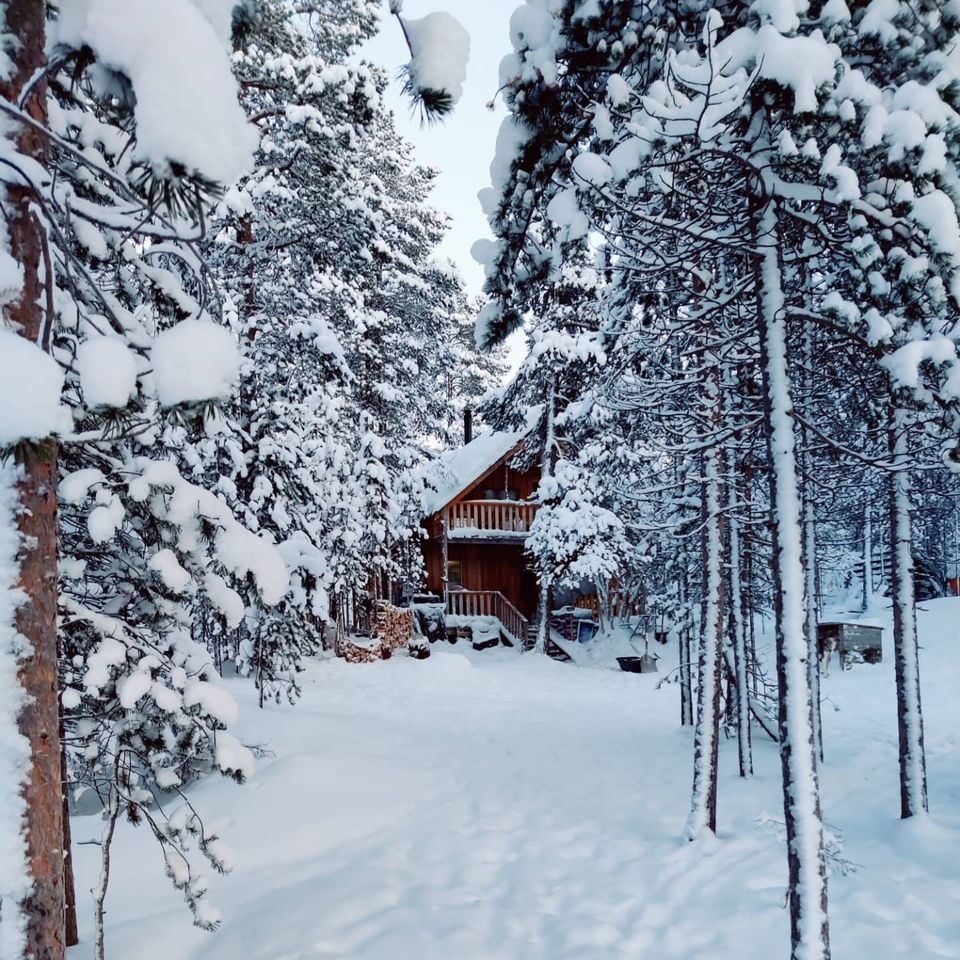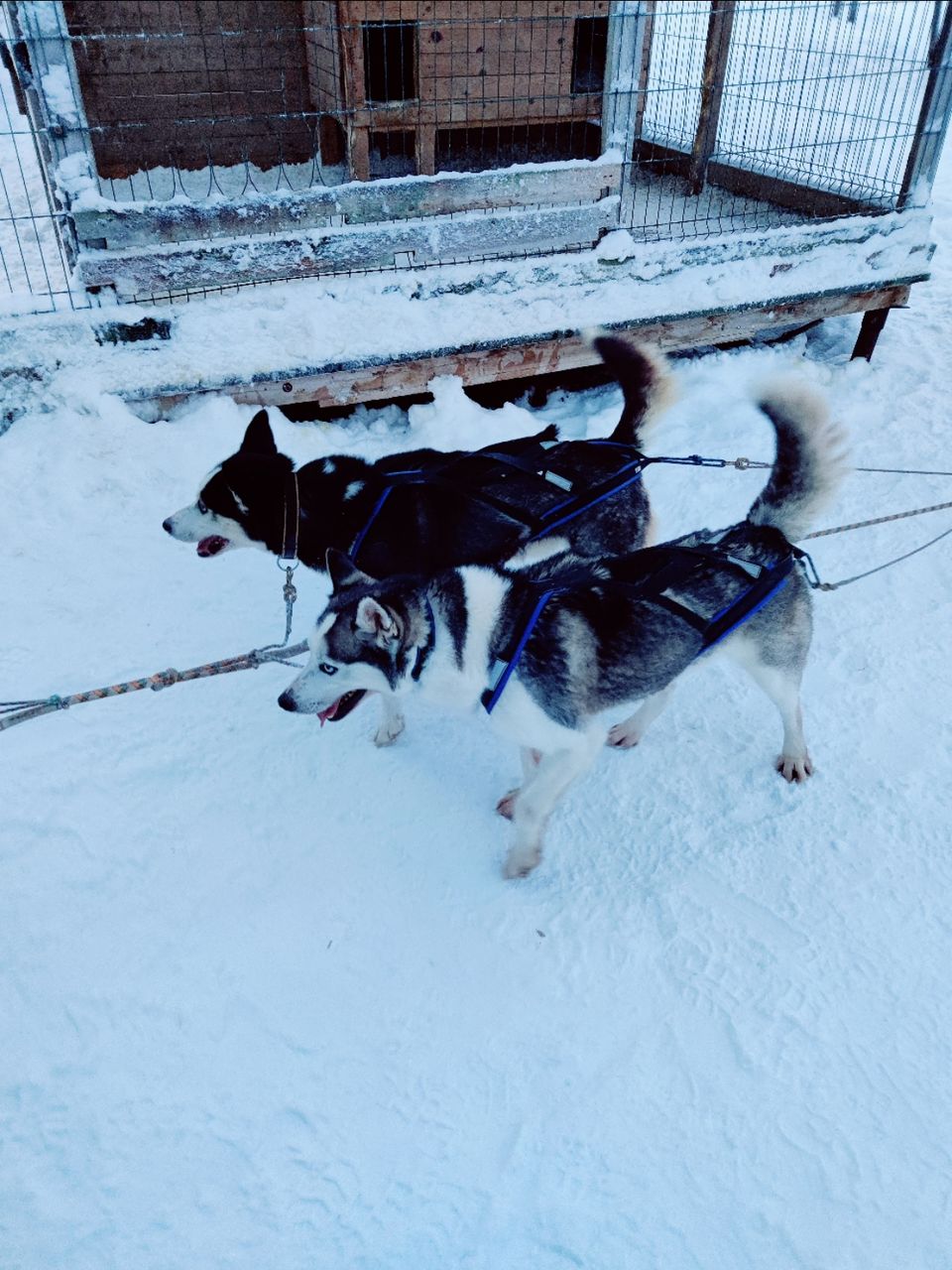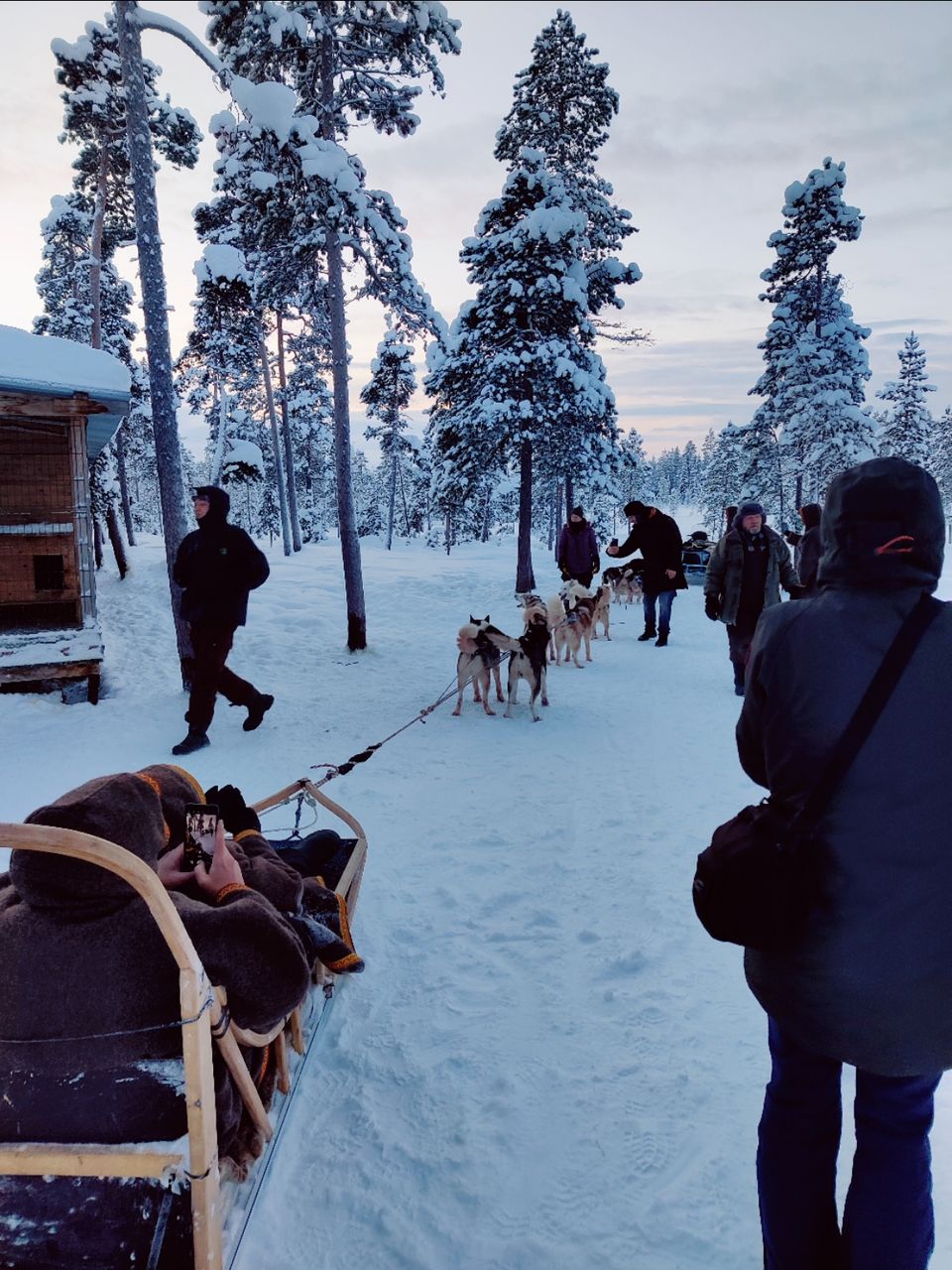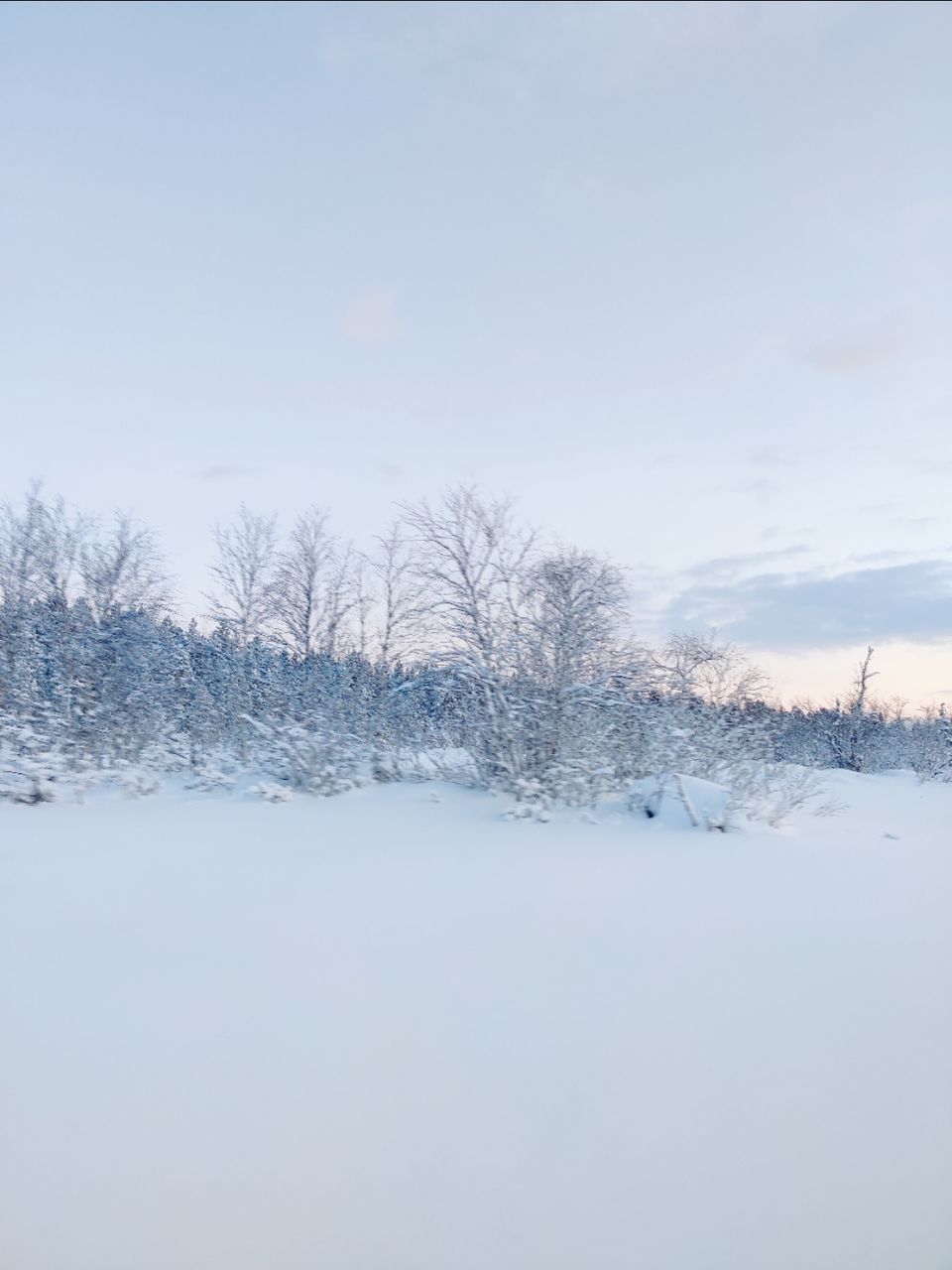 After the ride, we went to see the raindeer. We met a cute raindeer named Nikolai, very friendly! We walked around the places where the guide told us about Saami people, how they survived till date, what they usually do, their lifestyle, food habits etc. For some time I felt that I went back to my childhood, as I always read these in books! Then we had lunch there. We had hot warm raindeer soup with some rice and raindeer meat! It was a lovely experience! We decided to come back and rest for sometime in the hotel as we were planning something big for the next day!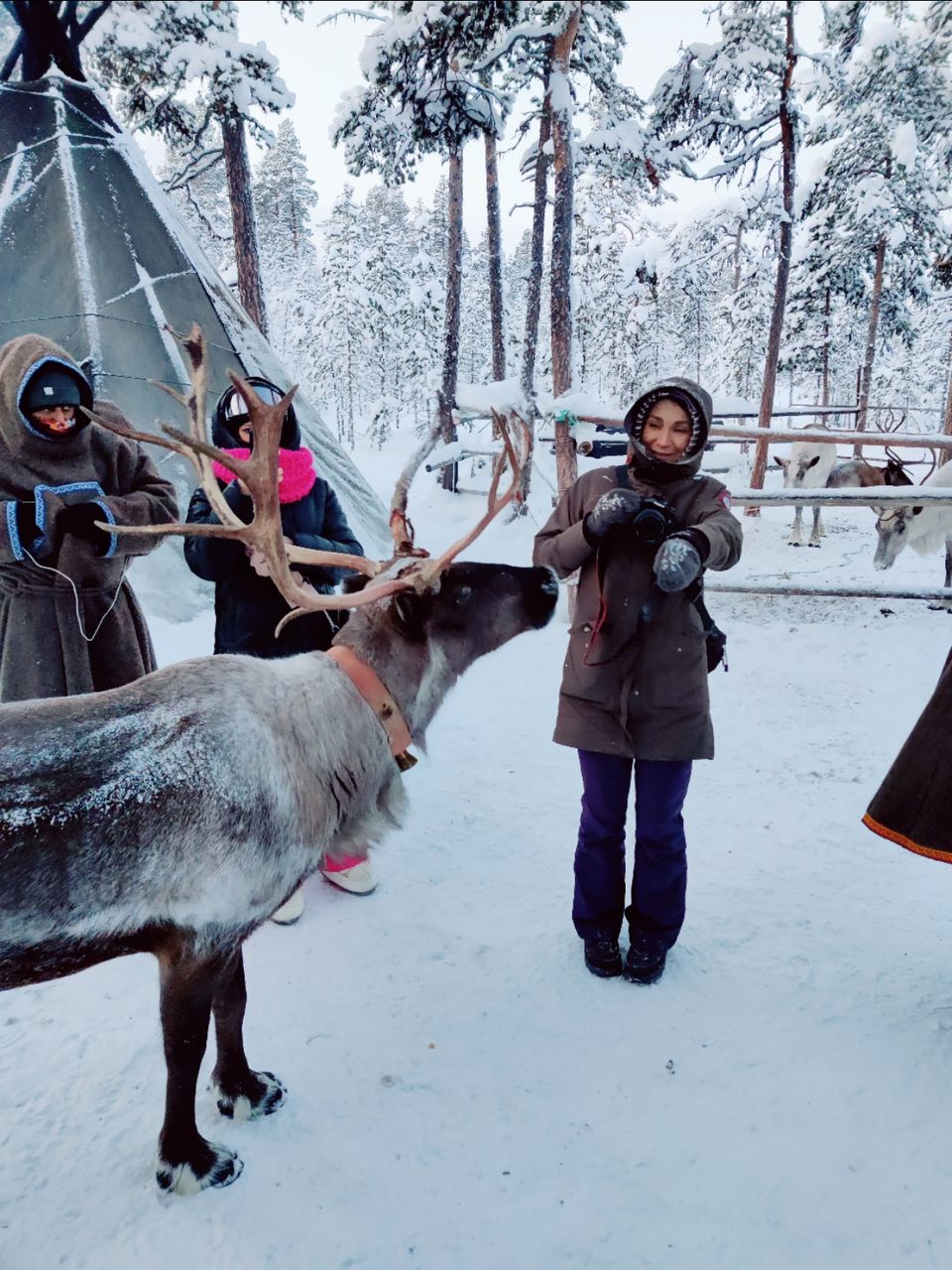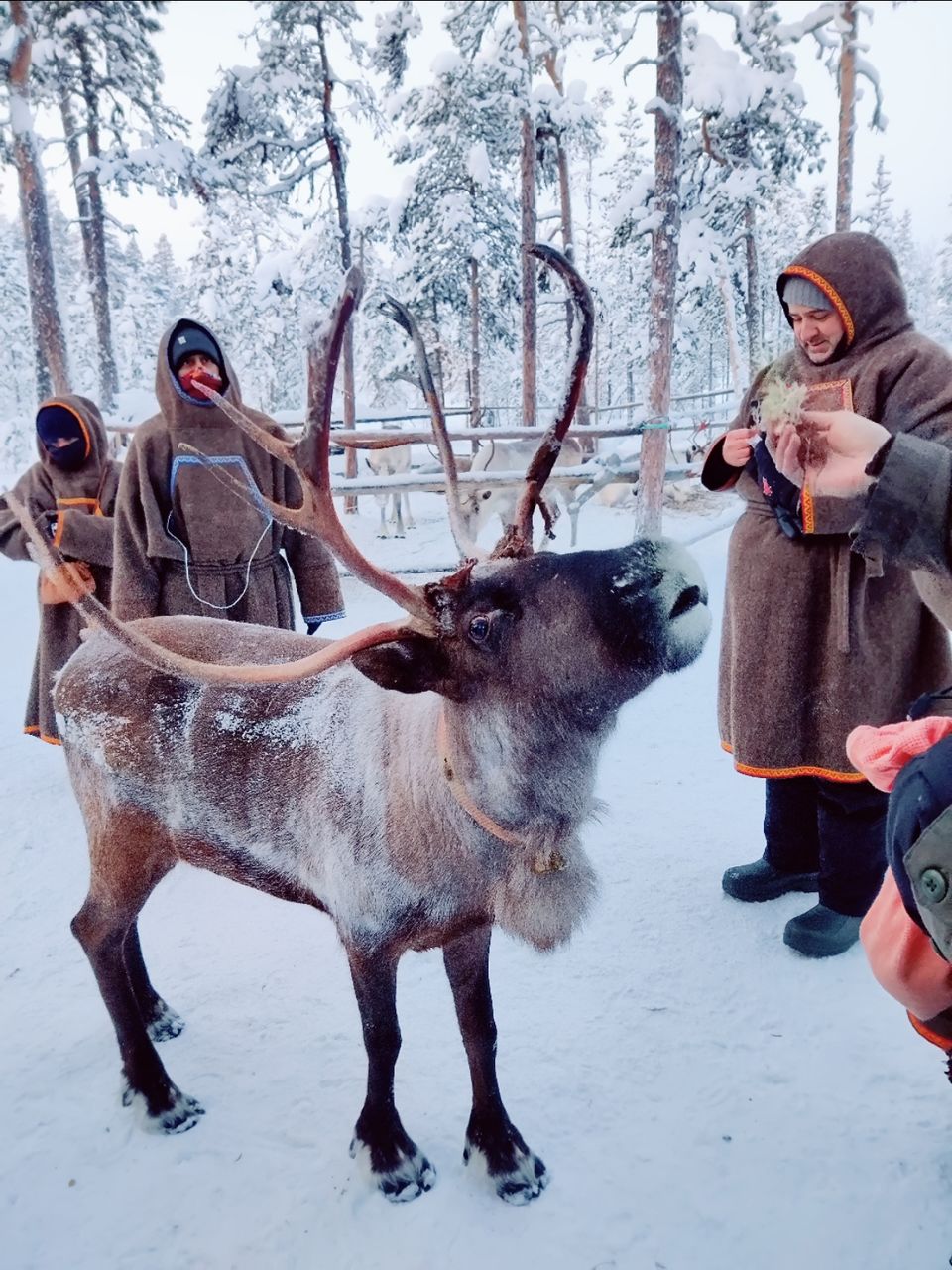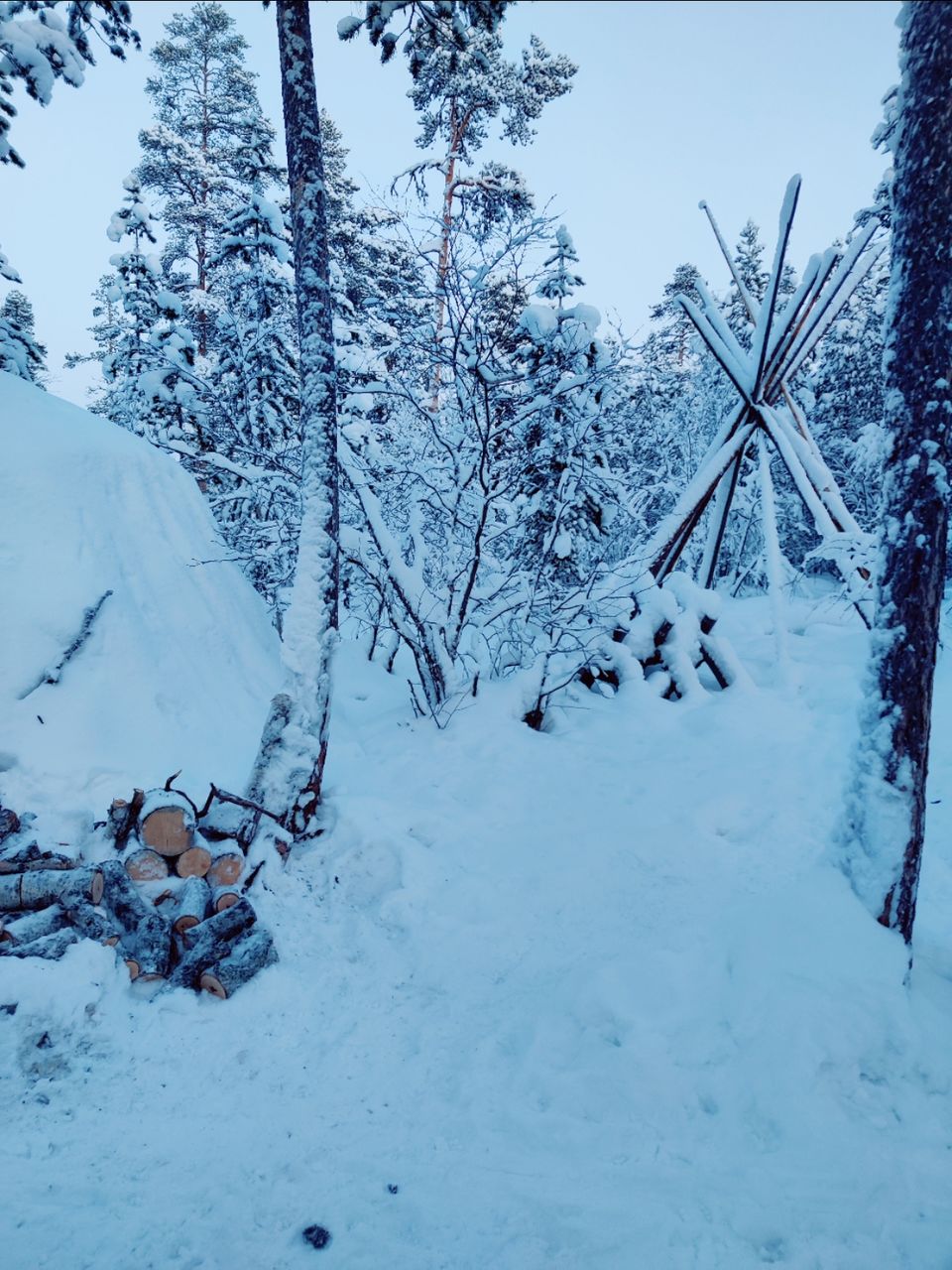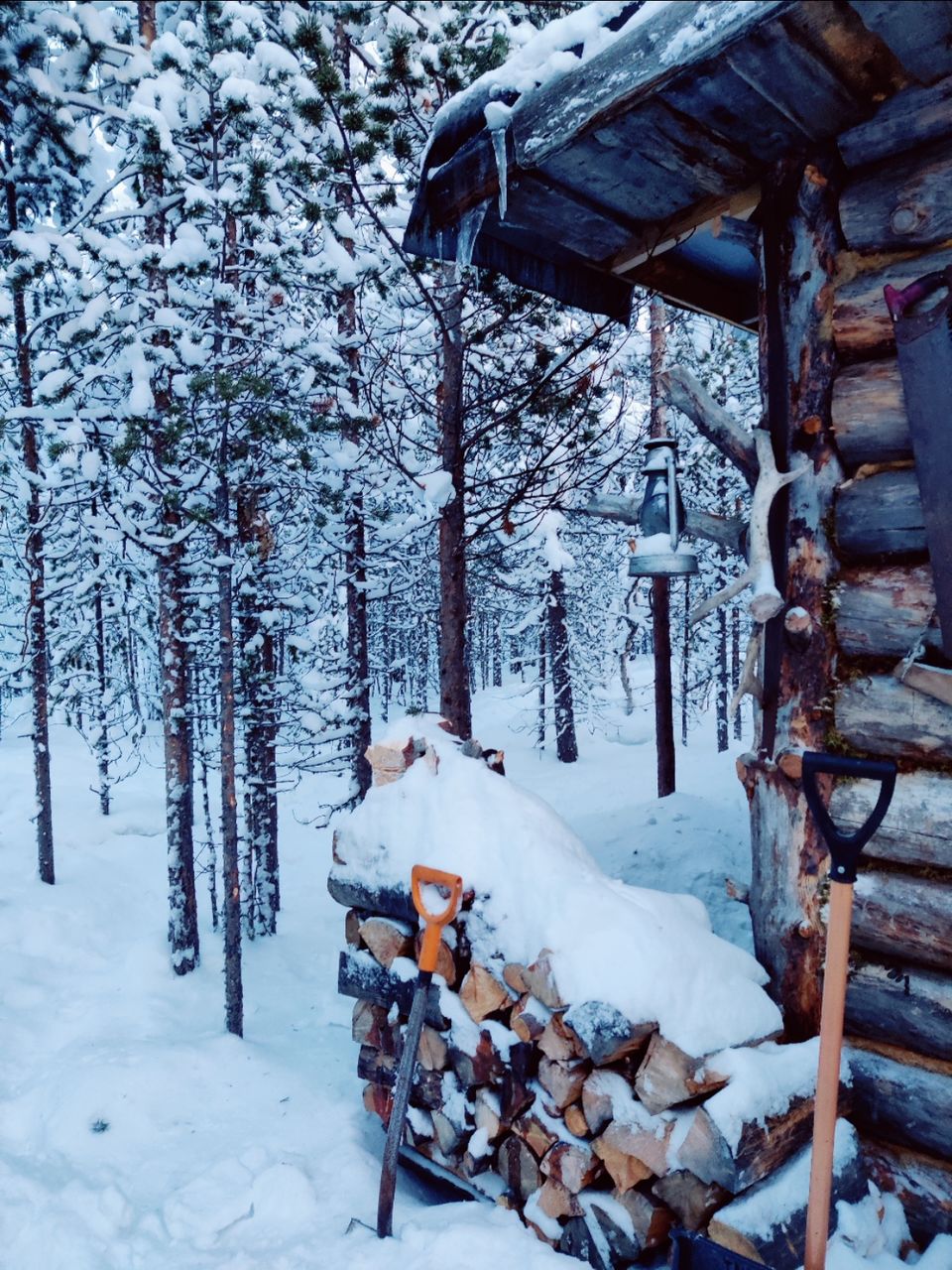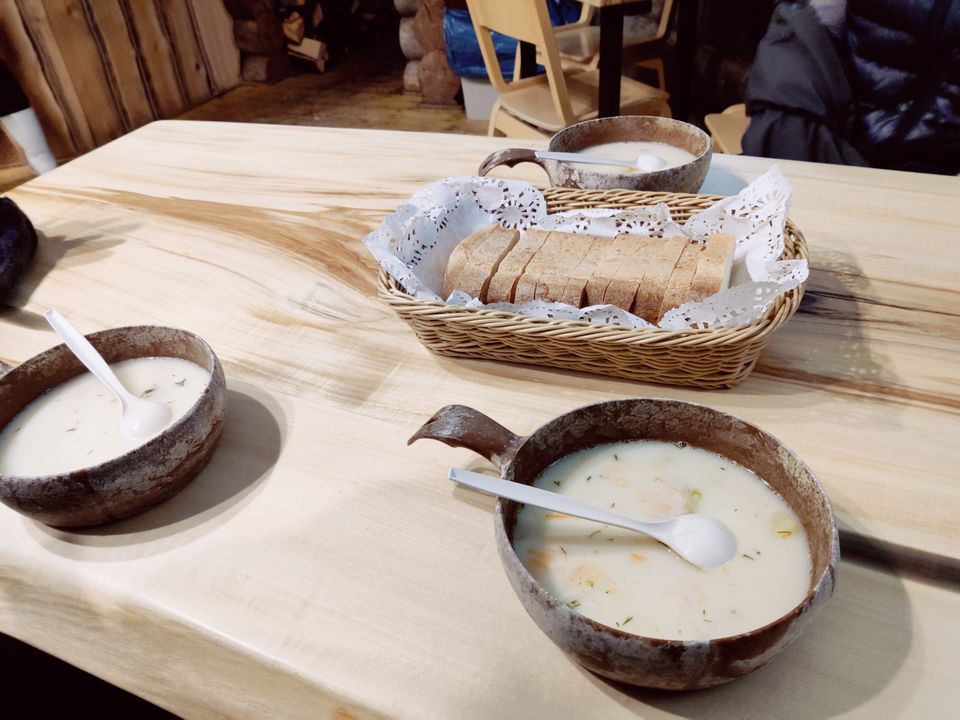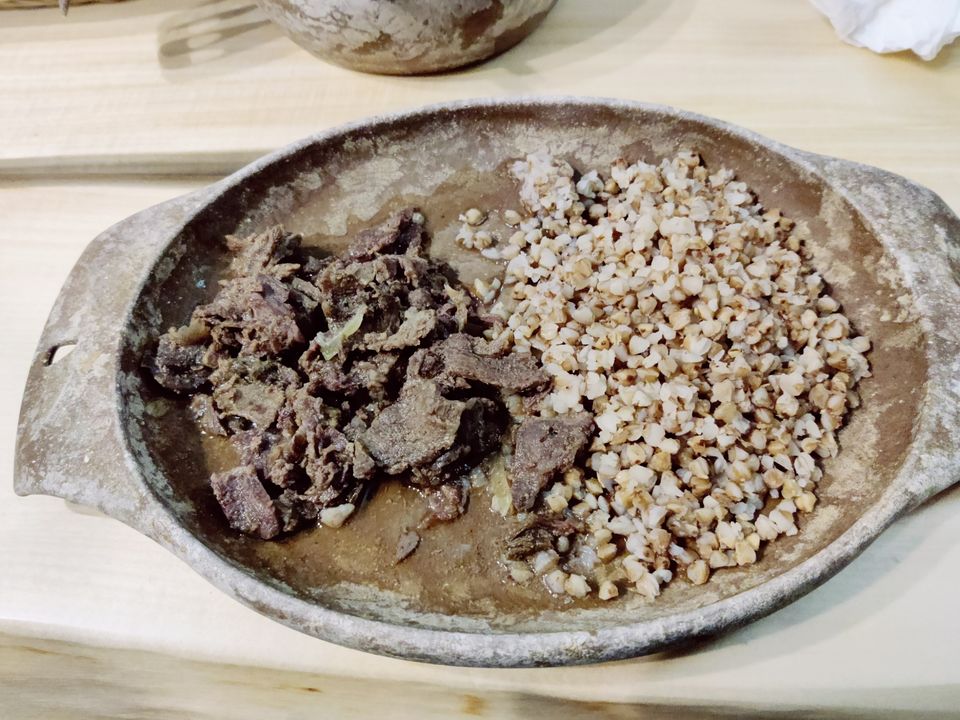 We came back to the hotel and took some rest! Had coffee in the hotel but thought of having dinner outside! We went out to check out some shopping malls, a few restaurants were only accepting Russian vaccines, European vaccines and our last rt-pcr report was also more than 24 hours old, so it was quite difficult for that time to find a place, but anyway we were already staying in this amazing hotel so we didn't think much and had steaks for dinner! The next day we planned to go to Teriberka, so Julija asked us to sleep well, because Teriberka is slightly far away from the Murmansk main city so, we dozed off a bit early!
*** Teriberka *** - The last village on earth!
We began our journey around 9 am in the morning. Julija told us the road was completely broken due to heavy snow last night but they fixed it in time. It's very natural for them because Teriberka is really far away and it's just 20 degrees off the north pole, so that's self explanatory! We stopped in between to take pictures and enjoy the scenic tundra, amazed by the mesmerizing weather and atmosphere!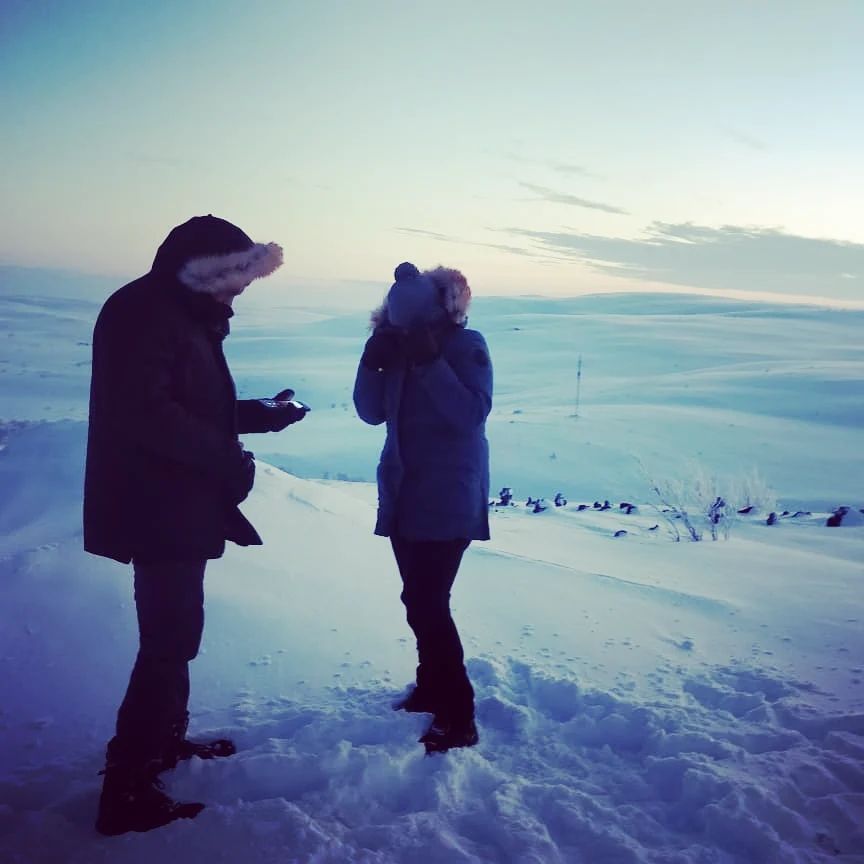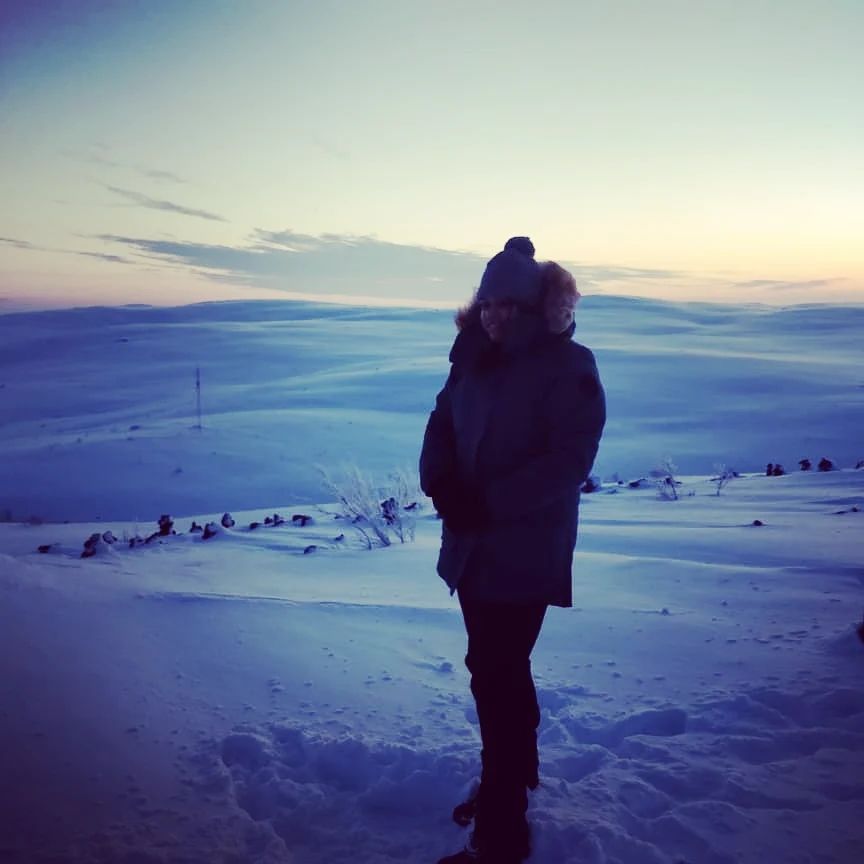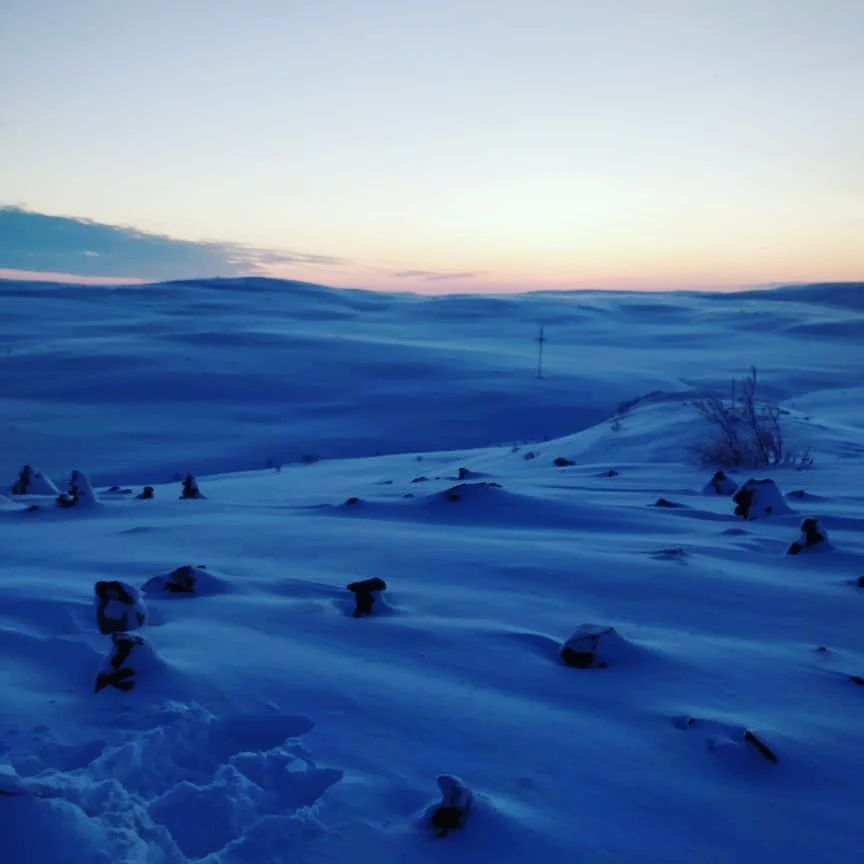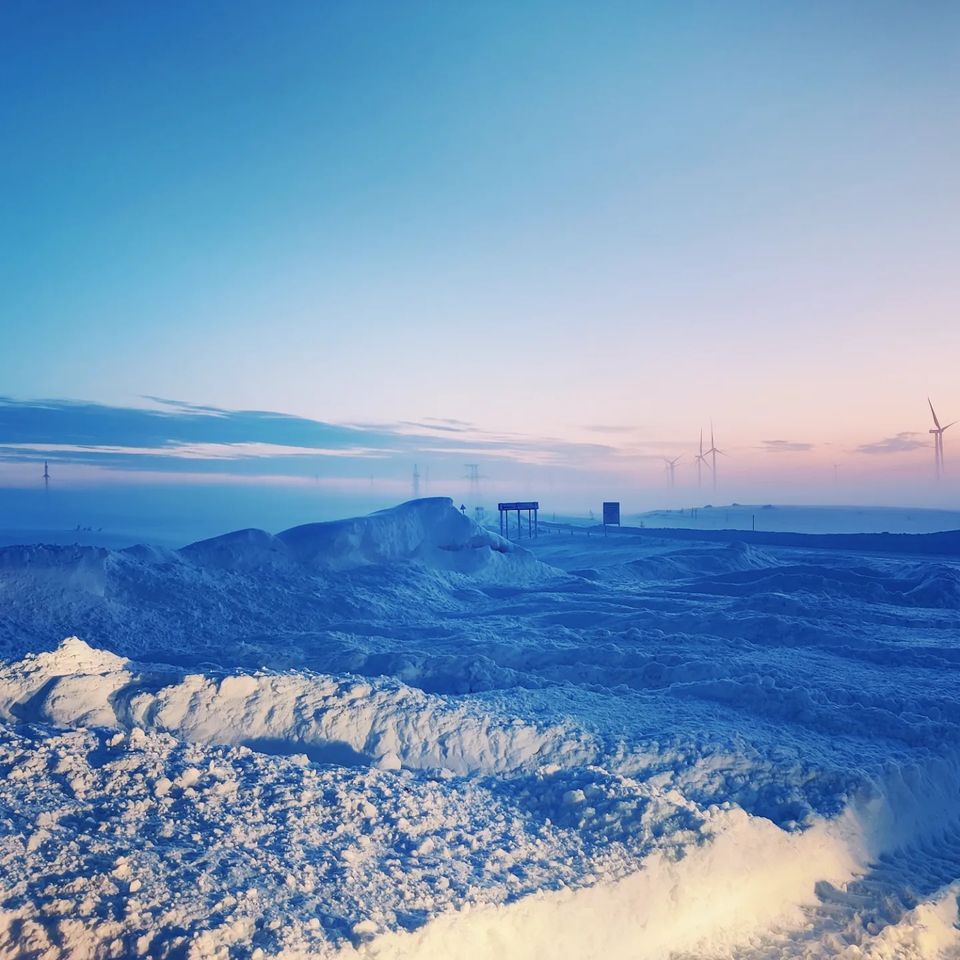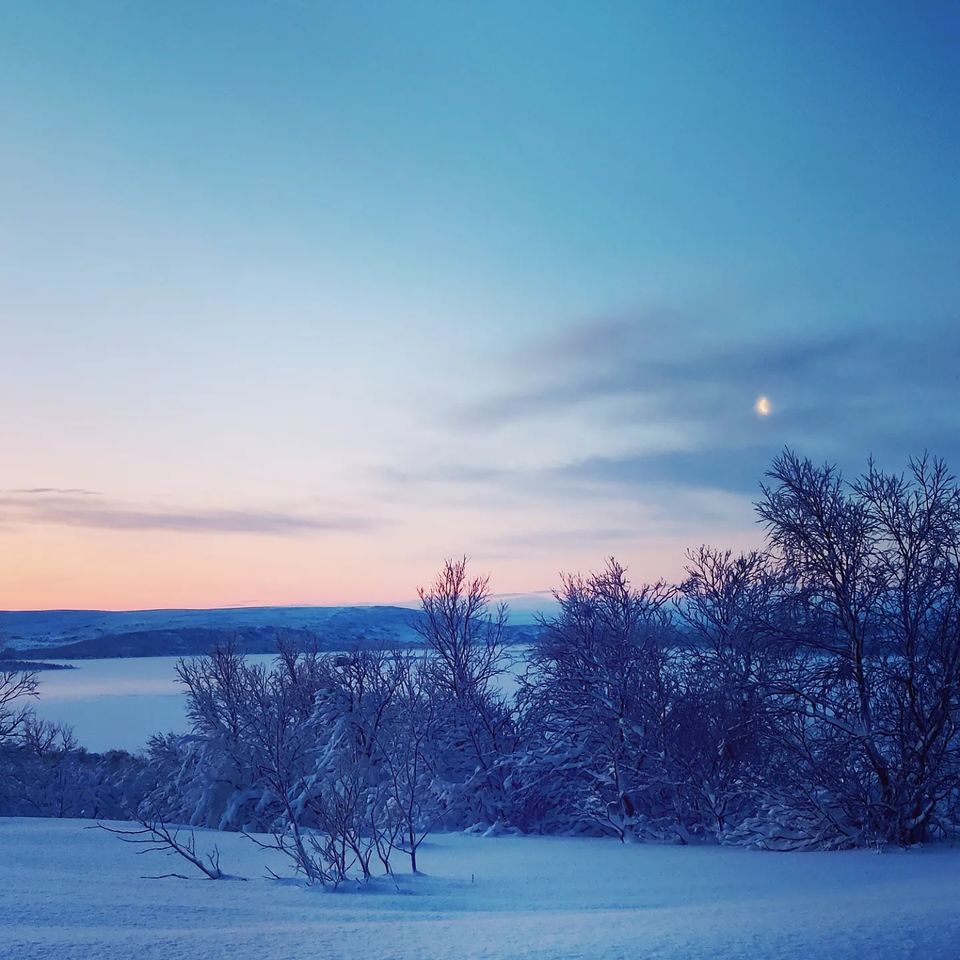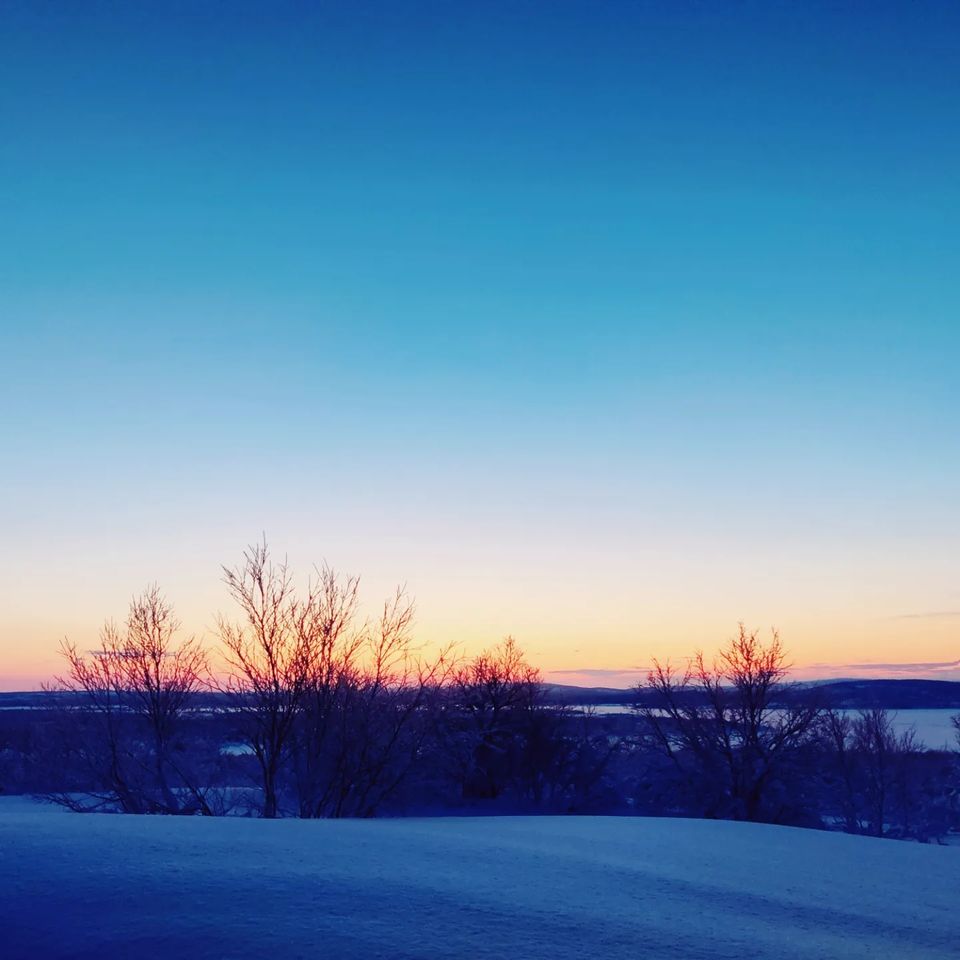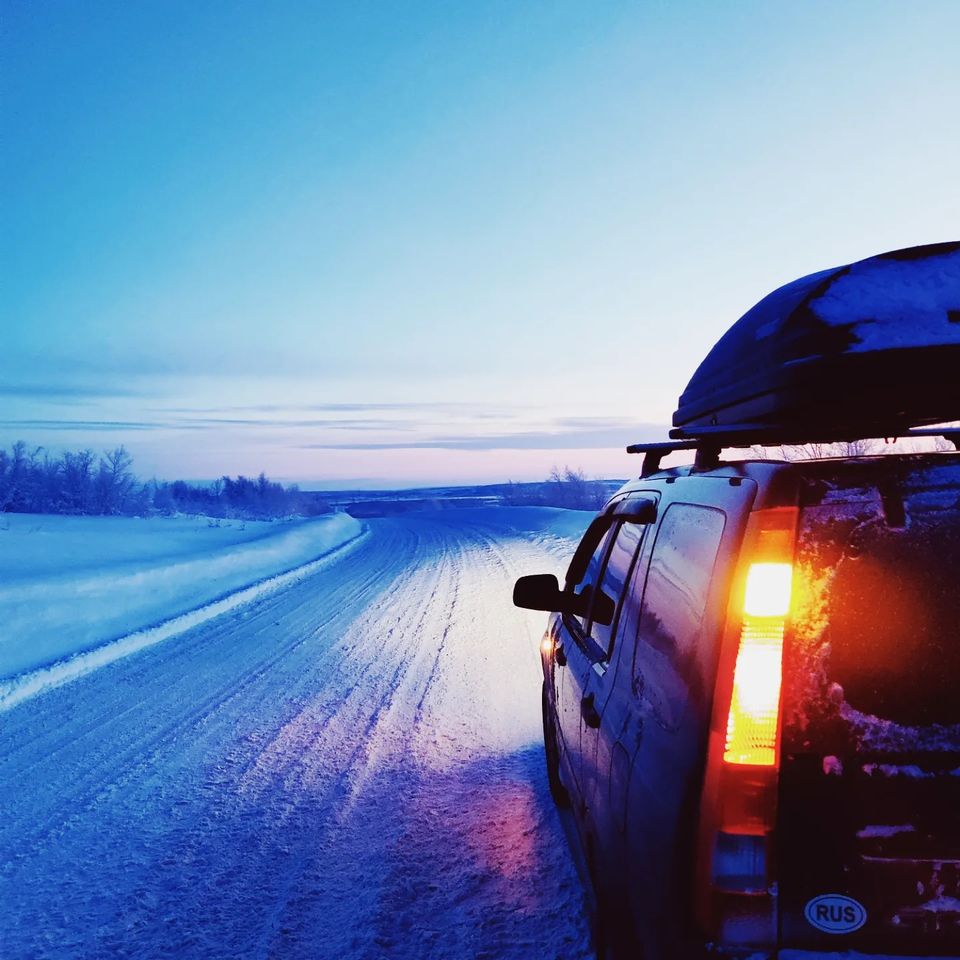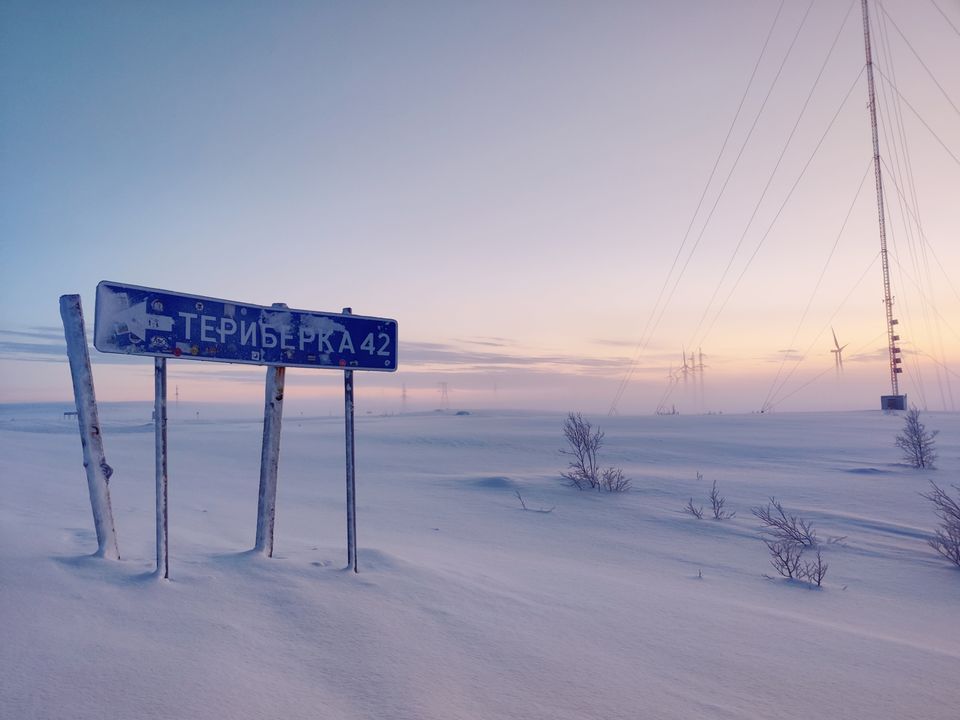 We finally arrived in Teriberka! A village which has very less population, just that a few hotels and restaurants are there. The locals prefer big cities so people started moving out. Teriberka is also in an extremely cold region so not very preferable for stay and the commute isn't easy. We took a snowmobile for our rides further and decided to see the Barents sea! This is also called the Arctic sea! We went to the mountains, clicked pictures, went near the sea and we could see other tourists as well. Teriberka is not just a village, it's an emotion. Visiting the last village on this earth is something which I wanted to do for a long time! The snowmobile ride was super crazy, with a lot of up downs and snow literally covered my whole face 😃, had to wear those glasses and gloves because my Russian gloves even couldn't protect my hands from the cold. My husband sat behind the person who was driving the snowmobile so he was quite okay and enjoyed the fun ride! Julija and I sat beside and were screaming on top of our voice haha!
The mountains looked very brown and white! The Barents sea was pretty white , like snow! The water was somewhat cold. It was very windy so we had to cover our face and head with the muffler and parka jacket hood completely!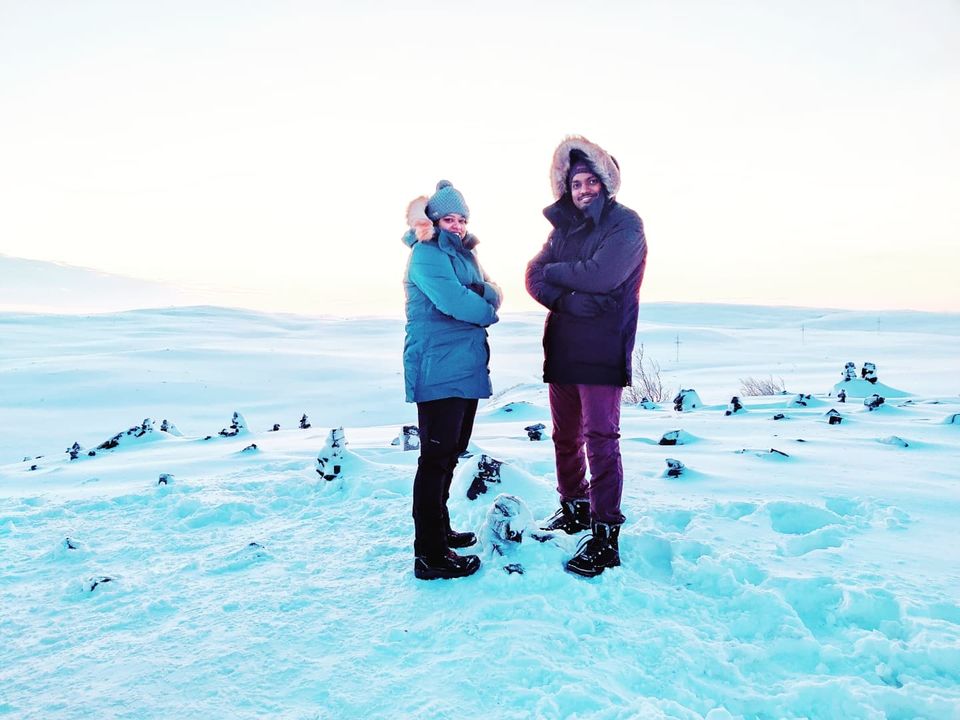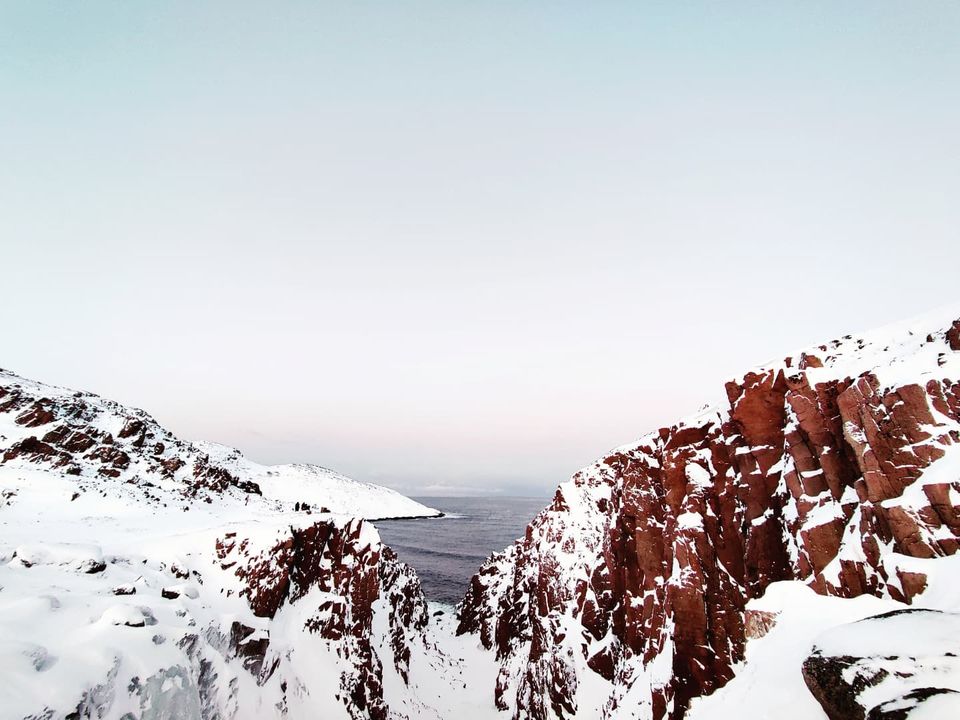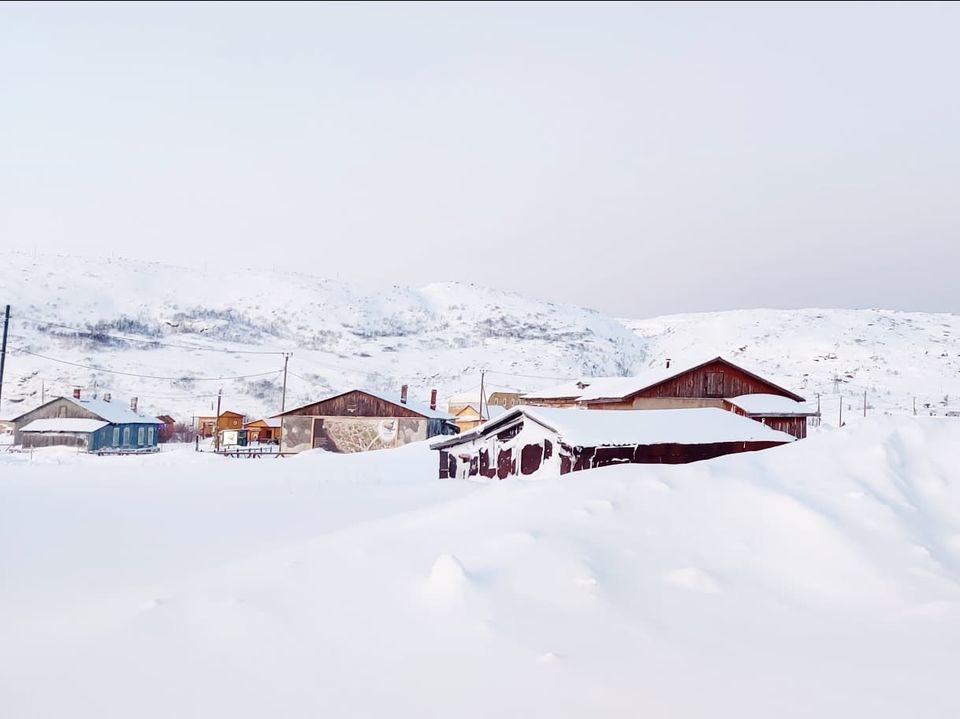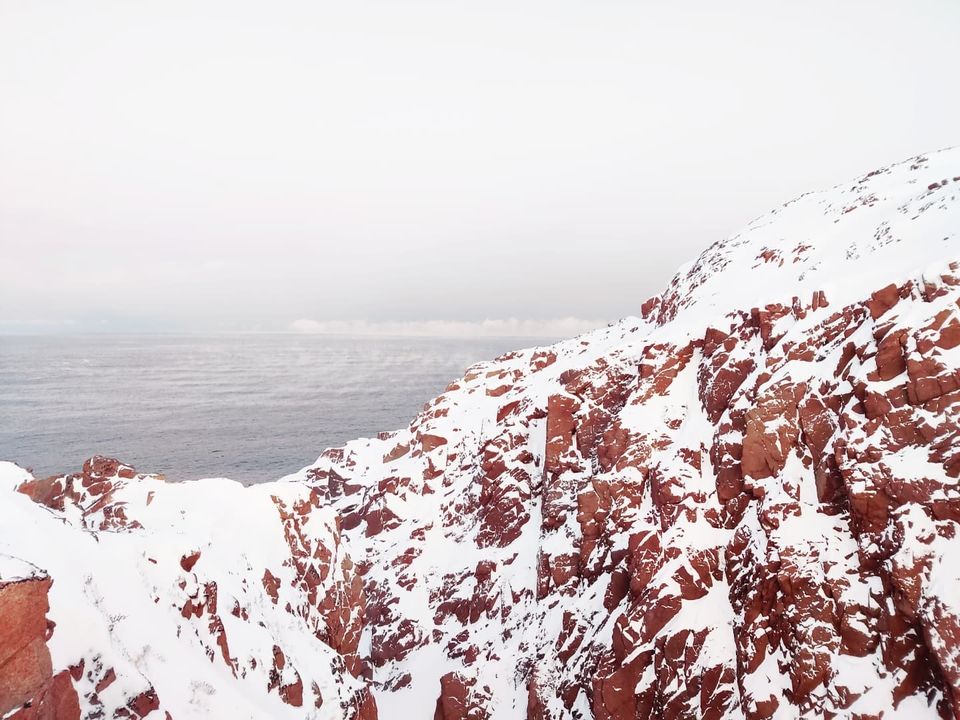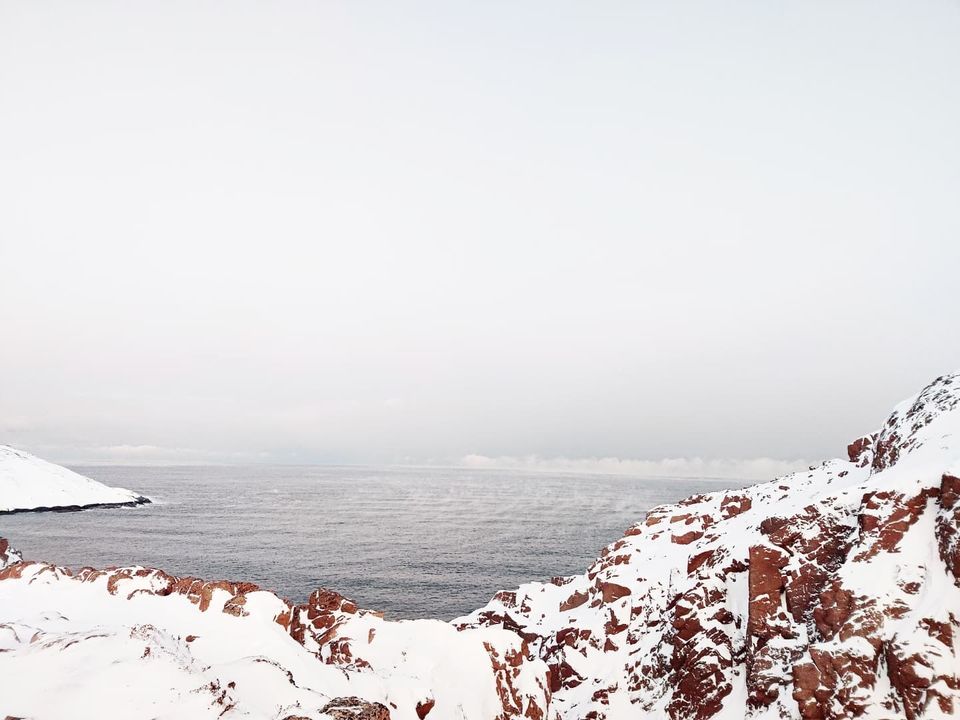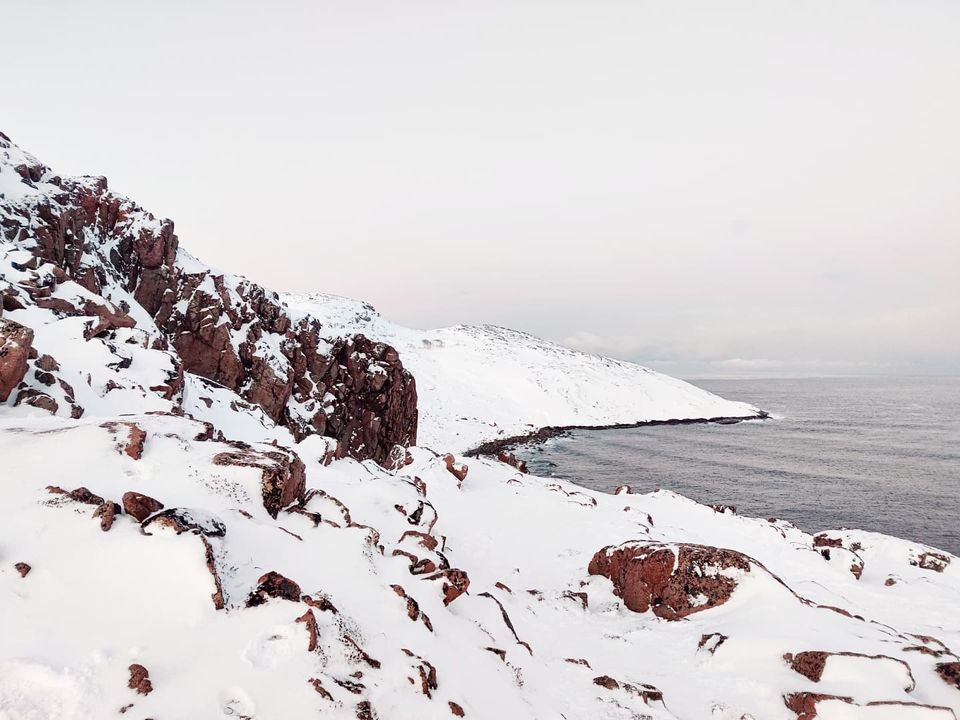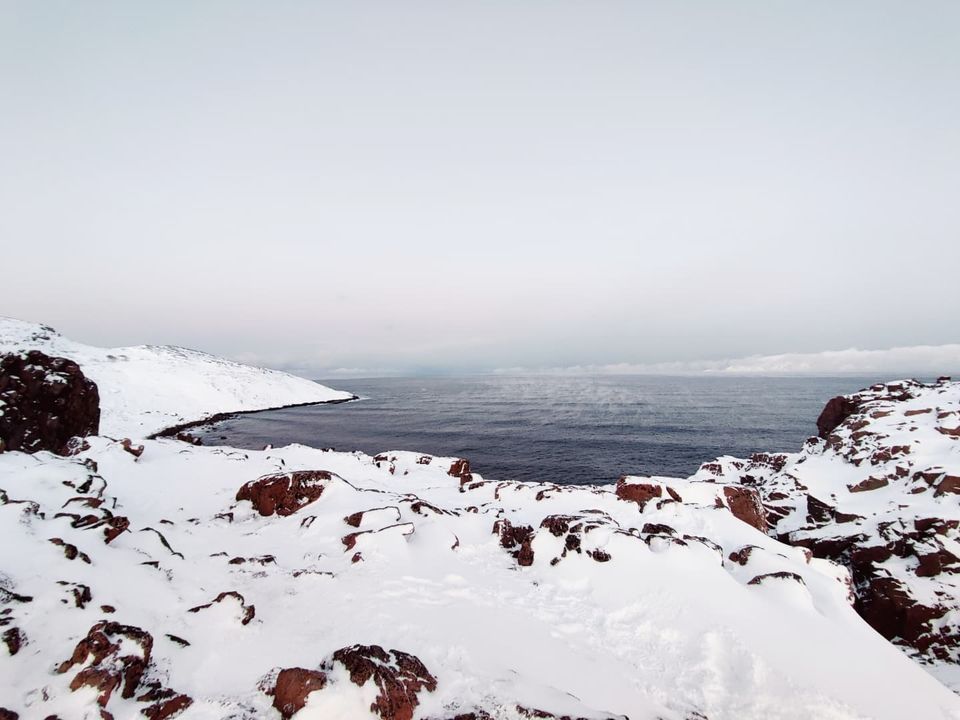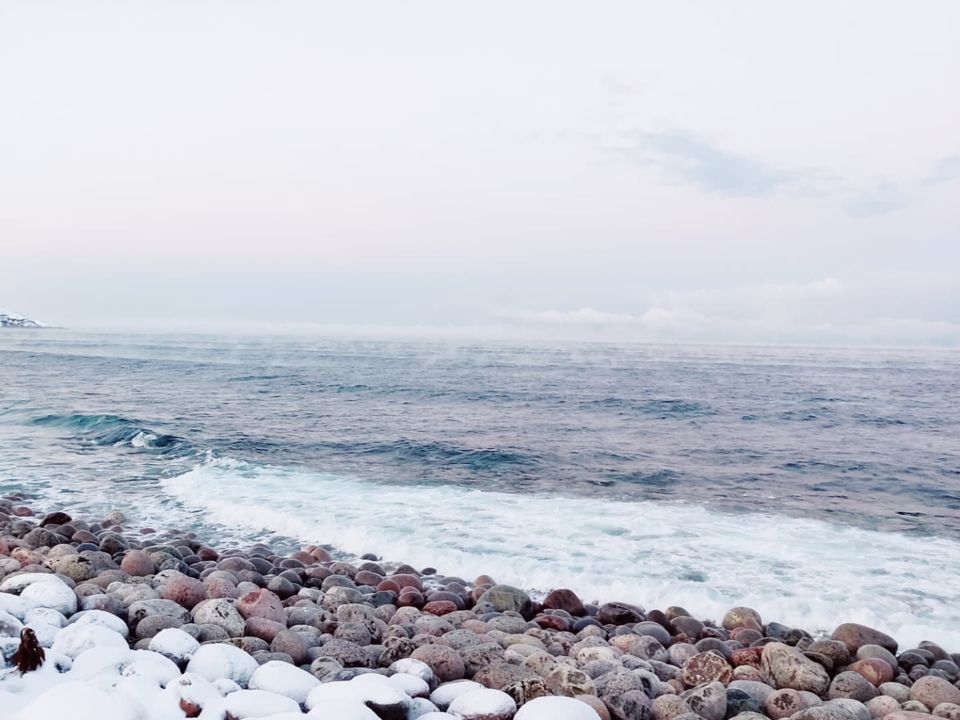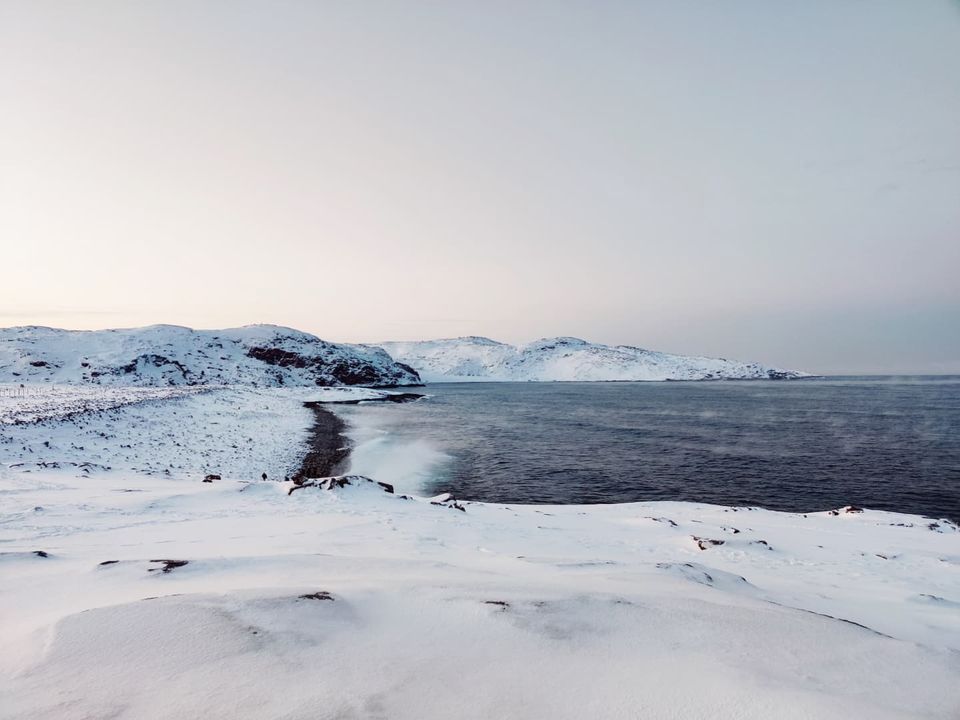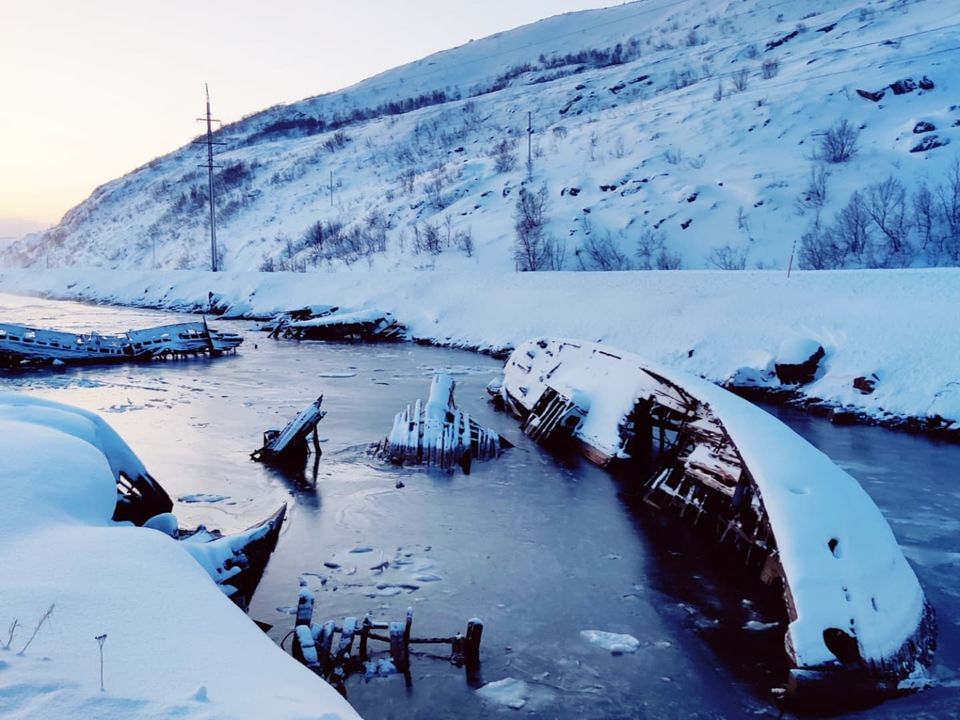 We had our lunch in a very fancy restaurant in Teriberka only! They prepared some nice fish soups and raindeer meat for us! We had warm tea and coffee and decided to head back as it was getting dark! As I already said that it was polar nights so we had very less sunlight!
After lunch, I asked to stay there for some more time. I don't know why I was feeling very emotional. I was happy that I came so far, I came to the far North but when am I going to visit these places again? Julija kind of read my mind, she assured me that whenever we plan next anywhere in the european Arctic regions, she has friends everywhere so she would help us! ❤️
We left for our hotel and I slept in the car because I was feeling a bit exhausted after the journey. Woke up after sometime and started checking my apps. So I saw some good data for Aurora! I asked Julija that we are interested in aurora hunting again if possible we can go tonight! Julija confirmed with Anthony and said YES!
My sleep vanished and I started planning for the night! I asked Julija that we are okay to travel even far, because we just had one more day so we didn't want to waste it.
Aurora Hunting 2nd day: 29.12.2021
We drove towards Finland as the coordinates were showing the same. The first location was full of aurora hunters, visitors and we also joined them. Saw one trail there but it was very light, not satisfying. We decided to drive further and it was colder than the 26th night!
We went to a nearby forest, it had a pretty haunting atmosphere. Anthony said we need to sit in the car and patiently wait! This game of patience is very important for aurora hunting. If you can't wait, it's not for you!
We saw a trail after an hour! 😃 very light it was! Again we waited for another hour and saw some shine finally above the trees. We were hopeful. After some time we saw two trails back to back. The 2nd trail started fading but the 1st one stayed for a longer time. Then they started shifting, went to the middle of the sky, changed colors, and we saw a beautiful red tinge! I was shouting as usual! Then it started floating, very slowly... So we got to see the show for at least 4-5 mins...
Beautiful crazy auroras finally showed up, but disappeared quickly! We waited for some more time but there were clouds so we left.. it took us 5 hours to chase that night for a 5-10 mins appearance! Crazy, isn't it?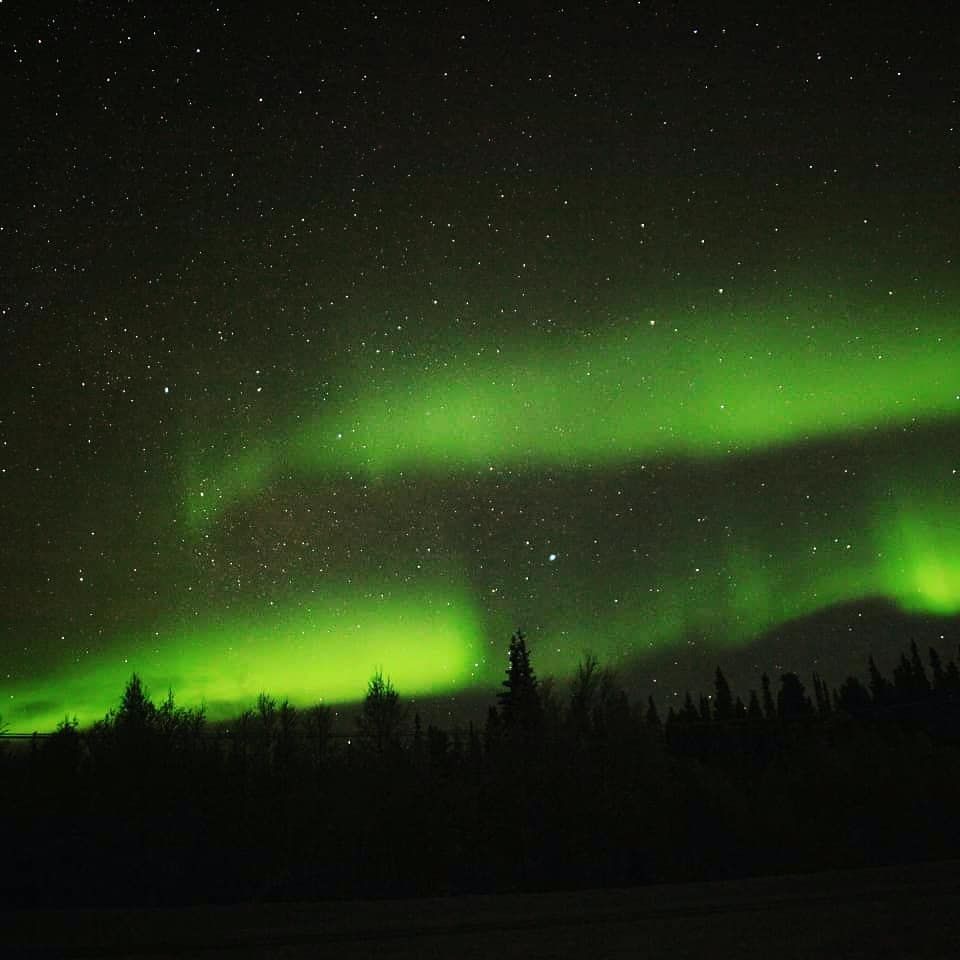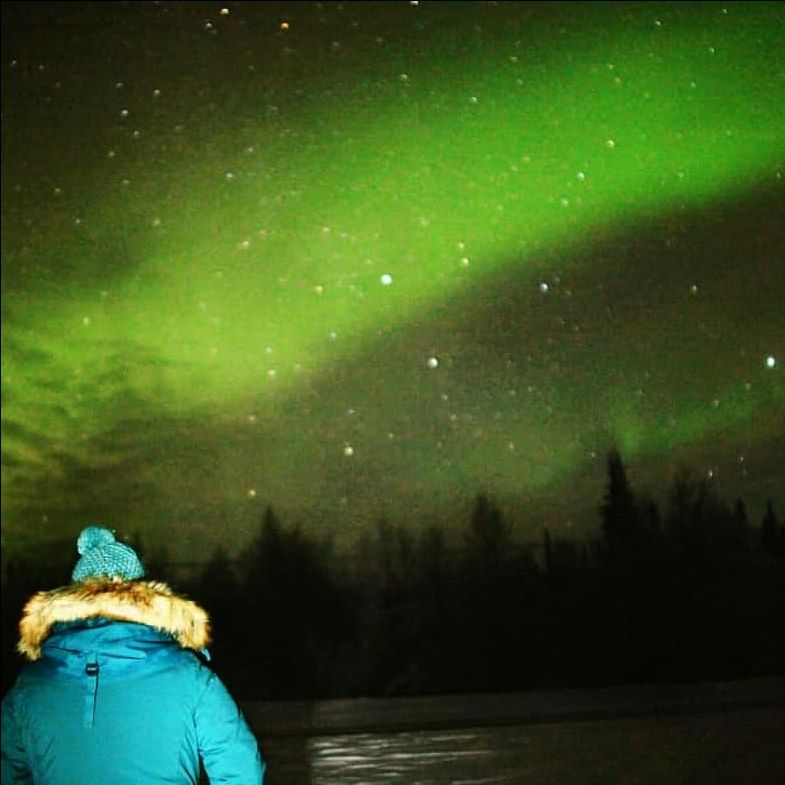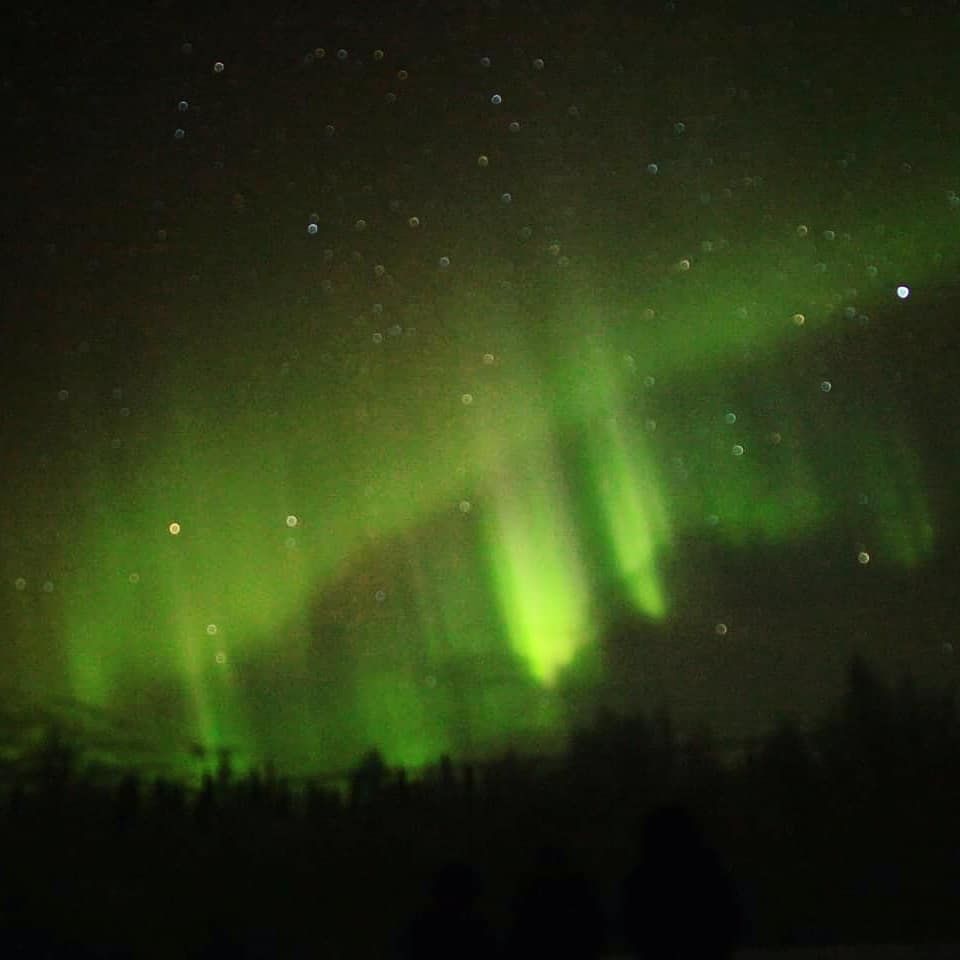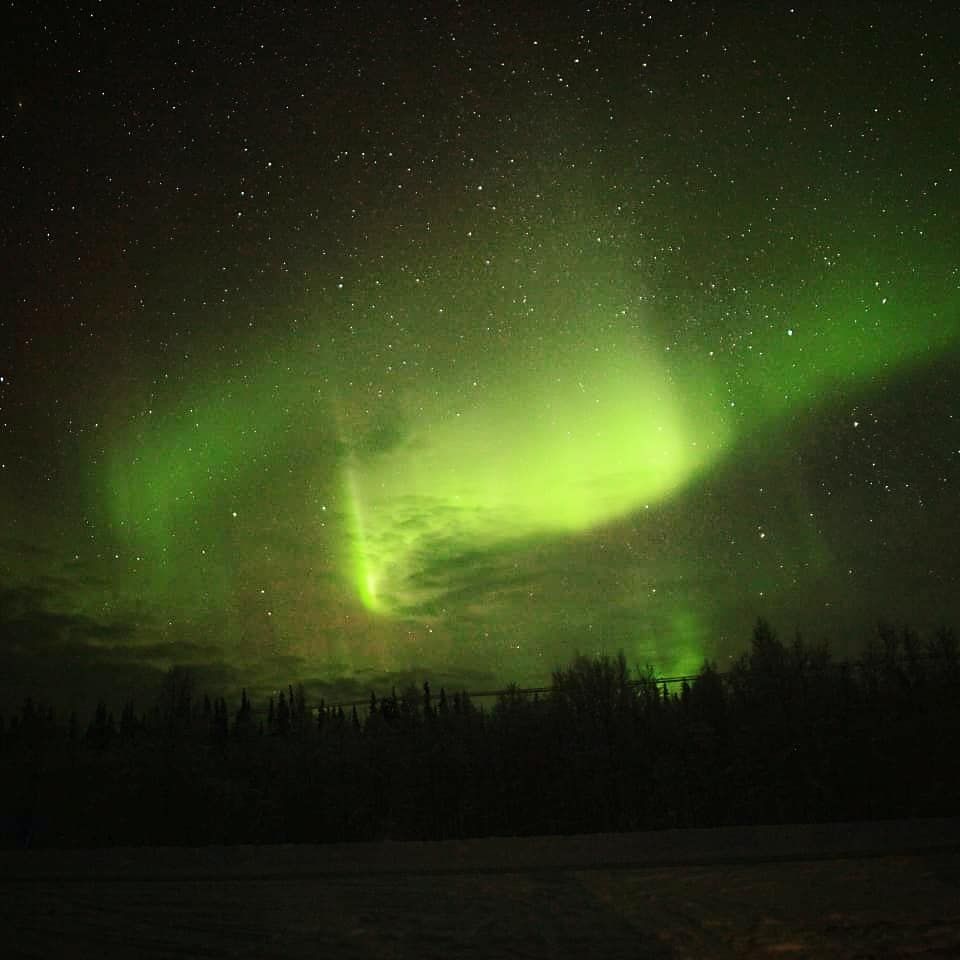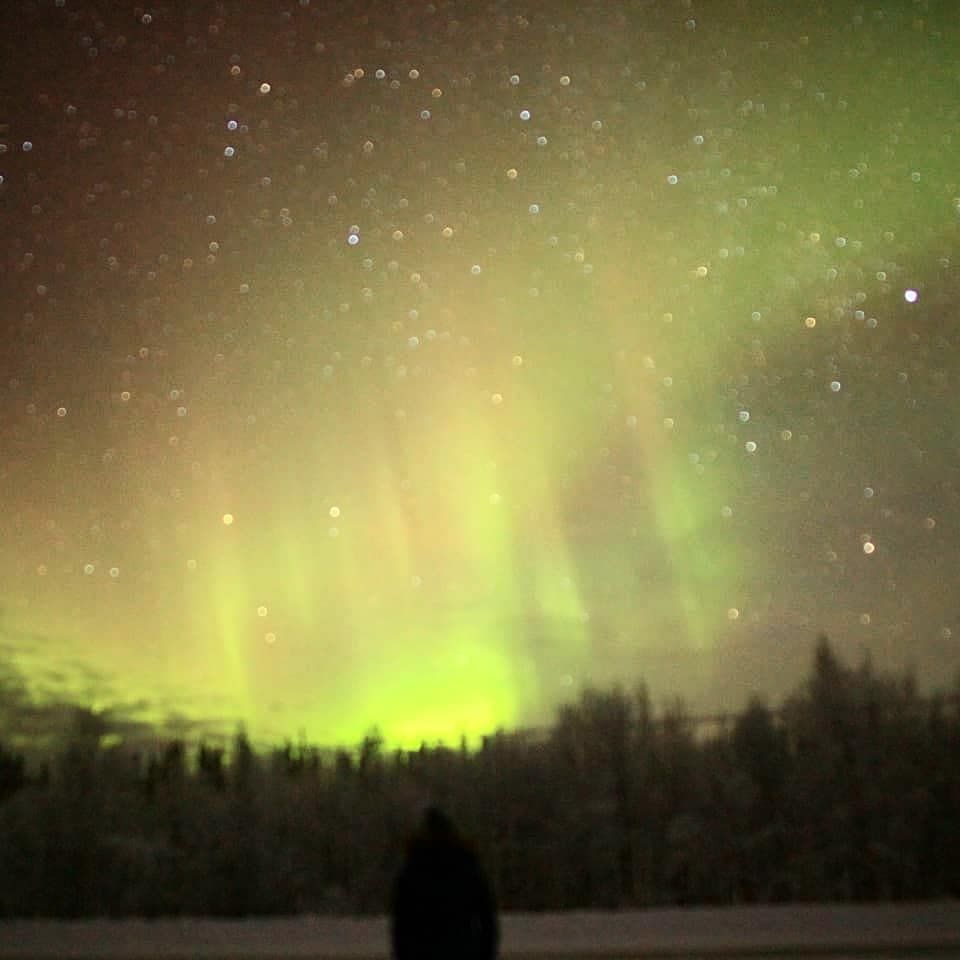 One needs to be very lucky to see lady A. One needs to be very very very lucky to see the red lady A! As simple as that! The next day we didn't have plans as we kept it free for ourselves so Julija told us that she would meet us the day after!
But before we went to the hotel, we went for our covid test because it was needed for Moscow. Our flight to Delhi was via Moscow so we had to upload the rt-pcr report in the air suvidha portal of the Indian government. The test was costly and for the first time in my life I gave my rt-pcr samples in a bus!!! That was some experience! The center was outside the Murmansk Airport, so to and fro we had to do quite a lot of journey, we came back to the hotel and slept right after the dinner!
We woke up pretty late as we were quite tired after the Teriberka trip and whole night Aurora hunting but we're hungry too! We woke up around 9/9.30, and saw outside. It looked as if it was evening haha! The beauty of polar nights! We decided to check out the local pubs and planned for some shopping as well.
We had lunch in the hotel only and went out shopping! There was a pre Christmas carnival going on, because Russians celebrate their Christmas in January, they have a different date for Christmas, it's not on 25th December for them, so the celebrations go on from mid December to the end of Jan almost! We saw the celebrations going on just outside of our hotel, so we went to the stalls, tried some chocolates, some foods etc. We saw ice sculptures as well. Later on we went to the Murmansk city malls for shopping. Got some souvenirs for our family, friends and of course for ourselves! My husband found out about a great pub nearby. We checked into the Harat's pub, the famous Irish pub of Murmansk! We ordered some snacks and Russian Vodka! We had such a great time there that we didn't realise we had to leave the next day! Our Murmansk trip was coming to an end!
I had to pack everything, so we finished our dinner and came back asap. We checked our documents, passport, immigration card and all other details, and packed our bags. I texted Julija that I am feeling very emotional. She replied that she is also feeling the same because she really liked me, she found a friend in me. We connected so well 😊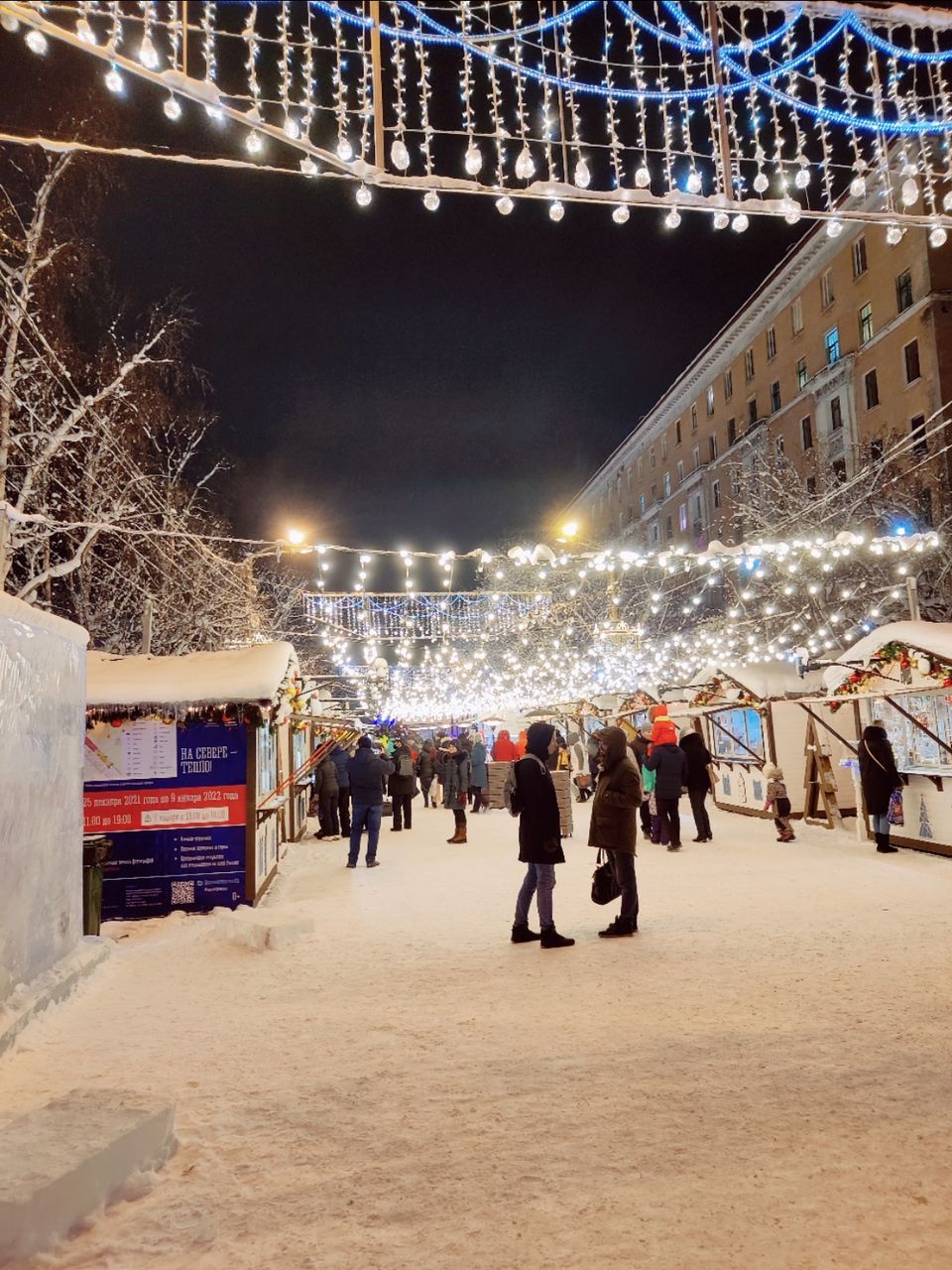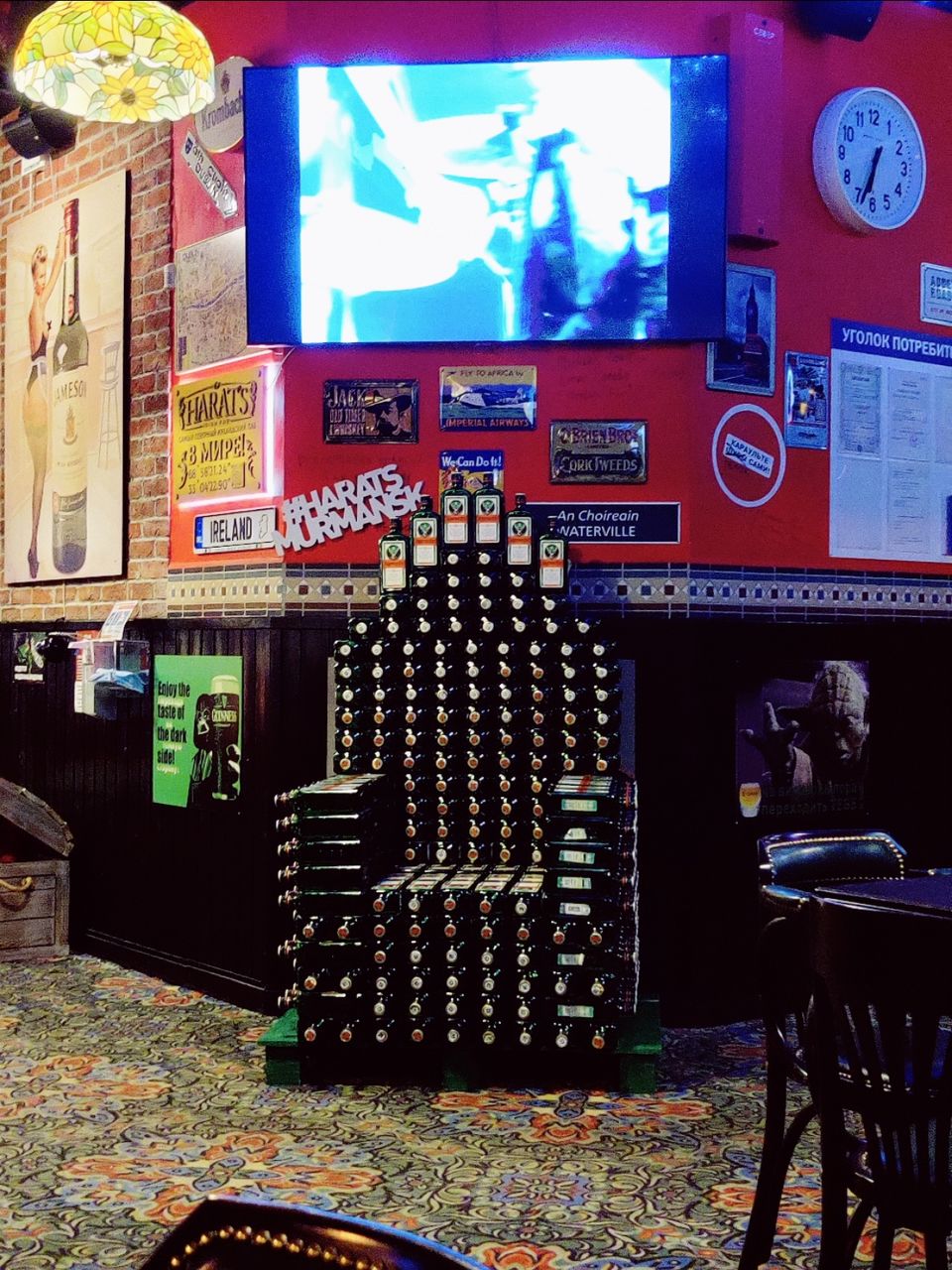 Our last day in Murmansk!
Our honeymoon was coming to an end and as I said, I wasn't very happy. I was very emotional throughout the day. My close friends were always connected to me on WhatsApp and kept me asking if I am doing fine and all.
Julija came right on time and we checked out from the hotel. As we started for the airport, Julija mentioned that the flight is late and it's very normal here because the airport is very small and late flights are a pretty normal affair here! We dropped the luggage and waited in a coffee shop for some time. Finally we had to go inside so bid goodbye to Julija! We hugged each other and promised to stay connected on WhatsApp ☺️
We had to wait for another 3 hours for the flight to Moscow! It was pretty late but thankfully we had more than 10 hours of buffer for our Delhi flight so we were cool! Had some food and drink for lunch in the airport itself. We left Murmansk with a heavy heart but we're equally happy that this city gave us memories of our lifetime!
We came back to Moscow and took some rest there as we had our connecting flight to Delhi. I will write a separate blog on our Russia trip, I will mention all the other details there. 😊 Hope you liked my blog on our Arctic journey, please contact me if you want to know more! ❤️
A few tips:
1. Mental preparation is very important for Aurora Hunting. There are people who spent almost a week in the Arctic and still didn't see any single trail. So please research before you plan your trip. Talk to people who are experts and who have visited before. Don't get disheartened if you don't see lady A, there is always a next time. Maybe you see it but not that great intensity so don't lose hope. Be determined! I know a few people who told me, Murmansk probably might not be that great for aurora compared to Norway, but.... After seeing our pictures and listening to our experience, they were completely shocked. So, luck is very important. In fact I have seen many aurora pictures in the Murmansk region, not bragging at all, but our Aurora experience was one of the best in Murmansk. Anthony also approved of it.
2. Buy appropriate clothes. The cold is cruel and unforgiving.
3. Be patient. It's a game of patience and nothing else.
4. Be active as you might have to travel a lot to chase the lights!
5. Do not sleep while you are hunting, there are people who slept off for 2 minutes and aurora just showed up and vanished in those two minutes only! So grab a warm drink while you're chasing!
6. If you're not an expert, hire a professional hunter. They know more than you, about the arctic circle and aurora of course!
7. Aurora Borealis doesn't stay at one place. It floats, it vanishes. So you need to keep chasing the light. If you think to stay at one location only then it won't be a good idea. That's the same reason, we didn't stay at Teriberka, we chose to stay in Murmansk and went for aurora hunting at different places. You can see Aurora from Teriberka as well but if you don't see the lights there, you cannot come out of Teriberka just like that, confirmed by the locals, our guide and the hunter himself.
All the best!