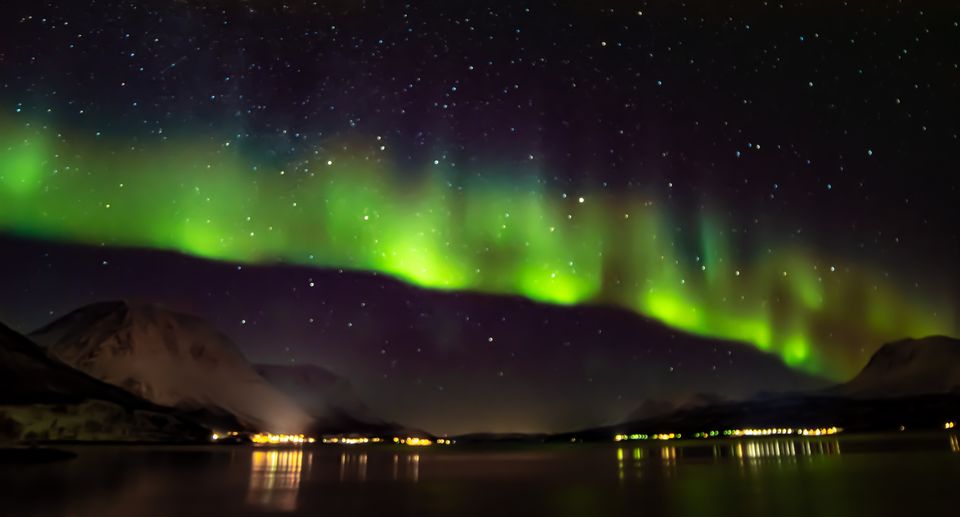 Long time since the last blog...
It had been 2days since we had arrived in Tromso. Another 3days in Lofoten prior to that and we still didn't have any luck with the lights????
With a yearlong research on Aurora Borealis and northern Norway, I had gained pretty descent knowledge about aurora sightings. I knew which apps to check and what data to follow. After reaching Tromso I realized that having your activities booked in advance by an agent is a clear loss. There are literally 20-30 companies with their offices in the town square. You walk into the offices, book your trip, walk out with the vouchers without any markup. You can even book trips for the very same day. The number of companies has grown to such an extent that the trips are never full.
Our trip was with the company Tromso Safari. It costs around 14000INR(i.e $200) per person. We had to reach the Radisson Blu hotel where we were supposed to get picked up. I never realized that there were these many crazy aurora hunters all over the world. The reception was almost overcrowded.
Few facts about aurora Borealis before I start sharing the experience:
Aurora Borealis or Northern Lights is the name for the Aurora visible in the Northern Hemisphere. It's southern counterpart is called the aurora Australis. The reason why the Northern Lights are so popular is the lack of inhabited land in the Southern Hemisphere. The southernmost parts of Argentina (Ushuaia) and New Zealand (Stewart Islands) are far off from the south pole making it extremely difficult to spot the Southern Lights; unless you travel to Antarctica.
On the contrary you get cities like Tromso and Murmansk at 70°N latitudes for northern lights viewing. Also there is a misconception that the farther north you go, the greater is your chance. That's clearly not the case. You gotta stay in the middle of the Aurora Oval for better chances. Next comes the kP value. The higher the kP value, the luckier you are. For a descent show, you need 3things:
i. A cloudless sky.
ii. A kP value of 4 or higher
iii. A viewpoint as far as possible from the city with approximately 180° view of the sky and zero light pollution.
So coming back to our experience. We were as always ill-equipped for the cold. We kept driving and driving until we came to a frozen lake. We didn't have any clue of where we were. We had only 3 things running on our mind... A. It was fuckin -30° outside. B. All we wanted to see was a green curtain of light and C. The sky had started to look a whole lot sexier!! ????
For those of us living in metropolitan cities, light pollution isn't much of a worry unless it comes to these dire situations. You can actually realize the difference by traveling only 2kms away from the city. The sky seems to appear closer with a billion more stars.
You can stand that kinda temperature for 2mins at a stretch max. After that the hands go numb, the feet start freezing. I was in love with the view, even without the aurora. Our guide said that there was a better spot he knew.
In the meantime we were served 'lefse'- a local sweet(I had 6!! Guilty as charged!! ????) and some hot chocolate. As we drove to our next destination, our guide started explaining the camera settings for aurora photography. The ISO needs to be as low as possible- preferably 800. Try focusing on a distant star with manual focus. And most important of all, shutter speed has to be 20secs. For obvious reasons a tripod is absolutely mandatory.
So here we were for the show of our lifetime. Our guide had told us to keep jogging to prevent our feet from freezing. It was right beside a lake with some light pollution right in front of us. We had very little hopes since the predicted kP value was only 2. But then my lovely wife pointing to a hill whispered to me, 'Is that an aurora?' I was about to have a heart attack. The guide said that only the camera can confirm it. He took a photo with shutter speed of 20secs. And there it was!! Green cascading light spread out like a curtain... Horizon to horizon!! ????
I gotta confess it took my breath away!! ???????????? The curtain extended throughout the sky as far as we could see. We stood in front of it and self timed our photos. I held my wife in my arms and gazed at the marvel dumbfounded for as long as we could. Our feet didn't hurt anymore we were so awestruck by the view. 5 minutes it lasted!! 5 minutes of memories to cherish for a lifetime!!
We travelled to 2more locations that night but luck was not on our side. The funny part was that on the next day the kP value was 6 which is equivalent to a geomagnetic storm. It creates dancing Auroras of multiple colors. But right from 11th March, it started getting cloudy in Tromso, and all companies started postponing their trips.
We had witnessed something that most people have only read of. Something people speak of in folklores. Something that is nothing less than a dream. Our mission was accomplished and most importantly, I could show my wife what I had promised.
The 5minute show is indeed worth the traveling....