Most travellers will agree that the best trips are of the unplanned, impromptu kind. You start with a clean slate and no expectations and come back home with a chaotic but rewarding experience.
My college friend of five years, Akshay and I, are people with itchy feet who must travel frequently to feed our wanderlust yearnings. Though college offered the freedom of taking off without notice, full-time jobs rarely afford that luxury.
So after weeks of deliberating over where to go during the precious two days of the weekend, we had all but given up hope of ever coming up with a plan. Until I got an excited phone call in the middle of work. I picked up the call to hear my friend breathlessly saying that the perfect thing to do would be to explore the many distractions of southern Mumbai and live a backpacker life while we were at it.
Confusion slowly cleared as Akshay explained that he had stumbled upon a great hostel in South Mumbai, right in front of Chhatrapati Shivaji Terminus.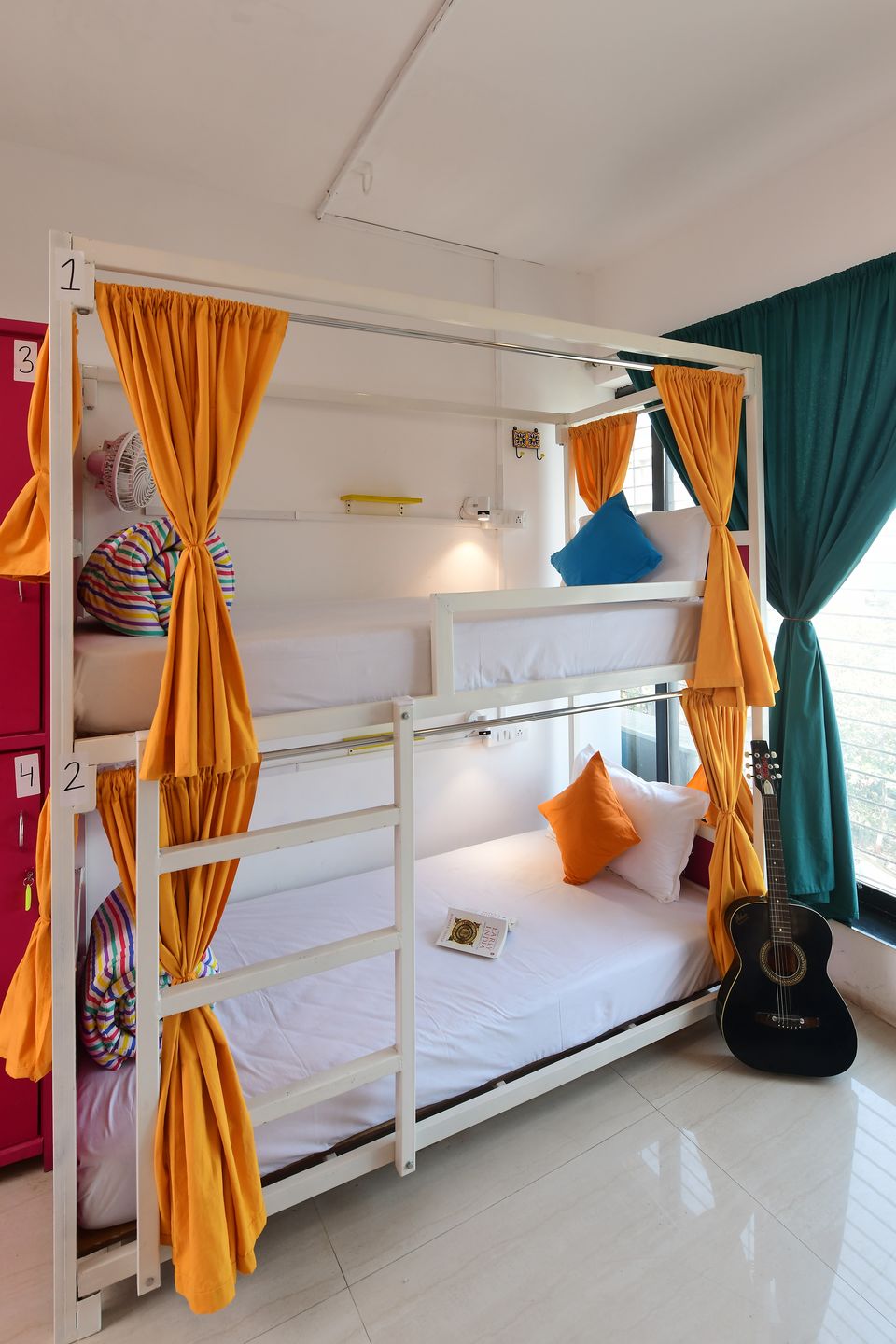 It had all the fixings that a backpacker would need and relish and as he described the place, I clicked on the links he had sent. True enough, the place he was describing, GoStops, was eclectic and tastefully decorated with splashes of vivid colour.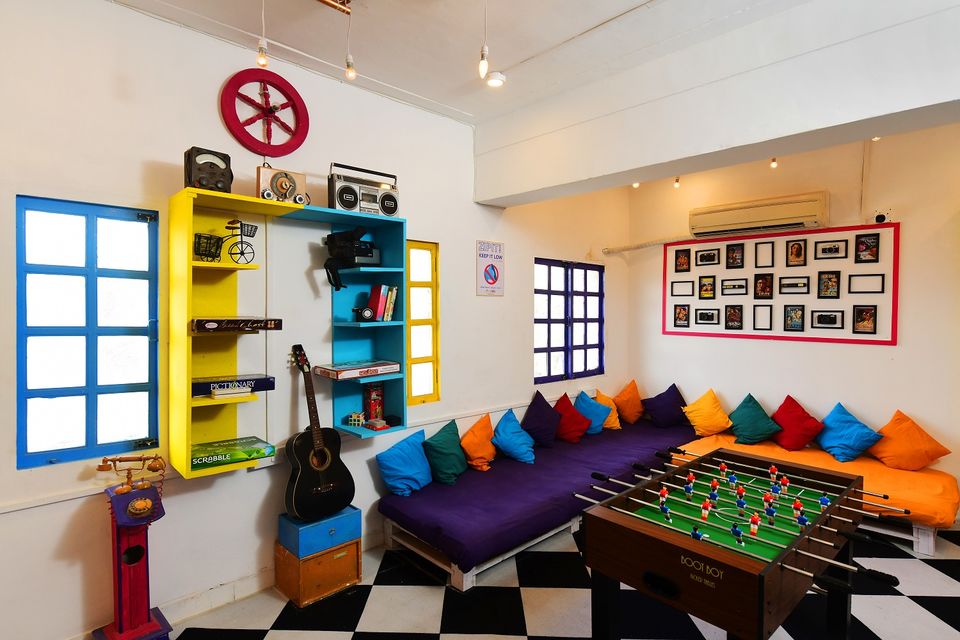 Warmly lit and inviting, the hostel had everything a backpacker could ever want. I said yes impulsively and the spur of the moment plan was on.
Day 1
Crusty-eyed and groggy, I stumbled onto an early morning flight to the City of Dreams and by the time the plane swerved to land with the Gilbert hill in sight, I was fully awake and ready to go. I ran out of the airport to find Akshay waiting for me outside the airport. After the customary hugging, squealing and jumping, we were on our way to our stay for the weekend.
As soon as we got through the doors, I knew we had made the right decision. Quirky with lights fashioned out of pipes and tyres, the place was liberally covered in colourful cushions and comfy couches.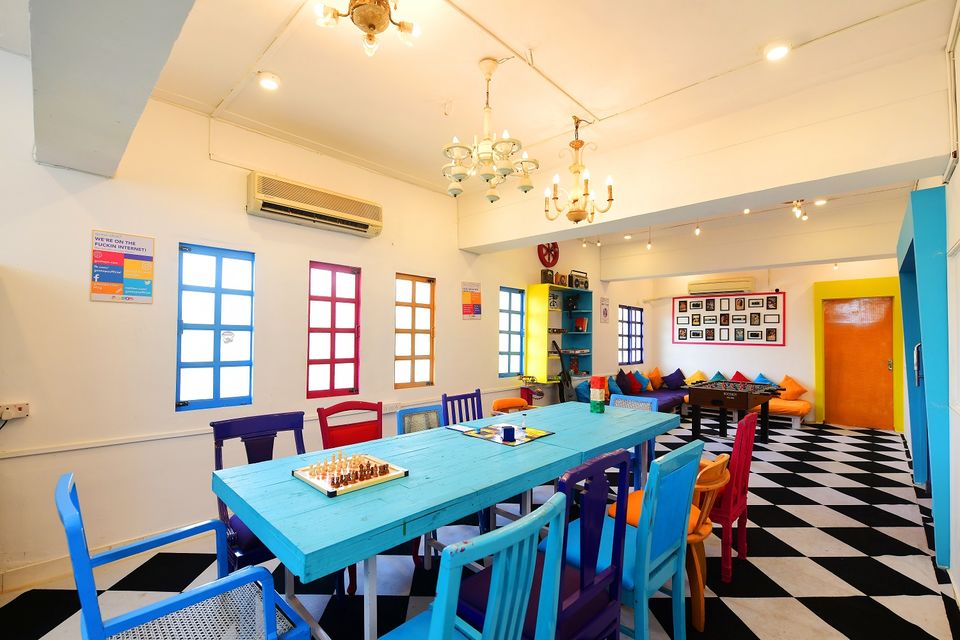 There was a home theater and a common room with plenty of board games for lazy afternoons. We had taken two beds in a four-bed dorm room and ran into our roomies, Ethan and Stef, who had backpacked their way from Australia.
We hit the streets to be taken in by the city's allure of gleaming skyscrapers, Gothic colonial buildings and roads with nooks and crannies that make you discover something new each time you set out to explore. The best way to touch Mumbai's pulse is to walk and let your senses be engulfed by its sights, smells and sounds.
We decide to stroll down the tree-lined Wodehouse Road to soak in the colonial architecture in Colaba. Going past Buckley court, we came upon the Cathedral of the Holy Name with its large, stained glass windows that cast hues of coloured sunshine on the silent pews inside. The Schoen House stood there, still grand though a little worse for wear, ruminating wistfully on days past.
We decided to give in to a little materialism by shopping at Colaba Causeway. The noise of the most popular wholesale market in aamchi Mumbai welcomed us as soon as we set foot there. An unbelievable array of goods were laid out for the picking—junk jewellery, kolhapuris, bags, clutches, shoes, clothes, gorgeous antique pieces and patterned lamps twinkling merrily.
We dove in headfirst, admiring the intricate craftsmanship of antiques, spending time looking and purchasing lamps to deck up our rooms and picking up souvenirs for loved ones. Minutes turned into hours and we surfaced, laden with loot after a lot of banter and haggling with shopkeepers.
Happy and voraciously hungry, we headed towards the much-acclaimed seekh-kebab eatery, Bademiya. Established in 1946, Bademiya has held its own as one of the best places in town for kebabs. With melt-in-the-mouth seekh kebabs and rotis hot from the tandoor, we dug in sans regrets.
Extolling the virtues of stretchable pants, we finished up and headed for another slice of Mumbai's history, the Regal Cinema.
The history of the place was palpable as we stepped in. First opened in 1933 and designed painstakingly with extensive mirror work, the place looked every bit the heritage property it is. What's more is that the popcorn here is way more reasonable than the atrocious rates charged in multiplexes.
As darkness seeped into the skies and the city lit up around us, the briny sea breeze pulled us towards Chowpatty Beach. Clutching some bhel puri in hand, we settled down to watch the waves froth against the sandy shore.
We made our way back to the hostel to find a musical session in full swing in the common room. A lot of the other hostelers had congregated in the room to sing along to Ethan strumming the guitar. Introducing ourselves to the other dorm-mates we settled in and hummed along. With sparkling conversation and anecdotes galore, the party moved to the rooftop with the city laid out in front of us. With easy familiarity, we swapped stories with newfound friends as the night darkened around us.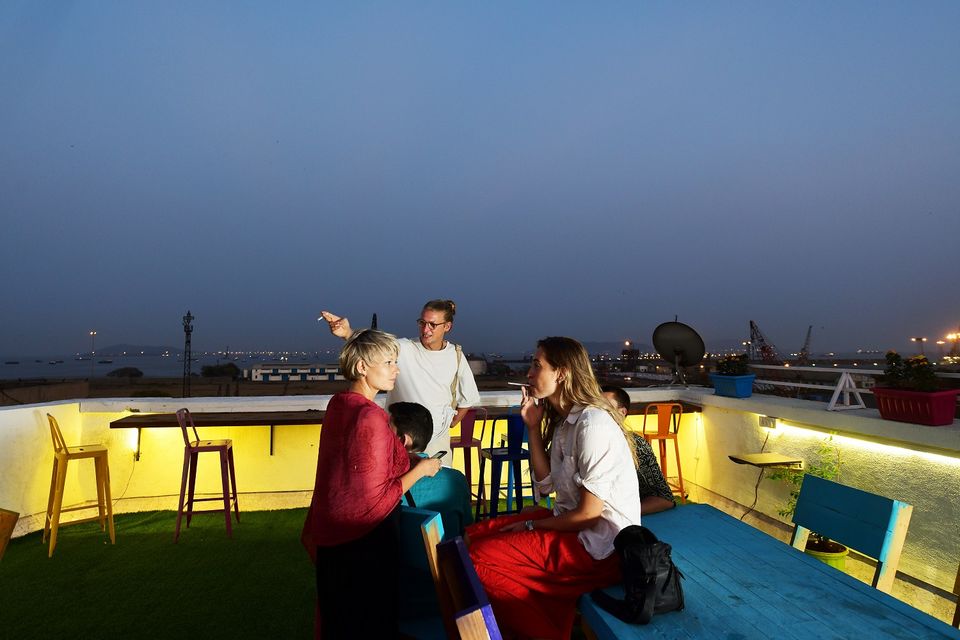 Day 2
The downy beds in the GoStops hostel had me in a comfy snooze and I was loathe to wake up. We sat down on the colourful blue table in the dining room to a complimentary breakfast that revived us considerably. With other residents up and considerably chirpy, we engaged in a few games of chess. We had never come across a hostel with their own in-house home theatre and were eager to try it out. Ethan and Stef wanted to catch a Bollywood movie and we had to oblige with Kabhi Khushi Kabhi Gham on the home theatre.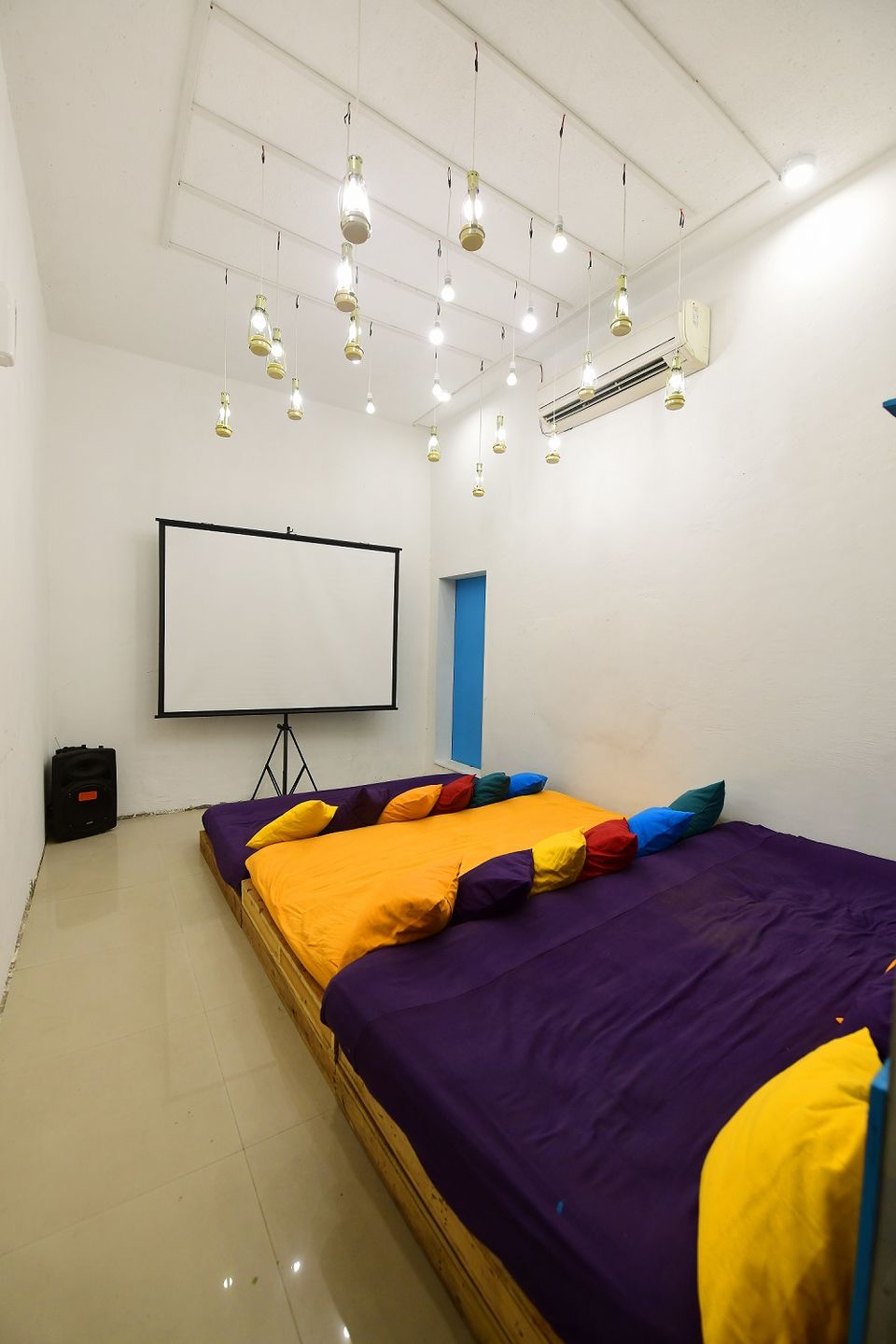 After about an hour of Jaya Bachhan's copious tears, we bailed to get a bite at the Kala Ghoda Cafe.
The cafe is really an early 20th century barn that got converted to an airy and naturally lit space which people haunt for a glass of wine, good music and fragrant, fresh bread. We got some waffles slathered with honey and some coffee and caught up on everything we'd missed out on. We switched from coffee to wine after a bit, after all, we were on vacation.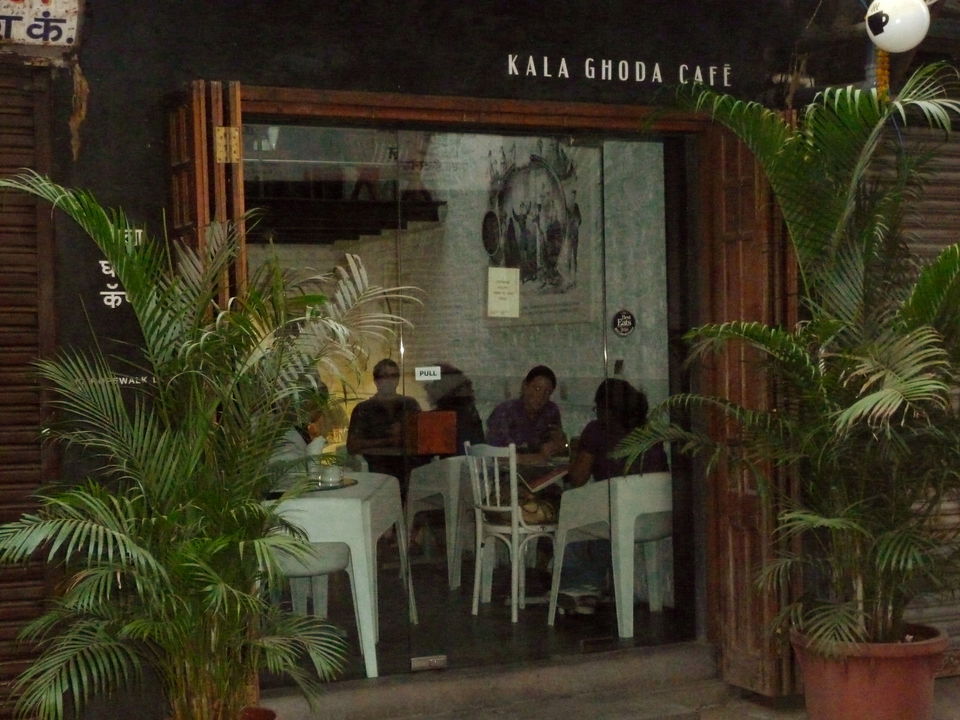 Several boozy glasses later, we stepped out in the cool evening air. A quintessential trip to the Gateway of India is mandatory when in Mumbai and soon we found ourselves marvelling at the huge Indo-Saracenic structure. The triumphal arch was constructed when George V visited India and it is rumoured that the last of the British soldiers left from underneath it. The salty breeze of the Arabian sea helped clear our heads and as we turned our heads, the Taj stood imposingly behind us.
There were people clicking selfies and photographers nudging us to take a picture in front of the Gateway. We obliged with huge smiles and also picked up some funky neon bands that were being sold there.
With the sun streaking the sky with pink and orange, we went to Marine Drive for a glorious sunset. Stopping at a vada pav stall, we got enough bun-wrapped tikkis for all our friends back at GoStops who had another jam session planned for the night.
We sat down on the promenade with our legs dangling and watched the waves rise dramatically and crash against the rocks below. It's really something to sit by Marine Drive to watch the horizon gleam against the darkness.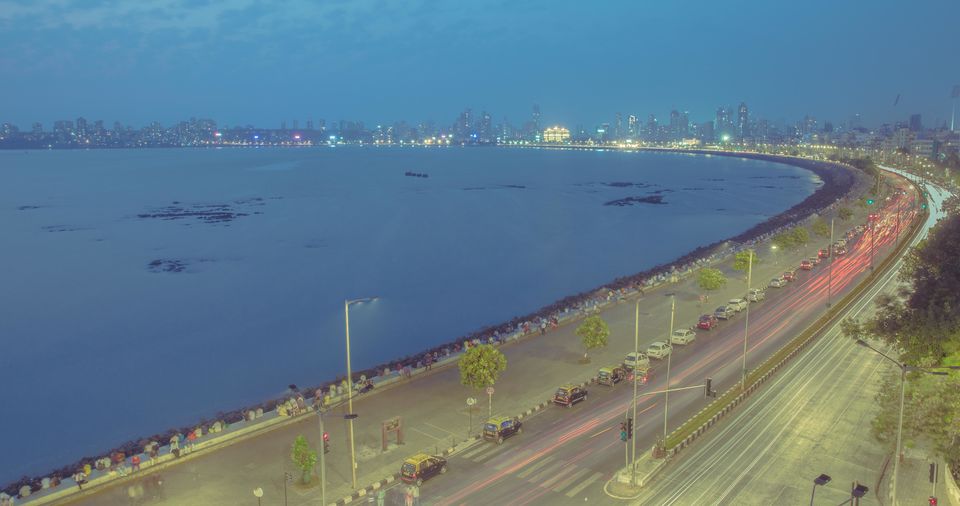 Who can deny pizza cravings? With Pizza by the Bay right in front, we went in for a session of pure gluttony by the huge glass windows which offered views of the sea. The only way to round up a meal there is by gorging on hand-made ice cream at Rustom's, a quaint shop owned by a Parsi family.
We went back to Marine Drive to grasp at a few moments of peace and settled down to watch the city skyscrapers gleam against the darkness.
It takes more than two days to truly relish the magic the city casts on your senses but it only takes a few moments to be completely bewitched. The city's love resonates within all its residents, be it our newfound friends at GoStops, their genuine warmth and simplicity as they called us back home to spend yet another memorable night together or the cycling coffee vendor who stopped to offer us two paper cups of coffee which we gratefully accepted.
The coffee was a tad too sweet but warm and comforting and I sipped on it slowly, drinking in the sights and smells of the magical city around me.
In association with GoStops