If you happen to ask any Londoner or a New Yorker about an Indian dish that they know about, the highest chances are that you'll hear only one thing "Butter Chicken". And to think of it, this super famous dish was created purely "by chance" in post-Independence Delhi, is another story altogether. The curry was created almost accidentally when Kundan Lal Jaggi, the founder of the famous Moti Mahal restaurant mixed some left-over tandoori chicken with a buttery creamy tomato gravy. Since then, this "accidental" dish has been the prima donna of all Punjabi restaurants not just in India, but across the globe.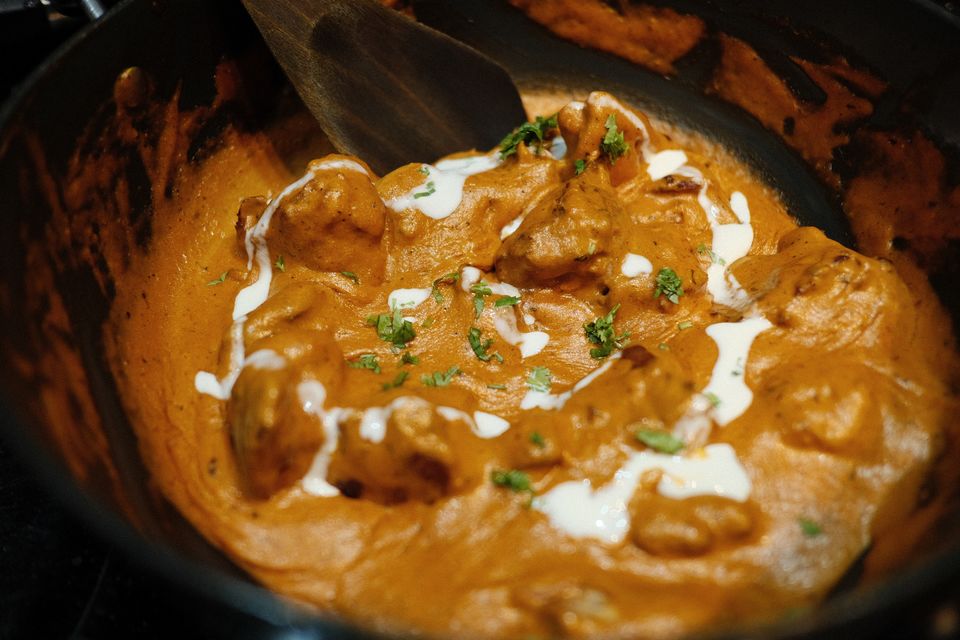 Butter Chicken, when served with tandoori roti or a butter naan is almost comfort food for many. And Mumbai with its mix of people from across the country, has its owns special places cooking up this delectable gravy. In times like these, when we cannot venture out to satiate that craving, we can atleast have a good day, by ordering in our favourite food from the Land of The Five Rivers.
Here are some of the most popular Butter Chicken destinations of Mumbai.
1. Punjab Grill
One of the most awarded restaurants serving the food from Punjab, this chain has 5 restaurants in Mumbai. And when you order for Butter Chicken, try the various kebabs here, grilling being their specialty. For ordering online, click here
Cost of Butter Chicken – ₹625
2. Pritam Da Dhaba
If you want to feel what it must be to dine in a Punjab da pind, Pritam da Dhaba at Hotel Midtown, Dadar East is the place to head to. The ambience and décor match the quality of the food. With elements of Persia thrown in to complete the North West Frontier feel, this "Dhaba" can geographically teleport you. And when you're in a pind, you need to order in a plate of Butter Chicken, Tandoori Roti and a tall glass of lassi. For home deliveries use Zomato or Swiggy!
Cost of Butter Chicken – ₹430
3. Shalimar
A simple no frills restaurant tucked in the lanes of Byculla is another destination to head to for some of the best Butter Chicken when in South Bombay. No tall claims of ambience etc, the food does all the talking here. Butter Chicken is an ultimate crowd puller. Especially if you're there during Ramadan, you know where to go to for a post fast treat! This isn't a place for the fussy eaters, only foodies. Today, there are several outlets across Mumbai, and you could get your home deliveries from Zomato or Swiggy
Cost of Butter Chicken – ₹370(Exclusive of taxes)
4. Khyber
One of the most iconic addresses for North Indian cuisine in South Mumbai is Khyber. Located just opposite the KalaGhoda statue, the walls are adorned with MF Hussain paintings and a décor reminiscent of Afghanistan with the wood and stone work, the food lives upto the reputation. And alongside their Mughlai cuisine, the Butter Chicken just about aces it. Feeling like ordering in? Head to Zomato / Swiggy
Cost of Butter Chicken – ₹730
5. Zaffran
Zaffran is one of the oldest chains in the city, and a personal favorite, their delectably delicious Butter Chicken has always satiated my hunger. The Butter Chicken is a must have, along with the variety of kebab starters on the menu. Friday afternoon team lunches at Zaffran were always the best way to ring in an early weekend. Just off Crawford Market and opposite the JJ School of Art, Zaffran shouldn't be missed by any North Indian food lover.
Cost of Butter Chicken – ₹355 (Exclusive of taxes)
6. Goila Butter Chicken
If the original Butter Chicken was created in the 1950s, in the 21st century a young chef Saransh Goila and his friend Vivek Sahani ended up experimenting with some smoked coal, a moist tender chicken leg, and a garlicky butter gravy, and out came this recipe. The Goila Butter Chicken. Have travelled the world and won multitude accolades including one in MasterChef Australia, the butter chicken has a smooth smokey flavour that sets it apart from the other butter chickens around. Mouth watering already?
Cost of Butter Chicken – ₹395
7. Copper Chimney
Another restaurant that is a part of the legacy of Mumbai is Copper Chimney. Established in 1972 by migrants from erstwhile Pakistan, this has been the destination for North Indian cuisine for the past half a century. Your search for the the classic butter chicken in a perfect ratio of creamy, savoury and sweet end here. Tandoori chicken coated in a tomato and buttery gravy with mild spices is what Copper Chimney is famously known for. Head to the food delivery apps to savour the same tastes from 1972
Cost of Butter Chicken – ₹425
8. Masala Library by Jiggs Kalra, Bandra Kurla Complex
As the name suggests, this is a veritable treasure trove of unique flavours and cuisines. They term their cuisine as Modern India, and in fact the best destination for molecular gastronomy and creating innovative gastronomical delights. Run by Zoravar Kalra, the son of famed restaurateur, Jiggs Kalra, Masala Library is a much-awarded restaurant. And when the chefs are so renowed, how can the Butter Chicken not be popular?
Cost of Butter Chicken – ₹795
9. Jaffer Bhai's Delhi Darbar
From the kebabs to the biryanis and everything in between, Jaffer Bhai's restaurants are simple (not too fancy décor) and focus on the quality of the food, which is impeccable. The tandoor kebabs as starters and a mango lassi as an accompaniment to the amazing Butter Chicken will have you licking your fingers. Hungry ka? Login to the Food Delivery app now.
Cost of Butter Chicken – ₹296
10. Butter Chicken Factory
With four outlets in the city, Butter Chicken Factory is a modern-day interpretation of the traditional Punjabi dish. With options like boneless or with bone, low calorie variant, and an international (peri-peri) flavoured option, it is best served with the chur chur naan. Delivering in select locations across Mumbai, order in if you're craving that ethno-modern jugalbandi.
Cost of Boneless Butter Chicken: ₹440
While we are not able to step out, and eat out like we used to in the past, food lovers still have the option of ordering in and having their favourite meal. After all in times like this, good food is also something that can make us happy!
Follow me on Tripoto and Instagram @thewanderjoy for more travel and life adventures!
Earn credits and travel for free with Tripoto's weekend getaways, hotel stays and vacation packages!
Get travel inspiration from us daily! Save our number and send a Whatsapp message on 9599147110 to begin!