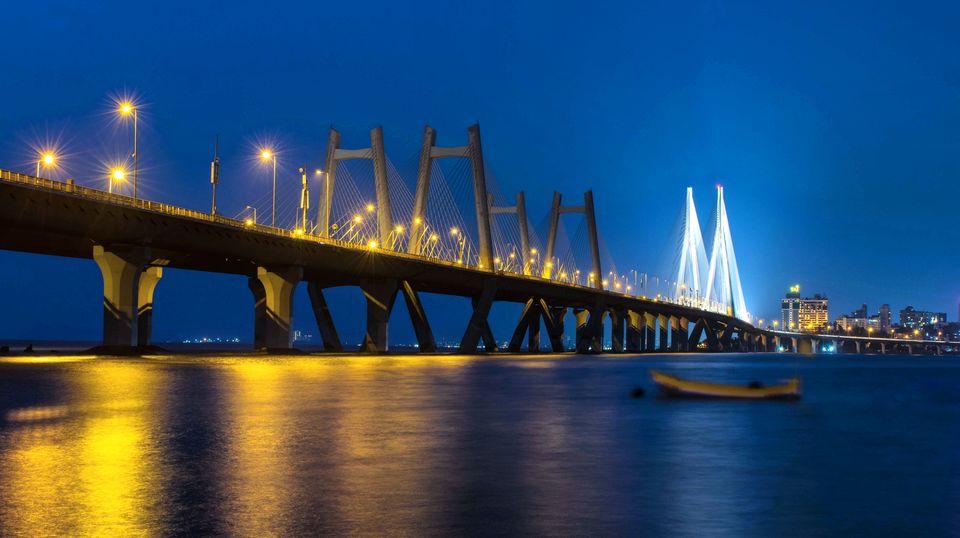 Despite the fact that the Chatrapati Shivaji Maharaj Terminus (CSMT, erstwhile VT) in Mumbai is the second most clicked architecture in India according to an article in 2016, this fellow photographer's obsession in Mumbai has always been for something else. Most of the cities around the world have some architectural marvels which at some point in time go on to become their identifiers. Be it the Golden Gate bridge of San Francisco, the Burj Khalifa of Dubai, Sydney's Opera House or Mumbai's Bandra-Worli Sea Link.
Built in a time of 10 years, the Bandra-Worli sea link or Rajiv Gandhi sea link, an 8-lane freeway over the Mahim Bay connecting the suburbs of Bandra and Worli has been a pride of Mumbai. Not only did it reduce the travel time between the western and southern suburbs drastically, ever since its construction started it has been one of the favorite subjects for an ocean of photographers, amateur and professional.
This architectural beauty has been a favorite in Bollywood too. Take for instance, "Jaane Tu... Ya Jaane Na" where we find Aditi and Jai opening up to each other with the sea link being the sole witness of Jai trying to convince Aditi for staying back. Or in "Wake Up Sid" in the song "Boondon ke Moti..." where we get to see the rainy sea link. It would be a lie on my part to not accept the fact that movies like these have been a strong influence on me in moving my base to Mumbai.
Well, if someone is new to the City of Dreams and is wondering how to catch a glimpse of this bridge, you can just head to Bandra fort, Worli fort, Dadar Chowpatty or can take a cab and ride through the link from Bandra to Worli or the other way. A midnight ride through the place with your loved one is nothing short of a stress buster.
Although most of times, the sea link is lit up in white, there are occasions when the colour changes. Every year on March 26, the sea link goes for hue change to Purple in support of Epilepsy. Again on 24th September every year, the bridge turns Red on World Cancer Research day.
The sea link has been a strong support for me in turning to a better photographer over the span of 3 years that I have been in Mumbai. Over the weekends or even during weekdays by taking half a day off, I would be running to one of the designated places to catch a sunset, get few frames for instagram and tripoto or just sit and relax after a not so great day in office. And trust me when I say the sunset from these places is something to die for; there will be no short of frames for photographers. This bridge has provided me with a frame which has gone on to get exhibited in one of the exhibitions in Mumbai.