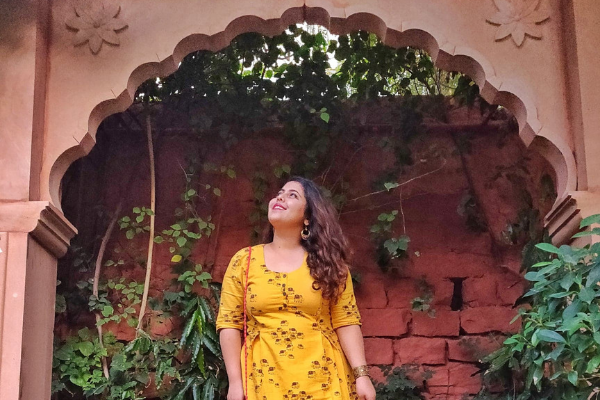 Khamaghani: Many Greetings in Rajasthani, our host at Ranbanka Palace welcomes us! Before I take you through our royal getaway at this beautiful heritage property, let's rewind a little? Cues rewind background score
16 hours via Mumbai on a train to Jodhpur, we found ourselves experiencing chatters from families around us, enjoying picturesque views of the sunset and sunrise (A long train journey has its perks), conversations around weddings, elections, sellers and munchies from railway stations made their way into the compartments. All fast forward to the golden hour of sunrise, around thirty past 8 am, we overhear kachori orders being placed on a phone call. We had known Jodhpur was around, so if the phone call wasn't a testimony, the aromatic steamy Kachori packages sure were!
Driving past the station into the city and witnessing the township, we're soon at a destination (I promise the drive felt no longer than 5 mins.)
Cut to present
Khamghani, the greetings followed and we were welcomed with the heartiest traditional aarti leading us into Ranbanka Palace, a Royal worldly contemporary paradise. I firmly say contemporary because while the exteriors boost of architectural marvels of kingship, the interiors and amenities cater to the comfort of a contemporary traveller. Case in point: The Royal Suite consisting of a living room and bedroom with framework and details of a palace with amenities meant for a luxury traveller. A moment and more specially needs to be reserved for gaga'ing over the balcony of the suite. The Maharani kind of sit-out and dining area out there ensure that you have full access to the gorgeous courtyard area of the property, which is also home to cultural performances' area, an exhibit of the best Jodhpuri shopping experience and much more!
Now that you have an insight into what a beautiful experience Ranbanka Palace can be, here's what days, afternoons and evenings here will look like when you take a vacation here...
Morning
Ditch your phone alarm, and let the instrumental violin tuning in soft folk music be your wake up call. Open the curtain to let the rays of sunshine greet you a good morning, and the cooing of birds be your sound of music! This straight out of a dreamy book scene is a soothing morning reality at Ranbanka Palace. If you're enjoying this romance with the room and the verandah-like feels and views, don't step out and treat yourself to a scrumptious breakfast in the balcony exactly like we did!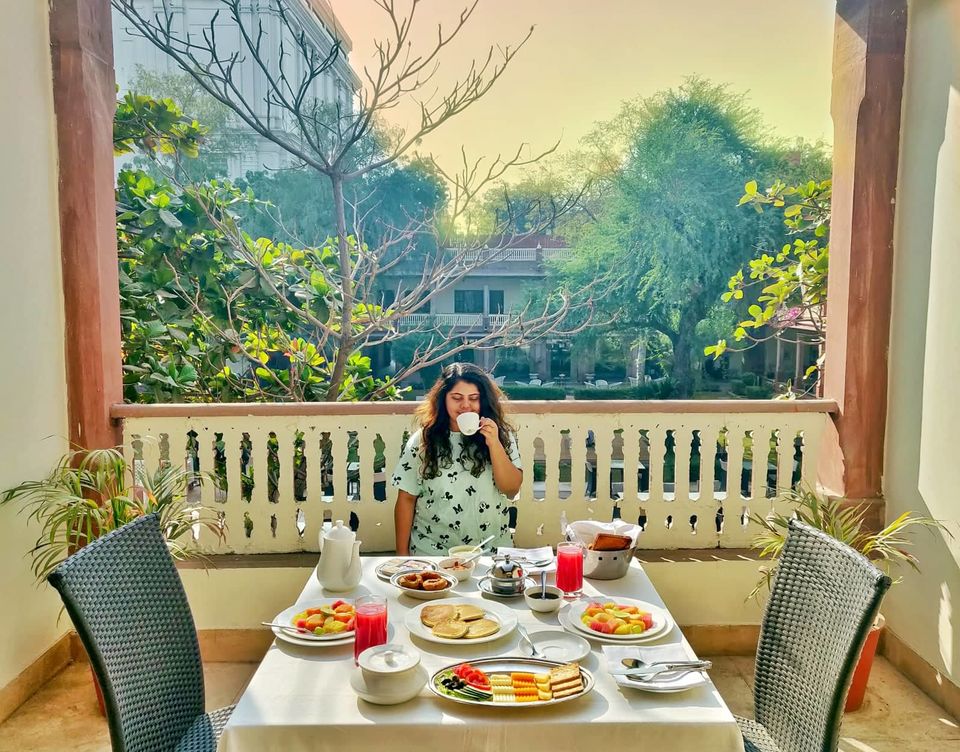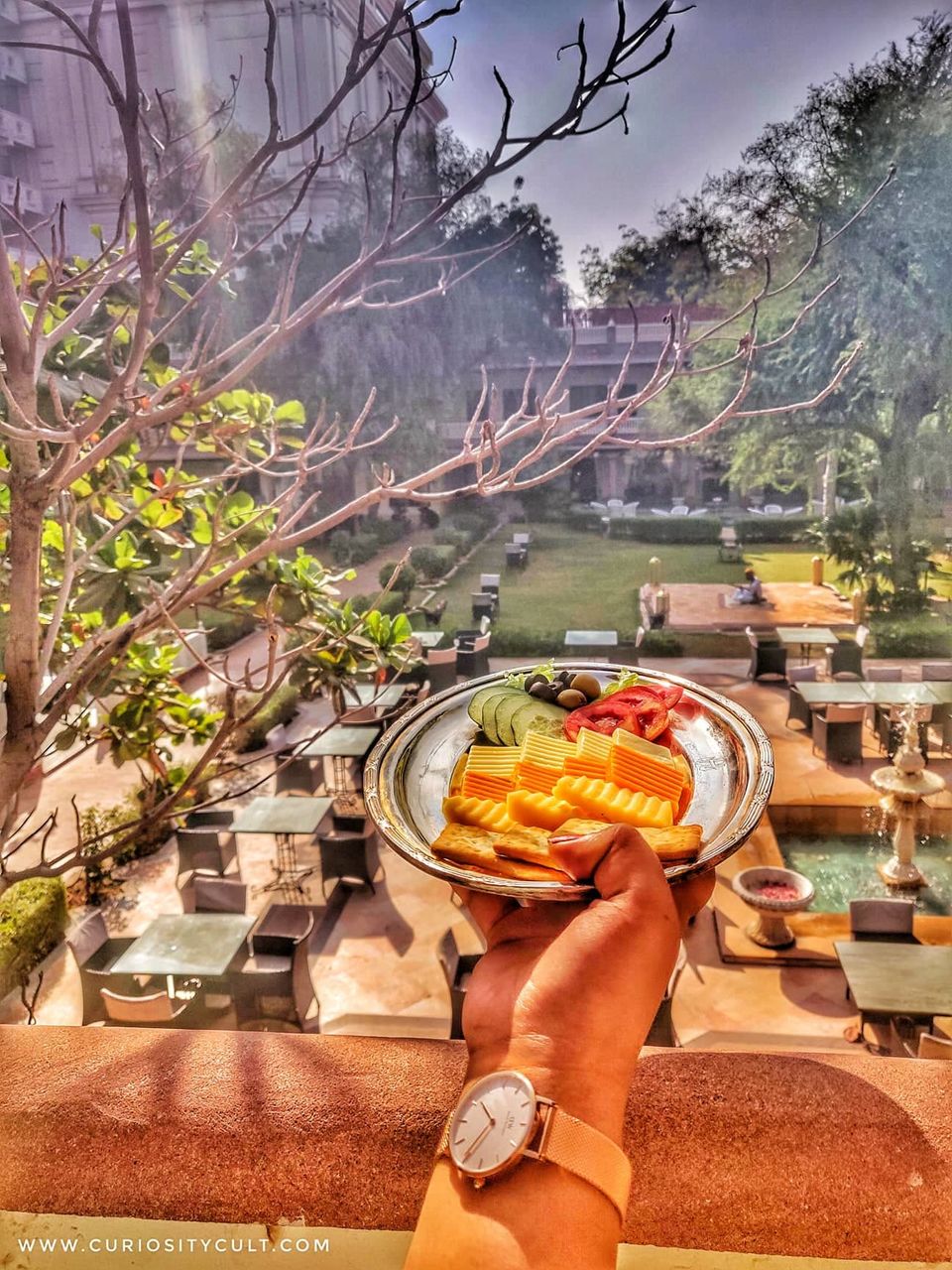 Afternoon
Once you've spent a lazy morning in the room and balcony, freshen up to step out and experience the pleasant afternoon. We say pleasant because unlike harsh sunny days of the industrial cities, winter afternoons here are rather on the breezy side and perfect to enjoy a meal in the courtyard, and stroll to shop! When we say shop, we mean practically everything (Shoes, Bags, Paintings, Antiques etc) you would want to lay your hands on when in Jodhpur. The best part? All under the roof of the property through its shops and outdoor setups. If you're not a shopaholic, trust their spa to help you battle those stress muscles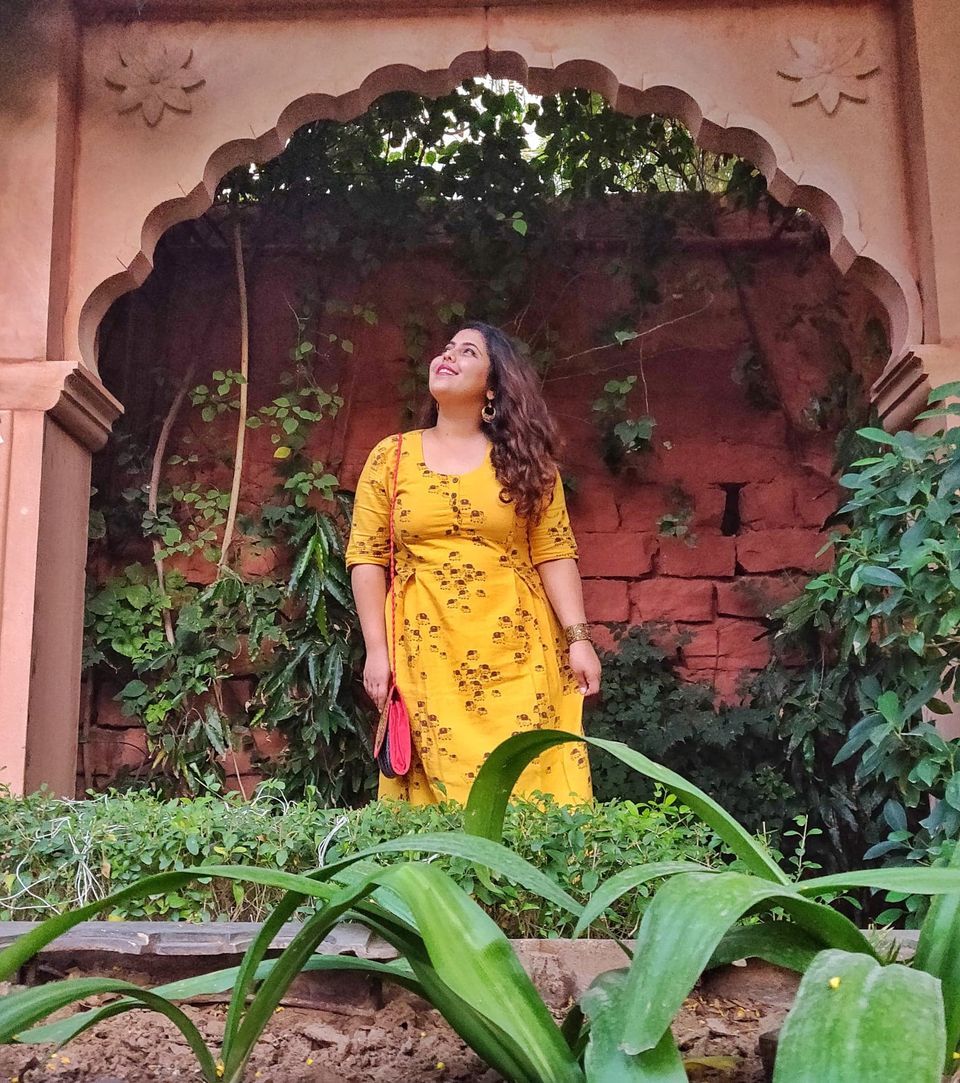 Dusk
Before the sun fades into the infinity of clouds, take a dip in the humongous swimming pool followed by some me time with a book in the loungers. Post this vacation dip, enjoy a cup of tea by the Khatiya (Cots) setup in the lawn area or witness a surreal sunset by the stairwell of the beautiful doors.
Evening
While this property is every bit of beautiful throughout the day, the evening hour has gotta be our favourite in every way. As the sunset paints the sky crimson, the entire place lights up to a dreamy evening and the breeze picks pace to sweep through you. Imagine enjoying a candlelight dinner in a setting like this, sounds like a haven, right? It only gets better as cultural performances pique this fun vibe with instrumental music and songs of your choice.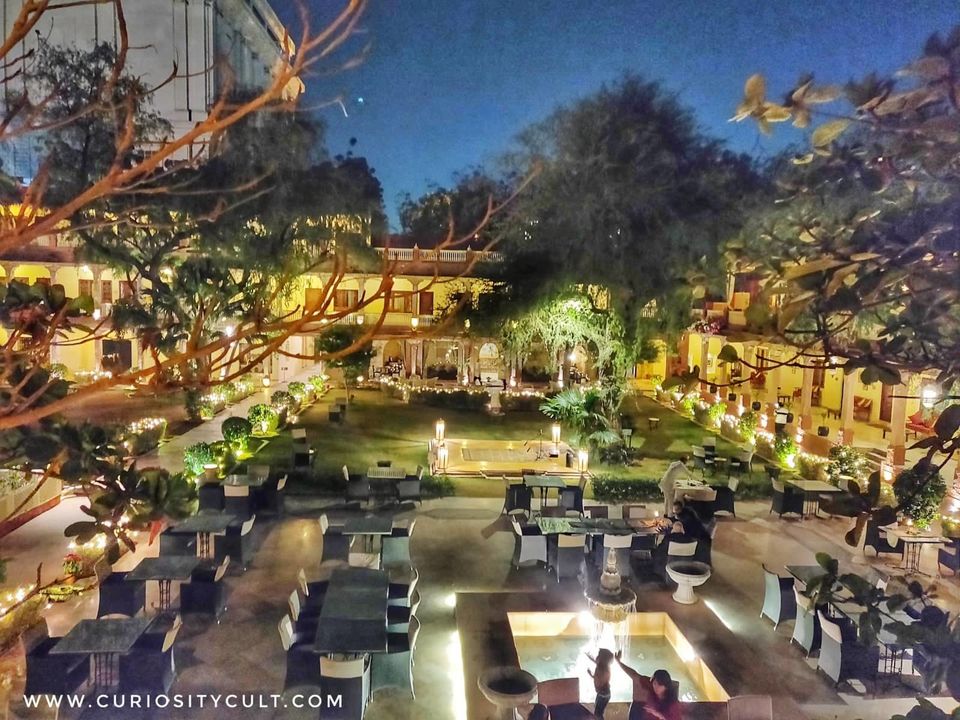 That, in a nutshell, is Ranbanka Palace, a window into Jodhpur with its heritage architecture, Royal hospitality, shopping booths, skies as Blue as the city, and most importantly an experience to remember!
P.S: We've added Ranbanka Palace to our list of must-visits, in fact, must revisit if you may! How about you? Let us know in the comments section. Until next time, #StayCurious ????