Mihir Garh, a luxurious palace hotel located amidst rustic settings of Jodhpur is the perfect indulgence for your next long weekend. Beholding its majestic grandeur is as delightful as spotting an oasis in the middle of a desert! Take my advice, don't waste your next holiday being a couch potato in your same-old bed, take a trip to this opulent hot-spot instead and rewind like never before.
Ideal For:
If you're someone who is inherently drawn to the regal ambience of Rajasthan, you are sure to fall in love with every corner of Mihir Garh. A property whose every corner reverberates with solitude and harmony, this is a wonderful place to visit with a loved one. You can even visit Mihir Garh alone if all you want is to pamper yourself and experience life differently for a few days.
About the Property: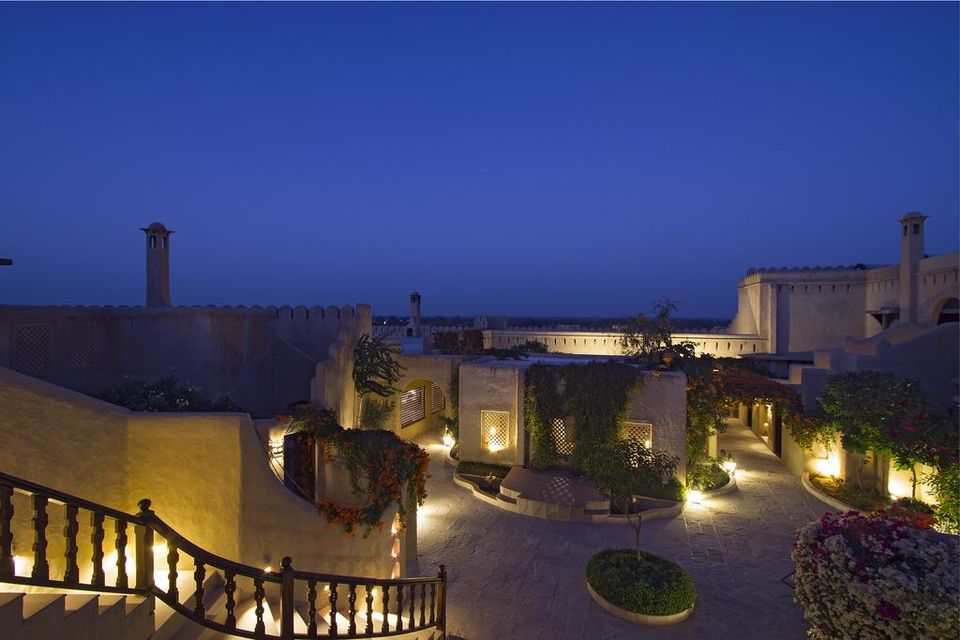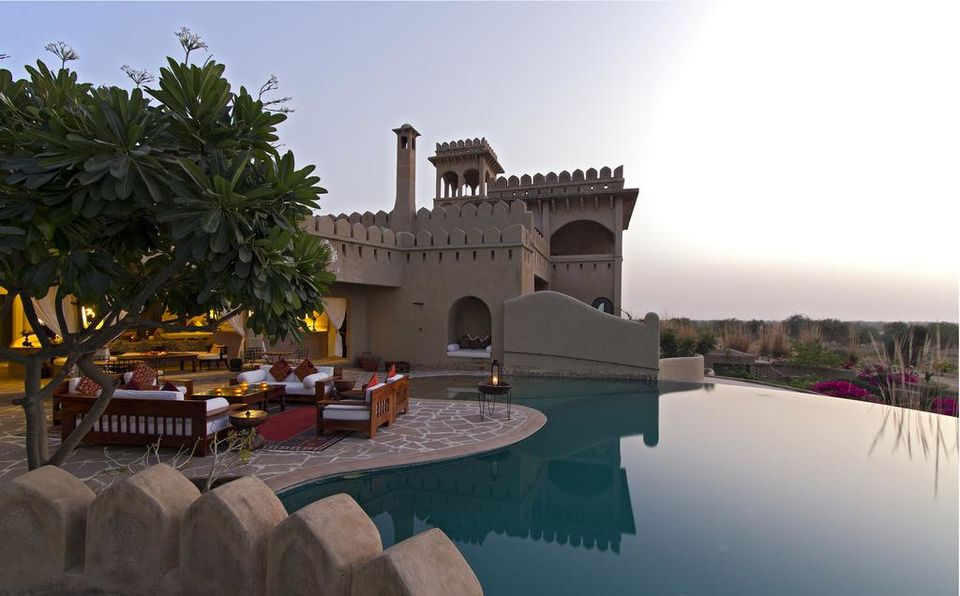 Mihir Garh is built on Mali Nathji ka Dhor, a sacred dune that owners Mr. Siddharth and Mrs. Rashmi Rohet would often visit to watch the sunset. The very foundation of the palace hotel is royal as this dune is also historically significant, dedicated to Warrior God in Marwar. Completed in 2009, the palace celebrates the glorious past, fused with state-of-the-art amenities of the current times. The architecture of this boutique hotel mirrors forts of 16th century, finished with chhatris, jharokas, and jaali.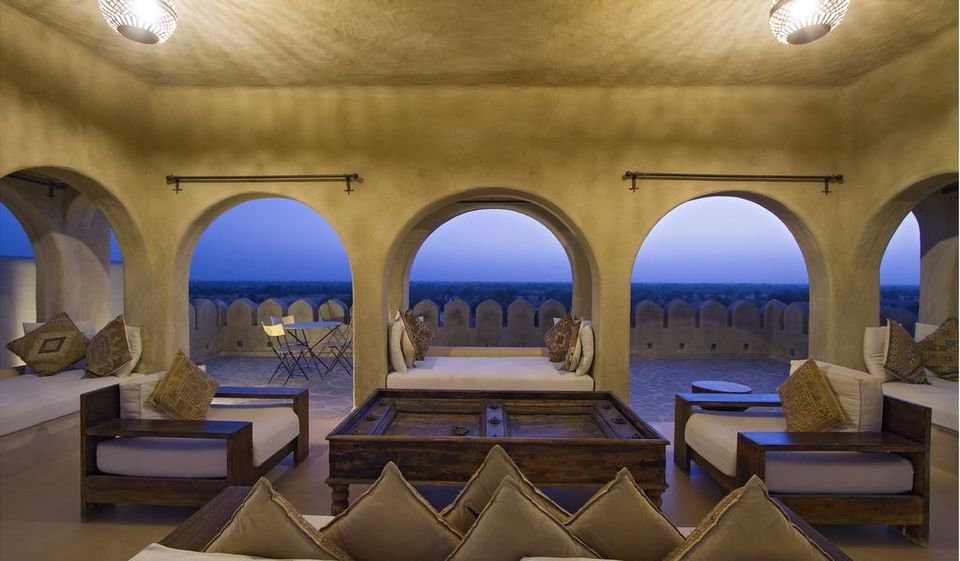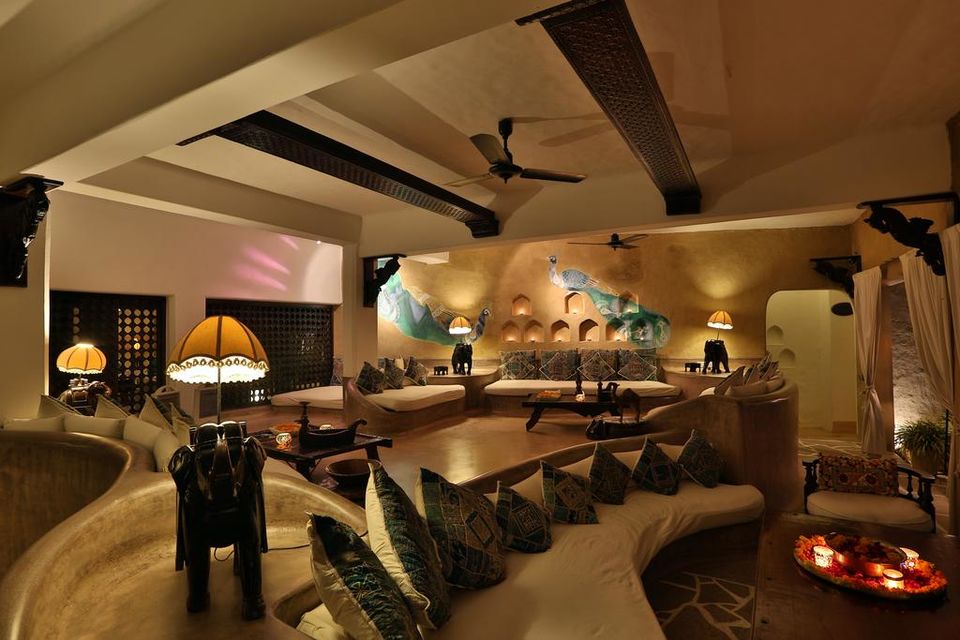 As you walk through the palace, get ready to be enamoured by the touch of local flavour that enhances the beauty of its carefully done corners. You will be ushered throughout your stay by staff hailing from Jodhpur, witness fireplaces created with cow dung and clay done up by women of Khandi and Haji villages, and bask in the glory of artifacts and furniture that have been exclusively curated in Jodhpur. Mihir Garh is unlike any other luxurious property as it resounds with rich heritage that will make you feel one with Jodhpur's culture.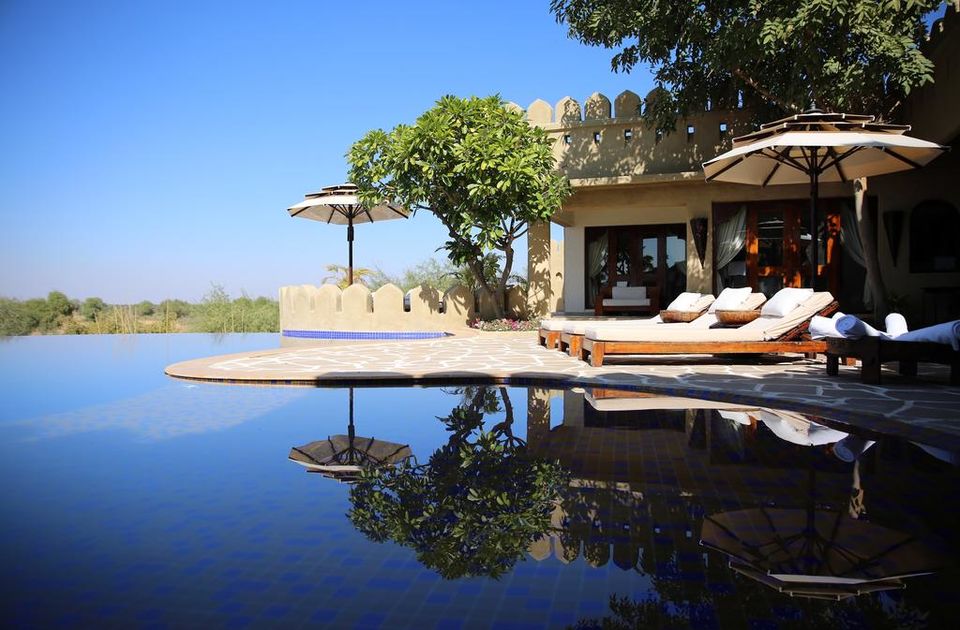 Some of the highlights of Mihir Garh are sure to make you want to pack your bags right away. The property boasts of a minty blue swimming pool that overlooks a parched but gorgeous terrain. Imagine taking a swim in the middle of a desert underneath a sky drenched in sunset colours. Sounds heavenly, right? You can also indulge yourself into a wellness detox by opting for massages and therapeutic scrubs at Vilasa Spa. Spend your morning sipping tea at the rooftop that overlooks the entire desert, and drink away your evenings at the lavish courtyard and feel like royalty yourself!
The Suites: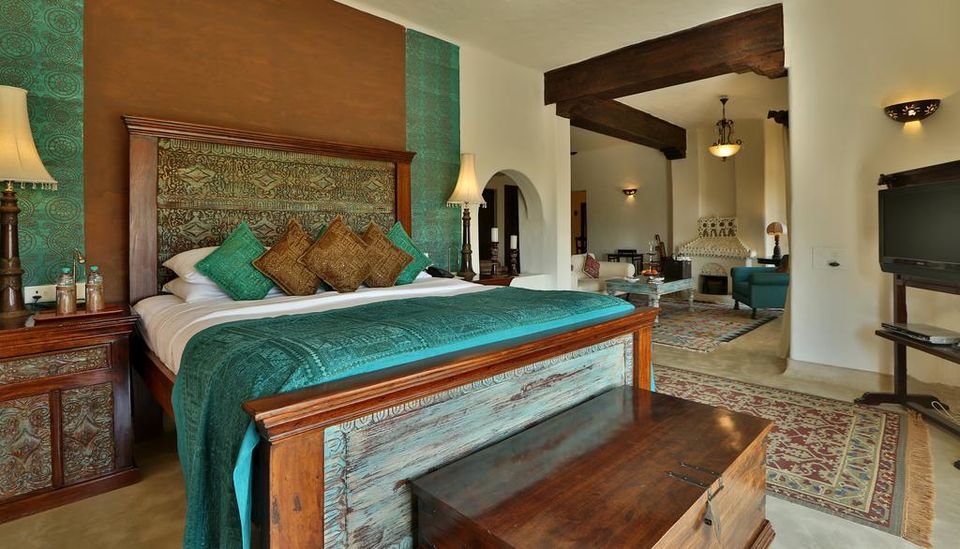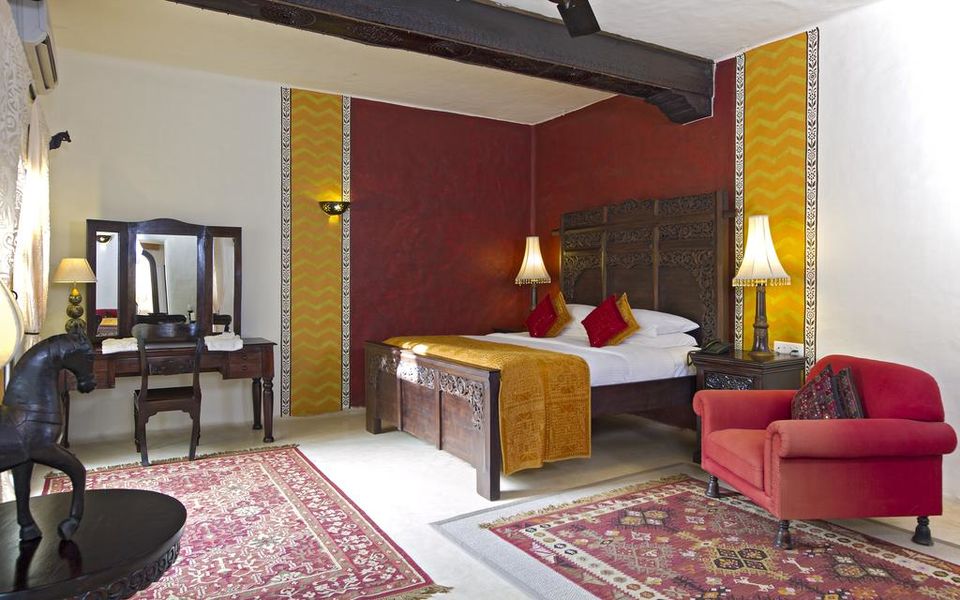 The entire experience of staying at Mihir Garh comes together as you step into your extravagant suite. This is a massive suite that offers you about 1700 sq.ft. of private space, a private pool and patio. There are two variants of suites – Alishan and Shandaar that literally translate to luxury and that is exactly what these suites epitomise.
Cost:
The suites range from ₹25,000 - ₹42,000 per night, inclusive of breakfast.
Best Time To Go:
The ideal time to visit the property is September - March when temperatures range between mild to cool. December-February are even better months to visit since you can thoroughly enjoy the property's majestic outdoors during this time.
How To Get Here:
Air: The closest airport to Mihir Garh is Jodhpur Airport that is located about 6km away from the property. There are numerous flights that frequent to Jodhpur Airport, making it well-connected to the rest of the country. Once you reach the airport, you can hire easily available cabs to take you to the property or you can request for a shuttle service for the same.
Rail: You can board a train to Jodhpur Junction Railway Station from where the property lies at an hour's distance. From the station, you can hire easily available cabs to take you to the property or you can request for a shuttle service for the same.
Road: Mihir Garh is located 600km from New Delhi, a distance that will take you about 10 hours to cover. All you have to do is follow NH48 to Jaipur-Jodhpur national highway and then follow NH 62 and NH 162 going towards Sanghi Village.
What To Do Around The Property:
Mihir Garh's hospitality extends beyond its palace walls to provide you various activities you can engage yourself while on your vacation. Here are a few things to do around the property:
Village Safari: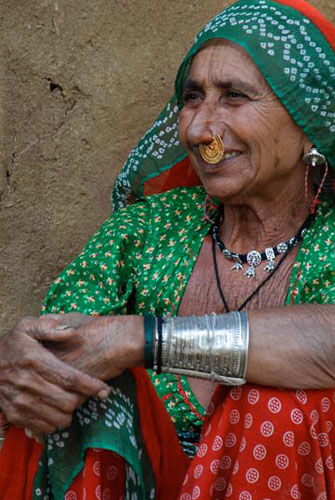 Go on a guided tour to village Sanghi and get a chance to interact with the families that make up rural Rajasthan. Steeped deep in culture and tradition, here you'll meet farmers, shepherds and also Bishnoi families who have been responsible to protect the endangered Black Buck antelope species.
Horse Riding: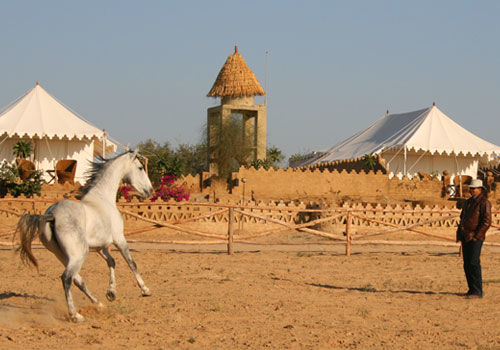 If you know how to ride a horse, the premier equestrian programme at Mihir Garh is something that will make your mornings even more special. Ride into the village's wilderness, enjoying the surroundings and spotting peacocks, camels and black bucks in their natural habitat. If you're there for a longer time, you can also register for their 3-4 day riding itinerary.
Royal Picnics:

This is an unmatched experience wherein guests have the opportunity to dine outdoors by the lake. This is a truly royal experience where you picnic like kings and queens. With scrumptious meals prepared especially for you, this is sure to be an experience that will linger on.
Shikaar Dinner: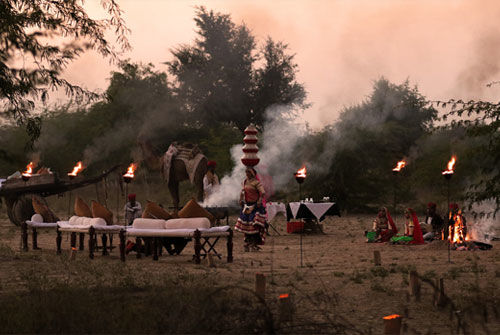 This is an exclusively organised dinner that is arranged somewhere in the middle of the village jungle. With charpais laden around bonfires, enjoy authentic Mughlai and Rajasthani dishes. Alongside, Rajasthani folk music and dance performances will add to the charm of your royal experience.
Mehrangarh Fort: