Come Monsoon and season of festivals begin in Mumbai. Festivals bring adrenaline rush in Mumbai and every Mumbaikar.First Janmashtami and then Ganesh Chaturthi.
Janmashtami, the birth of lord Krishna is celebrated all over the country however Mumbai is one of the best place to witness the celebrations of this festival.
This part of country celebrates Janmashtami by a ritual of forming human pyramid to break the clay pot filled with curd tied at considerable height. Modern day Govindas take challenges and compete to break the pot. In Maharashtra this ritual is known as Dahi Handi.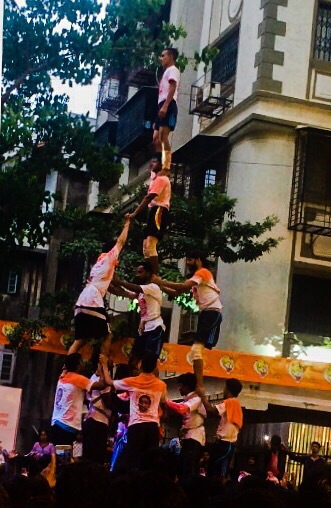 This ritual symbolises the naughty activity of baby Krishna when he used to make human pyramids along with his friends to reach the curd kept at height by mother.
Several competitions are organised all over Mumbai and young daredevil participates with great gusto and enthusiasm.
People full of buses and trucks, wearing t shirt mentioning name of their group travel across the city to participate singing, whistling and hooting and making the atmosphere thrilling and exciting.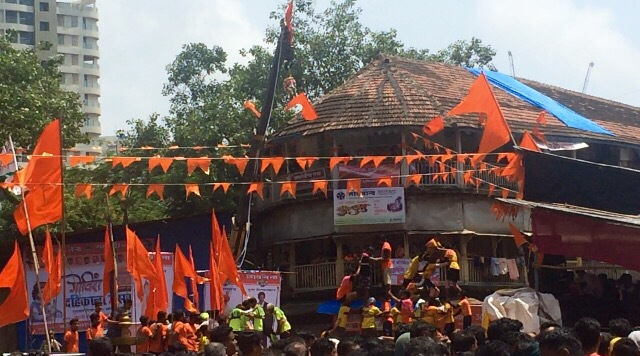 The highest pyramid made is of 9 layers and high up to 40 feet so it may sound easy but it is a real daredevil act.
Since this festival falls during monsoon, rain shower acts as catalyst to the excitement. If there is no rain people pour buckets of water from their building on Govindas.
Whole city turns electrifying as everyone gets drenched in colours of Govinda. Roads get filled with ocean of colourful people dancing and singing the hymns of Krishna.
Janmashtami and Dahi handi of Mumbai is a memorable experience.
Happy travelling!!!!!
If you have any query comment below, we will be happy to help fellow travelers.
For more exciting updates follow us on
facebook: www.facebook.com/livtoravell
Instagram: www. instagram.com/livtotravell_by_ishan