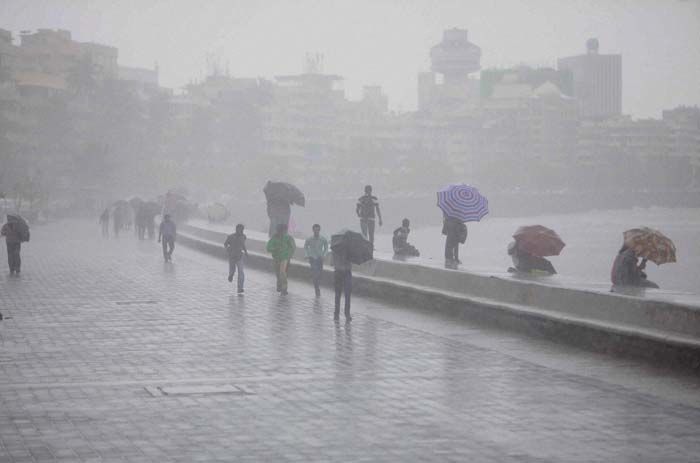 Mumbai Monsoon Mazaa
Rainy days are back again! And the incessant pattering of rain drops is like music to my ears. The taste of gol gappas lingers in my mouth long after I've polished off an entire plate. The roads are blocked and pot holes over flowing. While the autowala bhaiyas throw their weight around as if doing a favour to drop a desperate soul wanting to reach the safe haven of his home, mothers urge their children to hurry on and couples in love sway to the tunes of a romantic weather!
In the midst of blazing horns and clashing umbrellas, I take a step behind to bask in the much awaited rainy scene of my city. Six years in the metropolitan of dreams and I finally feel a sense of belonging. It's the time of the year I wait for with fervent zeal. Ask a Mumbaikar what rains mean to them and you'll get a flurry of answers like 'enjoying pakoda chai at home', a long drive off to Lonavala or just a plain lazy walk along the Marine lines sidewalk.
So what is it about the Mumbai rains that Mumbaikars go ga-ga about? Is it only the unpredictable and relentless rain that leaves the city breathtakingly beautiful or is there something more to it? What is it that makes Mumbai monsoon so special?
Hard-working and fun-loving are two best described words for the locals of Mumbai. Slogging all week and travelling long distances just to make ends meet, they surely know how to have fun on weekends, more so in the rains. Mumbai has the most splendid coast line divided into different sections like the Marine Drive, Bandra Bandstand, Worli Sea-face or the Juhu beach. These are the most popular getaways for a blissful evening by the sea shore. You can enjoy a long walk on the tracks made here especially for pedestrians or just sit on a bench and enjoy the wafting breeze brushing your cheeks.
A number of small eateries and coffee shops along with residential sky scrapers and bungalows adorn these places. A cup of hot coffee or eating 'garma garam bhutta' by the sea side is what a true Mumbaiite truly enjoys. Gateway of India and Haji-ali are two other places where one can experience high tide during the rains with tall waves that can drench you completely and lift your spirits like nothing else would do!
Taking off to some small places in and around Mumbai are again a great way to enjoy the rains. A long drive to Alibaug or Lonavala, Raigad, Khopoli Waterfalls, Sula's Vineyards etc are some simple yet enjoyable hangouts for this special season.
Besides relaxing and having a gala time in the rains, Mumbaikars celebrate two of the most entertaining and cheerful festivals during the rains. 'Dahi Handi' which is celebrated with much fanfare and elan the day after the festival of Janmashthmi is a day waited for eagerly. Young and old together enjoy this festival where an earthern pot filled with dry fruits, milk and ghee is tied high up with a rope. A group of young boys and men then form a pyramid climbing over each other to break this pot with onlookers shouting in delight and cheering. The broken pieces of this pot are considered auspicious by devotees who believe negative powers and mice will remain at bay.
Another important festival of this season is the Ganesh Chaturthi. Huge statues of Lord Ganesh can be seen in every nook and corner of the city for a good 10 days or so at the end of which these are submerged in the ocean in the midst of throngs of people.
The buoyant and blithe nature of the Mumbaikars is also what adds uniqueness to the monsoons here. People just let their hair down to drown in the pleasures that rainy days bring. And that's what makes this season so special here.