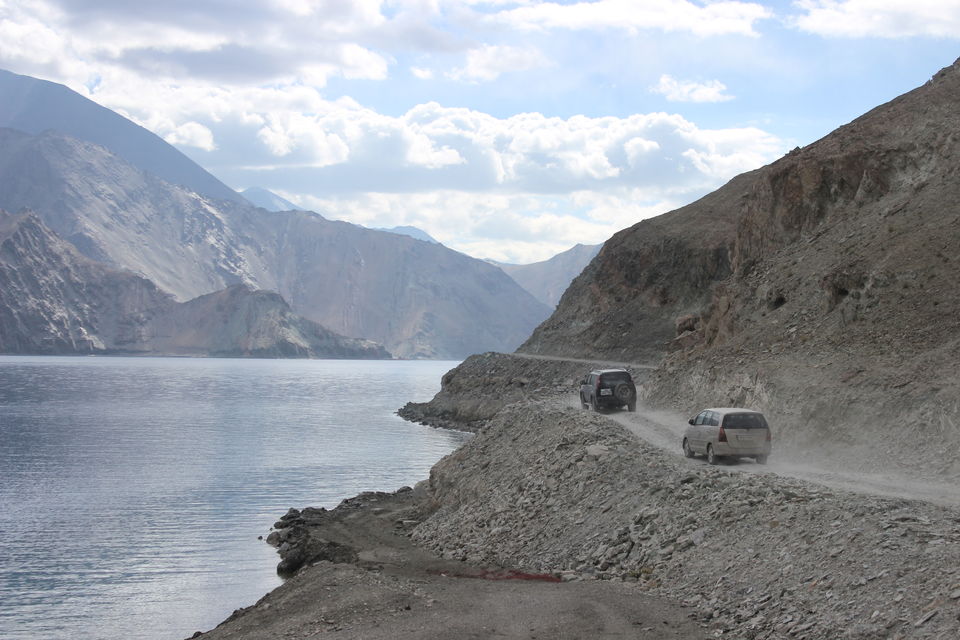 Coming back from Ladakh is like breaking up with one of those ex's who you thought would be a perfect life partner.
I recently visited Ladakh with 6 of my college friends. It was a 14 days trip covering all the important sights and some unexplored areas as well. But I regret it now. Because I am finding it difficult to come to terms with the fact that it's over.
We were planning this trip from more than last 6 months. And it took only 14 days for it to get over, a span which seems really very short right now. We're left heartbroken because none of the mountains followed us when we were leaving. None of the rivers came running along the side when we were bidding the final adieu. Ladakh, the land of high passes, is very selfish. It suddenly abandons you and forces you to move on to the reality from the world which seemed pure, God-made and untouched.
When we arrived, the valley welcomed us with the mesmerizing mountains looking upon us and rivers continuously running along our side. Every view was breathtaking, every angle was perfect. One would really need to take efforts to go wrong with the click. Such was the beauty of those serene landscapes. We were overwhelmed with what we saw and what we had just started experiencing. The cold breeze, temperatures dipping down to zero and below & beauty in the every corner of mountains, all of this was new to us.
The excitement of what could be lined up ahead, gave us the strength to bear the unbearable cold. We didn't realize but we were falling into the trap of nature's remarkable wonder. From camping in -4ºC at Sarchu to travelling 250 km in a straight 8 hrs journey on a road which was hardly recognizable, we looked forward to all of it. Just to see where does it lead us. And every time it lead us to more beautiful places.
Leh, being located almost centrally to all the beautiful sights, makes a perfect stay. Pangong Tso was mesmerizing, Tso Moriri was pure and untouched. Korzok village, the highest situated civilization showed us, humility and honesty had reached the height too. People living in these mountains, far above the surface of earth were so down to earth. Passing from Khardung La made us realize how crazy and adventurous people can be. We witnessed Auto rickshaws being driven all the way up to Khardung La. Crazy stuff.
If I try putting the serenity of Ladakh into words, believe me, no words would do justice to the kind of magic we witnessed. Falling in love with those scenic landscapes made us forget about the void of oxygen in the region. The view was 'breath'taking in the literal sense.
All of us wanted to take as many memories possible back with us. We had gotten acclimated quickly to the conditions over there. But we knew it was going to be difficult to adjust when we come back to Mumbai. Cold suddenly disappeared, mountains hid themselves behind tall buildings and there were no rivers running around. Magic had vanished and we were brought to reality in a very harsh way. It's like breaking up with one of those ex's who you thought would be a perfect life partner. Ladakh, will take time to leave our body, our souls.