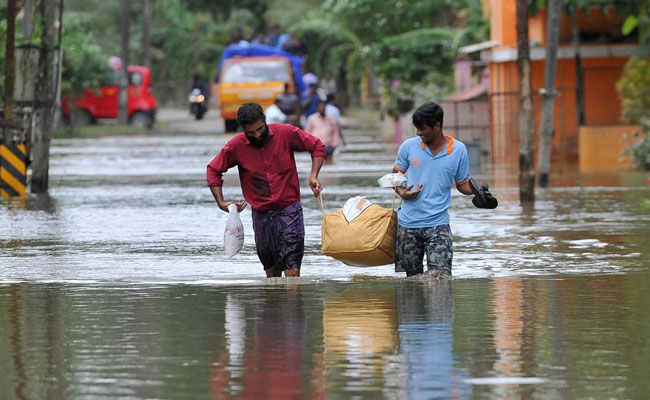 While the country is reeling from the aftermath of the Kerala floods that ravaged the state this month, few have recovered from the harrowing experience of the Uttarakhand floods that took place in 2013. The footage from what was considered to be one the worst natural disasters in the world, left a lasting impression on millions – so much so that even five years later many outside the state still regard it as a no-go zone.
Like the 2013 Uttarkhand floods, 2015 Nepal earthquakes, the 2006 tsunami, the Kerala floods also illustrate how disasters can have long term effects on tourist destinations. Once the immediate clear-up operations have ended, the task of repairing the damage done to the destination's image and encouraging visitors to return is a task that can take years to accomplish.
For areas affected by disasters, help is required on all fronts in order to bring back the region to its previous state. Luckily there are a number of steps that potential tourists, travellers, and good samaritans can take that can help disaster affected areas.
Don't cancel your plans right away
If you had plans to visit a state before a disaster struck, don't cancel them the moment you hear bad news. Think instead of how you can probably reach out and help instead. According to an Australian lecturer with the University of Queensland, who teaches about tourism, media sensationalises what is happening when disaster strikes. This usually draws people's attention to the destination for all the wrong reasons. The first is usually the fight or flight response and potential tourists all end up cancelling their plans.
• It is a better strategy to wait and get in touch with experts in the area to get a better grasp of the situation. If the crisis indeed is unmanageable and only requires relief operations at the moment, then back out and cancel your bookings/flights.
• However, if there is possibility to shift your plan to a later date, it makes more sense as the money that will come in from tourism is also going to help the state/country eventually.
• Another option is to look at areas near the affected region, which haven't been affected by the disaster and reroute your plan to visit those. From there you can extend not only monetary help but also volunteer if possible.
Volunteer instead of just going as a tourist
In the aftermath of the Haiti earthquakes, voluntourism got a big boost. It is important to note however that in many cases voluntourism can do more harm than good if it's not monitored. In several instances, the presence of untrained volunteers has hindered relief operations and made the task more difficult.
Having said that, areas that have been ravaged by a disaster often need all help they can get to get back on track. A better strategy is to reach out to disaster management organisations, NGOs and volunteer organisations that are already extending relief in the disaster-affected region and volunteer with them. You can join their team and thus volunteer without putting your life and that of others at risk.
Be flexible about stay options
If you're genuinely interested in volunteering or helping out in a disaster-affected region, the one thing that you need is to be flexible. If a state has experienced property damage due to the disaster, it goes without saying that you might not get to stay in five star hotels.
Backpacking is a good way to go if you're planning to help out on ground. Keep all your essentials safe and secure in a rucksack at all times. Carry a portable tent if possible. This way the available accommodation can be better used by people who are more in need – the injured, destitute and homeless.
Talk to experts
No matter what you do, don't try and become the expert during times of crises, especially if you're just a traveller/tourist and have no prior experience of dealing with disasters. Rely on experts instead. Talk to them before going on ground and keep in touch with such people even while you're helping out.
If you're volunteering with an organisation, keep in touch with the team-leader to ensure that both you and the people you are helping can be taken to safety. They will have a better idea of how to handle surprise situations and can also call for rescue as they will be in touch with teams responsible for that aspect.
Donate
This goes without saying – monetary help is one of the most important aspects of disaster relief because the reconstruction and rehabilitation both require funds. If you're not or can't helping out in terms of volunteering, donate.
Government portals will usually set up fund donation centres both online and offline to help with relief operations. In case of the Kerala floods, a number of online portals have also started donating goods instead of just money. You can also contribute there.
Make use of social media
As mentioned above, media sensationalism, while helpful to a huge extent, can also take the public's attention in the wrong direction. In some cases, the discussion can also get completely politicised due to wrong influences.
During such times, it is really important to harness the power of social media to reach out for help but also to give people a genuine idea of what is happening. This is even more important from people helping out on the ground. However, even in this people need to maintain a sense of judgement and keep biases away to ensure that wrongful information doesn't get spread.
Natural disasters are devastating events that can take years, maybe decades to reverse. Everyone's effort counts. While each disaster is different, the above mentioned are a set of general guidelines that can be useful for people looking to help but don't know where to start.
If you have other tips that you would like to share, kindly let us know in the comments. Meanwhile, if you would like to donate/reach out to disaster affected states of Kerala and Nagaland, the details are below:
Kerala
CM Relief Fund
A/c Number : 67319948232
A/c Name: Chief Minister's Distress Relief Fund
Branch: City Branch, Thiruvananthapuram
IFSC : SBIN0070028 | SWIFT CODE : SBININBBT08
Account Type: Savings | PAN: AAAGD0584M
Online: https://donation.cmdrf.kerala.gov.in/
Nagaland
A/C No. 10530527879
IFSC Code: SBIN0000214
State Bank of India, Kohima Branch