As Kerala gradually recovers from the worst floods it has faced in a century, Nagaland has been hit with unprecedented rains that are leading to a terrible flood-like situation.
What's Happening: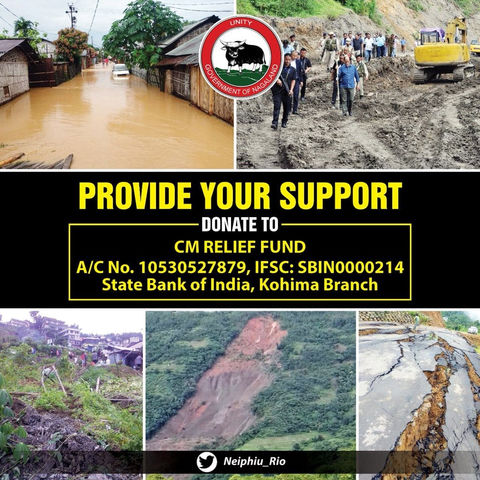 Since 26 July 2018, Nagaland has been facing extreme monsoon which has led to numerous landslides across districts such as Kiphere, Tuensang and Phek. The situation is even worse in remote towns of Peren, Noksen, Noklak, Tobu, Phokhungri, Wuzu, Pongro and Seyochurig that are located closer to Myanmar border. As of today, over 12 people have died, 3000 have been displaced and about 48,000 families in 523 villages have been completely cut-off since communication was suspended due to rains. Roads in nearly 359 locations have also disappeared, further intensifying the calamity. This situation is making it difficult to send basic amenities and proper medical care to the affected areas.
According to reports, the condition is only going to get worse in other north-eastern states as the Brahmaputra continues to swell. In light of this situation, there is a flood alert in Garo Hills, Meghalaya also. Alongside, China is soon to release water from Tsangpo (Brahmaputra) as it has recorded highest water level in 150 years. This is sure to impact Assam and Arunachal Pradesh in the coming weeks.
How You Can Help: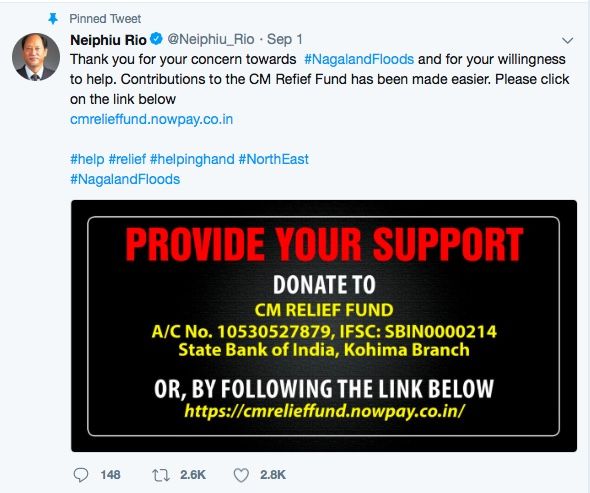 Nagaland Chief Minister, Neiphiu Rio took to Twitter this week to ask the country for help and contributions towards relief work. A CM Relief Fund has been set up where you can donate money to save Nagaland and its people.
The process is very simple; follow this link and fill out your personal details. You will then be redirected to a payment site where you'll have numerous payment options like credit, net banking, Amazon pay, Jio money, Ola money. Alternatively, you can make a bank transfer to:
A/c No: 10530527879
IFSC: SBI0000214
State Bank of India, Kohima Branch
Please try and contribute as much as you can, your aid can save someone's life.
Along with contributing to the relief fund, please spread the word on social media as much as possible. The word must reach the entire country so that the people of Nagaland can be saved and the affected areas can be restored.
For all travellers who may have trips scheduled to Arunachal Pradesh, Assam and Meghalaya, you are suggested to please speak with the locals and find out what the situation is in the places you are to visit. Please do not travel to these locations before you are well-informed.
If you have tickets booked to Nagaland for a vacation, please cancel all your plans right away.
Don't just read and scroll on; donate and spread the word about Nagaland.