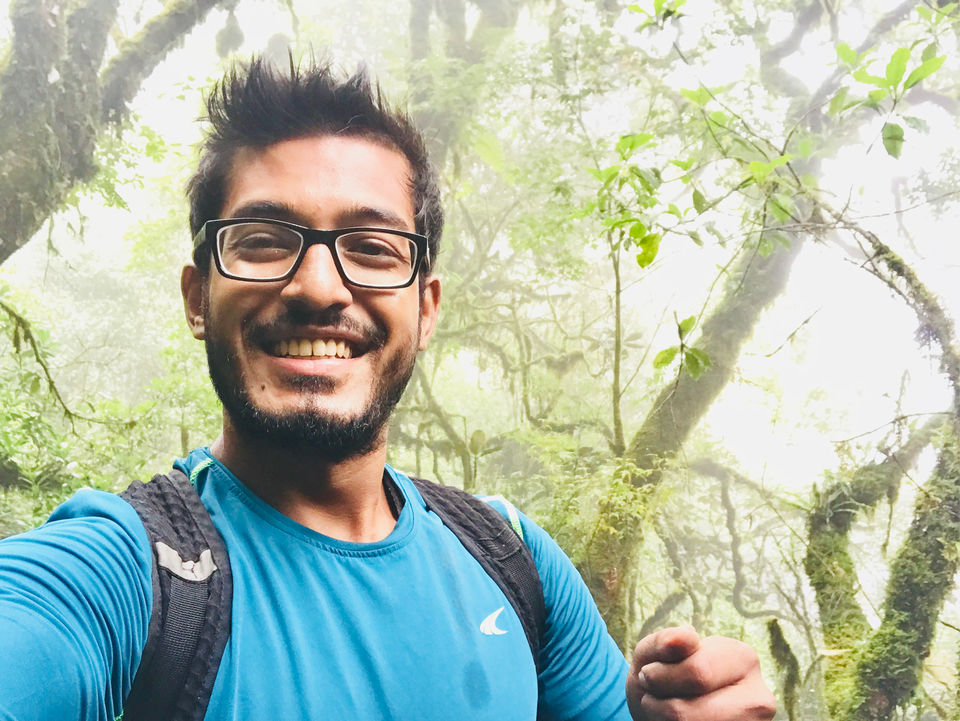 Trekking to Dzukou Valley , Nagaland ⛰
Dzukou valley has always been a dream to me since years . On 18th of July i completed my dream trek to dzuko valley . So yeah i guess now i can "been there done that" .
Dzukou trek is not just a trek for me . I have never trekked before Dzukou . It was a test of both my mental and physical limits . I was undergoing through quite a few problems in life . I had answers to find . I had a job to find my lost soul . I had to get back up in life that kicked me down numerous times . I had to rediscover myself . They say nature has answers to everything . So then i went to find my soul my answers but gave my heart to Dzukou instead . The beauty of Dzukou valley can't be expressed in words . It's just pure love .
We started our journey from Guwahati,Assam on 15th July to Dimapur,Nagaland via train . We reached Dimapur by 11:00pm , tired and exhausted but excited . I started to feel the vibe . I knew yeah it was real , it's gonna happen . Next morning me and my mates woke up at around 6:00am . Started the day with a cup of coffee because coffee first always . We have had arranged a Tata Sumo by 8:00am to carry us till Kohima where our guide was waiting . Okay so i am gonna be honest, i have never traveled on top of a car before this but man it felt good , won't lie my bum did hurt since i had to seat on a luggage carrier but the fun was real . The wind , dust , sunshine everything was just so close to my skin , i have felt it like never before . The vibe of traveling on top of a car in twisty roads is just so blissful . Was excited about the ride from Kohima to Trekking point where the real adventure was waiting . We reached Kohima by 12:30pm . Kohima was cold , little windy and less sunny . Just the perfect weather . By 1:00pm we started our ride to the trek point and by 2:30 reached our destination . Everyone was excited . I was nervous , excited , and confident . Felt like i was gearing up for a war . It indeed was a war , a battle of my life . By 3:00pm we started to trek . By 3:10pm i already stopped twice with my friend . It was hard , like really really hard to climb up . But i knew i can do this and that i have to do it to find my answers , my soul . Got back up , helped my friend and started climbing . As i started climbing up with every step forward i was being a little more strong . I knew this would change my life and make me a better person . The trees were huge , oh my god really really huge , the birds were chirping followed by gentle wind and later with rain . The vibe was magnificent , the smell of nature , the touch of earth was so beautiful i felt like i was reborn from the core of nature's heart . The climb became difficult as we kept walking upwards . I realised this thing is risky . But i also had a strong mindset by then and of course my adrenaline always on rush . I carried chocolate bars and juice along so that i can fuel my machine . My legs were ready to give up but thanks to my spirit , i kept climbing . It was 6:00pm and it was almost dark by then . I was scared a bit , anxious and positive . Also i was a lot excited because i knew i was few kms away from my dream . By 7:00pm reached Dzukou top , where they have two dormitory , a kitchen and a bathroom and few local were there as they take care of the place and help the trekkers with almost everything including meal preparation . We cheered each other and that felling of making it till the top was so wonderful . It was beautiful and cold . So fresh so real so close to Mother Nature so alive . It was one of my best achievement in life . Everybody else in the dormitory who was there before us would cheer us up as we made it . Beautiful vibe . Beautiful . By 8:00pm we freshened up had tea and noodles followed by wine and vodka party along with some music of course and danced as if tomorrow doesn't exist . I was remembering myself standing at the trekking point and wondering if i could make it . I smiled at myself , taped my shoulder myself . Such a proud moment because i made it . I had a purpose of climbing Dzukou valley , i had answers to find . So i walk out of the dormitory and sat alone with my wine talking to nature . I just cannot explain that felling . Maybe i don't even want to write that felling because it was such a personal experience that was so blissful , as if i am in some other universe . Wow . I was called by my friend later for dinner , and we would all seat together and eat . If you have been to NorthEast India you will know the Naga people has quite a reputation for food . Man that was so tasty so good to have dinner with so many people after such a challenging trek . By 10:30pm we were provided sleeping bags and blankets for the night . And by 11:00pm i was in my dream land , i swear i never had such a peaceful sleep . Next day we all woke up by 6:00am had breakfast by 7:00am and went off to explore the Dzukou valley top by 8:00am . By 10:30am we came back to the dormitory had food , packed our bags and started the trek downwards back to where it started from . The trek downward was a little easy then the trek upwards and also by then i had a strong mindset and i had my answers . So i was confident and strong . By 2:45pm we completed the whole trek . I would look up and wow such a emotional moment for me . I knew i will have a good proud look in the mirror next time i see myself . By 3:15pm we started our journey back to Dimapur just like it started . And the next morning back to home the same way as started .
So here i am now remembering the moments and writing it down for you so that you can at least have a slight clue of what it felt like . But as always one must come and witness it with his/her own eyes own soul because words would just fail to explain such a experience .
Dzukou valley i love you . And thankyou for this life ⛰