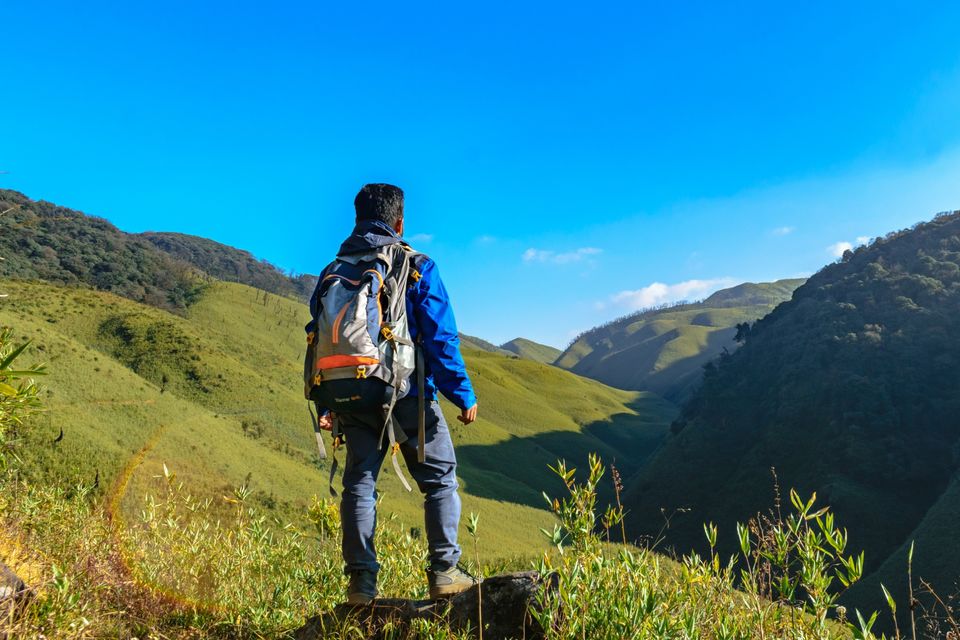 Hello Travellers, I did a solotrip to Nagaland from November 17th to November 27th. In this post i will talking about the itinerary,permits,how i commuted, where i stayed and cost involved.

Please also do checkout my instagram page for photos from my other trips :- https://www.instagram.com/techie.traveller/
So lets start...
Itinerary:-
1 - Pune to Dimapur(via Kolkata) to Kohima
2 - Khonoma
3 - Khonoma to Dzuleke
4 - Dzuleke
5 - Dzuleke to Kohima to Vishvema to Dzukou
6 - Dzukou
7 - Dzukou to Kohima to Touphema
8 - Touphema to Kohima to Pfutsero
9 - Pfutsero
10 - Pfutsero to Kohima to Dimapur
11 - Dimapur to Pune
Permits:-
I got my ILP prepared by India Trail which is a travel agency. I send them my ID Proof and photo my email and they emailed a copy of permit in few days. The cost for this was Rs.400. But during my 11 days in Nagaland no one asked for the permit. There is a checkpost on Dimapur-Kohima stretch, but our vehicle wasn't stopped. The driver told they stop only yellow plated vehicles.
Airport to Kohima
As soon as i stepped out of airport with 2 backpacks, i was surrounded by drivers and the only words i could hear where "Dimapur jaana hai?", "Railway Station jaana hai?". And i told them, "mujhe to Khonoma jaana hai", to which they replied, there is a Taxi Union picnic so there are no sumos going to Kohima today and i would have to hire a 4 wheeler. I was curious, since i have heard of strike and bandh what is this Taxi Union picnic. So a picnic is something that happens once a year wherein all taxi/sumo drivers take a break for a day. So i along with 2 others hired a 4 wheeler till Kohima and the cost was Rs.1500 per person. The 3 hour road journey from Dimapur to Kohima is a nightmare. It was a bumpy road almost all the way. During this 3 hour journey i came to know that the plan is to make the current Dimapur-Kohima road a 4 lane highway by end of 2019 and also there is work going on for the Dimapur-Kohima railway line.
By the time i reached Kohima i was totally drained after the 3 hour ride and to add to it i didn't have anything for lunch. If i were to goto Khonoma on that day itself i would had to hire some vehicle again from Kohima. So i decided to stay in Kohima. I asked my co-passenger where he had booked his stay for the night and i too checked into the same hotel. It was expensive, but decided to call it a day. The rooms and food were good and they also provide room service.
Dimapur Airport to Kohima - Rs.1500
Hotel Ariel - Rs.2000
Kohima to Khonoma(First Green Village in India)
It was a Sunday and it was time to head to Khonoma. Now i knew beforehand that in Northeast on Sundays i won't find any sumos or buses. But i was also told on Day 1, since the taxi union picnic was on Saturday, i will get a sumo on Sunday. Well guess what that information was wrong. There were no sumos on that day. I had to hire a taxi to Khonoma. The initial plan of doing a budget trip seem to be fading on the first two days since i had already spend a lot of money on commute. The taxi dropped me at 'The Dovipie Inn' in Khonoma. This place is very clean,good food and great views from the rooms and the terrace. They also have 4 bed dormitory which costs Rs.800 a bed. I spent rest of the day walking in the village,clicking photographs and sitting in the paddy fields.
Most of the locals i talked to where fluent in english so i had no issues navigating through lanes of Khonoma. Apart from Dovipie i also noticed 2 other homestays in Khonoma. Although i didn't enquire about the rates. There aren't any touristy spots in Khonoma but don't let this be a reason to not visit Khonoma. You can spend your time walking in the village, talking with locals who are friendly and treat your eyes to the beautiful landscape of this place.
Kohima to Khonoma Taxi - Rs.600
Khonoma Entry fees - Rs.30
Dovipie Inn - Rs.800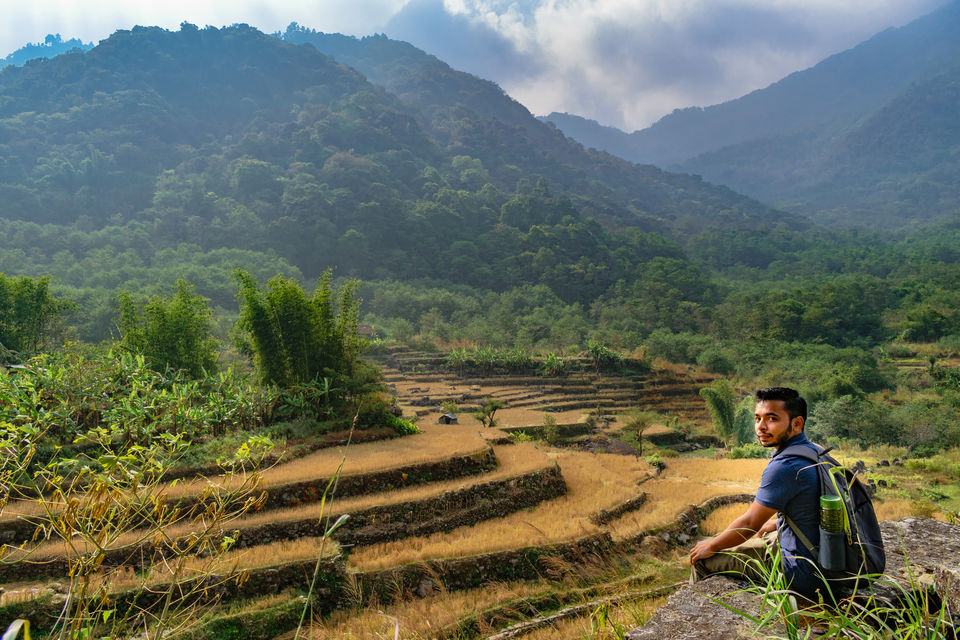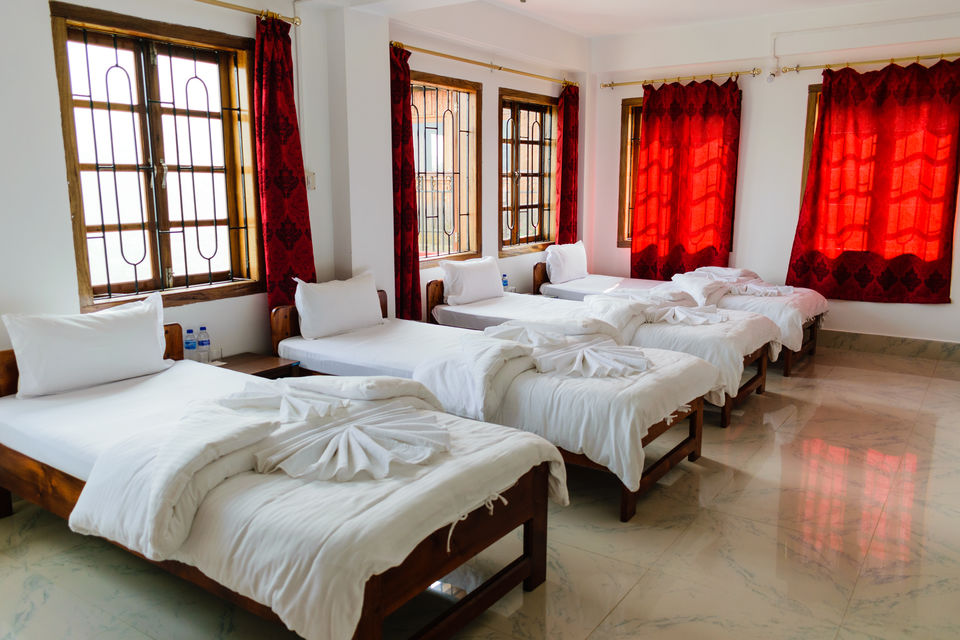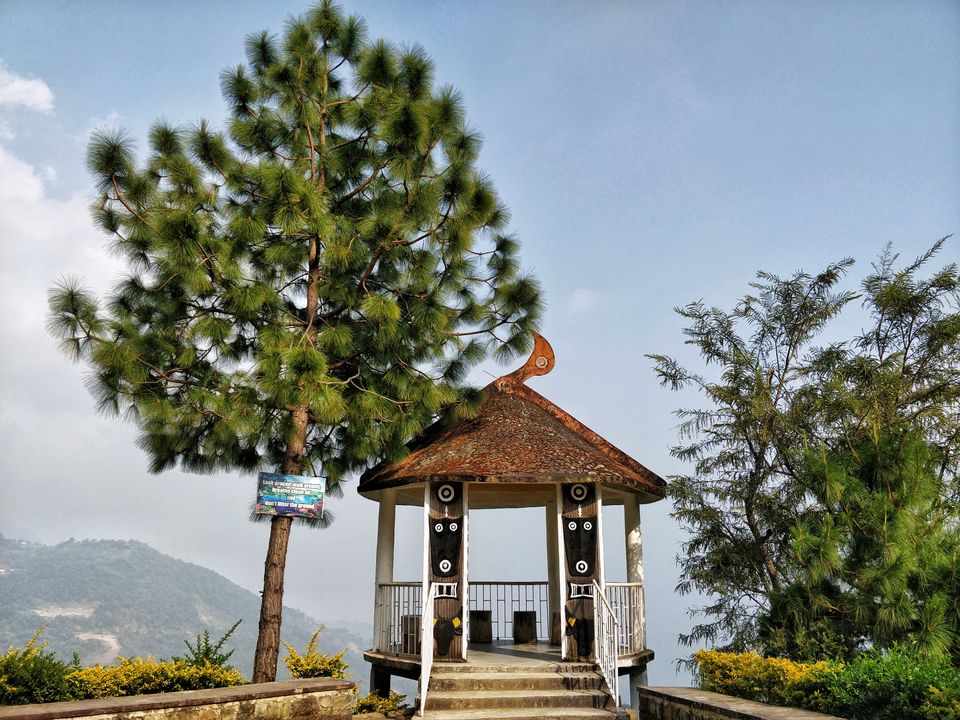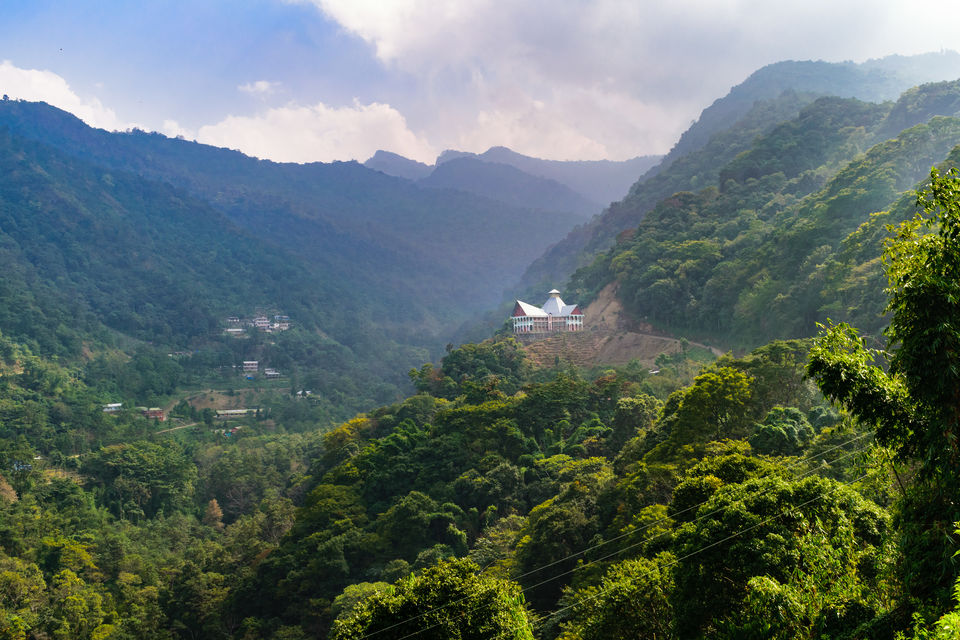 The long walk from Khonoma to Dzuleke
After having breakfast i checked out from Dovipie Inn. I was told i won't find any sumos or buses on route to Dzuleke and i have to hire a 4 wheeler to go there which would cost Rs.600. But i told to myself 'already commute mein bahut kharcha ho gaya isliye no hiring vehicles even if that meant walking all the way to Dzuleke'. I was also hoping any vehicles passing on that route would stop by. But luck just wasn't on my side.
It was 3 hours into the walk now carrying two backpacks, i wasn't tired but i was still hoping some vehicle to pass by and drop me to Dzuleke. Even though few vehicles did pass none stopped. Finally after almost 5 hours of walk, i saw a 'Welcome to Dzuleke' board. I thought the village would be just around the next turn, but it was still a 30-40 minute walk from their to the village. The village looked deserted. The Tourist Information Center was also closed. Finally i met a local guy and asked if there are any rooms to stay. He called up an another guy who took me to a homestay. I requested the homestay lady to prepare some food for me as i was hungry and worn out after walking for over 5 hours. I spent rest of the day at the homestay talking to the two ladies who run the homestay and sitting in the attached balcony of my room. Dinner was deliciouss. They also showed me how to eat Bhut Jolokia(spiciest chilli). First they heat up the chilli by directly exposing it to flames, then later crush it and serve it. After chatting with them for an hour i went of to bed
Cost :- Nil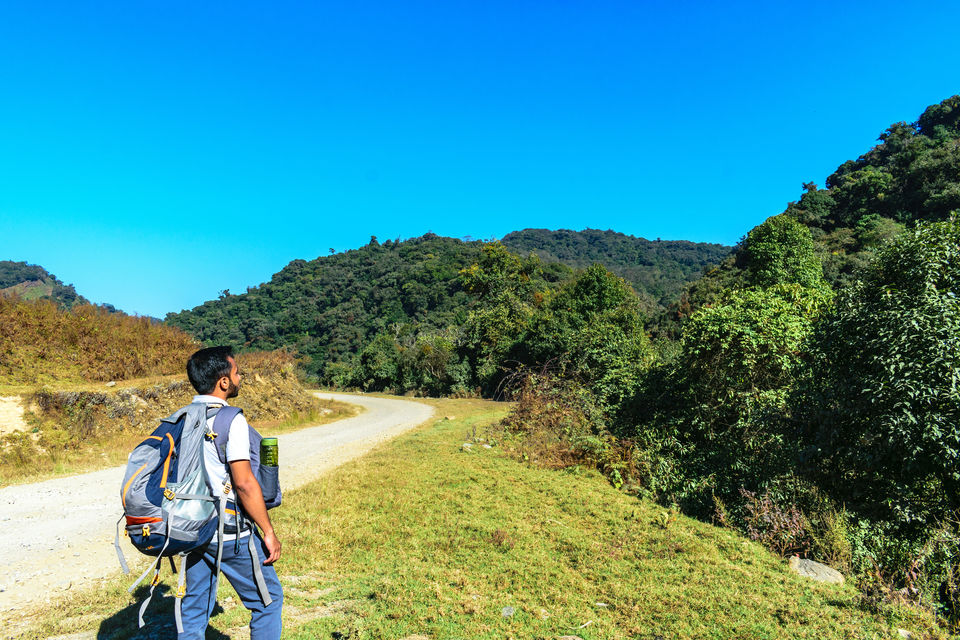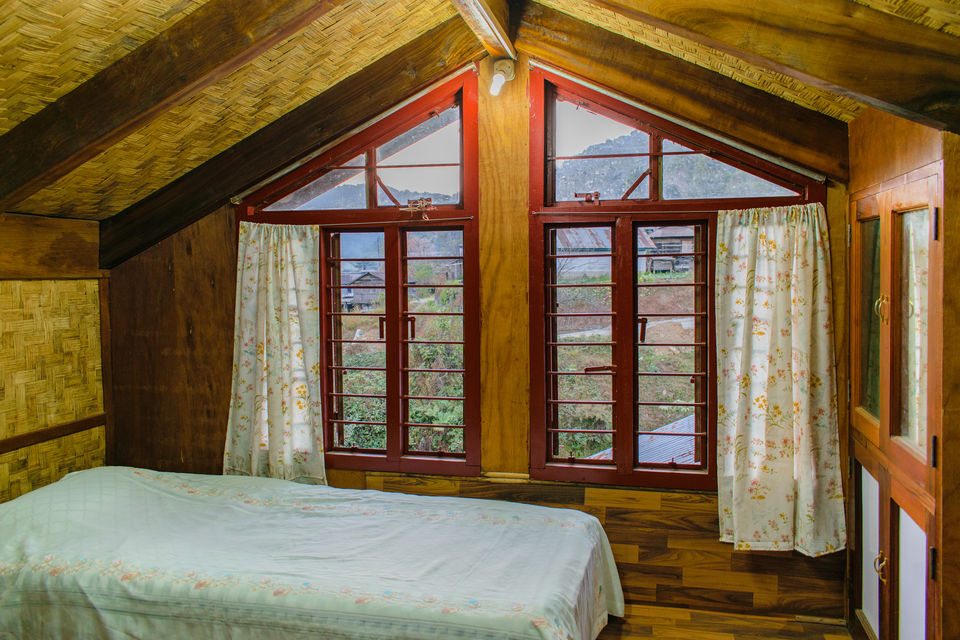 Dzuleke
This day was about exploring this small village of Dzuleke. So while i was on the balcony having my breakfast, the guy who took me the homestay arrived and we ended up talking for 30-40 minutes. He told there are 5-6 homestays in Dzuleke and was telling about how he organizes trek to nearby mountain and how photographers stayed in the nearby jungle for days to photograph wild animals. After that i stepped out to explore the village. There aren't any 'tourist spots' or 'places to visit' in Dzuleke. You just walk and explore this picturesque village. There is a picnic spot and if you walk further you will come across the river and paddy fields. I spent most of my time walking in those fields and later headed back to my homestay and spend the remaining of the day looking at the beautiful landscape and talking to the 2 elderly ladies who run the homestay.
Cost :- Nil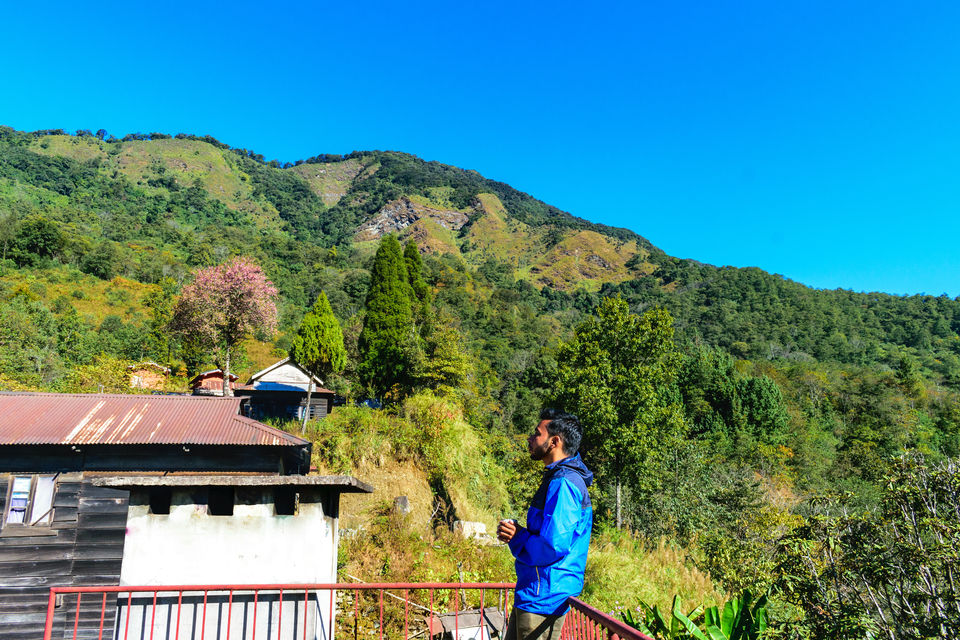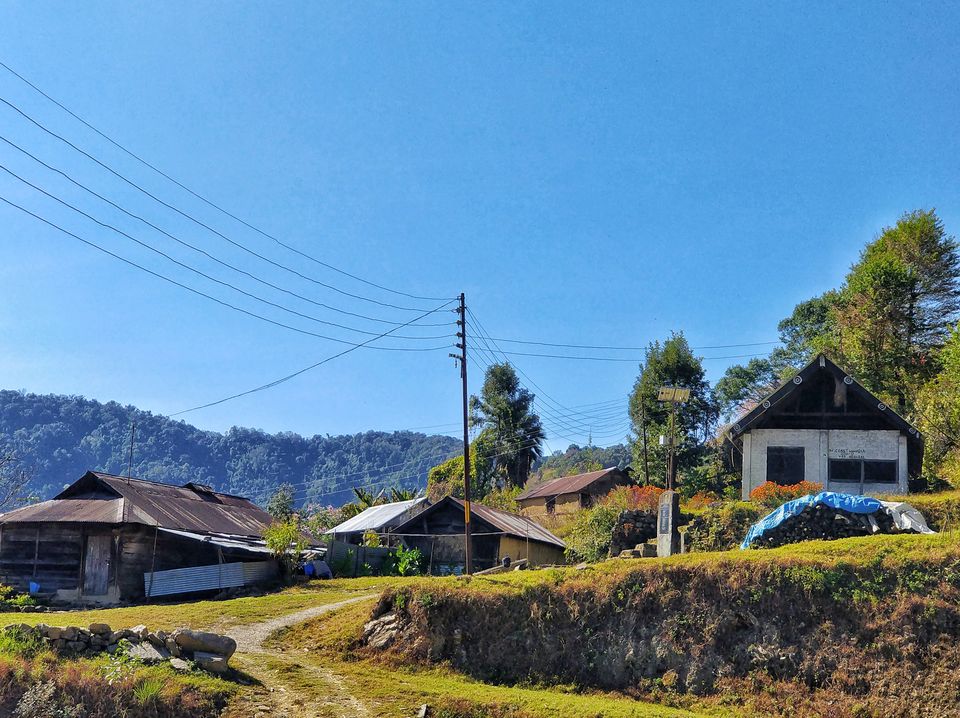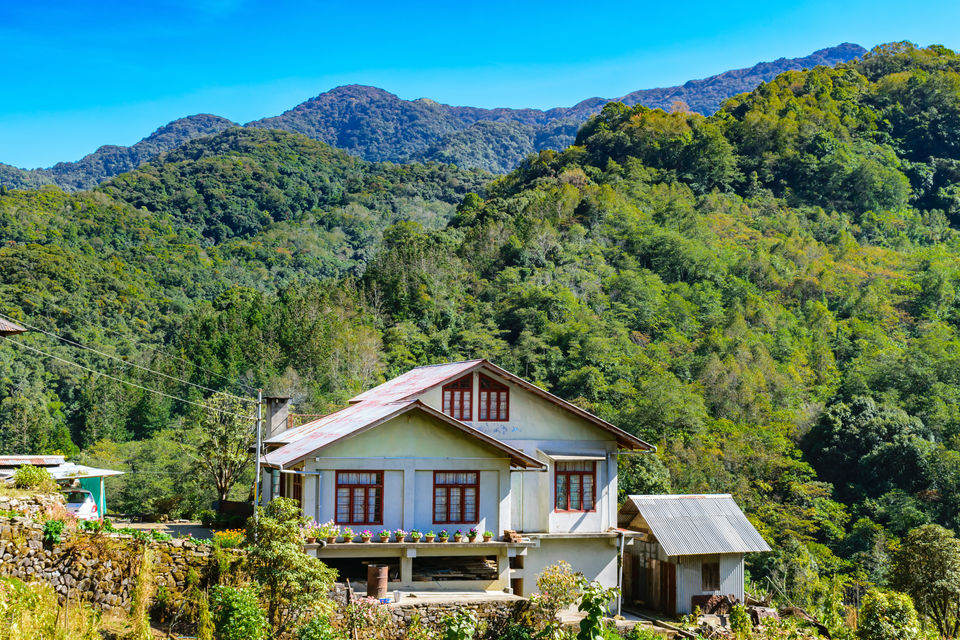 Dzuleke to Kohima to Vishvema to Dzukou
The plan for today was to goto Kohima and then to Vishvema, find a stay there and next day head to Dzukou. My Dzuleke homestay caretakers assured me that they would help me find a vehicle going to Kohima. Infact one of the owner stood by roadside to stop any vehicle passing by. After 15-20 minutes i saw them waving at me from road to inform that my ride is here. I did a final goodbye to them and started from Dzuleke to Kohima at 7.30am. With me in the Omni were an army mechanic and his friend, a local lady and the driver. I reached Kohima at 9:15.
I asked a shopkeeper on how to goto BOC Stand. He told me to take a bus to BOC and thats what i did. The bus trip cost only Rs.10. The sumos for Vishvema start from BOC and cost Rs.80 per person. So as i mentioned earlier the plan was to stay at Vishvema for the night and start early for Dzukou the next day. But few kilometers before Vishvema the sumo stopped at a place where 2 passengers got off and it was at that point i saw the road sign "Way to Dzukou Valley". At that moment i told to myself its just 10.30am lets goto Dzukou today itself, and just as the driver was getting back on his seat i told him i am getting off here. And so started my trek to Dzukou.
The actual starting point of trek is around 7kms from the point where i got off the sumo on the highway. I was hoping i would get a free ride till the starting point. In the first hour of walk 2-3 cars passed by but none stopped. Another 30 minutes passed and i saw a truck coming and tried my luck again. The truck stopped, it was full of construction workers who were also heading to the end of motorable road. It was super bumpy ride, but i was not complaining after all it was a free ride :D. Now from the point where the roads ends there are steps leading to the start of the valley. It took me around 30 minutes to reach the point where the valley finally opens up.
From that point to the guest house its an easy walk and the trails is a visual treat to the eyes. I reached the Dzukou Guest House around 3pm. On that day, apart from me there was only one traveller staying at the guest house. We also had the 2 caretakers of Guest House who kept us entertained with their talks for the next 2 days.
Now some information about the Guest House. There are 2 huge rooms with nothing inside. These are the dormitories. The caretakers told me each dorm has a capacity of 15-17 people. Apart from the dormitories, there are 2 private rooms(VIP rooms). If you haven't bought your own matress/blanket etc., you can rent it from the guest house. Each matress,blanket,pillow cost Rs. 50 for a day. You can even rent a sleeping bag. The VIP room has a wooden bed, but you would have to rent out remaining items. The food is basic. Dal,chaval,omellete,cup noodles,tea,some canned fish items. Also if you plan to hire a sumo till end of motorable road, the cost is Rs.1200. I came to know this after i met a solo traveller on Day 6 who had hired a sumo. And if you want to hire a guide for Dzukou, the cost is Rs.1500 for a day.
I had taken a matress and 2 blankets hoping it would help against the cold. But that wasn't enough. It was very cold that night. Me and the other guy woke up around 12.30am and got ourself 2 more blankets each and that helped us sleep through the night.
Dzuleke Homestay - Rs.800 per day(excluding food)
Omni from Dzuleke to Kohima - Rs.200
Bus from Kohima to BOC - Rs.10
Sumo from BOC to Vishvema - Rs.80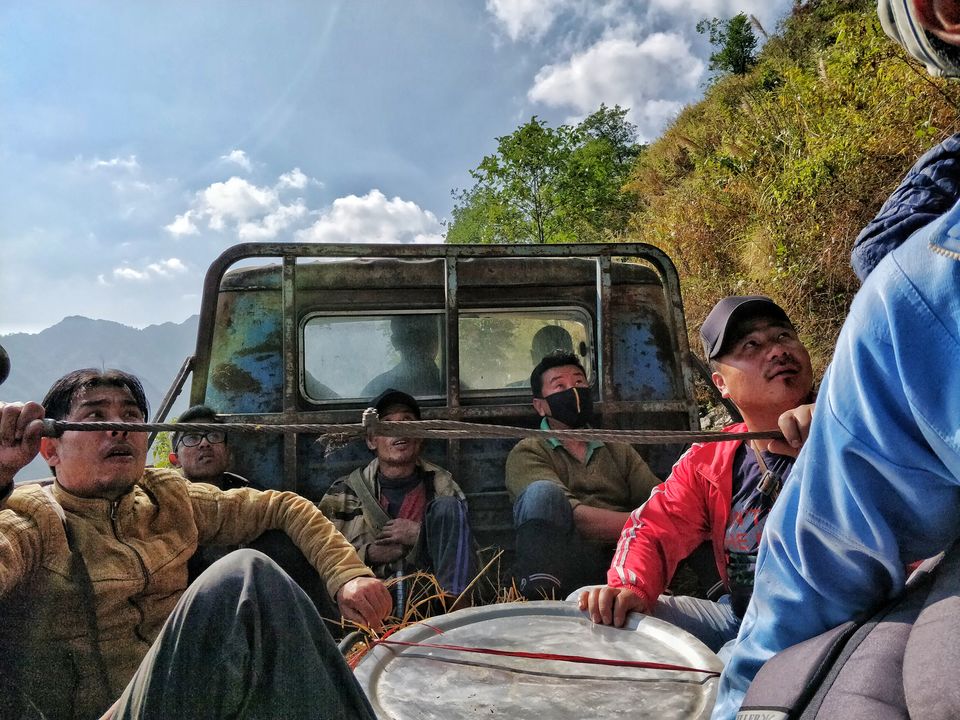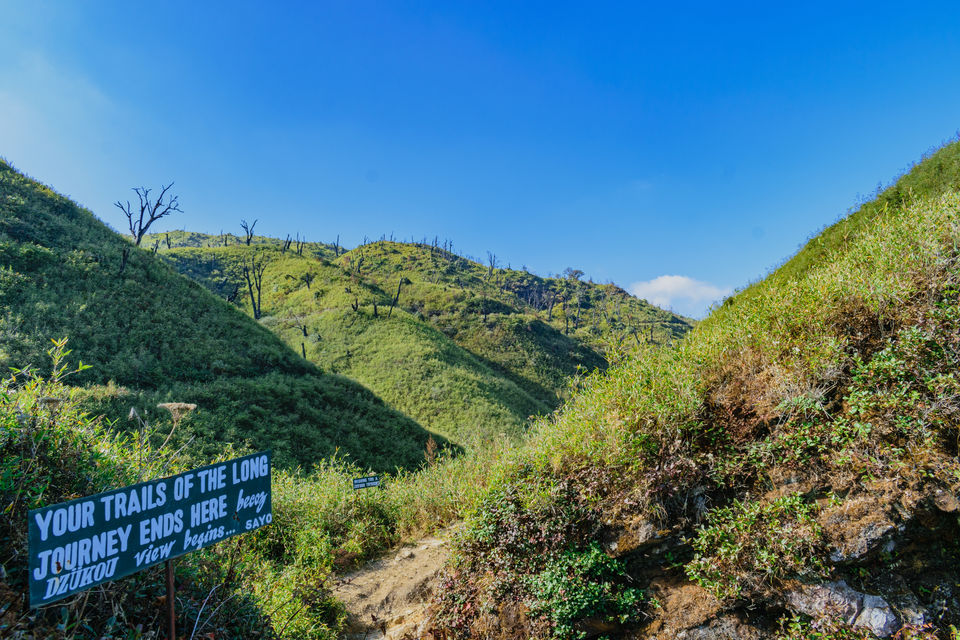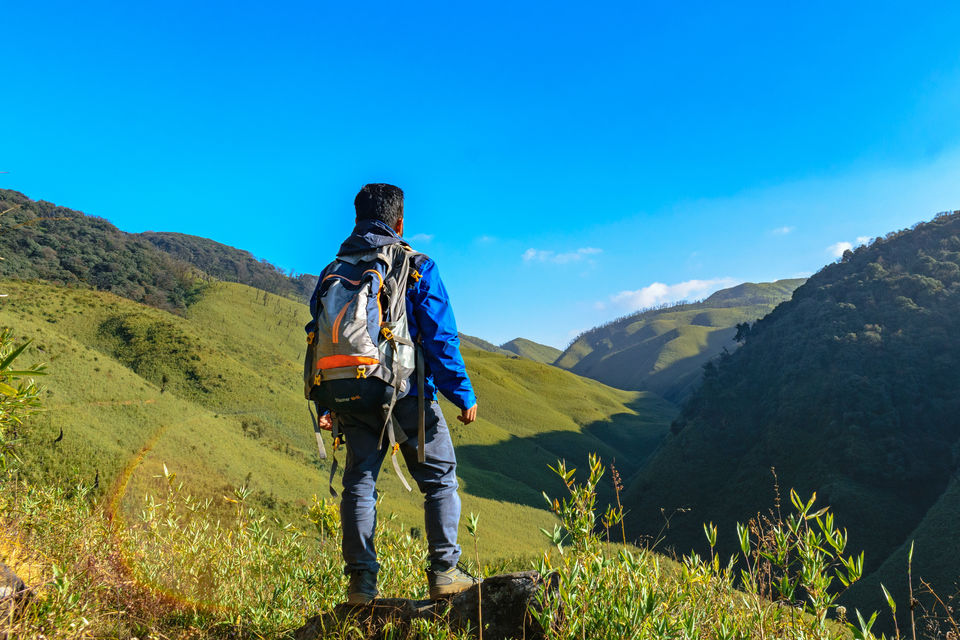 Dzuko Valley
This day was all about exploring the valley. From the guest house you can see 3 spots, a helipad, Christian cross and a watch tower. And with the entire day at hand i covered all three. I didn't notice the watch tower initially, but later in the day the caretaker of guesthouse told me thats the only place in Dzukou where we can get all mobile networks and internet connectivity on mobile. I accompanied him to the watch tower and while he was busy watching videos on youtube i was trying to capture panaromas on my mobile. From the watch tower you can see the entire valley as well as Vishvema, Kigwema and Zakhama villages. Talking about the other spots, the trail is good and you won't get lost walking to the helipad or cave. Few metres before the cross, you will come across a cave. Its easy to spot it since there was a lot of trash lying around there. The caretaker told me most of the tourist pitch there tent near the cave, but while leaving they leave the place in a mess. And hence they are planning to stop tourist from doing night stay near the cave. If you are into photography the landscape of Dzukou won't disappoint you. I took many breaks on route to the cave, not because i was tired, but because the view on route to the cave was mindblowing. I spend the first half of day at the helipad, cave and few minutes at the cross. And after lunch went to the watch tower with the caretaker of Guest House. Rest of the day was spent chatting with the caretakers and a solo traveller who had arrived on that day.
Cost :- Nil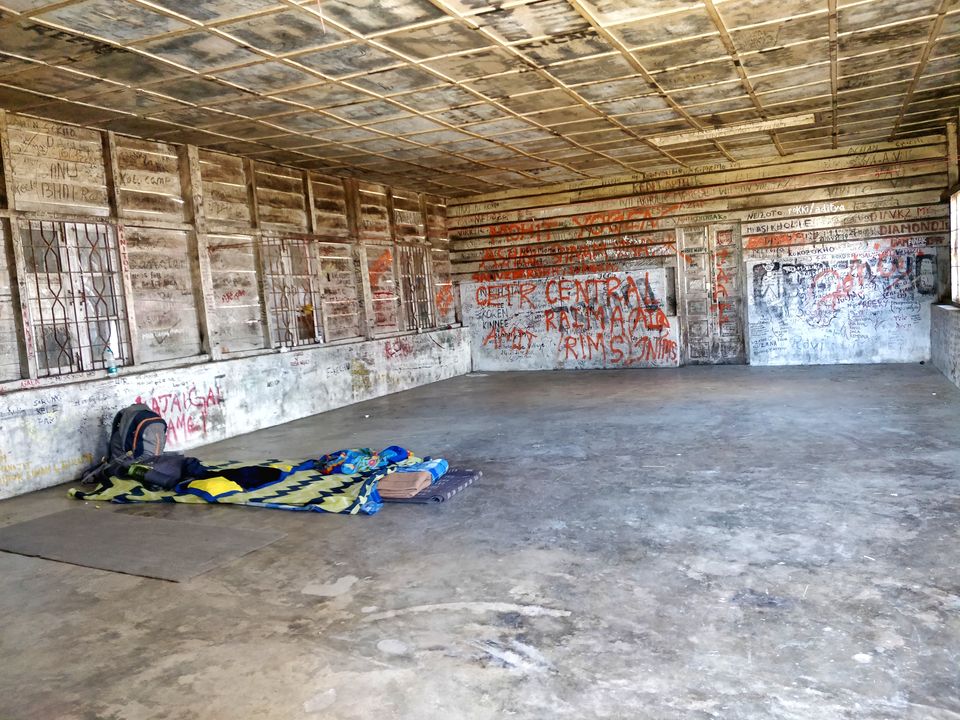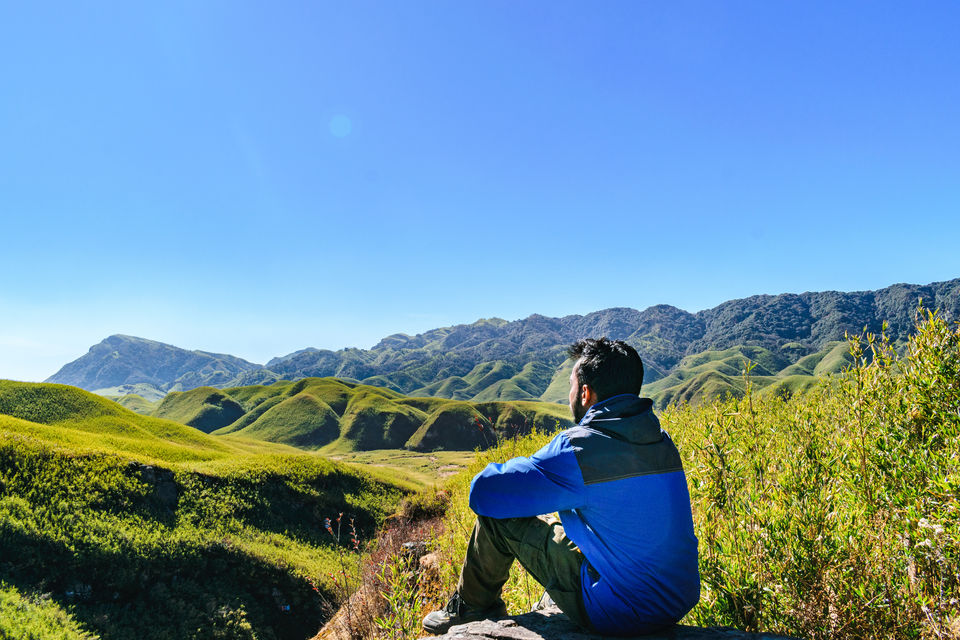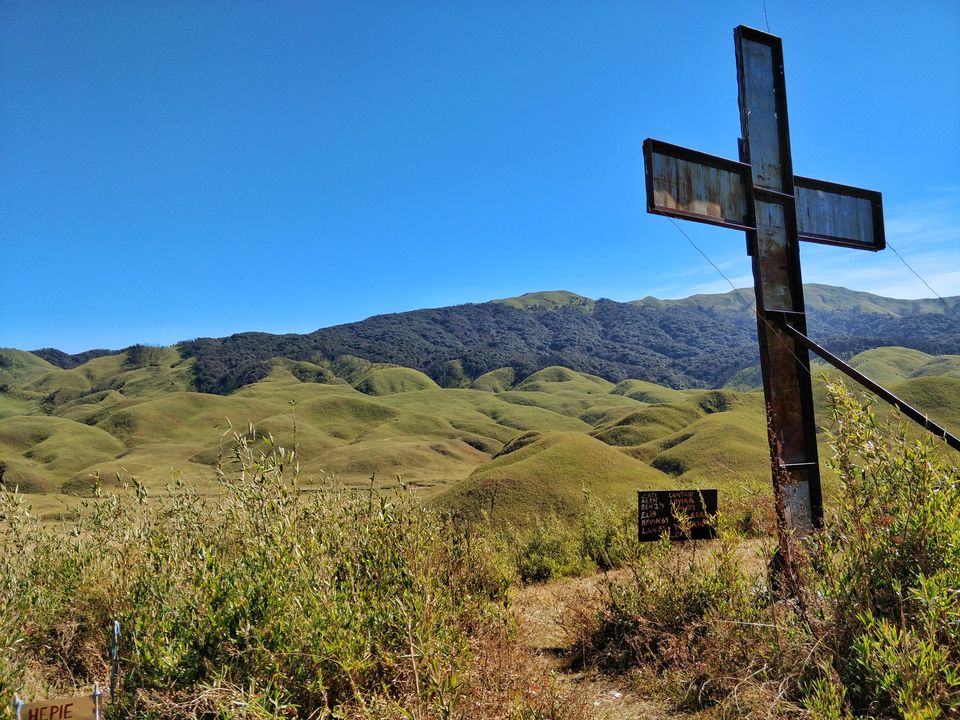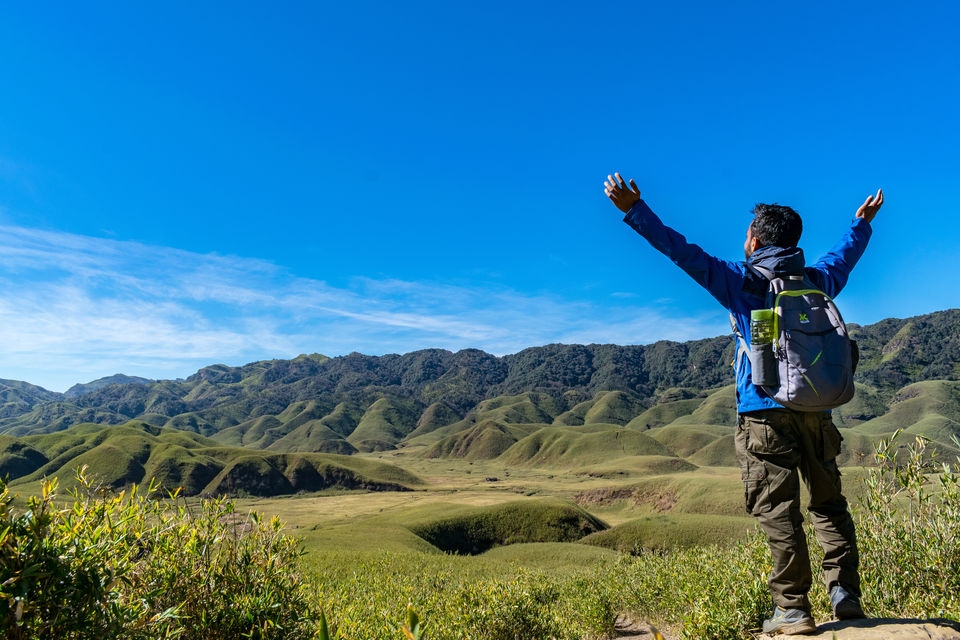 Dzukou to Zakhama to Kohima to Touphema
My plan was to go back by Vishvema route. But on that day, one of the caretaker of guesthouse was going home via Zakhama route and i joined him. We started around 9am from the Guest House and reached the main road at Zakhama around 12.30. The trail from Dzukou to Zakhama is a descent for almost 3 hours. No wonder this route is not recommended while going to Dzukou. Within 5 minutes of reaching the main road i got a sumo coming from Vishvema which dropped me at Kohima. I enquired from taxi drivers on where i can get sumo for Touphema. I was told i need to goto Keziekie and from there catch a sumo to Wokha and get down at Botsa. From Botsa, its 3-4 kms to Touphema. So i got on a NST bus which dropped me near Keziekie sumo counter. I was the first one in the sumo to Wokha, so had to wait for more than an hour for the sumo to fill up and it finally left at 3pm. It took around 1 hour to reach Botsa. I was told its a 3-4km walk till Touphema and i had to reach before 5pm since its get dark by then. Carrying 2 backpacks i finally managed to reach Touphema by 5pm and started enquiring on where i can stay for the night. Locals told there is a tourist guest house nearby, but when i reached there i saw lot of construction work going on. At first i thought i might be at the wrong place, but the workers told me the tourist lodge is under renovation and will start by November end. I was like where am i supposed to stay now. And it was completely dark by now. By that time a lot of other construction workers had gathered around me and curious to know how i came to know about this place in the first place. They were very helpful. They offered me tea, made calls to few hotels in Botsa and asked them to send a cab to pick me up. The cab arrived in next 30 minutes and dropped me at a hotel in Botsa. The hotel staff was friendly, room and food were also very good. Only downside was the room cost me Rs.2000 :|.
Sumo from Zakhama to Kohima - Rs.120
Bus from Kohima to High School - Rs.10
Sumo to Botsa - Rs.250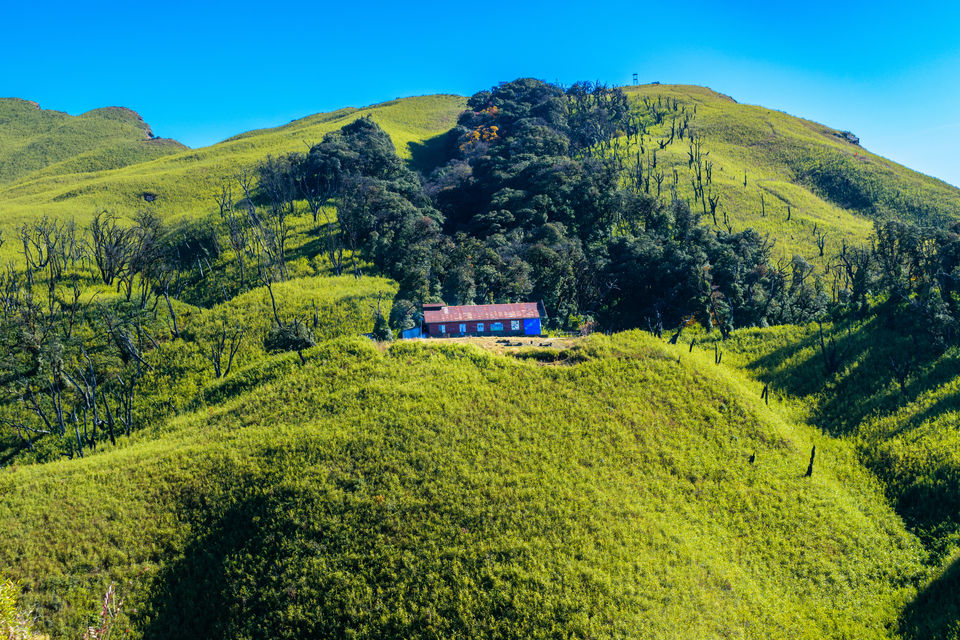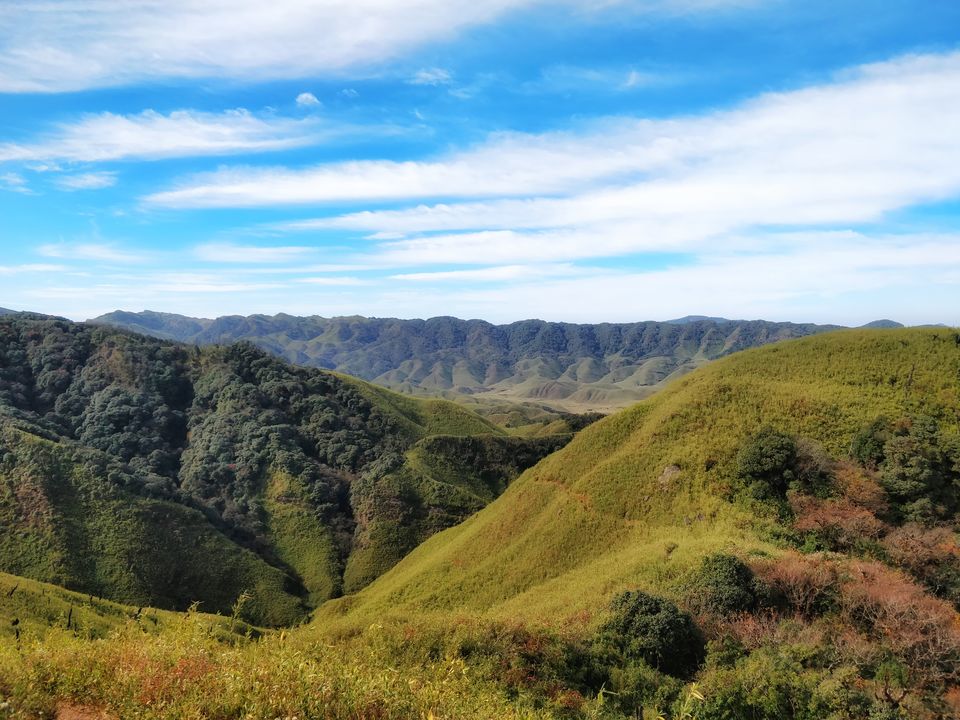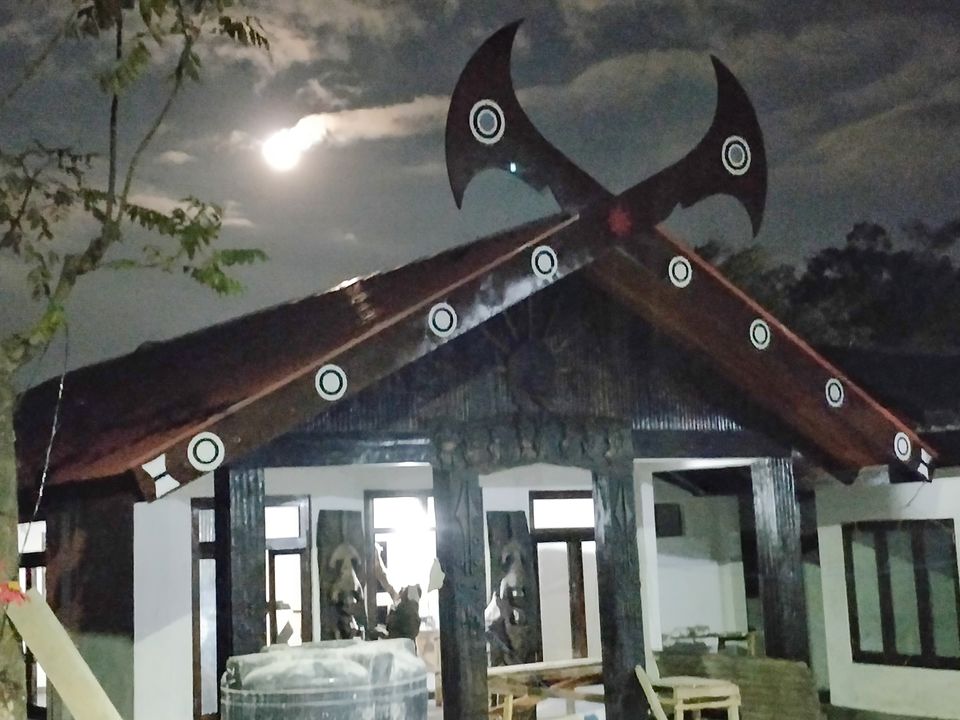 Botsa to Kohima to Pfutsero
Since there was nothing to explore in Botsa and the room was also expensive, there was no point in staying an another day. I started early on this day, waited on the main road for a sumo to Kohima, but luckily a NST bus going to Kohima arrived at 8.20am. The bus took around 90 minutes to reach NST stand in Kohima. I enquired if there are any buses going to Pfutsero, but was told no buses go on that route. But when i was in Pfutsero i did see 2-3 NST buses. So coming back, from NST bus stand i walked till Keziekie sumo counter where i got a seat in an Omni to Pfutsero. Again i was the only passenger in the Omni, so had to wait for an hour for 3 more passengers to come. We finally started from Kohima to Pfutsero at 11.20am. The road was bumpy for most of the duration of the trip. We finally reached Pfutsero at 2.20pm. The driver was helpful. After dropping other passengers he drove me to the Pfutsero Mini Tourist Lodge and once i checked in to the lodge, he dropped me at a nearby restaurent since i was very hungry at that time. There are 2 tourist lodges in Pfutsero, one i stayed is the Mini Lodge. The driver pointed out somewhere far where the big Tourist lodge is there, although i couldn't figure out which building he was pointing to. Since this tourist lodge is located in the upper part of Pfutsero, you get a great view of whole Pfutsero from here. It got very cold at night, but the blankets provided in the room took care of that.
Room in Botsa - Rs.2000
NST from Botsa to Kohima - Rs.50
Sumo to Pfutsero - Rs.250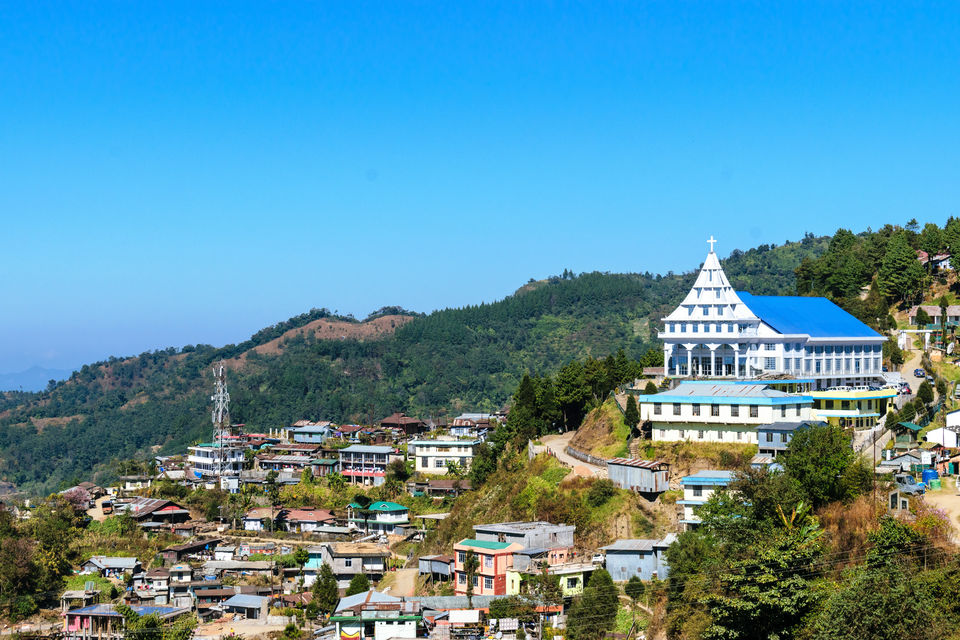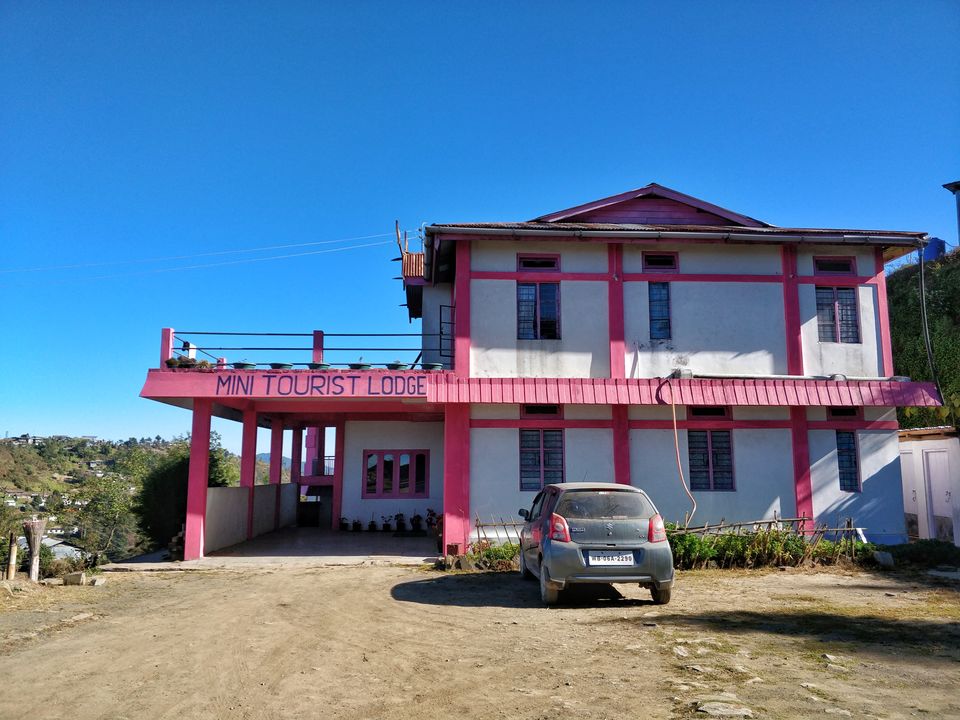 Glory Peak(Pfutsero)
Coming into day 9 of my trip, i told to myself no more long walks. Now the Glory Peak was at a walking distance from the Tourist Lodge. From here you get a panaromic view of Pfutsero. This place is nicely maintained and there are many view points. I spent around 2 hours at this place. After that i went to main Pfutsero town. It was a Sunday and all shops were closed and streets were deserted. I walked on the streets for sometime before heading back to the Tourist Lodge. I spent rest of the time till sunset on the terrace of the lodge. Fortunately i had told the caretaker of Tourist Lodge a day before to arrange my food for Sunday. So she did all the grocery shopping on Saturday itself. This was the last leg of my trip. After this the plan was to stay in Kohima for next day and the day after that goto Dimapur.
Cost :- Nil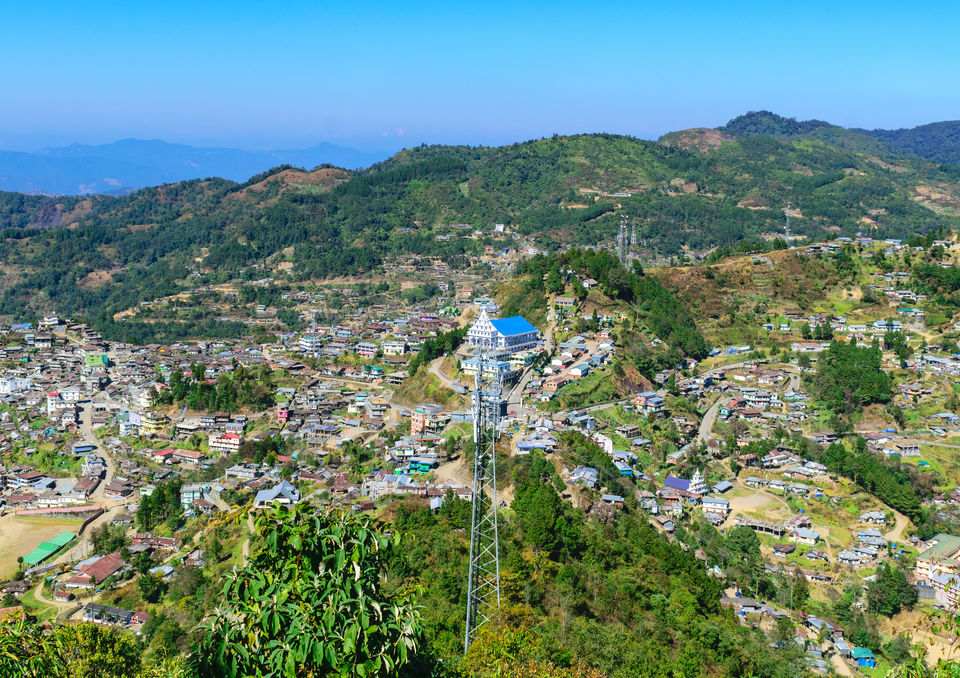 Pfutsero to Kohima to Dimapur
The Omni driver who dropped me till Pfutsero on Day 8 picked me up from Tourist Lodge at 5.30am along with 2 girls who were also staying at the Lodge. We picked up few more passengers from the Sumo stand and finally started our journey to Kohima. We reached Kohima at 8.30am. I was still in doubt if i should stay in Kohima for the night or goto Dimapur. Now the 2 girls who got down at Kohima were planning to goto Kohima War Cemetery which is walking distance from the NST Bus stand. I went along with them to the cemetery and while coming back i too got on a sumo to Dimapur. It was a bumpy and dusty ride all the way. We started at 10.20am from Kohima and reached Dimapur at 2pm. Now all i needed was a room to crash. I googled "hotels near me", it showed tons of hotels, but luckily i zoomed in on the map and that was when i saw a Tourist Lodge nearby in the maps. This is a government tourist lodge and is behind the NST Dimapur bus stand. The property is very well maintained. Rooms are clean and food was good. Room service was also there. I spent rest of the day in the room doing nothing but eating,sleeping,listening to songs.
Sumo from Pfutsero to Kohima - Rs.250
Sumo from Kohima to Dimapur - Rs.300
Dimapur Tourist Lodge - Rs.500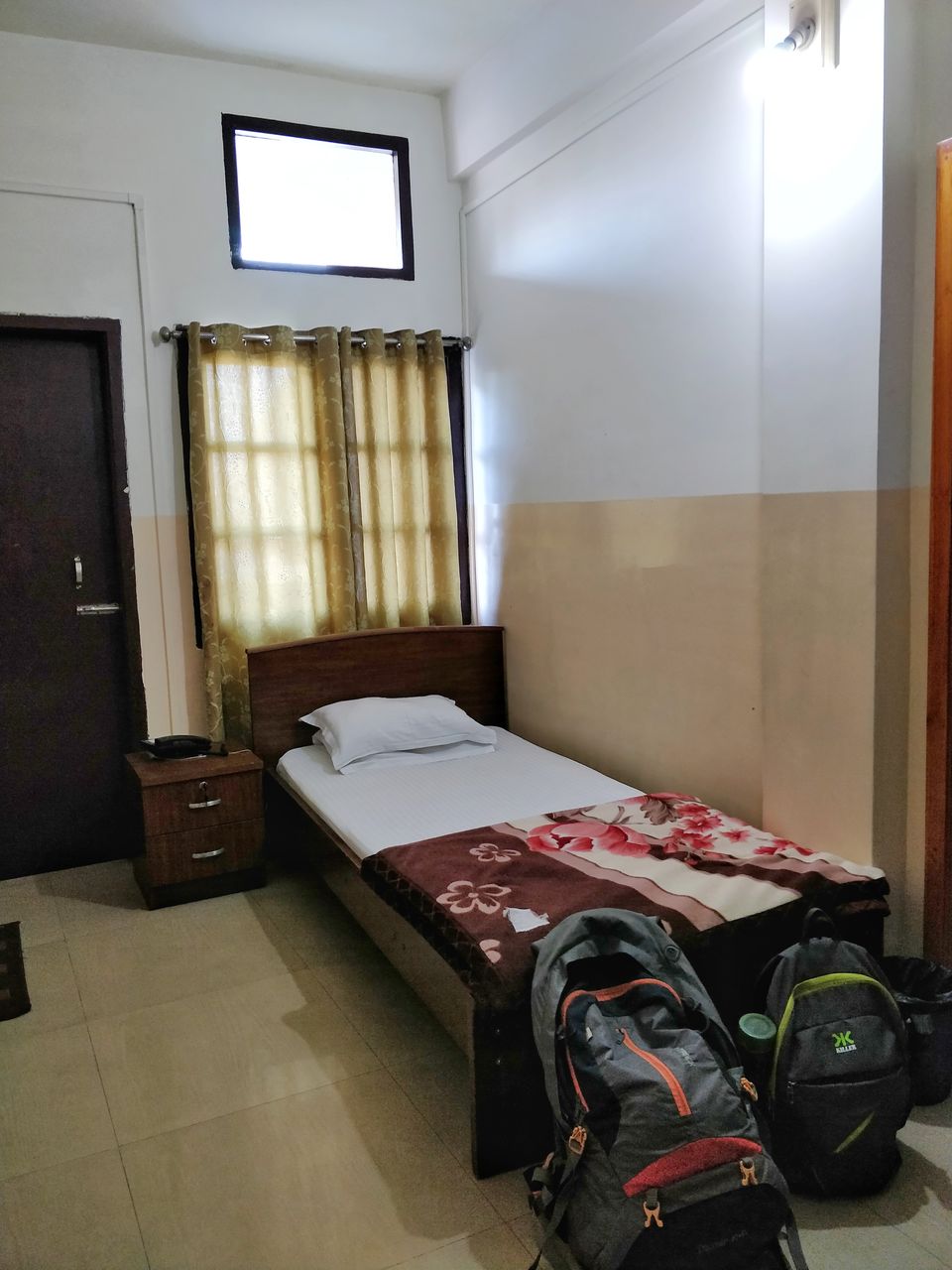 To Airport
My flight was in afternoon so had the luxury of waking up late. Had a late breakfast, packed up and enquired on the cheapest way to reach airport. But the only information i could get was take an auto to airport. I forgot to write down how much the auto charged for this trip and cant recollect now. It took 30 minutes to reach airport from Tourist Lodge.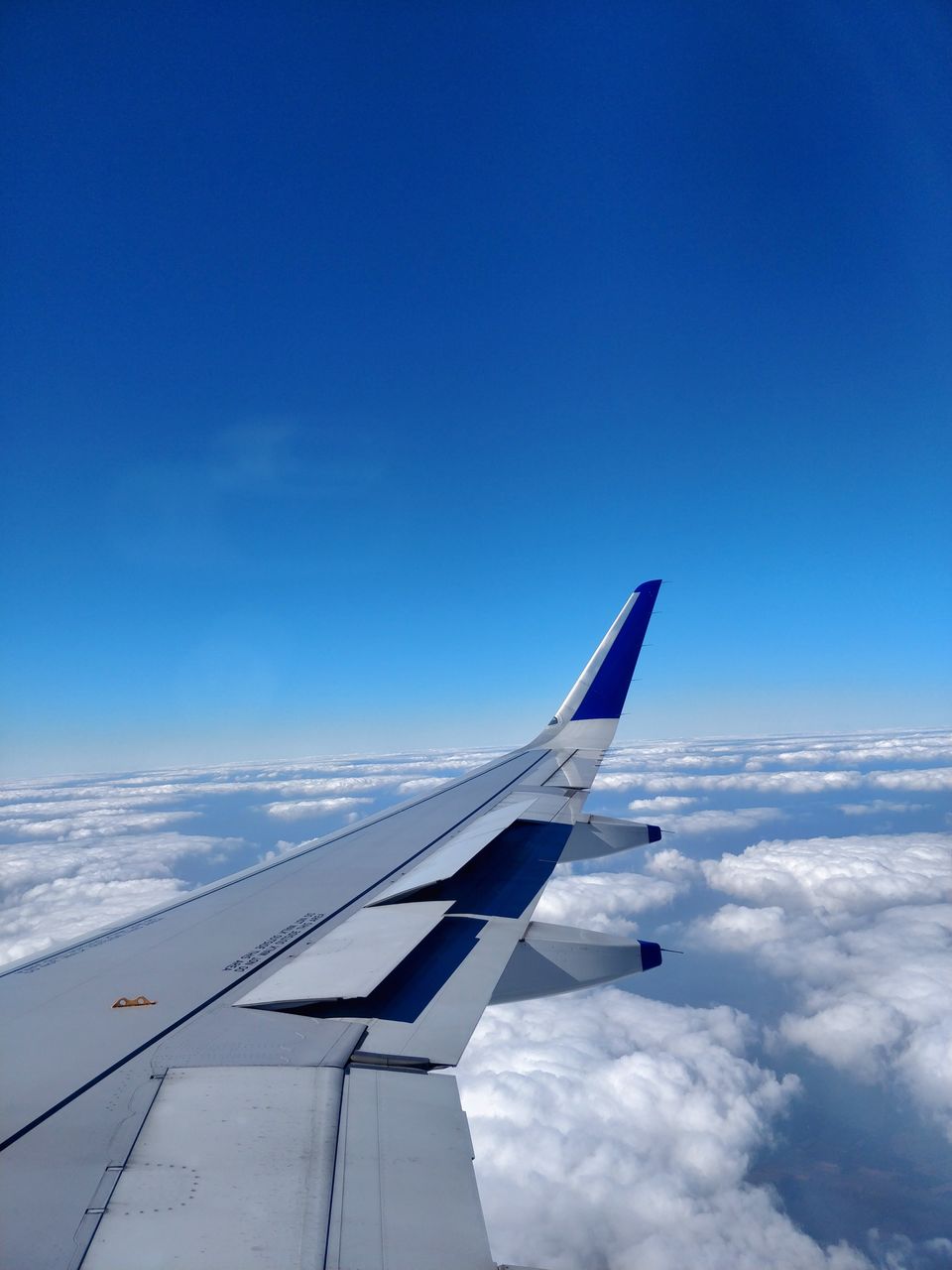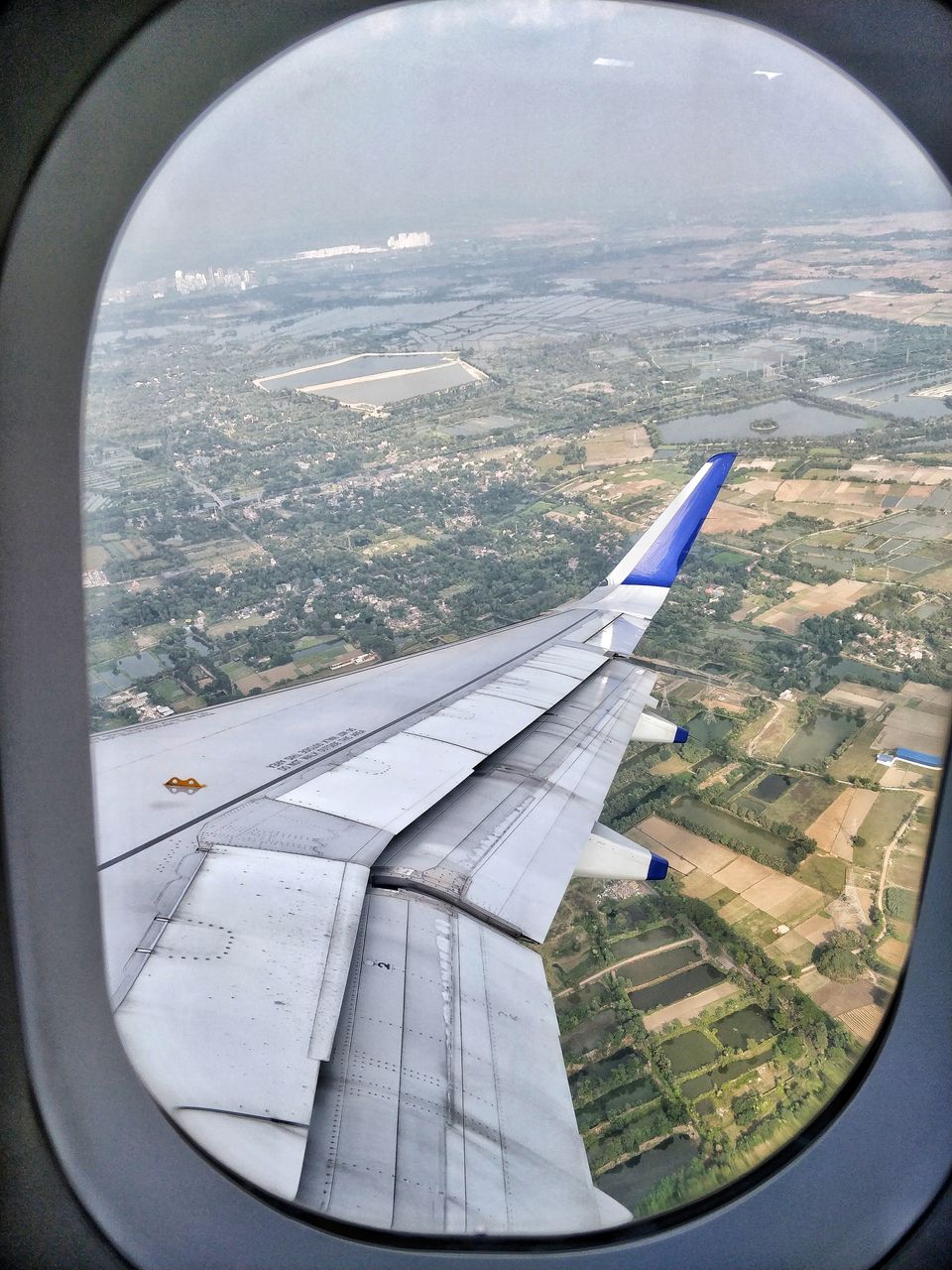 With that i conclude yet another trip to Northeast. I hope this trip report is helpful for anyone looking to plan a trip to Nagaland.
Please also do checkout my instagram page for photos from my other trips :- https://www.instagram.com/techie.traveller/