Visiting hill-stations during winter is a beautiful experience, with no tourists around, you get to enjoy the true essence of the town. I absolutely love being wrapped up in layers of woollens as the chilly nip in the air takes over the bright, shining sun. So as the winter season comes to a close, I decided to take a little tour of Uttarakhand. My first stop, I decided, would be Nainital, one of Uttarakhand's most renowned hill-stations. Everyone around me told me to change my plans because apparently, Nainital is known to be too mainstream. I took up this challenge and decided to make my stay at "mainstream" Nainital, a tad bit unique and so booked myself a room at the Ayar Jungle Camp, a camp amidst wilderness.
Ideal For:
Ayar Jungle Camp is the perfect stay for nature lovers who want an escape from the ordeals of a fast-paced city life. Located amidst the jungles of Ayarpata, Nainital, the camp is an ideal destination for those who want absolute tranquility during their vacation.
About Ayar Jungle Camp: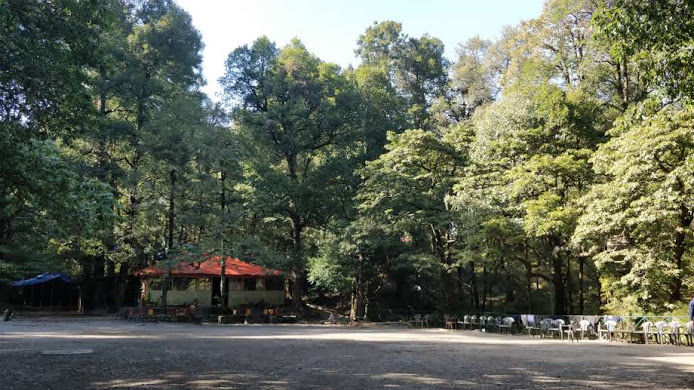 Established in 2009, the jungle camp was created to offer tourists a different experience of Nainital. While most tourists struggle through crazy crowds and traffic in the main town, the camp in the jungle offers a stay in complete wilderness.
As we drove up the steep and serpentine hill road, I could sense us going deeper and deeper into the jungle. We were at such a height that I could enjoy a 180 degree view of Naini Lake and it was starting to get colder too. As we stopped at the camp gate, there was no sign of buildings or anything concrete— I was confused and taken aback. Going deeper into the forest, my inhibitions took a backseat as I revelled in the sounds of birds chirping, trees swaying and gravel crushing beneath my trekking boots. Instead of a fancy hotel lobby, mighty oak, pine and rhododendron trees lead the way. The reception was replaced by the sight of rare Himalayan partridges enjoying a game among themselves in the bushes. I knew I had found a haven that was far from being mainstream.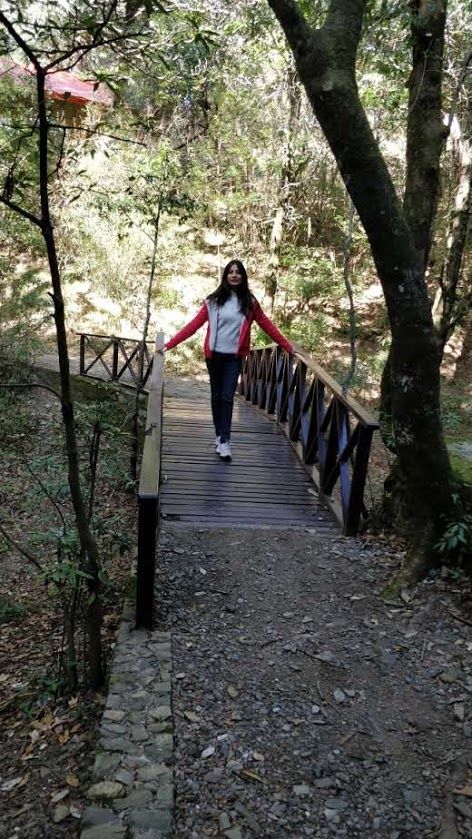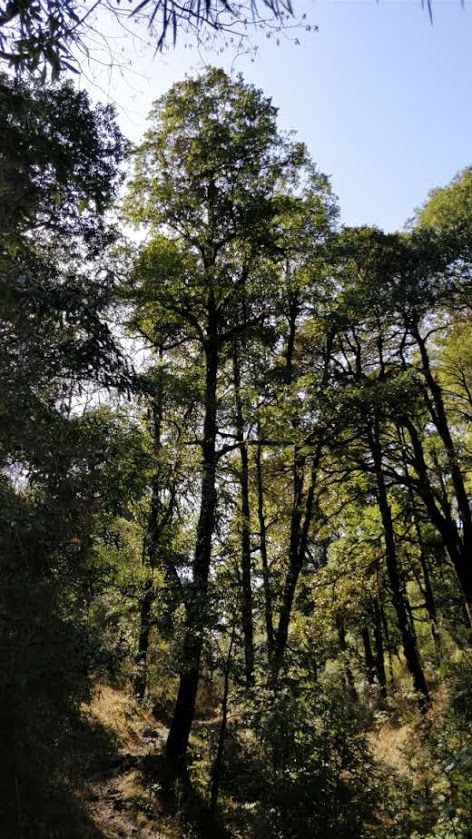 With 5-acres of forest land, Ayar Jungle Camp is a perfect place to visit with your family, friends and colleagues in a big group. It is amazing to see how the camp didn't add to deforestation during its construction, and instead worked to preserve as much flora as they could. In fact, ever since 2009, they have increased forest cover by planting trees and protecting the land from grazing. The forest is so rich that it is often visited by porcupines, deer and even leopards. At the camp, you can simply step outside your room and roam around the forest, reading a book, writing, painting or simply doing nothing but enjoying nature!
Rooms and Cost: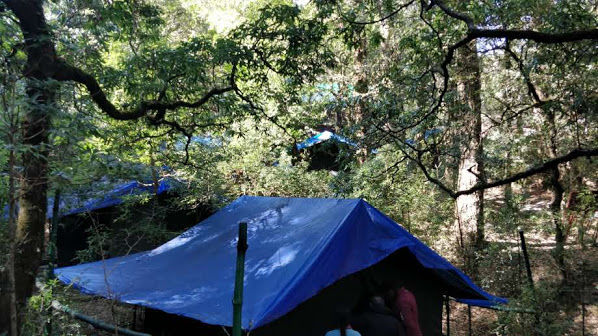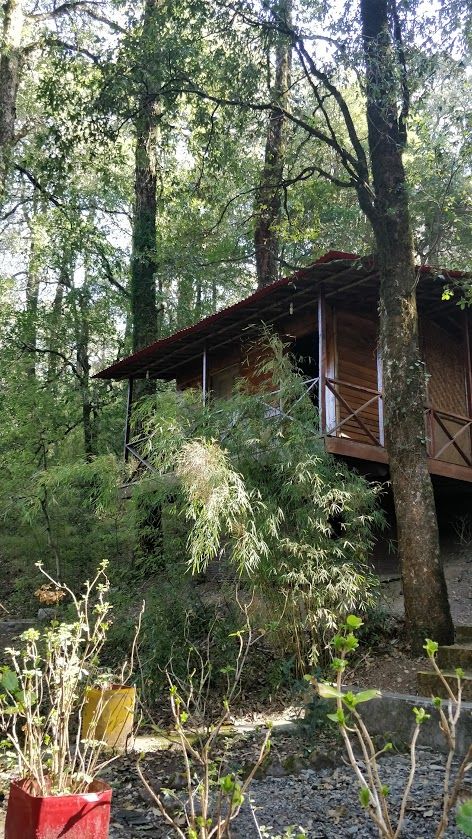 The camp's accommodation includes tents, machans and cottages, all located in the forest. The view from each room is one-in-a-million, surrounded by crystal-clear skies and tall trees. By night, you can see a million twinkling stars if you look up your window.
There are 4 variants of rooms that you can choose from—family rooms, machans, double-bedded cottages and tents. These will cost you about ₹4,500 , ₹4,000, ₹3,500 and ₹2,000 respectively. Most of these rooms can accommodate 3 people and more. This cost does not include breakfast or taxes, but does include one activity in the camp.
Food: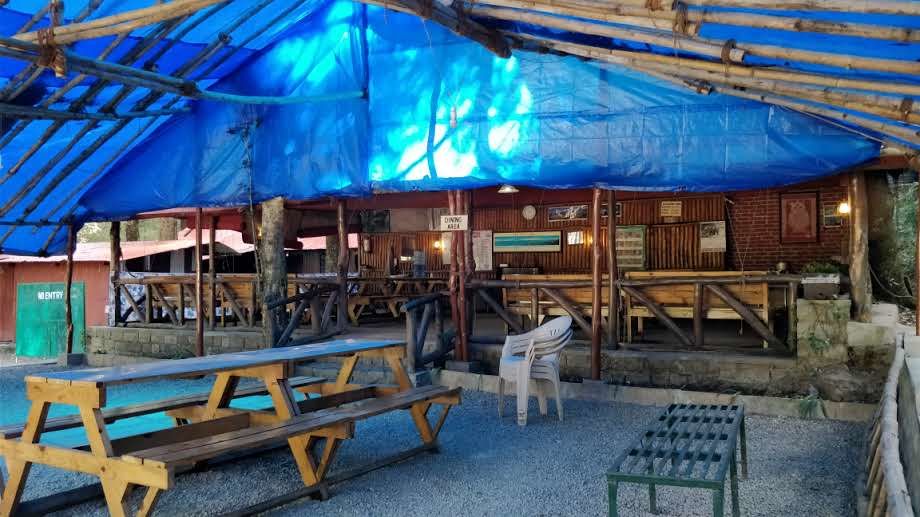 The dining area done up in wooden interiors was my favourite hangout during my stay as the food offered is delicious. You would be surprised at the variety of food that is served at the camp. You have a choice of continental, Indian and even Kumaoni cuisine that can be enjoy as a buffet or can be served on order. Do try chudkani, which is a delicious pahadi cereal and gutke, which is the tastiest potato-dish you may every try.
Best Time to Visit: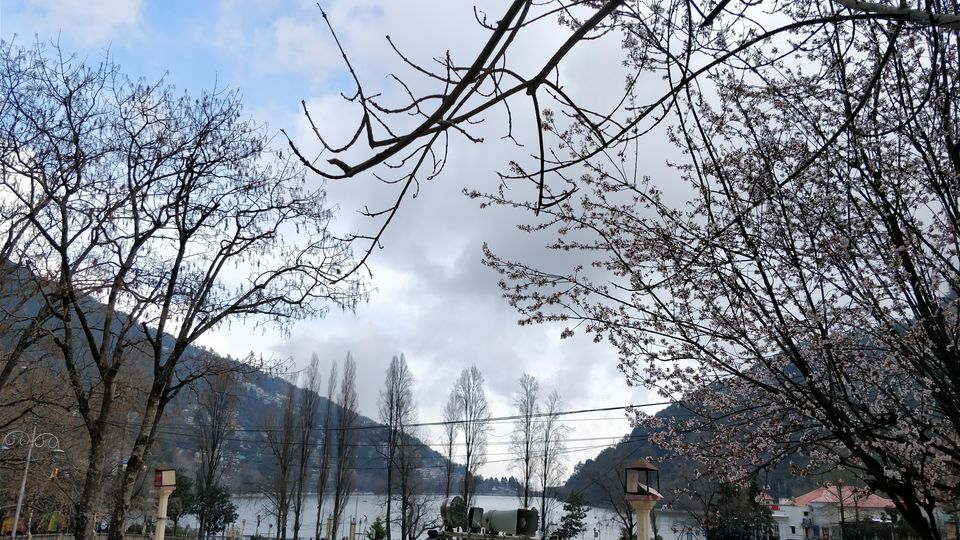 Although the camp is open around the year, the best months to visit are April-May because spring makes the forest even more beautiful with a myriad of colours. October-November too, is a wonderful time to visit since it isn't all that cold.
How to Get Here:
Air: The closest airport to Nainital is Phoolbagh airport in Pantnagar, that is located one hour away from the town. Most flight services like Spice Jet and Air India operate for New Delhi to Pantnagar on a daily basis. From here you can easily hail a cab to Nainital. Look here for best flight prices.
Train: Taking the train up to Nainital is the most convenient way to reach the town. Kathgodam is the closest railway station to Nainital, located 1.5 hours away. Trains like the Shatabdi and Ranikhet Express run daily to and fro Delhi-Kathgodam, taking about 7 hours to reach.
Road: If you're driving from Delhi, follow the route: Delhi–Gaziabad–Hapur Bypass–Gajraula–Moradabad Bypass–Tanda–Ghariyal–Bajpur–Kaladunghi–Nainital. This journey will take you about 7-8 hours to complete.
Activities In and Around the Property:
The camp has various activities that you can enjoy without having to step out of the property.
1. Burma Bridge, Rappelling and Rope-Climbing (₹ 400)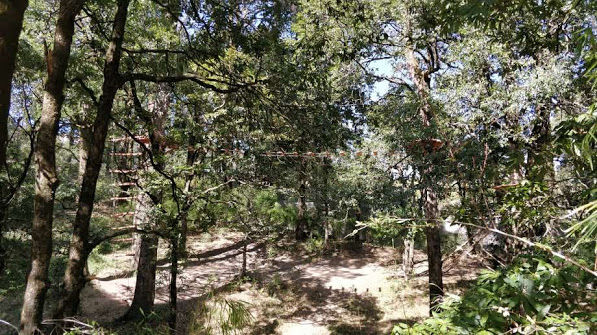 The camp has an exclusive activity centre where you can spend time having fun while attempting all these activities. It's a good opportunity to put your physical strength and fitness to test.
2. Hiking (₹500 onwards)
A team of professional hikers will guide you through a hike within the jungle. The hike is usually done till Tiffin-Top, one of Nainital's best hiking routes that provides a majestic view of the town.
3. Night Camping (₹ 1,000 onwards)
After a little night hike you can camp overnight in a new camp site. Here too, you will guided and accompanied by experts. Expect a piping-hot dinner in the middle of nowhere and sleeping under a sky blanketed with stars.
4. Bonfires
Every evening, there's a bonfire at the camp, accompanied with music and dance. You can experience a typical hill-station experience at the bonfire as you share stories with each other.
For activities to do around Nainital, read this travelogue.
So, escape the city to enjoy in the lap of nature just like I did!
All images in the article belong to the author.
Know of more such getaways amidst wildlife? Share your story with us on Tripoto and inspire a community of travellers with your words. Come be a part of the largest travel community.
Frequent Searches Leading To This Page:-
Top Nainital Trip Package, Best Nainital Travel Package, Top Nainital Tourist Place, Best Nainital Hotel Packages, Best Nainital Cheap Tour Packages, Top Nainital Tour Itinerary, Best Nainital India Points Of Interest