Nainital has been a well-loved mountain getaway for years and years now. Backed with a rich colonial heritage and a colourful local culture, this lake town gets thousands of visitors in all seasons. Long before the entry of motor vehicles into the winding slopes of Nainital, the town was discovered and explored on foot by its founding fathers. So if you're looking to explore the Naini hills in an old-fashioned, tried and tested way, take a cue from how pahadi folks go about their daily ways and walk! You'll be surprised to find the town is no less beautiful and quiet than the fabled English countryside.

Plan your walking routes from the details below -
Land's End
Starting Point - Ghoda stand, Bara Pathhar
Approximate distance - 0.88 km (one-way)
This walk starts from the Ghoda stand on the outskirts of town. A roughly cobbled path ensures that no cars or bikes can mount this route. While most tourists choose to go to Land's End on horseback, a hike through the forested path can be quite an adventure. Towering pine trees surround the area and occasional breaks in the forest offer a glimpse of the Kumaon valley as you walk.
The incline is gradual and not very strenuous. Although the path is slushy in places, a rough and sturdy pair of shoes should help you through. The trek ends at dead end beyond which lie the plains Uttarakhand. The blue-green Khurpatal lake is in full view, and on a clear day after a good shower of rain, the Saritatal lake and the towns of the terai region become part of the expansive view. The spot also offers a rugged route to Tiffin Top, although that is used mostly by the local youngsters who are familiar with the terrain.
In the summer months, a chai and Maggi stall is to be found at Land's End where you can load up on refreshments before you head back. While a sunset over the valley is the perfect reward for completing this walk, you must be careful to begin your return journey with enough daylight to spare. Leopards are known to frequent the area so it's best to leave the forest before nightfall.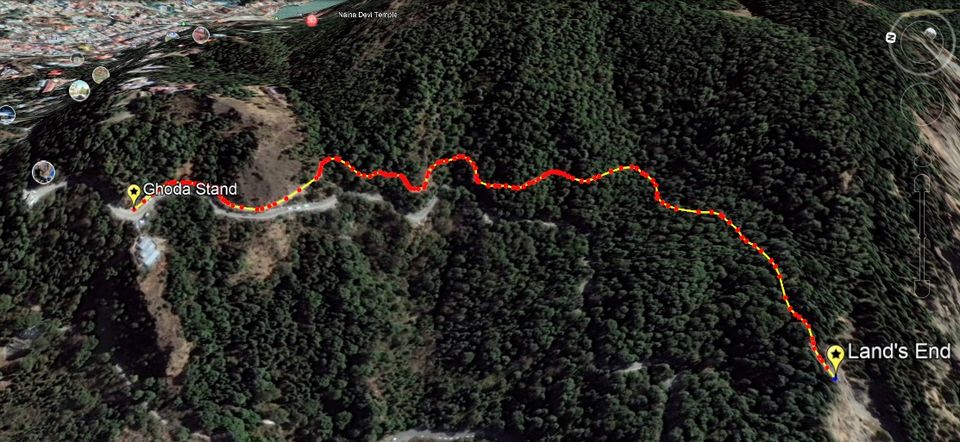 Starting Point
- Tibetan Market/ Naina Devi Temple
Approximate distance - 0.88 km (one-way)
Regardless of your take on matter of spirituality, this 2 km long walking route will stir your soul in countless ways. Set on a path where no vehicles are allowed to pass, Thanndi Sadak runs along one half of the Naini lake.
In my experience, this walk is best enjoyed in the evening, with the setting sun leaving golden streaks on ripples of water. Cross the Tibetan market and begin your walk from the Naina Devi temple, where the lapping water of the lake slowly meets the holy shrine. Evening prayers ring through the town and a sense of calm settles on one and all.
From the Temple, make your way to Thanndi Sadak where you will find plenty of people indulging in an evening stroll. The flat surface with minimal slopes makes for an easy walk. The route houses several small temples, each dedicated to a different deity. You'll cross Shani Dev Mandir, Mata Ka Mandir and Hanuman Mandir, with the tinkle of bells and the sweet smell of burning incense merging together to overpower your senses.
As the hillside falls under the cloak of the night, lights from the surrounding houses and hotels light up the lake, the effect being nothing short of a fantastic sound and light show! You can end your evening by doubling back from Hanuman Mandir or walking on till Tallital to grab some hot dinner.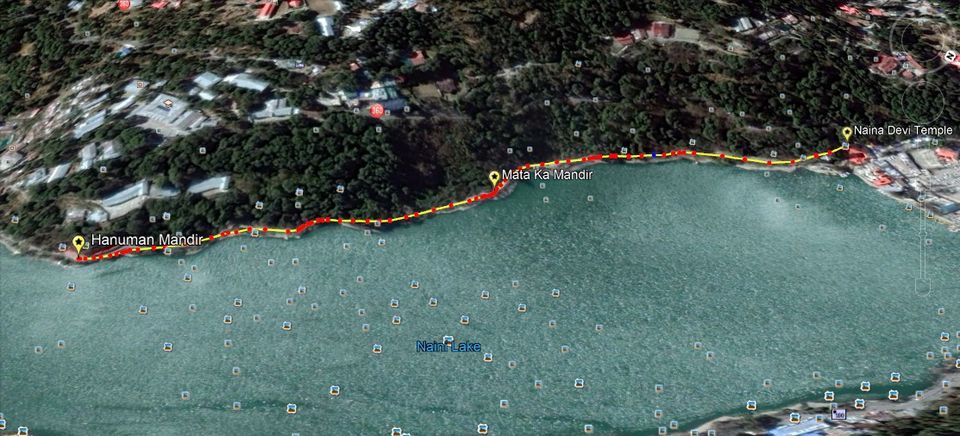 Starting Point
- NCC Office/ Hotel Naini Retreat
Approximate distance - 950 m (one-way)
This is more of a local haunt where morning and evening walkers can be seen in numbers. This walking route runs slightly parallel to Thanndi Sadak but is at a higher altitude, running through the interiors of Ayarpata. The route starts by branching off from the DSB road, taking you on to a path of light twists and turns.
The old world charm of Nainital is hard to miss while walking along old colonial style cottages that came up in a different century altogether. Tiny shops selling items of daily needs are peppered along the way and you will get to see the local population of Nainital going about their way. Houses with typical Kumaoni architecture are nestled along the hillside. A slight detour will lead you to Gurney House, where Jim Corbett lived for years before leaving the country. Plenty of dog walkers frequent this route, as do langurs who are often seen congregating atop the trees of Ayarpata.
With glimpses of the Naini lake on one side and a mix of old and new houses and hotels on the other, this walk will lead you right into the Nainital of yesteryears.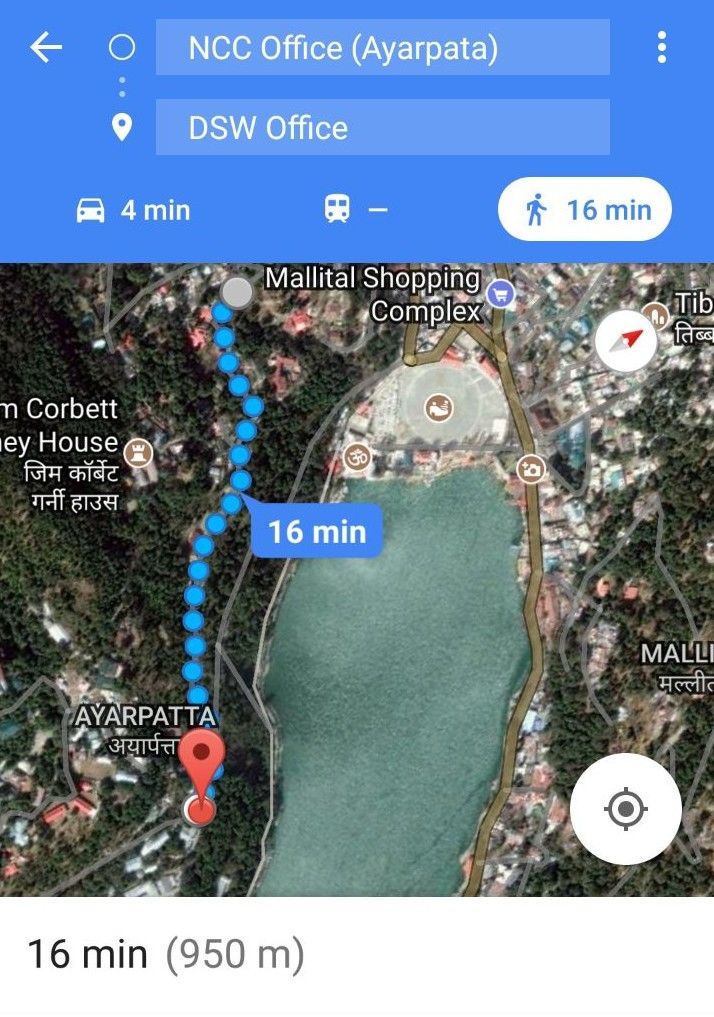 Starting Point - Ayar Jungle Camp
Approximate distance - 1 km (one-way)
Perched at the highest point of Nainital's Ayarpata region, the spot was named by Col J.P. Kellett in memory of his wife Dorothy Kellett, an artist died in a plane crash in 1936. The place got its second name 'Tiffin Top' after it became a popular spot for picnicking and tiffin lunches.
Ever since horse-riding became prohibited in the area, the number of pedestrians on this cobblestoned path has increased. This walk through dense coniferous trees is immersive, with no sounds of traffic or people reaching you as you make your way up the climb.
The walk is best enjoyed on a clear morning any time of the year, though the winter months have a special treat here! While Nainital's winter snowfall melts away within a day or two, there are shaded spots along this route that receive no sunshine because of the thick forest cover and here you may find patches of snow many days after it as snowed.
The walk leads you to an excellent view point with the hills and schools of Nainital on full display. Hot maggi and potato chips are readily available and you can pick a boulder to sit on while you enjoy your food in the company of a fabulous scenery. While locals may use an alternate route to descend from Tiffin Top that leads to the Upper Ayarpata road, anyone unfamiliar with the terrain should exit from the route used for ascent.