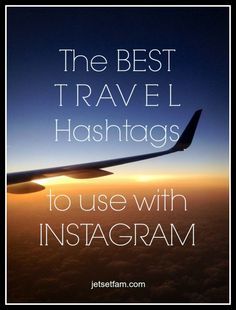 Instagram is one of the best social media platform for sharing photos while traveling. Hashtags helps  each of your photo to be seen. I am not an Instagram expert by any means, but I am trying to use it more effectively while uploading my travel pics on Instagram. Based on my research, here are the best travel hashtags for Instagram along with how and when to use them.

Hashtag Your Destination
First and foremost, your followers definitely want to know where you are! I used #Delhi during my  weekend trip and found that I received likes from the people that lived or want to travel Delhi. Other examples include:
You get the picture. Or, break it down by region. If you happen to be in Hong Kong, you could use #asia #china #hong kong, for example.
Go to the Instagram search box and type in the city you are visiting. Popular hashtags other people in the city are using will show for your reference.
Hashtag What's Around You
What are you capturing? A sunny beach day? A sunset over the ocean? Hashtag what features prominently in the photo.
•    #sky  (21,738,656)
•    #clouds  (6,866,142)
•    #beach  (15,317,635)
•    #food  (35,655,060)
•    #nature  (14,649,917)
•    #sunset  (9,439,925)
•    #night  (14,538,238)
Describe The Moment
Was the food you ate delicious? These hashtags are extremely popular:
•    #love  (163,571,931)
•    #pretty  (26,082,472)
•    #funny  (19,980,198)
•    #amazing  (28,834,220)
•    #awesome  (13,774,573)
•    #yum  (10,245,535)
•    #cute  (69,402,996)
•    #luxury  (1,830,919)
Hashtag What  You're Doing
Were you running on the beach or hiking in a National Park? Have a look at these numbers:
•    #running  (3,053,736)
•    #hiking  (1,705,378)
•    #flying  (1,063,591)
•    #swimming  (3,497,584)
•    #relaxing  (3,863,829)
•    #spa  (621,662)
General Travel Hashtags
For those who are travel writers or just love to travel in general, using these travel hashtags yield better odds of finding like-minded followers.
•    #travel  (3,655,041)
•    #instatravel  (1,021,163)
•    #travelgram  ( 1,444,710)
•    #tourist  (877,896)
•    #tourism  (694,111)
•    #vacation  (3,475,528)
•    #traveling  (1,056,936)
•    #trip  (4,771,289)
Aviation Travel Hashtags
Obviously, the photo must have something to do with aviation.
•    #instaplane  (65,255)
•    #planegeek  (1,739)
•    #planes  (178,224)
•    #aviation  (312,164)
•    #planespotting  (19,754)
•    #planeporn  (77,582)
•    #landing  (90,644)
•    #takeoff  (110,179)
•    #airlines  (86,552)
•    #airplanes  (126,623)
•    #avgeek  (145,922)
How Many Instagram Hashtags Should I Use?
I think the answer is however many you are comfortable with. I've seen popular food Instagrammers use as many as 50. Remember, you can always add more hashtags in the comment section should you remember one later or want to use them periodically.

Which Instagram travel hashtags have you've experiences success with? How many hashtags do you use? Share with me.
Now you can follow me on Instagram: https://www.instagram.com/diptigoyal123/