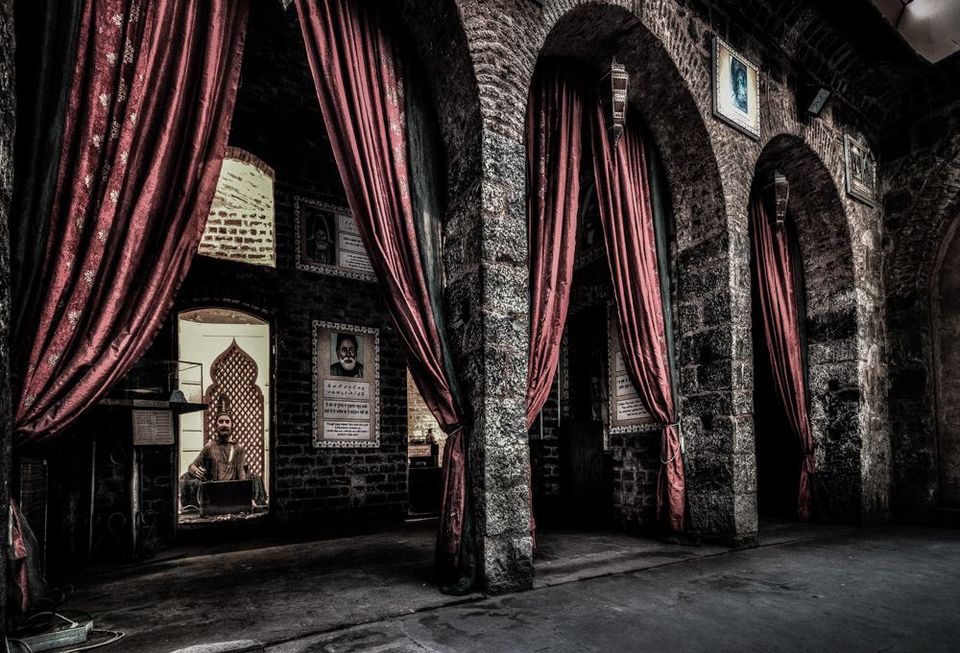 As I gaze at pictures of Ghalib ki Haveli, these words resonate in my mind -
"Sair kar duniya ki ghafil, zindagani phir kahanzindagani gar phir mili toh, ye jawani phir kahan"
Travel the world you ignorant one, you have just one life to live.
And if you get another one, your youth will be long past.
-Mirza Ghalib
There is something incredible about Mirza Ghalib's couplets. His simple renditions are so full of life and wit that they make a deep impression on the listeners, even those who don't understand chaste Urdu (like me).
I came across his work quite by accident: waiting for lunch to be served at my colleague's house, I saw resting on the table a book called DIWAN-e-Ghalib. Curiosity got the better of me and I flipped through it assuming the chaste Urdu will render the text incomprehensible to my Punjabi sensibilities (Biryani was almost served). To my surprise and sheer delight, the couplets -- translated in English -- were as soulful in translation as they were in Urdu. I went hungry that afternoon completely enamored by the book's content, like a new lover. From that day on, every lunch was preceded by a generous helpings of ghazals and shers.
This Eid presented me an opportunity to visit Mirza Ghalib's Haveli, fondly known as Ghalib ki Haveli. I wanted to get a sense of, feel and touch, the walls where one of the greatest poets in India, if not the world, lived. I left my house in urbane Vasant Kunj for the rustic settings of Old Delhi. The hour long commute transported me from one civilization to another. The people, setting and even the language seemed from another era in Old Delhi. Everything contemporary, modern and chic was left behind in the metro that left me at Chandni Chowk.
Men were dressed in sparkling white kurta-pyjamas and embroidered taqiyah caps. They were celebrating the completion of hajj (Pilgrimage to Mecca) and had the most cheerful demeanor. Women weren't left behind either. They watched the festivities from the balcony of their homes or took rickshaw rides to the nearby mosque. Dressed in black salwar kamez, with intricate floral work, they were a sight to behold.
Ghalib ki Haveli
Ghalib ki Haveli is hidden in one of the many by lanes of Ballimaran area in Old Delhi. It consists of two small rooms with just a trace of the great poet. In the room to the right is a white-marble statue of Ghalib that stands apart with its calm and regal countenance. Ghalib looks directly at the audience with a shrewd smile and archetypal Turkish hat (Balon wali lambi topi) on his temple. The sculptor successfully captures the notoriety on the face of the poet. Whatever remains can be grasped by the quixotic couplets that hang on the sidewalls. The writings are a window to his soul and bear testament of a man who had the gift to translate his deepest thoughts, highest cravings and darkest emotions on a piece of parchment.

The other room had an entire wall covered with a painting of Ghalib smoking hookah. The pink and red chandeliers, the old parchment - torn and crumbled - with distinctly written Urdu words looked magical behind the glass frame.
Ghalib must have had an unequaled lust for life, gift of sensitivity and felicity with words to have expressed all that he did. In four short sentences, time and again, he managed to weave the most beautiful stories of the women he loved, the ones who resisted his advance, the ones destroyed his heart. And all the travesties outside the golden gates of love.
Surely he deserved better than the modest income and limited recognition he received. What should be a shrine, visited and admired, lies abandoned and lost. "How many people come to visit?" I asked the usher. "A few of them," he said without much interest. I saw all that there was to be seen, it was time to leave. However, my thoughts wanted to stay there for just another moment.
Masoom Mohabbat Ka Bus Itna Fasana Hai,Kaghaz Ki Haveli Hai Barish Ka Zamana Hai.
An innocent love has just that story of pain,A mansion of paper,in the time of rainy
-Mirza Ghalib
Follow me for more stories like the one about Ghalib ki Haveli.
Frequent Searches Leading To This Page:-
ghalib ki haveli delhi, ghalib ki haveli nearest metro station, mirza ghalib ki haveli