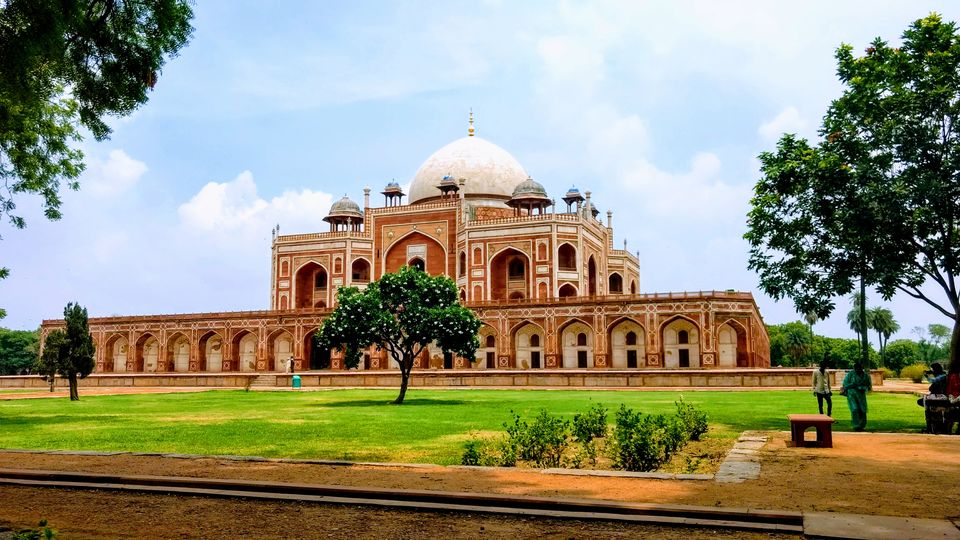 Have you ever seen a place that looks like a mirage, a dream from afar but transforms into reality the moment you enter in? Such is the enigma of this mausoleum called Humayun's Tomb. Nestled in the heart of all the hubbub of the capital city of Delhi, this UNESCO world heritage site with its exquisite gardens make this tomb a truly picturesque sight to behold.
This June I was sent to Delhi for a month on an official business tour. While I welcomed the change from daily routine work life, I was concerned if I would find time to explore the rich culture and history of the city between the hectic business meeting schedules. But as they say- where there is a will there's a way. I marked my Sunday to have a tour of the city with my friend. Delhi surely is blessed to have been bestowed with a bunch of historical monuments which makes it an ideal destination for a history lover like me. But out of all the places I visited, I believe Humayun's tomb deserves an entire post of its own.
This mausoleum was built in 1570s by Bega begum for her beloved husband, Emperor Humayun whose body was resting previously in Purana Qila after his death in 1556. This monument is the first garden tomb ever to be built in the Indian sub-continent and the large scale use of red sandstone makes it not only unique but also visibly enticing. The monument flourished in the Mughal Era till the Mughal capital was shifted to Agra from Delhi. When the British took over Delhi, the lavish gardens were transformed. During the partition of 1947, this tomb acted as a refugee camps for Muslims. It was only in 1993 that this site was declared as a UNESCO world heritage and restoration works began to regain this place's former glory and opulence.
The entry ticket to this place costs 10 bucks for Indians and 250 bucks for foreigners. After entering you find this grand entrance that just begins to describe the grandeur of this monument.
The tomb is dome shaped and is preceded by a fountain and beautiful garden. It is placed on a stage.
As soon as you walk down the main pathway, you come across a flight of stairs to reach the tomb which is the burial ground of not only Humayun but also Bega Begum and a couple of other noble men. After that I took a stroll around the tomb and then entered the main hall that has Humayun's cenotaph. The high roof ceilings along with the symmetrical architecture around the cenotaph will leave you spellbound for sure and will transport you back in time.
One of the distinctive features to adorn this tomb is the cut-out windows on the marble walls that add an unworldly charm to the interiors.
The complex also houses the inimitable Isa Khan Tomb which dates back to 1540s even older to Humayun's Tomb. Isa Khan was an Afghan noble in the court of Sher Shah Suri. Albeit being a small tomb and being in the shadow of the Emperor, this mini tomb complex manages to shine and make its mark and presence felt.
This place is an ideal spot for history lovers, architecture enthusiasts and peace lovers for a weekend escape. The monument is an epitome of an Empress's love for her beloved husband and the fragrance of that love can be felt till date in this place. This monument is the first of its kind and has influenced the design of Taj Mahal. However, this monument carves its own niche and has its own silent story to tell. This place has made me start believing that even death can be enamored in a breathtaking tale.