If you want to see what devotion is, then Sheesh Ganj Gurudwara is the place to pay a visit. Crowded with people offering prayers to the Sikh Guru. The place you get tasty 'Kada Prasad' and listen to the melodious chanting of hymns, an ultimate experience altogether.
Being the Capital city of India, culture and heritage of Old Delhi is well preserved. Old Delhi, previously known as Shahjahanabad was built in Mughal Era, and one can see the blend of history and modernization here.
It is paradise for people seeking culture and wants to immerse themselves in Indian culture. Old Delhi is so full of thrifty shopping places, religious places, food bazaars and lot more. A visit to these places is a must.
The red sandstone Mughal architecture is one of the best forts in Delhi. As old as 400 years, it is still preserved from every end. The beautiful gardens, museums and the white marble building inside combined with British architecture give Red fort a magical aura.
The Light and Sound show is the one you can not afford to miss, for it takes you back to the historical age, leaving the crowd enchanted with the beautiful show.
The largest mosque in India holds a special place in the heart of Old Delhi. With stairs leading to heaven, Jama Masjid casts magic on the hearts of the culture seekers. The fountain in the middles creates a religious aura that one can never ignore. If you want a breathtaking view of the Old Delhi, do climb the stairs of the minaret and witness marvels the place has to offer. The market just opposite to the mosque serves the best Indian authentic non-veg dishes you will ever have in life.
If you have visited Old Delhi and have not tasted the Indian authentic cuisine and that too Parantha from this Paranthe wali Gali then your trip to Old Delhi is in vain. The yum paranthas (stuffed chapati) not only satisfy the love for spicy food but also gives an authentic taste of North-Indian cuisine.
Lying amidst the streets of Ballimaran, the haveli of Mirza Ghalib; the great Urdu poet who could have been as famous as Shakespeare if he wrote in English. The Haveli is now turned into a small museum. This place gives the feel of what houses used to be in the 16th century.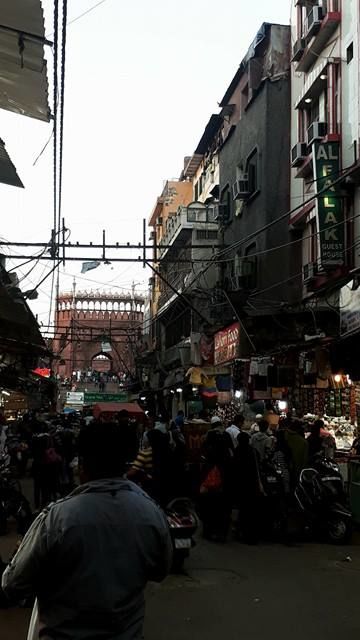 Chandni chowk and Chawri Bazaar together give one a lifetime experience and leave the person drenched in cultural memory. If you have been to India, this place is not to miss. For the beautiful and charming place it is, to go and get lost in the lanes and bylanes of Old Delhi is an adventure in itself.