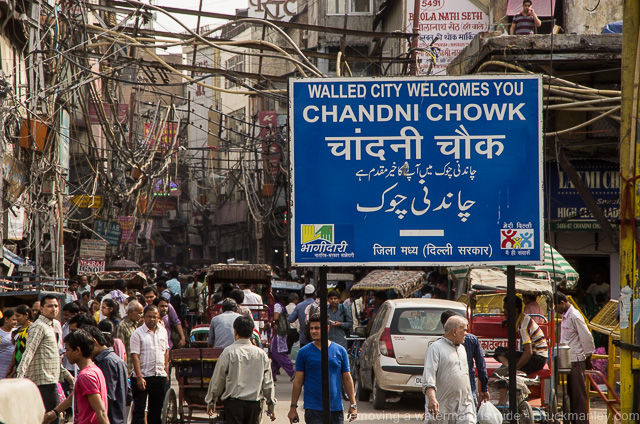 Chandu ke chacha ne Chandu ki chachi ko Chandni Chowk me chandni raat me chandi ke chamach se chatni chatai… Yeah you got it, it's the popular tongue twister.
Ever wondered why this popular tongue twister has connection with chutney (sauce) and Chandni Chowk. As we know that chatni is one of the important part of Indian food because of its rich spicy and tangy flavor which twists the tongue well. So, does the essence of Old Delhi's CHANDNI CHOWK which is situated just opposite to the majestic "RED FORT" and near India's largest mosque "JAMA MASJID".
Chandni Chowk is full of masaledaar aspects of life. It is the oldest and busiest markets, of Delhi. Criss-crossed by narrow streets with shops wrangling for space, this place gives a feel of old Delhi shopping. Since the 17th-century, this place is called a "shopper's paradise" in Delhi. Shopping is fun here as the market is distributed in narrow streets which are filled with vibrant varieties of clothes, perfumes, electronics, jewelry and lifestyle goods. But one thing that makes it Delhi's soul is its variety and authenticity in food.
This market is segregated according to type of goods and trade done here such as Khari Baoli known to be Asia's biggest spice markets and Chawari Bazaar where one can find hardware and copper products, and Kinari Bazaar which is the jewelry market. Also for food enthusiasts like me there is one street whole heartedly dedicated to them which is famous PARANTHE WALI GALI. One can also find various small and big food joints in the market while roaming in and around the market such as "Jung Bahadur Kachori wala" which is here since 1940's, "Giani's di Hatti" which is famous for its mouth watering faloodas, "Old Famous Jalebi Wala" and "Nataraj Dahi Bhalle wala" where one can have simple yet tasty chaat and yes how can I forget about GHANTEWALA, which is the one of the oldest sweet shops of the Chandni Chowk which started serving from Mughal Emperors and now to delhiites. It's a popular visitor's attraction known for its Sohan Halwa. Also for the fanatics of Mughlai Cuisine there's a street wholly dedicated to them. In this market you can easily find the famous shop which serves various varieties of non-veg dishes be it changezi chicken, mutton Rogan josh or Famous Butter Chicken from "Aslam Chicken" any other lip-smacking dishes.
Here one can stroll around and have a gaze on various old and picturesque havelis of Mughal Era which beautifully narrates the old and royal story of Chandni Chowk and Old Delhi when Mughals used to rule on this mighty city. These include Haveli Dharampura which will surely take you back in times of Mughal era of royalty. Other famous havelis include Chunnamal Haveli, and the iconic Ghalib ki Haveli which was the residence of Mirza Ghalib.
In addition to its commercial aspect, it also has a religious side. You may wonder but its single stretch of road which is opposite to Red Fort has places of worship which belongs to 5 different religions. These are Shri Digambar Jain Lal Mandir (Jain), the Gauri Shankar Temple (Hindu), Sis Ganj Sahib Gurudwara (Sikh), Central Baptist Church (Christian), and Sunehri Masjid (Muslim) lined one after the other. While ascending from the temple, there is a four storied building standing which depicts a fine example of colonial architecture. Once this building hosts the court of Englishmen and after it was acquired by Delhi Bank in 1847 and now it's the State Bank of India Office.
Grandeur of Mughal emperors during their reign, oppression of later emperors like Aurangzeb, and also the National movement leading up to India's freedom Chandni Chowk in Delhi has witnessed this amazing variety of historical events in the span of about 300 years and due to all these Chandni Chowk has always been a landmark of Delhi.