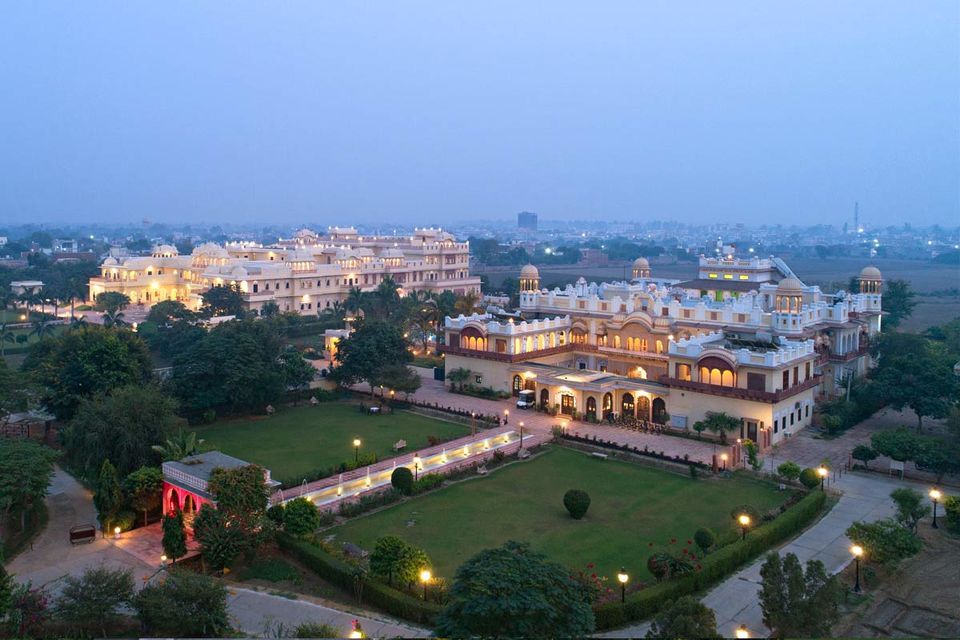 Bharatpur makes for an ideal quick getaway from Delhi, one that doesn't demand a lot of planning. It is far enough to get you away from the hustle-bustle of the city yet close enough for an easy, non-hectic road trip. It is a tourist favourite for a variety of reasons, the most prominent being home to one of the world's largest and most fascinating bird sanctuary, the Keoladeo National Park. However, your trip to this beautiful little nature haven doesn't have to be restricted to bird-watching. Book one of these gorgeous hotels in Bharatpur that will take you back in time.
The Most Stunning Hotels In Bharatpur
Here's a list of some of the most amazing hotels in Bharatpur to make your trip more memorable.
Where: Pehersar village, Bharatpur (25km from Keoladeo National Park)
Ideal for: History buffs, architecture enthusiasts
If charming old havelis are your thing, Amritara's Chandra Mahal Haveli is a great choice. Located in the heart of a quiet village called Pahersar, this 180-year-old restored establishment can give you a refreshing break from the fast-paced city life. The architecture spells of a mix of Rajput and Persian styles which lends the place a unique historical character.
Pick from the Deluxe Double Rooms and Suites (both twin occupancy), each one featuring a variety of fascinating antiques and furniture. The beautiful open courtyard and a sprawling green lawn further add to the charisma of the haveli.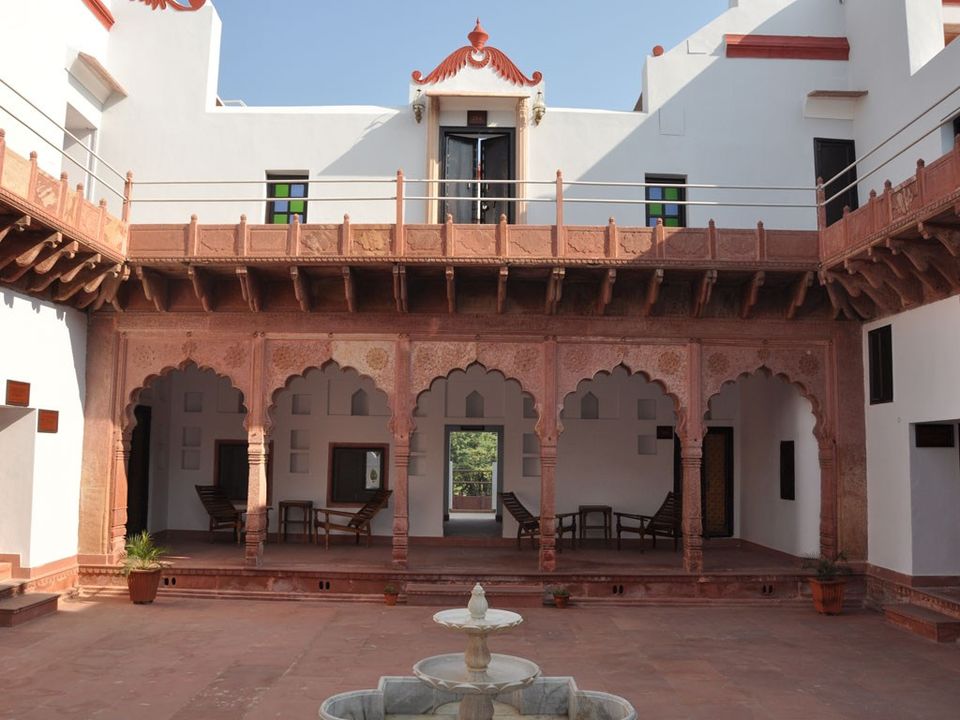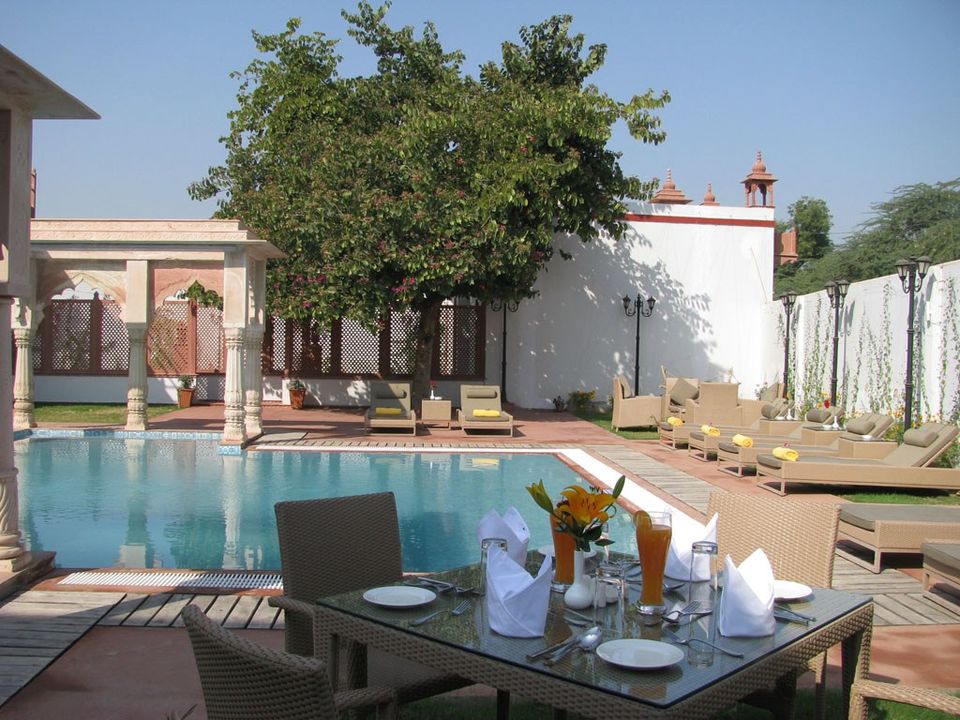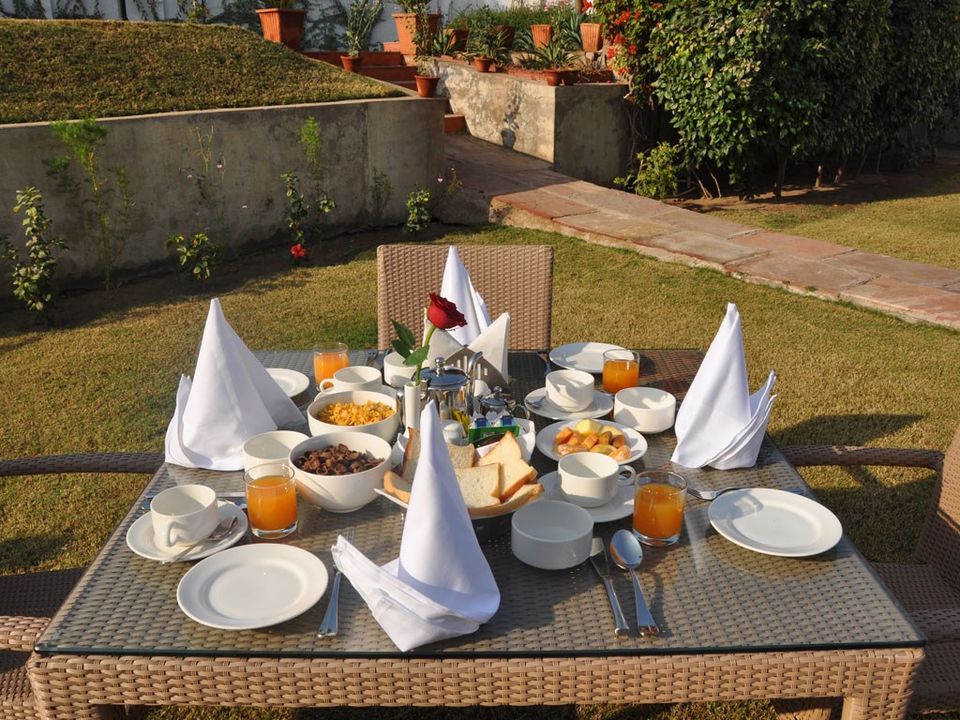 Peharsi Andaaz, the main restaurant at the hotel serves Italian, Continental, North Indian and Rajasthani cuisine and the chef is also happy to oblige to your culinary requests with some advance notice. The property has an outdoor swimming pool. Village tours can be arranged on request at this hotel in Bharatpur.
Price: ₹4500 per night (including breakfast)
Where: Old Agra Achhnera Road, Kakaji Ki Kothi (2km from Keoladeo National Park)
Ideal for: Luxury travellers
Laxmi Vilas Palace was built in 1857 as the royal residence of Raja Raghunath Singh, the younger brother of then-ruler of Bharatpur, Maharaja Ram Singh. Every little nook and corner at the palace-turned-hotel gives you a glimpse into the lives of its erstwhile residents. The architecture is a brilliant fusion of Mughal and Rajput styles.
The spacious, heritage-themed rooms and suites at his hotel in Bharatpur can take you back in time with their charming vintage décor. Great food is within easy reach as the in-house restaurant whips up a delicious mix of Indian and world cuisine.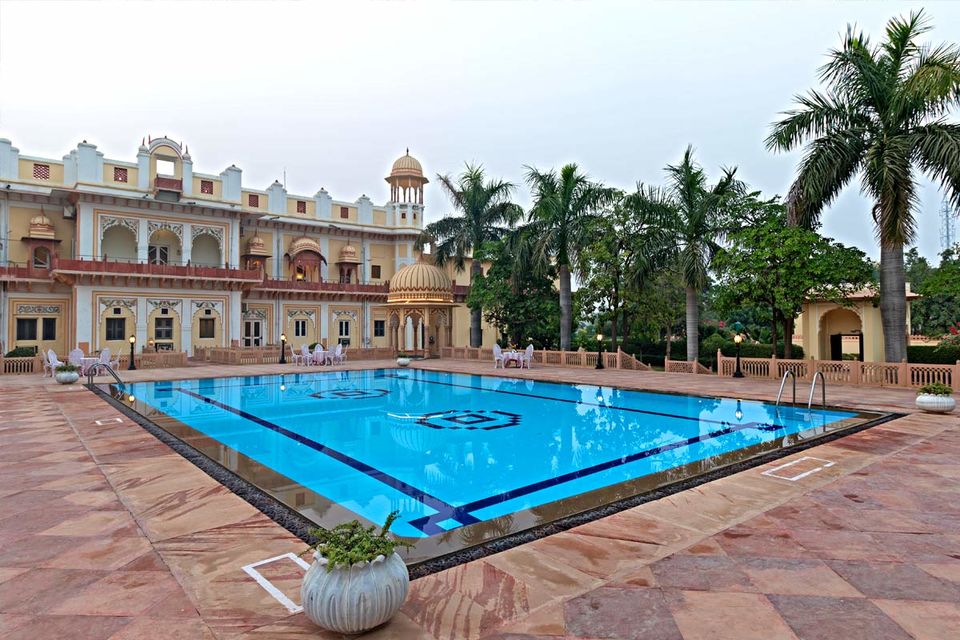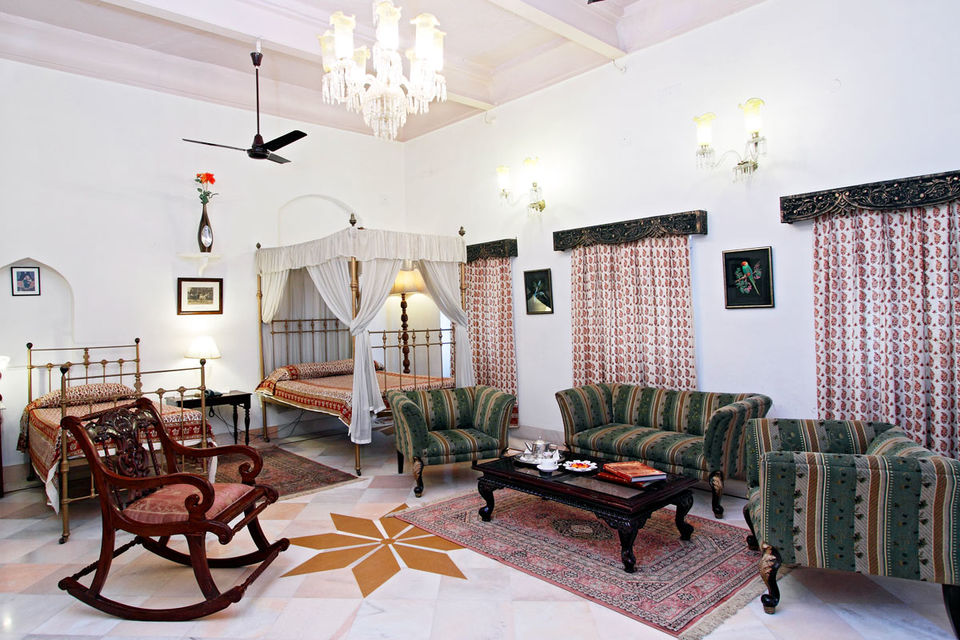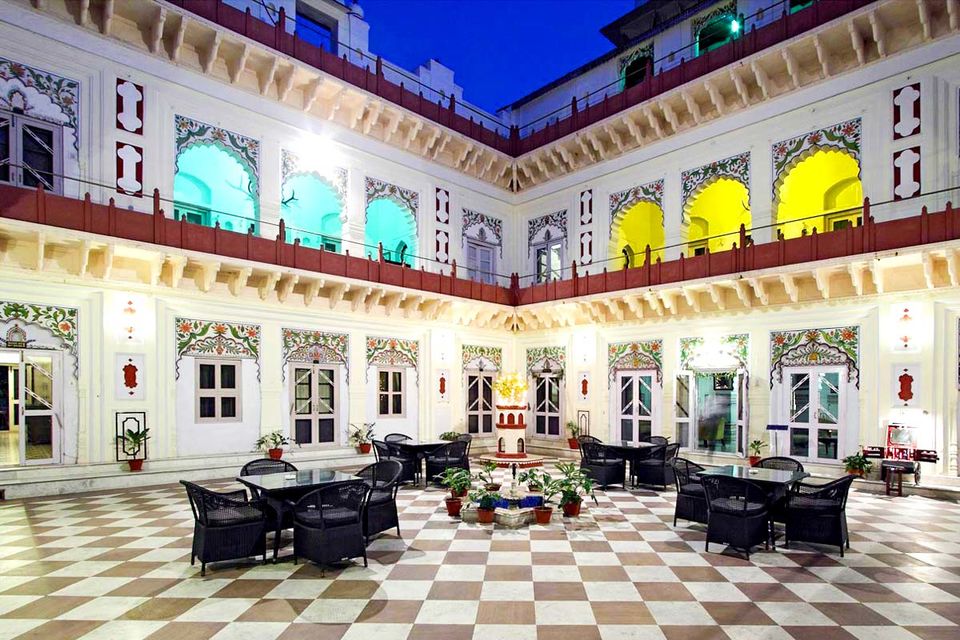 It is one of the most preferred hotels in Bharatpur because of its close proximity to the bird sanctuary. You'll be pleased to find a great pool and several spa treatments at your disposal for some much needed rejuvenation after a tiring day of sightseeing.
Price: ₹6000 per night (including breakfast)
Where: Old Agra Achhnera Road, Bharatpur (4km from Keoladeo National Park)
Ideal for: Nature-lovers, luxury travellers
Home to a variety of plants and birds, this beautiful property is situated in a hundred year-old garden in Bharatpur. The decor and furniture feature an impressive fusion of art and nature. One of the many Instagram-worthy spots at the property, the vintage garage, houses three gorgeous vintage cars (including a 1946 Chrysler Plymouth) and a Jeep from World War II.
Though you'd want to spend most of your time outdoors, explore the beautiful gardens, the elegant heritage rooms are worthy of equal attention.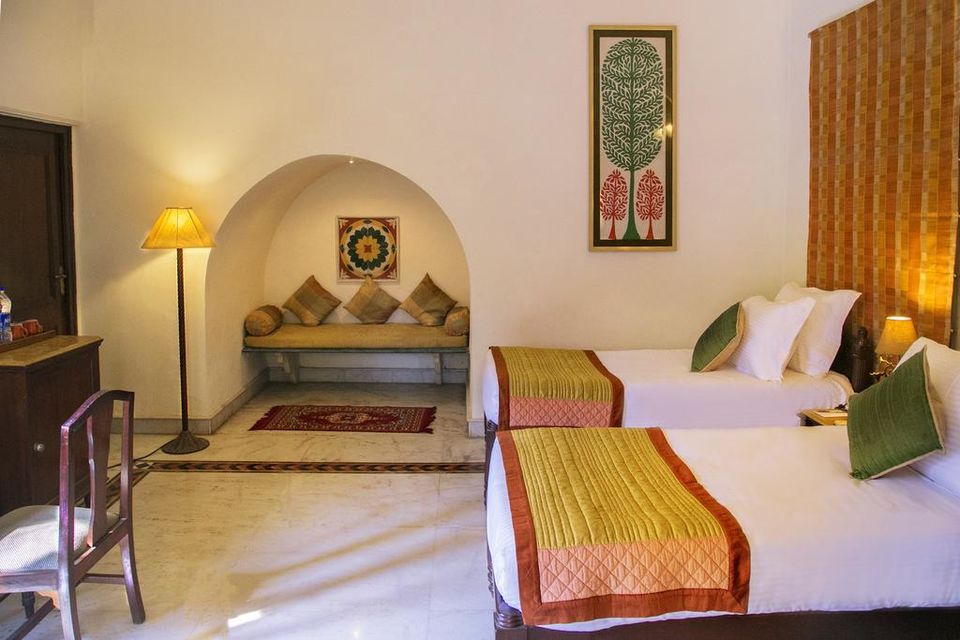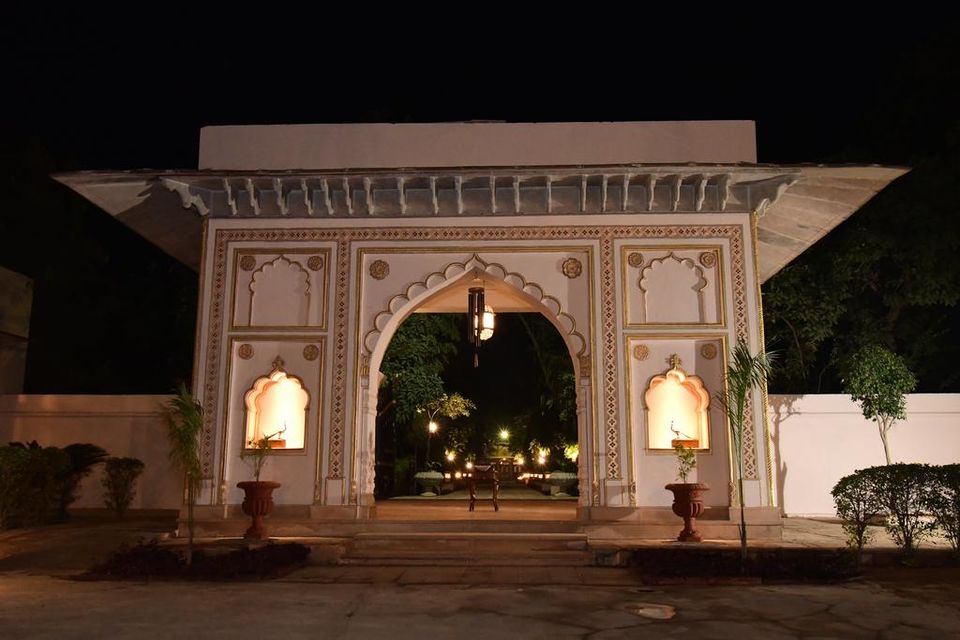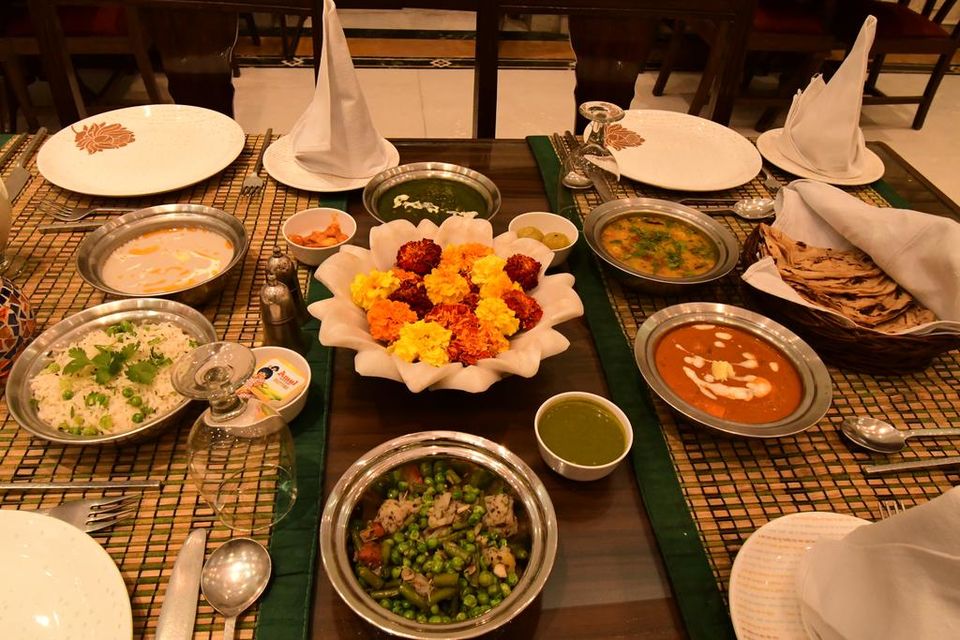 Gulmohar, the in-house restaurant is a tourist-favourite for its hearty buffet breakfast and a special selection of vegetarian dishes from India's Braj region. Watch out for lively folk performances in the evening or treat yourself with one of their authentic Ayurvedic massages after a day of exploration.
Price: ₹7000 per night (including breakfast)
Location: Lohagarh Fort, Bharatpur (4km from Keoladeo National Park)
Ideal for: History-buffs, offbeat travellers
Mahal Khas Palace in the Lohagarh Fort complex is one of the most carefully restored hotels in Bharatpur. Originally built by Maharaja Balwant Singh in 1826, the palace is a fine blend of Mughal and Rajput architecture. The building retains its quaint, rustic charm sans the modern frills and is bound to make you feel like you're living in a beautiful old house rather than a hotel.
The in-house restaurant serves a mix of Indian, Continental and Chinese cuisine that you can enjoy in true Rajasthani style in the palace's open courtyard. Just a heads up: there's no bar in the property.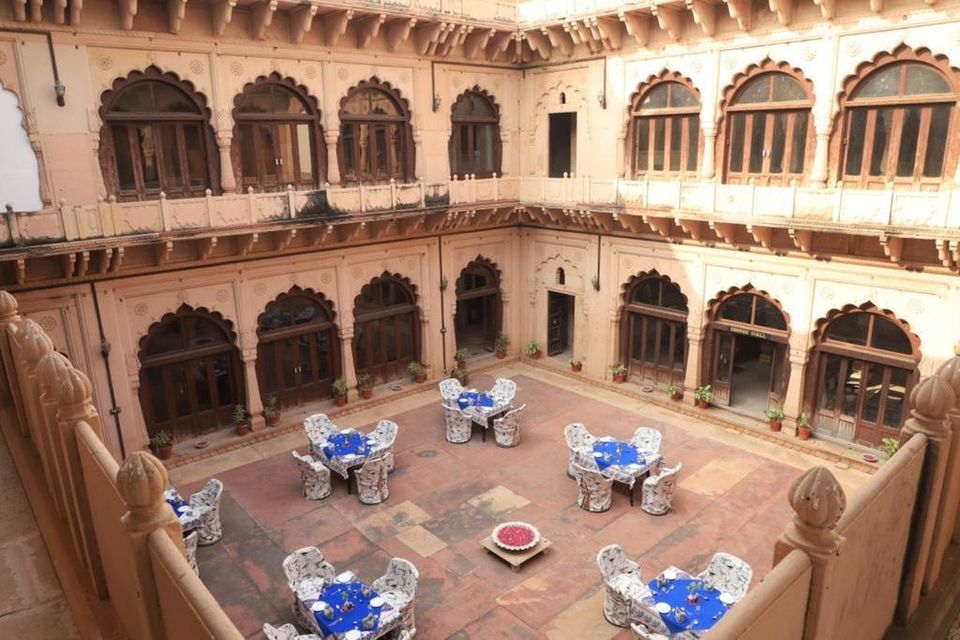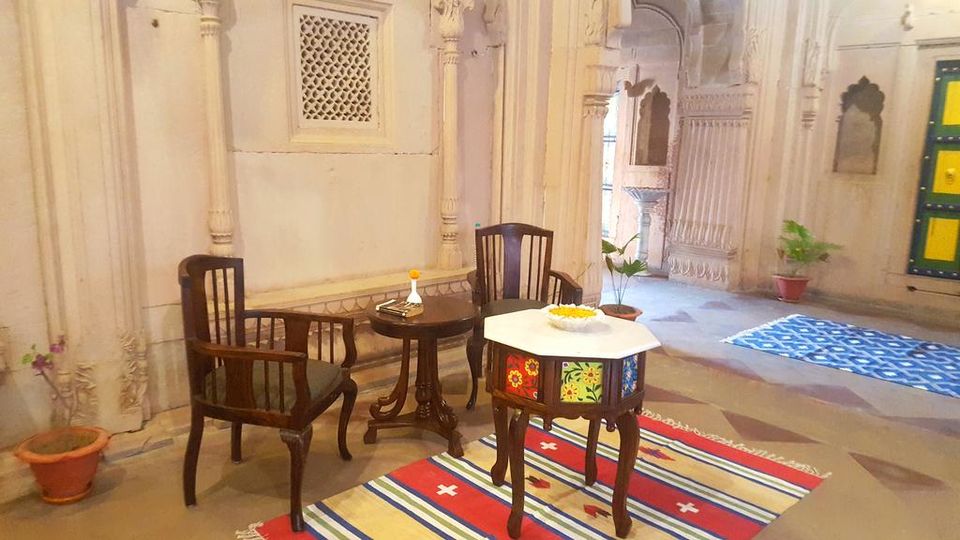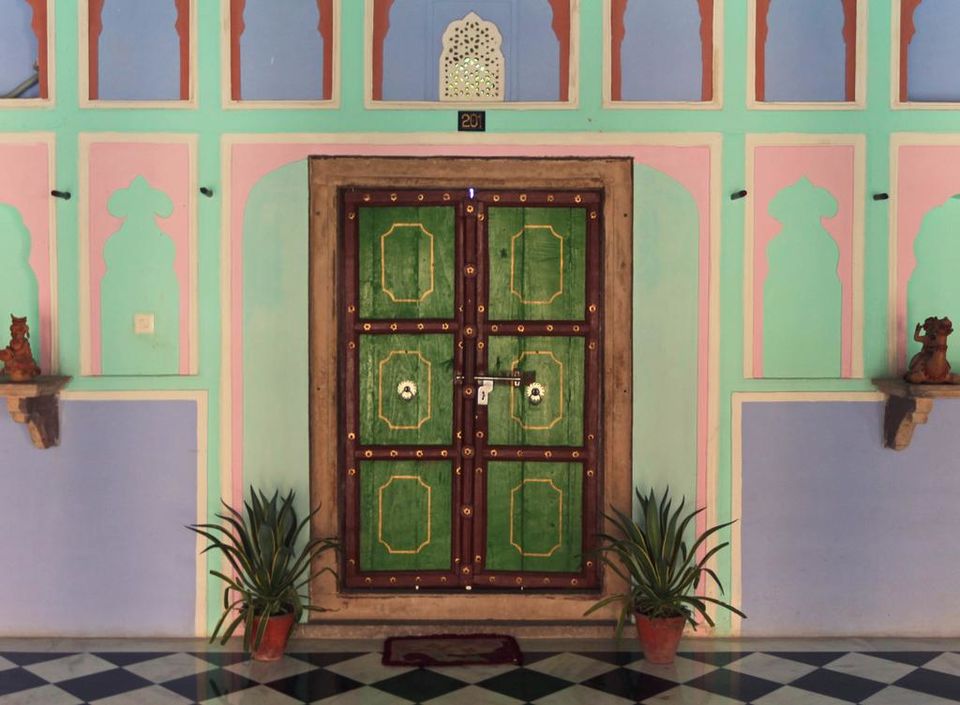 The rooms are pretty basic but the USP of the property lies in the gorgeous wall murals and carvings that have successfully stood the test of time.
Price: ₹5000 per night (including breakfast)
So which of these gorgeous hotels in Bharatpur are you going to pick for your next vacation?
Know of a great heritage property in Rajasthan? Write about it and help travellers on Tripoto. Got any queries about travelling in India or abroad, ask the community of travellers on Tripoto.
For regular travel inspiration, subscribe to Tripoto's Youtube channel.
Frequent Searches Leading To This Page:-
places to stay in bharatpur bird sanctuary, bharatpur hotel booking, bharatpur tour itinerary, bharatpur from delhi, what to see in bharatpur bird sanctuary, famous things in bharatpur