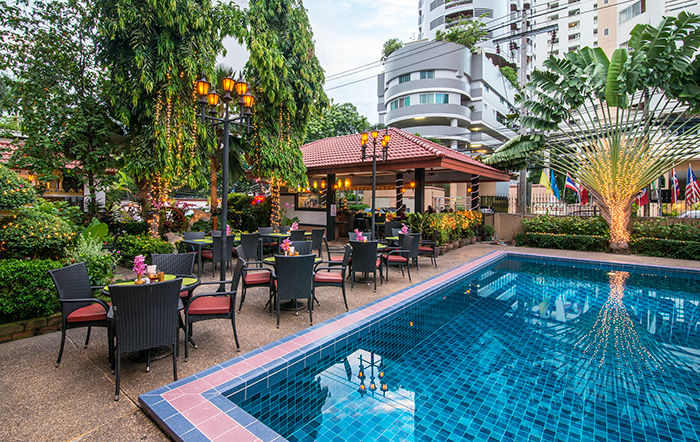 The only people that don't like Delhi are those who haven't lived here. The national capital boasts of a veritable geography, which means there are a million different places where one can just sit and chill for hours to no end. And when the climate is pleasant, the beauty of this place becomes unparalleled, offering even more chances for a romance to blossom into one that lasts a lifetime.
For couples that love to eat together as much as they love each other, here are 10 outdoor and rooftop restaurants in Delhi, ranked from cheapest to costliest, where you can sit outside and enjoy the view.
The best outdoor and rooftop restaurants in Delhi
Arguably the most famous place in the North Campus area, Tom Uncle Maggi Point is always swarmed by university students looking for their Maggi-chai-sutta fix, without having to shell out a major sum of money. For couples who aren't in college anymore, this place is sure to bring back hordes of nostalgia.
Where: Near Ramjas College, Maurice Nagar Chowk, North Campus, Delhi University – GTB Nagar
Contact: +91 9540230404
How much: Rs. 100 for 2
Tip: Since it's a roadside vendor, do not go there on a first date.
Old timers in the heart of Delhi, Connaught Place, still swear by this legendary place that serves coffee and snacks at dirt-cheap prices. One of the best rooftop restaurants in Delhi, Indian Coffee House has been serving delectable omelettes and paranthas since Dec 27, 1957, now, without losing its old world charm.
Where: 2nd Floor, Mohan Singh Place, Connaught Place
Contact: 011 23342994
How much: Rs. 150 for 2
Tip: Don't go to this place if you're scared of monkeys. Since there's a Hanuman Temple nearby, a lot of monkeys, albeit harmless, give the roof a frequent visit throughout the day.
It's a pseudo-mess for all students of the National School of Drama because food is very home-like and cheap, which means one can afford to eat here everyday. The place is beautiful, so you can sit and talk with your partner on the large green steps for hours. One of the cheapest open air restaurants in Delhi.
Where: 205, Tan Sen Marg, Opposite FICCI Auditorium, Mandi House
Contact: +91 9971566904
How much: Rs. 300 for 2
Tip: It closes at 8pm, so make your plan accordingly.
If a cafe is located in Satya Niketan, it has to offer either extraordinary ambiance or amazing food to survive, because the market is full of great eat out options. Uptown Cafe gives you both. The food is decent and the rooftop ambiance is magnificent with shining white pebbles underneath to complete the experience.
Where: 4-5, Satya Niketan, New Delhi
Contact: +91 9990845223
How much: Rs. 800 for 2
Tip: It's very easy to miss it, with the Satya Niketan market bustling with over 50 cafes/restaurants in the same lane. You'll only see a blackboard on your left with this cafe's name written on it beside a corridor of stairs to take you upstairs.
If you wish to see Delhi at its loveliest during winters, Cafe Lota should be the first place to go to for a date. A perfect example of how to blend in organically, bamboo sticks serve as a roof at this unique cafe. The uncompromising fusion food complements the ambiance perfectly. This is definitely one of the most charming outdoor restaurants in Delhi.
Where: National Crafts Museum, Gate 2, Bhairon Marg, Pragati Maidan
Contact: +91 9910807703
How much: Rs. 1,000 for 2
Tip: It's situated right at the entrance of the National Crafts Museum, hence it's always a good idea to explore it once you've eaten at Lota.
Although the food is not the best here, but my word the experience is absolutely worth it. Rose Cafe will instantly remind you of the baroque little cafes tucked in the corners of French countryside. Even if you been to France, this is the place you should come to experience it.
Where: 2, Westend Marg, Saidulajab, Saket, New Delhi
Contact: +91 9810088762
How much: Rs. 1,300 for 2
Tip: There are two types of seating here – indoors and outdoors. Go for the outdoors for an enhanced experience.
When it comes to open restaurants in Delhi or NCR, this is probably the only fine dining place in Gurgaon where one can sit and chill for hours without the waiters frowning. Their outdoor seating is absolutely heavenly with the ambient lighting and fine wine to go with it.
Where: Ground Floor, Vatika Towers Complex, Golf Course Road, Gurgaon
Contact: 011 33106491
How much: Rs. 1,700 for 2
Tip: It's located inside a housing society constructed by Vatika. So if you feel Google Maps is acting funny by guiding you inside a huge society gate, don't be alarmed.
A legendary restaurant on the equally legendary Lodi Road that has seen the who's who of Delhi's history come here for romantic dates. Lodi - The Garden Restaurant should be kept only for special occasions like these because the warm lighting and tents in the garden make for a sublime setting.
Where: Opposite Mausam Bhawan, Near Gate 1, Lodhi Road
Contact: 011 33105163
How much: Rs. 2,600 for 2
Tip: Ask for a complimentary glass of sangria. Thank me later.
This is it. You've reached the pinnacle of your love story if you've come for a date here. This is possibly the most beautiful outdoor restaurant in the National Capital Region and that too by quite a margin. There is an all-encompassing tree in the centre of the garden, which gives one a feeling that love is blessed by a supreme entity above. The blessing can actually be sensed in the form of the amazing food.
Where: One Style Mile, Haveli 6, Kalka Das Marg, Mehrauli
Contact: +91 9810235472
How Much: Rs. 3,000 for 2
Tip: Expect a lot of "on-the-house" treats in terms of appetisers and desserts.
Gravel paths, breathtaking ambience, dim lighting and of course a brilliant location inside the Garden of Five Senses, Fio Country Kitchen & Bar is straight out of a fairytale. And the food only adds to the already sublime setting. With a massive variety of wines to choose from, this restaurant ensures that your partner will respond in the affirmative if you are planning to propose to her for marriage here.
Where: Gate 1, The Garden of Five Senses, Saidulajab, Near Saket
Contact: +91 9971004530
How much: Rs. 3,500 for 2
Tip: Although there are a couple of 'no smoking' signs around, nobody will actually frown upon you even if you light up.
Brace yourselves, ladies and gentlemen, the winters are knock-knock-knockin' on the door. Feel romantic yet?
Have you been to any of these outdoor or rooftop restaurants in Delhi? Tell me about your experience in the comments below.
Frequent Searches Leading To This Page:-
rooftop restaurants in delhi, rooftop restaurants in delhi for couples, rooftop restaurants in delhi connaught place, rooftop restaurants in delhi cp, best rooftop restaurants in delhi, open air restaurants in delhi, weekend getaways from delhi