New Zealand features many, many waterfalls, and it would be really rare if you won't see any on your journey there. We lost count how many we've seen, but there is one that we will never forget: the Omanawa Falls. It's one of the most beautiful falls in New Zealand, but it's really hard, and not recommended to visit them. Why is that and how can you still get there? You can read all about it below!
Why is It So Hard to Reach?
The Omanawa Falls are just a 30-minute drive from Tauranga, and a short walk takes you to a viewing point over the 35-meter high waterfall. That is, if the track wasn't closed for safety reasons. Gates close off the pathway, so officially it's not allowed to visit. Beyond the viewpoint is also a closed-off tunnel, which used to take you directly to the bottom of the falls. This made it a very easy walk, but since the tunnel wasn't safe anymore, they decided to close the whole track many years ago. Yes, this makes visiting the falls way harder, and less safe! But although it's closed off, there are still an average of 60 people a day that visit the falls anyway. People created a sketchy sort of 'path' over the hill and tunnel, to still get to the waterfall.
WARNING: The track is closed for a reason, people have been seriously injured trying to reach these falls and recently someone didn't survive his visit. So consider this well before you decide to make the way over to the falls and read this blog first so you know what awaits you.
The Viewpoint
To get to the falls, you just put it in Google Maps and you'll have to park next to the road. There is a wide path which is blocked by a fence and signs that say the track is closed. You can easily jump over the fence, and this part of the track is just an easy 10-minute walk.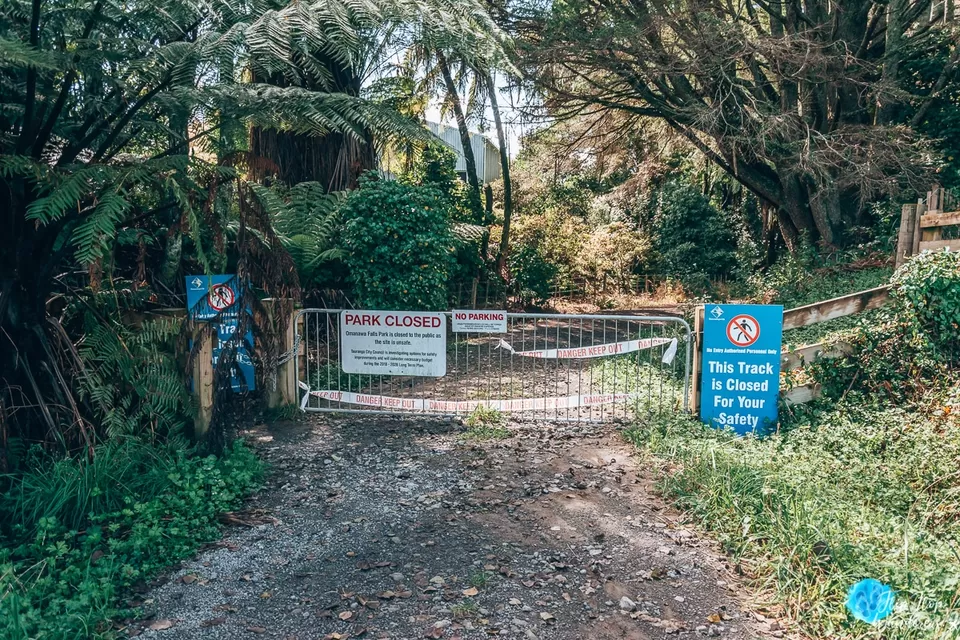 You'll bump into a second gate where the path is getting narrower, but this gate easily swings aside. The path continues now on the edge of a cliff, and since it has been closed for years it hasn't been maintained so don't lean against the fences, or get too close to the edge!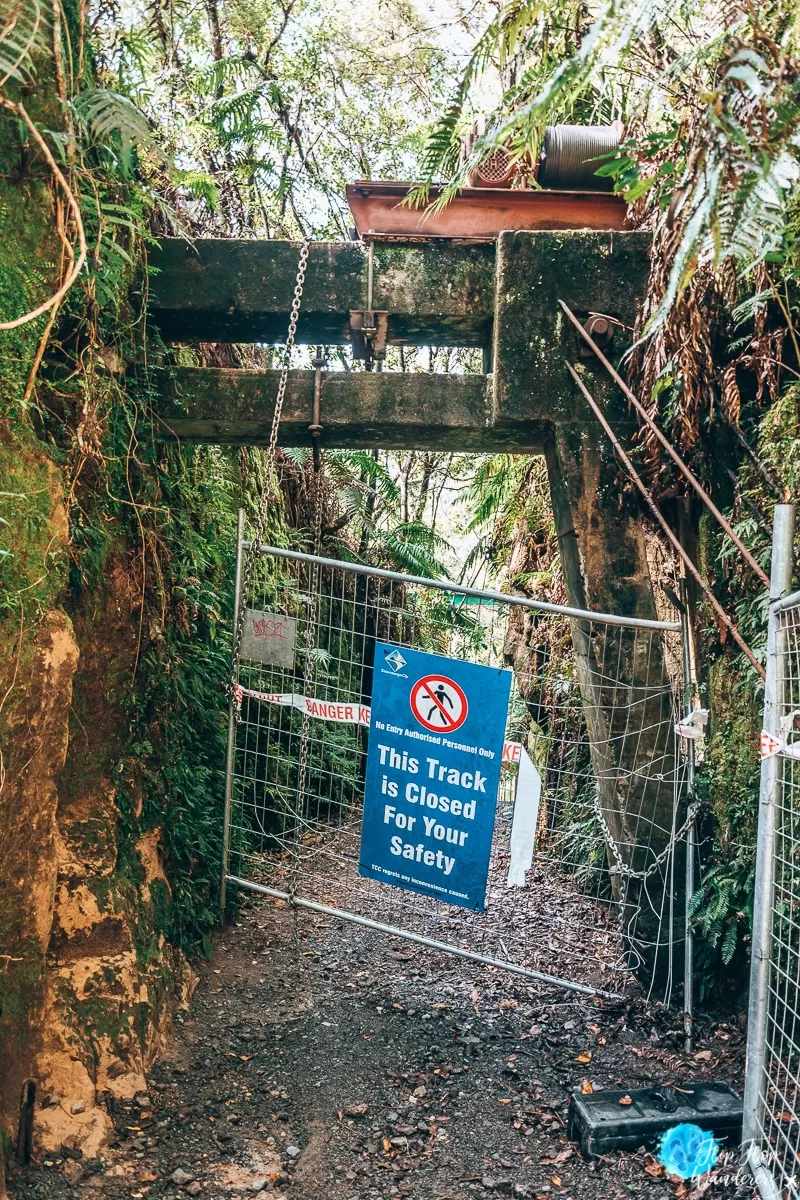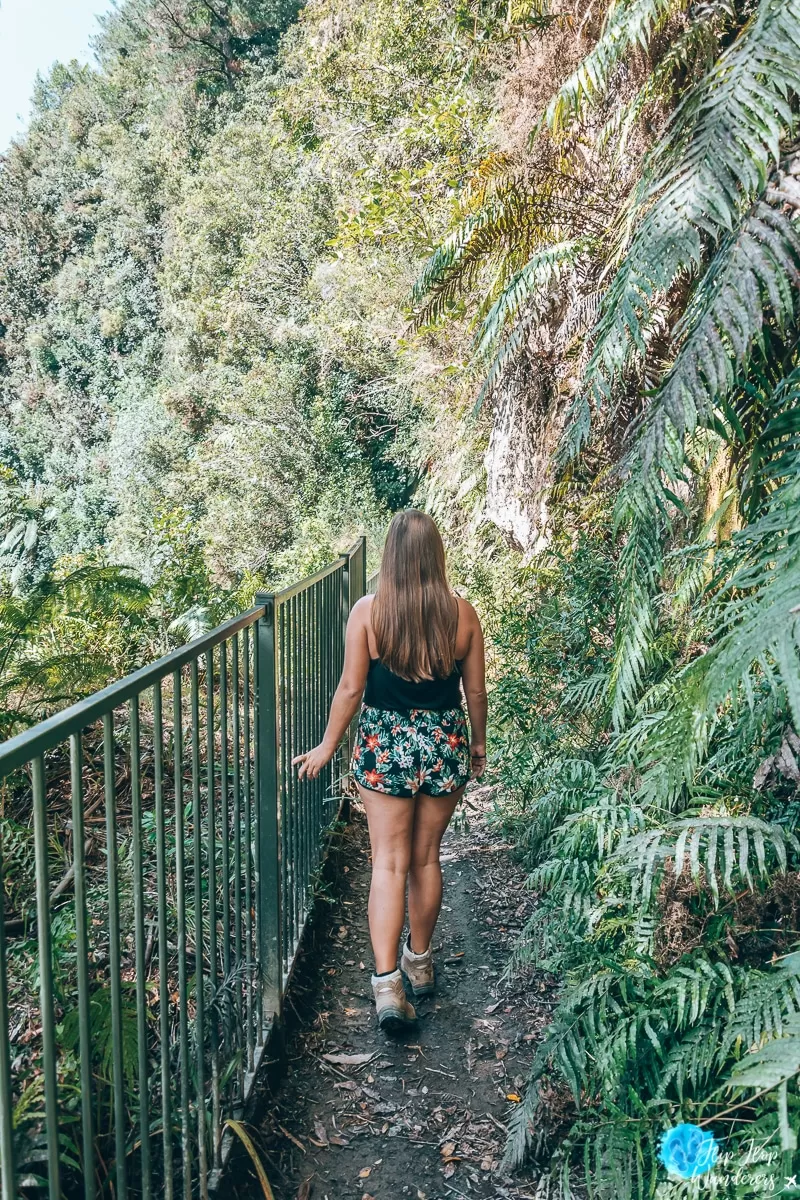 A 5 minute walk will take you to the viewpoint where you can admire the falls from above!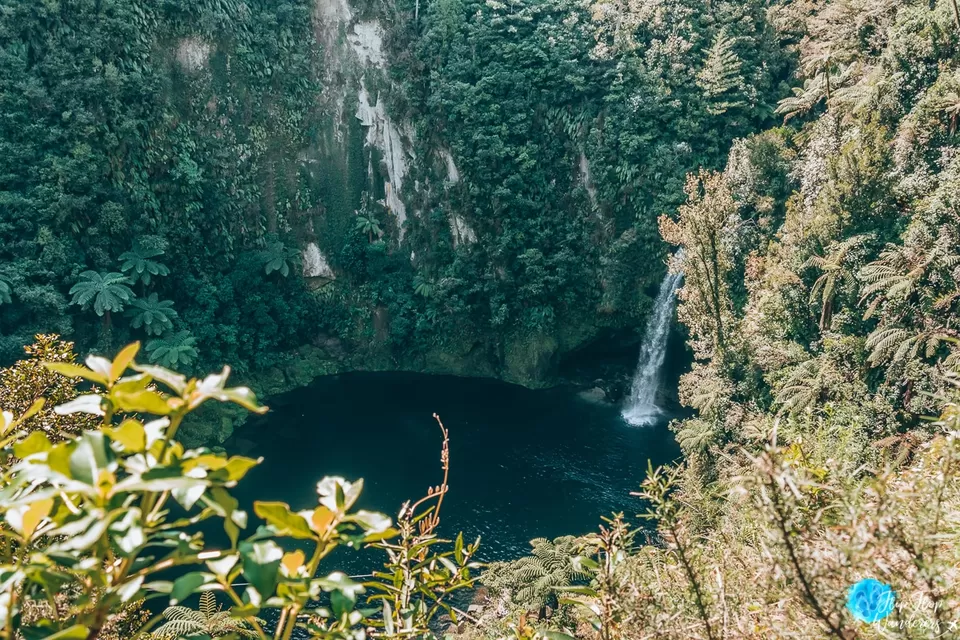 How to Get to the Bottom
As told above, the old tunnel to the falls is closed. The tunnel leads straight through a big hill, and now the only way over there is to climb over this huge and steep hill. On the right-hand side upwards the hill is a big gate closing off the path over the top, and it is quite hard to get around this gate until we noticed that the gate was not closed! So we could easily walk through.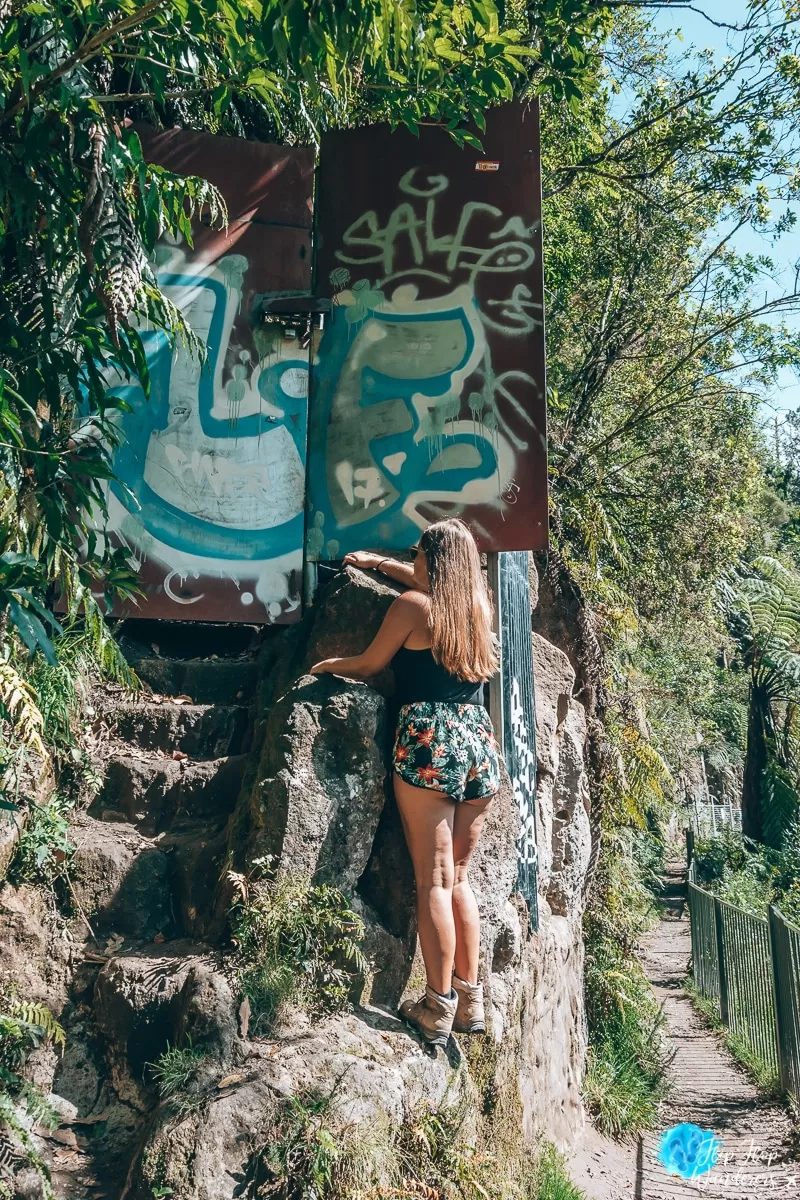 From here the hard and dangerous part starts. There are several paths, and you want to keep to the left since you have to cross the steep hill over the tunnel. First, you will have to climb up a long way, and when you finally reach the top you will have to go down even further! It's an adventurous and pretty insane path, so wear steady footwear and only continue if you are sure that you can do it. We had to keep the camera in the bag almost the whole time (so not many photos from the track), as it was so steep that we had to use both hands to hold onto the roots of trees. Also, make sure you go on a dry day because the path is too dangerous when it is wet and slippery.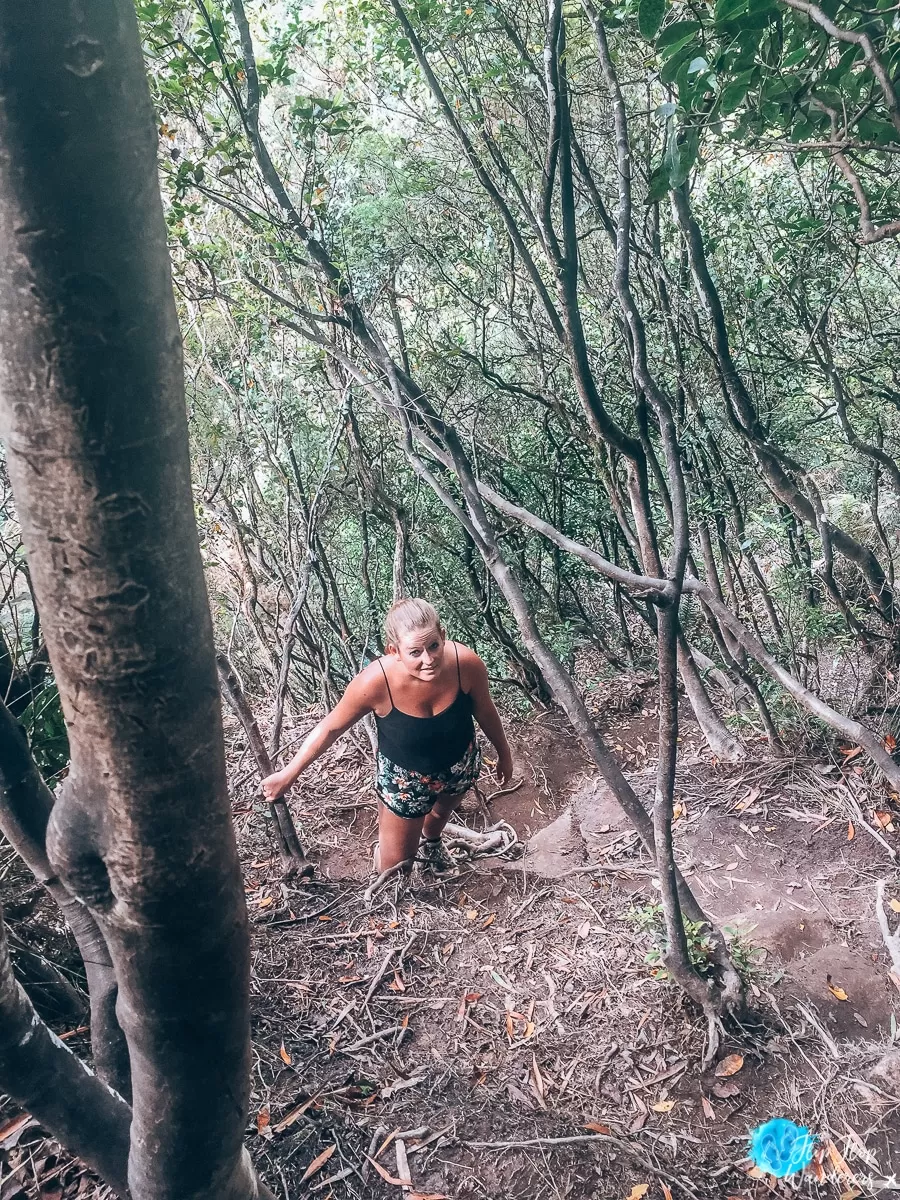 After a while climbing down you will see the old path and that's where you want to go. But to get there you will have to climb down a 3m cliff. This was definitely the steepest part of our journey.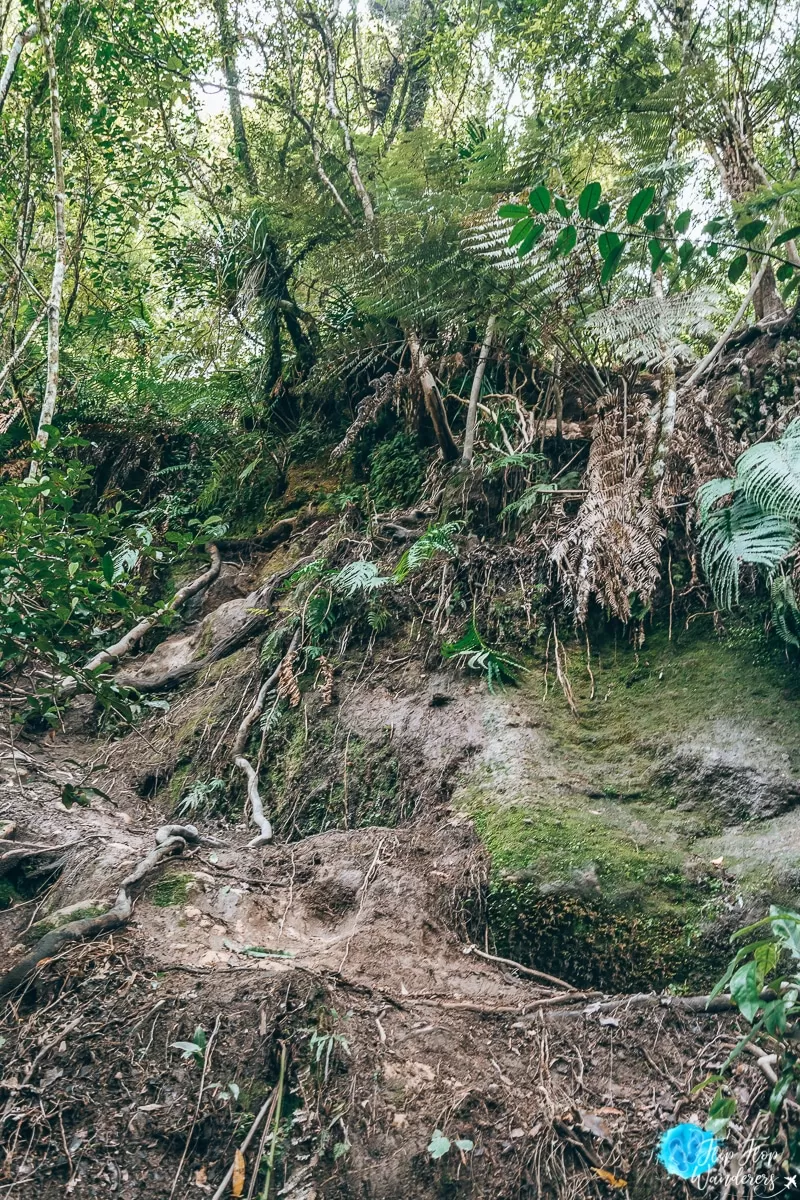 After that, the path gets easier again. There are old ladders on the old path that you have to climb down, but be careful because these ladders are not maintained in a long time!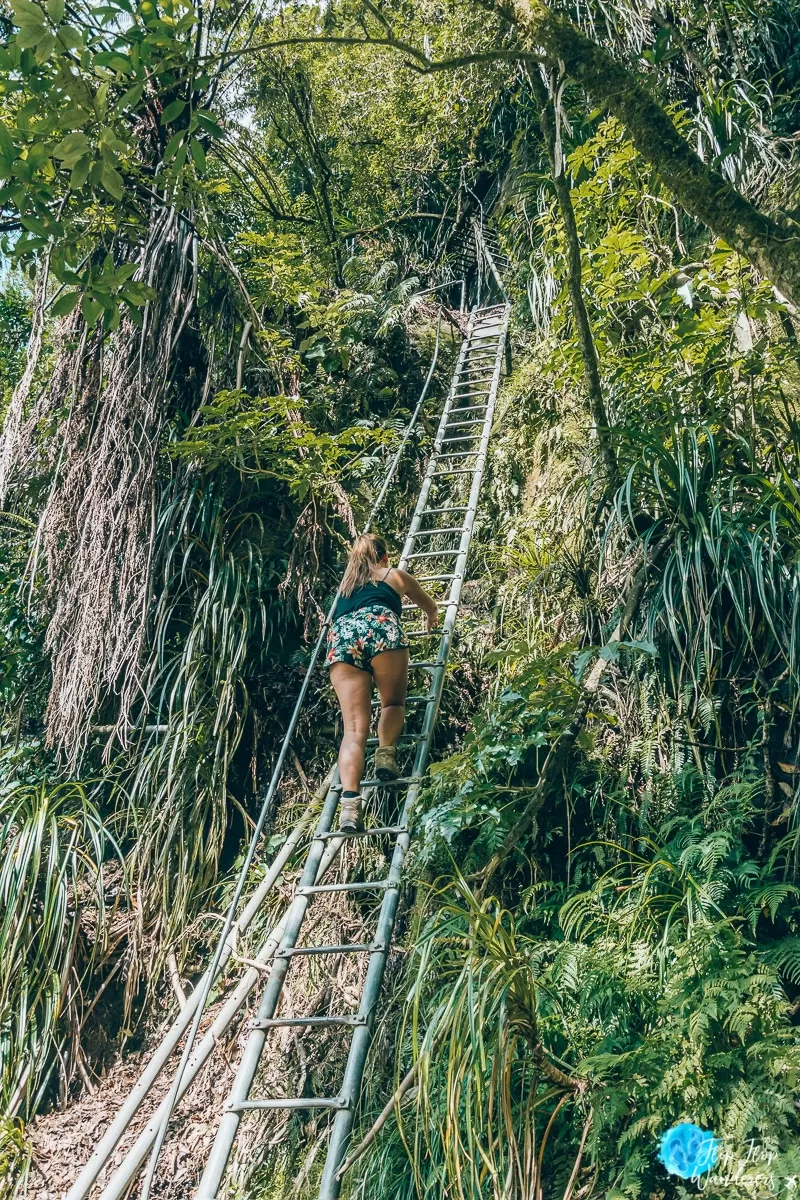 You Made it Down!
Congratulations, you have made it to the bottom! Here you can find an old power plant which provides a nice platform to chill in the sun. You can make your way down over the rocks to get to the freezing cold water. The huge cave behind the waterfall makes it just magnificent and if you made it all the way over here, you can't miss to check out the view from behind these falls!!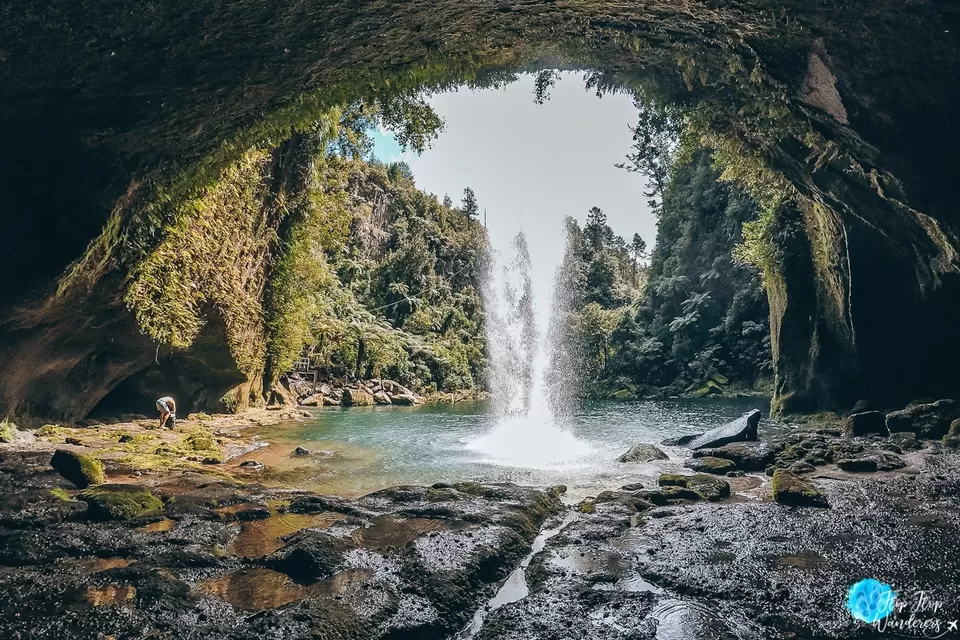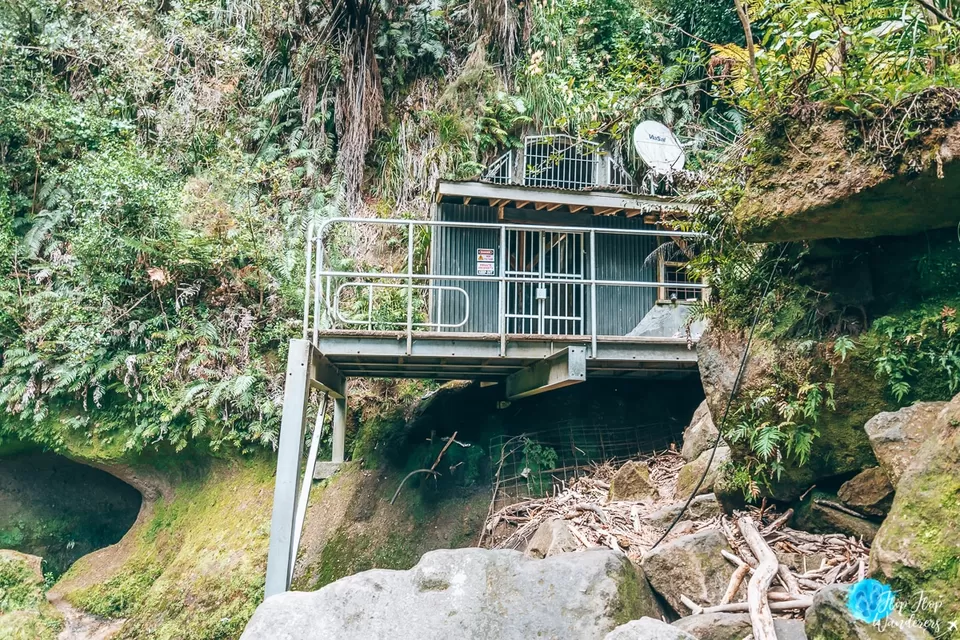 You could definitely say that these views made the journey worth it, but again: we want to warn you to please only visit if you are 200% sure. If we knew the path was going to be this hard, we don't know if we would have done it. So why are we writing this blog then? Yes, of course, because it's an awesome place to visit. But also because we know that most people who want to visit this waterfall will go anyway. And we rather see you going prepared than see you get injured. So please: if you decide to go, follow our guidelines, be safe and have fun!
What do you think about the Omanawa Falls? Would you like to visit them or do you think it's too unsafe?
This blog was originally published on Flip Flop Wanderers.
Frequent Searches Leading To This Page:-
New Zealand Tour Packages From India Price, Best New Zealand Tour Package, New Zealand Cheap Holiday Packages, New Zealand South Island Holiday Packages, Top New Zealand Tour Packages With Price, Best New Zealand Itinerary, New Zealand Vacation Packages