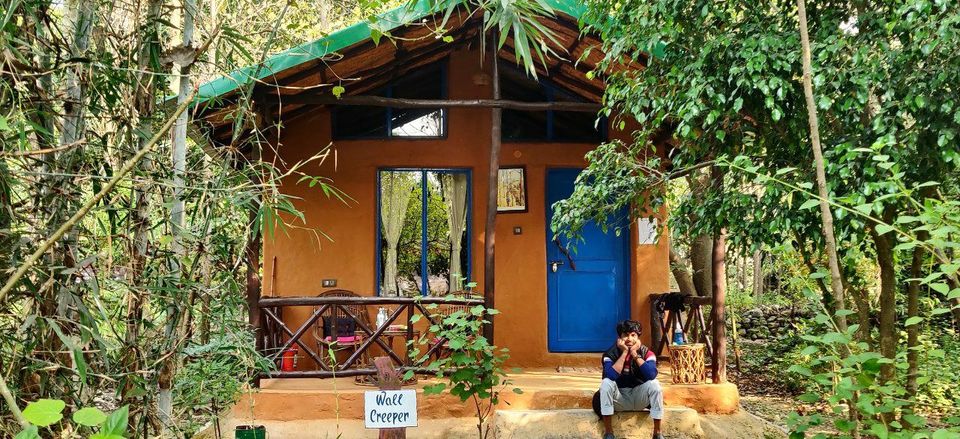 Weekend was free and I got an adrenaline rush to see Nature in Jungle. And I asked Sandeep to be a Part of it and Morning around 6 Am we left for Jim Corbett National Park.
I have a friend at Corbett (Shekhar and Naveen), in Kyari Village of Rampur. The Camp name is "Camp Hornbill". As the name suggest, it's a home for many Hornbill Birds, which are supreme to watch. If they are flying near by you, it would be just sound like an Helicopter. The Camp is situated well inside the core areas of Jungle. Which makes it more exciting. And so close to the Nature.
The camp has maintained all covid precautions. Separate washroom, proper Social Distancing between families. Regular Sanitization. Food is grown and made, pure fresh (You cant resist trust me :) ).
And they love Nature and try to sensitize people about Nature. You would get electricity here don't worry :)
Morning at Sharp 6 we left Noida and around 10:00 Am we were in the Camp. We rested have our separate tents. Have some food and Relaxed our bodies for a while.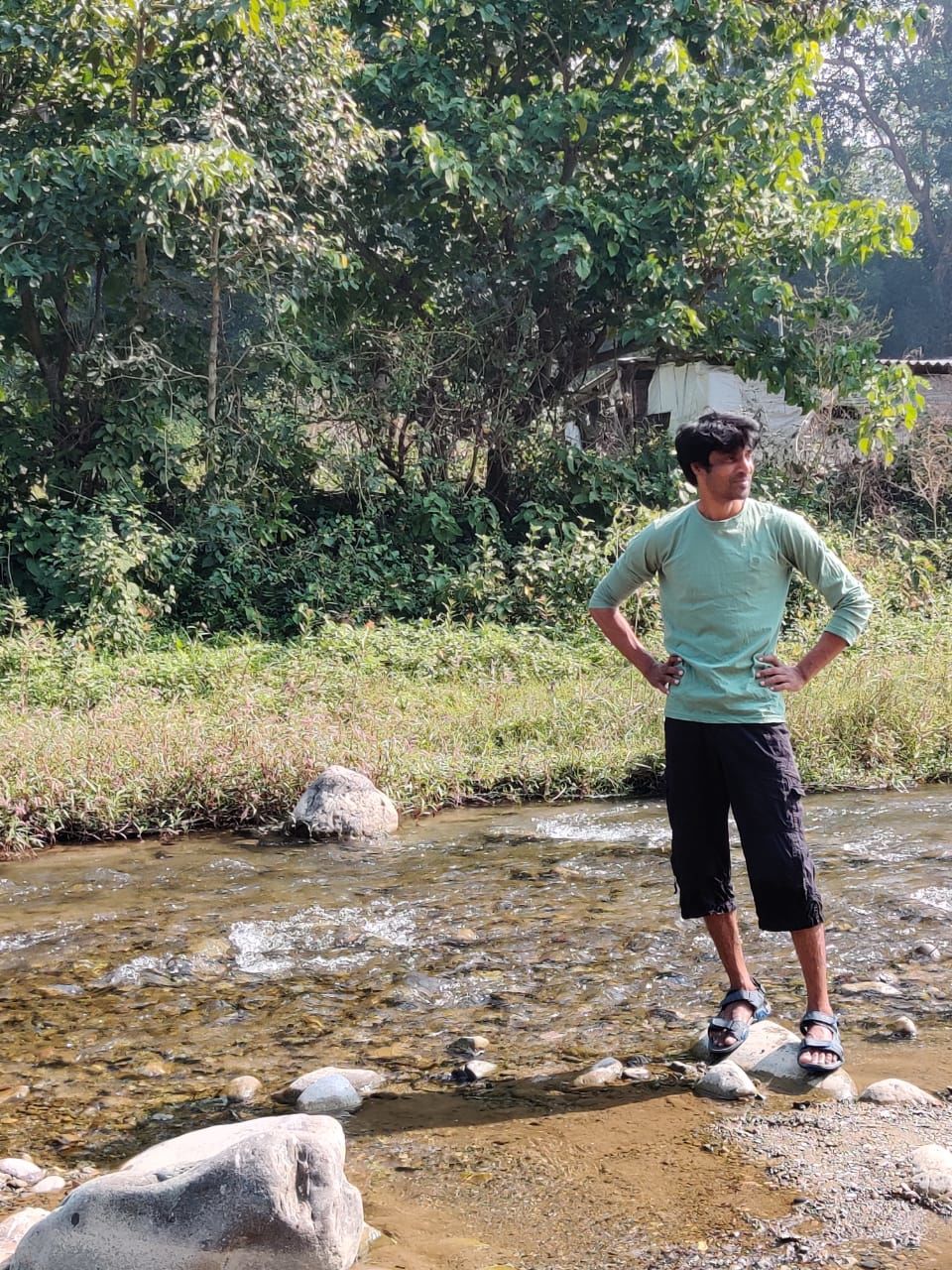 Their Camp is such a beautiful place. They have even a small pond with lots of small fish in it.
I mean a proper ecosystem has been created here.
We went to near by water bed, which was almost dry. Thanks to massive constructions and human encroachments. Still it is a beautiful view to watch and witness.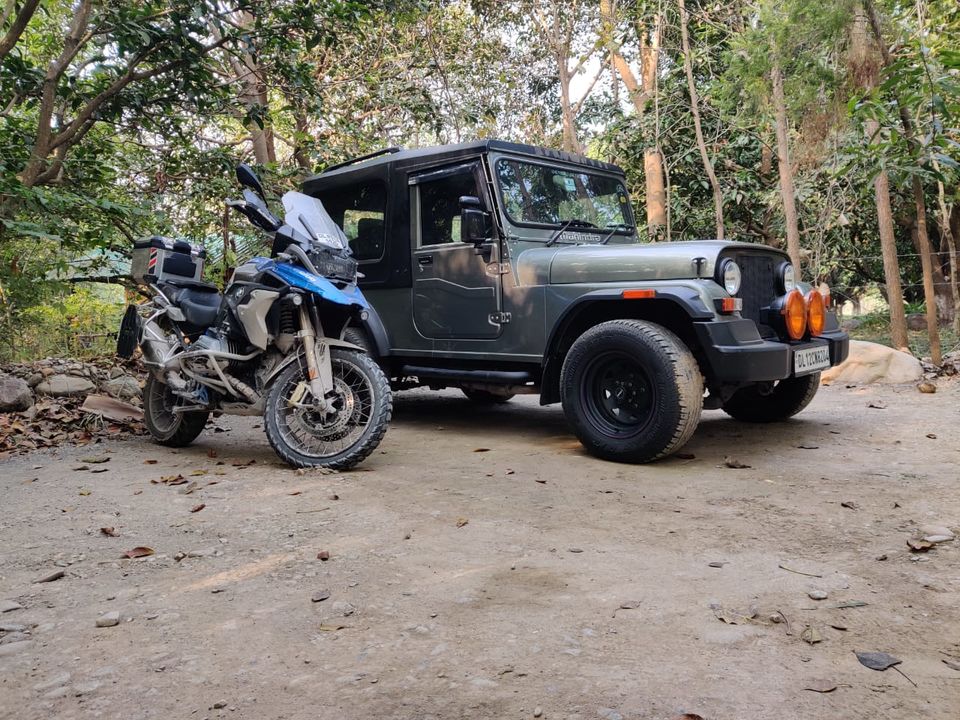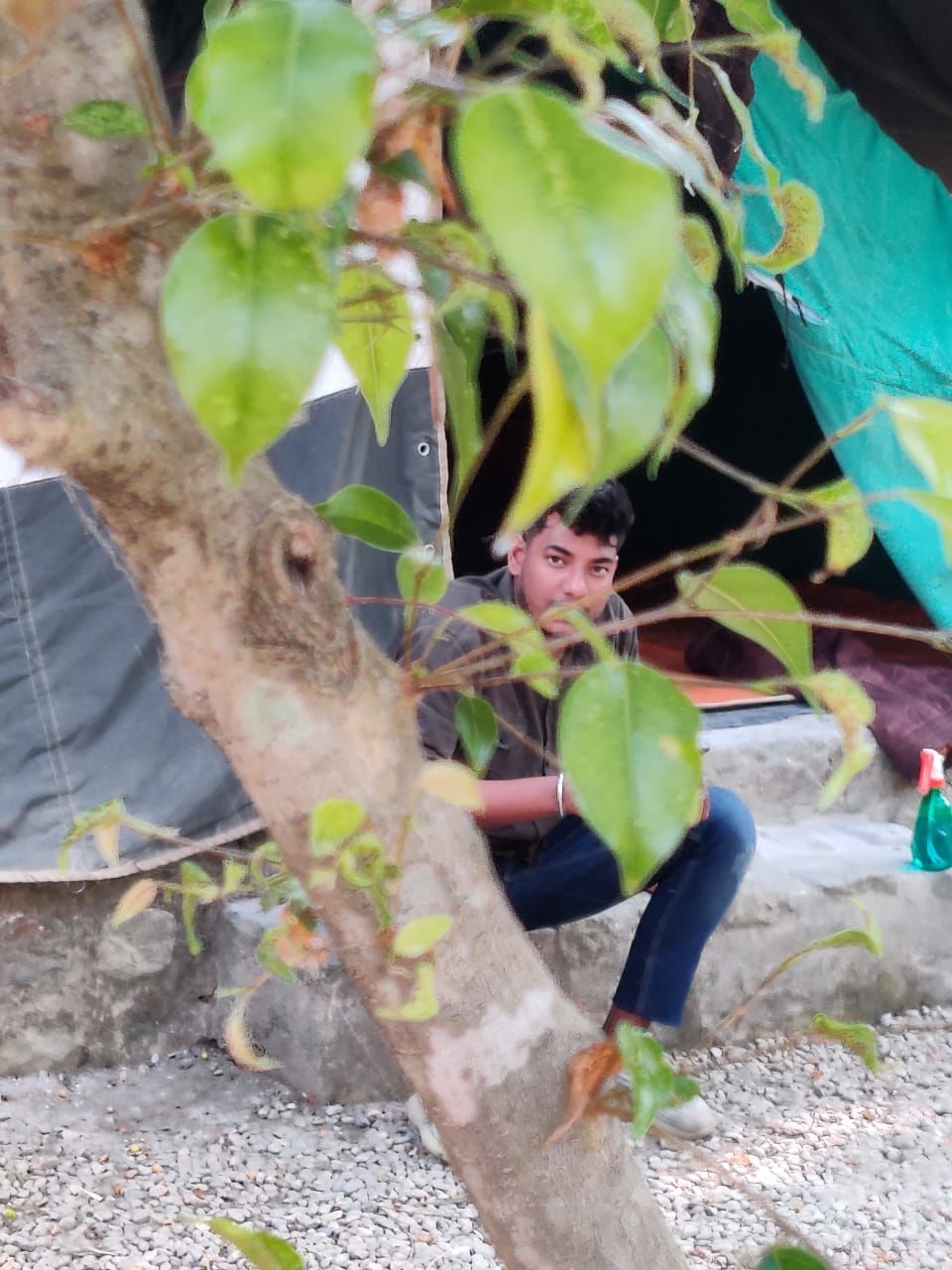 Further in the afternoon we planned to go for a Private Jeep Safari in Jungle Areas. That was a magnificent experience.
We did a 15 km trek inside the jungle area with our own car. I did a magic too which you would like to watch:
There was one time when we were the last safari to exit the core areas, we actually witnessed a Real Tiger. Seeing us, he suddenly sat quite on bushes. As their body skin color is so much camouflage with nearby bushes and trees.
He was silently observing us, few locals started crying and shouting (Idiots). And they literally forced the guide to move jeep away from that area and leave the jungle.
I have a video as well, where all you can hear is voices and bit trees, since its too dark out there it was difficult to witness anything clear on moving phone camera. Hence avoiding placing the video.
We witness Jackal, Deer, Sambar Deer, Barking Deer, Peacock, Monkey, Langur during our safari.
Night went well in bonfire, relaxing and witnessing the natural beauty.
Morning we just roam the area and till afternoon we headed back to Home.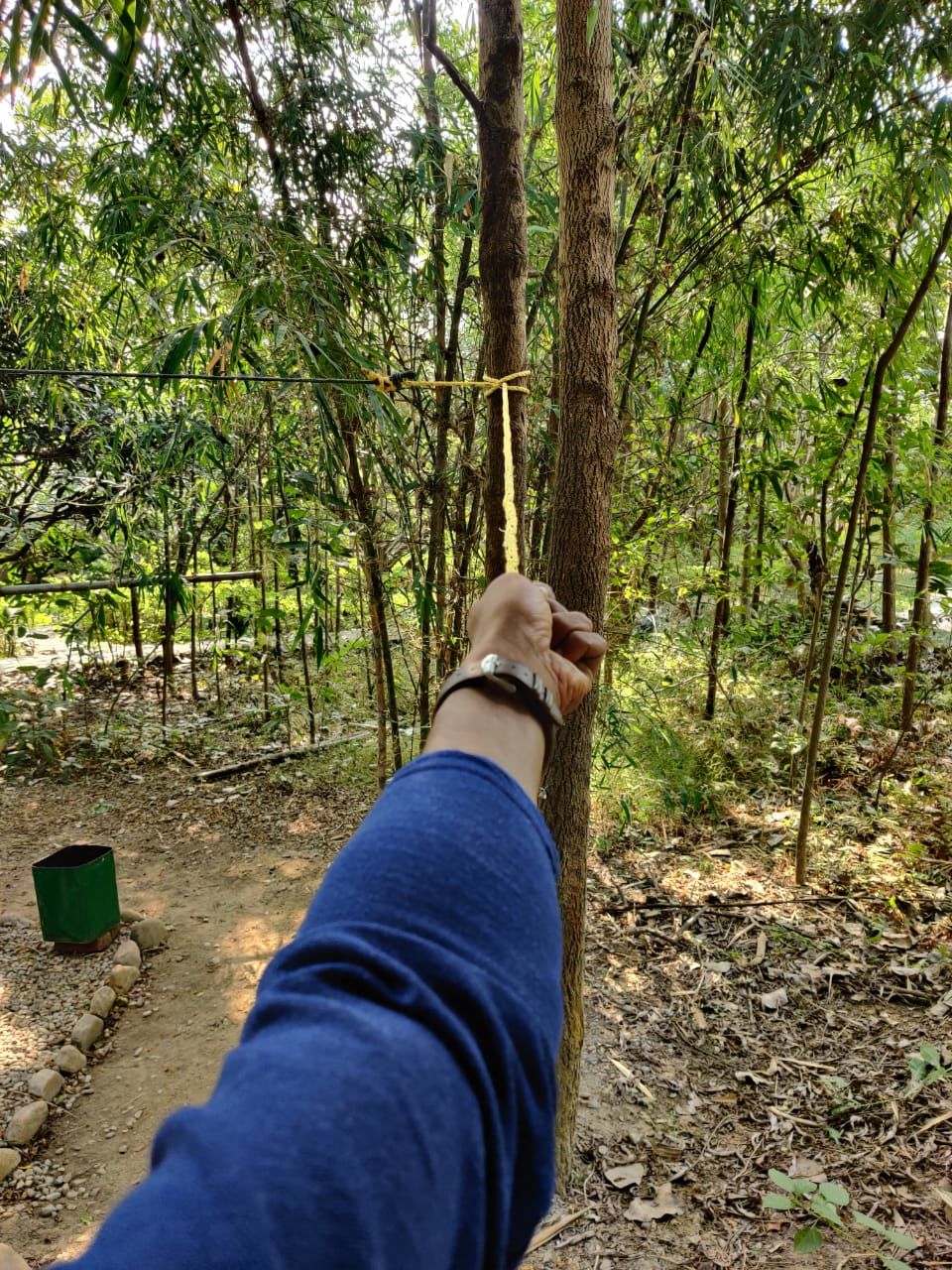 Though a short trip but it was a soothing one.
Jungles have a strong ecosystem and each and everything is connected and even a small insect plays a vital role in the entire ecosystem.
Even Termite which are considered Bad for woods are blessings for trees, as they ate all dead skins and give trees more Life.
Langur | Monkeys and Deer's are good friends as Langur | Monkeys help them getting plum fruits from trees.
If Tiger | Lion doesn't eat Deer's, then deer's would destroy Fields and farmers lands. Entire Ecosystem is connected beautifully with everything.
We should always help contributing the nature not polluting it and helping destroying it.
Few Points which You would Like to Note:
• This is an absolute safe place to go with Family.
• Always wear masks at tourist's spot or you would be fined.
• Don't fall for any trap, always take help of direction from Google Map. (Download Offline Map as sometime there is limited Internet connectivity).
• epass is still mandate in Uttarakhand area, so fill the form online before you go there. Its an easy process just need bit documentation.
• Just follow the rules and Be safe
Hope you liked reading it, pictures used here in this blog were clicked by me and I reserve all the rights to publish these images here. If you really like them, you might like to see more on my page
https://www.facebook.com/shayaan.photography
Please do comment, I promise to reply back.