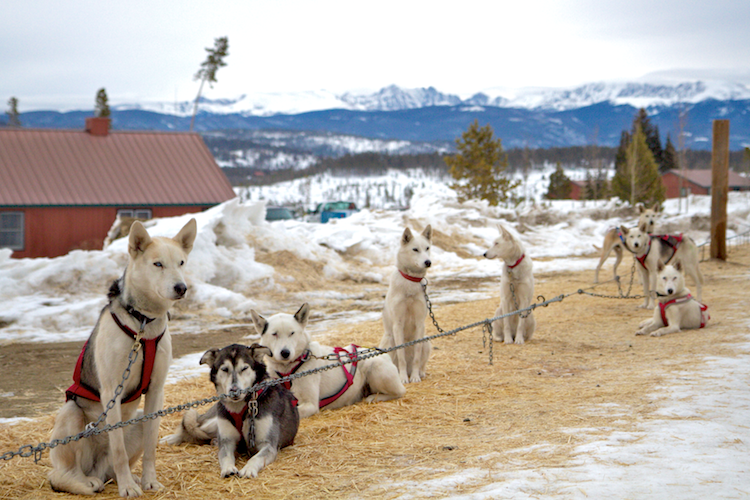 It's warmer out than I prepare myself for. The sun is shining and the air is a crisp 35 degrees. Perhaps, I think to myself, the 7 layers of mismatched clothing hidden under a fashionable Betty Rides snow bib will keep this Southern California girl just warm enough. Just.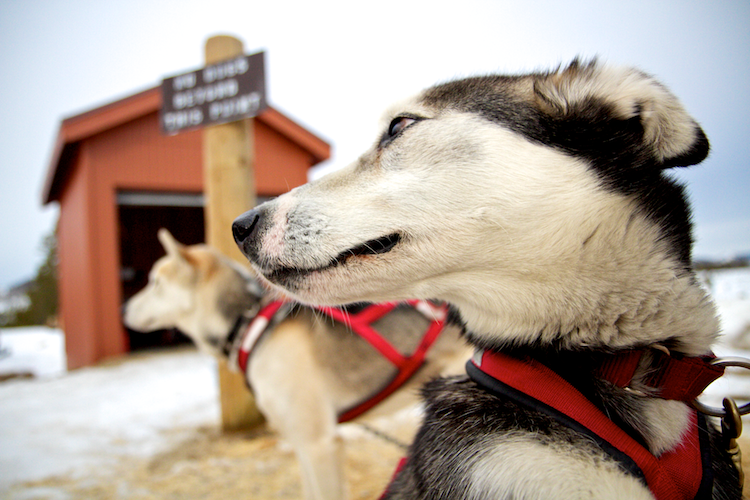 As I approach the lineup of Alaskan Huskies at Snow Mountain Ranch, I can almost feel their excitement. I notice that each dog has it's own unique look and markings. This is due to the fact that this particular breed of dog is bred for speed, not appearance. They wait patiently for the sign that it's time to go, many of them dozing off while sitting upright.
I take the opportunity to slowly approach and sneak a photograph or two, but am surprise ambushed with licks and various paw taps from several dogs, each gently demanding my attention. Being more of a cat person, I am caught off guard by how little I am disgusted by the slobber running down my cheek. I want to snuggle with all of them, but find a fast friend in Yukon, a young pup you'd never guess was deaf.
It's the first ride of the morning and as the dogs are led over to the sled, one by one, their excitement is plaintively obvious by the gleeful yelps, barks and jumps.
The relationship between humans and working dogs extends back nearly 4,000 years. In fact, researchers believe that much of life in Canada is credited to the help of sled dogs. When the Inuit migrated from Alaska to the northern Canada they brought with them the Canadian Eskimo dogs. The Inuit used these dogs for travel, hunting, and monitoring trap lines in the Arctic wilderness.
They traveled from place to place with the help of dog sleds. These early sleds were likely made of whale and caribou bones held together with frozen fish wrapped in animal hide and lashed with sinew. The runners were built with moss and mud.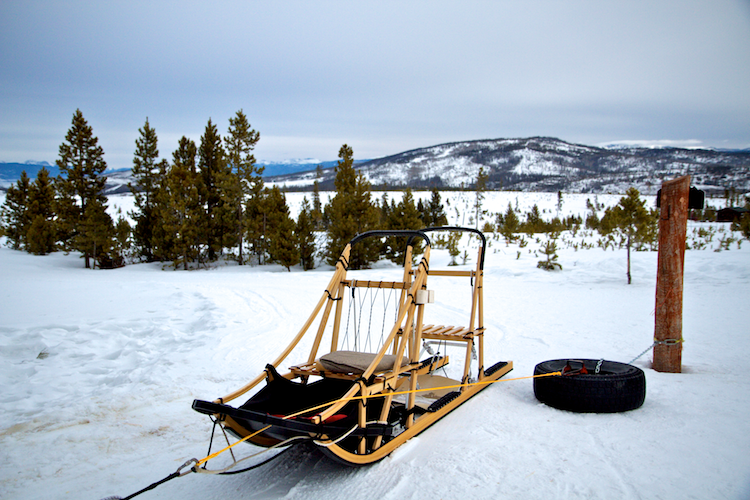 Modern day dog sled
It was a stark difference from sleek wooden designs we see today but that isn't where the differences stop. Instead of using the traditional Inuit Dog, we now see Samoyeds, Siberian Huskies and Alaskan Malamutes pulling sleds. Diets have changed from meat scraps to high performance kibble and even their jobs have changed. Some rural communities, especially in areas of Alaska and Canada and Greenland still use dog sleds for transportation and hunting. But the sled dog breeds are also for recreational purposes – dog sled races.
The first documented sled dog race was in 1850 from Winnipeg, Manitoba to St. Paul, Minnesota. The Disney movie "Iron Will" features the 1917 version of that remarkable race, which was won by Alberta Campbell, a Métis from Pas, Manitoba.
Fun Fact: The Iditarod Trail Sled Dog Race – one of the most popular and well known of races – commemorates an actual daring sled dog relay that took place in 1925 through the savage Alaskan wilderness to deliver life-saving medicine to the remote village of Nome. In addition to the race, you may recognize this story as the plot for Balto – a movie based on the lead sled dog covering the last section of the relay.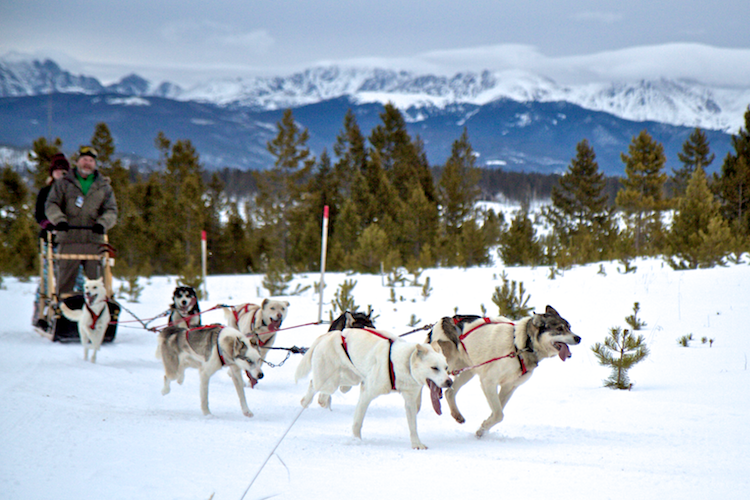 Assembling a dog sled team involves picking leader dogs, point dogs, swing dogs, and wheel dogs. The lead dog is crucial so mushers take particular care of these dogs. The powerful wheel dogs are used to pull the sled out from the snow. While point dogs (optional) are located behind the leader dogs with swing dogs located between the point and wheel dogs. Team dogs are all other dogs in between the wheel and swing dogs and are selected for their endurance, strength and speed as part of the team.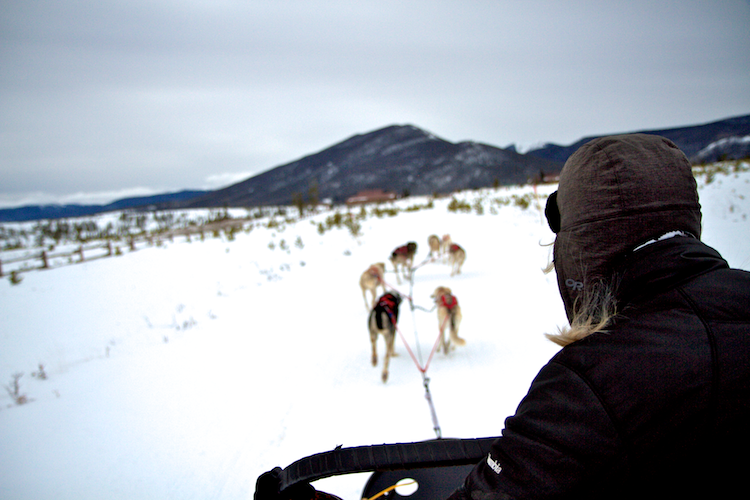 The dogs at Snow Mountain Rach recently just completed a 103 mile race in Minnesota, a grueling task that took about 24 hours to complete! While this morning's ride was much shorter, their excitement was nevertheless the same. The standard ride consists of a 2 mile trail that winds through open meadows with breathtaking views of the surrounding mountains and is suitable for all ages.
The next time you're in the Winter Park area of Colorado highly recommend this family friendly activity. It's an experience you and your children will never forget!
Thank you to YMCA of the Rockies and Colorado Tourism for providing this experience. All opinions remain my own.
Originally published on Surf And Sunshine.
Tons of family friendly outdoor activities any time of year!