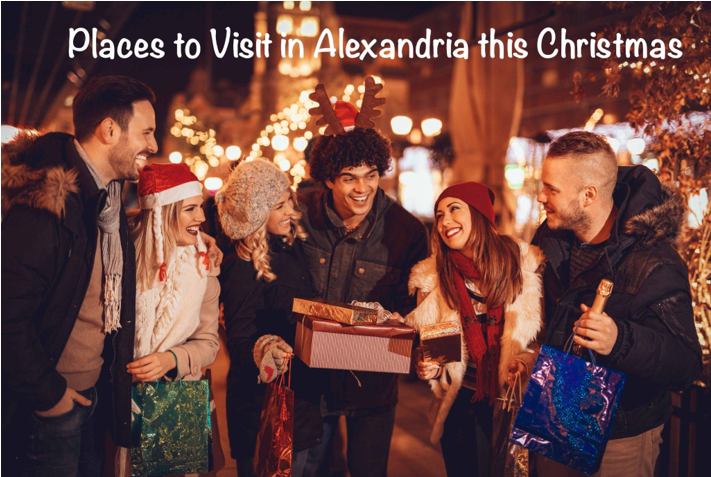 During the holiday season, there are plenty of places to visit and photo ideas to take home with you. Whether you want to go to the mall, to the local park, or even just to the library, you will find the perfect place to spend a winter day. Here are a few of our favorite spots for the holidays.
Alexandria, Virginia:
During Christmas, Alexandria, VA is a charming destination with a plethora of attractions and activities. The city's Old Town, the waterfront, and the Potomac River all look spectacular during the holiday season.
One of the most unique and photogenic spots in Alexandria is the Wilkes Street Tunnel. The old railroad tracks connect the city to warehouses along the river. It is a fascinating piece of history.
Another must see is the Torpedo Factory Art Center. This former munitions plant has three floors of galleries and studios for local and visiting artists. This is the largest collection of active artists' studios in the nation. It also has a special events calendar.
Other great sights include the Dora Kelley Nature Park, a 50-acre wildlife sanctuary with a one-mile paved nature trail. This nature park is home to a diverse flora and fauna, including wildflowers in the spring.
You'll probably want to check out the Holiday Weekend of Lights. This event features music, a parade, and plenty of other fun activities for all ages.
The best part about this holiday celebration is that it's all for a good cause. For every ticket sold, a donation will be made to the Alexandria Domestic Violence Programs' holiday party.
There are plenty of other Christmas and holiday activities in Alexandria, VA, too. There are also pop-up markets, Christmas shopping, and a holiday boat parade on the Potomac.
While you're in Alexandria, you'll also be able to sample a variety of specialty shops. These include gift shops, clothing, shoe stores, accessory stores, and home accessories. You'll find plenty of great gift items and materials at the Alexandria Craft Center.
Other fun holiday activities include the annual Holiday Boat Parade of Lights. The festivities kick off at 5:30pm, and there's entertainment on the water, as well as refreshments. The best part is that you can get there by foot, bike, or water taxi.
Alexandria's Historic District:
During the holidays Alexandria's Historic District becomes a magical place to visit. With a variety of special events and holiday shopping, the city is the perfect destination for a Christmas vacation.
Alexandria is a historic town in the Washington, D.C., vicinity. It is a small town with a tight-knit community and historic architecture. With styles dating back to the 17th century, Alexandria is a place to explore.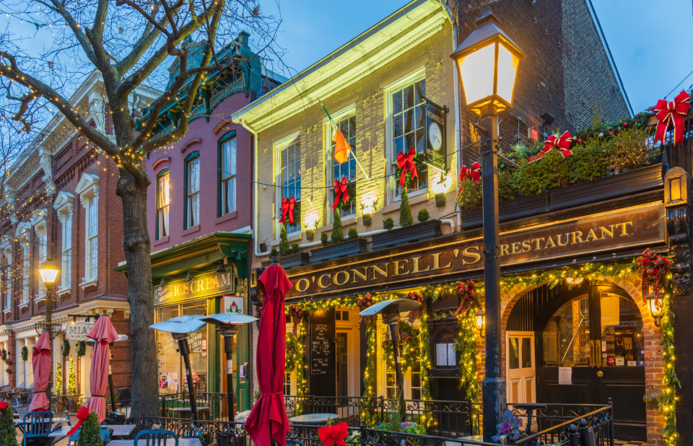 If you want to see Alexandria's architectural beauty, look for the 100 block of Prince Street. This long cobblestone street is lined with stately trees and homes built by sea captains. It is a popular backdrop for photographers.
Another photo opportunity is the Spite House, which is a two-story, 7-foot tall, and seven-foot wide historic home. It was originally built by John Hollensbury in 1830 as a "spite" house to keep horse-drawn wagons from encroaching on his alley. It is now one of the most popular photo spots in Alexandria.
For the best views of the Potomac River, santa water-skis, head to the waterfront in Old Town Alexandria. You can find ice cream, live music, and local vendors. There are also many outdoor artwork displays and murals.
You can also check out the Torpedo Factory Art Center, a former US Naval torpedo station that is now home to more than a dozen artists' studios. The building is also home to an art museum and a store that specializes in stylish home decor.
For shopping, you can visit Old Town Alexandria's King Street. This is a popular shopping district that features many national chains and a number of independent boutiques. Shops here include clothing and accessory stores, salons, and coffee shops.
Alexandria's Wall Street Christmas Tree:
Besides the Alexandria holiday boat parade of lights, the city also hosts a fair number of events and activities to keep the spirits of the holiday season high. One such event is the Scottish Christmas Walk. Taking place on the first weekend in December, this annual ritual features a slew of novelty items including a tree-lighting ceremony and a mini-music festival. Afterwards, a concert will be held at Market Square.
The town also boasts a surprisingly tight-knit community. This, along with its well-preserved Victorian architecture, makes it a great destination for anyone looking for a unique place to shop, dine, and dancin'. Thankfully, the festivities are back in full swing after a brief hiatus due to the COVID-19 pandemic.
The town boasts a number of holiday activities, including a tree lighting ceremony, a candy cane bar crawl, and a number of festive holiday markets. While you're there, be sure to check out the Torpedo Factory Art Center, a former munitions plant that houses a variety of creative businesses, including shops, studios, and an annual holiday art exhibit. The town's tinsel-tastic holiday season is the perfect time to visit the historic district, if you haven't already.
Despite its small size, the city is bursting with festive activities. It's a good idea to start early in order to take in the full effect of the holiday season. Fortunately, the town's numerous attractions are located close to each other, allowing for a convenient day of holiday shopping, merrymaking, and fun. The Old Town Shop has a full complement of holiday gifts for all occasions. The Red Barn Mercantile also sells a bevy of kitchen wares and home accessories.
Holiday Photos Polished up by Photo Editing Service:
Using a Christmas photo editing service can rekindle the spirit of yuletide cheer. It's a good time to get your holiday photos polished up before you send them off to Santa Claus. It's not too difficult to find a reputable company to do the heavy lifting.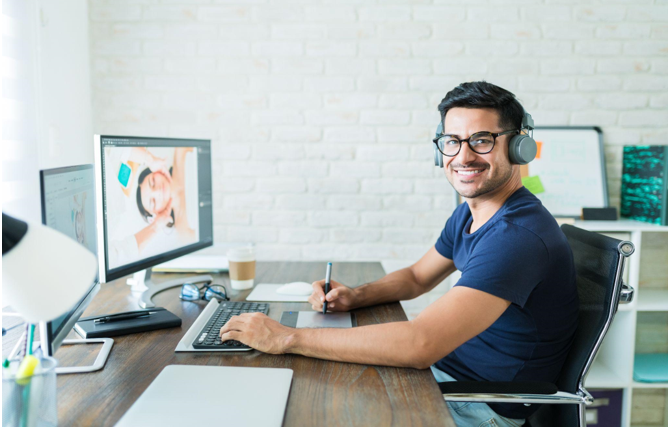 There are numerous benefits of having a professional photo editor handle your photos. One of the best benefits of a professional is that they can edit your photos in a flash. Another perks of hiring a professional is that they can add a plethora of Xmas themed props. They can also churn out some of the best photos you've ever seen. In addition, they can provide you with the right type of photography advice to ensure that your photos are of the highest quality.
The best part of all is that you'll know exactly what you're paying for. This is especially true if you're hiring a seasoned pro to do your photography for you. After all, you're in the business of making a living. You'll want to hire someone who has your best interests at heart. They'll make sure that you don't get ripped off by a novice.
The most important benefit of having a professional editing company do your photography for you is that you can be confident that your pictures will be of the highest quality. With the help of a professional, you can be confident that your Christmas photos will stand the test of time.
Alexandria's Holiday Parades
Whether you're looking for a place to take family photos or want to get out and enjoy Alexandria's holiday parades, you'll find a great variety of photo opportunities throughout the town. The City of Alexandria's tourism office has put together a list of the most Instagram-worthy spots around the area.
The Torpedo Factory Art Center will have live music and a gift-priced art gallery on hand, as well as 40+ artist vendors. Interactive demonstrations and food options will also be available at Oronoco Bay Park and Canal Center. Children's activities will be held at both locations.
The Scottish Christmas Walk Parade is a celebration of Alexandria's founding by Scottish merchants in 1749. This parade features over 120 community groups, including Scottish dancers, Scottish clans, terriers, and bagpiping Santa. It begins at 11 AM on S. St. Asaph and Wolfe streets and heads west to King Street. It will end in front of City Hall.
The Torpedo Factory Art Center has three floors of galleries and studios. There will be custom art exhibits and whiskey tasting stations. The event is free. During the holiday season, the center is open from 2 to 8 PM.
You can also visit the Boat House, a historic waterfront building that offers a warm cocoa bar, free s'mores, and holiday pictures. You can also find a variety of shops and restaurants along the waterfront.
Another option is the Holiday Weekend of Lights, which includes music, special holiday gifts, and more. It is a celebration of the holiday season, and is the largest festivity of the year in Old Town. The weekend also features a 5K run, which is on the Saturday.
Asheville, NC:
During the holiday season, Asheville has fun and festive events to enjoy. From Christmas tree decorating and light shows to music concerts, the city has plenty to keep the family happy. Asheville is known for its art deco architecture, vibrant culture, and unique shops and restaurants.
If you want to experience Asheville in a unique way, you should try the Jingle Bell Trolley. This seven-mile ride takes you through the French Broad River valley. It's operated by the Craggy Mountain Line Railroad.
Biltmore Estate is a popular destination during the holidays. The estate is a historic landmark and has numerous holiday events. Tours of the property include access to the gardens and viewing of the estate's beautiful Christmas trees. There's also free wine tasting at Antler Hill Winery.
Another option for families is the Lake Julian Park Festival of Lights. This family-friendly event features dazzling light displays and a variety of activities for kids.
The Asheville Santa Claus Festival is a fun holiday event. Visitors can take pictures with Santa, watch live music, and enjoy food and other kid-friendly activities.
There are also two great winter light shows in the Blue Ridge Mountains. The Winter Lights at the NC Arboretum offers a nature-themed animatronic children's program, stunning landscapes, and half a million LED lights. The show runs from 11/18 through 12/31. A suggested entry donation of $5 is required to benefit Homeward Bound.
The Asheville Santa Claus Festival has kid-friendly activities and includes a photo with Santa on his sleigh. If you're looking for a different way to celebrate the holiday season, you might want to try the Asheville Christmas Parade. This festive parade, held in downtown Asheville, is one of the most popular in the state.