'Tis the season to celebrate and enjoy the Christmas cheer! Christmas happens to be my favorite time of the year. In India, Christmas may not be one of the most exuberantly celebrated festivals, as opposed to our Hindu festivals. However, certain parts of India, such as Goa, Kolkata, and the North East, with great Christian populations, celebrate Christmas in full swing. You may be surprised that even Mumbai has some fun surprises up its sleeve during the holiday season. Here are a few things Mumbai presents to you this year during the month of December that would be worth checking out!
Midnight Masses
This city has a dynamic Catholic community, scattered in parts all across. Thus, many of the churches light up for midnight mass on Christmas Eve, and are most definitely worth visiting.
The Mount Mary Fair is celebrated during the winter season in Bandra every year, in reference to the Mount Mary's Basilica Church. This holds the most popular midnight mass in all of Mumbai. Overlooking the Bandra Bandstand, this church initiates the Christmas carols, ringing loud and clear for all to hear. Another church, holding yet another popular midnight mass in Bandra, happens to be the ever so beautiful Saint Peter's Church. Built in the captivating Romanesque style, the services burst alive with carols from 10:00pm.
Mount Mary's Basilica Church (photo credits: WCities from flickr.com)
Also known as the Afghan Church, the John's Church, located in Colaba, was built in commemoration of the Afghan soldiers who lost their lives in the First Afghan War from 1835-43. Having some of the most astounding acoustics in Mumbai, this church comes alive each Christmas eve. The Wild Voices Choir begins the singing festivities from 10:30pm onwards.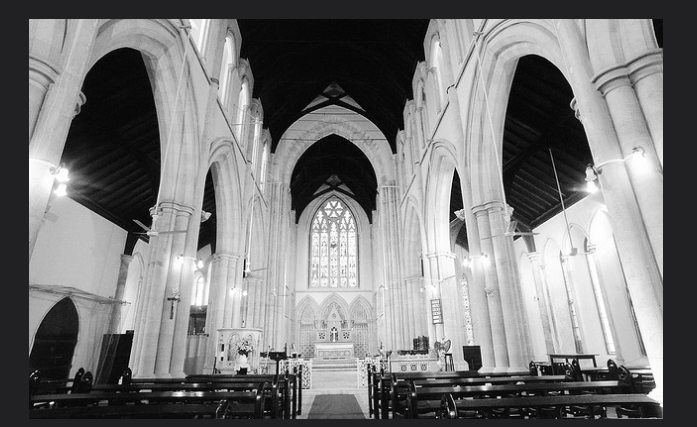 Afghan Church (photo credits: firoze shaker photography from flickr.com)
Reveled for its spectacular Gothic styles, the Gloria Church, based in Byculla, dates all the way back to 1572. The entire construction of this church only ended by 1913. Known for its artistic stained glass, and the tall towers which loom over, this church extends its midnight mass from 11:30pm onwards.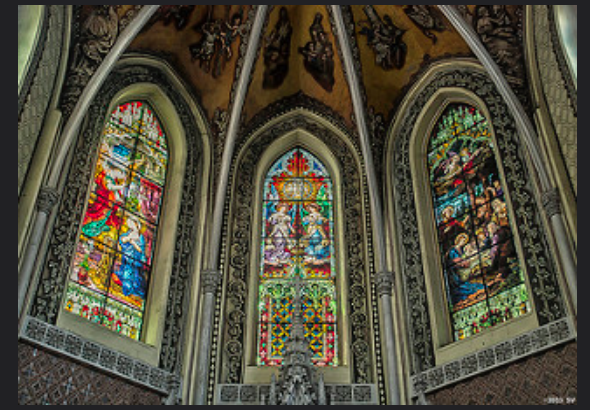 Interior of Gloria Church (photo credits: Srinivasan Venkatesan from flickr.com)
Food and Drink!
Aside from attending midnight masses and celebrating the religious aspect of this holiday season, Mumbai stores some great eating opportunities as well! There are parties and feasts happening at almost any other five star hotel, pub, or eating joint during the weekends, close to Christmas time. Places like bluFrog, 3 Wise Monkeys, and even the Palladium Hotel, host Christmas lunches this year at a substantial cost. Here's a link for reference: http://www.mapsofindia.com/events/christmas/mumbai/
However, one of the cool eating fests I'm hoping to definitely check out (considering my sweet tooth) is the Bandra Christmas Dessert Crawl (https://www.facebook.com/events/1056756791035895/) on Dec. 20, 2015.
The scrumptious journey begins at the glorious 'Out of the Blue' on Carter's Road to down all your desserts. The walk then leads to other five other outlets featuring Christmas delights, like mud cakes, steaming hot chocolate, gingerbread cookies, and yummy cupcakes. The walk will finally end at the Hive, a creative platform featuring great works of art from music, theatre, comedy, and of course more food! Talk about a wholesome Christmas experience!
These crawls are everywhere for the youth of Mumbai. Another crawl worth checking out might be the Christmas Day Drinking Pub Crawl (https://www.facebook.com/events/454304411421349/) on Dec. 27, 2015. Providing special Christmas cocktails at three locations: Tilt, PDT, and Hard Rock Café, beginning from 2-4pm. Aside from the drinks, there happens to be great live music, and a whole bunch of Christmas goodies. Christmas can't get better than this in Mumbai.
Shopping!
The shopping lanes of Bandra also are sprinkled with the holiday cheer as well. There will be lights, Christmas decorations, and Santa hats available for sale throughout. The Crawford Market and markets near the Dadar station house some great Christmas items to get your family in the festive mood.
There you have it! Mumbai is a fantastic place to enjoy the Christmas season, whether it comes to visiting churches, snacking on some yummy delectables, getting a little buzzed in the afternoon, or enjoying the shopping festivities. Make sure to get in on all the holiday action at one of the most exciting cities!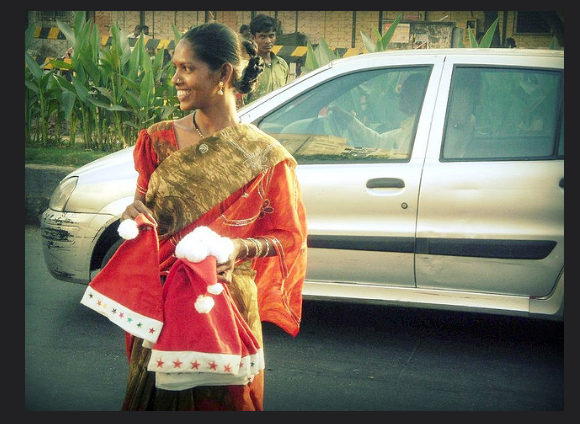 Photo credits: Arpana/Rajal from flickr.com