Rajasthan, a vibrant colourful state, is rich with traditional Indian culture and heritage. It has also significantly impacted the crafting of Indian history. The history that speaks out for itself through centuries-old architectures. Visit Rajasthan to witness the best of forts, lakes and fairs or just for a simple countryside retreat. Dev Shree luxury hotel located in Deogarh, also known as Devgarh, is just perfect for a weekend getaway for anyone in Rajasthan or nearby. Located on a height of 2100ft above the sea level, Deogarh has a pleasant weather when compared to other destinations in Rajasthan. Dev Shree in Deogarh is well connected and can easily be reached via road, rail or by air. A visit to this luxury stay is like an escape to a peaceful world, where you will get to live like a royal and feel like one too.
Ideal for
Travellers looking for a break from their monotonous work life or a laid-back vacation will enjoy their visit to Dev Shree in Deogarh. The place offers yoga classes, bird watching excursions, walks by the lake and other interesting activities to make your day productive as well as pleasurable. Take a sip at the local tea shop and indulge yourself in some interesting conversation with the natives. There is more to Dev Shree than just luxury, the Haveli is a gateway for visitors to Deogarh and its culture.
About Property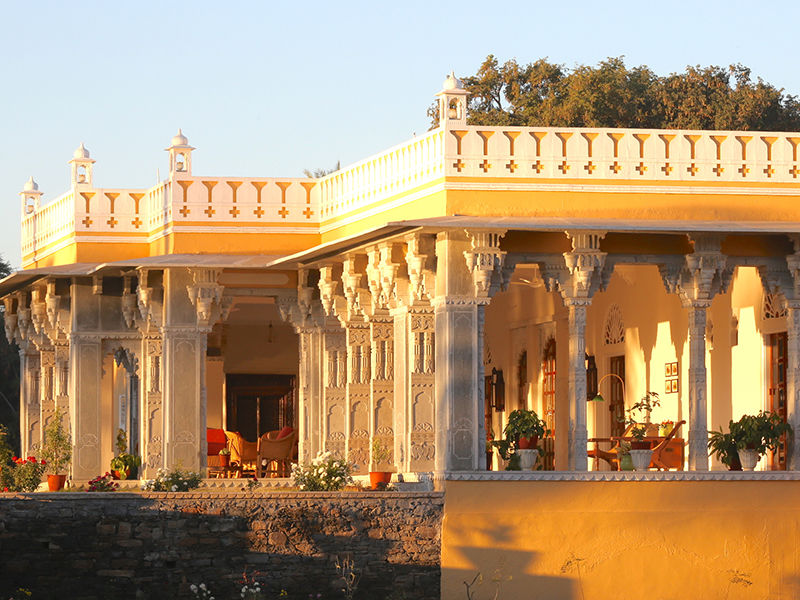 Located on a hill, along with the lines of Ragho Sagar Lake, Dev Shree in Deogarh has the perfect sunrise point in the town. With an aim of providing help to the villagers, the owners of the property built Dev Shree and opened its gate to guests in 2015. The family resides in the Haveli itself. A paradise for bird watchers, the lake on the edge of property attracts various species of birds during the winter season.
Designed in a traditional style, the Haveli represents the traditional architecture with airy, high-ceilinged rooms and big common space. To build this masterpiece, the designers of the place have taken inspiration from Colonial, Rajput and Mughal architectures. The interiors have a perfect balance of modern and traditional. With functional furnishings and contemporary amenities, the place provides a comfortable stay to all its guests. There are seven rooms of about the same size; out of which only five are available to visitors. All the rooms open out to the common courtyard which again opens up to the vast lawn, where guests can come, enjoy nature and relax.
Food
Most of the vegetables and grains are grown in the personal kitchen garden. With an aim to make your stay as authentic as possible, cooks at Dev Shree avoid restaurant menu and offer some typical Indian dishes that are common to be found in Indian households. While breakfast and lunch could be ordered to you rooms or any of your favourite corners in the Haveli, dinner is only served at the dining hall. The menu can also be customised as per preferences and wants.
Best time to visit
The winter months from October to February are considered as the best time to visit Deogarh. This is because the days are pleasant during winters which makes your stay comfortable and also makes sightseeing easier.
What to do here and around the property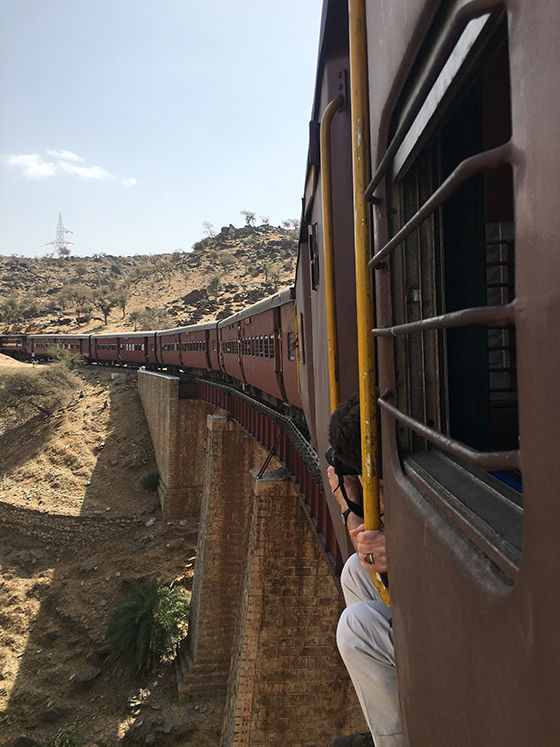 Dev Shree offers a variety of activities to all its guests. Guests can go on drives or walks with guides and explore the local villages, the markets and the lake; Guests can also hop on the local trains that will take you across the Aravalli range and covers about a distance of 28km; Visit the 17th century Deogarh Mahal, a popular tourist site in the area; Take out some time to visit the Dashavatar temple which own its lineage to the Gupta Dynasty; Go for a 8km long trek to Sand Mata temple and enjoy your day out in the woods.
Getting there
The nearest city from Deogarh is Udaipur which is at distance of 135km.
By air: The nearest airport is in Udaipur which is 135km from the town.
By road: Regular buses to Deogarh run from all main points like Chittaurgarh, Udaipur, Jaipur and Jodhpur.
By train: Devghar Madriya is the railway station of Deogarh that lies in between two main junctions of Marwar and Udaipur.
Know of a hotel, homestay or resort that made you fall in love with the destination? Write about it on Tripoto and help the traveller community discover something new. Also, subscribe to our YouTube channel for more travel escape ideas.