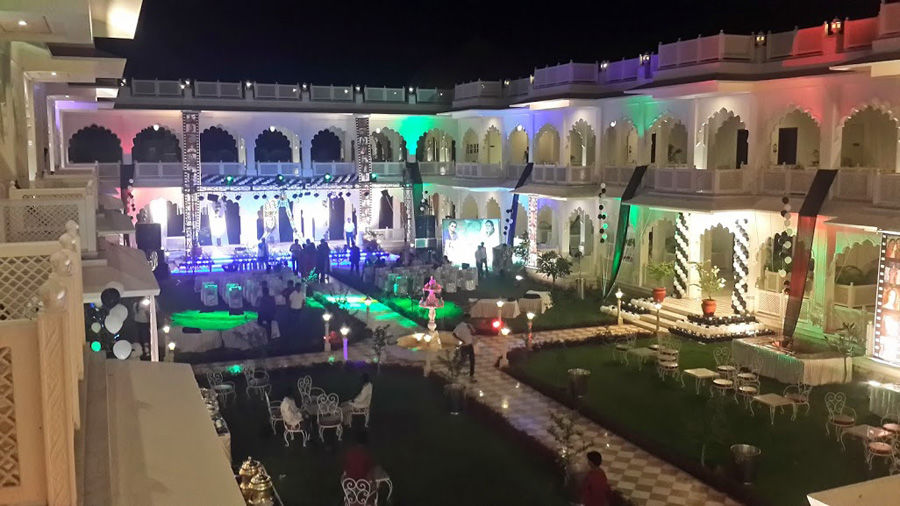 Rajasthan's deserts are sands of time that take one back to the regal era when the royals reigned the state. If you're a traveller who seeks a break from your mundane life by escaping into the rich past, then Anuraga, a Treehouse Palace Hotel in Ranthambore is the ideal destination for you. A heritage property converted into a five-star hotel, Anuraga beautifully fuses ancient and modern luxuries. A stay at Anuraga Palace is a one-way ticket into experiencing the blue-blooded life. For the duration of your stay at Anuraga, you will become a part of the resort's royalty!
Made For:
Anuraga Palace is a must visit for those who love the royal Rajasthan feel- jharokis, rich decor, palatial rooms and sprawling royal gardens.
About The Property:
The Anuraga Palace was established in 1987 by one of the most significant families of Sawai Madhopur. After the conception of the famous Treehouse Hotels in 2012, Anuraga palace was restored and given a classy face-lift. Since then, it has been reigning the charts of best luxury resorts, not just in Ranthambore, but in all of Rajasthan. The resort has been designed according to the typical architectural style of a Rajasthani haveli that echoes of tradition, history and culture.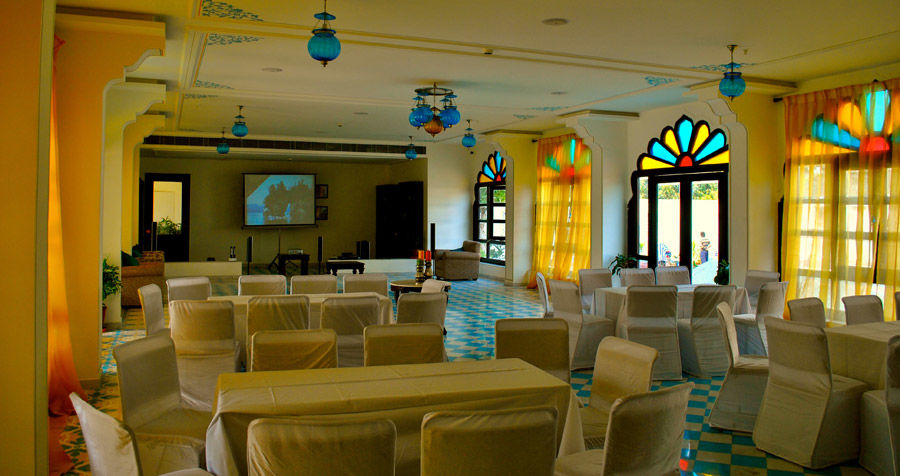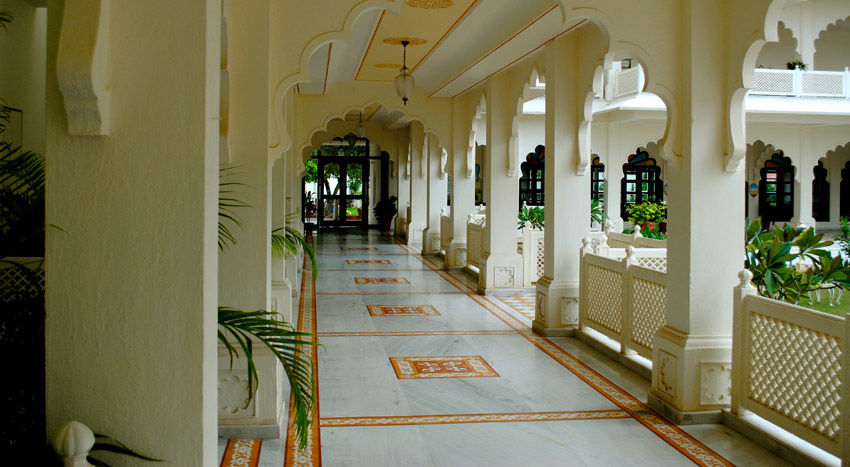 As you walk around the resort, be prepared to make constant stops in lobbies to appreciate the unique floral patterns that adorn each room. The resort is also decorated with tribal art motifs, and influences from the ancient Meena community of Rajasthan. It is a luxury cocoon in which you will be comfortably tucked, at the same time, be able to experience Rajasthan in all its glory. Here, you will also be spoiled with various choices of rooms that are a class apart from what you may have ever seen. You can choose from Deluxe Rooms, Premier Rooms and Thematic Suits that are perfect for a vacation, business conferences and even the wedding of your dreams! So drop everything and visit this paradise on earth.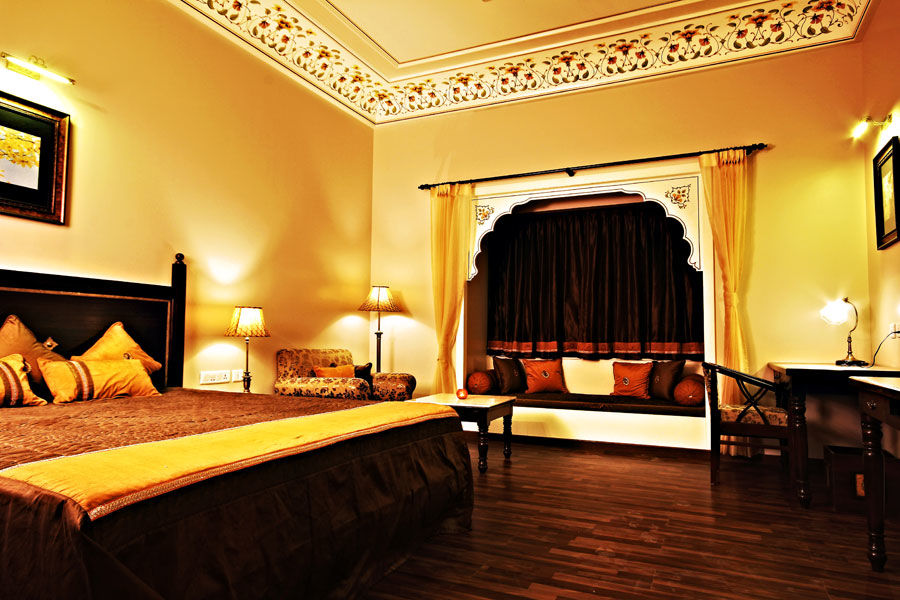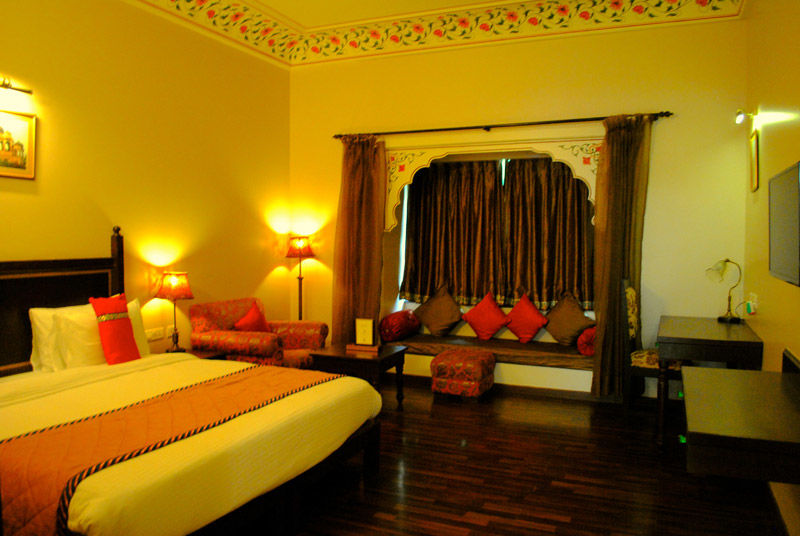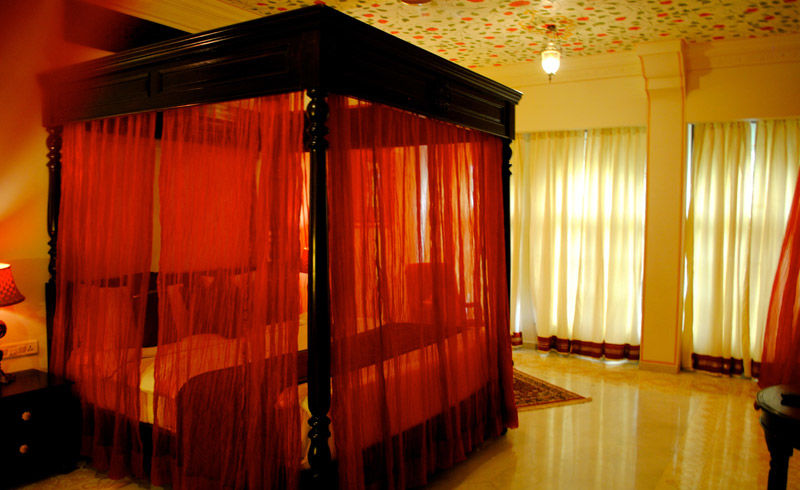 Cost:
A stay at Anuraga Palace will cost you anywhere between INR 4,000 - INR 17,000 (exclusive of tax and inclusive breakfast). However, keep a look out for the rates during off season, (July-September) and special offers where you can spend comparatively less on your stay.
Food:
The food at Anuraga Palace is its greatest pride and has emerged to be its USP. The food is made with fresh and organic produce that is grown at the palace's own organic farm known as Shabri Farm and Dairy, an enterprise which was started by Jaskaur Meena and her husband Shri Srilal Meena, almost a decade ago. The farm is spread across 20 acres of land where you can see the new and eco-friendly techniques of agriculture. So, don't just consume your food at Anuraga, but see it grow in a pure and unadulterated environment.
Best Time to Visit:
The Palace runs in full flourish all around the year, however, the best time would be to go during October-March when the Ranthambore National Park, the main attraction of the town, is open for you to visit.
How to Get Here:
The best way to reach Anuraga Palace is by taking a train to Ranthambore as the resort is only a 10 minute drive from the station. The train is mostly connected to Jaipur and Delhi, cities you can easily fly down to in case you live far away.
What To Do Around the Property:
The most major attraction near Anuraga is the Ranthambore National Park,a major tiger reserve of India. If you're at Anuraga between October-June, Ranthambore National Park is a must visit! It will convert your luxury vacation into a wildlife vacation, giving you a peak into yet another type of royals - the tigers. As stated before, the Shabri Farm and Dairy is another place that you can visit to refresh yourself. The resort conducts special guided tours to the farm where you can spend the day amidst greenery. If you're living in a metropolitan and need ways to get closer to nature, Shabri is the way to go. Apart from this, there are various experiences that the resort offers -yoga & meditation sessions, talks by naturalists, black-pottery lessons. Chambal Safari, visit to the Ranthambore Fort and star gazing at Shabri Farm that you can attend!
So, I say, head to Anuraga Palace, for a one-stop experience of luxury and royalty like never before!
Know of more such amazing properties around India? Share your story with us HERE!