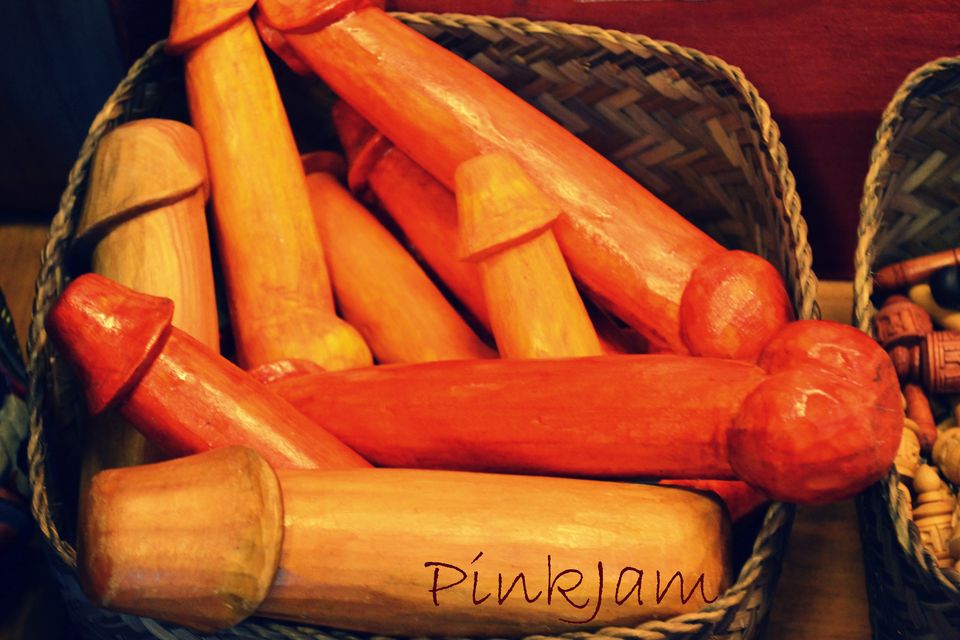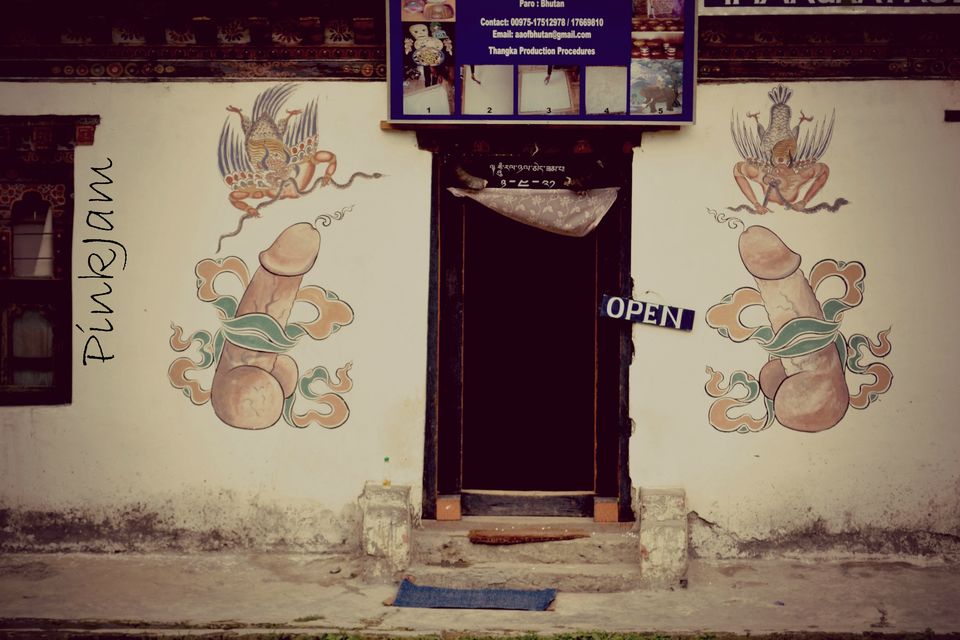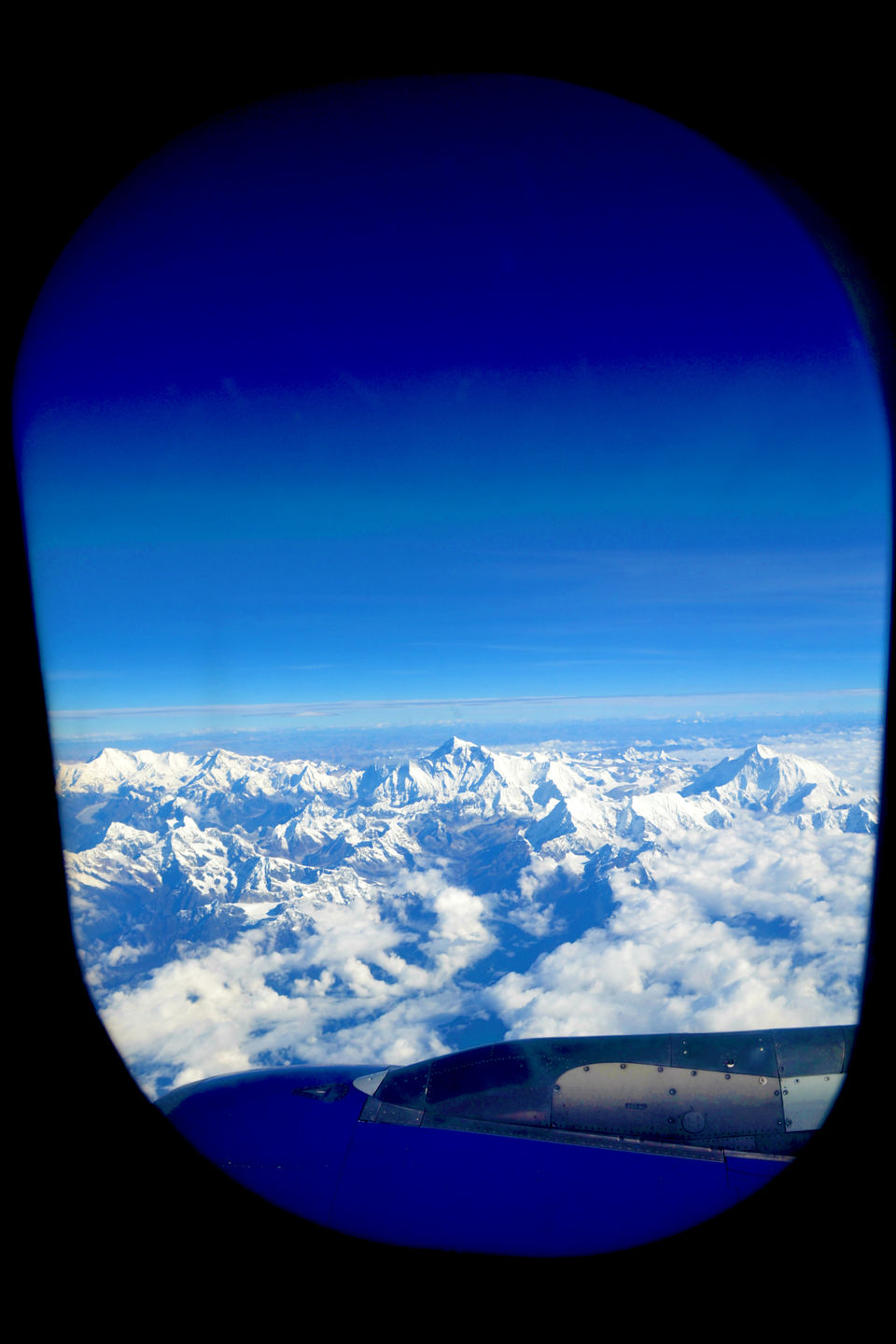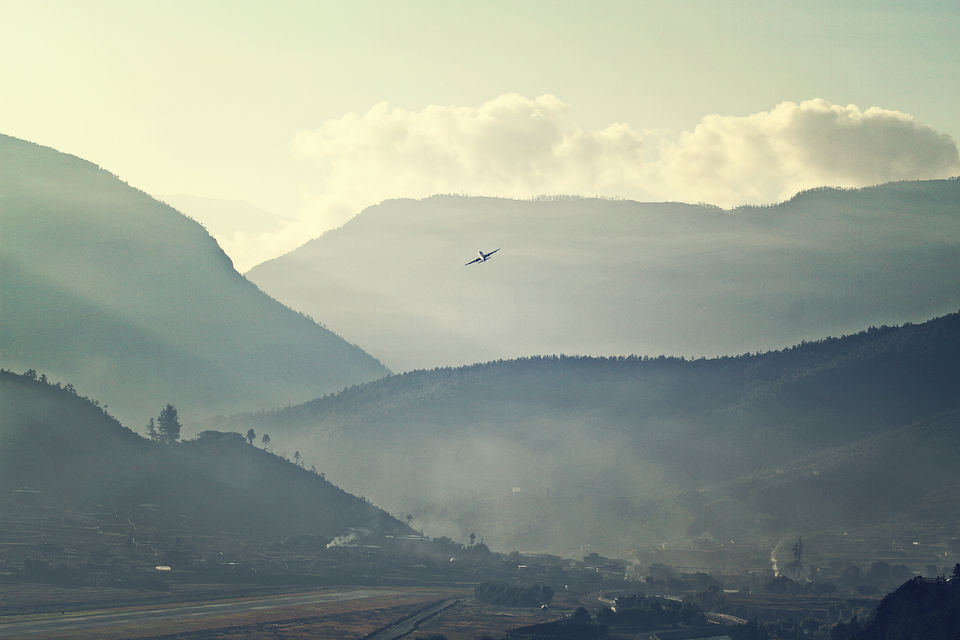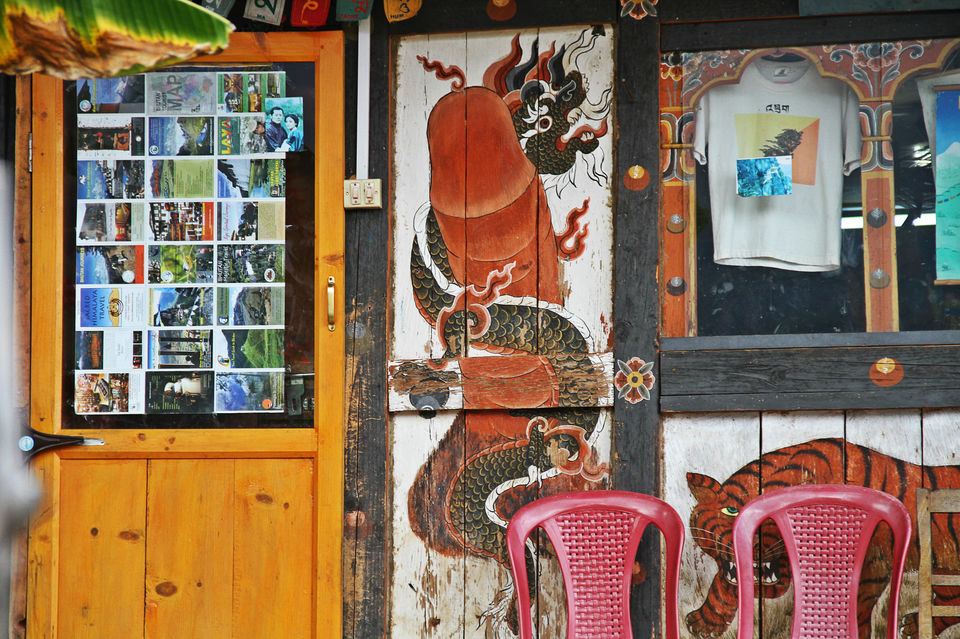 The first stamp in my passport was to the happiest place in the world- Bhutan!! And it is the happiest place, not because I say so but also because it is the only country in the world which is measured by GNH- Gross National Happiness rather than GDP. Like Alice in wonderland, here I was in my happy-land, wandering about the beautiful streets of Paro, with white imposing Dzong in the horizon, the sound of the flowing river, colourful prayer flags fluttering in the wind and warm smiles of the Bhutanese that simply charms your heart!
Amidst the cultural and religious surroundings, suddenly something stood out. Wait a minute..is that a...WTH! Ok..ummm...let me re-phrase; only one thing was "standing" out and that was the most ubiquitous lucky charm in the Bhutanese culture, an image of ......wait for it.....an ERECT PHALLUS!! Yes....you read that right! Images of these holy phalluses can be seen painted on the walls of the Bhutanese homes in the countryside or wooden ones, just hanging in front of shops and homes.

According to Bhutanese folklore, an erratic Buddhist monk would ward away demons by hitting them on their head with his "tool"! Since then it is believed that it keeps away evil. Fascinated and amused by this piece of Bhutanese culture, I wondered, maybe that is why this is known to be the happiest place in the world!
Soon it was time for me to go back from this fascinating country and head home.
My flight was from Paro, Bhutan to Delhi in India. I had heard from many that Paro airport is, if not the most, one of the scariest airports in the world. One night before my flight I met a gentleman at a party, who when heard that I was going to fly Druk airlines (Bhutan's only Airline) said, "If you google Druk airlines, you might get keywords like DruNk airlines, ha ha!(*evil laugh)". So funny .....NOT!
At this point, I was a bit scared! That night I did google it and this is what it showed,
"Taking off or landing at Paro Airport can feel like a flight simulation video game where players must dodge natural hazards in their way."
"When ascending or descending, aircraft has to avoid hitting the jagged Himalayan Mountains through a complicated series of dips and turns"
"Tucked into a tightly cropped valley and surrounded by 4900-metre-high Himalayan peaks, Bhutan's only airport is forbidding to fly into." etc...etc..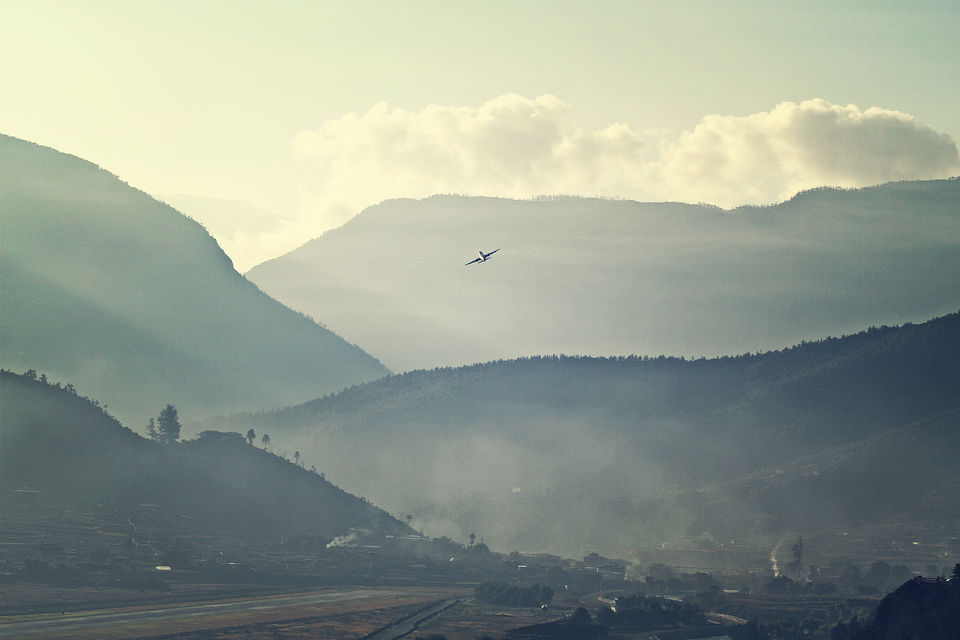 Druk airplane taking off from Paro airpstrip and dodging the hills surrounding it...
*Gulp..I was going to need paper bags, loads of them!
Generally, I am not jittery about flying but today I had mentally freaked myself out about the "scary" flight! With no option but to go ahead, I seated myself in the nearly empty aircraft. Scary or not, I have to admit, this airport nested at the lap of magnificent mountains was one of the most beautiful airports I have ever seen. Strapped in and ready, the take off made me break into heavy sweat, as we took some really tight turns around the mountains. But a few minutes in the air, I realized, it is not all that scary, just over-rated!
45 minutes into the flight, all seemed peaceful as I smiled and thanked all my Gods (at times like these I am pretty religious!). Just then the Captain made an announcement, "Ladies and gentlemen, in another 5 minutes, we will be flying past the World's highest peak, Mount Everest!!"
WHhhaaaattttt...Are you kidding me????....Seriously?
As I sat for the next 5 minutes, pressing my nose against the aircraft window loomed into view, the Himalayan range with its snow capped peaks.
There are so many peaks that, at first you wouldn't know which one was 'IT', but soon comes into view the WORLD's TALLEST NATURAL ERECTION, the magnificent Mt. Everest.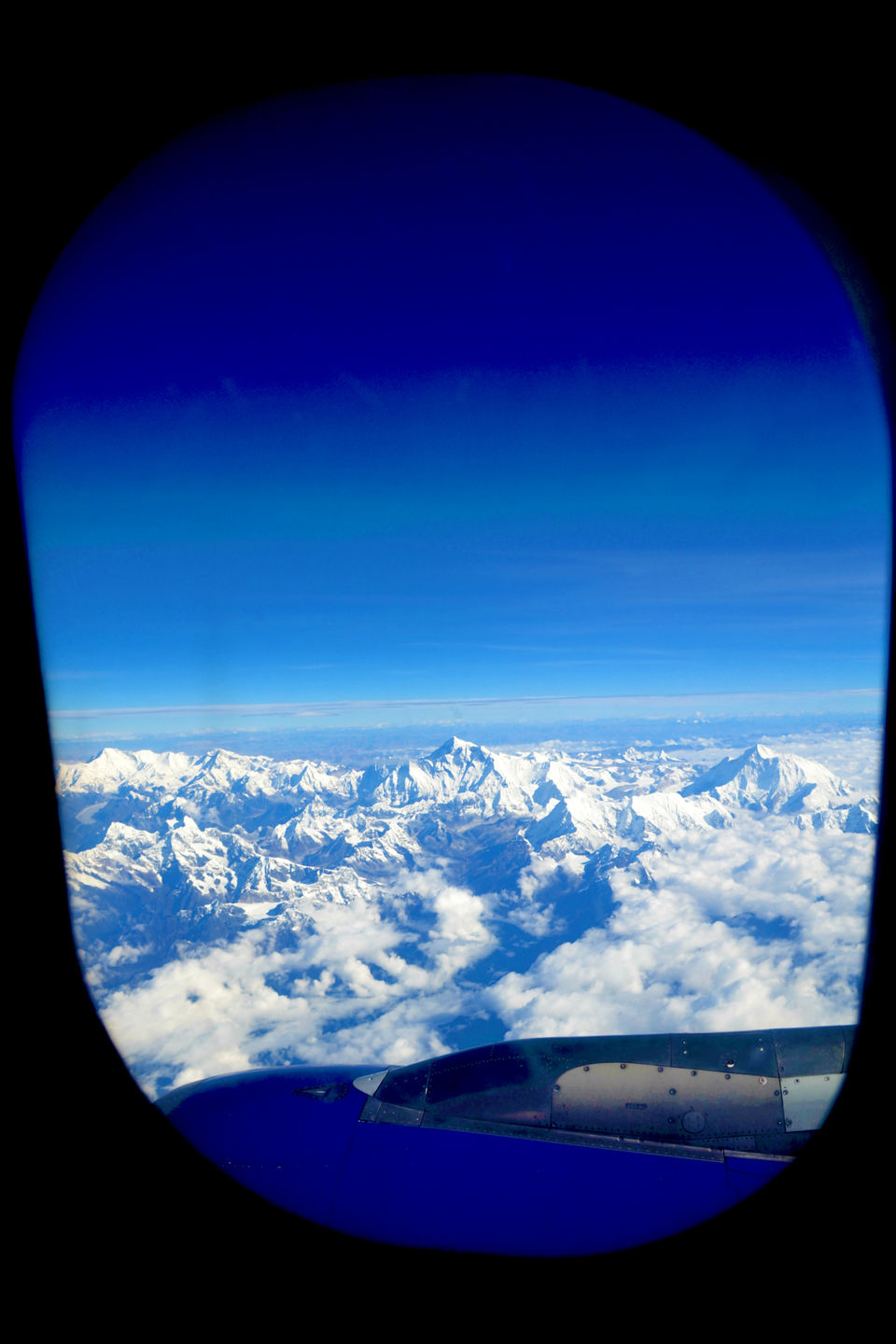 Now I was absolutely HAPPY! :D :D :D