Bhutan is situated at the eastern end of the Himalayas and surrounded by two countries China and India .One can see the classic amalgamation of three cultures in Bhutan. I decided to explore this country this summer and my journey stared from Mumbai to Kolkata to my final destination Bhutan.
As I stepped out of the plane at Paro international airport I could feel the imperturbable fresh air. A small, beautiful and traditionally designed airport was welcoming me to the Land of Thunder Dragon. Everything was quiet, with no hustle bustle like any other international airport where the only thing that could disturb this tranquility of the place was sound of my breathing.
What a hidden beauty!! And why I was not here earlier?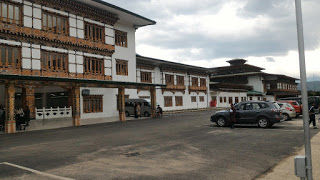 Welcoming, beautifully crafted and peaceful Bhutan Airport
While hopping in my Coaster I was looking forward to know more about this hidden secret. My beautiful resort was situated in Thimphu so I had to travel around 1 ½ hr to reach the place which was situated on archedbank of the Wangchu river also known as Thimpu River. Calmness in atmosphere, smiling faces and drizzling weather were giving me positivenessand slowly I started to realise why this country is known as happiest country in the world.
Next day was more beautiful and I woke up to the soothing sound of river flowing right next to my cottage. After breakfast I decided to explore this beautiful city, no traffic signals, no mall or skyscrapers, some mandatory infrastructure regulations to keep Bhutanese tradition alive were some surprising facts about this capital. Next was the world's largest book, "Bhutan: A Visual Odyssey across the Last Himalayan Kingdom," by Michael Hawley in national Library of Bhutan. This book is five feet by seven feet in size and weighs more than a hundred and thirty pounds and most important attraction of this library.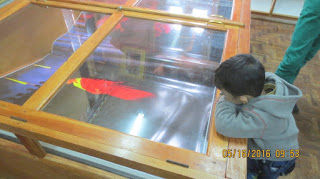 Next stop was Thimphu Chorten, which is situated middle of the city and that was the only area where I noticed many people together throughout my Bhutan Trip. This is basically a stupa built in 1974 to honor the third Druk Gyalpo, Jigme Dorji Wangchuck (1928-1972). This place is very famous among locals and special prayers are offered by circumambulated only in a clockwise direction by devotees.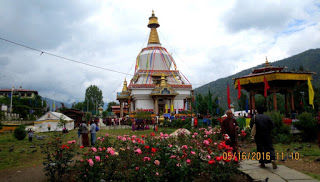 From here I proceeded to Buddha Point and on the way got beautiful glimpse of Thimphu city.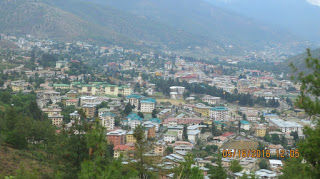 The Buddha Dordenma is located on a hill in Kuenselphodrang Nature Park and overlooks the Southern entrance to Thimphu Valley . The Buddha statue named as Shakyamuni is 51.5 meters tall and known as one of the largest statues of Buddha in the world . Chilling Winds and beautiful architectures make this place one of the most visited place in Thimpu.
Now it was time to savour on some Bhutanese cusines, which I found in a nearby local market known as Clock Tower. Cheese and Chillies are major ingredients of Bhutanese cusines.
At the end of day one I had only one word in my mind "Splendid" and was sure that some more surprises were in store for me in coming days. And I was not wrong at all where the next day I reached to a place very high in the mountains called Drochula Pass a good 1 ½ hour bumpy journey from Thimphu. This placed offered a stunning 360 degree panoramic view of Himalayan Mountains. When we got down from the car I thought I had become part of thrilling movie with all the dense fog, clouds and chilling atmospethere that were making it difficult to see more than 10 feet. Woohaa..............I was literally on cloud 9. Though I could not see Himalaya's but overall it was a magical experience. Taking a quick coffee break at a small resto in the mountains I moved to comparatively warmer place known as Punakha.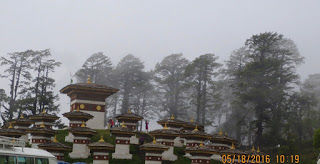 Punakha was the capital of Bhutan until the 1960's and looking at Dzong situated here proves it's importance in history of Bhutan. Its warmer atmosphere makes it suitable for rice crops.
One of the most popular tourist attraction here is Chimi Lhakhang Temple or popularly known as Fertility temple which is located 10 kilometers before Punakha. The approach road for this temple was very adventurous which passes through paddy fields. This temple is very popular among locals specifically for childless couples.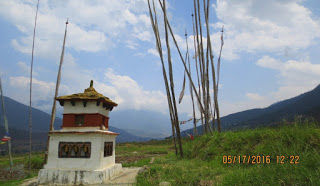 Next was Punakha Dzong, the most beautiful Dzong in Bhutan which is located at the convergence of two rivers known as the Pho Chhu (father) and Mo Chhu (mother). While reaching this place, time seemed to stand still and i felt as if i was traveling in history. A big beautiful gate was waiting for me to explore this history of Bhutan, a river was flowing calmly and a wooden bridge was making it possible to reach to the Dzong. At each and every corner I could see a riot of colours which Mother Nature was offering.
At end of this day I could only appreciate the hospitability and efforts of Bhutanese people to kept their culture so alive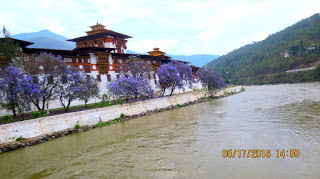 My next destination was Paro, one more popular city of Bhutan. National museum and Rinpung Dzong are some of the famous tourist attraction of Paro. sacred site. It is located in the Cliffside of the upper Most popular tourist attraction in paro is Paro Taktsang also known as Tiger's Nest and considered as one of the most prominent valley. Trek to this place tested my physical and mental stamina where after an arduluous trek and I reached on the top I felt like connected to supreme power. Dense forest , fresh air and splendid view dissipated my tiredness within in a few minutes.
Finally it was the last day of my journey in the happiest country in world. Ever smiling faces, smell of fresh lemon grass, cool pure breeze and rich culture made my journey unforgettable. Now I can understand why this small hidden gem is famous as happiest country in world.
How to Reach : Druk Air, operates regular flights to / from Paro to Delhi (India), Kolkatta (India), Gaya (India), Kathmandu (Nepal), Bangkok (Thailand) and Dhaka (Bangladesh), You can also reach here by road from India
Where to stay : Various Hotels and resorts are available tourist can choose according to their budget.
Currency: Bhutanese Ngultrum / Indian Rupees. 
Indian Rupees is the preferred currency
Where to Shop : Bhutanese Craft Bazar, Thimphu
..