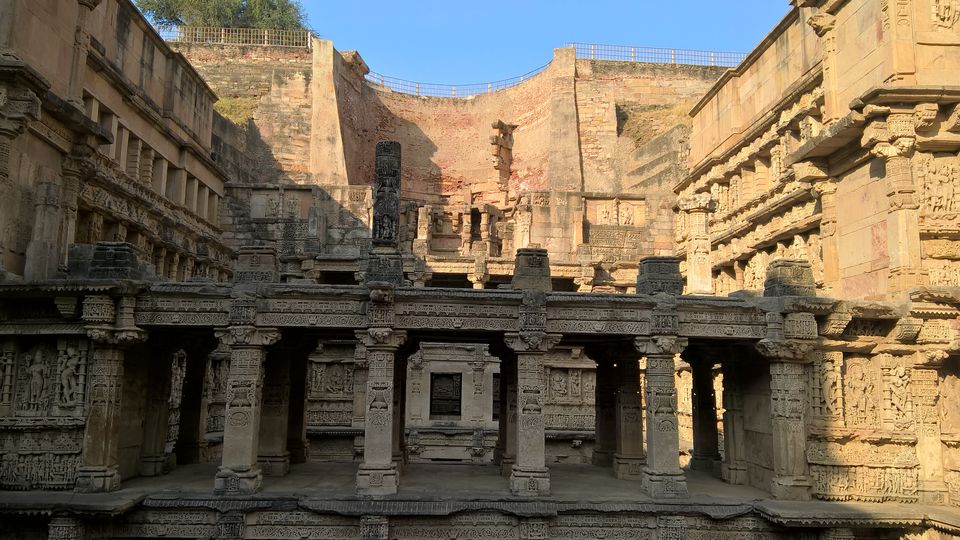 Getting approved leaves is such a tough task in a working environment.
So to avoid all the Q&A rounds with our managers, I found a way to travel without applying for leaves.
Recently, I have learnt to utilize the two days work off that I get towards pursuing what I truly, deeply and madly enjoy - Traveling & Exploring.
Select a destination near to you. As I am from Mumbai, traveling to Karnataka, Goa, Gujarat & Madhya Pradesh is easy and affordable. Or select a destination within Maharashtra. This way I travel every month and I have completed major destinations in and around Maharashtra.
I am going to share a similar short trip experience with you fellow travelers in this piece.
It is simple. Even simpler when you do it on a bike (with appropriate safety gears).
Keeping your trip short is the key. The whole focus is always on maximum exploration and multiple touch points.
I chalk out my itinerary in a manner that I explore one spot till I am content. Or two to three spots nearby each other which can be done quickly.
This trip is some what like the second one.
So for some time, I wanted to visit various VAVs in our country. In fact, the first VAV I came across, was in Delhi - Agrasen ki Baoli. The second being "Chand Baori" in Jaipur. I was surprised and thrilled by the artwork presented in these VAVs. These two trips sparked the fascination for VAVs in me.
VAVs are step wells that were designed to preserve water in the region. It also become a sign of celebration for people of those times. Hence, you see them designed artistically and elegantly. With each and every & even the minuscule artwork shouting out the one of its kind talent of our ancestors.
So one day I logged in to my PC, searching for step wells in India. I came across lots, most of them were found to be in the Indian state of Gujarat and Rajasthan.
On Google Maps, I went in the North direction from Mumbai. I saw several VAVs in and near to Ahmedabad.
At first I thought to cover some of them in Ahmedabad. But, randomly I clicked on Patan - Rani ni Vav. It took me to the picture gallery section. I kept on surfing for some time and I came across a note. I guess, it was Rs.100 or Rs.200 note.
It had a picture of "Rani ni Vav" and it was put on the note due to its recognition and induction in the list of UNESCO World Heritage Sites.
There I made up my mind that I need to explore this place in the coming week end. Along with it I also searched for similar spots and I learnt about Modhera - Surya Mandir (Sun Temple). Both of them looked fine. Plus, they were in proximity - The advantage for me.
I quickly open the IRCTC app to check for available trains to Ahmedabad or Mehsana / Unjha.
I know Gujarat, roads and transportation is something I can vouch for.
However, it was disappointing that I could not find a seat available in the Sleeper section in any of the trains passing through these areas.
But, it did not let my enthusiasm slide down. I thought of booking the ticket under "TATKAL" one day before the journey. Or else I was ready to travel in the "General" section.
Generally, my work offs fall on the week end. I packed my bags and took it to the office on Friday. Left towards the railway station on Friday evening directly after completing my 9 hour shift. I think, I caught the "Aravalli Express" from Bandra Terminus and found a tiny spot to stand near the washroom.
To my Luck, the Loo was clean and Tidy.
On Saturday morning, I reached "Unjha" station. While getting out of the railway station, I spoke to an uncle. He helped me with the direction for the share auto rickshaw stand.
For mere Rs.20, the rick dropped me at the market in Patan.
At the sides, there were stalls preparing snacks and tea. Couldn't resist and I was hungry. So bought the Gol Bhajiya and Tea, it was refreshing.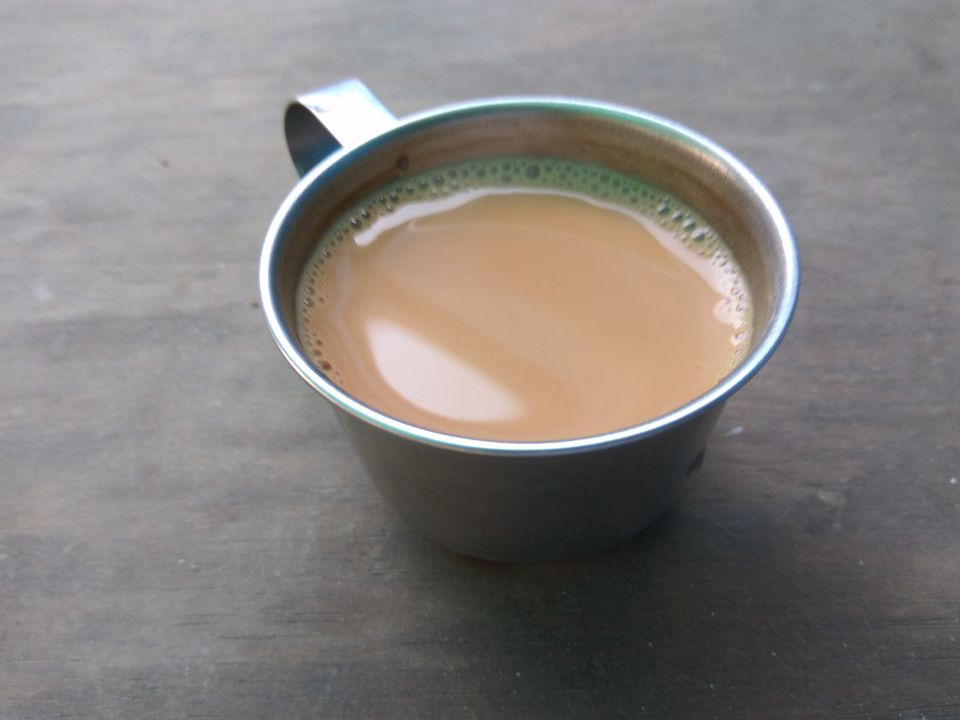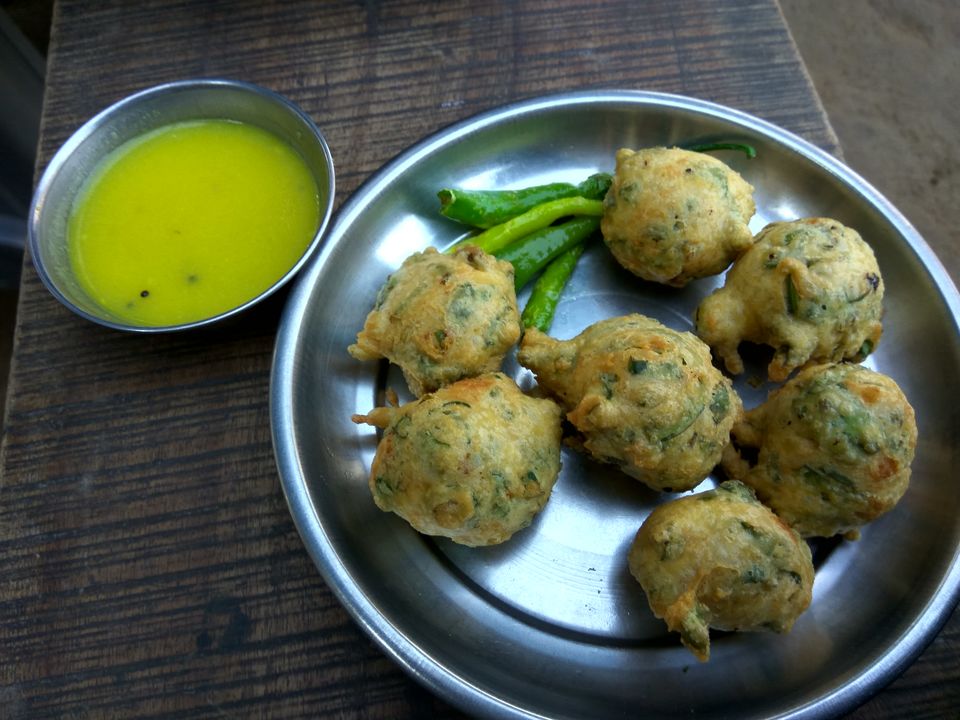 At this point, I spoke to few locals here. They told me that a rickshaw will ply to "Rani ni Vav" and I should not pay them more than Rs.30. That is what I did. In fact, I didn't even have to negotiate with a rickshaw driver. He upfront, agreed to take me to "Rani ni VAV" for Rs.30. I still offered him Rs.50
So here I was, at the VAV. It's a small place but an epoch drawn on the walls of the VAV. If you understand our ancient history, I am sure, you will spend your entire day at this spot.
I came first and after some time horde of people arrived at the step well.
When I came first, it was calm there at the bottom. I went through every details and carvings of the VAV.
I was mesmerized and stunned by the work. Such fine work of art, left me spellbound.
The alignment and the placing of several structure were picture perfect.
This can only be done by a learned Architect. I am strongly coming to the conclusion after exploring, that our ancient India had a school of Architecture also along with various other fields.
Sometimes, I think, Mathematicians worked along with the Architects and build these marvels.
Or may be the Architects were well versed in Mathematics. Or possibly, Mathematicians were Architects too.
I have clicked few pictures of the VAV. I hope you like them and enjoy as much as I did witnessing them with my eyes.
Here they are !!!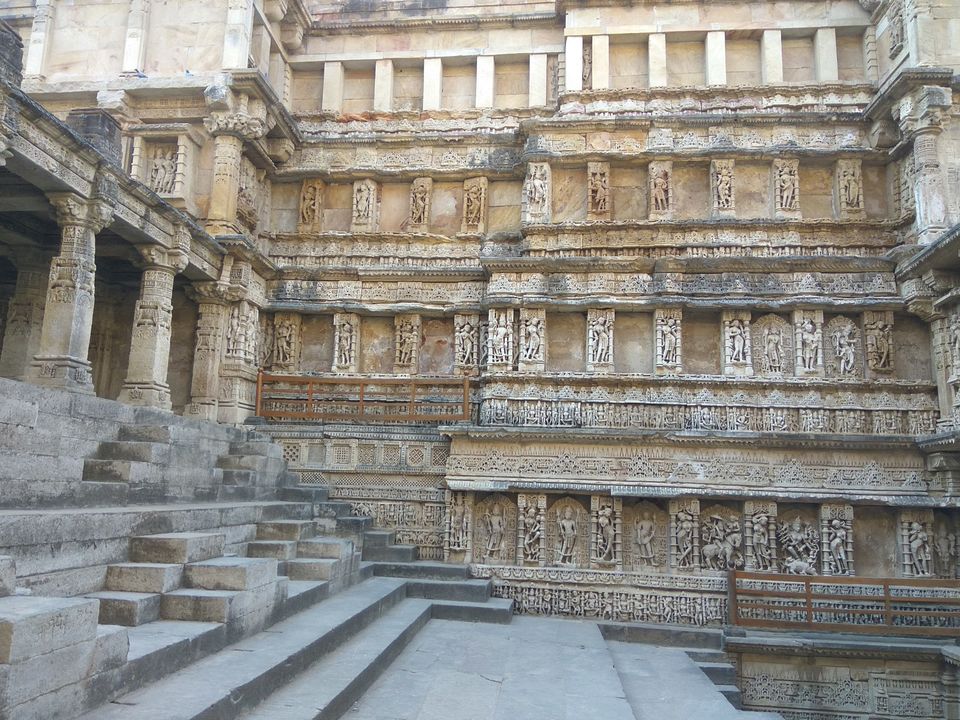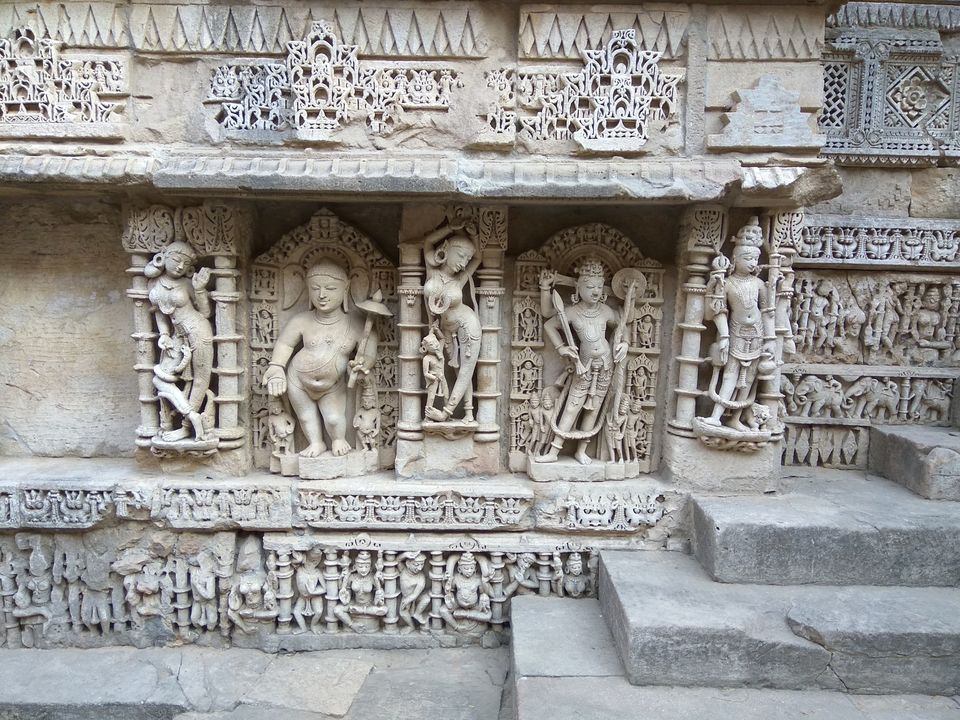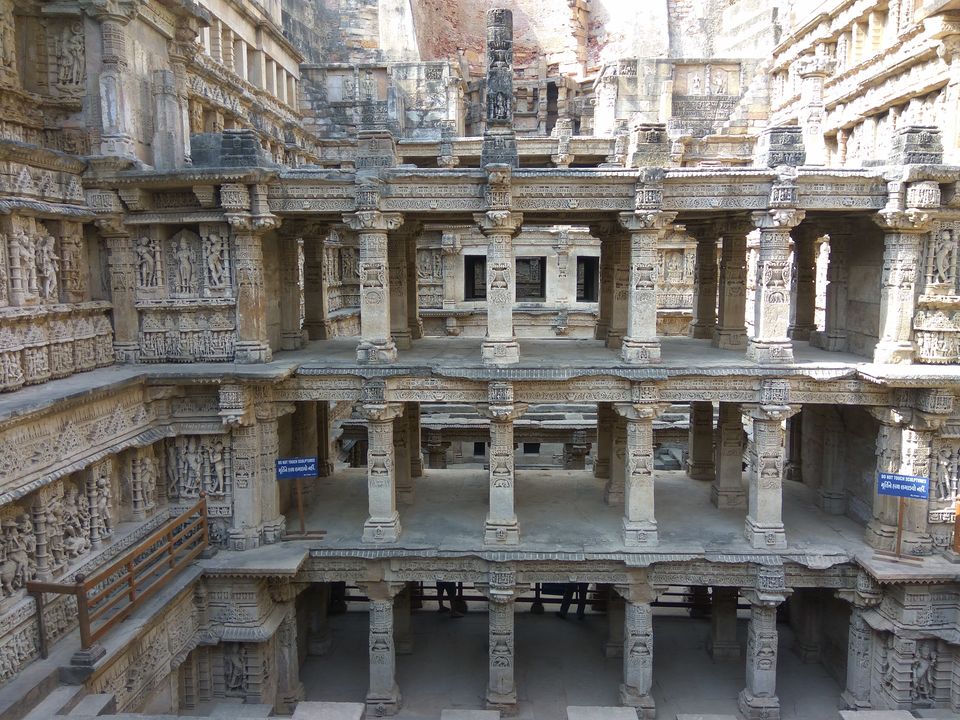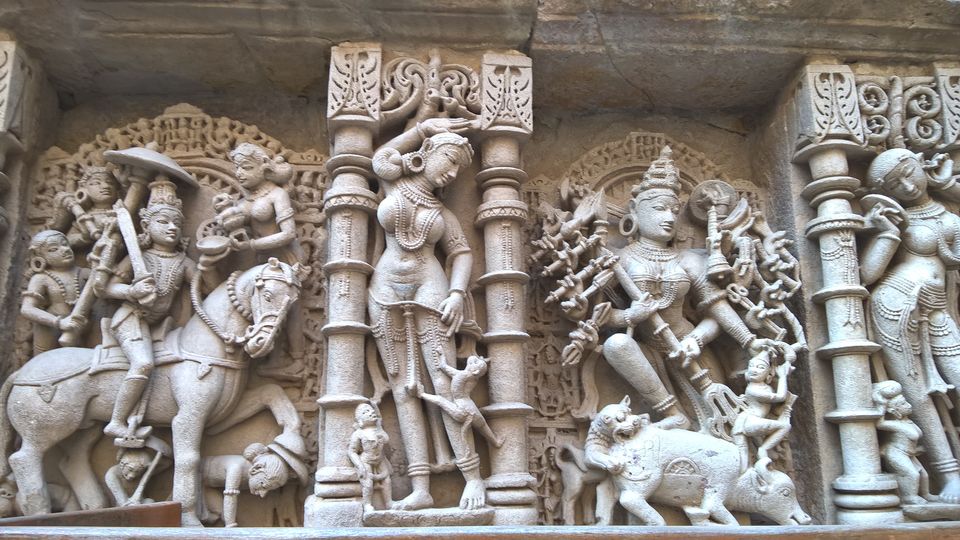 The Archaeological Survey of India has barred entry to the bottom of the VAV, from where the waters could be withdrawn, due to obvious reasons.
If you visit this place and look closely enough through the gaps or you may zoom your DSLR camera. You will see, a sculpted idol of LORD Padmanabha - Vishnu.
I believe that the Queen Udaymati got this made was a "Vaishnav" Follower of Vishnu sect.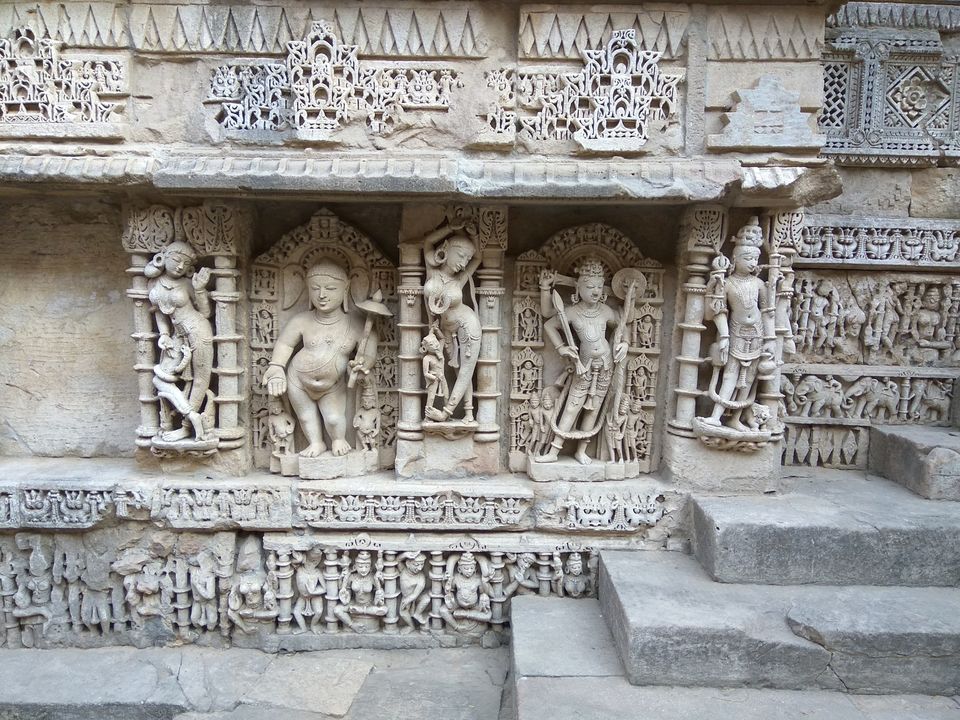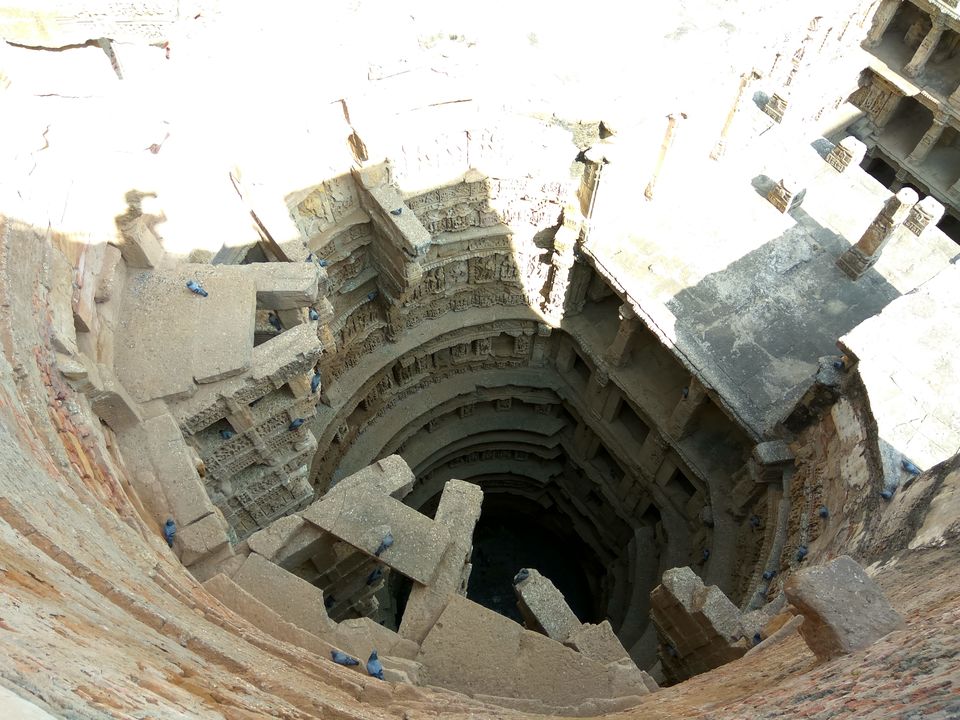 See how deep the well goes. The water could fill till this level show in the above picture. Also note that there are carvings done on the sides of the wall, as we go down to the bottom.
I spoke to one of the guides here, they told me interesting facts about this VAV.
One thing which I found to be intriguing was. That the entire area of the VAV right from the top would get submerged during monsoon. The idols are still standing strong in spite of being under water for most of their times. These carvings have survived for more than 1,000 years, I guess.
It also survived the Wrath of the Islamic invaders, because of this situation. The invaders couldn't do anything to it.
There are several things to explore near this VAV. I could explore the tomb of "Behram Khan", "Shashtraling" and others.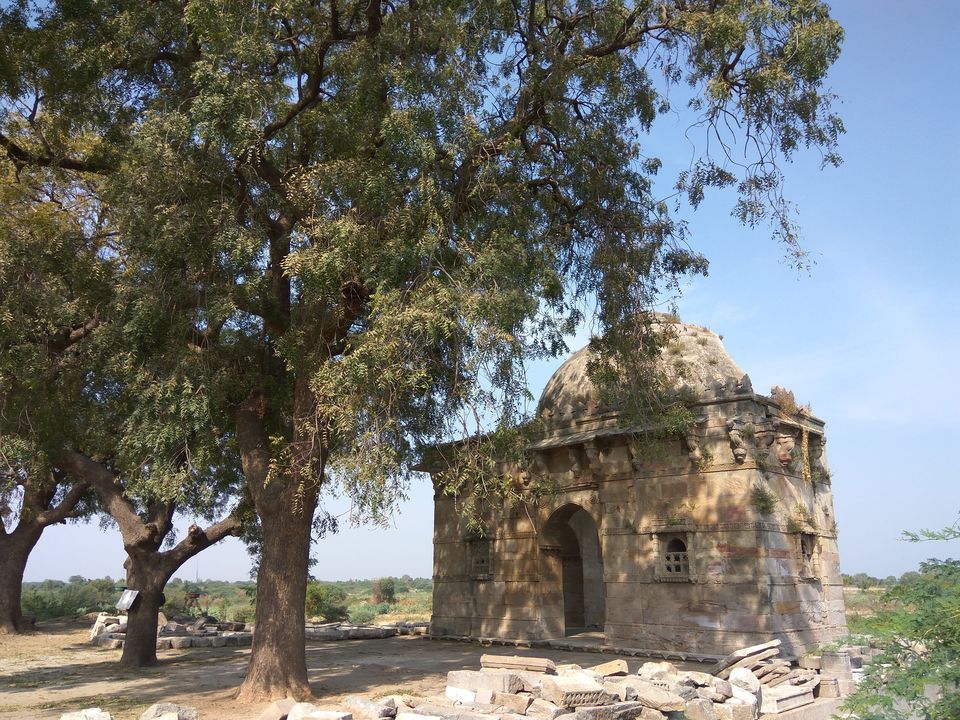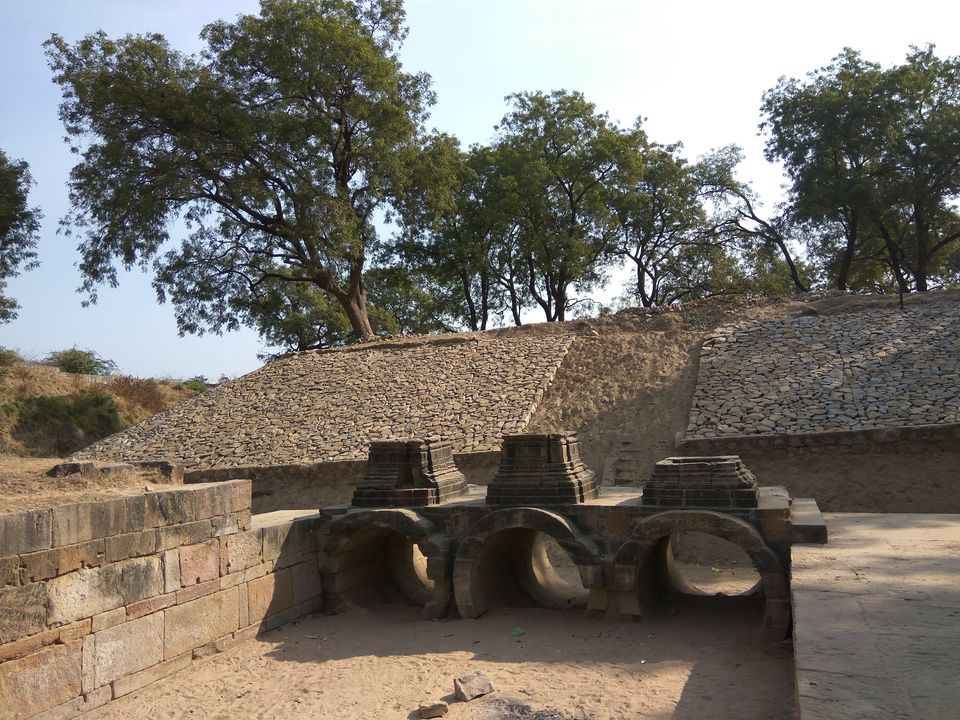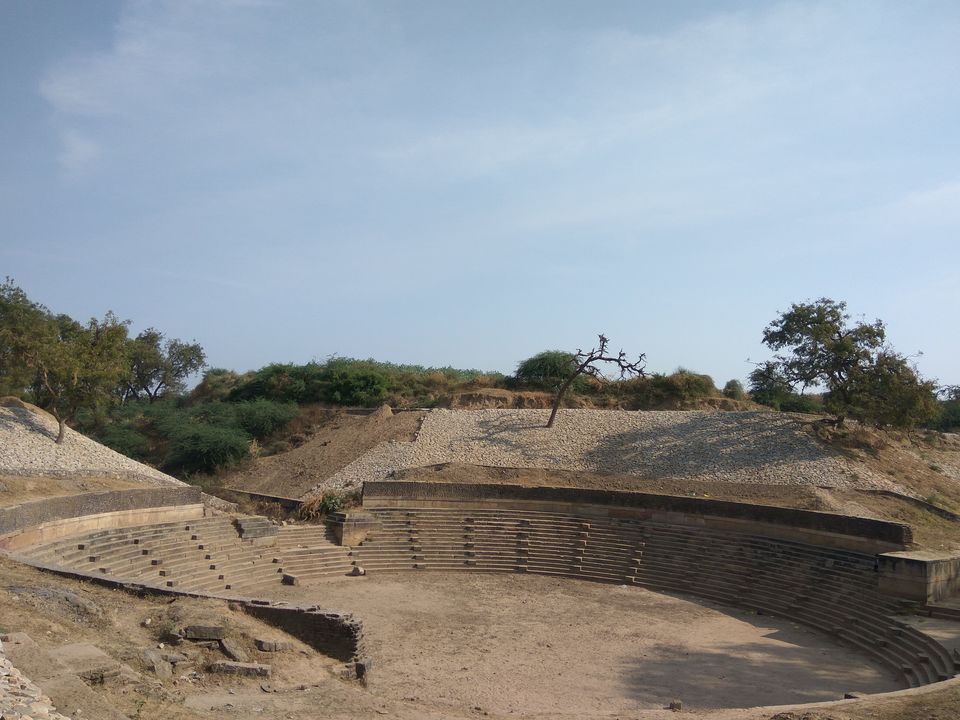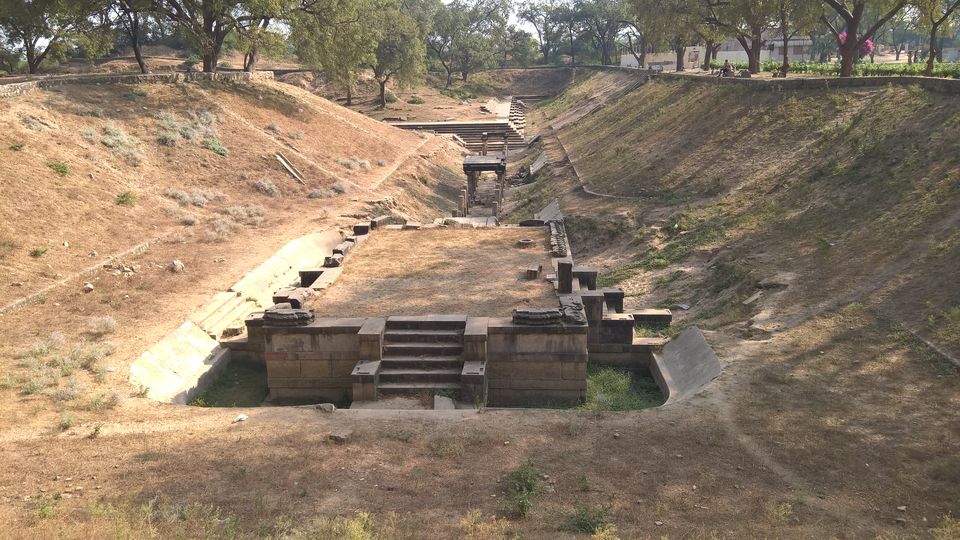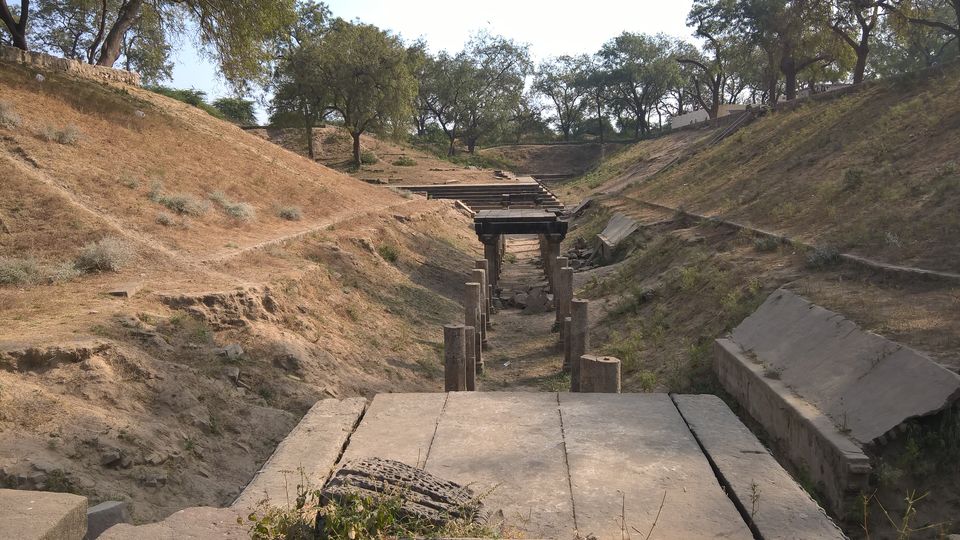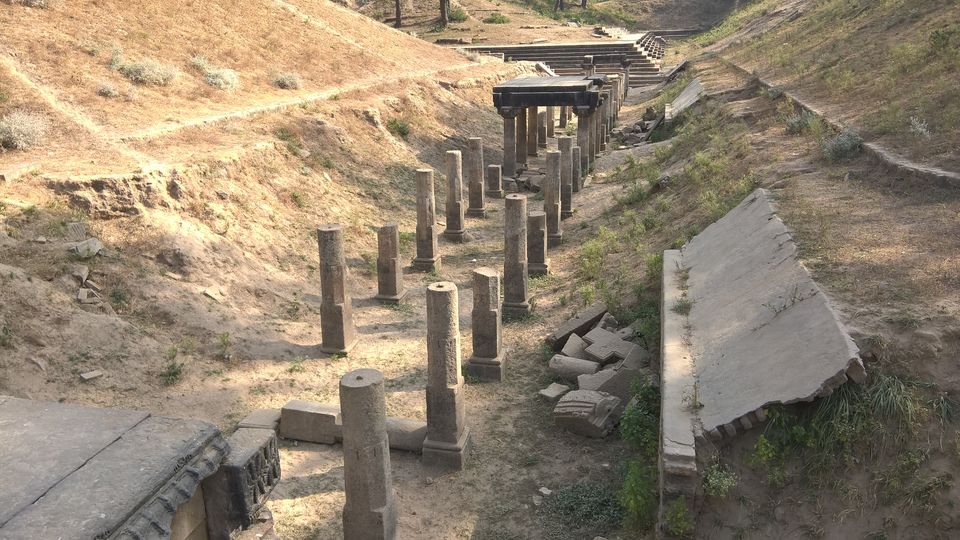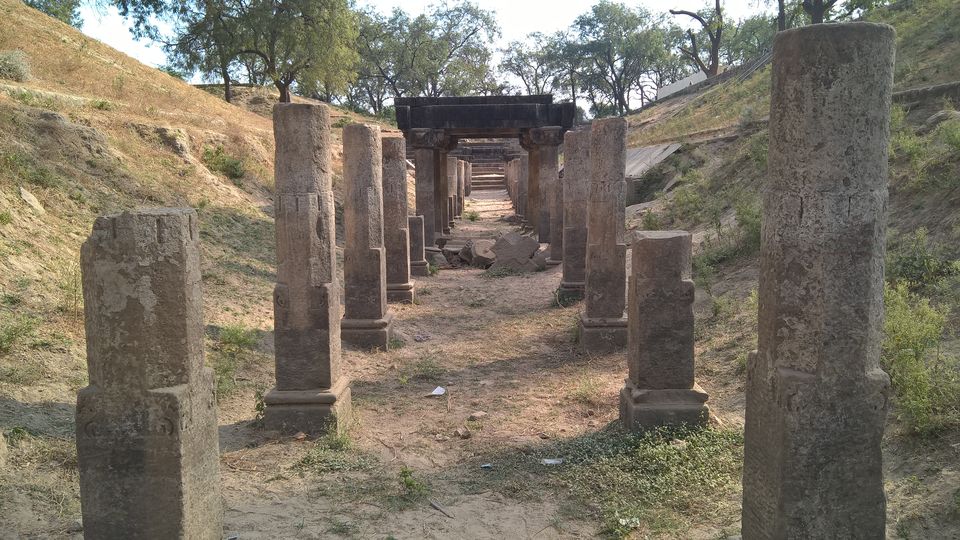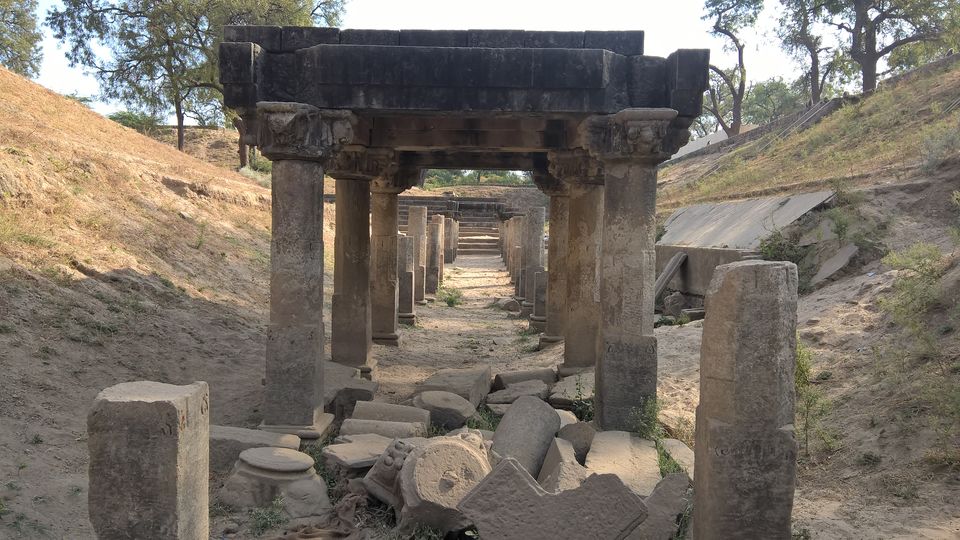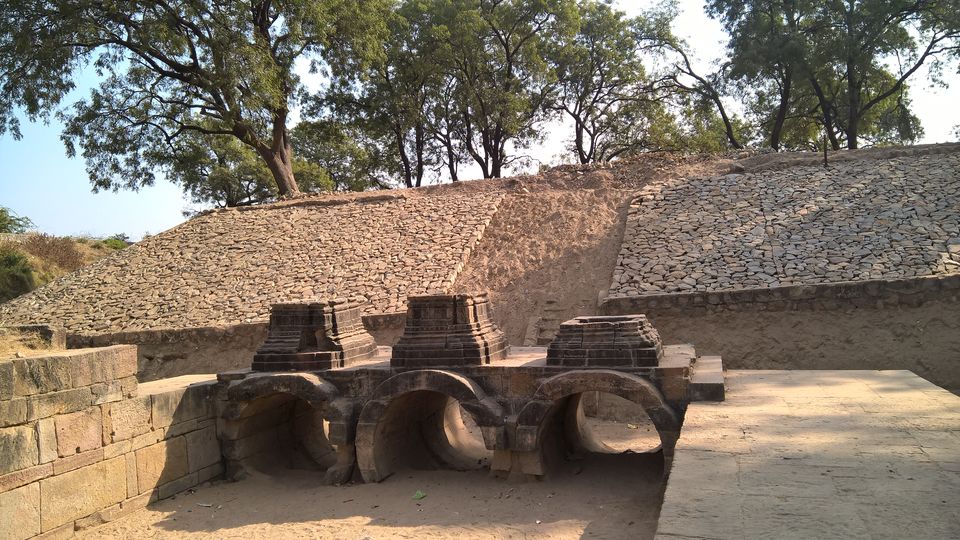 All these above structures were submerged under the water of the River Saraswati.
The Archaeological Survey is doing their bit to preserve them for our future generation.
This was the last part of my trip to "Rani ni VAV"
Afternoon, I left towards Modhera to explore "Surya Mandir"
Taking multiple transportation I reached Sun Temple.
To my surprise, Sun Temple was double in size to what I had to imagined based on Google Images.
In real, Sun Temple, Modhera became the highlight of this trip.
The temple was Gigantic,something straight out of an adventure Movie.
The temple complex is four fold in size. It has a massive step well next to it.
I was struck in awe, when I went pass the pillars of the temple. The pillars were garlanded with minute carvings.
You see for yourself.
Just look at the Beauty.
These are some of my favorite clicks, out of the 100 pictures I took of the magnum opus.
By far, this short trip turned out to be the way I had imagined.
Full Of Surprises. Happy and Contended. Not every time I compliment myself.
I took a rickshaw from Modhera to Mehsana and took a train to Mumbai.
By Sunday afternoon, I was in Mumbai. Brought stories, memories, friends and photos.
On Monday. I was full in charge to go to office in my finest form.
This is the way, I executed this short trip.
The traveling in General compartment of the train was the only hectic part. Rest else only added more to my level of curiosity.
Curiosity towards exploring my country in bits. I am ending this article on this note.
I hope you enjoyed reading this piece.
Thank you for reading.
Regards,
Bonny
oldschoolindian