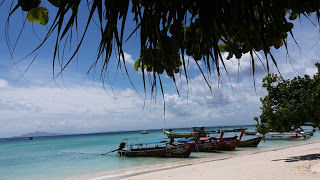 Most of the people who know me now, know that I am a travel addict. Infact travelling is no more a luxury, it has become a necessity and one of the purposes of my life. So I travel to the hills, the forests, the seas to admire the beauty of nature and satisfy my travel thirsty soul.
And this time I travelled alone. The idea of a solo trip raised curious questions from some, some just could not believe it was happening and some simply admired my courage. For me, it was to connect with myself, learn to walk alone and be content with my own company. I wanted to take my confidence about facing life to the next level. It was my first solo trip and I was excited to the core. The destination was Thailand.
It was May, not a very good time to visit this part of the world, but less crowded and considering the fact that a beach can actually be visited all round the year. And I was indeed right, it was a very pleasant climate during my stay there. Keeping the safety issues in mind (Something that all girl solo travellers should keep in mind), I had pre-booked everything, from hotel to airport transfers to sight seeing destinations to cabs for sight seeing. Its actually fun to plan for your trip plus it saves you from any unpleasant surprises later.
I visited Phuket first. The flight reached in the morning and after checking in the hotel, the first thing I did was..(any guesses????.....) have Thai food. I am a foodie and especially a lover of the sweet and sour pungent taste of Thai food. So I ordered a dish of Pad Thai (Thai noodles with sea food) and finished off with a significant scoop of the coconut ice cream (again a Thai speciality). After satisfying my taste buds, it was time to pamper my body, so I headed straight towards the Thai Spa (no points for guessing this). The lady was extremely polite and friendly and helped me choose the most relaxing message. What followed for the next 60 mins was pure heavenly bliss. Needless to say, I returned to my cozy bed (I am always in love with a hotel room) and dozed off for a sound siesta.
In the evening, I went to see the Phuket Fantasea Show. I never knew what it was, I do not believe in too much research about the places in my itinerary because I want to witness them all by myself. The surrounding of the place took my breath away- bright lights, colourful costumes, breathtaking sounds, so many people and activities, it was an indeed glamorous affair! And then it was time for the show. What was performed on the stage was pure magic, it was huge- about 1200 performers with all glitz and glory. There were dance, songs, romance, fights, animals, everything live on stage. I spent my time absorbing these all, because I have never seen something so magnificent in my life.
The next morning, I was about to witness something that will linger on my memory forever. it was the Phi phi islands, that is known to be a favourite movie destination in Bollywood as well as Hollywood. (You would remember Kaho na Pyar hai). With the view of the blue seas infront of me and the soft waves touching my feet, I couldnt help but be thankful for being alive. It was such a picturesque view that I ended up taking thousands of selfies. We got out lunch arranged at the beach itself, some really good Thai food and that was accompanied by a live song performance by a local guy. I reached hotel in the evening and dozed off as there was an early morning flight to Pattaya, which was my destination for the next 3 days.
Pattaya is again a glamourous city, famous for its nightlife. I, however, did not experience that. I was not adventurous enough to roam about in Pattaya alone in the night (I know thats something famous there). May be I would need to go back again for that. But I did roam about in the day, along the beaches, shopped from local markets, got thai messages and foot spa done almost every single day, ate local cuisines, travelled in local tuktuks, visited malls, ate ice creams at local road side cafes and watched the city pass by, negotiated and bought stuffs from local shops like a true explorer. It was fun to be lost in the city among the unknown roads, unknown people. I visited the Coral island, Noong Nooch village and the Pattaya tower. Had my share of adventure in riding a speed boat and taking a ropeway from the Pattaya tower. I loved the elephant show in the Noong nooch village. From Pattaya I visited Bangkok, the capital of Thailand, known for its Buddha temples and is a shopper's paradise. I loved the Golden temple and the underwater museum, but the best was the safari world. The animal shows specially the sea lion show, orangutan and dolphin shows made the visit worthy.
Contrary to the opinions I got about safety in Thailand, I realised it is an ideal destination for solo travel, the city just lets you be. However a lot of safety also depends on your wits and confidence. You would get strangers walking up to talk to you and trying to strike a friendship and even offering you drinks. (yes that happened too, but doesnt that make this journey more interesting?) but you need to avoid such over friendly humans and politely refuse and leave the place. Otherwise, it is a lovely, vibrant place. I interacted with local people from Thailand and also tourists from India, Europe and many other parts of the world during my stay and never felt lonely. Someone had rightly said, Solo travel is addictive.