So my journey to Nilkanth Mahadev Temple started from Bareilly. Train departed from Bareilly at 9:00pm and reached Haridwar Junction at 2:45 am. Now I had two options, either I should wait till the morning and then leave for Rishikesh or do not waste a single minute and try to reach their as soon as possible. So I chose the second option. I bought the ticket for the passenger train departing to Rishikesh at 3:30am.
So it was the day of Mahashivratri, there was too rush in the train. I didn't got the seat so I had to travel by standing near the gate.
I reached at Rishikesh at 5:20am. Now again I had a choice to wait till the sunrise or do not waste a single minute and start exploring in the dark. Now again i chose the second option.
I came out to the station and took an auto to RamJhula. It cost me 15 rs.
After reaching at RamJhula taxi stand, I had to walk approximately 400 m. to reach at exactly Ramjhula. When I reached there, what I saw was hard to explain in words. The lighting of bridge was amazing. The whole bridge was shining like gold. Even the Ganga River was shining with its reflection. The whole scenario was incredible.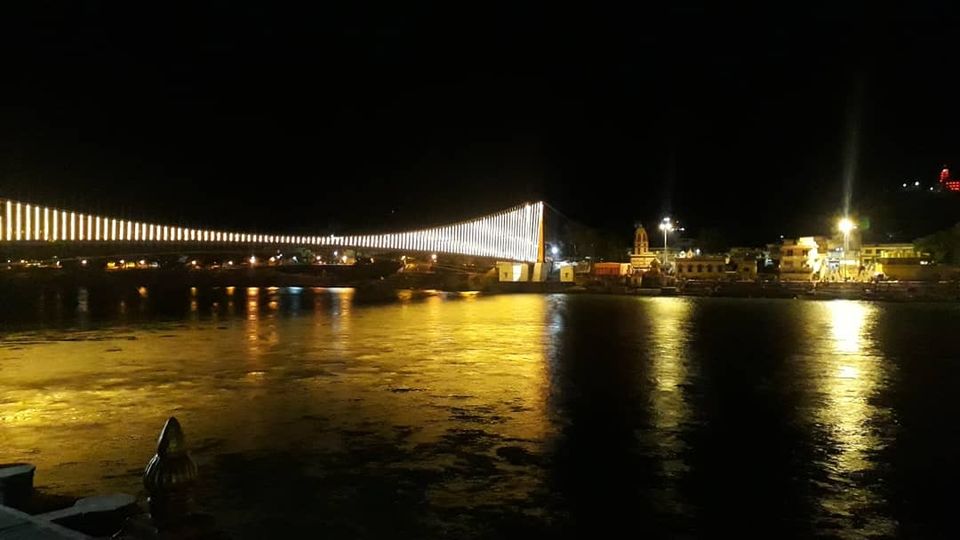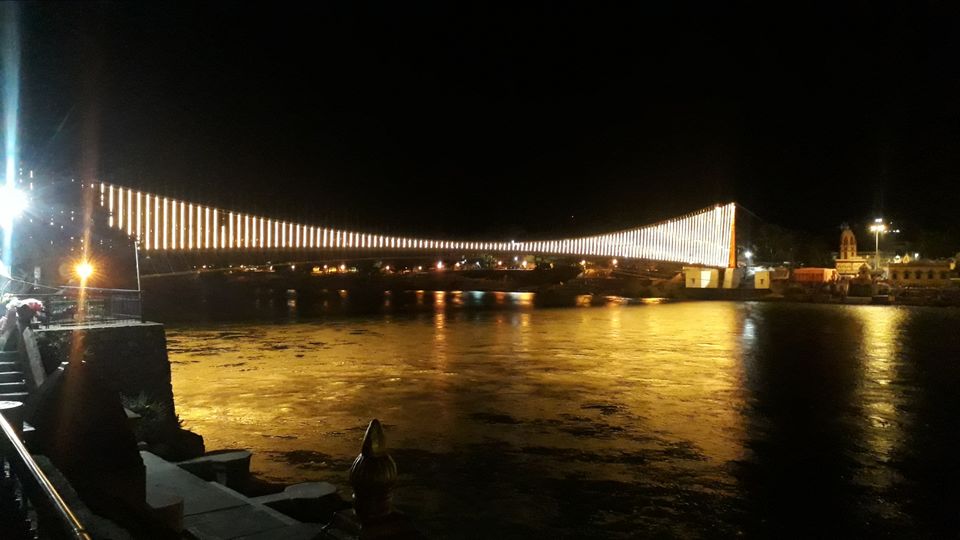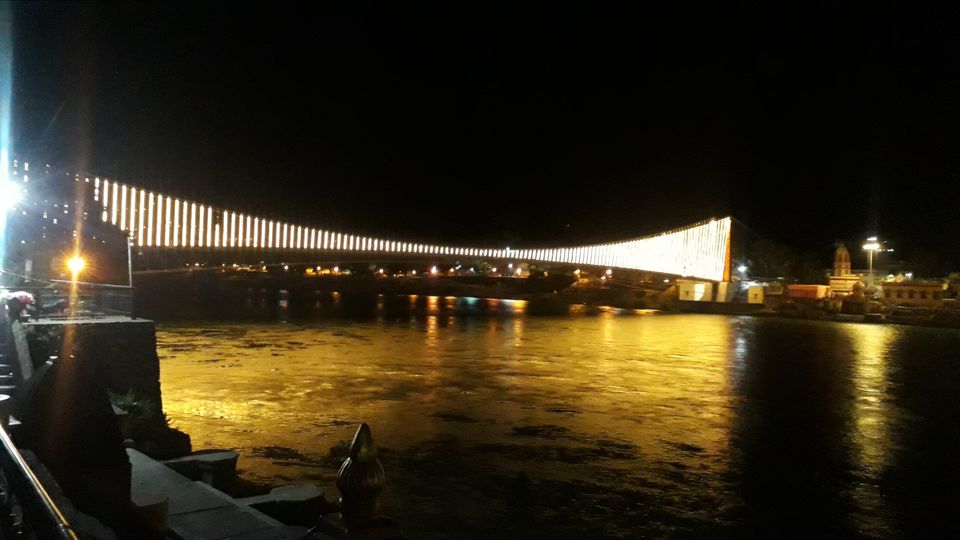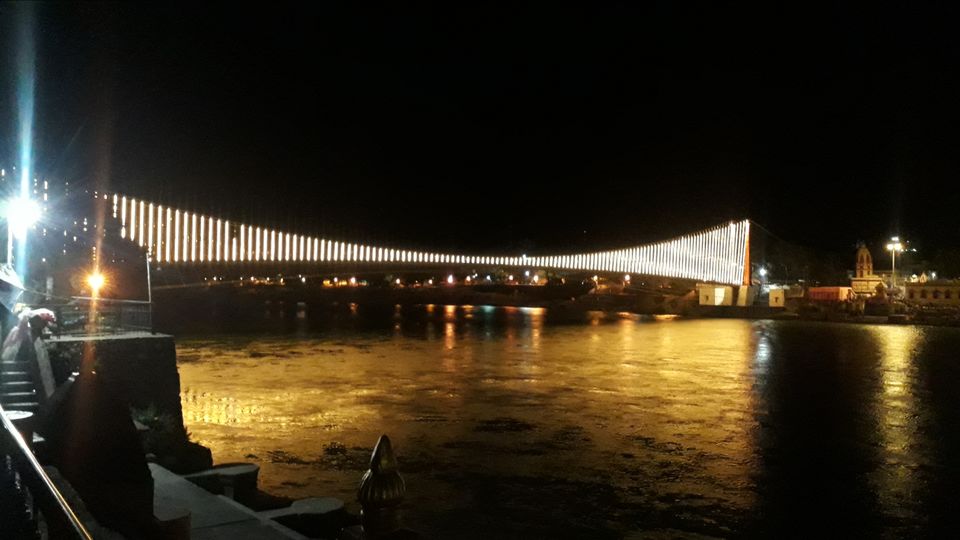 I explored the whole surroundings in the dark. Cold winds were blowing. Sounds of temple bells were refreshing the mind. People were bathing at the ghats. Overall It was an peaceful experiences.
Then I decided to walk to the Laxman Jhula which is 2 km from here. I started walking but I rarely saw anyone at that route. Only few locals who were enjoying their morning walk came to see. I was little bit afraid to walk alone in the dark at that road also there were forest like trees at one side of the road. But i didn't change my mind and walked at that road. When I reached at Lakshman Jhula, it was 6:45am. Now there were no more darkness. I enjoyed a lot being there. It was so peaceful i can't explain. Winds were touching my soul. I was standing alone at the middle of the brigde feeling the real me. Also the view form here was amazing. I experienced Sunrise. I saw the reddish colour on the hills due to the effect of sunrise. It was too beautiful to see ????.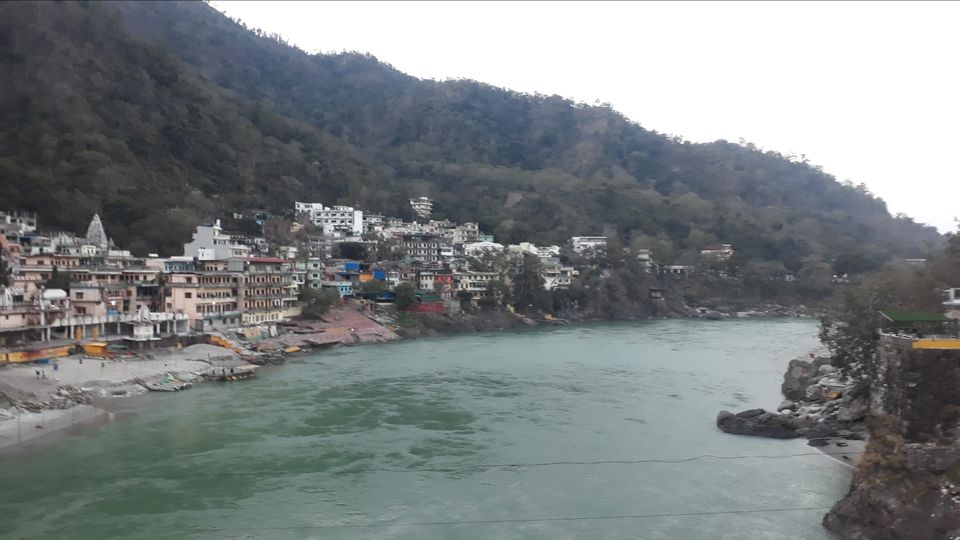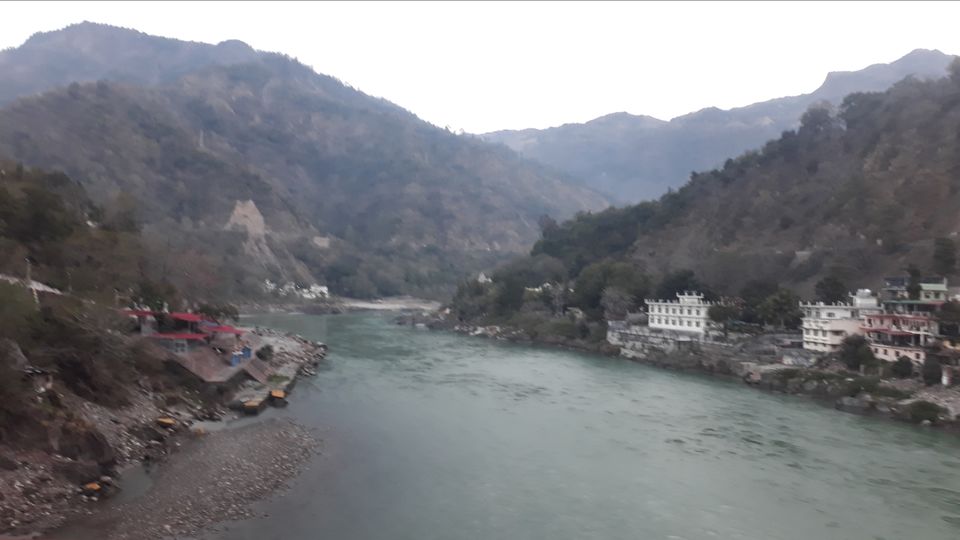 After some time I returned to Ram Jhula even I don't wanted to go from there. But unfortunately i had less time so i had to cover more things. When I was returning on the same road, now i could see the tourists going to visit Lakshman Jhula. And then I realised that I made the right decision. Otherwise I had to visit Lakshman Jhula in the rush and may be I could not saw the real beauty which i had experienced.
After that I reached some other ghats. I sat in front of the Parmarth at the other side of the river enjoying the cold winds and peace of river.
After that I headed towards Triveni ghat to get the open bath in the holy river Ganga.
Here at Triveni ghat you can find all the necessary facilities like changing rooms, washrooms and also market is nearby.
I enjoyed the bath in Ganga and did not wanted to come outside the river. I bathed 1 hour there.
Now it was getting late to reach the temple, also the rush was high that day so i had to return as soon as possible.
I returned near RamJhula and enquired about taxis to Neelkanth Temple. The taxi can be hired near Ramjhula. Either you can hire whole taxi it will cost you around 600-700 per side or you can share with other tourist. It will cost you around 100 per side.
I opted to go in sharing. I sat near the driver which was more comfortable as compared to the back seats.
The taxi takes around 1.5 hrs to reach at the destination. But due to high rush, there was a long traffic 2km before the temple. So I decided to leave the taxi and reach at the temple by walk.
When I left the taxi it was sunshine outside but after 5-10 mins suddenly clouds came and the light shower began. I underestimated, and thought i will reach the temple before high rain also because there were no place for shelter at the hills, one side high hills and other side the valley. After few minutes, it started hailing. Now i had no other option i had to find a shelter as soon as possible. Fortunately I found a place and I ran towards it. Almost tourists came to shelter so it was full with peoples we can't even move there. Hails continues for 1 hours. Many taxis took the advantages and parked the taxi near the shelter to take back some tourists. Many tourists decided to go back without visiting the temple. But I was not in the mood to return empty hands. As the hails stopped I started to walk again in the rain. After walking some distance I bought a raincoat made up of polythene plastic at 20Rs. It helped me a lot to reach at the temple.
Finally, I reached at the gate of the temple. I bought 'pooja ki thali' from a shop and left my bag and shoes there with assurance of safety.
I reached into the temple and saw a long long queue. I afraid how will I manage to return before time. But somehow I managed to get into the queue from the middle. I was lucky no safety police noticed me. I completed my 'darshan' in 30 minutes which was expected to complete in approximately 3-4 hours if I stand in the queue correctly. Sorry guys, but i do not recommend you to do this. Entering into middle of the queue or breaking the rules can be dangerous for you as the police is to strict there.
After completing 'Darshan' now I was prepared to go back to Rishikesh. I went near the taxi stand of Neelkanth. But due to high rush it was too difficult to get into the taxi. Somehow I managed to get into the taxi, again near the driver. I reached to Rishikesh near RamJhula.
It was a adventurous journey. I experienced many things like hails, rain, high rush, little bit risk and much more. But behind all these I really enjoyed alot.
Now I had to leave for Haridwar so I went to bus stop and took a bus to Haridwar. You can also go with auto-rickshaw.
After reaching Haridwar at 9pm I had dinner and sat near Ganga River at Har Ki Pauri.
Believe me It was so relaxing that my whole day fatigue disappeared.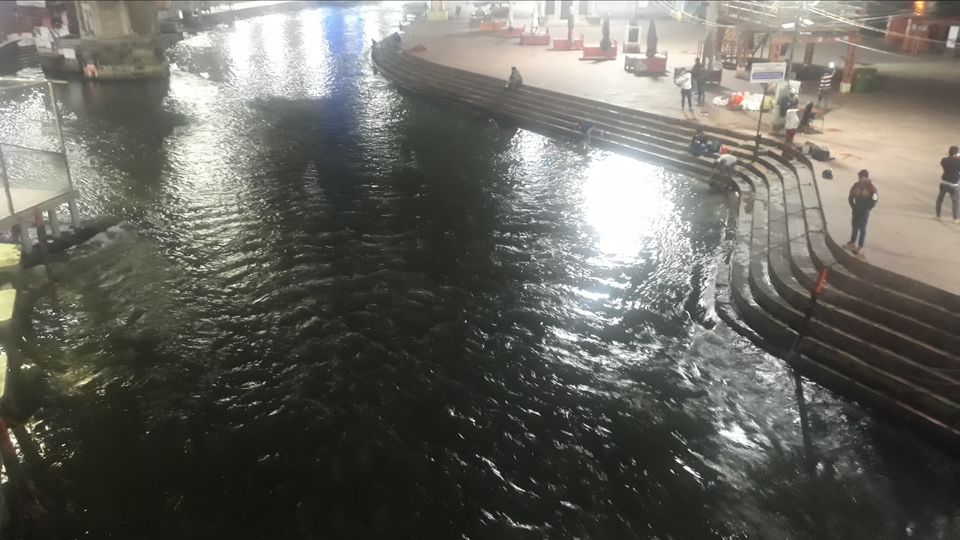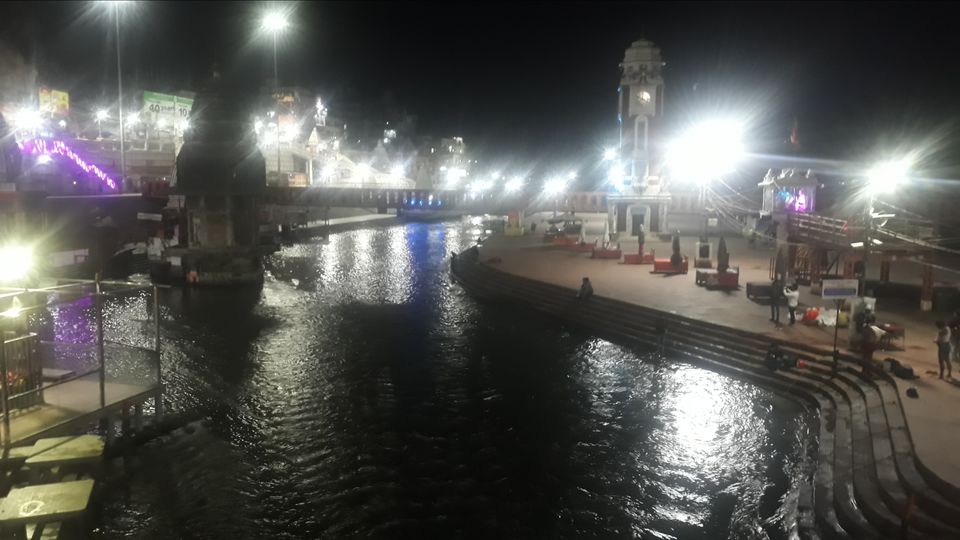 At 10:30pm I returned to Haridwar Junction and took my train to Bareilly.
So this was my one day trip to Neelkanth Mahadev Temple at Shivratri.
Besides all these difficulties this was one of my favourite trip. Rishikesh is indeed no less than heaven. You can't find more peaceful place than Rishikesh. It was a memorable journey for me also it will motivate me for more solo trips. ????