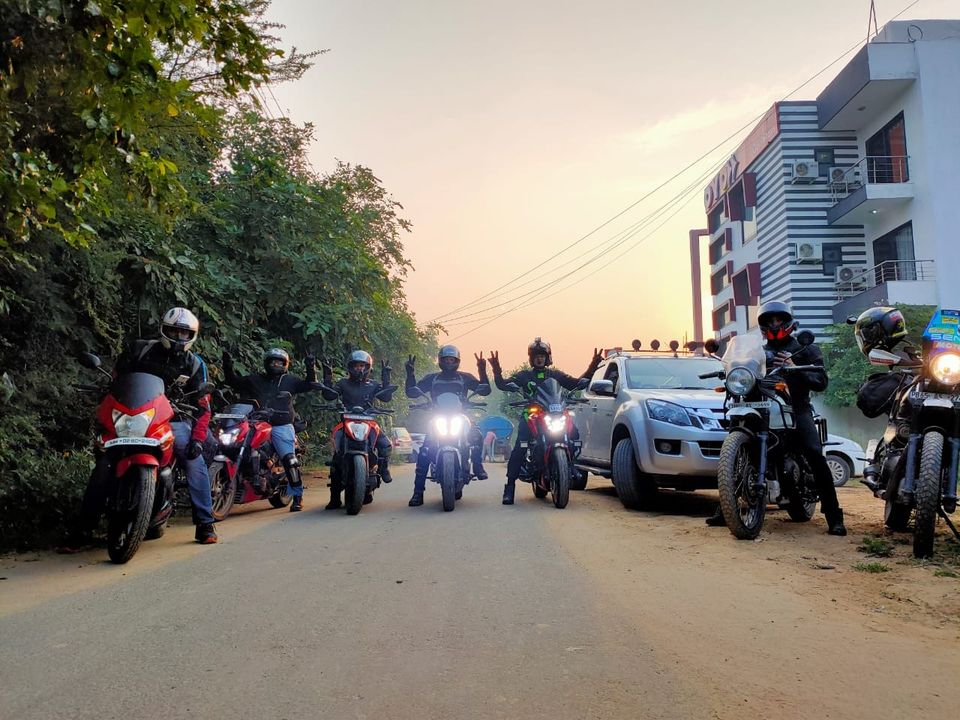 12 years with this bike and it was "Dev Bhoomi" Uttarakhand where I went over, ever so close to the mighty Himalayas.
This morning was a very special one for me. As always I woke up early in the morning and completed my morning rituals. I don't know about others but I was very excited. One because I was riding after a gap of 2 years and secondly this was my longest ride far from home.
We had a backup vehicle with us to carry our luggage but I choose not to put my luggage in the vehicle because I wanted to get the feeling of touring. So I just handed over my laptop back in the backup vehicle and ride with my saddle and tank bags only.
Around 7:30 in the morning we started to roll out. But not before getting a picture clicked of our gang. The ride started from Gurgaon slowly heading towards Delhi. Within just half an hour we were welcome by the Delhi traffic. This was the month of October. And winters were yet to arrive. But I could see a decent amount of smog spread over the capital.
We were slowly picking up our pace and going into the distance. We were about to enter Meerut but stopped to have breakfast at Nathu's Dhaba. We were not at all rushing in but enjoying the ride. So we had a good time at breakfast.
We resumed with our ride after breakfast. The roads were nice and wide so we started cruising at high speeds and covered some good amount of distance. The climate in the morning was a very pleasant but now it was getting warmer so just one hour into the ride after breakfast we again halted for some refreshment.
The ride continued after the refreshment break and it was same as the previous stretch and soon we reached Haridwar. Janmeet our tour operator guide to one of the Ghats near the holy Ganga river. It was a nice feeling to see the holy river for the first time.
I got off from the bike and enjoyed the view. Click a few pictures for the Instagram stories and we left from the place. Soon it was time for lunch and we were also about to reach the yoga capital of the world, Rishikesh.
Soon we reached the location in Rishikesh called as Indian culture. This is a beautiful property near Lakshman Jhula where we had done the booking for our stay. This place is inside Lakshman Jhula car parking. A very offbeat place with nice ambience and neat cottages.
Checked into our rooms and quickly headed out for lunch. We had lot of time to spare so we headed out to Sri Sathya Sai Ghat near Lakshman Jhula. Once we reached the Ghat we all were lost in the trance. We all sat down quietly for a few minutes. The sound of the flowing river wind and Temple Bells made the moment divine.
Before we return back to our cottages we clicked a lot of pictures for memories. The evening at the Cottage had good vibes, there were many foreigners at the Indian culture. Some of them were singing Gayatri Mantra which surprised me.
I couldn't have expected a better evening than this to end our day. Tomorrow we just explore Rishikesh especially the Beatles Ashram. I dozed off early but some of my friends stayed up till late at night.
Please follow my journey vlogs on my YouTube channel
https://youtu.be/SbJ4wU8iFWA