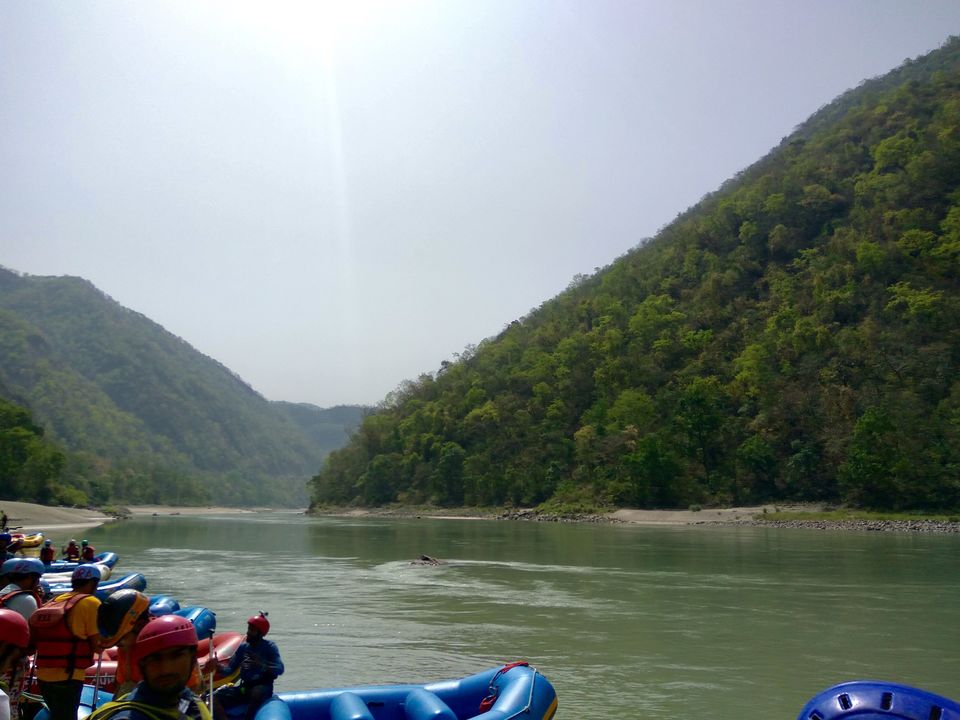 "Life is either a daring adventure or nothing."
Since long i wanted to get thrilled by white water river rafting on aggressive bouncing water of Ganges ready to wreck your back and in India look nowhere than Rishikesh for this amazing lifetime experience.it is also World capital of Yoga and meditation thus favourite tourist hotspot for travellers across the globe.
Here i am in Rishikesh,the adventure capital of India again for a day or two and this time i did not wanted to miss this extreme sport.with the blessings of Ganges at Har ki Pauri,Haridwar post lunch i took an auto rickshaw to Rishikesh which is 20 km away to attend beautiful evening aarti and it took 30 minutes to reach.journey was comfortable and it goes through single lane road with hills, small clear water streams on each side.you will come across Raja Ji National Park and tiger reserve on your way comprises various flora and fauna mainly Elephants and Tigers. there are numbers of Elephant corridors and caution boards you could spot on the way to Rishikesh.you will feel how fast weather is changing while ascending.
I booked my stay at Zostel Rishikesh,Tapovan near Lakshman Jhula.i had to walk 2 kilometres up to the hostel as auto rickshaw dropped me near Ram Jhula. hostel has perfect location with spectacular views of Himalayas from terrace while resting on one of bean bangs lying over there.greeted warmly by Shashi the front desk guy and caretaker who helped me to plan my tour and assisted with route, places to go, where to eat etc..checked in had lunch and after a short nap i was getting ready for Ganga aarti but surprise! weather has changed drastically from clear sky to thick cloud coupled with heavy downpour and hailstorm enough to scare me.i was waiting for it to subside and finally after an hour it got settled down and so was the aarti :(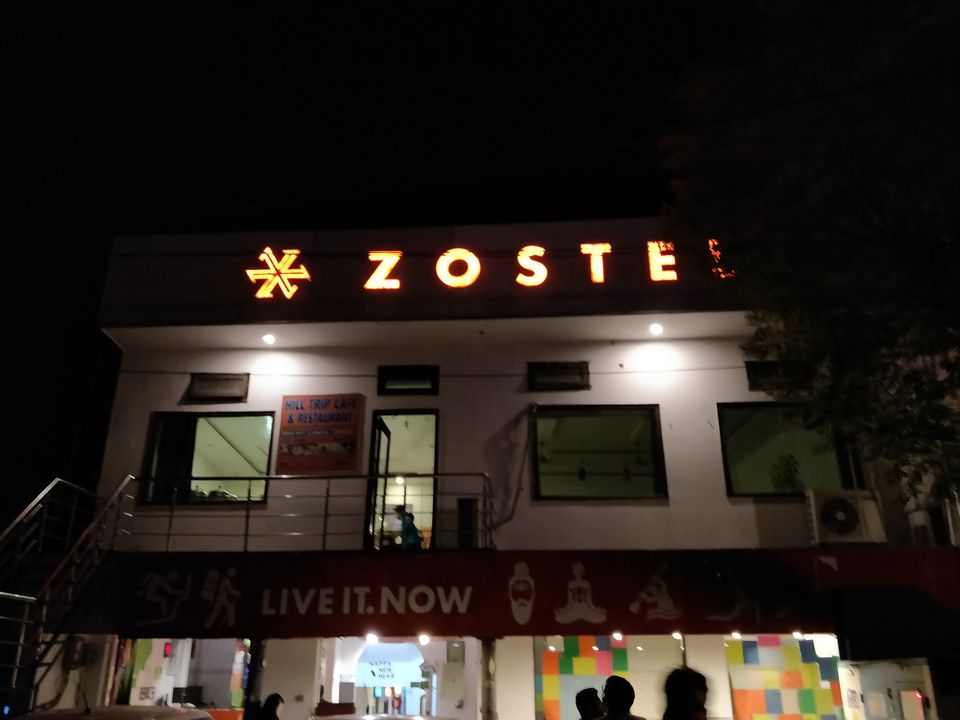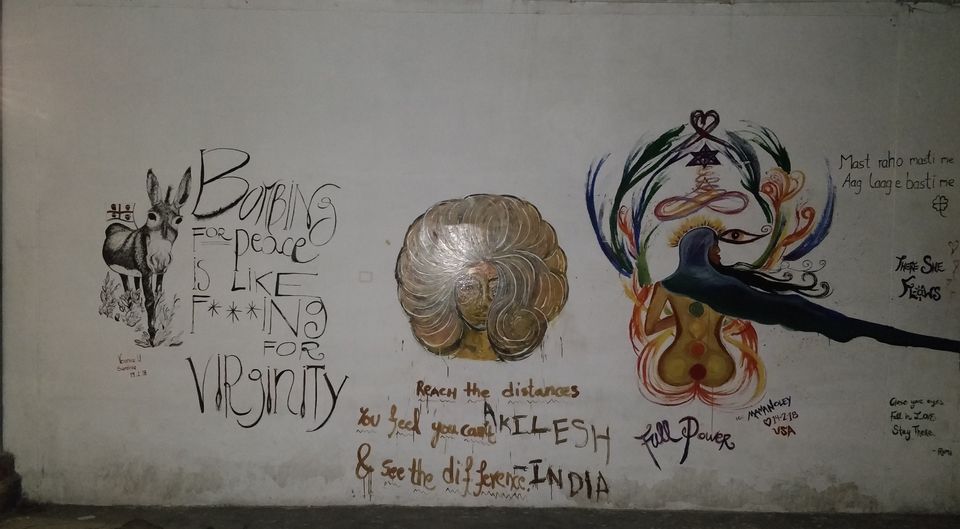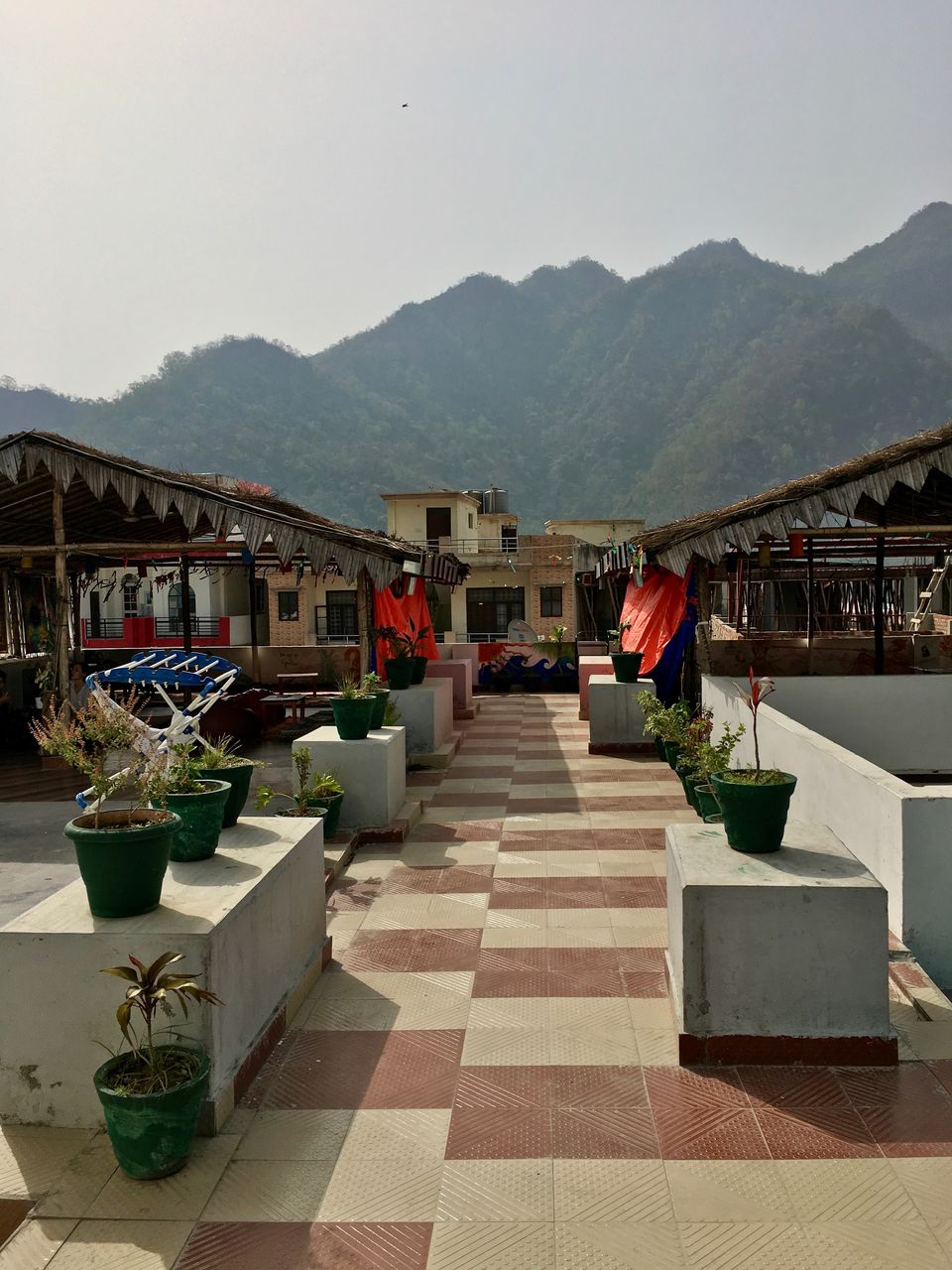 Having evening to spare i walked to Lakshman jhula through the streets filled with souvenir shops,jam packed hotels,tour operators and adventure agencies.Rishikesh has two iconic landmarks Ram Jhula and Lakshman Jhula connecting Tehri Garhwal district to Pauri Gharwal district by crossing the Ganges river from west to east,Ram Jhula is 2 kilometres downstream from Lakshman Jhula and bigger that connects important attraction as Gita bhawan to Swarg ashram,Parmarth Niketan and other temples.Mythology says Lord Lakshman crossed the Ganges using jute rope bridge and this Jhula was built to represent that historical bridge.it looks amazing in evening dipped in beautiful colours reflecting on Ganges creating artistic images.there is a beautiful 13 storeys Temple dedicated to an array of Hindu gods and goddesses at each levels on the other side of bridge which adds to its beauty .i came across three foreigners, one playing Didgeridoo (a wind instrument developed indigenously by Australians thousands year ago) and a Turkish girl dancing at the start of bridge attracting hundreds of tourists appreciating music and dance by clapping, shouting and paying some money in honour.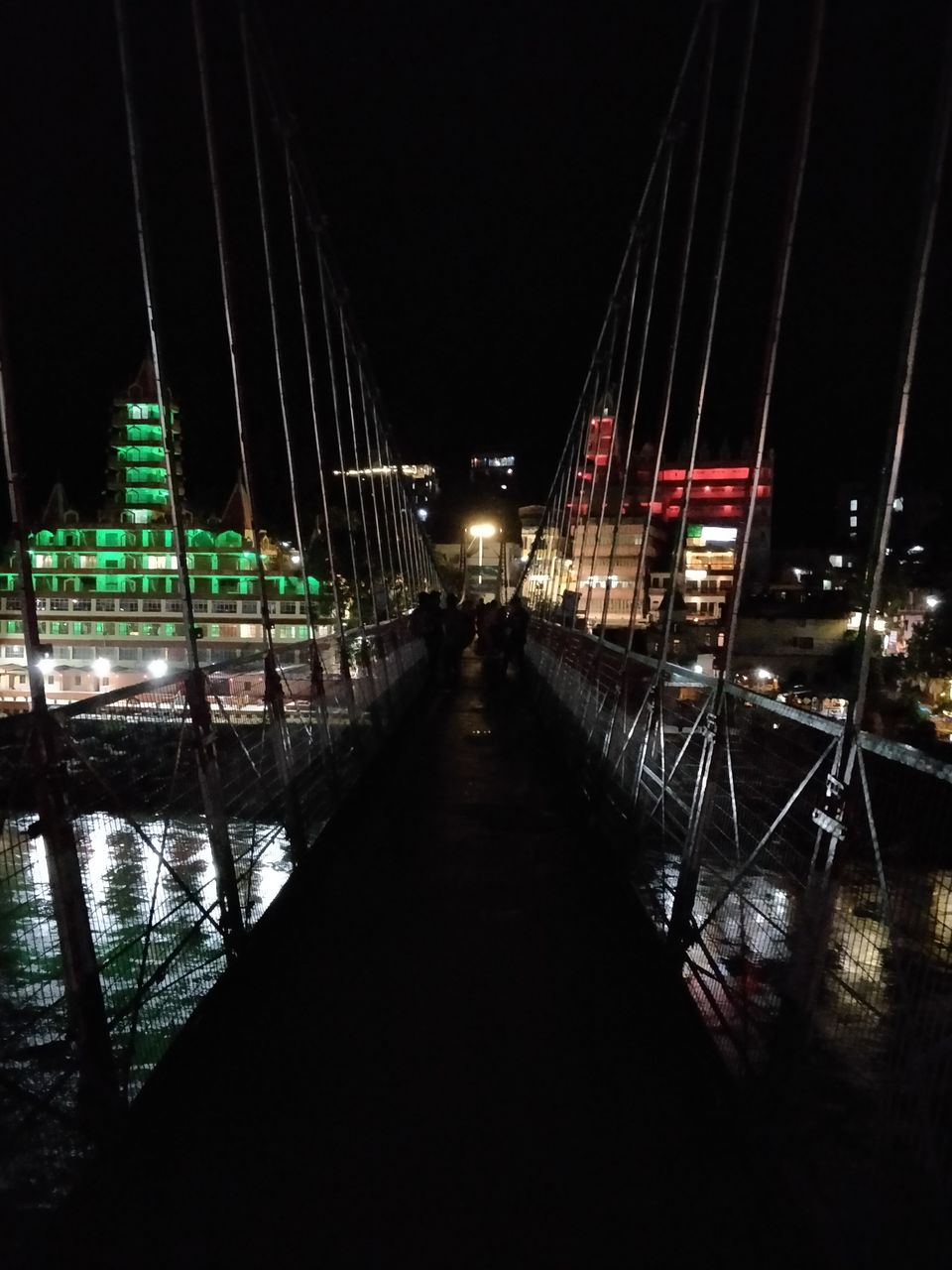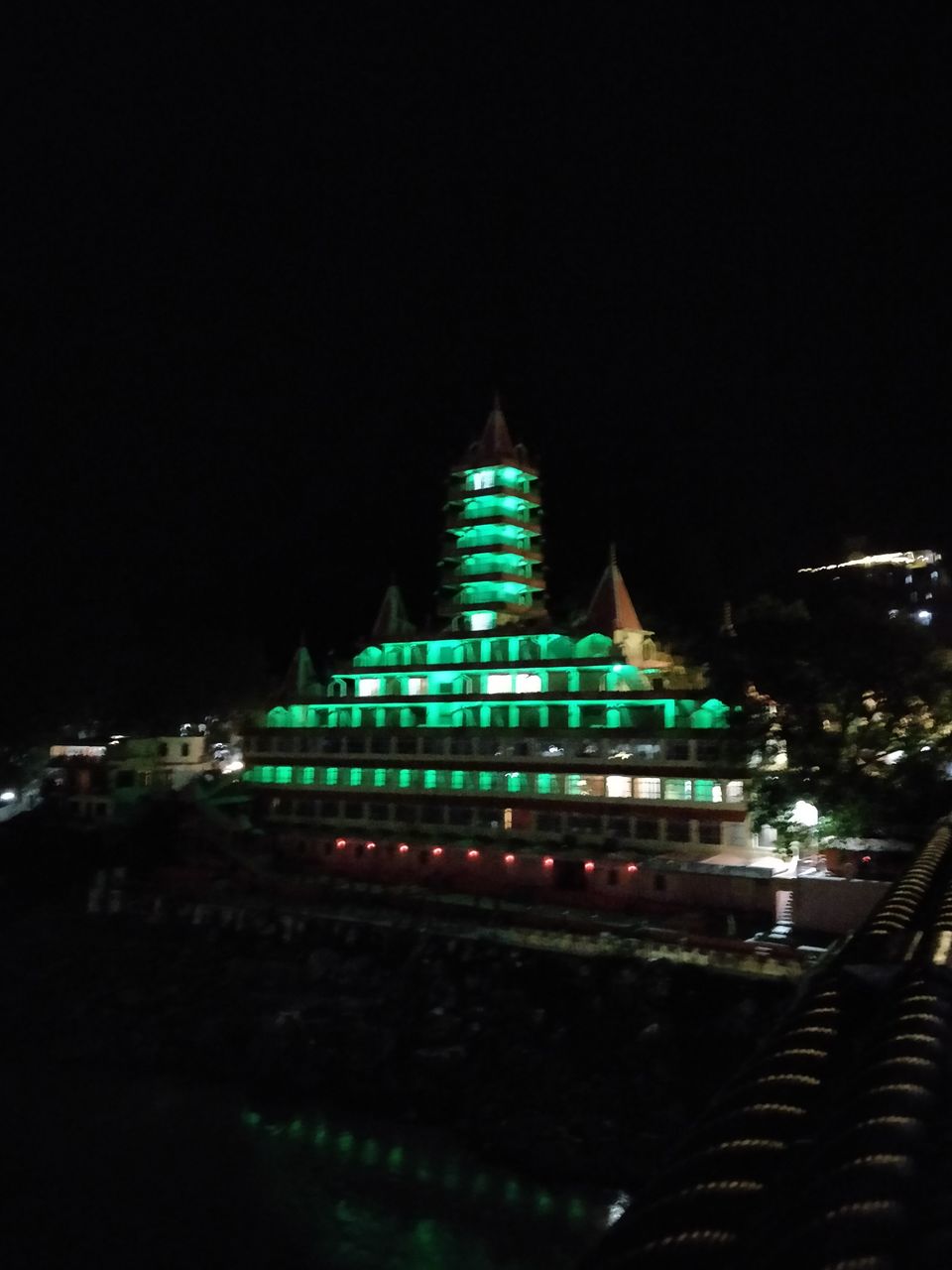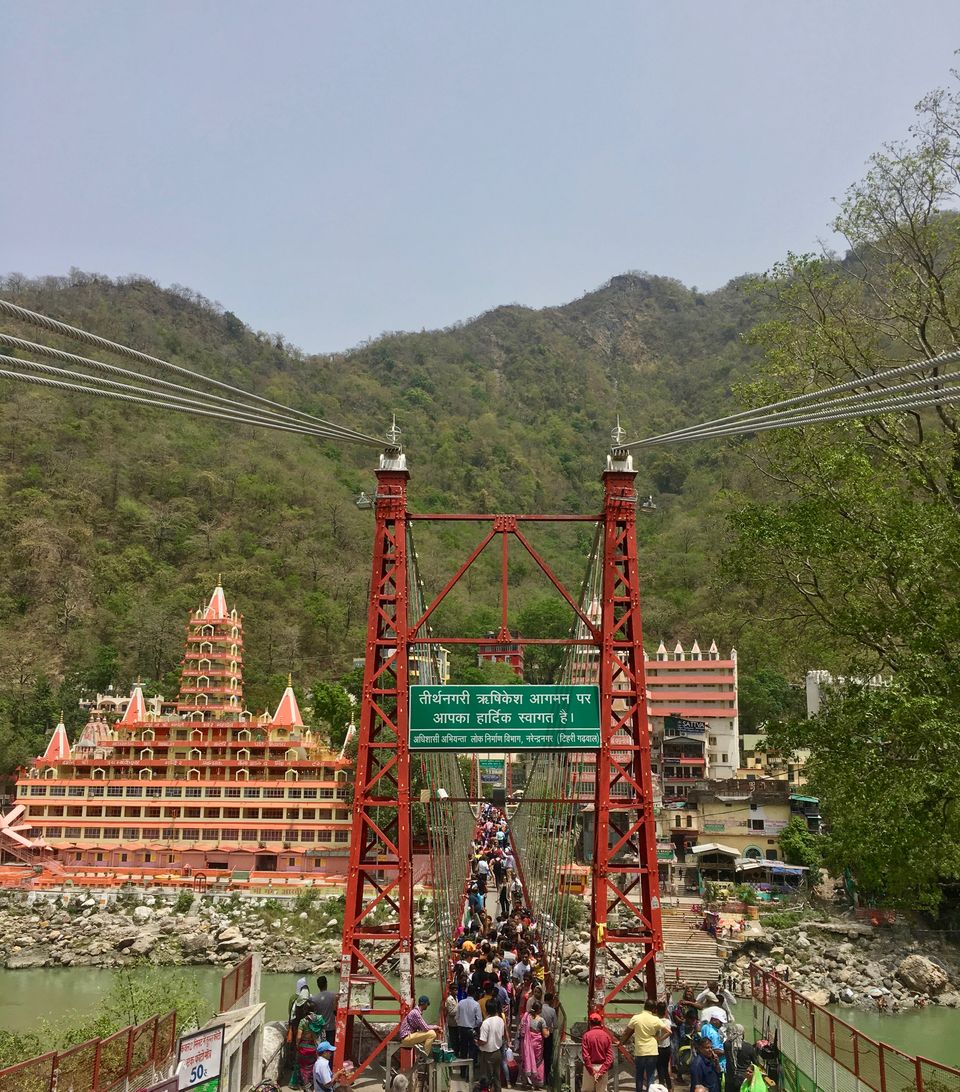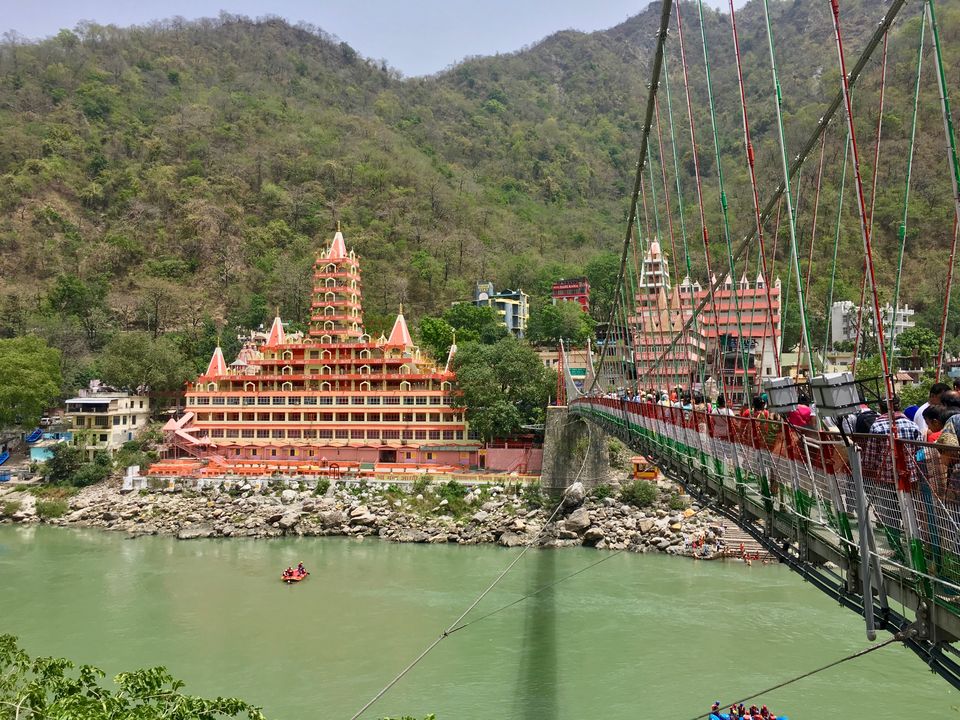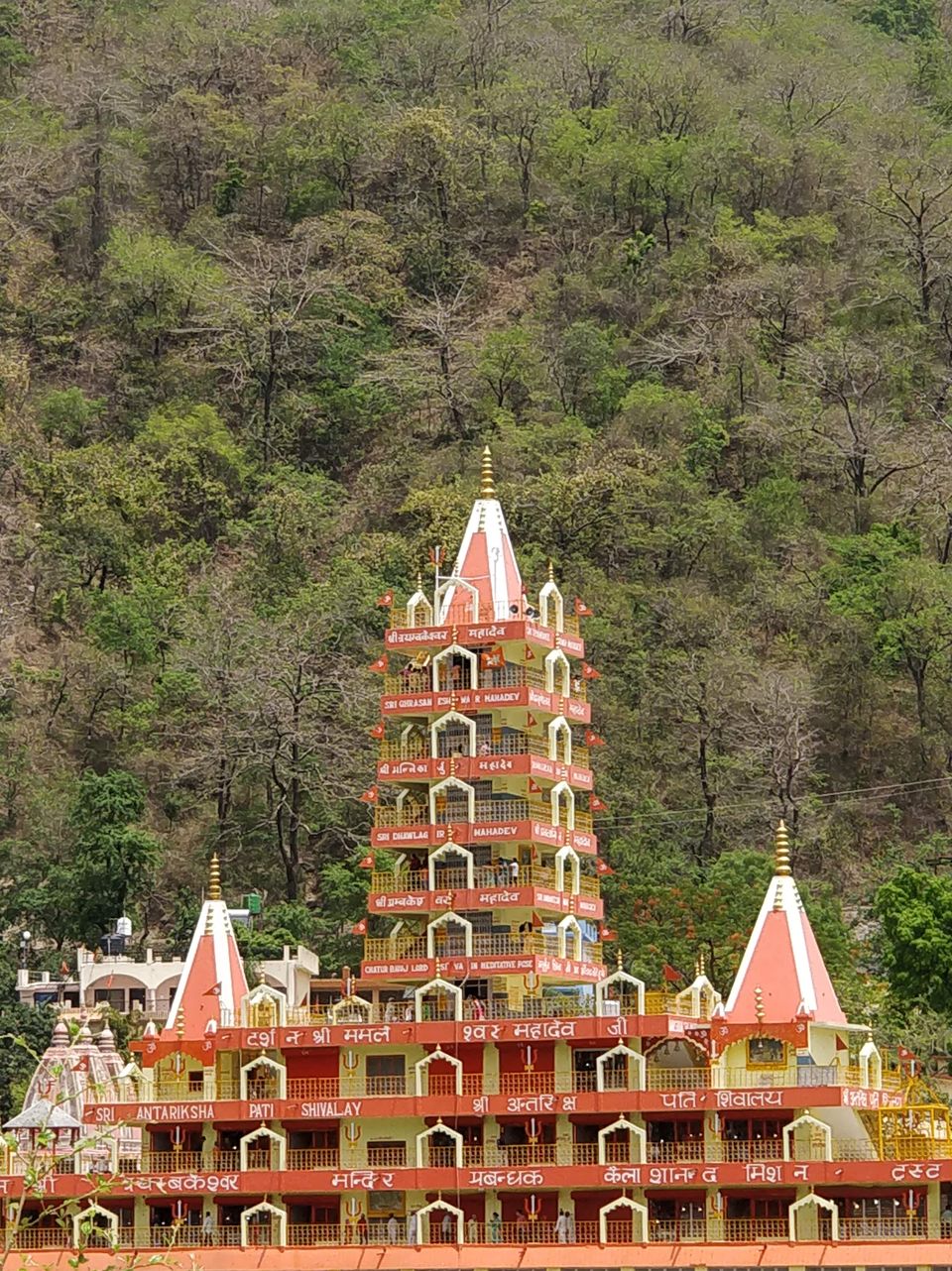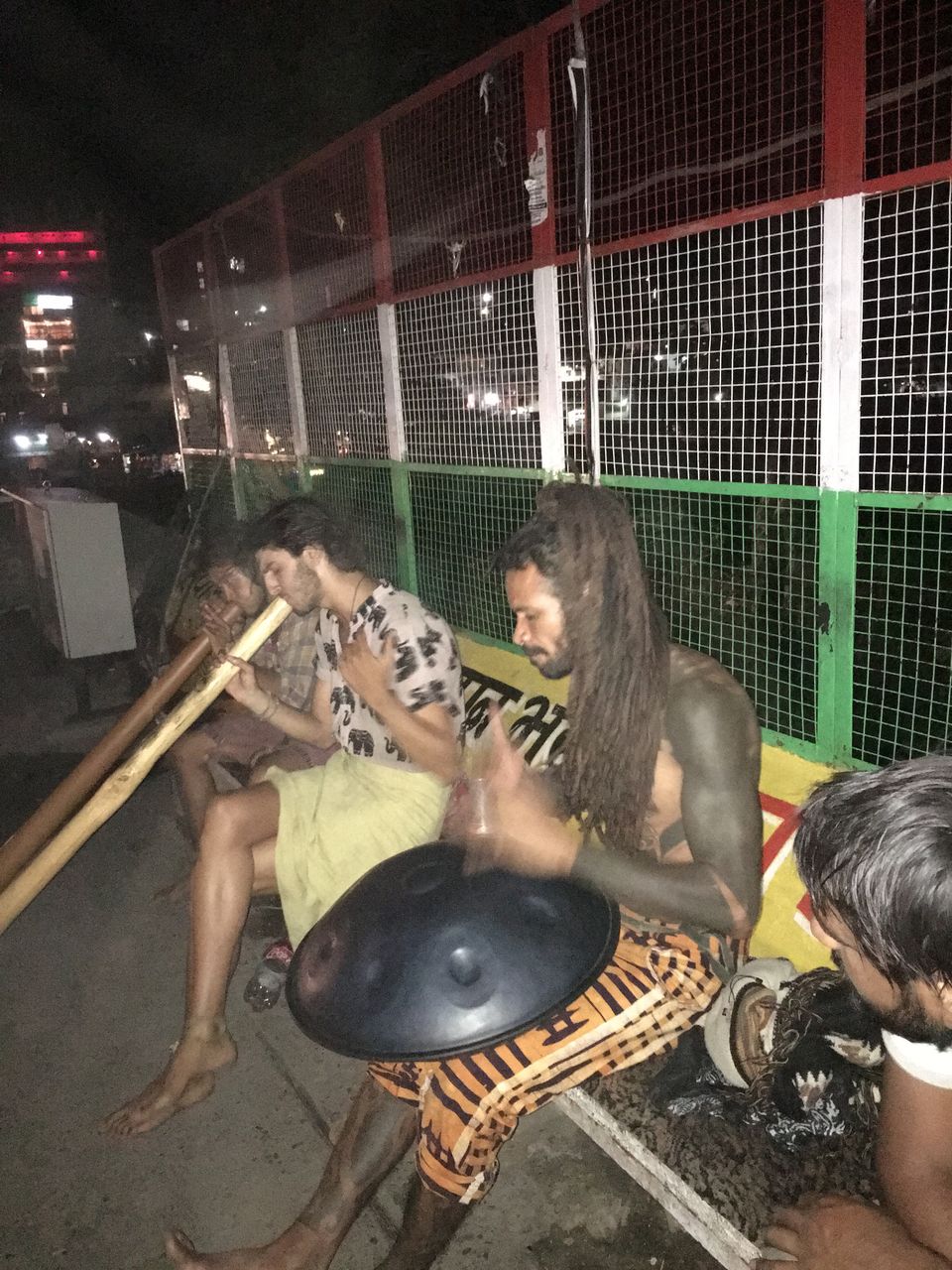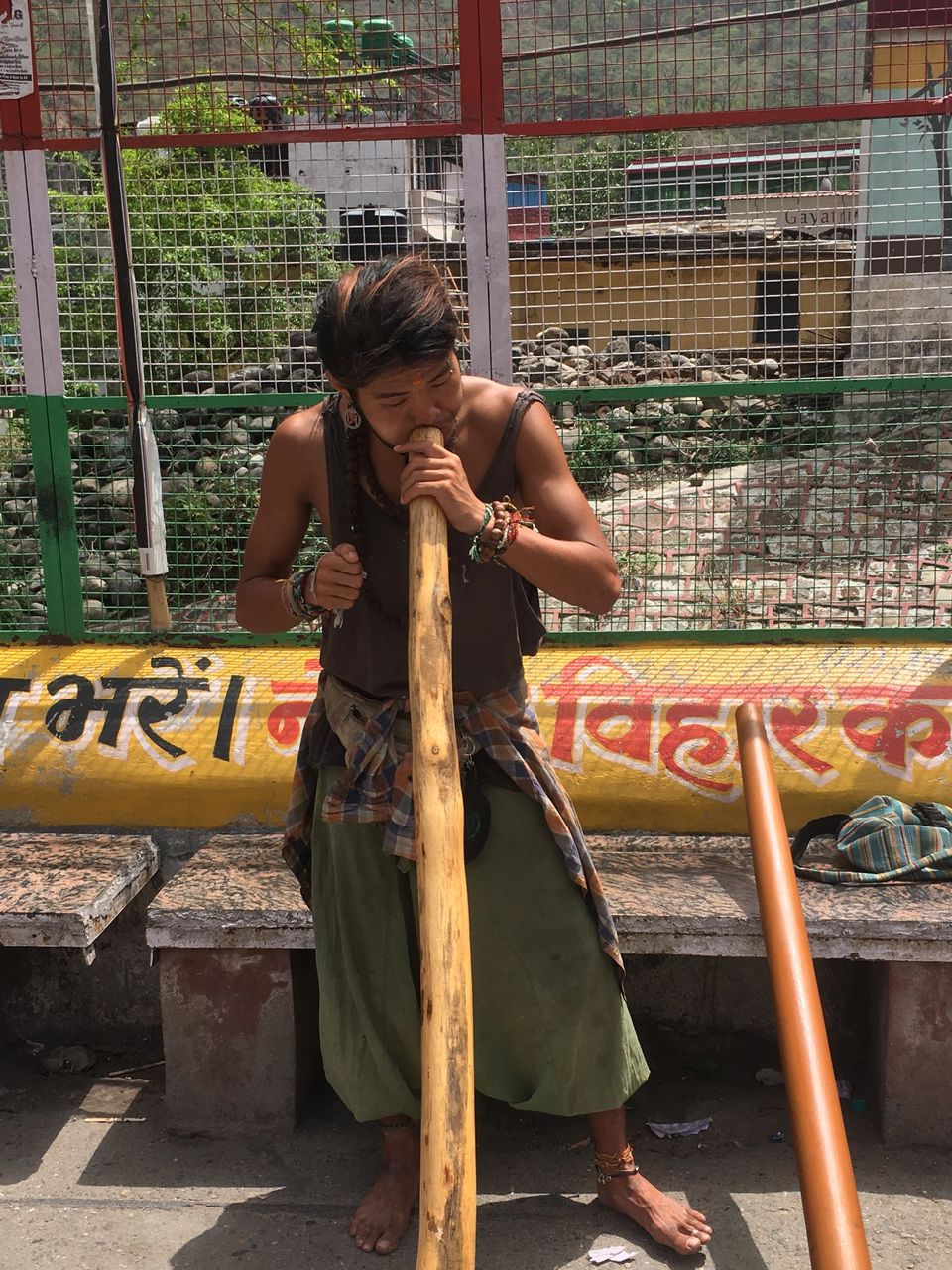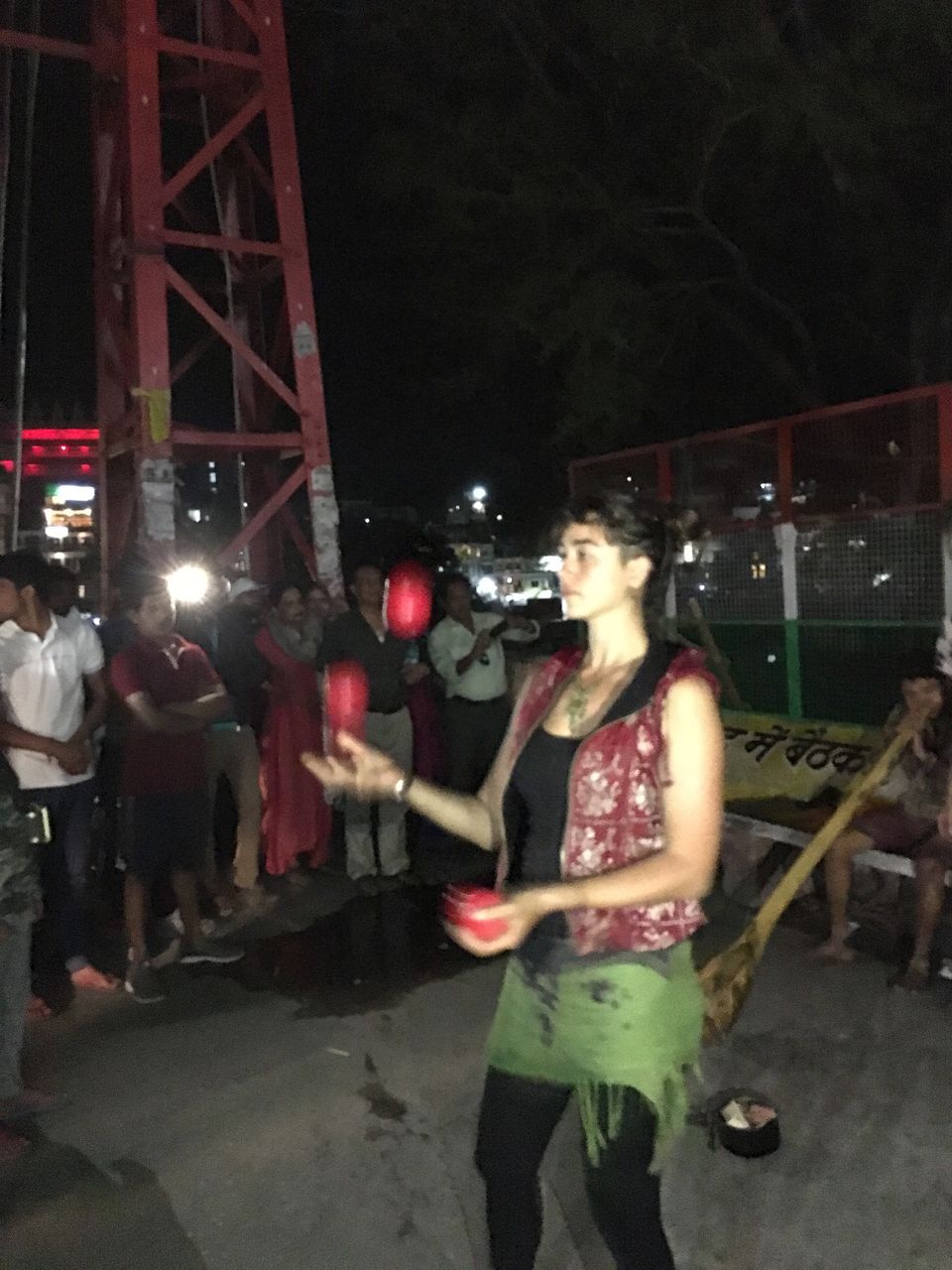 As recommended by Shashi (the Zostel guy!) i took an auto rickshaw to the famous Rajasthani Misthan Bhandar which is sweet shop with a restaurant serving authentic north and south Indian food.located few minutes from Triveni ghat,a bit far from hostel near Rishikesh Bus stand towards Haridwar road it was easy to spot.visited by most of travellers and locals for breakfast, lunch and dinner it is little crowded and a normal waiting time is 10-20 minutes.i reached before closing and asked to wait outside as no table was free so i tasted some sweets while waiting,after a wait of 15 minutes service guy called my name and i got my table.the food and service worth every minutes of wait and each penny i spent, delicious kadhai paneer, daal makhni and garlic naan must try.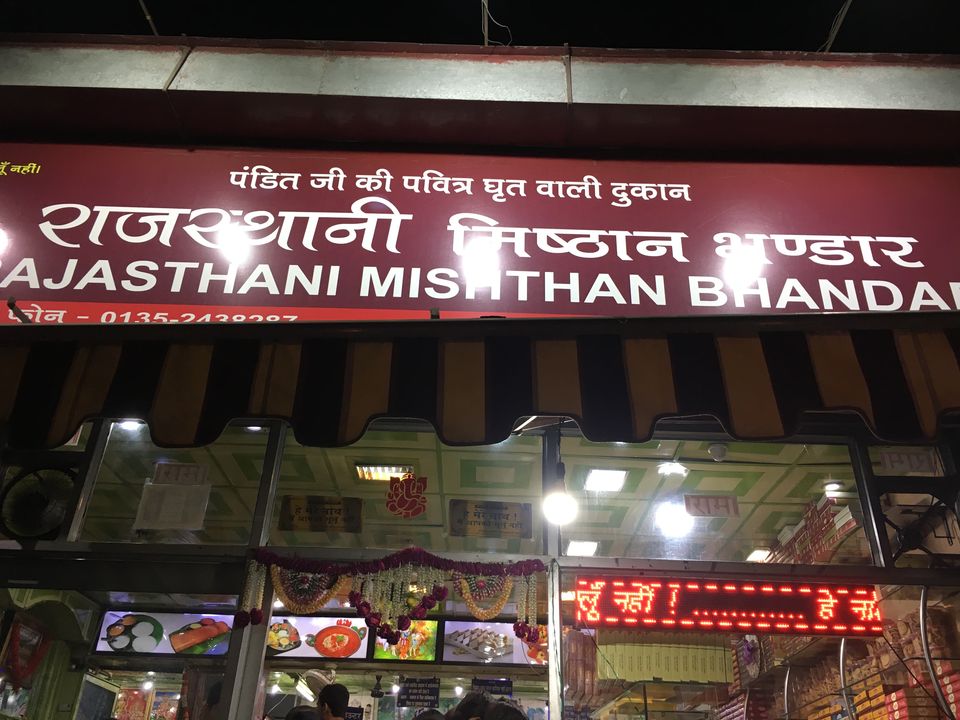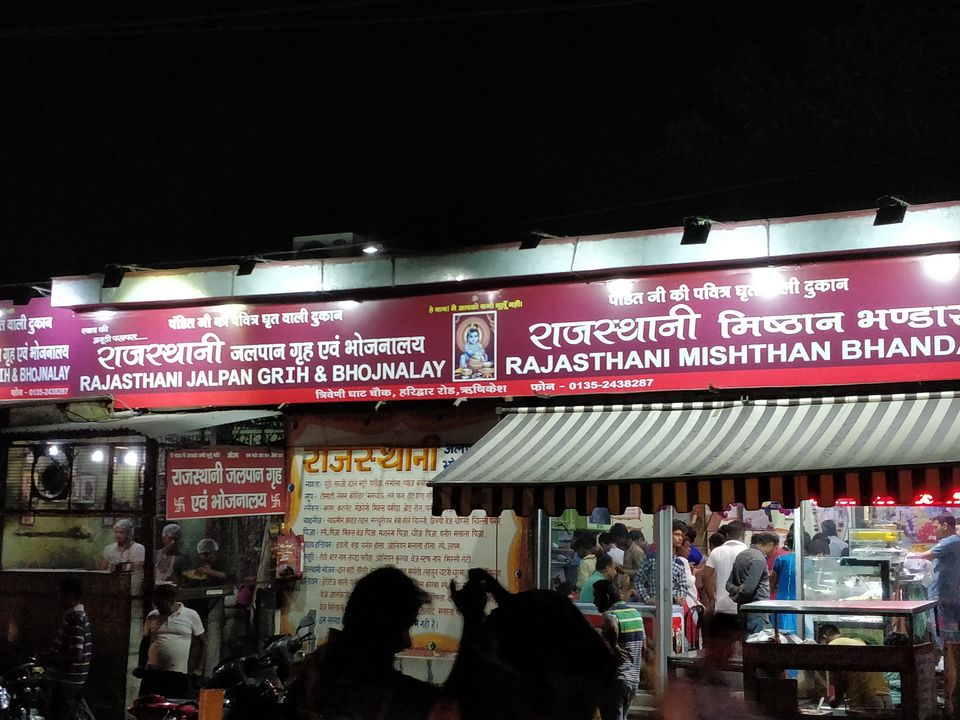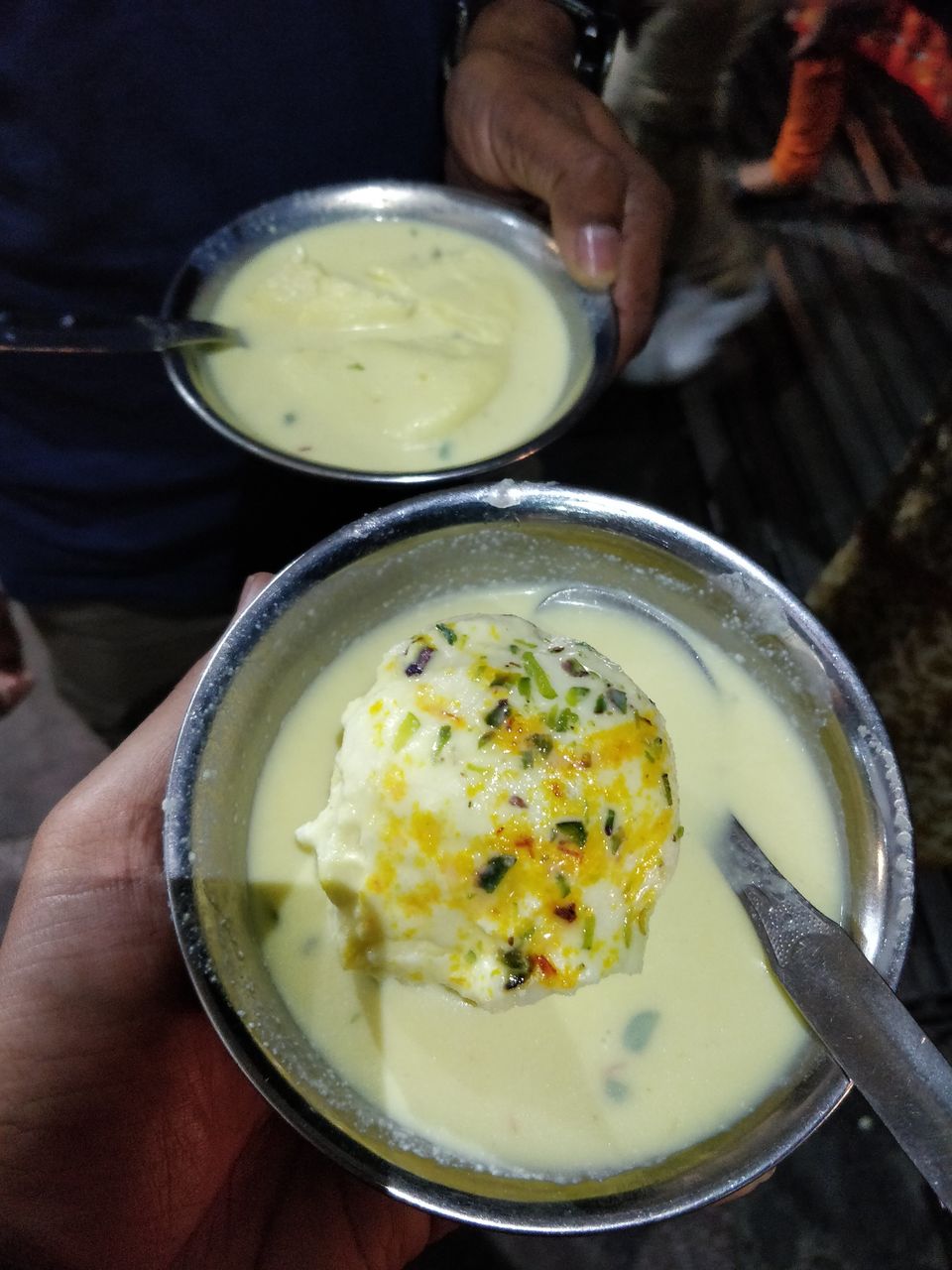 Do not forget to include this in your itinerary if you are in Rishikesh.
Back to hostel at 11 pm i was suggested for sunrise trek to Kunjapuri Devi temple so went to bed to get good sleep as had to woke up at 3:30.
Woke up and get ready by 4 for sunrise trek arranged by Zostel itself.i was alone so there were 4 foreign nationals accompanied me on shared Jeep to make it affordable and comfortable for all.our driver was a local and kept telling different stories of Rishikesh and his village throughout the tour.located 25 kilometres from Rishikesh at the altitude of 1630 m with a small trek is Kunjapuri Devi Temple,one of 52 shakti peeth of Uttarakhand has immense importance in Hindu religion.it is this place where upper half body of Sati (wife of Lord Shiva) has fallen when Lord Shiva carrying her on his way back to Kailash.road to the temple is well maintained and gives different views of whole city.though it was not a clear day the temple boasts panoramic views of snow range Himalayas and beautiful valley of Bhagirathi.best way to start your day when in Rishikesh.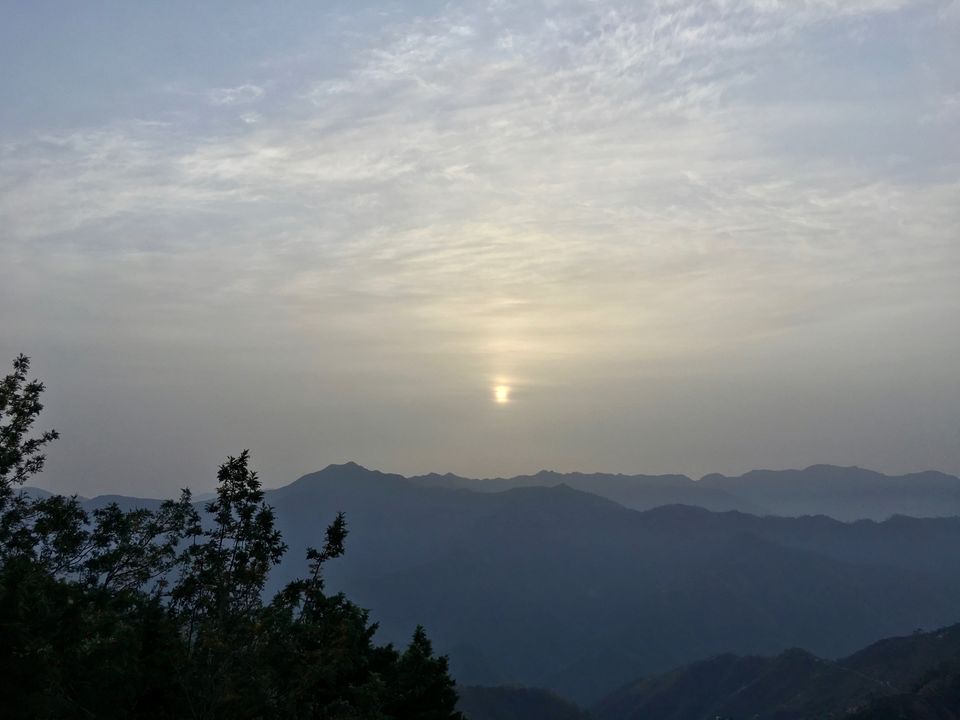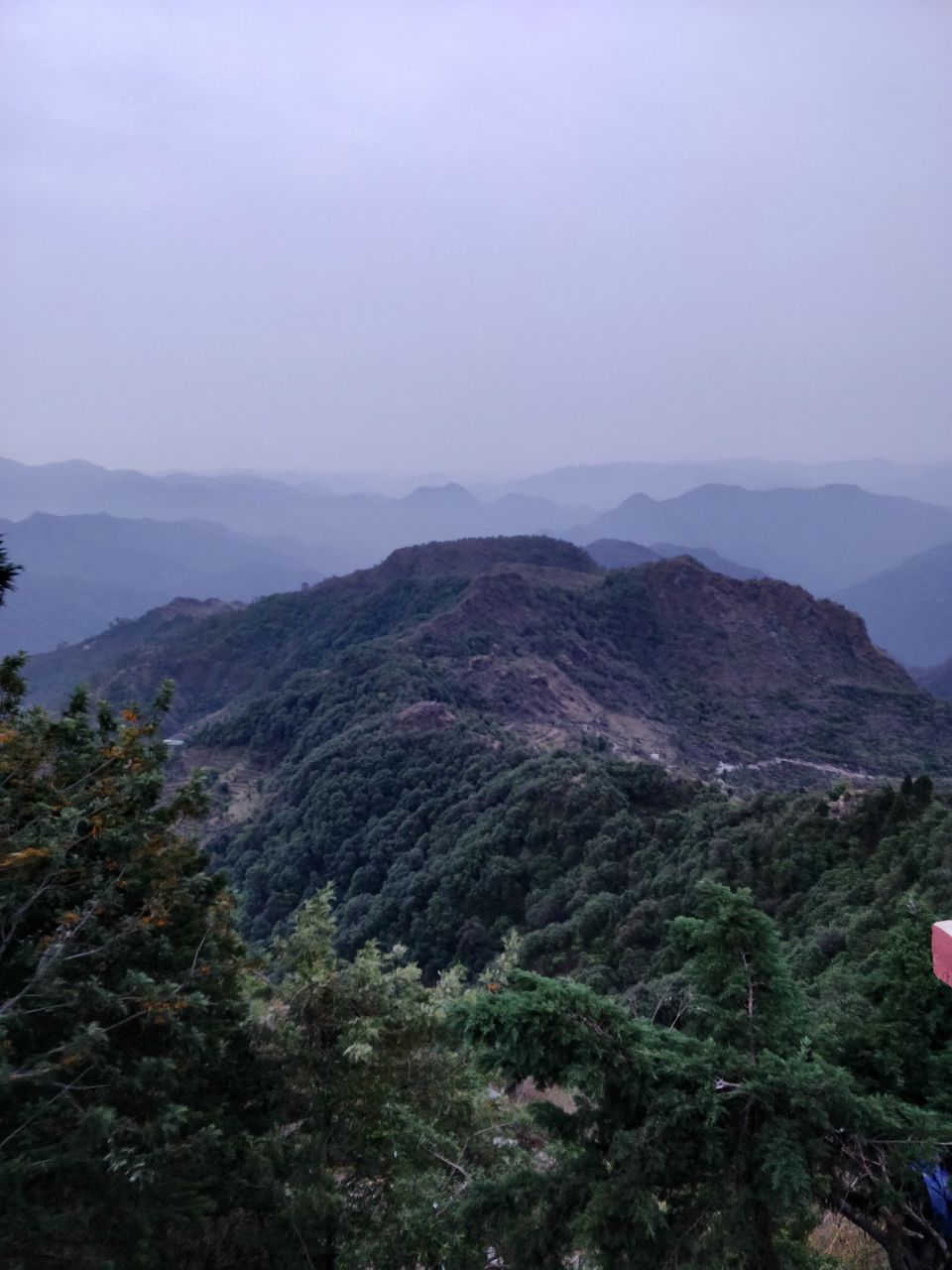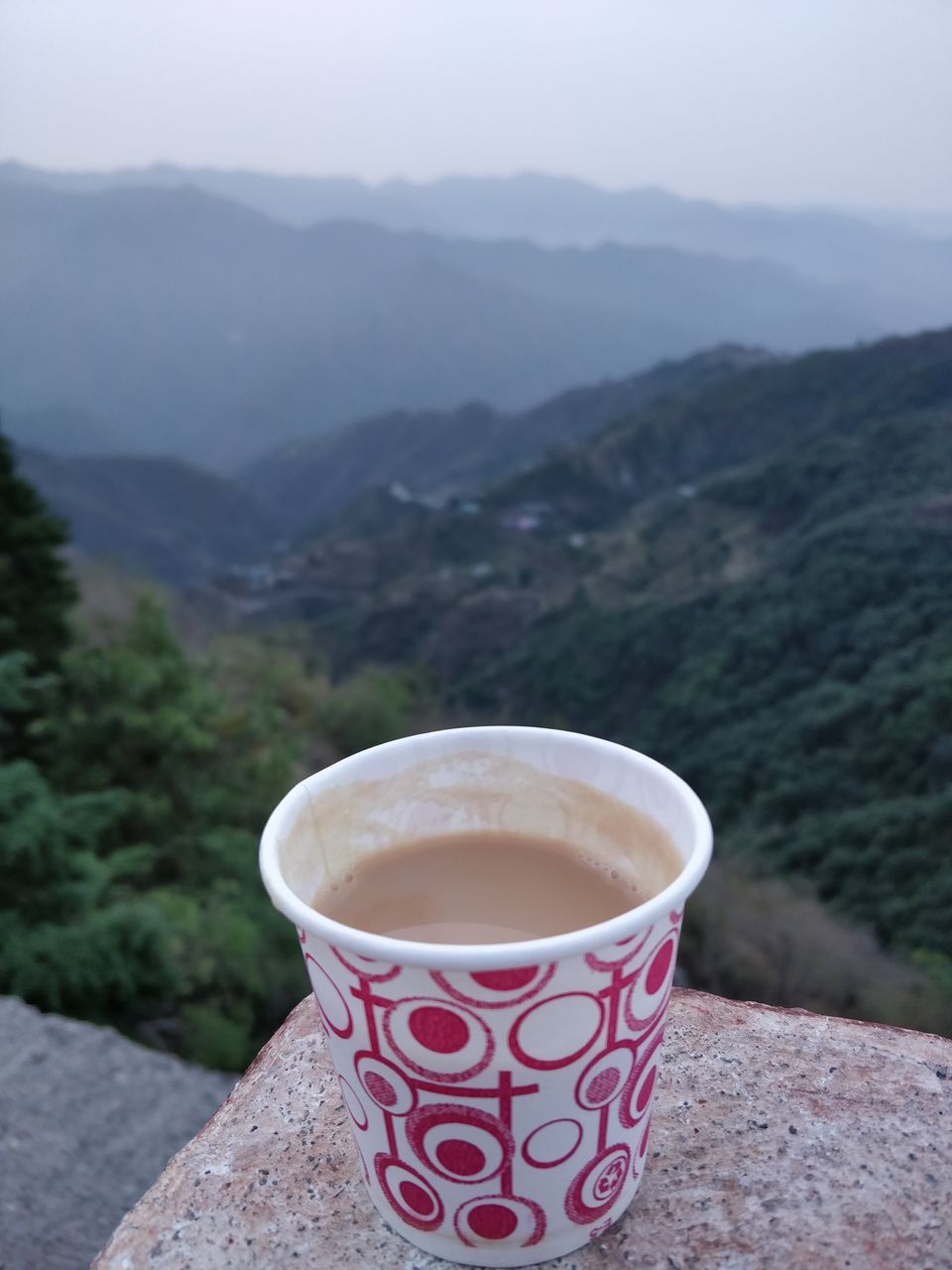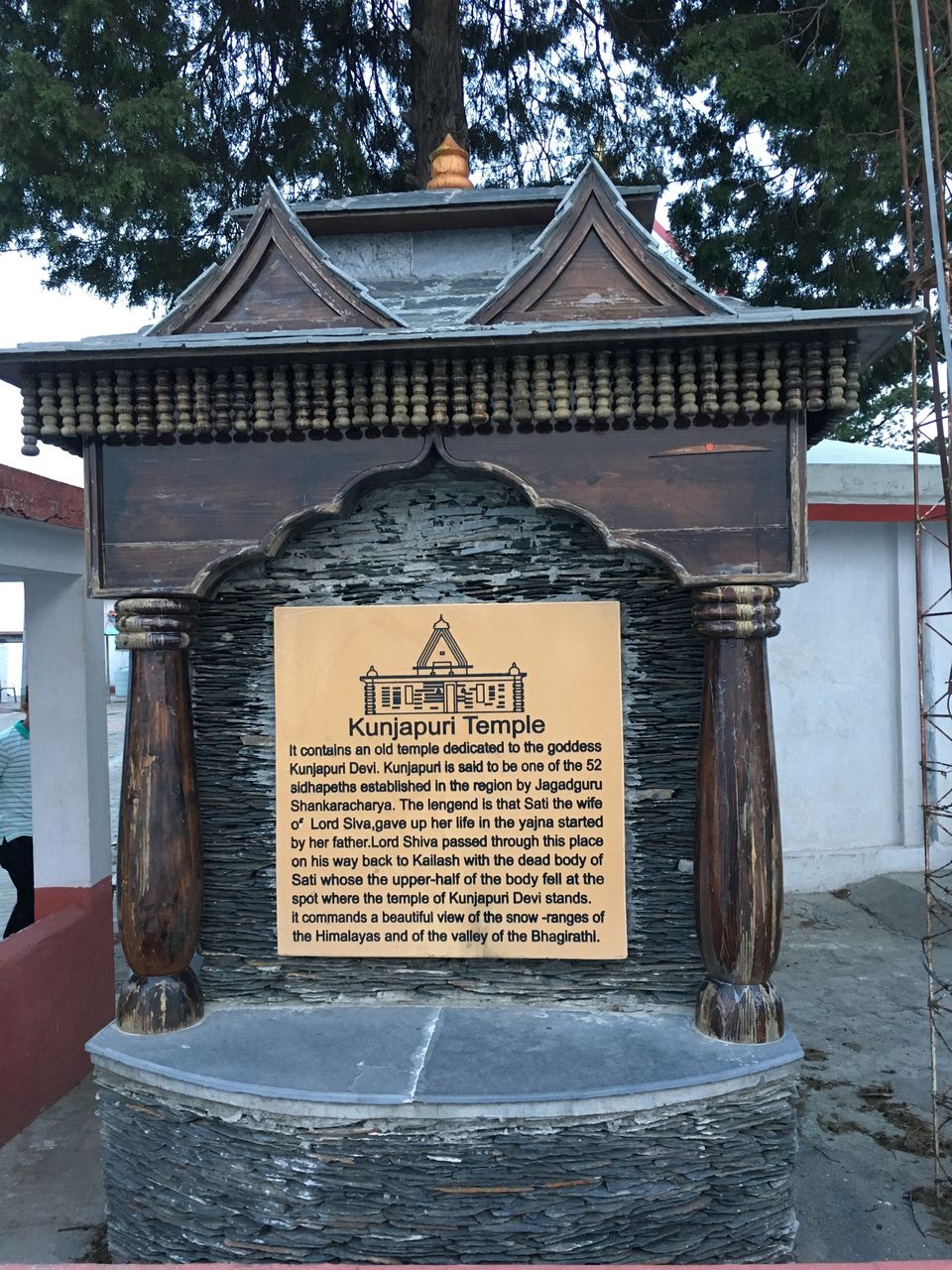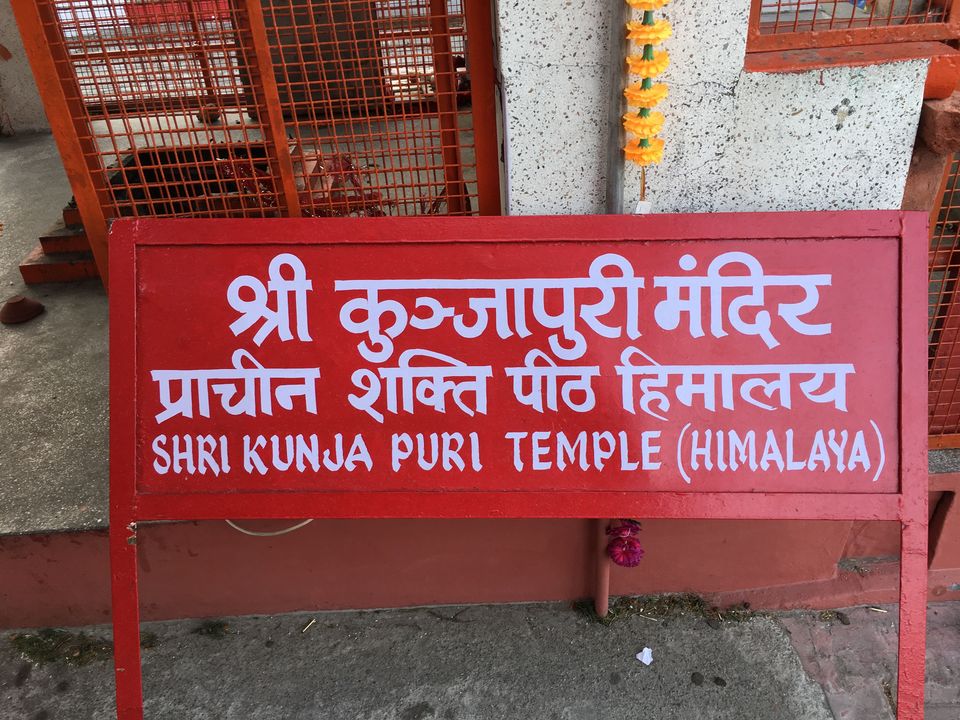 Now it was time to spice up my trip with most exciting itinerary,an extreme sport and spine chilling adventure ,the white River Rafting.they have different packages to offer on the basis of difficulty levels or grades from a 35 km ride to 16 km ride depending on your will and time you have,time to complete the rides vary between 2:30 hours to 5 hours.you can choose according to your ability to sustain throughout the ride as once you are on raft there is no turning back.take your time talk to agency and the guide then decide to do it not.there is no problem if you don't know how to swim as they will give you life jackets and helmets for safety but it will be helpful if you know little bit swimming.
I chose the short one ,16 kilometres ride from Shivpuri down to Lakshman Jhula (as this was my first!) which took 2:30 hours to complete and it comes under grade 3,3+ that means difficult and requires perfect and precise manoeuvring and it also gives you a chance to try cliff jump in between.Zostel arranged it along with other 5 as they need at least six people to run the raft.after completing mandatory declaration form and signing it our taxi came with big raft on the top to take us to the starting point which was 16 kilometres away at Shivpuri.it took 30 minutes to reach and another 30 minutes for raft inflating, safety and how to briefing which is very useful and listen it carefully to make your rafting safe and memorable.we get on to raft wearing helmets,safety jackets along with our guide having helmet mounted GoPro to capture our memories and a kayak safeguarding us in case if anything goes wrong ,after taking blessing of Holy Ganges we started paddling downstream deep in the water with green peaks of Himalayas on one side and rocky cliffs on the other.it has 7 rapids including small and big ones to keep your adrenaline rush high, some of the good rapids with weird names on this stretch are Return to sender, roller coaster, golf course and club course which are safe to raft with some big waves hitting your back and try to topple the raft again and again.our guide allows us to get down and enjoy in to the clean and cold river water which was so relaxing from heat and sun over the head.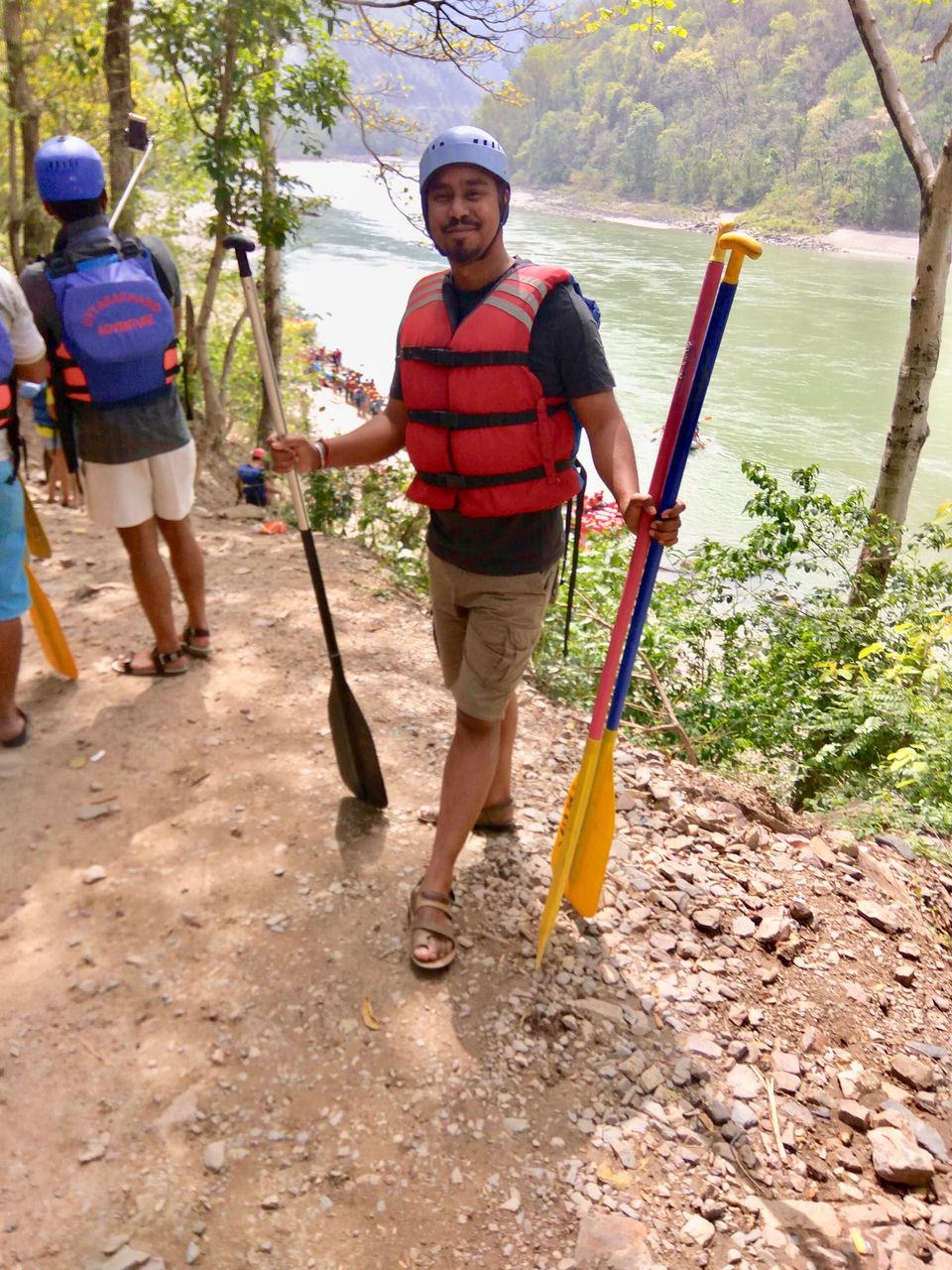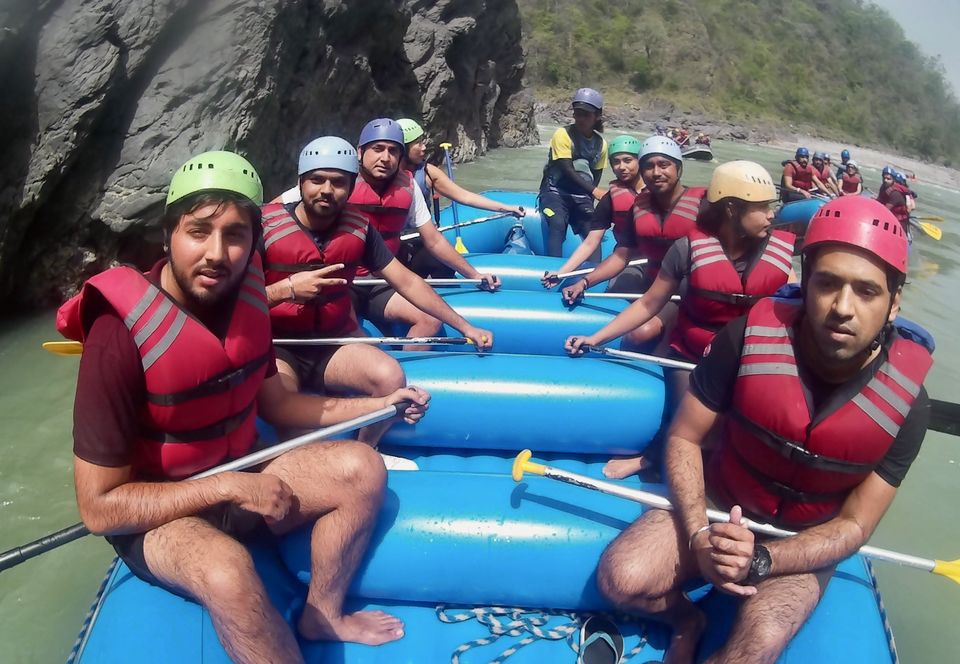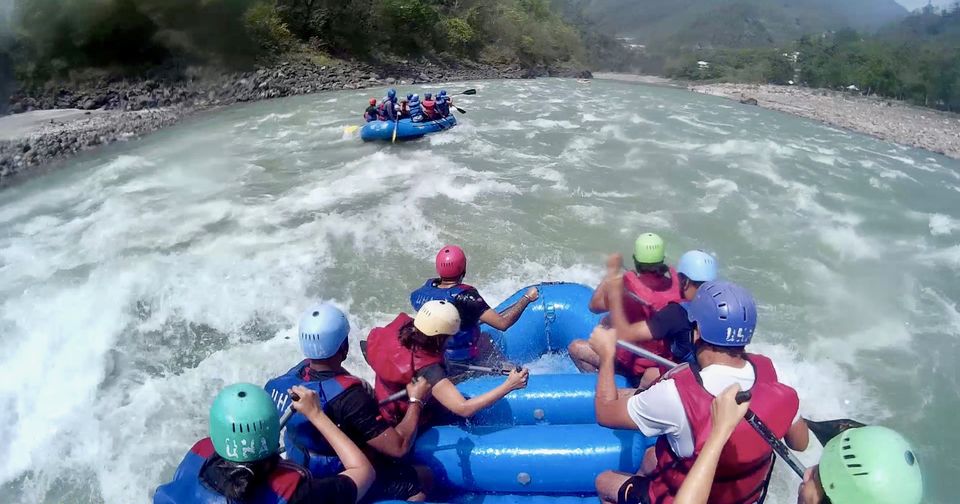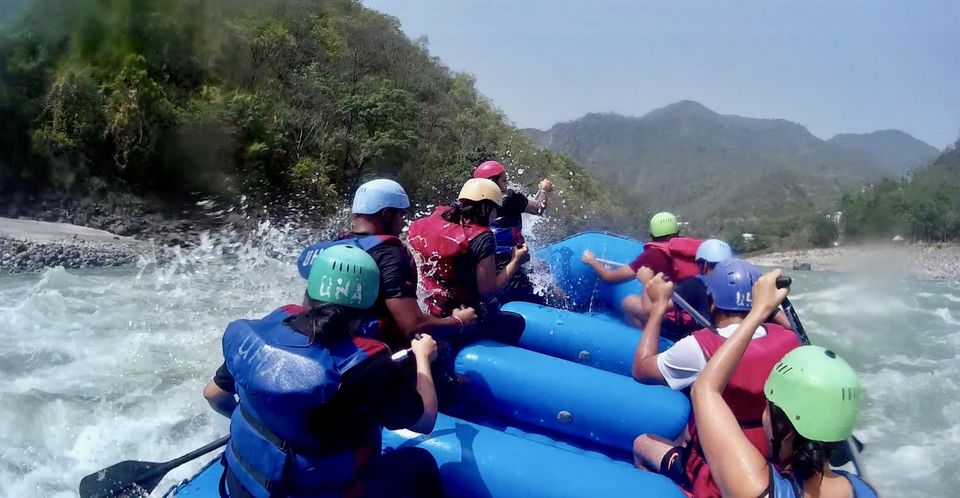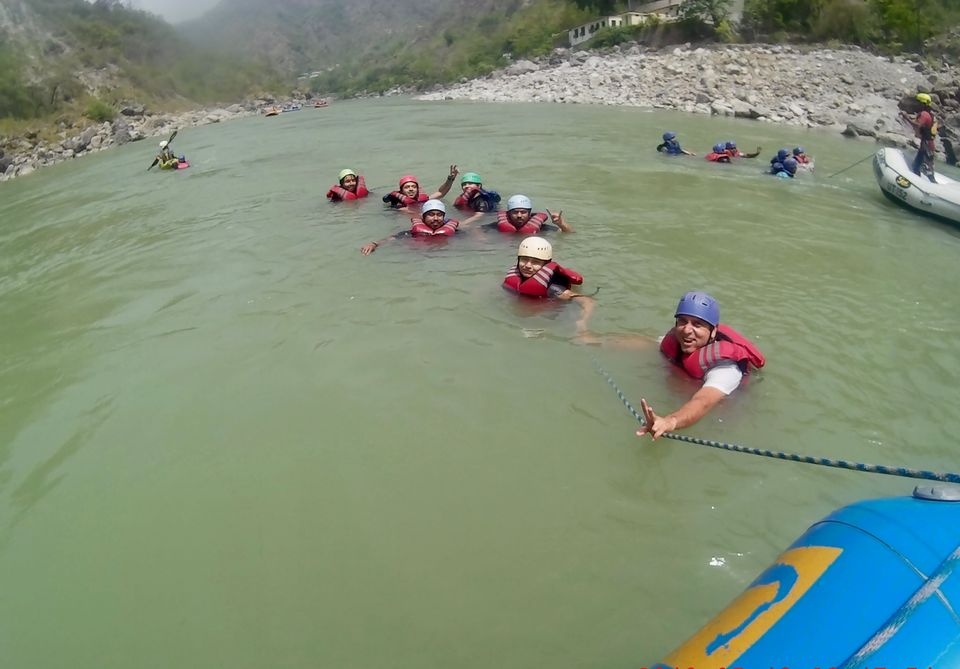 I tried Cliff Jump which was 30 feet high or so and it was so amazing i jumped twice, must try if you want to make your rafting experience more interesting (this is the place where you could enjoy Maggi and tea).it was a lifetime experience with 2 hour enthralling fun on the river Ganges with some big hits and splashes.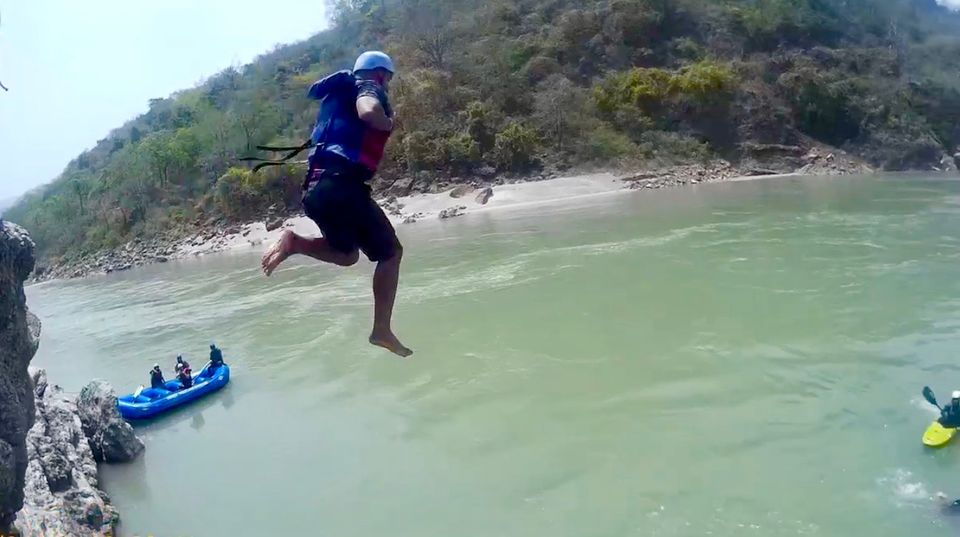 Tip: Do listen to guide instructions carefully specially during rapids.As rafting is a team sport so try to synch paddling and help and motivate each other to make it comfortable for all.
Best time to do: September to June till onset of monsoon.
How much it cost: Rafting can cost you anywhere from 400 to 2000 depending on season, the packages you chose and agencies which runs it.videos and photographs of your trip are available at small additional cost of 300 rupees per head.
Frequent searches leading to this page:-
rishikesh river rafting and camping packages, camp rishikesh tour packages, trip to rishikesh and haridwar, rishikesh weekend packages from delhi, rishikesh to badrinath yatra