Whether you're looking for a quick weekend getaway, the ultimate surf, or planning the trip of a lifetime, a beach vacation is always a good idea. To get you inspired, here are some of the world's most beautiful beaches from South Beach to Sri Lanka.
So, if you're beach lover, make sure you strike of these "Most Beautiful Beaches in the World" off your bucket list this year.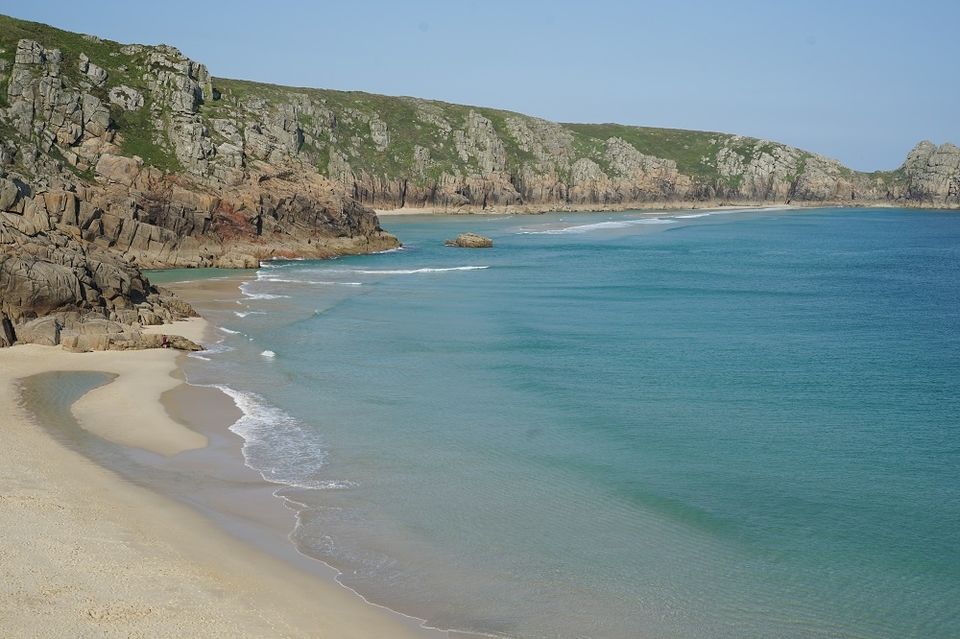 Porthcurno's coastline and cliffs are a part of the Cornwall Area of Outstanding Natural Beauty (AONB). And it is not surprising considering how stunning the beach and the surrounding area is. I would say that it is one of the finest white sand beaches in the UK. With rugged high cliffs providing shelter from both the sides, the beach with its turquoise waters is a top tourist attraction of Cornwall. It is very popular with families. There is an area of shallow water perfect for paddling, you can play a game of beach volleyball, enjoy a picnic, go for long strolls, sunbathe, swim or simply enjoy the beach. The coast is also good for spotting marine life - with seals, gannets and basking sharks often visiting the bay. Up, on the cliffs near the beach is the very unique and popular Minack Theatre which one can visit all year round. The Porthcurno Telegraph Museum located near the beach is also well worth a visit.
The beach is open all year round and you can visit it in all seasons but the best time to get into the water would be the Summer months. There is a carpark around 200 meters away from the beach, so you can drive down, park your vehicle and then head down to the beach. Don't forget to bring a picnic!
Location: Porthcurno Beach, Porthcurno, Cornwall TR19 6JX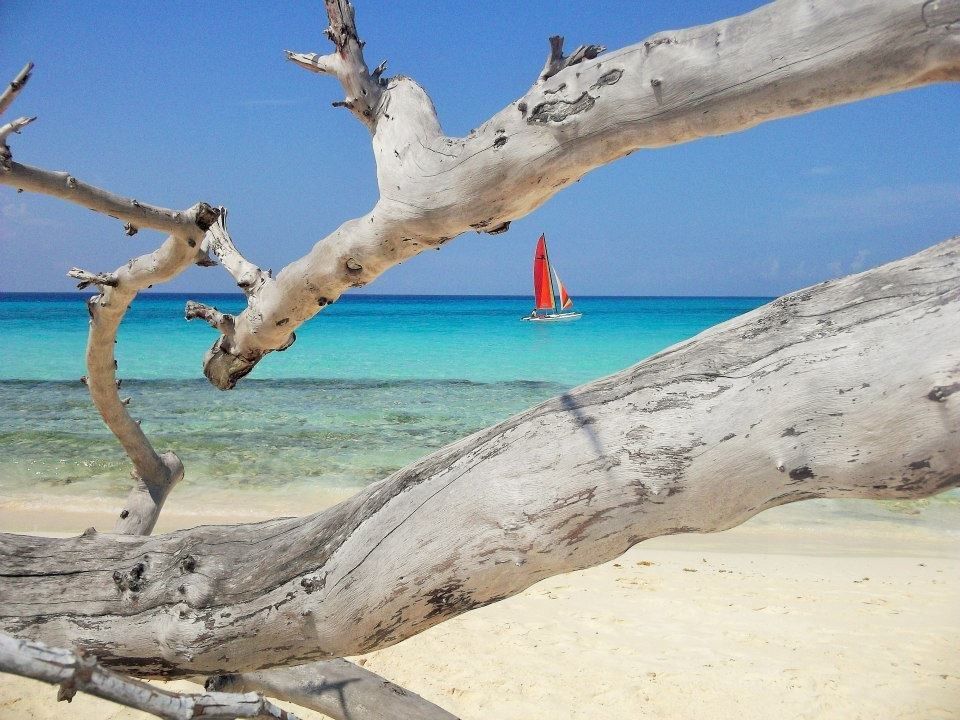 is one of the 6 beaches in Holguin region in the South East of Cuba, 51 km from Holguin city. It's a public beach but that said there are 3 all inclusive resorts located by the beach with lifeguards and security guards from all 3 hotels patrolling the 1km stretch.
If you're staying in Holguin area, the most convenient way will be to hire a local guide to take you to this beach as a part of a day trip of the local area. Alternatively you can stay in one of the 3 beach resort - Hotel Blau Costa Verde, Hotel Playa Costa Verde or Hotel Playa is the most perfect beach I've seen! Imagine pristine white sand squeaking under your feet and crystal clear water that turns to a perfect turquoise shade under the sunrays.
The descent to the water is gentle and smooth, without any rocks. There is plenty of shallow water area where you can just take a dip and relax. The place is great for snorkelling too! I've seen many species of colourful small fish is public but tends to be quiet and peaceful especially during the week with locals visiting on the weekend. The beach itself is grown with beautiful vegetation, perfect to find a relief from the midday heat.
If you're bored of sunbathing and snorkelling, you can take a walk or go on a colourful catamaran operated by hotel staff. The beach looks even better from the sea!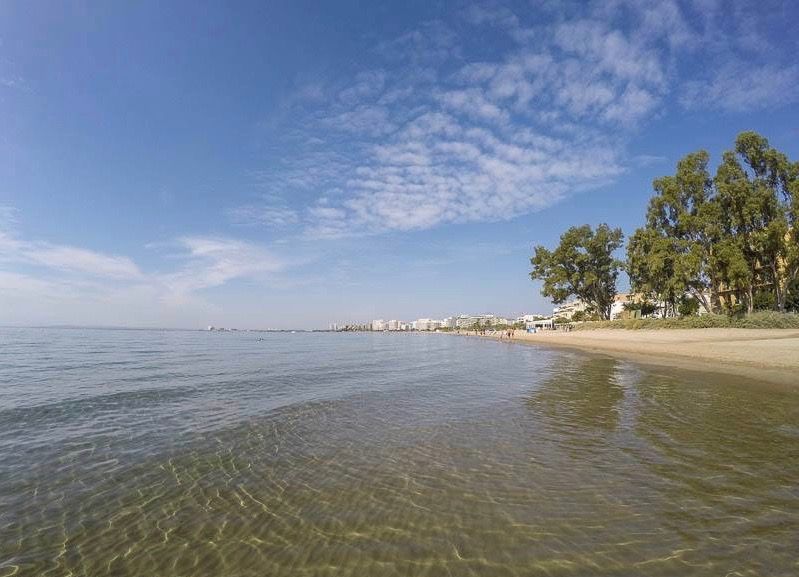 The beaches of Southern Spain are known throughout the world. White sand and year-round warm temperatures make them very popular tourist destinations. But not all the best Spanish beaches are in the south of South. About 90 miles to the north of Barcelona is the seaside town of Roses. Made famous by Michelin Star chef Ferran Adria and his 3 Michelin Star restaurant El Bulli, Roses is a popular summer destination with its own beautiful beach. Day trippers from Barcelona as well as from nearby France visit Roses from late May to October. Located along Spain's Costa Brava, or wild coast, the beach in Roses is one of the best in the region.
While most beaches in the Costa Brava consist of stone or small pebbles, the beach in Roses is soft sand. The water in the Bay of Roses is crystal clear and relatively calm. Early in the summer season the waters off Roses can be a bit chilly. However, by the end of summer in late September the waters have warmed up perfectly and are quite refreshing. Watersports like sailing and kayaking are popular activities for travelers. On shore, a two mile long pedestrian promenade along the Bay allows for jogging, cycling, or a casual evening stroll. With its location on the sea, visitors can experience some of the freshest seafood in Spain. Roses is one of the main fishing ports along the Costa Brava, known for its mouth watering prawns.
One of the best places to sample the local seafood and traditional Catalan cuisine is Rafa's. Hidden away a few blocks from the beach, Rafa's uses nothing but the day's fresh catch. A favorite restaurant of Ferran Adria, Rafa's is worth seeking out. Roses is best reached by car as there is no train service to Roses. You can reach Roses by bus from Barcelona, Girona, and nearby Figueres.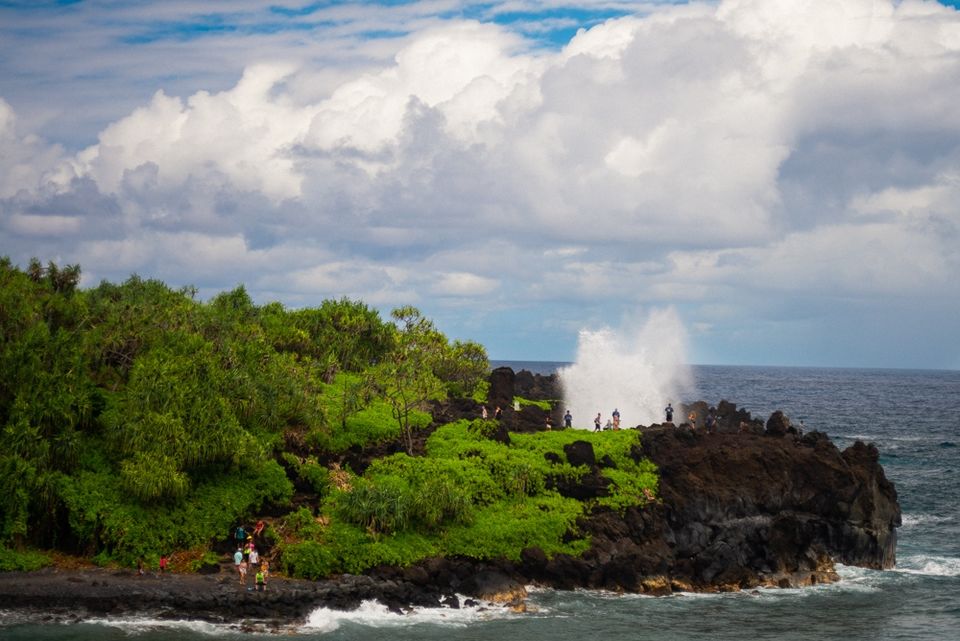 In my mind, one of the most beautiful beaches in the world is Maui's black sand beach at Waianapanapa State Park. A black sand beach is a rarity anywhere in the world. Most black sand beaches including this one are usually created by the erosion of lava over long periods of time.
The beach is named Pailoa, which means "glistening waves," and it lives up to its name! Pailoa sits in a private, secluded cove which makes the waters calm nearly all the time. An arm of lava surrounds most of the beach area and blocks the strong ocean waves. This lava arm also has a blow hole at the far end, so it's quite common to see water spouts when the waves are very active. Visitors should be aware that black sand heats up considerably faster than normal white sand, and so use caution in walking on the beach during the day.
Visitors to the beach and the state park can wade and swim in the cool waters of the Pacific. They may also walk through the quiet and shady groves of coconut, breadfruit and guava trees that grow wild on the property. Hiking trails and natural scenery like lava tubes and fresh water caves also exist in abundance.
Waianapanapa State Park is located on the extreme eastern edge of Maui. If you're taking one of the many "Road To Hana" tours, the state park is a popular stop along the trip. If you're driving to the beach yourself, it's just three miles north of Hana off State Highway 360 (the Hana Highway). The beach sits less than a mile off the highway. Plenty of parking is available, and camping/RV spots are available with a reservation.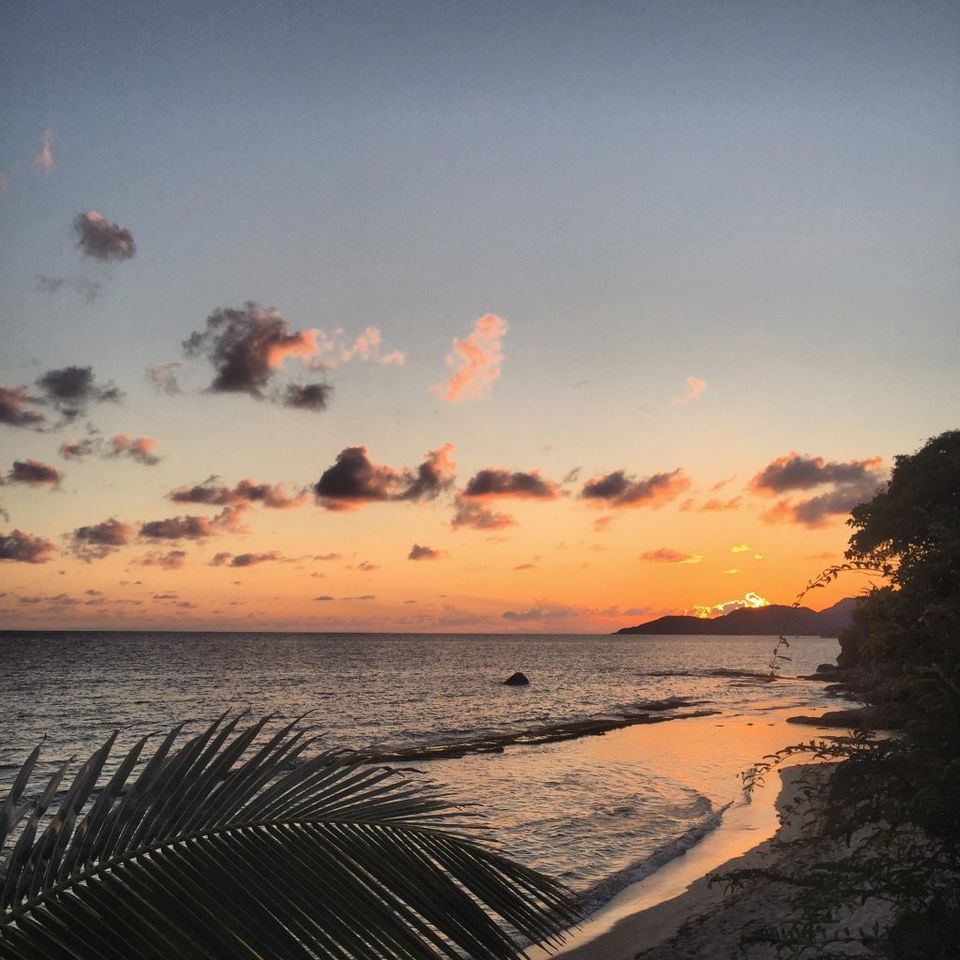 Puerto Rico boasts some of the most beautiful beaches in the world, especially on the remote island of Vieques. A short 45-minute ferry ride off Puerto Rico's mainland and you can experience the luxury and solitude that the island has to offer. Luckily, the passenger ferry only costs $4, making Vieques an ideal destination for both budget and luxury-seeking travelers.
In addition to the island's immaculate beauty, Vieques has a diverse history. Vieques is a former United States military testing area. For more than 60 years, bomb and missile tests occurred on the island, which has since been rumored to be the source of the island's high cancer rate. There are even ruins on the island that tourists can explore to witness first hand the destruction of military testing.
Since military testing ceased in the early 2000s, the island's vibrant community has grown and flourished. On the island, there is a nature preserve for wild horses, which serves as the perfect Instagrammable vacation moment. Horses freely roam on the island's dunes and even through the towns' streets. This is all within a short distance of the island's lush Sun Bay beach.
Sun Bay is located on the southern side of the island and is secluded from the hustle and bustle from the ferry's port and tourist's joints. Sailboats drift along the horizon causing little to no commotion and are a spectacular sight for beach-goers. Nearby there is a boardwalk selling homemade jewelry and crafts from Vieques' locals. If you're looking for some more island excitement check out one of the nearby bars and sip on the iconic Pina Colada which originated in Puerto Rico. You might even stumble across some bars that encourage Latin dancing. End your perfect beach day with a showstopping sunset. The boardwalk offers a pristine view, otherwise, grab a spot in the sand to watch the sun sink below the waterline.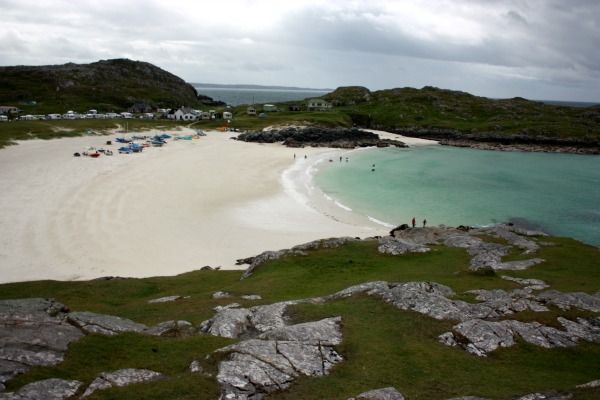 On the remote North West coast of Scotland there is a gem of a beach which, despite its northernly location, manages to retain the perfect ingredients for a paradise plage. The sea in this part of the world is even heated by nature's own North Atlantic drift, although don't expect to enjoy tropical temperatures.
The Atlantic here is crystal clear, with a heady mix of turquoise and azure, while the naked sand beneath is white, fine and clean. This stunning beach is tucked away in a sheltered cove, partly surrounded by rocky outcrops and low sand dunes, with the view behind dominated by breath-taking mountain scenery.
There are very few buildings close to this wild bay but if you are looking to stay overnight, then try the nearby Youth Hostel or the campsite which has a great fish and chip shop. The calm and transparent water here lends itself perfectly to water sports such as swimming, snorkelling and canoeing. If you prefer to stay out of the water, then there is a lovely coastal path to discover and ruins of a 1 st century broch.
Located within the North West Geopark, the nearest town to Achmelvich beach is Lochinver. Getting here without a car can be a little challenging. Indeed, it is a popular stop off on Scotland's famous North Coast 500 scenic driving route. Although some looking for an authentic wild camping experience choose to cycle, complete with tent and sleeping bag. It is possible to travel to the Youth Hostel by bus from Ullapool but expect to change a few times and for the journey to be slow.
Location: Achmelvich Beach, Scotland
Contributed by Gillian from Scotland Bucket List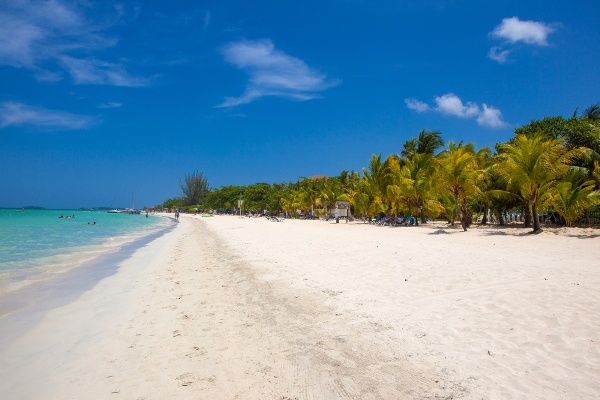 Seven Mile Beach is the main attraction in the beach town of Negril, located on the western end of the island of Jamaica. The beach is around one and half hours from the city of Montego Bay where the main international airport is located.
This beach is where the Jamaican laid back vibe was invented. The main beach is called Seven Mile beach. The beach is not actually seven miles, but who's counting! There is also an adjacent beach called Bloody Bay. On seven mile beach expect to see dramatic sunsets at the end of the day, miles and miles of smooth white sands and clear turquoise blue water. The beach has developed over the years and is now lined by restaurants, beach front bars and hotels; however, it has still managed to maintain its charm.
The beauty of the beach is it is so bustling, it's impossible to be bored on this beach. You can walk for miles along the beach and find something new and interesting every few yards. Seven mile beach has every water sport activity you can think of: parasailing, sunset catamaran cruises, diving, water skiing or jet skiing, this beach has it all. There is a small island called Booby Island just offshore that is accessible by boat, where you can go snorkelling and enjoy some great seafood.
An added plus is at night the beach comes alive. You can go to live reggae music performances at the bars that line the beach.
Location: Seven Mile Beach
Contributed by Charmaine from Jamaicatravelsaver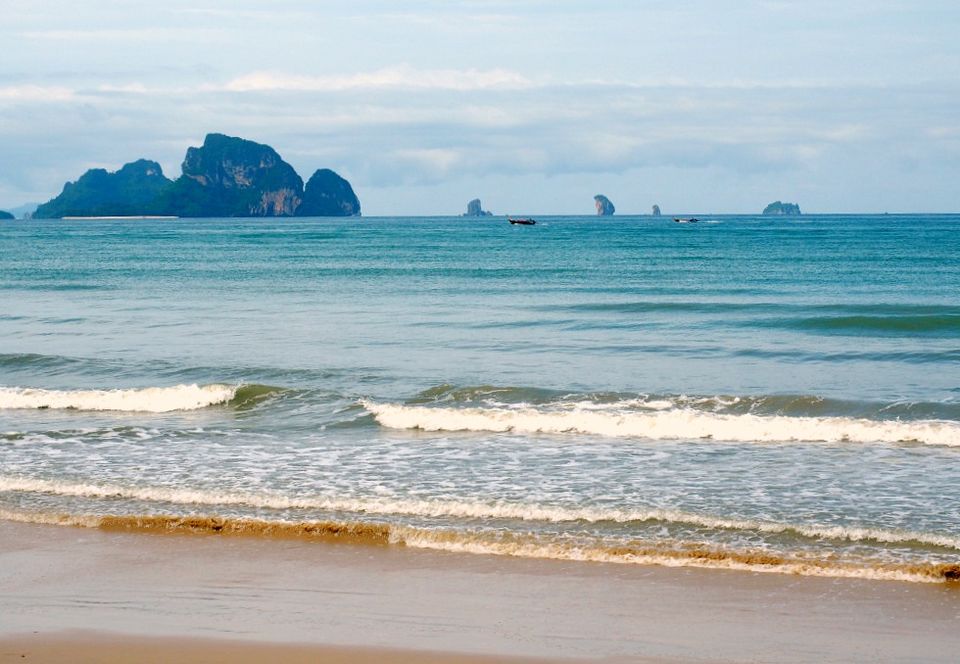 There are so many beautiful beaches in the world it's hard to pick just one. But one beach that stands out for me is Ao Nang Beach in southern Thailand. It's one of the first beaches we stayed at in Thailand so it's a sentimental favourite. Located in Krabi Provence it's a popular destination for visitors to Thailand who enjoy day trips to the nearby islands - forgetting about the gorgeous beach right on their doorstep!
With limestone headlands at each end of its golden sand beach and stunning karst scenery, Ao Nang Beach is a beautiful spot to spend an afternoon. It tends to be quiet as most people go off on tours so you can have the pretty palm-fringed beach all to yourself. It's great for sunbathing and the gently sloping sand offers some of the best swimming in the area. Take a dip in the warm aquamarine water with the mesmerising cliffs as a stunning backdrop.
Everyone dreams of their own private villa on the sand, right? Well in Ao Nang no accommodation has direct access to the shore, which means the beach is visible and accessible to everyone. And the view is amazing, especially at sunset when everyone gathers to watch the evening spectacle.
Location: Ao Nang
Contributed by Audrey from Gumnutsabroad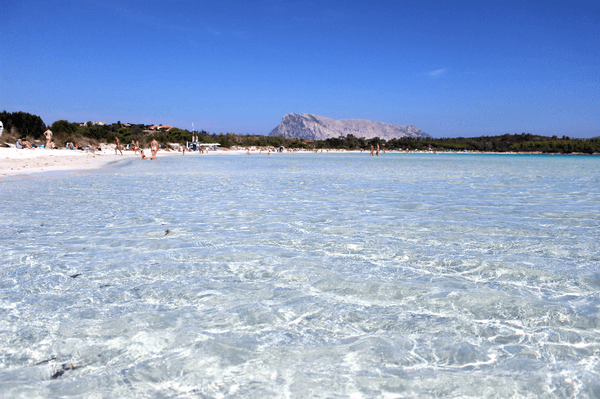 Cala Brandinchi is one of the most beautiful and well-known beaches in Sardinia, Italy. When you arrive here you will be greeted by an awe-inspiring view of a long sweeping arc of white sand that meets stunning clear blue waters.
The beach is blessed by wonderful calm and shallow water. This makes it perfect for young children to play in or for games of Frisbee between friends. It is also perfect for getting out on a SUP or kayak and these can be rented form the small café at the end of the each. Aside from this building, the beach is backed by small sand dunes and is in a natural state.
The beach is beautiful but quite narrow so expect space to be limited if you visit in high season. It was still quite busy when we visited towards the end of September but we were able to find a space to make our own. The beach is on the east coast of Sardinia and is most easily reached by car.
There is a large car park that is well set back from the beach. This is good for maintaining the pristine environment but it makes for a bit of a trek to get down to the beach. The car park quite expensive at 2 euros per hour (capped at 12 euro) but we feel it is worth it for the great beach.
Location: Cala Brandinchi
Contributed by Chris from Morelifeinyourdays
When looking for the most beautiful beaches in the world, Porto da Barra Beach, in Brazil, should be up there on your list. Located right the middle of the city this is one of the few beaches in Brazil which has such a great atmosphere and where you can meet people from all walks of life. It is a place where many locals and tourists visit, so you can expect it to get busy during the daytime and is not really considered a beach to relax. Porto da Barra Beach is for people who want to have fun.
One thing I like about the beach is the lively atmosphere, the great service, and attention to detail. You can easily rent sun-loungers and umbrellas. Each beach vendor takes care of you with whatever you need once you are considered their client. You'll find all your needs are taken care of, whether that be drinks, food, or coconuts. Not to mention, the prices are much cheaper than other popular beaches in the country such as Copacabana beach in Rio de Janeiro. It's wise to carry yourself some comfortable flip flops so you can walk over to the other areas of the beach if you find one area too crowded. You'll also find some good seafood restaurants and bars along the same walk. The late afternoon is the best time to go to be able to appreciate the beautiful sunset. So, when you get the chance to visit Brazil, remember that Porto da Barra Beach awaits you.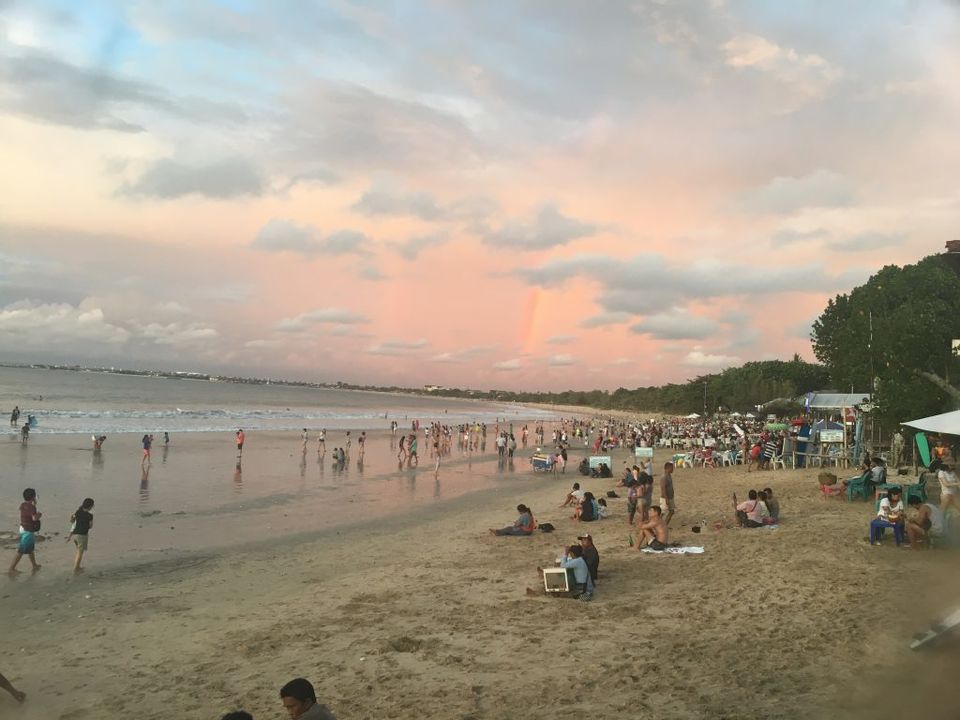 One of the most beautiful beaches I have ever visited is Jimbaran beach in South West Bali. If you're looking for stunning sunsets then this is the place to go!
Jimbaran bay is super easy to get to from the main airport in Bali, it's just a 10 minute taxi ride which will cost you under £5. If you're heading there from Seminyak, expect it to take around 20 minutes. The area has plenty of high end hotels to choose from, most overlooking the Indian Ocean, I highly recommend staying there.
The beach itself is a 4 km long stretch of golden sand where you'll find beach clubs, bars with friendly staff and beanbags on the sand. The beach also has plenty of secluded areas, perfect for relaxing away from the crowds. Jimbaran beach is great to visit during the day but it comes alive in the evening when locals gather for a game of beach football or cricket and to snack on cobs of freshly cooked corn, slathered in either sweet or salty butter from one of the many food carts.
For the best view of the sunset, head to Jimbaran Beach Club, you'll be guaranteed to find a comfy seat, cold drink and an uninterrupted view of the red, pink and purple display as the sun goes down. Jimbaran Beach is most famous for its long row of barbeque seafood restaurants. Freshly caught fish is cooked over coconut husks giving it a subtly smokey coconut flavour and it literally falls off the bones. Like most of Bali, it's great value, you'll have a feast for the price of a glass of wine back home. Locals and tourists sit together taking a lazy dinner sat right on the sand watching the sun go down. Absolute heaven!
Coron, located 438 kilometers southwest of Manila, Palawan was voted the Best Island in the World by Travel + Leisure readers several years in a row. We spent a week island-hopping around Coron, Palawan, and it's the rare region that truly lives up to the hype, with beautiful beaches, excellent snorkeling/Scuba opportunities, and picturesque scenery everywhere you turn.
Picking a favorite beach in Coron is like picking your favorite pet or child. There's the pristine beach of the uninhabited Diatoy Island, which didn't have a single footprint on it when we arrived in the morning. There's the palm-lined beach of Dimalanta Island, which boasts a stunning coral reef system right offshore. Then there's Malpagalen Island (a.k.a. the Island Without Trees), a striking sandbar featuring fascinating rock formations, a sea cave, and dramatic limestone cliffs.
But for our money the beach at Club Paradise Resort, which occupies the private island of Dimakya, is pretty hard to beat. It's so remote that we didn't see any boats (other than the resort's) for six days. It's perfectly groomed, with plenty of shade, beachside bar/food service, and virtually nobody else around. Best of all, the snorkeling from the beach is exceptional. We saw colorful coral reef, giant clams, a pair of color-changing octopi, sea turtles, reef sharks, and much more less than 50 feet from shore.
This Philippine island paradise isn't easy to get to. You have to fly from Manila to Busuanga, take a one-hour car ride from the airport to Coron town, then take a picturesque 40-minute ride on the resort's ferry. But the breathtaking natural beauty of the beach once you arrive makes it well worth the time and effort!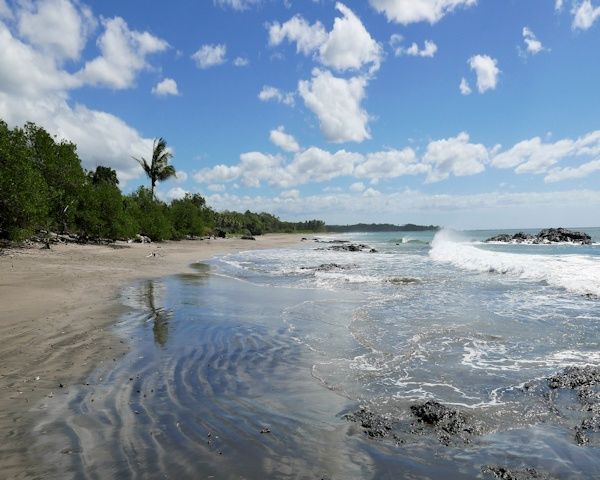 Playa Junquillal in the western Guanacaste region of Costa Rica has to be one of the most beautiful beaches in the world. It is not a squeaky white sandbeach lapped by an azure sea that might normally fits this accolade - for me, Playa Junquillal is beautiful because it is a pristine, unspoilt beach which offers fantastic wildlife encounters.
Playa Junquillal beach is long, sandy and clean and is relentlessly pounded by strong waves which makes it an ideal beach combing location. There are several deep rock pools that we spent hours exploring. The quiet beach is lined with palm trees and lush tropical plants and flowers. Walking along the beachwe saw regularly saw monkeys, iguanas and lizards amongst the trees. One day we stood still in silence watching as a huge iguana ambled out of the dense foliage to eat a discarded mango. But our most memorable wildlife experience at Playa Junquillal was joining the volunteers at the locally run turtle sanctuary to help release newly hatched baby turtles into the sea. You can also join the volunteers for nightly beach walks to look for nesting turtles. New nests are marked and when the adult turtle has departed, the eggs are dug up and removed to a protected section of the beach. The nests are checked daily and new hatchlings collected for immediate release. We released the hatchlings at sunset and guarded them as they made their painstakingly slow journey into the sea. It was a perfect moment on a perfect beach.
Location: Playa Junquillal
Contributed by Sinead from Mapmadememories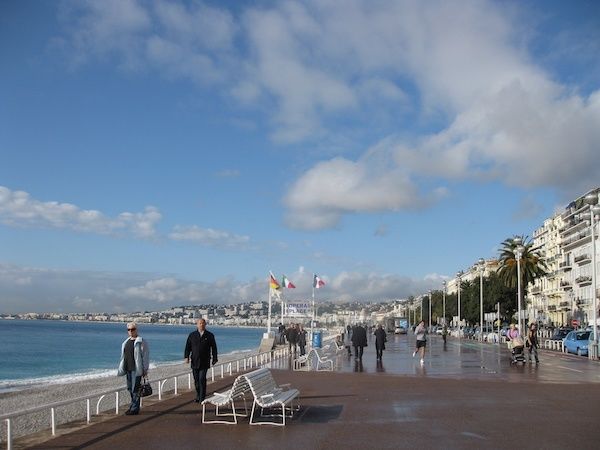 It may seem unusual to list a smooth-pebbled beach as one of the best beaches in the world, but Nice in the South of France is one of the hottest destinations in the French Riviera, and beach life is all part of the fun. Located on the Mediterranean, Nice is one of the summer's most sought after 'It' destinations. Swanky beach bars and beach clubs line the glamorous Promenade des Anglais, the boardwalk that curves around the beautiful Baie des Anges.
Nice is easily reached by plane or train from Paris. It's about a 6-hour train ride by TGV or a 90-minute flight. There are also many international flights that fly into its airport. To make the best of this lively destination, grab a lounge bed with a sun parasol at one of the many private beach clubs, where you can rent space for the day. A cheaper alternative is to spread out your towel out at one of the public beaches.
You'll find plenty to do beachside, from sipping a glass of rose or dining al fresco at a seaside restaurant to trying one of the many water sports available such as parasailing or wakeboarding. If you're wondering what to do in Nice off the beach, rest assured it's a fascinating cultural destination. The city has many world-class museums such as the Matisse Museum and the Musée Marc Chagall. You can also rent a bicycle and ride along the Promenade Anglais, enjoying great sea views all the way.
The best way to enjoy the flavour of Nice, however, is to put on your sunglasses, sit back and watch the warm weather glitz and glam.
Location: Nice, France
Contributed by Carol from Wanderingcarol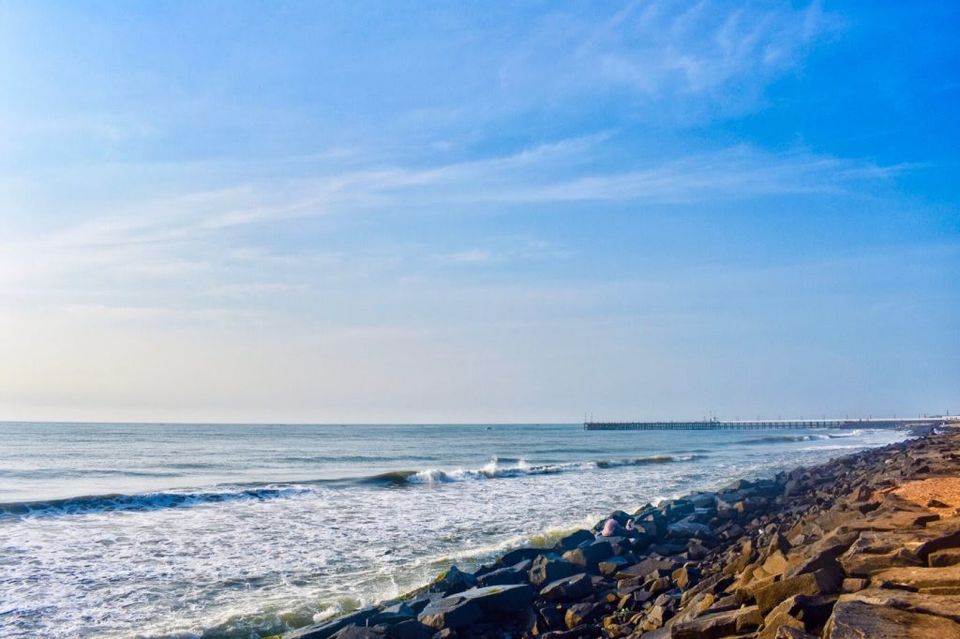 Rock Beach of Pondicherry is one of a kind. Nothing like the usual sand beaches around the world, the beach is now filled with gigantic black rocks. The town had a beach until 1989 but the sea water was causing excessive corrosion to the picturesque town. The government then took a peculiar initiative and converted the beach into a promenade. The 2-kilometer long beach is covered with rocks which are wonderful to sit back and enjoy the sea breeze.
As the town is on the east coast of India, the dawning of the day is dazzling to witness at the seashore. The rocks serve as a photography prop for those who would love to capture the sunrise by the horizon.
The promenade is fairly similar to Mumbai's Marine Drive just without any skyscrapers in the sight. Another noted difference is that the authorities close the driveway in the evening for the public to walk and enjoy a peaceful time here. The night time is quite pleasing on the promenade, as one can appreciate long walks here with a whiff from the sea.
The beach, however, is not safe for swimming and thus there are no adventure activities here. Although, there are other beaches like Paradise beach for water activities like kayaking and canoeing. If you'd like to scuba dive, then that is also an option in the coastal town, but a bit offbeat location from the main promenade.
Pondicherry is easily accessible via Chennai's beautiful ECR road and via Indian railways. Though, not many flights operate till Pondicherry still. If you're staying in the White Town, the promenade is easily in the walking distance. From the old town, the beach is not more than a few minutes away. Walk, cycle or bike your way on the promenade for a memorable time in the town.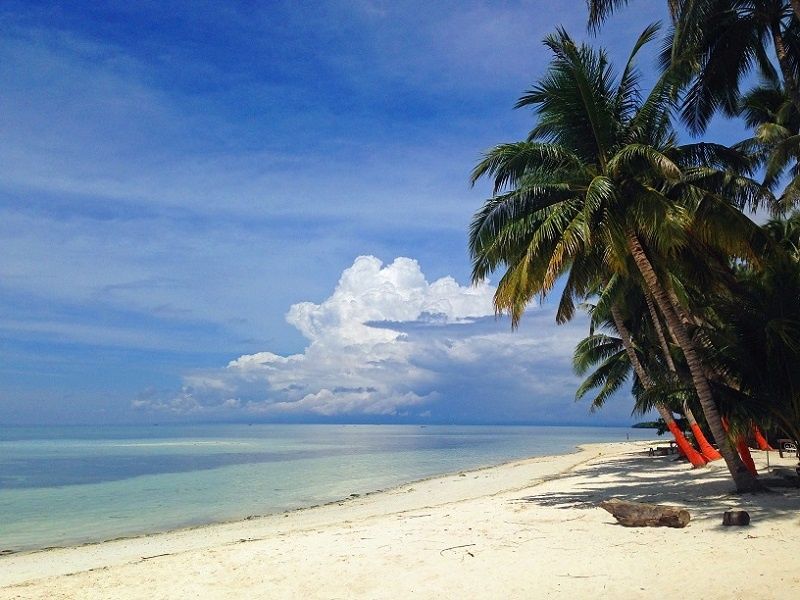 San Juan Beach in Siquijor Island, Philippines, is not only stunningly beautiful; it's also one of my favorite beaches in all of my southeast Asian travels! San Juan itself is a roughly 5 kilometer long stretch with several smaller beaches, located all along the Siquijor Circumferential Road. The area of San Juan Beach that I recommend is the Lala-O locality, particularly near JJ's Backpackers and Charisma Beach Resort. The crystal-clear seawater is shallow for about a hundred meters off the beach with nearly no waves. This allows you to easily walk out and explore, or literally lay in the shallows and relax with a drink or book in hand.
Beautiful starfish and sharp sea urchins can also be found in these shallow waters, so watch your step. Going further out into the sea, you can also discover some absolutely amazing snorkeling! Little by little, the sea bottom drops off to about 5-6 meters and down below you'll find a great abundance of sea life. Hundreds of anenomes house little families of clownfish, and schools of fish glide in and out of the massive groups of rock and coral. Before entering the water for snorkeling, be sure to check the times for high tide and low tide. As I mentioned before, sea urchins are plentiful and you should begin snorkeling this spot 1-2 hours before high tide so you can safely return back to shore.
San Juan Beach can be reached by hired tricycle from Siquijor Pier. Expect to pay anywhere from 250-500 pesos for 1-2 people, and likely more than 500 pesos for 3 people or more, depending on your haggling skills. Siquijor Island can be reached by ferry boat from Dumaguete, Cebu, Bohol, Dapitan, and Iligan, with prices varying depending on distance. The easiest and quickest way is from Dumaguete, which is the route I took. If you plan on traveling through the Central Visayas region of the Philippines, you've got to go to Siquijor Island and check out San Juan Beach for yourself!
Location: San Juan Beach
Contributed by Craig from Vagabonddisposition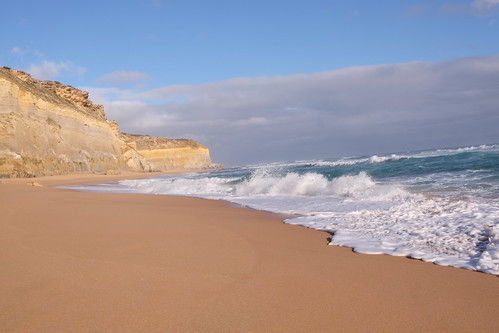 Gibson Steps, part of the Great Ocean Road, in Victoria, Australia, is easily one of the most beautiful beaches in the world. Different to the lagoons of the tropics with calm waters, this beach is harsh, yet stunningly beautiful along the Australian south coast.
With its harshness, it isn't an ideal place for swimming unless you are heading out for a surf and are experienced. It must be noted that there aren't any lifesavers on this beach so I would not recommend swimming at this beach at all. In saying that though if you aren't an experienced surfer to get into the water merely exploring the beach or sitting on the soft, fine sand and watching the waves is a fantastic way to pass the time.
Gibson Steps is located approximately 230kms east of Melbourne and be accessed on a 3-hour drive from the city. Only 1km from the infamous 12 apostles you can actually see some of the cliff structures in the ocean from this beach. These stunning formations are undoubtedly worth a look from the beautiful beach that is Gibson Steps.
Once you arrive at the small carpark for the beach, you do need to traverse quite a few steps to access the beach. These steps are totally worth it, though, because the beach is stunning. Considering you can't access that many beaches along that stretch of coastline being able to be so close to the 12 apostles on a beach makes Gibson Steps super special.
Finally, it must be known that this beach can get crazily busy, especially on weekends, holidays and even during the week. Due to this, parking can be hard to find, and patience is required. Please keep this in mind when planning a trip to this gorgeous beach and you won't be disappointed.
Location: Gibson Steps
Contributed by Laurenfrom Luxurytravelhacks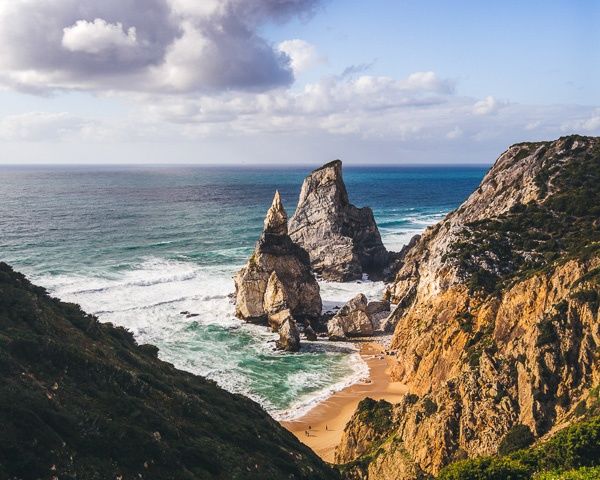 Because water is very cold in other seasons, I recommend to go in summer so you can swim, except if you're very brave. To have the best experience in Praia da Ursa, make sure you are there a litte bit early in the morning because the beach gets quickly crowded.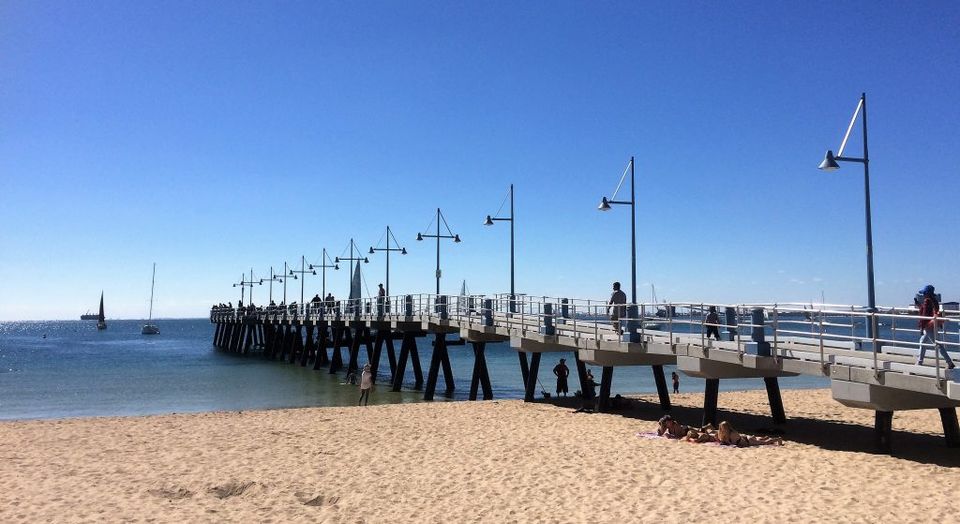 After spending three years travelling the world I realised how lucky I was to live near one of the most beautiful beaches in the world. Situated 60 kms south of Perth in Western Australia Rockingham Beaches have over 26 kms of coastline with a bike/walking path coupled pristine white sand and crystal clear water, there are also plenty of areas perfect for wind surfing, paddle boarding, snorkelling and diving with a dive trail available along the coastline Most of the area is shallow and very calm so is safe for children, along with lots of shady parks and playgrounds making it the perfect place for families to explore. Rockingham is also known for it's dolphins who often come in and swim with you, or if you are keen you can do a tour that takes you into the bay to swim with them.
The area is also known for seals and there an island nearby you can visit where Little Penguins along with a wide variety of sea birds breed where you can visit most of the year. The best part is the beaches are not overcrowded, you can find your own little peace of paradise so at the end of the day you can sit and watch the stunning sunset, have a BBQ for dinner almost feeling like you are alone.
Location: Rockingham Beach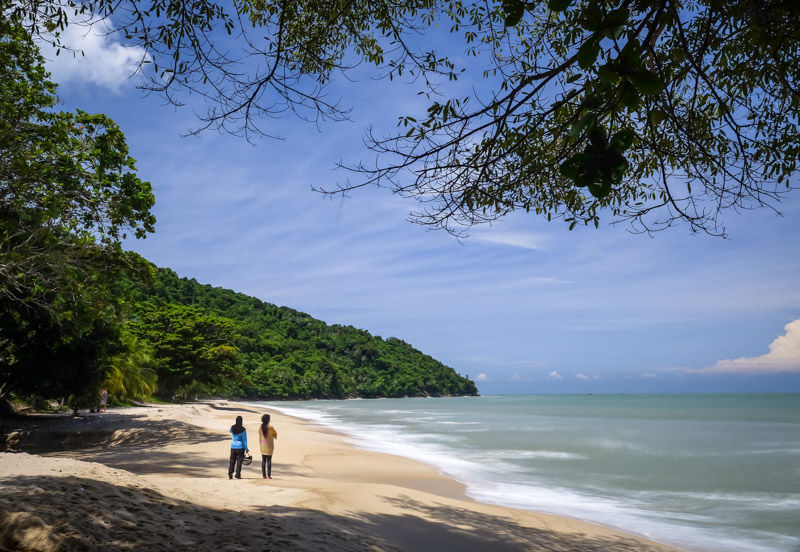 Think of Penang island, a UNESCO Heritage Site in northwest Malaysia, and the first things coming to mind are street art and multi-ethnic culture. But it is an island in itself, and after all, there are at least 20 Penang beaches worth visiting.
My favourite is Pantai Pasir Panjang, which means "Long Sand Beach". Located in the extreme southwestern corner of Penang island, it is indeed a beautiful, unspoilt cove backed by pristine tropical rainforest. Straight opposite, the inhabited islet of Pulau Betong soars from the waters like the back of a turtle. It's a good place for angling, provided you can put a group together and pay for renting a fisherman boat from the nearby village of the same name, Pulau Betong. Few people come here because it's frankly not very well known, nor promoted by the local tourism board. It's mostly visited by local Malays who come here to have picnics with their families.
There's not much to do here except chilling and experiencing a side of Penang Island that's still pretty much underdeveloped. Even getting here it's a bit tricky without your own wheels (you can rent scooters for RM35/ USD 9 from several shops along Chulia Street, George Town's main tourist enclave): you can catch a bus from George Town to the Sungai Nibong Bus Terminal, and from there one to Balik Pulau and Pulau Betong village. It's about a 2.5km walk from the village.
Location: Pantai Pasir Panjang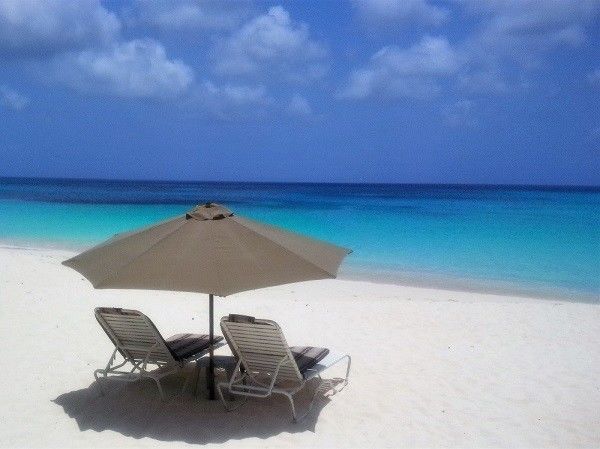 A list of the world's most beautiful beaches would not be complete without Shoal Bay in Anguilla! It has the whitest sand and clearest water that I have ever seen. It's like you have walked into a painting. The sand was so fine and soft, perfect for walking along the two mile stretch of beach or relaxing and catching some rays.
The water's so clear you don't need even need to stick your head in the water to see the fish. Shoal Bay is ideal for snorkeling, kayaking, or swimming since the water is calm. A float could be fun too.
Shoal Bay has several restaurants, beach bars, and hotels. I enjoyed the lunch we had but found the food and drinks to be a bit overpriced. If you are on a budget, it's a good idea to bring your own food and beverages. A picnic on the beach could be romantic and fun!
Shoal Bay is located on the northern coast of Anguilla in the Caribbean, just a short ferry ride from St. Maarten/St. Martin. You can either rent a car (note: they drive on the left) or take a taxi to get from the ferry dock to Shoal Bay.
Peak season is from December to April because the weather is perfect. Don't worry, though, this beach is so big, it won't ever feel too crowded. You can visit as a day trip or stay for a week and see more of the island.
Location: Shoal Bay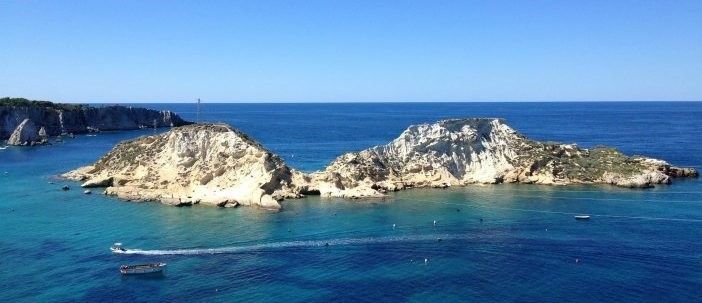 The Tremiti Islands are an Italian archipelagos of five little islands in the Adriatic sea. They belong to Apulia region and stand one hour and a half ferry from Gargano coastline. We had the chance to visit all of them on a day trip by boat during a summer vacation to Apulia, in the South East side of Italy. Tourists from all over the world come here for both an active or relax vacation, and for a daily boat trip from the coast as well. So when visiting this part of Italy, you should go! It only takes one hour and a half by ferry to get there and five minutes to fall in love with Tremiti! Clear blue water, sent of zagare everywhere, sea caves and tiny white sand here and there. The Tremiti islands have nothing less from Caribbean spots and they really worth a visit.
Families travelling with children should avoid stroller and prefer instead baby carriers, as it is easier to walk through the alleys of the island of San Nicola, where the fortress was build and most of the people still live.
Once on site, we highly recommend a boat tour to circumnavigate all the five islands: San Domino and San Nicola are the biggest, while Cretaccio, Pianosa and Capraia are rocks that appear from the sea.
Summer is the most crowded period of the year and it has its pro and cons, but June or September are definitely the greatest moment to go there, when no one is there and prices are low.
Location: Isole Tremiti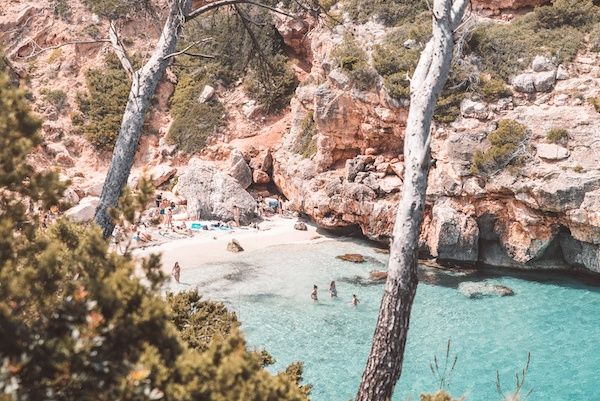 There are many beautiful beaches in Mallorca, but one that really stands out from the rest is Caló des Moro. Located on the eastern coast, it's a place the locals cherish and for good reason. A petite but perfectly formed beach sits surrounded by rust coloured cliffs, and the crystal clear turquoise water looks almost too good to be true. It's the ideal place to spend a day sunbathing, swimming, snorkelling, or simply relaxing in the sand.
The beach itself is actually privately owned, but free to access on the provision you look after the land. The owners saved the once derelict area from being transformed into a resort - and we're so glad they did! To get there, head south from Cala Llombards and park at the parking lot on Carrer des Caló des Moro. Continue on this road and towards the end (but not the very end or you'll end up at a different beach!) you'll find a stone wall and a low wooden gate marked "privado". Go through the gate and a path will lead you through the park to the beach at the end. You'll need to take everything you need for the day with you, as there are no facilities nearby. And remember to keep the area clean by taking everything back with you at the end of the day too! You can walk freely around the grounds to enjoy the various lookout points and shaded areas, which are perfect for a picnic... And wander over to the beautiful Cala s'Almunia beach too.
Location: Caló des Moro, Spain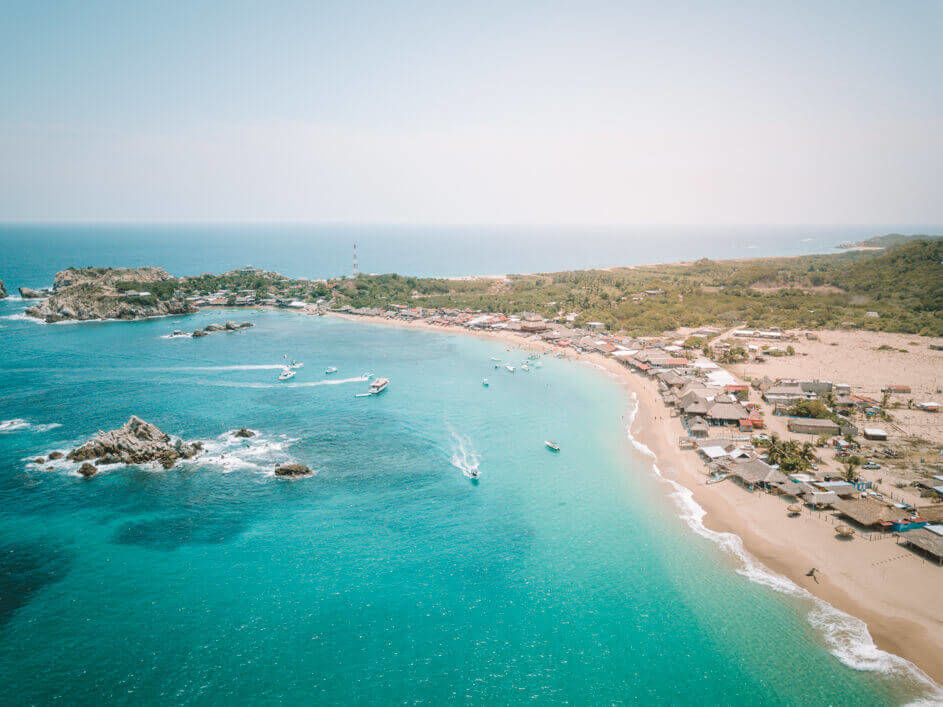 Huatulco in Mexico is known for its beautiful bays and 36 pristine beaches. The best beaches in Huatulco are the ones with the right amount of sand, calm waters and not too many tourists. Because Huatulco can get very busy and overcrowded, especially in the high season.
San Agustin Beach is widely considered the most beautiful beach in the state of Oaxaca. With endless white sand and warm clear waters, this beach is postcard perfect. It boasts deep water without the powerful waves that are common on the Oaxacan Coast, fantastic snorkelling, and a few shady palapas from which you can sip on a beer and watch the world go by. It's a hidden gem of Huatulco.
Because San Agustin is so long (1.5 kilometers) it's also easy to get away from the built-up palapas and find your own patch of sand in the sun if you feel so inclined.
There are snorkeling tours and full-day boat tours that can all be booked from Huatulco to San Agustin beach. Something to consider since it's an hour and 15 minutes drive from La Crucecita in Huatulco. Private boat tours to San Agustin will set you back about $50 USD per hour. Though that is rather economical so long as you can find other people to share your tour with.
On a budget? A taxi will cost about $20 each way. You can organise with your driver to pick you up at a specific time so he doesn't need to wait.
Although it's a little out the way, it's a once in a lifetime experience to sit on the sands of this spectacular beach. It's remote, pristine and the perfect place to visit on your Mexico vacation!
Location: San Agustín Beach
A unique blend of white sand beaches and eclectic structures, Jurmala is probably one of the best beaches in the world. Once a cluster of fishing villages, this charming seaside resort has more activities to offer than the usual sunbathing and swimming. Just 30 minutes away from the city of Riga, Jurmala Beach presents the perfect seaside escape without missing out on cultural attractions, entertainment events, and good food.
The Dzintari Concert Hall is an entertainment venue flocked by people looking for the best jazz, pop, symphony, and opera acts. Around this spectacular heritage building are beach bars and restaurants. Jomas Street, the 1-kilometer long pedestrian-only boulevard, is lined with gourmet restaurants and boutique cafes. Amidst the line of pine trees are the cottages of the Open Air Museum that will tell you a story of Jurmala's fishy past.
A haven for nature-lovers, the dunes and pine trees of Ragakapa Nature Park and the sulfur springs and flora and fauna of the Kemeri National Park are worth exploring. Also an ideal spot for family vacations, Jurmala is filled with child-friendly locations like the Dzintari Mezaparks Park which has several playgrounds and the Livu Aquapark which has the coolest waterslides. For the elderly and the handicapped, the fully equipped Blue Flag Beaches of Jurmala make the beach accessible to everyone.
To get to Jurmala, just take a train from Riga to Majori for less than 2EU. The journey takes around 30 minutes one way. Just make sure to pack light or make your way to exit before your stop as the train moves on immediately after stopping.
Location: Jurmala Beach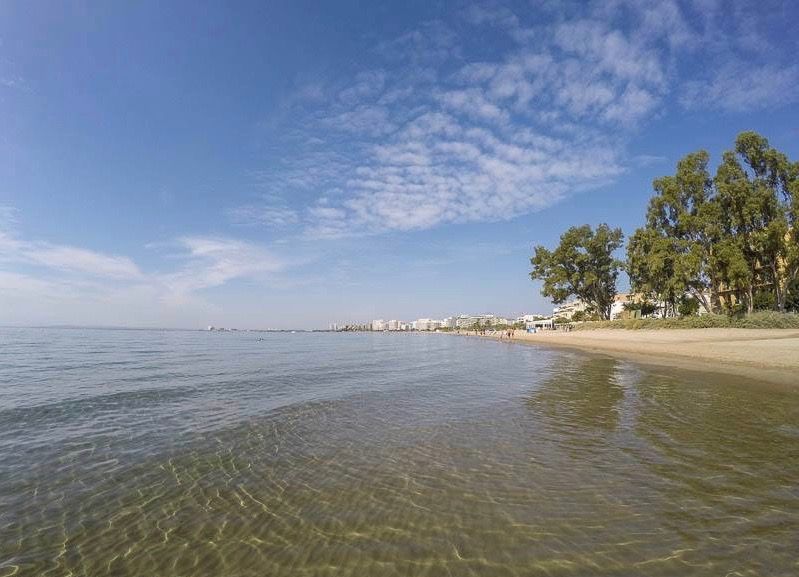 We love the fact Salou and Cambrils have so much to offer families, so that if you fancy a day away from the beach you can always spend a day at one of the fantastic water parks, theme parks or head inland to discover UNESCO protected monasteries and medieval villages. Cambrils is also renowned for its cuisine and has over 200 restaurants. Many of these look out over the beach - the perfect way to end a day in the sun.
The Costa Daurada, south of Barcelona in Spain, is a gem of a beach destination. "Daurada" means golden one and is a reference to the region's gorgeous, golden beaches. Costa Daurada has 216 kilometres of coastline and hundreds of beaches, varying from long, wide sandy beaches to rocky coves surrounded by pine trees.
We visited the resorts of Cambrils and Salou, about an hour's drive from Barcelona's airport. The beaches around the centre of these resorts are wide and several kilometres long. If you look right down the beach, past Cambrils, you see red rocky hills. To the left the coastline curves around the Salou bay.
The beaches have got Blue Flag designations, so you know they're nice and clean, and there are loads of activities based around the beach. From watersports to activities for kids like trampolining and playgrounds, you can find them all here - it's practically impossible to get bored!
Location: Beach Cambrils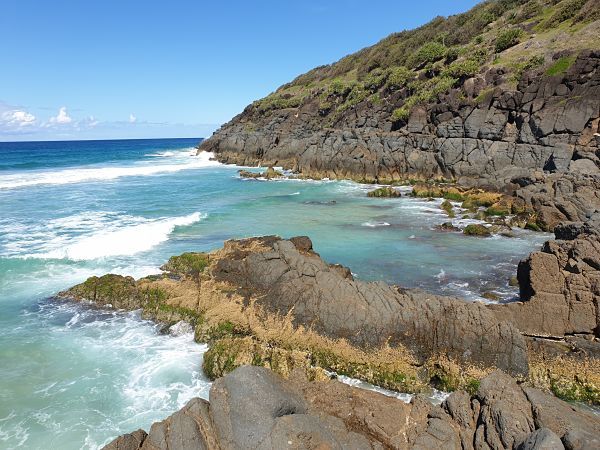 Hat Head in New South Wales, Australia, is the most perfect beach town to visit for a complete unwind, low-key, family, beach town getaway, on the mid-north coast of eastern Australia. You will find this hidden gem half way between Sydney and Brisbane, just an hour north of Port Macquarie, through the picturesque Macleay Valley.
The coastline in the area is beautiful, stunning cliff lines, stretches of white sand, rolling waves and crystal-clear waters. The heart of Hat Head is the main swimming beach, the gentle waves are beach-magic for children to play in and the views are so calming and tranquil. The water is clear, the temperature is perfect, you can surf, swim, SUP, float or play! The swimming beach is patrolled during certain hours and the town has a strong Surf Life Saving Club community. Visit Hat Head Gap for simply stunning panoramic views of the Pacific Ocean. There are rocks to scramble and climb, lookouts, picture perfect coloured waters, walking paths and views to die for!
Walk from the Gap along the made track to Connor's Beach, pack a picnic and a book to enjoy some quality time in this beautiful location. The town itself consists of a holiday park, several holiday rentals, a general store, boat access and a fish cleaning area, the pristine Korogoro Creek and the native surrounds of Hat Head National Park. Hat Head is most accessible by car, however, from Sydney or Brisbane you can fly to Coffs Harbour or Port Macquarie then drive, or get a bus directly (7 hours from Sydney, 10 hours from Brisbane), or train to Kempsey then taxi to Hat Head.
Location: Hat Head NSW
Part 2 of the series will be live soon!